CRZ
Big Brother
Administrator



Since: 9.12.01
From: ミネアポリス

Since last post: 6 days
Last activity: 3 days


ICQ:
#1 Posted on | Instant Rating: 8.41
The Time - www.theoriginaltimeband.com
Epic Entertainment
Minneapolis, MN - 6/13/10




Let me tell you a little bit about The Time. Sometime during that magical summer when I went through puberty, a side effect was me changing from "aw, geez, not that Ice Cream Castles AGAIN" while fast-forwarding through "Night Tracks" to becoming "the guy with the very unhealthy fixation with The Time" at my junior and senior high school.

Unfortunately, by the time I was hep, they had broken up - twice! First when Jimmy, Terry and Monte had flown the coop, and then again after "Purple Rain" when Morris and Jesse went their cocaine-fueled separate ways, the remnants formed The Family and....well, that's another story.

The return of THE ORIGINALS in 1990 with "Pandemonium" didn't turn out to be a second chance to experience The Time live, as they didn't really end up doing a whole lot of touring in support of the album - they DID get on "SNL" for the Steinbrenner episode (what a night THAT was) but if they made it to California, I never heard about it.

The reunion for the 2008 Grammys was HUGE, but totally overshadowed by co-performer Rihanna, and I kinda forgot that there were rumours that things might come from the Grammys deal, and time passed, and everything was forgotten.

Flash forward to my birthday and a good time on Facebook connecting with an awful lot of kind folks with well wishes. The Facebook ad for a Time Reunion show in Detroit caught my eye - for the first time in perhaps my life, I clicked on an ad to learn more - and THEN I learned that there was going to be a show right here in Minneapolis just a few nights later. Needless to say, it didn't take a second thought - whatever it took, Kim & I would be at that show.

Actually, it wasn't that hard - although the building appeared to be sold out (they hold about 2400), they still had plenty of tickets by the time we went online that Monday before the show. It was $40 for GA, $60 for VIP. Standing room only no matter which tix. Considering some of the faux Times Morris Day had been touring with had charged $75 and even $95 for the privilege, I didn't consider $60 too steep a price to pay for something I needed to have happen at least once in my lifetime.

Doors 7:30, show 8:30 - or so we were told.

NOW let me tell you about EPIC. The former Quest, the former Glam Slam - yes, this was Prince's club - EPIC is notorious for having ZERO sight lines. We got "VIP" tickets, which meant we would at least get to roam around the top floor instead of taking chances on the dance floor. We still had to deal with folks in the "I'm with the band" only seats in the place, many of whom were still young enough to stand up and/or dance instead of sitting, but it was cool.

Crowd was about 70% black. Straw hats were in effect. Brothers be wearin' some straw hats. Kim pointed out several of the more attractive suits and I made mental notes to never even try to get away with wearing stuff like that. (At least, not until I'm rich enough to do it while employing several bodyguards.)

We weren't told there would be an opening act, but to everyone's dismay, there was. The opening act was local band The New Congress. NOBODY was interested in seeing The New Congress. There was a certain fascination to be derived from watching an entire floor full of people standing there politely waiting for their set to be over....but not much, and not for that long (about an hour). The frontman gave ups to Jellybean Johnson for helping them out, and I like Jellybean and all, but still.

Then of course we had to get all of THEIR gear off the stage to replace it with The Time's gear, and let the DJ continue to play approximately 5-15 seconds of very popular songs with little to no mix technique for....even longer. I figured MAYBE they'd start at 10? I was wrong.

About 20 after, we FINALLY got it on. Here's the set list, along with my commentary:

Intros

Very cool beat and clock chime for the extended roll call.

Get It Up

And right away Tonya is jealous.


Cool

A whirlwind tour of their first two albums began with one extended jam on "Cool" - we all did the "C-O-O-L" hand signs from 1981! "Showtime" was announced and we all learned about the "half hit," which makes total sense when you finally hear it.

Girl (for about ten seconds, then quickly switched to)
Wild and Loose
777-9311
The Stick

Morris sang about one line of "Girl" so it was a total fakeout into "Wild and Loose" and the rest of the tour through the "original" albums continued. I couldn't believe they did "The Stick!" That's a DEEP cut.

Blondie

An interesting choice for the first track off "Pandemonium" but it IS one of their "rockier" tracks

My Drawers

Great, great take and the first track off "Ice Cream Castle"

Fishnet (Morris Day)
The Oak Tree (Morris Day)

Nice to hear Morris' biggest solo hits, even if I could have taken or leaven 'em.

Jerk Out

Ended with the jam which was a lot like their SNL performance, if you remember that one

Skillet

Another great one from "Pandemonium," ended with an extended solo from Jesse Johnson which recalled Prince's "Let's Get Crazy" at times

This led to Jesse leading everybody who hadn't slipped off for a break into some blues song I probably should know, but don't (Other show setlists say Bleeding Heart - not the Hendrix one, I don't think). He really is a fantastic guitarist. This was followed by a medley of stripped down versions of some of his big tracks. I'm going to assume it followed the set lists from the other stops:

Be Your Man (Jesse Johnson's Revue)

I definitely know this one - "O, O, O"


Can You Help Me? (Jesse Johnson's Revue)
Free World (Jesse Johnson's Revue)

These were instrumental only. I feel bad that I don't know Jesse's stuff well enough to confirm or deny. I CAN tell you that man is a hell of a guitarist. Oh, I think I said that already! I need to work on getting his back catalog - as well as his new album, "Verbal Pentration (I & II)" (available now!)

Outfit changed, Morris was back out for a super extended

If The Kid Can't Make You Come

At this point, several women were brought on stage to get a little bit freaky and a little bit nasty. I could take or leave it.


Morris did have a good line - he said he still didn't sweat, but like a champagne bottle taken out of the fridge, it was condensation. When they asked a woman to start dancing, he quipped "I'm startin' to condensate again!"

Basically, he asked the woman to stand there in front of Jesse and only move when what he was saying with the guitar moved her. She was so moved.

They said that went 15 minutes, but they were probably exaggerating. Let me check my tweets...well, it was close.


Ice Cream Castles

Another great extended jam

Gigolos Get Lonely Too

The only slow jam of the night from The Time. Amazingly, when Morris asked us all to sing it with him, I was shocked to find out that 25 years later, I still knew every word.

The Walk
The Bird

Ending hot with THE HITZ! Jerome asked us if we had to work tomorrow or not. We all lied, so we got:

ENCORE: Jungle Love

They were kinda kayfabin' it, though - they still had a hard end of midnight, and stopped on the dot.

They DID say the new album was "about 90% done" and we should expect to see it sometime this year. I'm still not holding my breath. No previews of any new stuff. It was confirmed that this was probably the first live show for the original seven in, like, 27 years or so, though, and the crowd (me included!) was definitely happy to have 'em.

Now, I WILL say that I'm pretty sure they're doing the exact same show everywhere they go, so I would probably be (only a tiny bit more) disappointed if this had been, say, my SECOND show. (This is what I lovingly call " the Kraftwerk effect.") I was also glad to avoid reading about the Detroit or Las Vegas shows until AFTER I'd gone to the Minneapolis, so as not to be spoilerized. (If you'd planned on seeing them in DC or Chicago later this year...um, sorry!) Y'know, same moves from the 80s, maybe the same jokes...but that's what we wanted, and we got it in spades. JEROME CAN STILL DO THE SPLITS!

But ultimately, duh... TOTALLY WORTH a 25 year wait and $18 in inconvenience fees.

I didn't take a lot of pictures, and most didn't come out, but here's a couple:



Everybody!



I DID get the mirror shot



Me with Jellybean Johnson after the show - that dude is tall and awesome - I think this is the same hat he'd wear doing The Truth shows (where he was a guitarist instead of a drummer - this man does it all! Including hanging out afterwards for starry eyed white boys to beg him for a photo and then completely flub a soul handshake)

(edited by CRZ on 14.6.10 2144)

---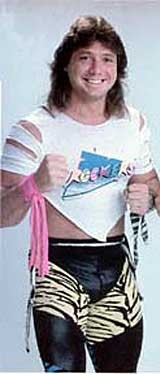 Promote this thread!
odessasteps
Scrapple



Since: 2.1.02
From: MD, USA

Since last post: 1833 days
Last activity: 1800 days

#2 Posted on | Instant Rating: 6.23

No picture of you doing The Bird, Koko style?


---

Mark Coale
Odessa Steps Magazine
ISSUE FOUR - OCTOBER 2009
CRZ
Big Brother
Administrator



Since: 9.12.01
From: ミネアポリス

Since last post: 6 days
Last activity: 3 days


ICQ:
#3 Posted on | Instant Rating: 8.41
Originally posted by odessasteps

---


No picture of you doing The Bird, Koko style?

---
You can dance OR you can take pictures - you can't do both. (I danced.)


---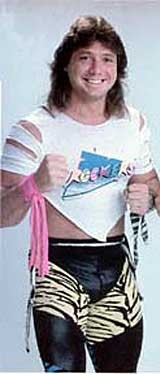 Bullitt
Shot in the dark




Since: 11.1.02
From: Houston

Since last post: 1028 days
Last activity: 1028 days

#4 Posted on | Instant Rating: 6.96
I get to see The Time with Digital Underground Saturday night.

Good to know they can still bring it...as if there was any question. Thanks.
pieman
As young as
he feels




Since: 11.12.01
From: China, Maine

Since last post: 7 days
Last activity: 4 days


ICQ:
#5 Posted on | Instant Rating: 7.30


I have taught The Bird to my kids and they thoroughly enjoy Morris and The Time.

It's nice to see an extended review/commentary from you, Chris, and I am glad you and Kim enjoyed the show. I assume Kim enjoyed the show?


---


Zack Greinke - 2009 Cy Young Winner!!