Whattaburger
Boerewors



Since: 18.5.04
From: Badstreet USA

Since last post: 1266 days
Last activity: 1266 days

#1 Posted on | Instant Rating: 2.05
Highspots Shoot Interview: Brian Kendrick & Paul London

The interview was conducted within the last month and a half. This will be a rather basic re-cap because the interview is just over three and a half hours, and about 75 percent is Kendrick and London waxing philosophic on life; they were pretty stoned throughout the whole thing. The interview never addresses why London smiled during the limo explosion angle, and I'll gloss over some of the random, less important indy scene stuff. Here we go:

Starts off with K&L seated in front of a pretty poor green screen (which features pictures of the topics and individuals they address), drinking and passing "tobacco" to one another.

On training: Kendrick's training is glossed over a bit. He trained in stints at various places before landing at Shawn Michael's Texas Wrestling Academy (TWA) in San Antonio, Texas. London was never trained by HBK, but rather HBK's lead trainer, Rudy Boy Gonzalez. By that point, HBK only had a loose association with the school. Rudy Boy really took care of the guys he trained, and London credits him for getting him noticed and booked in a lot of the more prominent indy promotions.

Japan: It's crazy. The Japanese wrestlers like to keep the windows on the tour bus rolled up as they all smoke.

OVW: After having spent considerable time on the road, OVW was nothing special. London says he was treated well by Jim Cornette and Kenny Bolin, but Rip Rogers was a joke as a trainer. London says Rogers would allow guys to sit out of that day's training if they went and brought him a yogurt or protein bar."What kind of faggots are you training here?" OVW was all very robotic and that he was just putting his time in.

They put over Bob Holly as a stern trainer, saying they got along with him in the locker room and never had any serious problems. London tells a story of Holly publicly criticizing Jillian Hall's weight and lack of commitment some days. Semi-joke that Holly would get pissed if you beat him to the gym, stayed longer or grunted loudly during your workout.

Michael Shane: "Throws the best punches next to Shawn Michaels." Thought he would be the type of guy WWE would want.

Stoner Moment 1: The moon is hollow, and in actuality, a space station.

Undertaker: An authority figure who everyone tries to schmooze, a role London believes Taker relishes. People will go to Taker and badmouth other guys to make themselves look good, and he will take it somewhat at face-value.

The Hardys: Jeff is over like crazy, and they both like him. Jeff and London had an incredible match in Mexico, according to Kendrick. After the match, Dean Malenko criticized the match slightly, but Kendrick defended it and said there was absolutely nothing wrong with it because the crowd went crazy for it. They say some people give their two cents just because it legitimizes the need for their jobs.

Kendrick has no problem with Matt, but London doesn't think too much of him. Says he holds no animosity toward Matt (because it has no effect on his life) and they used to get along, but Ashley Massaro caused a love-triangle London didn't really want or care to be in. Adds that he was really naive about relationship at the time.

The Agents and Creative Writers: Arn Anderson, Ricky Steamboat and Dean Malenko are great, for all intents and purposes--office guys are office guys and they have a lot to juggle. However, there are a lot of very cowardly, insecure agents "that like to do taxes," and it's incredibly difficult to ever get a straight, consistent answer. Dave Lagana (a.k.a. Dave "Lasagna," a.k.a. "Vegetable Lasagna") sucks, and is someone who enjoys adventures on what they refer to throughout the interview as the "bearskin rug." (The green screen shows a photoshop of Vince's head on a naked man on a bearskin rug.)

At the Royal Rumble, London says he was reprimanded for making his elimination look "too good," which he thought was garbage because isn't the whole point to work hard? He knows he's on screen for a brief time, so he wants his stuff to stick out; WWE is a very confusing place when it comes to those things.

Stoner Moment 2: Kendrick says Teenage Mutant Ninja Turtles cereal is the greatest cereal of all-time. London is a big fan of Cookie Crisp. However, London does not like milk, but would be open to trying breast milk.

Billy Kidman: A guy London used to admire and relate to as a fan because of their similar styles and builds. They were thrown together because of their similar looks, but Kidman would always throw London under the bus in the locker room. Adds that Kidman got in his face one time about using the Shooting Star Press, which London says is silly since Kidman wasn't really using it. "Hey, I'm not the guy who got caught banging some pig when I was married to Torrie Wilson."

The Hooliganz: With Kidman out, they were just paired up and it took off. They were never given the name officially because in the event they were split up, Creative wanted to ensure their individuality. "No one will know who you are if you have that name and you're split up; why do you need a team name?" "No one knows who we are now!" Vince hated the masks they used to wear, even though Kendrick's wife was the one who made them. London tells a story of Vince giving him the time of day to applaud his beard and asking why Kendrick couldn't grow one.

Shane McMahon: Told them he hasn't cared about a tag team since the Road Warriors. Tag teams aren't on WWE's radar. Adds that Shane was indifferent to them, but in the same meeting, enthusiastic when someone else would come by.

Even as Tag Team Champions, they weren't given much attention from the office.

William Regal and Dave Taylor: Love them both. William Regal is awesome; he'd often complain about Jimmy Wang Yang's chaw-breath. Kendrick and London love Jimmy, though.

London says it was so genius how Regal and Taylor were scared to climb the ladder, and it added such an interesting element to the match at Armageddon.

The Dudleys/Team 3D: Devon is relatively okay, but Bubba Ray is a jerk. London says Bubba was big on being a veteran and would antagonize him and others for whatever reason. London adds that he stiffed Bubba once in a match, which caused him to fall out of the ring and lay in a heap for the rest of the match. The incident almost to an altercation in the locker room when London questioned Bubba about why he didn't get back, but it quickly defused. Undertaker later commended London for sticking up for himself, which he didn't even care to receive. Again, it's funny how insecure some guys are about jobbing to the new guys coming up.

Joey Mercury and Johnny Nitro (Morrison): Mercury has issues, and thought he was a hot commodity since MNM was getting a push and he was dating Mickie James. Batista once put James' risque pictures all up around the locker room once, which some found funny. During the four-way ladder match at Armageddon, no one really realized Mercury had his face smashed until much later. Adds that very few people understand the real psychology of a ladder match and that it's become a series of stupid spots that make no sense within the narrative of the match.

Morrison is pretty nice, albeit passive because he knew Melina was running around with other guys like Batista.

Randy Orton: "He's like Shawn--he gets it." They say Orton is hilarious to hang out with, and they're surprised they haven't been arrested for some of the stuff they've done. Orton knows how to make a headlock look good and will probably be the next crossover guy like The Rock, but he loves wrestling too much.

John Cena and Batista: Like them both a lot--despite the exclusive, officey-nature of their spots. They always cover the tab or pay for the other guys. Cena, Batista, et al. understand they need an undercard, and they need to be treated well.

Lance Cade and Trevor Murdoch: Nice guys for the most part, with their share of asshole tendencies that just come with being pushed.

HHH: Enjoys adventures on the bearskin rug. Thought it was pathetic how HHH buried them for no real reason after being saved from Cade and Murdoch. Adds that HHH came up to them saying it was Kevin Dunn's idea and that the situation was out of his hands.

Stoner Moment 3: In the world of WWE, Kendrick and London eventually agree that they're the recurring characters. You know, like on "Saved By The Bell"--the ones that are always seen but never speak. The fans are the extras. "We're Boner! Boner's missing! When you see this, Boner could be dead!" "They found him; Boner is dead." "This just got heavy real fast."

Chris Benoit: "He was tri-polar; it's like he was a whole new level of polarity." They traveled with Benoit a bit and they liked him a lot. When guys would ask Benoit for in-ring advice, he would defer to Kendrick for the explanation. Very intense and respected; Jamie Noble very much tried to emulate Benoit in terms of diet, which was incredibly protein-intensive. They discuss how Benoit would assert himself in public...or at a closing Hooters restaurant. "He stuck his foot in the door as they were closing and said, 'You're open.'"

At said Hooters, a rowdy table nearby was giving a waitress a hard time and thus, pissing off Benoit. "You (London) should go tell those guys to shut the fuck up." The guys came by the table to start something, but then noticed Benoit and tried to be buddy-buddy. "Get your fucking hands off me." Later, the waitress expressed appreciation and Benoit tried encouraging London to take her back to the hotel so Benoit, Noble and Kendrick could enjoy themselves while watching in a closet. "Chris, I have a girlfriend..." "Oh okay, yeah, yeah...you're right."

Matt Striker did a Darth Vader-esque "NOooOooOOOOoOoOOOOOoo!"when they found out about Benoit's death and actions. They don't know how to respond other than by saying shit happens. "I (Kendrick) hope, hope, hope I never, ever kill my wife or kids. And like, if you ask me that now--I'd tell you you're crazy! And I'm sure if you went to Benoit 10 years ago and asked him about killing his wife and kid, he'd tell you you're crazy!"

Wrestler Court: London says it's such a joke to get dragged at 3AM into a room to see a bunch of old wrestlers lined up to lay judgment on somebody for the most trivial old school "infraction," like Melina for not shaking hands with everyone properly. They used to take bets on how soon someone would cry or break down.

Deuce and Domino: They hate Deuce and say he's living off his father's name. He wouldn't sell for them (something they later learned he was instructed not to do), and that he's a terrible wrestler. "His dad's cool, though. I've bummed smokes off his dad, his dad's bummed smokes off me. His dad once told me he liked me, was going to kill me and then that he loved me--all in the same conversation."

The Geminis: Uneventful; just big guys they didn't enjoy working with.

Stoner Moment 4: The sun is not actually hot. Kendrick explains to London why mountains have snow-topped peaks and that it's all just a matter of mass.

THE Brian Kendrick: After being split up, Bryan Danielson (a.k.a. American Dragon; a.k.a. Daniel Bryan) was who Kendrick wanted to bring in as his new partner, but the aforementioned Creative/Agent herding cats shenanigans never gave him the chance to pitch the idea.

Kendrick became sick of making lugs look good and went to complain about how he was being used. His wife made the jacket and he pitched himself to Michael Hayes. HHH was in the room and gave his approval of the look, so Hayes re-wrote Kendrick's promo to deliver to Vince. Vince hated Hayes' promo, so Kendrick gave his original one, which Vince enjoyed and added to. "But from now on, you're going to be "THE Brian Kendrick."

Their Releases: Long-story short, they were pretty unhappy with everything; plus, Kendrick was smoking weed and he didn't particularly care to stop. Johnny Ace is who he is, which is somewhat understandable because he has a difficult job.

Indies/TNA: They like the indy scene because they can have all the time in the world for their matches and it's not just about the top guys, with everyone else just orbiting around. Kendrick enjoys that he can go back and forth with TNA creative instead of just being told what to do in some 3 minute match. He's looking forward to wrestling the kind of matches he's interested in and enjoying his bookings.

London says he's accomplished more than he thought or anyone else thought he would, and that he's at a point where he's exploring other interests. He's wrestling for fun, but he is satisfied and in search of personal growth.

Stoner Moment 5: 9-11 was holograms.

Fin.

Whoa, two posts in the span of a week? I best slow my roll, duders.


---

This is all serious business.
Promote this thread!
thecubsfan
Scrapple
Moderator



Since: 10.12.01
From: Aurora, IL

Since last post: 3 days
Last activity: 4 hours

#2 Posted on | Instant Rating: 10.00
Hey! This kind of slipped by without comment, but I appreciated it.


---

thecubsfan.com - luchablog
John Orquiola
Scrapple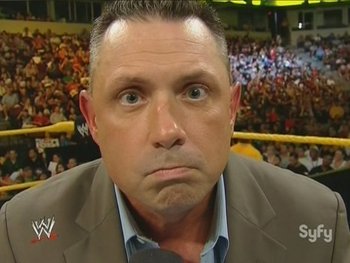 Since: 28.2.02
From: Boston

Since last post: 1426 days
Last activity: 1426 days

#3 Posted on | Instant Rating: 5.58
Thanks from me as well. I was glad to read this. I always love backstage stories, especially from the disgruntled future endeavored.


Originally posted by Whattaburger

---

Batista once put James' risque pictures all up around the locker room once, which some found funny.

---


Heh heh heh. Oh, that Batista.


---

@BackoftheHead
www.backofthehead.com
Broncolanche
Sujuk



Since: 2.6.03
From: Littleton, CO

Since last post: 2474 days
Last activity: 1726 days

#4 Posted on | Instant Rating: 4.75
I think I remember those risque pictures of Mickie James.
John Orquiola
Scrapple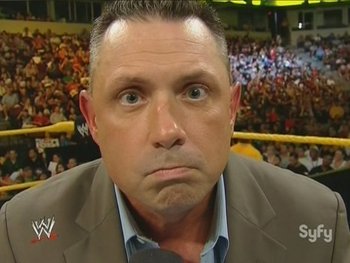 Since: 28.2.02
From: Boston

Since last post: 1426 days
Last activity: 1426 days

#5 Posted on | Instant Rating: 5.58
Originally posted by Broncolanche

---

I think I remember those risque pictures of Mickie James.

---


Oh yes. At one of the RAWs last year, I remember a clever sign referencing those pictures cleverly. It said:

"MICKIE JAMES ROAST BEEF"


---

@BackoftheHead
www.backofthehead.com
Karlos the Jackal
Lap cheong



Since: 2.1.02
From: The City of Subdued Excitement

Since last post: 877 days
Last activity: 9 days

#6 Posted on | Instant Rating: 8.00
Yeah, thanks a bunch! I saw that this existed but there's no way I'll get around to watching it, so this was cool.

Interesting stuff, but I'm not sure how much I believe given some of the other things they say ("9-11 was holograms"?!?)

--K


---
Last 5 movies seen: The Rock-afire Explosion *** - Adventureland **1/2 - The 7th Victim ***1/2 - Crazy Heart ***1/2 - 44 Inch Chest **1/2
Kevintripod
Banger



Since: 11.5.03
From: Mount Pleasant, Pa.

Since last post: 3 days
Last activity: 5 hours

#7 Posted on | Instant Rating: 4.79
Interesting read......thanks !!!

My fav comment:

"Hey, I'm not the guy who got caught banging some pig when I was married to Torrie Wilson."



---