It's False
Scrapple



Since: 20.6.02
From: I am the Tag Team Champions!

Since last post: 65 days
Last activity: 3 days

#1 Posted on | Instant Rating: 3.51
Watched this one on TiVo just now, since I was enjoying the Rumble last night. All I can say is...good lord.

It's not often one can use the word "retcon" for a television show, as it's more of a comic book term referencing a change in canon or a rewrite of history. And man, did this show EVER try to rewrite Simpsons history.

Yes, apparently Homer and Marge were dating in high school during the 90's, to which even my girlfriend, who's seen maybe 20 episodes of the show EVER, pointed out the obvious. She asked, "Weren't they in high school during the 70's?"

When a Simpsons newbie can point out the flaw in the story, it's probably going to end up bad. The jokes weren't there (and that includes one blatantly stolen from Family Guy), the story was awful, and this episode really looked to be an excuse to cut and paste the Simpsons into the 90's. And of course the biggest crime was that it was just plain boring.

Thumbs WAY down! This episode is a slap to the face of everyone who remembered the golden episodes that flashed back to the 80's and 70's, as it essentially asks you to forget they ever happened. Of course, a big chunk of loyal Simpsons watchers have probably stopped watching, so the writers thought no one would be the wiser. Easily worst episode of the season.

(edited by It's False on 28.1.08 1641)

---

"Wocka Wocka...who wants to hear a funny-ass joke?"

Promote this thread!
Roy.
Pepperoni



Since: 25.2.04
From: Keystone State

Since last post: 3667 days
Last activity: 33 days

#2 Posted on | Instant Rating: 4.84
I read the description of the episode on my DVR, watched five minutes, and turned it off in disgust.

Wasn't the show on the air in the 90s?

I was really bummed out with this episode.
timdrake
Polska kielbasa



Since: 17.3.02
From: Boston

Since last post: 1207 days
Last activity: 81 days

#3 Posted on
While I'm a huge fan of the glory days of The Simpsons, I haven't watched a "new" episode in years. One of the running jokes, though, was that they always told the origin of Homer and Marge's marriage differently (my favorite was the onion ring engagement ring). Was this not just another chapter in the ever changing history of their marriage or was this indeed a blatant attempt at a full on retcon?
PeterStork
Sujuk



Since: 25.1.02
From: Chicagoland with Hoosiers, or "The Region"

Since last post: 1156 days
Last activity: 919 days

#4 Posted on | Instant Rating: 4.66
My local Fox affiliate lost the audio on their HD feed and my DVR refuses to fast forward my copy of the episode, leaving me with a silent recording that has to be played in real time. From what I read here it's apparently a conspiracy to protect me.


---

exit 670 dot com | digital route 66
John Orquiola
Scrapple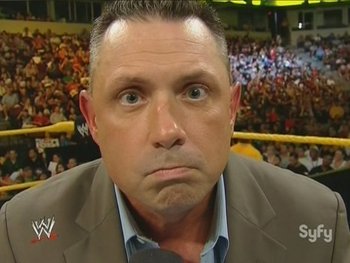 Since: 28.2.02
From: Boston

Since last post: 1426 days
Last activity: 1426 days

#5 Posted on | Instant Rating: 6.57
I offer the exact opposing viewpoint.

First, when will people finally understand that The Simpsons does not subscribe to and cannot be defined by any type of traditional continuity. To demand it of them is foolish and only leads to bitterness and anger. While The Simpsons sometimes maintains a continuity (Maud Flanders died and is still dead, Principal Skinner and Mrs. Krabappel dated for years and broke up), the series is not serialized in that what happened in the past is inviolate. (Dr. Marvin Monroe was dead for several years and suddenly reappeared a while back. "I was very sick," he said. And we move along.)

Bart will ALWAYS be 10 years old. Time passes in the real world - 18 years and counting - and yet things have to remain the same in Springfield. And yet they have to reflect our times as well, good or bad.

Any Simpsons writer will tell you the series exists in a "flexible reality." Meaning: whatever they want to do to tell a joke is what they'll do. It's not supposed to all hold together in a tidy bow like a traditional television series. It's not designed to. The series' ability to do whatever they want, which they basically invented in its modern form on television so others could follow suit, has always been their strongest trait creatively.

The hard and fast rule for The Simpsons is this: All that matters to them is the joke they're telling, even when the very next joke immediately contradicts it. And they do that on purpose because you CANNOT maintain the show's status quo while lasting as long as they have and continue to.

How many times have they looked outside of The Simpsons' kitchen window and seen something other than their backyard, for example. How many times have Bart and Lisa gone on summer vacation and returned to Springfield Elementary in the fall right back to Mrs. Krabappel's 4th grade class and Miss Hoover's second grade class? I can't believe people still get up in arms over stuff like that or episodes like That 90's Show. They're just telling jokes.

The show did not retcon anything in the sense that the previous flashbacks never happened. Homer and Marge DID go to high school in the 1970's. All the old flashback episodes hold. (So do all the episodes set in the future, which also contradict each other.) Now they're saying Homer and Marge were single in the 90's. Well, if you do the math, that Bart must ALWAYS be 10 is the unchangable rule, then it makes sense they were.

Does it contradict what came before? Yes. It's supposed to. To quote Carl in a previous episode: "It's best not to think about it." It's not worth getting bent out of shape over. Reality is whatever they say it is. Does the 90's episode make sense? NO. And the writers don't care because there's no point in making it make sense. All they were really doing was goofing on the 1990's.

If you didn't think the episode was funny, that's cool. I love grunge music, Nirvana, the 90's, and I thought there was some hilarious stuff:

Homer, Lenny, Carl, and Officer Lou as a Color Me Badd-like R&B group. Lenny's hair and facial hair were awesome.

Kirk Van Houten downloading a picture that will take six hours (as long as no one picks up the phone.)

Kurt Loder "reporting from the 90's."

Weird Al's parody of Homer's parody of Nirvana's "Rape Me."

Homer: "He who is tired of Weird Al is tired of life."

Bart's line after the commercial break: "Why did you stop talking for two and a half minutes?"

The image of Homer with the syringe in his arm might have been the darkest thing the show has ever done. There was no reason to believe it wasn't heroin until Marge said it was insulin. I was kind of jarred by it, but I cite precident from Homer's line in the golden years episode when Homer was in the B Sharps: "The fame was like a drug. But what was even more like a drug were the drugs."

Now, I didn't LOVE the episode. I liked a lot of the jokes and things like Homer's parody of Bush's "Glycerine" worked for me, but the whole thing overall wasn't one of their best outings. The timing was off and a lot of the non-90's specific jokes fell flat. But I laughed enough. In the end, laughter is what I want from The Simpsons. And I got it. I don't worry about the rest.

(edited by John Orquiola on 29.1.08 0608)
---

Back of the Head: www.backofthehead.com
OlFuzzyBastard
Knackwurst



Since: 28.4.02
From: Pittsburgh, PA

Since last post: 374 days
Last activity: 351 days

#6 Posted on | Instant Rating: 1.71
I, for one, am outraged outraged that, for the first time ever, The Simpsons was lax in it's continuity.
dwaters
Bierwurst



Since: 16.10.02
From: Connecticut

Since last post: 25 days
Last activity: 1 day

#7 Posted on
Thumbs down. The Simpsons can do better.

I'd rather have seen less 90's references and more actual jokes. Oh look, Lazer Tag, Grunge, Seattle, and they're watching Seinfeld (I couldn't help but wonder if they watched The Simpsons)

Yes, it's hard to keep consistency after all these years, but some things are more blatant than others. This is one of them. Viewers can accept minor inconsistencies, but even casual viewers can tell you Homer and Marge's dating story has already been told. It seems lazy -changing history for a story that's not even that good anyway.

I love shows like The Office that respect fans enough to make references to things from Season One and they actually make some sense. If it was on for five or ten more years, I imagine they would maintain the continuity.
Mr. Boffo
Scrapple



Since: 24.3.02
From: Oshkosh, WI

Since last post: 1761 days
Last activity: 1722 days

#8 Posted on | Instant Rating: 5.12
This happens with any long-running media in which the characters do not age in real time.

Take comic strips. The Comics Curmudgeon has pointed out historical inaccuracies with Zits and Sally Forth. It's the same deal. The characters exist in the eternal present, so their backstories need to keep being adjusted forward.

The only difference is that no one cares about Zits and Sally Forth like they do about The Simpsons. People do care about comic books, but as It's False points out, the retcon has become pretty standard there, if not necessairly appreciated. It's never really been necessary in TV before, because TV shows haven't lasted long enough.
Big Bad
Scrapple



Since: 4.1.02
From: Dorchester, Ontario

Since last post: 8 days
Last activity: 1 day

#9 Posted on | Instant Rating: 5.21
I agree with dwaters --- the only real problem with this episode was that it wasn't very funny. Getting upset over a continuity re-shift in the Simpsons after all these years (as long as it's not something like, 'Oh hey, Bart has always had three arms') is much ado about nothing.


---

How you uh, how you comin' on that novel you're working on? Huh? Gotta a big, uh, big stack of papers there? Gotta, gotta nice litte story you're working on there? Your big novel you've been working on for 3 years? Huh? Gotta, gotta compelling protaganist? Yeah? Gotta obstacle for him to overcome? Huh? Gotta story brewing there? Working on, working on that for quite some time? Huh? Yea, talking about that 3 years ago. Been working on that the whole time? Nice little narrative? Beginning, middle, and end? Some friends become enemies, some enemies become friends? At the end your main character is richer from the experience? Yeah? Yeah?
Alessandro
Lap cheong




Since: 2.1.02
From: Worcester MA

Since last post: 48 days
Last activity: 2 days

#10 Posted on | Instant Rating: 3.04
Originally posted by dwaters

---

Yes, it's hard to keep consistency after all these years, but some things are more blatant than others. This is one of them.

---


It's easier to think of it in these terms: All of these years, we haven't been watching one single "Simpsons family", but rather several different versions which exist in parallel universes.

Marvin Monroe suddenly isn't dead anymore? Simple, we've simply switched our perspective from a Simpsons universe where he was dead, to another universe where he is alive ...

Seriously, how do the Simpsons from the original Tracy Ullman shorts fit into continuity? Answer: They don't. They're from another reality (the "Earth-Prime" Simpsons, if you prefer) ...



(edited by Alessandro on 29.1.08 1422)

---

SchippeWreck
Banger



Since: 26.3.03
From: Glendale, CA

Since last post: 366 days
Last activity: 51 days

#11 Posted on | Instant Rating: 7.32
OK, it is absolutely true that The Simpsons has no hard continuity, aside from things that happened in the past that they want to bring up to service a joke. Bart is perpetually 10, Lisa is perpetually 8, and so on.

But the age thing does bring up a problem with the episode. Homer is perpetually (around) 40. So he and Marge being of early college age (18? 19?) in "the 90's" doesn't make sense mathematically, even if you do throw out all the other continuity.

It's not worth really getting up in arms about, though. They had a joke they wanted to tell and they went for it, for better or worse.


---

"It's magic! We don't need to explain it!"
Tribal Prophet
Andouille



Since: 9.1.02
From: Winnipeg, MB, Canada

Since last post: 802 days
Last activity: 62 days

#12 Posted on
Originally posted by SchippeWreck

---

But the age thing does bring up a problem with the episode. Homer is perpetually (around) 40. So he and Marge being of early college age (18? 19?) in "the 90's" doesn't make sense mathematically, even if you do throw out all the other continuity.

---


Isn't Homer early to mid-30's?

1990+18 years, so 18+18 years gives us 36, which actually works.

OMG CONTINUITY!!!! :)

(edited by Tribal Prophet on 29.1.08 1210)