geemoney
Scrapple



Since: 26.1.03
From: Naples, FL

Since last post: 6 days
Last activity: 19 min.

#1 Posted on | Instant Rating: 5.55
The last few weeks have been pretty sweet....I've been watching "Breaking The Magician's Code: Magic's Biggest Secrets Revealed" at 8pm on MyNetwork TV. I saw them in their first run on Fox, but that was ages ago. Cool stuff, but they just re-ran number five tonight at that's the last one.

TONIGHT: Ric Flair's return. A show-starting tag match with Jeff Hardy & Triple H against Umaga & Snitsky. And more Y2J!

-WWE Open.

-What else? Clips of Y2J's return are shown.

-Raw Open.

-Fireworks start us out LIVE from Charlotte, NC, with our hosts Jim Ross and Jerry "The King" Lawler. JR said we're starting off with the main event.

Triple H & Jeff Hardy vs. Umaga & Snitsky
Lawler hinted that Snitsky wanted a shot at Hardy's Intercontinental Title. Crowd is really hot here. After Jeff quickly tagged out, Snitsky hit some shoulders to Triple H's mid-section. Lawler once again noted the fallacy that Snitsky has never been pinned on Raw. A little double-teaming by the faces and Jeff catapulted him onto both heels on the outside. They caught him, but Triple H dove through the ropes to aid his partner. Break time.

[Break]

We returned with Umaga and his swinging Rock Bottom on Jeff. Snitsky in now, and he hit a suplex for two. Hardy battled out of a double-underhook, but got hit with an elbow coming off the ropes. The former IC champ tagged back in and hit some hard thrust kicks, followed by a spinning heel kick for a near fall. Jeff snuck out of a pump-handle slam and dropkicked Snitsky into the buckle. He almost made a tag, but Jeff grabbed his ankle. Jeff subsequently kicked him away and tagged the Game. Umaga also tagged in and missed a splash. Triple H used the knee, then hit the spinebuster. He almost hit the Pedigree, but Snitsky tried to hit a running kick. That missed and Trips set HIM up, but Umaga ended that. Snitsky got dumped to the outside where he and Trips fought, while Umaga and Jeff were inside. Snitsky got clotheslined over the barricade and Triple H pulled Jeff out of the way of a butt splash. Whisper in the Wind for Umaga (which JR called "Twist of Fate"....twice), then a pedigree, then Triple H graciously let Hardy have the glory again with the Swanton for the pin.

Winners: Hardy & Triple H at 10:34 . Quality opening contest, considering some of the guys involved. Surprised they let Umaga take the fall, rather than Snitsky.

-William Regal came out and said he'd really like to see Triple H and Jeff Hardy in action at Armageddon. So of course, he put them together in a match, one-on-one.

-Backstage, a limo pulled up. Fans already started "WOO"ing. The Nature Boy got out and started walking to the dressing room. Lawler and WWE.com hinted at retirement.

[Break]

-Ric Flair came out for his long-awaited promo. He complimented the fans of Charlotte and already started getting emotional. He said the reason he hasn't been on Raw for six months- because his wrestling career can't go on forever. He's gotten involved in politics and opened his own marketing company. He said he has compared himself to Cal Ripken and Brett Favre. But tonight, he has to announce....that he will never retire! He will only retire when he's dead in that ring. Kind of a gruesome picture. Then he took of his coat and did his crazy old man routine. He said he loved this business and he ain't going anywhere. Mr. McMahon's music hit and the chairman came to the ring. Vince said he liked that Ric was never going to retire....as long as he keeps on winning. Vince said the first match he loses, his career is over. Heavy boos from the crowd on that one. Vince said he doesn't care how Ric wins, but the next time he loses, his career is over. Vince wished Ric good luck and said he hoped he didn't die anytime soon. Okay, so what's the reasoning for Vince wanting Ric to retire so badly?

Randy Orton's music hit before Vince could leave the ring. Randy thanked Ric for all the advice he gave him early in his career and being there for him at the beginning. He thanked Ric, in advance, for allowing him to end his career tonight. He got close to Flair and said "thank you" once again. The segment ended with both wrestlers staring at each other in the ring. They should've had Orton facetiously say, "Hey Ric, if you're still around when WrestleMania rolls around, I'll even give you a title shot." He, of course, would be confident Flair would be done by then. But come WM time, Flair is still kicking and gets a title shot. Why waste him facing the champ on the first night, unless they plan on having a series of matches where Flair wins, but ultimately, that takes a bit of heat off Orton.

[Break]

-Chris Jericho joins us tonight, live on Raw.

(2) Hardcore Holly, Cody Rhodes, Jim Duggan & Super Crazy vs. Rory and Robbie of The Highlanders, Lance Cade & Trevor Murdoch
All eight were in the ring for the match out of break. After The Nasty Boys' great dark match on Smackdown, they should've brought them in for this match. Quick tags by the face team. Rory tagged out to Cade after getting Rhodes down. He laid some punches into Rhodes in the corner. Murdoch came in and snap-mared Rhodes over and started working over his arm. Robbie tagged in, but so did Holly, who went to work on the Scot. High dropkick by Holly, and now everybody gets involved. Holly kicked Robbie right in gut, then hit the Alabama Slam for the win.

Winners: Holly, Rhodes, Crazy & Duggan at 3:26. Hard to fit that big a match into just over three minutes and have it accomplish anything.

-Ric Flair vs. Randy Orton is coming up later tonight.

[Break]

-Todd Grisham was joined backstage by Jeff Hardy. Jeff gave his thoughts on facing The Game at Armageddon. He said he has really enjoyed tagging with Hardy and hoped that whatever happens at the PPV doesn't put a damper on their....and then Triple H interrupted. He mocked Jeff for thinking they were friends, with Trips saying he's never been good at keeping friends. He said at Armageddon, Jeff isn't stepping in the ring with a friend or a partner....but The Game.

-JR and King threw it to clips of the Mr. Kennedy/HBK confrontation from last week. JR said Kennedy was "looking to notch his gun against Shawn Michaels." Talk about a mangled metaphor.

-Mr. Kennedy, backstage, plugged HBK's DVD. He offered to give his take on things before Michaels gratuitously plugged it. Kennedy said the DVD was full of HBK turning on every partner and coming up short at almost every turn. He said Michaels doesn't only lose matches, but he loses his smile. Do most fans even know what he's referring two the past few weeks? Kennedy claimed HBK spent most of his career, as evidenced on the DVD, politicking and doing other like-minded things to maintain his main-event spot. Watching the DVD, he said it was evident that Michaels has had some highs and lows, but no low will compare to what he'll feel like when stepping into the ring with Mr. Kennedy. Great promo.

-Chris Jericho joins us for Raw, next.

[Break]

-Ric Flair was backstage, reminiscing with agents Arn Anderson and Barry Windham.

-Chris Jericho came out to a shortened Save_Us video, and his shirt and tights both resembled the Save_Us scrambling letters. Crowd didn't seem to pop THAT big. Jericho said the one reason he came back to Raw was to save us from Randy Orton and become the new WWE Champion. He claimed Randy was too stupid to understand what he wanted last week and said the champ has the IQ of a cumquat. Jericho put it in simpler terms for Orton. He even brought visual aids on the TitanTron- "Me" was a picture of Jericho, "Want" was Cookie Monster, "Title" was a picture of the title and "Match" was a match you'd start a fire with. He asked the crowd to read it along with him. Y2J said he wanted and answer, and oh yes, yes! Santino Marella's music hit and our favorite fake Italian came to the ring! I think he called him "KYJ." He called Jericho's 'do a "Lindsay Lohan haircut." Jericho said he was embarrassed, and asked who Santino was. Jericho kept mis-pronouncing Santino's name and Marella ranted in anger in Italian. Marella said Jericho doesn't deserve a title match and even HE could beat him up. Jericho took him up on his offer, but Santino got cold feet. Finally he said they could have a match but Santino had to warm-up first. Marella wanted to give Jericho something to think about, and he then attacked Jerry Lawler. Jericho is in action next!

[Break]

(3) Santino Marella vs. Chris Jericho
Marella just got back into the ring as the bell rang. A hard right hand put Santino down, then he hit a standing vertical suplex. Marella got in a throat thrust, but Jericho hit a thumb to the eye. Jericho hit his springboard dropkick. Jericho isn't much taller than Santino, who is very short, so I don't know if putting these two together right off the bat will help Jericho in that regard. Marella held onto the ropes on an attempted Jericho dropkick. Back suplex from Santino got just one. Jericho came back with a running clothesline and an atomic drop. Facebuster led to a unique jaw-breaker for the win. That's it?

Winner: Jericho at 3:50. Well, he looked good. Not a ton of ring rust or timing issues at all.

Jericho encouraged Lawler to get into the ring to finish his business. Jericho then got on the headset. Lawler punched away at Marella and a Million-Dollar kneelift, "shades of Mr. Wrestling II" said JR. Has he been listening to JBL's commentary? Jericho did some friendly mocking of JR as Lawler put Santino away. Jericho said he wants an answer from Orton tonight.

-As Flair was suiting up, HBK walked in and they shared a hug. HBK said this industry without Flair is not something he's ready to put his arms around yet. Michaels gave Flair a pep talk, calling him the one and only legend this industry would ever have. Great job from HBK here. Flair said if he was to go out, it'd be in a blaze of glory. HBK is looking more and more like Chuck Norris, with the cowboy hat and the beard.

[Break]

-We got clips of what happened earlier with Flair and McMahon and Orton.

(4) Brian Kendrick vs. Mr. Kennedy
Kennedy was quite aggressive in the early goings. Kendrick got hung up by Kennedy on the bottom rope and hit a reverse Russian leg-sweep-type maneuver....and got the win.

Winner: Kennedy at 1:19. You mean they couldn't call on Val Venis for this one?

Kennedy said that's just a sampling of what you'll be able to see on the next HBK....or you can see it live when he and HBK lock horns.

-WWE Magazine presented the Smackdown Rebound.

[Break]

-Vince was talking with Hornswoggle backstage, saying he was quite lucky. Vince wants to make Finlay/Khali for Hornswoggle. He then wanted Horny to grab him an ice cream sandwich. Like any true villain, Vince grabbed a walkie-talkie from nearby and whispered the code phrase, "Mr. Rogers has left the neighborhood." Outside, Hornswoggle walked into a room with a sign on it saying "Free Ice Cream Sandwiches." Oh, if only. Inside was Carlito waiting for Horny. Hornswoggle grabbed some spray paint as Carlito was about to attack and spray pained a black door-like object on the wall. He got a running start and ran right through it, presumably, to the other side. Carlito was flabbergasted. He then tried to run through the opening, but of course, only ran into the wall. Ron Simmons walked in and said "Damn."

-Melina was backstage, getting ready for her match with Mickie James. It's a #1 Contender's Match, and it's next.

-They must be running short on time this week, as Beth Phoenix came to the ring to scout the next match and she didn't even get an entrance. They've cut other entrances short tonight as well.

(5) Mickie James vs. Melina- #1 Contender's Match
Melina got the advantage with some kicks. Mickie returned the favor with some kicks of her own. Mickie launched Melina across the ring and hit her with a Thesz presses and some punches. Roll-up by Melina for only two. Hurricanarana by Mickie, then a high, hard DDT for the win.

Winner: Mickie at 1:58.

-Ric Flair was walking backstage and came upon several wrestlers and agents (Cody Rhodes, Triple H, HBK, Sgt. Slaughter, Dean Malenko, Hardcore Holly, Chris Jericho, Super Crazy, Todd Grisham, Jeff Hardy and others). Trips wished him luck.

[Break]

(6) Randy Orton vs. Ric Flair- Flair's Career on the Line
Flair started with some chops, then hit a back-body drop. He pounded away at Orton in the corner, then hit a back elbow on Orton coming off the ropes. Another chop, but Orton turned things around and started hammering away with rights at Flair in the corner. Orton then hit a back-drop of his own. Flair got an inside cradle for a near fall, but Orton got up quickly and nailed Flair with a clothesline. Orton gave Flair the Ron Garvin stomp as the crowd was once again chanting something I couldn't quite understand (second time this match). Dropkick by Orton for two. Another standing dropkick. Side headlock by Orton. Desperation chop by Flair, but Orton clotheslined him over the top rope. The fans knew Flair would be done if he was counted out, so they were imploring him to get back in. Orton went to the outside and suplexed Flair on the floor. Orton figured it was over, and got back in the ring. The ref was at eight when Flair rolled back in. Legdrop by Orton for two. Another headlock by Orton. Flair back-suplexed our of the move. Flair punched Orton right in the leg, then followed with a chop block. Flair locked in the figure-four and the crowd went wild. Orton was close to the ropes, but couldn't get them at first try. He finally got there. As both men got to their feet, Randy hit the RKO, but Orton came down on the knee and was slow to cover. Flair got his hand on the ropes to break the pin. Crowd started chanting "Nature Boy." Orton punched at Flair and came close to getting DQ'd. "Randy sucks" chant now. He set up for another RKO but took way too long (as in you knew he was waiting for someone/something to happen) and lo and behold, Jericho got to the ring to distract the ref. Flair hit the low blow, rolled Orton up, used the tights, and got the three.

Winner: Flair at 10:32. Believe it or not, pretty good match. The storyline certainly helped.

The announcers said Jericho had made a physical challenge to Orton. Both men stared at each other as the show closed.


---

My Survivor Series Hangout Report and More!: Experience It




Promote this thread!
Super Shane Spear
Bierwurst



Since: 2.1.02
From: Sector 7 Slums

Since last post: 2925 days
Last activity: 2925 days

#2 Posted on | Instant Rating: 4.63
Late 90s throwback RAW!!!

I just want to thank in this order: Santino Marella, Ric Flair, Ken Kennedy, Chris Jericho, Ken Kennedy (again), Triple H, Jeff Hardy, Jerry Lawler and Carlito.

save_us.KYJ
Torchslasher
Knackwurst



Since: 17.1.02
From: New F'n Jersey

Since last post: 98 days
Last activity: 98 days

#3 Posted on | Instant Rating: 5.85
I thought JR was so great announcing the main event tonight. For all his faults (whisper in the wind/twist of fate), I think he is still the guy you want announcing a "big match." Lawler held up his end as well.

Good Raw, although the crowd was spent after the first match and Flair's first appearance, and they didn't get back up until Flair's match.

And what does Mickie James have against kissing Melina on the lips, or vice versa?

Santino and Y2J should just interact every week on Raw.


---

Click Here (czwfans.com)

For all your CZW and Nickels Trivia information.

"Put on your helmets, we'll be reaching speeds of 3!"
"It was nice of you to give that dead woman another chance."
"All right, look alive everybody...oh sorry Susan."- MST3K: Space Mutiny
Click Here (myspace.com)
shawnpatrick
Kishke



Since: 31.7.07
From: Leesville SC

Since last post: 2223 days
Last activity: 2105 days

#4 Posted on
Great Raw and with the football game breaking new records for scoring ineptitude, I expect this weeks rating to be way up.
redsoxnation
Scrapple



Since: 24.7.02

Since last post: 1813 days
Last activity: 1813 days

#5 Posted on | Instant Rating: 3.57
If they are going to continue Lawler/Santino, then Lawler has to teach Santino how to play 'Hide the Chain'.
Only problem with Flair/Orton was they should have had Flair start going through the bottom guys on the roster first. Go through a Carlito, a Snitsky, shock the world against an Umaga. This way, they could really start building up Flair for a match against the champion, presumably Orton, at the February throw-away PPV as a means to lure buyers in.
If I heard Regal correctly, the I-C match at the PPV is non-title?
BigDaddyLoco
Scrapple



Since: 2.1.02

Since last post: 1 day
Last activity: 23 hours

#6 Posted on | Instant Rating: 3.34

- Does Ric Flair have some sort of disease that is sucking the life out of him? He looks so much older than the last time I saw him on Raw, and he looked pretty horrible almost shamefully bad in the ring. It's a good storyline and JR and Lawler called it well and helped cover it well, but he should really start sticking to the mic and only use this can't lose gimmick every so often.

- Jericho on the other hand would be better served sticking to working in the ring, where he looked good, instead of spending so much time talking, which made him look foolish. It's also never good to be sucked in a Jerry Lawler feud right out of the gates.

Raw was better than the football game, but it could have used some more actual wrestling.


Wpob
Bierwurst



Since: 21.11.02
From: Williston Park, NY

Since last post: 26 days
Last activity: 1 day

#7 Posted on | Instant Rating: 3.26
If Jericho ever goes heel down the road, he NEEDS to partner with Marella. Jericho/Marella would be almost, if not better than, Jericho and Christian.

Solid RAW that moved everything in the right direction. Also, I like Jericho Code Breaker move. It looks like it would hurt, making it effective.

I'll tune in next week to see if this was a one shot deal.


---

"Marriage is like that show 'Everybody Loves Raymond', but it's not funny. All the problems are the same, but you know instead of all the funny, pithy dialogue, everybody is really pissed off and tense. Marriage is like a tense, unfunny version of 'Everybody Loves Raymond', only it doesn't last 22 minutes. It lasts forever."


JustinShapiro
Scrapple
Moderator




Since: 12.12.01
From: Pittsburgh, PA

Since last post: 50 days
Last activity: 6 days

#8 Posted on | Instant Rating: 8.67
Originally posted by BigDaddyLoco

---


- Does Ric Flair have some sort of disease that is sucking the life out of him?

---


He has 60 Years Of Living Ric Flair's Life Syndrome.

It's kind of funny that even in his big retirement tour, they don't let Ric Flair do Ric Flair promos, though the four minutes that he got to talk before being interrupted may be a modern day record. Vince needed to give a reason or more than 10 seconds thought for why he did what he did too. They even had Shawn Michaels do Flair's promo for him. It was really good, but what the hell?

That said, it's still genuinely terrific that he's getting to go out with a lot of fanfare and respect. And by the very nature of the storyline, he has to keep winning. So yay.


Originally posted by Torchslasher

---

And what does Mickie James have against kissing Melina on the lips, or vice versa?

---


She kissed her at Survivor Series. But she had to mean business when a shot at the prestigious WWE Women's Title was at stake. Now she'll go for the LKG on Beth but Beth is TOO POWERFUL TO BE GIRL RAPED.

Jericho is showing pictures on the TitanTron again; life is good.

(edited by JustinShapiro on 27.11.07 0155)
Jericholic53
Boerewors



Since: 18.3.03
From: Honolulu, HI

Since last post: 137 days
Last activity: 1 day

#9 Posted on | Instant Rating: 5.78
Jericho is standing next to Dean Malenko in the hallway tribute to Ric Flair and they're not beating the crap out of each other?! Where's the continuity?!


---

It says so right here in the wcw handbook!
TheOldMan
Landjager




Since: 13.2.03
From: Chicago

Since last post: 1176 days
Last activity: 162 days

#10 Posted on | Instant Rating: 5.44
This is not curtain jerking - this is our main event, dammit!

H does the beatdowns, tags in Jeff - who gets a couple of moves in around playing Ricky Morton, to make the hot tag to H who cleans house. But Jeff gets the pin, and his music plays. Regal comes out, and in the first of a series of wtf moments, makes Jeff vs H for Armageddon. (Why?)

I'll leave this with wondering how long ago we saw this kind of story with Jeff and Undertaker - the "ya did good kid, maybe next time I'll actually put you over" push. Or do you think Jeff goes over this time?

Also, that wild swinging sideslam of Umaga's can't possibly be safe, can it?

Nice speech by Flair, who I gathered was too over to get mic time before his recent absence. I've heard this storyline bandied about, so Vince coming out to start it wasn't entirely unexpected. But the second wtf moment is that Vince makes the "lose and you must retire" edict for no apparent reason. Is it so hard to take 10 extra seconds and have Vince say something like "Ric, I thought you said you wanted to announce your retirement", and then do the exact same thing?? But no, we get "The first match you lose Ric, your career is over!" - wtf? And then redundant evil GM Vince makes Flair vs Orton, Career vs er.. Absolutely Nothing - for later tonight.

A three minute, 8-Man Tag makes me wonder if they are doing some sort of special in place of Heat this week.

Arn looks like he could step back in the ring at a moment's notice after all this time.. Barry Windham, not so much. Not that anyone asked, but former Horseman Mongo McMichael was hosting a MNF party at a local 'gentleman's club'.

Jericho comes out to officially ask for a title match in his own inimitable way, only Santino is the one doing the interrupting this week. Were they doing a subtle nod to the Jericho-Rock promo there? KYJ, Who are you? The name game was fun, as was Jericho accepting the challenge "Okay. Beat me up." And then Santino Pearl Harboring the King.

I wonder if Jericho asked for a 'tuneup' here, considering his "Debut Match curse". The new finisher is 10x better than the Lionsault. Switching with the King to finish business added a nice touch of spontaneity.

"Michaels, Texas Ranger", indeed.

I think doing jobs like this was why Spanky opted out of his last WWE contract. Didn't anyone notice how over he and London were on SmackDown?

And then the biggest wtf moment of the night, (are you fooking kidding me?) "Raw is Looney". This shtick wasn't all that funny when Kirk Douglas, Arnold Schwarzenegger and Ann-Margret tried it in "The Villain". Utterly painful to watch.

Surprising that we didn't see "The Long Kiss Goodnight" from Mickie tonight. (If they didn't quash the angle for some reason) I'm calling that Beth 'reverses' the liplock at Armageddon. Because everyone knows Glamazons swing that way.

Actual main event had nice heat, but with the extra paunch, less musculature, and thinning hair, Flair looked like Verne Gagne out there. Putting him in the ring with a 25-year old didn't help any. Jerichoference sets up the PPV match, but it seemed odd that of all those people backstage, Jericho would be the one to help Flair out.

Lazy booking and the incomprehensible Hornswoggle segment really took away from what was a good show in many spots.


---

Mayhem
Scrapple



Since: 25.4.03
From: Nashville, TN

Since last post: 329 days
Last activity: 213 days

#11 Posted on | Instant Rating: 5.07

As Jericho was calling out Orton, I was sitting on my couch, crossing my fingers & thinking "Please come out Santino ... Please come out Santino." Great stuff.

I'd read somewhere that Jericho was supposed to have a new finisher ... pretty cool.

I like how the opening tag match had a "big fight" feel to it ... then Snitsky display his suckitude.
rv581
Goetta



Since: 2.12.02

Since last post: 2817 days
Last activity: 1987 days

#12 Posted on | Instant Rating: 3.79
Originally posted by JustinShapiro

---

Originally posted by BigDaddyLoco

---


- Does Ric Flair have some sort of disease that is sucking the life out of him?

---



He has 60 Years Of Living Ric Flair's Life Syndrome.

(edited by JustinShapiro on 27.11.07 0155)
---

It's a shame that Ric couldn't get a little body work done at the plastic surgeon while he was away. Y'know -- a trim here, a tuck there, etc. 'Cause he still has a name; Lord knows he still can talk; he can still move in the ring... but his appearance has reached the point where he just doesn't look credible in the ring anymore.

But hey, he's still Ric f'n Flair, I suppose. Fun watching him score a victory again in a match that had a legitimate storyline -- and against a main eventer, too. Made me smile, at least...


---

"Who ate my sandwich???"
kentish
Andouille



Since: 19.8.05
From: My Old Kentucky Home

Since last post: 1304 days
Last activity: 558 days

#13 Posted on | Instant Rating: 2.55
I could've done without the Carlito-Hornswaggle crap, but the rest of the show was pretty solid. The constant reminder from JR that the HHH match was the main event was a bit annoying too.

Perhaps we will find out next week what Vince's motivations are when it comes to Flair? Either way, I like the angle, and it is a great way to build to Ric's final match, which hopefully is not against Vince.




---


"I like your Christ, I do not like your Christians. Your Christians are so unlike your Christ."

-- Mahatma Gandhi

Spiraling_Shape
Bierwurst



Since: 2.1.02
From: PA

Since last post: 2 days
Last activity: 7 hours

#14 Posted on | Instant Rating: 5.99
I loved the Jericho/Santino segment, it's ridiculous how much smoother Jericho is on the mic than almost anyone at this point.

Kennedy's DVD promo was outstanding as well...I didn't see the match with Kendrick, but I don't suppose they faced off because Kendrick is a former student of HBK and thusly Kennedy was showing what he could do to one of Michaels' proteges? That would be too much continuity to ask of the Fed...
Matt Tracker
Scrapple



Since: 8.5.03
From: North Carolina

Since last post: 27 days
Last activity: 4 days

#15 Posted on | Instant Rating: 6.01
Originally posted by geemoney

---

[Kennedy] hit a reverse Russian leg-sweep-type maneuver

---


That's the deep-bend Downward Spiral used by Mike Knox during his first ECW run. We got this and Jericho's new Code Breaker ("say it loud, say it proud") tonight.

Two new finishers. Oh, the glee! The glee!

I wondered if they'd let Kennedy retain the Kentawn Bomb after being moved alongside Hardy. Also, did anyone else think he looked much smaller this week?

I liked this show, and how they're building the angles. The Hornswaggle bit was bad, and I wish Carlito was used differently.

Flair did good. Flair did real good.


---

"To be the man, you gotta beat demands." -- The Lovely Mrs. Tracker
John Orquiola
Scrapple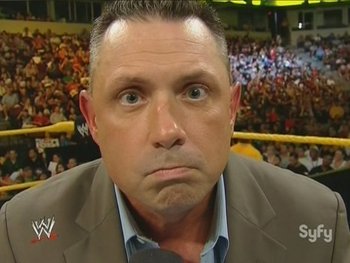 Since: 28.2.02
From: Boston

Since last post: 1450 days
Last activity: 1450 days

#16 Posted on | Instant Rating: 5.36
Originally posted by Matt Tracker

---

I wish Carlito was used differently.

---


If by "used differently" you mean "released," you're gonna love how they use Carlito next. My spy backstage at WWE says Carlito is done and fulfilling obligations before he takes his apple and goes back to the Caribbean.

By God, Barry Windham is fat now. I did a double take to make sure it was Barry Windham. It looked like some pasted Barry Windham's face on the Nasty Ol' Assassin's body.

I called the Santino - Jericho confrontation a couple of weeks ago but I was off as to when. It came a week later than I thought but it was as good as expected.

Too bad William Regal couldn't stand to see Triple H and Jeff Hardy as the Super Best Friends much longer. At Armageddon, the Super Best Friends Explode! It should be billed as The Glass Ceiling Match.

(edited by John Orquiola on 27.11.07 0727)

---

Back of the Head: www.backofthehead.com
StaggerLee
Scrapple



Since: 3.10.02
From: Right side of the tracks

Since last post: 7 days
Last activity: 7 days

#17 Posted on | Instant Rating: 2.35
The Y2K mispronouncing bit was by far, one of the funniest things I've seen on WWE in a long, long time.


Good God, Barry Windham needs some slimfast or something. How can you be 20 years younger than Flair and look worse than him?

Nice main event (the real one, not the first match).

And, Santino jumping Lawler was gold.
spf
Scrapple



Since: 2.1.02
From: The Las Vegas of Canada

Since last post: 960 days
Last activity: 379 days

#18 Posted on | Instant Rating: 5.16
Originally posted by StaggerLee

---

The Y2K mispronouncing bit was by far, one of the funniest things I've seen on WWE in a long, long time.


Good God, Barry Windham needs some slimfast or something. How can you be 20 years younger than Flair and look worse than him?

Nice main event (the real one, not the first match).

And, Santino jumping Lawler was gold.

---

Awww..give Barry a break, he's barely 10 years older than Ric.

Everything involving Chris Jericho and Santino Marella was platinum. That's right. Platinum. More expensive than gold. They should just have Raw be 100 minutes of Jericho annoying Santino, 5 minutes of Mickie James bringing HLA back to the masses, and 20 minutes of Ric Flair ranting and nut-shotting people.
StaggerLee
Scrapple



Since: 3.10.02
From: Right side of the tracks

Since last post: 7 days
Last activity: 7 days

#19 Posted on | Instant Rating: 2.35
Am I the only one who thought once Jericho took his shirt off, he should have just put it back on? Those are some strange looking man boobs he has.
The Thrill
Banger



Since: 16.4.02
From: Green Bay, WI

Since last post: 1523 days
Last activity: 157 days

#20 Posted on | Instant Rating: 4.25
Welcome home, men of the 2nd Bn, 127th Inf, 32d "Red Arrow" Brigade, WI Army Nat'l Guard! Good luck to those down south.
Originally posted by JustinShapiro

---

Jericho is showing pictures on the TitanTron again; life is good.

---


ME WANT TITLE MATCH

That's several kinds of awesome. RAW IS COOKIE MONSTER!


---
NWAWisconsin.com...Live, Local Pro Wrestling!


Pages: 1 2 3 Next