Super Shane Spear
Bierwurst



Since: 2.1.02
From: Sector 7 Slums

Since last post: 2930 days
Last activity: 2930 days

#1 Posted on | Instant Rating: 4.62
I hate starting these threads because I don't have the patience or effort to write up a full report, but nobody else is getting one up, so here it is.

Jeff Hardy, Ken Kennedy, Randy Orton, and Shawn Michaels are awesome. Just flat out fucking awesome. Jeff Hardy and future, world weary veteran Jeff Hardy are the greatest thing since Hiro met future Hiro last year. Put them in the tag title hunt, or an I-C feud, or a WWE championship feud. Whatever you do, please keep them attached at the hip.

Even though I saw it coming down in a cab weeks ago, the Holly-Cody thing is going to turn out alright. Hell, who's heard a crowd chant for Bob before?

So now Carlito is losing to Canadish Bulldog? Oof.

Finally...Is there a new magazine out this week?

Finally finally...Charlie Haas has a character now?

Promote this thread!
JustinShapiro
Scrapple
Moderator




Since: 12.12.01
From: Pittsburgh, PA

Since last post: 55 days
Last activity: 10 days

#2 Posted on | Instant Rating: 8.67
May I add

- Santino Marella is the best man ever, even better than Andre the French Giant.

- CANVAS MICHELLE.
Big Bad
Scrapple



Since: 4.1.02
From: Dorchester, Ontario

Since last post: 4 days
Last activity: 1 day

#3 Posted on | Instant Rating: 4.09
Charlie Haas' "Oh snap!" goes into the catchphrase hall of fame slightly below Bull Buchanan's "Booyah!"

That was an ugly, UGLY bump by Candice Michelle. Hopefully she's okay and nothing serious was damaged. It's odd to see a referee just openly giving signs and breaking character in mid-match, but it was certainly accounted for in this circumstance.

Judging from this show, I guess WWE gave up on its subtle insistence that HBK main-event the PPV. Jeff Hardy would be a great choice for a main event run, and frankly, Hardy/HBK is one of the few dream matches that hasn't happened yet (at least not on a major stage).
JustinShapiro
Scrapple
Moderator




Since: 12.12.01
From: Pittsburgh, PA

Since last post: 55 days
Last activity: 10 days

#4 Posted on | Instant Rating: 8.67
I can't believe Chioda wouldn't just end the match and I can't believe Beth would pull her out of the corner BY THE HEAD. That was insanity.
ges7184
Lap cheong



Since: 7.1.02
From: Birmingham, AL

Since last post: 73 days
Last activity: 61 days

#5 Posted on | Instant Rating: 5.45
Personally I don't see, especially in this day and age, why it is more important to "protect the business" than it is to protect the injured. Why have Beth jerk her out of the corner like that? That's an unnecessary risk. When somebody has a neck/head injury, just call the match off and get help in there. Don't pull the person around just for the sake of keeping appearances.


---

The Bored are already here. Idle hands are the devil's workshop. And no... we won't kill dolphins. But koalas are fair game.
Super Shane Spear
Bierwurst



Since: 2.1.02
From: Sector 7 Slums

Since last post: 2930 days
Last activity: 2930 days

#6 Posted on | Instant Rating: 4.62
But is Santino better than The Bret Hart?

Oh, and I don't know how long this gif will be up, but...


TheOldMan
Landjager




Since: 13.2.03
From: Chicago

Since last post: 1180 days
Last activity: 166 days

#7 Posted on | Instant Rating: 5.37
With apologies to geemoney, who mentioned he might be watching football live tonight.

-WWE Open

-We start with Kennedy in the ring, in spotlight holding his mic, making his pitch to win the fan vote for the WWE title match at Cyber Sunday. Jeff Hardy is compared to Hillary Clinton (they both have no testicles), Shawn is like Rudy Giuliani (they both live in the past). What have you done for us lately Shawn? I beat former champs Mysterio, Batista, and even The Undertaker. To paraphrase another Kennedy, ask not what Mr. Kennedy can do for you.. ask what you can do for MISTAAAAAH... KENNEDY.

Jeff Hardy is in the stands, and they've given him a live mic. Oh god. Kennedy ad libs while Jeff gets his thoughts together. Hardy says Kennedy's approval ratings suck. Kennedy calls this begging for votes. Crowd chants for Hardy. Eventually, it's "go time". Orton comes in to make a double team on Jeff, HBK limps in to even the odds before Jeff gets killed dead. In the end, HBK and Orton pair off, as do Hardy and Kennedy. Hmm.

-Recap of the opening angle

1) Mickie James, Paul London and Brian Kendrick vs Melina, Lance Cade and Trevor Murdock
Mixed tag rules (no hot inter-gender action) apply. Cade pounds on London to start, but Londrick quickly gets the upper hand, and work over Cade's left arm. Then Mickie tags herself in, nullifying the advantage. Way to go, Mick. When the guys get back in, it's the Rednecks' turn to get heat on Kendrick. Enziguri brings in London, and soon all six are in the ring. Murdock bumps into Mickie, and then heel miscommunication leads to Cade clotheslining Murdock and giving the faces the win. Mickie looks a bit confused/mysterious, rather than happy to get the win.

-HBK and Jeff chat backstage. Two men, tag partners tonight - both wanting the big match on Sunday. Shawn accuses Jeff of not having his back in tonight's match. No Shawn, that's your gimmick - ha!

-Cody Rhodes is reading the 500th issue of Raw Magazine backstage. He's soooo getting busted in JR's blog for not watching the matches. WGTT are there to give Cody crap for losing to Bob Holly 14 times in a row, and we find out it's Shelton vs Cody later. Haas: "Oh, snap!"

-Coach wants Regal to make him a match with Hornswoggle, because he thinks the absent Vince wants the leprechaun out of the way. Regal comes around, and makes Coach vs. Horny. Crowd cheers. No, no - says Coach. I want Hornswoggle vs.... UMAGA!

2) Cody Rhodes vs Shelton Benjamin (w/ Charlie Haas)
Crowd doesn't exactly love this one. Shelton works a leg. I would have marked if Charlie went all Cobra Kai on the outside here, but no such luck. Cody gets the cheap win when Benjamin overshoots a roll-up. Heel beatdown ensues, with a not-all-that-unpredictable Holly save. Tag team action next week, to be sure.

-Hype for Beth Phoenix vs Candice Michelle Women's title match, best 2 of 3 falls, later tonight.

-D.H. Smith is here to introduce himself to the crowd, and dedicate his debut match to his father The British Bulldog.

3) D.H. Smith vs Carlito
Smith shows off some decent power, a serviceable dropkick and nice counters. Carlito gets some offense in, but Smith wins it with the running power slam. They use 'Hail, Britannia' for his theme. Who's the genius that decided to debut Smith one week *after they were in Great Britain???

-Candice and Beth staredown. Beth vows to bring Candice to her knees, Candice vows to regain her title, and says she gets on her knees for no one.

-Video package of "The Misadventures of Coach and Hornswoggle". Last week's footage is replayed, sped-up, with the cartoony Keystone Kops music many suggested was missing when it aired live. I give this a 0.6 on the Dr. Heinie embarrassing to watch scale.

4) Umaga (with Coach) vs Hornswoggle
Did they change Hornswoggle's music? He must have been getting TOO over. Match never happens, as Horny eventually runs backstage rather than get in the ring for this. HHH comes out. His new shirt looks like one of those painted jobs you'd get from the airbrush artist on a beach in Cancun. Umaga has let down the dreds, I think. Pull apart brawl ensues here, as all the road agents and all the security men can't keep these two combatants apart, again. Goes on about 5 re-starts too long. HHH's *shirt was even reluctant to do a job here.

-Video recap of moments ago. Umaga is shown going berserk in the back to get some heat, I guess. King and J.R. sell the hell out of all this.

-Todd Grisham is out to eliminate one of the last three Diva search contestants. I have ffwd'ed through this up till now. Brooke and Eve are your finalists, Lena is eliminated. Each finalist is given 30 seconds to make their case for winning. I find out we are in Omaha, NE tonight. Cheap pops abound!

-Orton and Kennedy get their chance to confer backstage. Orton wants HBK and Hardy weakened. Orton gives Kennedy a crumb of credit for helping him eliminate Cena. Wink to the smarts? Kennedy wants to make an impact.

-Santino brings out the 500th Raw magazine to talk about. "Everybody's in there.. The Rock, The Undertaker, The Bret Hart, Stacy Keibler... my Maria... Andre, the French Giant, Jillian Garcia... and there's one guy who's mentioned like 200 and 83 times... Stone Cold Steve Austin. You know who's not mentioned? Not even one time? The greatest Superstar in the WWE? Santino Marella. Even Mantaur is mentioned. Seriously, Mantaur. Maria, open to page 24. Mantaur." (he pronounces this MAN-tar each time)

-Save_Us video interrupts here. Save_Us.229 changes into Save_Us.X29. I think there may have been an impression of a maple leaf tossed in as well. Subtle 'Y2J' chant is barely recognizable. Santino: "Holy pastafajul! What the hell was that?" He goes on to run down Stone Cold, and says that if Austin dares to come and mess with him, he's going to open a can of Ass Whip on him. A big one. All over his head. I dare say this segment reeked of awesomeness.

4) Santino Marella (w/ Maria) vs Ron Simmons
Short match, Santino is DQ'd for kicking Simmons low. At least Santino left him writhing.

-HHH interview segment. It doesn't matter what kind of match is voted in. He claims he saw doubt in Umaga's eyes, Sunday he will see fear. Trips is now "The True Destroyer", as well as the "King of Kings". Same speech he's been giving us for four years now.

5) Candice Michelle vs Beth Phoenix, two out of three falls for the Women's Championship
We hear "Glamazon" twelve more times. Candice tries to show some skills, but Beth gets the first fall off a Khali-esque tree slam in about 2 minutes.

Second fall is joined in progress, as Beth appears to be trying for a liontamer on Candice. Candice gets out, and does a good job selling a beating. Candice then gets some momentum, and a couple of near falls. Crowd is fairly into the match. Then she goes up to the top rope, and Beth runs into the ropes to cause what you figure should be a crotch in the corner spot. Candice appears not to step back far enough, and her ankles get caught on the top rope, throwing her face/left shoulder into the mat. You can hear them talking in the ring, and soon Beth drags Candice toward the center, and pins her to win the match 2 falls to none.

The trainers come out, you see the ref make the X. This is where all those times they use the "hushed voices" for an angle works against them, as it takes a minute for me to decide it's no angle here. Candice sits up, but they lay her back down and take her out on a bodyboard as a precaution. She appeared to be able to move all extremities. All I'll say for now, is what the hell were they thinking, letting Beth drag her around the ring after that fall?

-Cyber Sunday card rundown. JR said there was no further word about Candice's condition before the show ended.

6) Shawn Michaels and Jeff Hardy vs Mr. Kennedy and Randy Orton
HBK and Kennedy start. Those knees still don't look so good to me. JR says Orton should just let the other three beat on each other. Orton mostly tags in when there's an advantage. In the end, sure seemed to me like they wanted to suggest HBK/Orton, and Hardy/Kennedy. Hardy pins Kennedy after a hard swanton (landed it short). Orton comes in to RKO the celebrating Hardy, but HBK beats Randy to the big impact move by hitting Orton with sweet chin music for the third straight week. Play his music! Closing shot is Shawn looking at the prone Orton.

I thought that worked well as a go-home show. And hopefully Candice is okay. No Vince was nice for a change.

(edited by TheOldMan on 23.10.07 0046)

---


It's the Big "W", I tell ya! The Big "W"!
Brian P. Dermody
Liverwurst
Moderator



Since: 20.9.02
From: New York, NY

Since last post: 2276 days
Last activity: 1698 days

#8 Posted on | Instant Rating: 8.31
wwe.com says Candice has a cracked clavicle which will keep her out for 4-6 weeks.


---

Reward TV -- TV just got better!

Ars Gratia Pecuniae.
Juggalo101
Italian



Since: 27.4.04
From: Atlanta

Since last post: 1971 days
Last activity: 1970 days

#9 Posted on | Instant Rating: 1.83
Originally posted by Super Shane Spear

---

But is Santino better than The Bret Hart?

Oh, and I don't know how long this gif will be up, but...





---


Funny how most of the audience is paying more attention to making an ass out of themselves on camera.


---

Rise, my lord. Rise.
BigDaddyLoco
Scrapple



Since: 2.1.02

Since last post: 5 days
Last activity: 2 days

#10 Posted on | Instant Rating: 3.33
I had a feeling Carlito was going to lose, based on his effort and body languageout there. A few more jobs and I can see him getting released.

I really dig Jeff Hardy. My biggest complaint though is that he has got to find a new way to come out of the tunnel on his way to the ring. I think if he could do that he'd really get the crowd behind him.

The WWE really needs to come up with a plan when someone gets knocked out. Like just ringing the bell.

That doctor was really diving in there getting his hands all over the job.
JimBob Skeeter
Bierwurst



Since: 2.1.02
From: MN

Since last post: 2 days
Last activity: 1 day

#11 Posted on | Instant Rating: 5.92
Right before she climbed the ropes the the turnbuckle, I was thinking to myself that she can barely make it thru one match, let alone three, and that she looked a bit winded to be going to the top. Wish I'd been wrong. That fall was nasty.
I really enjoyed last night's show. No VinnyMac was very nice. From the opening segment to HHH/YewManga pull-apart to Cody/Holly, the development between Murdoch protecting Mickey and her thanking him afterwards to the main event. Everythin just flowed nicely and kept my attention. Seriously, if we don't have Vince on our screen for a couple more months, I'd watch more.
If the savior video DOES turn out to be Jericho, I'll watch every bit every week. Serious. I miss that guy on my tube.

-edit- Also, Santino marella is the funniest goddamn thing on my screen in a long, LONG time.

The Bret Hart.

Mantaur.

Who's not mentioned in their? (500th Raw mag)

*hand circles and points direct to his ear*

Santino Marella.

Open a can of ass whip on you.


COMEDY GOLD! Of course, Austin is going to stun him this Sunday, but that'll just help Santino out more. I can't wait for next Monday.

(edited by JimBob Skeeter on 23.10.07 0918)
Hokienautic
Lap cheong



Since: 2.1.02
From: Blacksburg VA

Since last post: 49 days
Last activity: 8 hours

#12 Posted on | Instant Rating: 3.90
Speaking of Morella, anyone else get a vibe that they're going for a Randy Savage-Miss Elizabeth kinda thing with Morella and Maria? Too bad Eugene isn't still around to scream "Mine!" and fawn over her.
Matt Tracker
Scrapple



Since: 8.5.03
From: North Carolina

Since last post: 2 days
Last activity: 10 hours

#13 Posted on | Instant Rating: 6.01
The Hardy/Kennedy opening was a nice change of pace. Hardy did well on the mic this show, although his "yo" and "dude" make me wonder if the WWE only regards him as their homegrown RVD.

I like the potential "True Destroyer" moniker for Hunter but felt that his backstage promo was the most by-the-numbers since the days of the 20-minute opening interviews. Umaga's subtle change of look was interesting as was Mickie's odd behavior after her team won the six-man. Maybe they're going back to her crazy gimmick.


---

"To be the man, you gotta beat demands." -- The Lovely Mrs. Tracker
KJames199
Scrapple
Moderator



Since: 10.12.01
From: #yqr

Since last post: 3 days
Last activity: 14 hours

#14 Posted on | Instant Rating: 6.47
Re: Candice Michelle, I was convinced it was a work last night because the cameras lingered on it forever, and because Beth was dragging her around by the head. If it WAS legit - and having seen replays online, I'm certain it was - Beth and the referee need to be fired immediately. Why on earth would you take someone who may have just broken her neck and drag her around by the head? And if you're the referee, why would you allow that?

"DH Smith" looks so much like his dad (but way taller) that it's kind of scary. But he needs WWE-quality tights instead of Stampede-quality. Those things looked awful.

And who, exactly, picks out the colours for Hardcore Holly's tights? At least there was no hot pink mixed in with the lavender and aqua this time.
Originally posted by Super Shane Spear

---

Jeff Hardy, Ken Kennedy, Randy Orton, and Shawn Michaels are awesome.

---
I really have to know - what did Kennedy do last night to be considered awesome? Michaels is a bonafide legend. Orton and Hardy, sure, you could make a case for them, and I like them both. But Kennedy screwed up every move he did. He's a terrible wrestler, an entertaining ring intro, and nothing else, which puts him on the level of Road Dogg or Godfather.


---
JK
John Orquiola
Scrapple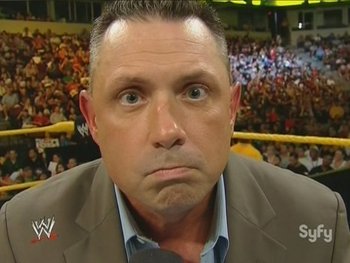 Since: 28.2.02
From: Boston

Since last post: 1455 days
Last activity: 1455 days

#15 Posted on | Instant Rating: 5.32
I have got to learn not to drink anything while Santino's talking. I did a spit take when he said he'd "open up a can of asswhip." The Mantaur reference was awesome. Santino is so great, even when he sucks in the ring, he's great.

I can't recall anyone else spending weeks and weeks openly campaigning to be on the receiving end of a Stunner and a beerbath as Santino has been doing.

They are NOT doing a Randy Savage/Miss Elizabeth thing with Santino and Maria because Santino is not abusive towards Maria. He never does anything mean or hostile to her or demeans her or hides behind her. He's always telling her how beautiful she is. That's why she sticks with him. He's a dick to everyone else but he's really good to her. Savage never even said anything positive about Elizabeth, even when they did the wedding angle. The best he could muster was "Elizabeth! Elizabeth! Will... you... marry... me?!" with all the romantic charm of a constipated serial killer.

When the referees and agents swarmed around Candice I was watching closely and noticed a lot of extraneous touching. Mike Chioda's busy hands seemed very concerned that Candice's ass was okay.

The pull apart between Triple H and Umanga was pretty good. The best thing about those pull aparts is seeing the agents. Great to see Ricky Steamboat and Mike Rotundo.

(edited by John Orquiola on 23.10.07 0912)
---

Back of the Head: www.backofthehead.com
Mayhem
Scrapple



Since: 25.4.03
From: Nashville, TN

Since last post: 333 days
Last activity: 218 days

#16 Posted on | Instant Rating: 5.05
Originally posted by John Orquiola

---

The best thing about those pull aparts is seeing the agents. Great to see Ricky Steamboat and Mike Rotundo

---


Not to mention Barry Wnidham.

Pretty solid Cyber Sunday go-home show.

Are we now going to get the awkward love affair of Mickie James & Trevor Murdoch (who by the way, looked a bit thinner & more tan).
CRZ
Big Brother
Administrator



Since: 9.12.01
From: ミネアポリス

Since last post: 2 days
Last activity: 1 day


ICQ:
#17 Posted on | Instant Rating: 9.00
It seemed weird for the director to club us over the head with Mickie's post-match reactions and then not have the commentators make a SINGLE reference to it as it happened, but what can you do. (Post about it on a message board?) PERHAPS.

.X29 = 10/29? We can only hope, but that filename suffix might need to do some more morphing to get us to Y2J...

Candace was lucky enough she didn't crash and burn on the earlier huracanrana attempt - call me old fashioned, but I'm not too into watching the wrestling where I find myself constantly cringing.


---
Captaincuba
Italian



Since: 25.10.05

Since last post: 1571 days
Last activity: 1446 days

#18 Posted on | Instant Rating: 4.61
Jeff Hardy = Voice of the IWC?

Hi backstage stuff was great:

"See something new", "Do what you would do".

I hope the vote is legit and he gets his shot...he's earned it.

Santino entertains non-fans...my girlfriend loves his accent and his shtick. Her quote was" "When is Stone Cold going to stun the little Italian guy?".

I enjoyed the show from start to finish, which speaks volumes considering the roster. Yeah we all hate Orton for his restholds, but damn did he sell that superkick to the moon.

So yeah, after a few weeks dealing with the suspensions, we got a Raw with "young talent" from top to bottom. Aside from HHH, HBK, Holly, and Hardy everyone seemed shiny and new.

On a final note continuing my Jericho obsession:

He just added 2 book signings to his schedule, both in the cities Raw is brodcasting from the next 2 weeks.

X/29 = Roman Numeral 10/29 = Raw is Jericho

CC
JimBob Skeeter
Bierwurst



Since: 2.1.02
From: MN

Since last post: 2 days
Last activity: 1 day

#19 Posted on | Instant Rating: 5.92
Cyngus posted this over at DVDVR and I really like the theory, combined with the new background images, I think it really does point to Jericho:

"I actually see the Save.Us X29 as a little trick... the 2 stays where it is... but change the X to Y and change the number to 10 (alpha-numerical business)... rest is history plus the images before the binary code business remind me of his titan tron from his debut... "

If it's not Jericho, you have to give it to them for creating all this buzz. Makes it a little more interesting.
kentish
Andouille



Since: 19.8.05
From: My Old Kentucky Home

Since last post: 1309 days
Last activity: 562 days

#20 Posted on | Instant Rating: 2.56
Santino, might not be the Showstopper, but he was the Show stealer last night. Awesome.

That was a solid show, with very few groan inducing moments.

I also now want to see HBK vs Hardy. I even hope they rig the vote and Jeff gets the shot at the PPV. Shawn doesn't need it, and it would be a fresh face in the main event. Maybe it can cause tension that leads to a big match up down the road (Mania?). They teased it back in 2003 when Jeff turned heel while Shawn was feuding with Jericho, but I think Jeff was fired not long after that.


---


"I like your Christ, I do not like your Christians. Your Christians are so unlike your Christ."

-- Mahatma Gandhi

Pages: 1 2 Next