John Orquiola
Scrapple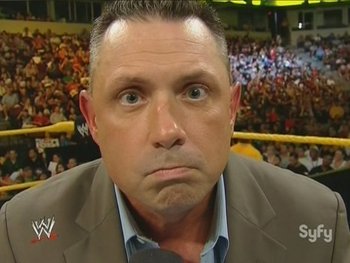 Since: 28.2.02
From: Boston

Since last post: 1792 days
Last activity: 1792 days

#1 Posted on | Instant Rating: 5.20
http://ps3.ign.com/articles/817/817443p1.html


Raw:
Bobby Lashley, Booker T, Carlito, Jeff Hardy, John Cena, JTG, Ken Kennedy, Randy Orton, Shad, Shawn Michaels, Snitzky, Triple H, Umaga, William Regal

Smackdown:
Batista, Chavo Guerrero, Chris Masters, Edge, Finlay, Gregory Helms, Kane, Kenny Dykstra, Mark Henry, Matt Hardy, MVP, Rey Mysterio, Ric Flair, The Great Khali, Undertaker

ECW:
CM Punk, Elijah Burke, Johnny Nitro, Marcus Cor Von, Sabu, Sandman, Tommy Dreamer

Divas:
Ashley, Candice Michelle, Kelly Kelly, Melina, Michelle McCool, Mickie James, Torrie Wilson

Legends:
Bret Hart, Mick Foley, Rick Rude, "Rowdy" Roddy Piper, "Stone Cold" Steve Austin, Terry Funk, The Rock

At first glance, this roster looks sucky. First, it better be King Booker and not Booker T in the game, for fuck's sake. They've had a year to create King Booker. Second, I don't know, the roster looks really thin. Obviously Chris Benoit is out. Big Show and Kurt Angle are cut. Unfortunately so was RVD. And no Boogeyman or Viscera/Big Daddy V, which I won't complain about.

Although looking it over it seems like the main guys from all three brands are in the game. I suppose it was too late to make Johnny Nitro into John Morrison. Nice to see Sabu made it in despite being fired months ago, but no RVD sucks. Yet Terry Funk is in the game! With Funk, Dreamer, Sabu, and Sandman, that's a decent roster of ECW Originals. No Kevin Thorn sucks. No Deuce and Domino. No Santino Marella! Cryme Time just got fired but I wish they never made it in to begin with. Still no London and Kendrick and now both Charlie Haas and Shelton Benjamin were cut from the game. However, both Hardys are in and so is the main guy I want to guide through season mode, MVP. And I am pleased to see Rick Rude as a Legend. I'm not pleased with non wrestling Divas like Kelly Kelly in the game while Jillian was cut. Why couldn't Extreme Expose be in the game as non-playable like Maria while Jillian and Victoria are included as playable characters? No Trish and Lita as Diva Legends as rumored, apparently.

I suppose there'll never be a perfect Smackdown vs. RAW roster but this sure doesn't seem close.

Wasn't there supposed to be downloadable content via Xbox Live for the 360 version? If so, there's hope for Santino, London and Kendrick and Beth Phoenix down the line.


(edited by John Orquiola on 4.9.07 0721)

---

Back of the Head: www.backofthehead.com
Promote this thread!
Cerebus
Scrapple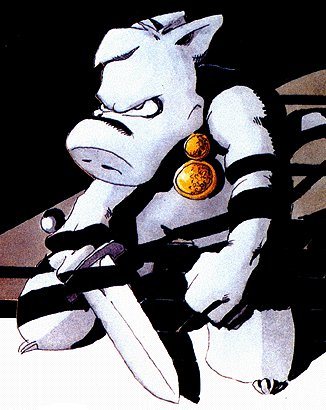 Since: 17.11.02

Since last post: 692 days
Last activity: 414 days

#2 Posted on | Instant Rating: 1.48
Will this have the create a character option?

If so, it'll be simple to make Booker T into King Booker by giving him Lawler's crown and cape.
SchippeWreck
Banger



Since: 26.3.03
From: Glendale, CA

Since last post: 338 days
Last activity: 86 days

#3 Posted on | Instant Rating: 7.07
Originally posted by Cerebus

---

Will this have the create a character option?

If so, it'll be simple to make Booker T into King Booker by giving him Lawler's crown and cape.

---

Nope. You'd have to build him from scratch. You can never edit existing characters' appearances.

I'll be renting the Wii version to check out the control scheme, but since I'm barely following the shows at this point, the roster doesn't mean much to me.


---

My mom says sigs are bad for you.
samoflange
Lap cheong



Since: 22.2.04
From: Cambridge, MA

Since last post: 2047 days
Last activity: 2040 days

#4 Posted on | Instant Rating: 6.42
The games used to let you copy an existing character to a CAW slot and then you can mess with their appearance. I don't think this was in any of the more recent games, probably because the individual graphics have become much more detailed and personalized where they weren't all included as standard "CAW parts".

Give it a few weeks and some of those insanely accurate CAW models will be made and the selections used to make them will be uploaded somewhere on the internet.


---

Lloyd: When I met Mary, I got that old fashioned romantic feeling, where I'd do anything to bone her.
Harry: That's a special feeling.
hansen9j
Andouille




Since: 7.11.02
From: Riderville, SK

Since last post: 48 days
Last activity: 13 days

#5 Posted on | Instant Rating: 5.33
I look forward to my CAW pouncing the bejezus out of someone, and following it up with Kenny's awesome legtuck legdrop, and then swivelling his hips in celebration.


---

Proud member of the Dwight Army of Champions. And also a Communist.



It's False
Scrapple



Since: 20.6.02
From: I am the Tag Team Champions!

Since last post: 431 days
Last activity: 225 days

#6 Posted on | Instant Rating: 4.64
Rick Rude's inclusion as a Legend absolutely makes my day. But the Legends roster itself can't compare to last year. I couldn't think of any game other than '07 where I could make a Hulk Hogan/Bret Hart/The Rock/John Cena fatal four-way.

I also find it incredibly odd that Jillian made the cut last year, but finds herself on the outs for '08 when she seems to be getting a bigger push now than she got in '07.

Boogeyman and Viscera, see above. And Sabu's in the game, but RVD isn't? What's up with that?


---

Buy Kanye West's "Graduation" (The W at Amazon) and YOU can help send 50 Cent into retirement (and put some money into The W while you're at it)!
Torchslasher
Knackwurst




Since: 17.1.02
From: New F'n Jersey

Since last post: 69 days
Last activity: 69 days

#7 Posted on | Instant Rating: 5.76
No Matt Stryker as a jobber to build up my CAWs? BOO!

No Santino Marella and no Maria as a playable character? DOUBLE BOO!

No Brooke's ass in the game? Sheesh.


---

Click Here (czwfans.com)

For all your CZW and Nickels Trivia information.

"Put on your helmets, we'll be reaching speeds of 3!"
"It was nice of you to give that dead woman another chance."
"All right, look alive everybody...oh sorry Susan."- MST3K: Space Mutiny
Click Here (myspace.com)
Venom
Boudin rouge



Since: 15.1.03

Since last post: 4281 days
Last activity: 4251 days

#8 Posted on | Instant Rating: 4.66
I'd be shocked if this game had any moves associated with Benoit...Crossface would definetely be a no-no, but the Rolling Germans and Flying Headbutt could also be on the axe list.

I'm more interested in a better storyline mode...every year they get a little better, but there hasn't been a true blowaway one yet in that regard.


---

WoW Wisdom:
"And then there's aggro to worry about."
"What's 'aggro'?"
"Well, it's complicated. But loosely translated, it means 'the priest dies.'"
Matt Tracker
Scrapple




Since: 8.5.03
From: North Carolina

Since last post: 26 days
Last activity: 22 hours

#9 Posted on | Instant Rating: 6.01
No Kevin Thorn for ECW is puzzling. I'll miss the many faces of Foley and Eddy. I'm counting only three cruiserweights on the SD roster which makes the chase for that title seem slight.

I JUST beat the 2007 game, so I'm not sure if I';l get this upon the release like I usually do with the franchise installments.

I hope they build on the solid storylines and wouldn't mind more material like "Uh oh, it's magic" to spice up the game.


---

"To be the man, you gotta beat demands." -- The Lovely Mrs. Tracker
John Orquiola
Scrapple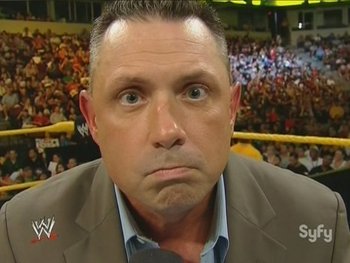 Since: 28.2.02
From: Boston

Since last post: 1792 days
Last activity: 1792 days

#10 Posted on | Instant Rating: 5.20
I also noticed the lack of Cruiserweights in the game to contend for the Cruiserweight title. Without Kid Kash, Psicosis, Daivari, Super Crazy and Vito, the 08 game will have a distinct lack of cool high flying matches.

It is disappointing, just looking at who was in last year's game and was cut from the new game in addition to the names above. It reads like a who's who of wrestling:

Hulk Hogan
Kurt Angle
Rob Van Dam
Big Show
Chris Benoit (obviously. With him and Angle gone, no one does rolling Germans, and no one else did Crossfaces or his particular style of Swandive Headbutt)
Eddie Guerrero
Dusty Rhodes
Trish Stratus
Lita
Shelton Benjamin
Jim Neidhart
Bam Bam Biglow
Hardcore Holly
Viscera
Boogeyman

The last three are a stretch. On the other hand, Sabu, Terry Funk and Rick Rude are pretty awesome Legends additions. And I can't wait to play MVP.

But it just seems like we're getting a lot less in this year's game.

Although numerically, we aren't. Unless I missed someone, that's a count of 15 wrestlers cut from the 2007 game. But they are replaced with 15 new wrestlers:

Jeff Hardy
JTG
Shad
Kenny Dykstra
MVP
CM Punk
Elijah Burke
Marcus Cor Von
Sabu
Sandman
Tommy Dreamer
Ashley
Kelly Kelly
Rick Rude
Terry Funk

There are a lot of wrestlers there I'm excited to play. But the cut list is a much more impressive roster of superstars overall.

(edited by John Orquiola on 5.9.07 1252)
---

Back of the Head: www.backofthehead.com
Oliver
Scrapple



Since: 20.6.02

Since last post: 1546 days
Last activity: 1540 days

#11 Posted on | Instant Rating: 4.23
As according to IGN's DS site (at ds.ign.com): This is the DS version's roster.

Batista, Gregory Helms, Randy Orton, Bobby Lashley, Hardcore Holly, Rey Mysterio,Booker T, Jeff Hardy, Ric Flair, Carlito, John Cena, Shawn Michaels, CM Punk, Johnny Nitro, Snitsky, Edge, Kane, Triple H, Finlay, Ken Kennedy, Undertaker

Colour me unimpressed. At least it's better than the GBA games rosters.


---

I've seen 14 movies so far this year: Because I Said So - (2*); Borat - (5*); Children Of Men - (4*); Die Hard 4 - (5*); Evan Almighty - (3.5*); Fantastic Four 2 - (4.5*); Hairspray - (5*); Harry Potter 5 - (4*); Knocked Up - (4*); The Last Mimsy - (4*); Mr. Brooks - (4*); Shrek The Third - (3*); Spiderman 3 - (3.5*); Transformers - (2*)
Mayhem
Scrapple



Since: 25.4.03
From: Nashville, TN

Since last post: 671 days
Last activity: 555 days

#12 Posted on | Instant Rating: 4.98

wait ... where are Cade & Murdoch?