geemoney
Scrapple



Since: 26.1.03
From: Naples, FL

Since last post: 9 days
Last activity: 50 min.

#1 Posted on | Instant Rating: 5.54
-WWE Open.

-A look back at Great Khali's ill-conceived championship celebration from last week.

-Smackdown Open.

-Michael Cole and J.B.L. introduced the program and previewed Flair/Batista vs. Deuce 'N Domino later tonight. Theodore Long and Kristal came out to start the show. Kristal introduced long as "Teddylicious." Teddy announced that Friday, September 21st, the two will be married on Smackdown. After Teddy's announcement, Great Khali and Runjin Singh came down. Khali ended up scaring Kristal to the mat and she fled to ringside. Singh was not happy that Batista made a mockery of Khali's celebration last week. Long took exception to the interruption and made Great Khali vs. Batista at SummerSlam. This news brought out Kane. Apparently, a match is upcoming.

[Break]

1- KANE VS. CHRIS MASTERS
Off the ropes, Kane hit a shoulderblock. After a rest, Masters grabbed a side-headlock, then hit two shoulderblocks that took Kane off his feet. Kane was not amused, as he came back with a right hand. A bit of chain wrestling followed, until Masters backed Kane into the corner and slammed him with back elbows. He caught Kane charging into the corner, but Kane shrugged off a Masterlock attempt. Masters tried again, but Kane was able to get to the corner. Masters slugged away though. Clothesline for two by Masters. Another side-headlock by Masters, followed by a swinging neckbreaker. Kane suplexed out of a rest-hold, then prepped for the chokeslam. Masters got to the ropes and tried to hook in the Masterlock, but again couldn't. Kane blocked two suplex attempts, and hit one of his own, then caught Masters with a big boot. Clothesline in the corner from the Big Red Monster, then a sidewalk slam. Masters caught Kane coming off the top and put the Masterlock on, but Kane got to the ropes. Kane ducked Masters and chokeslammed him for the win.

WINNER: Kane at 7:12
Kind of clunky, and pretty boring while Masters was on offense.

-The greasers were backstage getting ready for their tag match. Deuce was still pissed about Batista making eyes at Cherry last week. That match is still to come tonight.

[Break]

-Chuck Palumbo rides bikes. What a badass.

2- MARK HENRY VS. NATE NICKERSON
Henry greeted Nickerson with a splash in the corner. Henry military-pressed him next, dropping the jobber on his knee. A hair toss by Henry was followed by the bearhug of death. Bye bye jobber.

WINNER: Henry at 1:25

-Henry grabbed the mic and wondered why no one of consequence ever takes his challenges. He shows us why, courtesy of a video package of him destroying the Undertaker.

-Jesse and Festus on: Fashion. Jesse is dressed in a tailor-made suit, while Festus finally speaks from inside a blue coat, green satin shirt and orange pants.

-Up next: an arm-wresting contest between M.V.P and Matt Hardy.

[Break]

3- MATT HARDY VS. M.V.P- ARM-WRESTLING MATCH
Clips of last week, where M.V.P said Matt couldn't beat him in anything aired. M.V.P stalled a bit, then they finally locked hands. Porter tried to wrap his leg around the table for leverage, but referee Jimmy Korderas caught him. Before locking hands a second time, Porter decided it was time to tape-up. Just before Korderas gave the high sign, Porter pulled out because the tape was bothering him. Again, Porter pulled out just before it was time to go. Finally, they started. M.V.P looked like he was going to pick up the win, but Hardy came back for the victory.

WINNER: Matt Hardy
If you've seen one, you've seen them all. Very formula.

-M.V.P got on the mic and said Hardy cheated because Porter wasn't ready. He said in a fair competition, Hardy couldn't beat him in anything. Porter said the main thing was he could win in a wrestling match, then challenged Hardy to a match right now. Well, after the break.

[Break]

4- MATT HARDY VS. M.V.P
Hardy started working quickly on the left arm of M.V.P, the one he apparently hurt in the arm-wrestling contest. Arm-bar by Hardy, but no clean break in the corner by M.V.P. Hip-toss blocked by Hardy, who gwent back to work on the arm. Cover by Hardy after a one-arm DDT got a two-count. M.V.P reversed an Irish whip, but Hardy went to the middle rope and hit the elbow to the back of the head. Before Hardy could hit his signature moves, M.V.P went to the outside. He suckered Hardy in and hung him throat-first on the top rope. With M.V.P on the offense, he began wearing Hardy down. Matt came back with an ugly clothesline and then started hammering away at M.V.P on the mat. Missed elbow by Hardy and both men were down. Porter started kicking the legs of Hardy, then hit the big boot to the head that sent Hardy to the outside. Porter threw Matt into the ring and went for the cover, which got two. Front facelock on Hardy by M.V.P. Hardy fought out, but Porter pulled his hair to bring him back down to the mat. M.V.P got hung up on the top turnbuckle. Matt went up to meet him for a suplex and hit it. Hardy and M.V.P started throwing punches at each other and Matt was able to follow up first, with a short-arm clothesline. Small package got a near-fall for Hardy. Bulldog by Matt for a VERY near-fall. M.V.P went to the outside, took his belt, and started walking around the ring to go to the back, but Matt caught him with a baseball slide. He threw him into the ring and hit the Side Effect for two. To the middle rope and down with the leg drop. Still only two. M.V.P sensed the Twist of Fate and ran, grabbing his belt and heading to the back for a count-out.

WINNER: Hardy at 11:09
I think I could survive without seeing another M.V.P/Hardy match for a while.

-Deuce was backstage asking stagehands where Cherry was. One said she went in the first door on the left, which was Batista's locker room. As Cherry came out of the locker room, Deuce started yelling at her when Domino came onto the scene, wanting to talk strategy. Batista walked up to his locker room door, and Flair came out. Oh that wacky Nature Boy. That tag match is tonight.

[Break]

-Jamie Noble was walking backstage, when he came upon a laughing Shannon Moore and Funaki. They were joking about Hornswaggle beating him last week. Noble said he was going to make an example out of Moore tonight.

-Rey Mysterio is returning....at SummerSlam.

-Vickie and Kristal were backstage looking at bridal magazines when Chavo came in. Chavo joked about Rey coming back and said he wanted to put Rey out of his misery. Vickie then gave Chavo a match with Rey at SummerSlam.

[Break]

-Another Palumbo vignette.

5- JAMIE NOBLE VS. SHANNON MOORE
Noble looked under the ring for Hornswaggle during his entrance. I liked "Prince of Punk" Shannon Moore better than "Generic Cruiserweight" Shannon Moore. Then again, I liked "Crazy Redneck Jamie Noble" better than "Jobber To Little People Jamie Noble." Fast-paced back-and-forth action to start. Suplex with a bridge by Noble for only one. Modified chicken-wing applied by Noble. When Moore broke out, Noble hit a bodyslam. Front face-lock applied by Noble as "wearing him down" seems to be the code phrase tonight. Noble got back-dropped by Moore, then caught a reverse heel kick right the face. Corkscrew moonsault by Moore for two. Noble hit the gut-buster for the win.

WINNER: Noble at 3:16

-Hornswaggle came into the ring after the match to taunt Noble. He escaped under the ring where he retrieved a pie, and threw it in Noble's face. As Noble looked under the ring, he got a face full of fire extinguisher.

[Break]

6- KENNY DYKSTRA VS. JIMMY WANG YANG
Victoria came out with Kenny and Torrie came out with Yang. Dykstra with a knock-down off the ropes, but Yang tripped him up and applied a side-headlock. Yang with a hurricanrana off the middle ropes, then hit a plancha onto Kenny on the outside. Back in, Dykstra took over, yelling at Yang about hitting him in the face. Neckbreaker by the former Spirit Squad member. Chinlock by Kenny, then a trip up of Yang and a splash for two. Another chinlock. Torrie got the crowd into it, but Dykstra hung Yang upside down in the corner and worked him over. Victoria hit Yang with a cheap shot and Torrie went to take care of her, but Dykstra got in front of her. Back in, he missed a clothesline and Yang hit a nice dropkick. Spinning heel kick on Dykstra in the corner, but his crossbody off the top was met with knees to the ribs by Dykstra. Kenny to the top, and Yang countered himself with a kick to the jaw. Yang met Dykstra in the corner with a back elbow, then went to the top, but Dykstra tripped him. Kenny went to the top for a suplex by Jimmy knocked him down and hit the moonsault for the pin.

WINNER: Yang at 6:03

-The tag team main event match is next!

[Break]

-Michelle McCool is lovin' life...poolside.

7- DEUCE 'N DOMINO VS. RIC FLAIR & BATISTA
Batista and Deuce started things off. Deuce laid in some right hands on the former champ, but Batista came back with fists of his own. Batista tagged Flair in, and he met Deuce with a chop, then a hip-toss. Batista tagged back in and he went to work on that right arm. Deuce came back and tagged Domino, but he didn't get any offense in before Batista put the shoulders into his gut in the face corner. Flair back in, and he got back-body dropped, then slammed. Tag in to Deuce and they had Flair isolated in their corner. Flair fought out, but he didn't have enough to make a tag. Elbow by Domino missed and both men are down as we go to break.

[Break]

Batista came in when we returned, and he just ran over the tag champs. Flair tagged in and he locked in the figure-four, but Domino broke it up. He then tagged in and worked over Flair. Deuce back in and he cornered Flair and started pounding away with the lefts. Flair Flop! And on his way to make a tag! Deuce smartly dragged him into the middle of the ring. Flair fought back with chops, but that didn't get him far. The heels rotate in and out and Flair's comeback was all adrenalin at this point. Deuce slowed down Flair with an arm-bar. Flair battled out of the heel corner but he couldn't quite make the tag. Both Domino and Flair were down and both ended up tagging. Batista teed off on Deuce, sending him to the outside, then spinebustered Domino. Side slam followed that. He set up to powerbomb Domino when Khali's music hit. Deuce clobbered Batista from behind and the two worked over Batista. The bell rang, I believe a DQ win for the faces because of the heel double team. Batista got cracked in the mouth and ended up outside the ring while Khali took his anger out on Flair in the ring, just squeezing the head of Flair.

WINNERS: Flair & Batista at 13:41

-Cole put over that "new move" (the claw) as deadly. Batista checked on Flair as Khali headed to the back. And we're out.

(edited by geemoney on 4.8.07 1401)

---

College, Sports and More!: Experience It




Promote this thread!
John Orquiola
Scrapple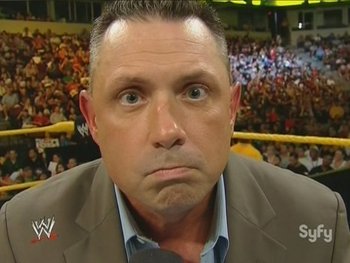 Since: 28.2.02
From: Boston

Since last post: 1453 days
Last activity: 1453 days

#2 Posted on | Instant Rating: 5.75
After watching Teddy Long and Kristal dancing and making out at the top of the show, I hope those two crazy kids make it.

Line of the night was the Stagehand telling Deuce where Cherry went: "Last I saw she rolled into that door right over there."

(edited by John Orquiola on 4.8.07 1314)

---

Back of the Head: www.backofthehead.com
emma
Cherries > Peaches



Since: 1.8.02
From: Phoenix-ish

Since last post: 1 day
Last activity: 1 day

#3 Posted on | Instant Rating: 7.97
Just got back to my TiVo, & watched the SD I'd been at live.

Masters was appalingly bad live. Poor Kane was working & selling his ass off, dragging Masters around, trying to get a decent match, but there's only so much one man can do. Kane was working every trick he could think of to make this look as good on TV as it did -- no fault at all on his side. Nice edit removing Masters completely botching his first attempt at the swinging neckbreaker. Overall, Masters really ought to be giving most of his paycheck back to the camera guys, the folks in the trailer, & the editing staff. This guy is a lost cause.

The jobber squashed by Mark Henry is Lil Nate (impactzonewrestling.com) in IZW. He did a really nice, snappy job of getting squashed.

The arm wrestling went on way too long, but it did lead to wrestling, right? Speaking of somebody experienced having to try to drag a decent match out of somebody not very good ... I am not at all impressed by MVP. Now he's not nearly as bad as Chris Masters, but he definitely needs to be dragged around. Again, credit to Matt for getting as much out of MVP as he did.

A few nice spots in the cruiser match between Noble & Shannon Moore. But way too much submission / rest-hold stuff. C'mon, you'sre setting up a pie spot with a leprechaun -- turn 'em loose & let them do cruiser-style!

Am a young talent hater? Absolutely not. Kenny has really, really good skills! I was way impressed with him, & the match with Jimmy Wang Yang was even better live. I've gotta think that they're grooming Kenny for the long term.

Lot of beat down on Flair leading to Batista slamming everything -- fun! After y'all left, Batista called Khali back out -- "Fat little bitch" I believe was the phrase -- for a match. They're apparently trying to figure out something to do with Khali to make an interesting match -- this new "Vulcan Death Grip" that he's using is not a SummerSlam-worthy match going to make. Batista was just rallying when Khali decided to punk out & leave -- followed by a Flair run-in for a nice chairshot to Khali. End of show posing & thanks for us from Flair & Batista. Fun ending for the night!
kentish
Andouille



Since: 19.8.05
From: My Old Kentucky Home

Since last post: 1307 days
Last activity: 560 days

#4 Posted on | Instant Rating: 2.45
I'm a fan of the Von Erichs, but the claw hold is not the answer for a guy that is already painful to watch. Ugh.

I am losing interest in this show in a hurry, after it had won me back over in the last year. It's not that the show is bad, it's just...there. Like Raw many times lately, there is just no reason for me to really watch. Khali has got to go, but even if Batista beats him, who cares? It took him like, a dozen title matches to finally pull one out? And if he LOSES? Damn.


---


Dean! Have you been shooting dope into your scrotum? You can tell me! I'm hip!