Llakor
Landjager



Since: 2.1.02
From: Montreal, Quebec, CANADA

Since last post: 1708 days
Last activity: 1699 days


AIM:
#1 Posted on | Instant Rating: 7.24
So, for those who are new. Fantasia is the bestest, wackiest genre film festival in the whole durn world from Montreal. www.fantasiafest.com

This is its twelfth year, eleventh edition (they missed a year because they got screwed by renovations to the Imperial that took way too long, which is why they moved from Imperial to Concordia.)

I will probably end up seeing thirty films this year.

Here is what I seen and here is what I thunked:

1. Perfect Creature Glenn Standring, New Zealand, 2007

This is coming out on video on July 17th, so expect it in a CRZ post soon.

The film is based around the idea that three to four hundred years ago, vampires appeared as a genetic mutation. In our history, they were killed and distorted legends about their existence sprouted. In the universe of "Perfect Creatures" they were after some initial reservations seen as a miracle proving the existence of God, linked religiously with the idea of the blood of Christ.

Science never passed out of control of the Church, so modernism never happened. Science and technology have progressed but stamped with the steam-punk aesthetics of Victorian England.

The film opens with Silus (Dougray Scott), playing a vampire as though he was channeling Leonard Nimoy playing Spock, searching for his brother Edgar (Leo Gregory) who has rebelled against the notion that vampires should serve humanity and has become the first vampire to violently attack a human and drink their blood. (Other vampires survive on donations given at the church.)

This film is much more than the sum of its parts. For a murder mystery, it's is not very mysterious - we know the killer within the first five minutes and in the last half of the film when the police are desperately searching for Edgar, the audience figures out Edgar's clues and waits impatiently for Silus and company to catch up.

For a horror film it is neither terribly scary or gory and for an action film there is not that much action.

The characters are well drawn especially Silus' love interest Lily (Saffron Barrow) as a strong female detective, but on the other hand, while she is portrayed as a strong self-sufficient character, she also spends half the film as Robin, the Girl Hostage.

All of that is just picking nits though. The film is wonderful... in the sense that it creates wonder. The alternate history is so well imagined that it sucks you in. Like many great fantasies, the film does not stop to explain its setting in pandering detail, but drags you by the hand and forces you to catch up on the run.

(The editor of Fangoria described the film as a blend of Charles Dickens, Bram Stoker and Alan Moore. I would throw Kim Newman into the mix as well.)

I could have used a little bit more explanation of the vampire biology. We know that the vampires are incredibly strong and very hard to hurt or kill. (They also appear not to age once they reach maturity, or age very slowly.) Their heightened senses are dramatically demonstrated in the film. We are told that there are no female vampires, only males, and that the last vampire birth was sixty years before the start of the film.

What is not clear is whether Vampires can mate with human females and what the result would be. It is certainly implied that the results would be disastrous as part of the film hinges around Edgar's Church authorized experiments to create more vampires which leads to plague victims who bear a passing resemblance to the diseased of 28 Days Later only much less contagious and with a much longer gestation period.

Worth Checking Out.

**************************************

2. The Restless aka Jungcheon Jo Dong-Oh, Korea, 2006

This wuxia is an odd blend of traditional martial arts storytelling with western influences.

Yi Kwak has the rare ability to see demons. When this ability leads to the death of his wife Yon-Hwa, burned as a witch, Yi Kwak joins the Chuhyongdae, royal demon hunters, eventually becoming their captain. When the Chuhyongdae try to lead a popular rebellion against the corrupt government, Yi Kwak is the only demon hunter to refuse to join the rebellion.

The film opens with Yi Kwak continuing to do his duty, killing demons, despite being hunted by the government as the last living Chuhyongdae. He has become a violent, moody alcoholic.

Ambushed by government forces and poisoned (by wine), Yi Kwak escapes, but collapses halfway between life and death. He finds himself in Jungcheon or Mid-Heaven a sort of Purgatory where souls rest for 49 days before being reincarnated.

Yi Kwak quickly finds himself trapped in the middle of a war between his dead wife Yon-Hwa, now an arch-angel with no recollection of her terrestrial life (making Yi Kwak a bit of a creepy stalker of his wife's shade) and his old comrades in the Chuhyongdae who have brought their rebellion to Heaven.

A good understanding of Buddhist mythology would probably come in handy here. The film seems to imply that those who die in Mid-Heaven lose their chance to be reincarnated - their souls are destroyed. These deaths are spectacular, taking the vampire deaths from Joss Wheadon's Buffy the Vampire Slayer one poetic step further as the souls burst into flaming ash.

Two of the Chuhyongdae come equipped with thin metal tentacles that spring from their back that would leave Doc Ock grinding his teeth in envy.

The martial arts is the sort of wire aided acrobatics that you would expect, only in a story about a war on Heaven, the acrobatic seem quite justified.

Yon-Hwa has the girliest martial arts attack that I have ever seen. She quite literally kills demons with flower petals. She also has a sword, not that she makes a tremendous amount of good use out of it.

Even without understanding completely the mythology behind the film, you can clearly understand the questions that the film is raising about whether love survives death and whether love is simply a collection of memories or something more.

A beautifully visual and poetic film. Strongly recommended.

**************************************

3. The Rug Cop aka Zura Deka Minoru Kawasaki, Japan, 2006

This film would be why I go to Fantasia religiously every year, because you simply do not see films this bizarre anywhere else. From the director of Calamari Wrestler and Executive Koala, this film is about a Japanese Police Detective named Genda (Fuyuki Moto) who catches criminals by throwing his toupee at them...

Yeah.

The film opens with a totally wacky hostage situation (which I suppose could have been torn from the pages of Batman) where a bank is being held up by an insane puppet.

Genda is too successful for his superiors to handle so as the film opens he is transferred to a new precinct filled with oddballs who make his wig-throwing look normal: Fatty who takes out criminals with his sweat, Shorty who is both a champion weight-lifter and the fastest cop in Japan (he is low to the ground thus more aerodynamic), bad joke cracking Gagster, Gigolo who can seduce even hardened lesbians, female officer Tonko "the best tea server in Japan" and Big Willie, a bespectacled nerd who literally has a light saber for a dick.

Genda and his new oddball colleagues get involved in a plot by terrorists to set off a nuclear bomb in Tokyo. A plot which will be directly connected to Genda's past.

Let's be clear: Logic is not this film's strength. And you have to have a wacky sense of humour to appreciate a film that has a musical number halfway through about how men who wear wigs are concealing not just their skulls but their very souls.

If, on the other hand, you worship on the alter of wacky, this is your film.

**************************************

4. War of the Flowers aka Tazza: the High Rollers Choi Dong-Hun, Korea, 2006

Being an Expos fan, I am tempted to compare this film to Andre Dawson. Like Dawson, this film sometimes just crushed the ball out of the park. Like Dawson, it boggles the mind with its ability - like Dawson throwing a runner out at first on what should have been a long single to right field. And like Dawson, it makes the Hall of the Very Good which is disappointing because based on potential it should be in the Hall of Fame.

Not that I am a fan of remakes, but there is room for someone like say David Mamet to take this good but sadly flawed story and make a killer Poker movie, one that would just nuke Rounders from our collective memories.

The film revolves around a Korean card game played with small tiles similar to mah-jong tiles which makes sleight of hand and cheating ridiculously easy compared to larger western playing cards. The film starts with Goni losing everything he has (and his family has) in a game similar to the beginning of Lock, Stock and Two Smoking Barrels, but his reaction is a little more primal. He grabs a machete and proceeds to hold up the gambling dive that swindled him. A veteran gambler, one of the three best in all of Korea, is amused by Goni and saves his life by telling the owner of the dive to give Goni all of the money in the till in return for wiping out the massive debt that the owner owes him.

It appears that we are in familiar Colour of Money territory here, but the sweep of the film is epic as Goni learns and gambles with and against the best gamblers and con men (and women) in the country with allegiances switching sometimes in mid-deal. Since cheating is so easy it becomes part of the strategy with gamblers bluffing each other as to whether they cheated or not. And as Donald Westlake would put it: God Save the Mark.

The problem with the film is two-fold. First, the Paul Newman-esque character is killed in the first reel. This is a problem since he is the most interesting character in the entire film. The film already uses a complicated flashback structure. A better story-teller could structure the film so that the character dies at the same time in Goni's life, but does so much later than in the film. The other problem is that Goni's girl-friend is being held hostage to ensure his cooperation in the climactic card game, but this plot thread is completely abandoned. You can certainly fill in the gaps, but it seems like a wasted opportunity. Not to mention that separating the story line of Goni's girl-friend into one city and Goni's femme fatale into another city (both gorgeous) overly complicates the film's already complicated plot although it does allow for a dynamite and ironic train sequence.

Worth seeing, but it's a film that could have been great and isn't.

**************************************

5. The Show Must Go On aka Wooahan Segye Han Jae-Rim, Korea, 2007

My Fantasia guide says that this was 110 minutes but it felt at least 40 minutes longer. This is a problem.

And it's a shame because this is an ambitious film, with an absolutely stellar performance by Song Kang-ho as gangster Kang In-gu.

(You know who Song Kang-Ho is. He has been in damn near every Korean film worth a damn from The Host to Foul King - my avatar. He is Korea's best comic actor and their best dramatic actor.)

It's about the conflict between your work family and your personal family and the way that you sometimes sacrifice your home life to be successful at work, because you believe that that is the only way to provide for your family. Of course, it is also a gangster film which ups the violence and dramatic ante quite a bit. And since the mob is a bit of family business, Kang In-Gu lives the danger of the betrayal of any family business where a lifetime of earning and loyalty can be wiped out by the actions of the family fuck-up, because the work family may be like a family, but there is always a difference between being "like a brother to me" and actually being a brother.

The film amused local audiences because part of the plot hinges on the fact that Kang In-Gu is paying to educate his son abroad - in Canada.

It's a heart-breaking performance in a badly paced film.

**************************************

6. Viva Anna Biller, USA, 2007

I am not big on the auteur label. My personal feeling is that film is a collaborative medium and the director's role is important, but not as much as some of the director's believe.

On the other hand, sometimes the shoe fits:
Anna Biller wrote, directed, produced, starred, designed the sets, designed the costumes, drew the obligatory animated hallucination sequence, wrote the music and played the organ on the soundtrack of Viva. It's not quite a one woman band, but close enough for government work.

The film is a loving tribute to and biting satire of the "nudie cuties" of Russ Meyer et al. It follows two 1970's Los Angeles suburban housewives brunette Barbi/Viva (Anna Biller) and blond Sheila/Candy (Bridget Brno) who, after being abandoned by their idiot husbands, decide to take advantage of the Sexual Revolution. In the process of following Barbi's journey, the film asks us what good all that freedom was if all it led to was women being used as sexual objects and in the case of Barbi being repeatedly drugged and raped.

The film has a campy veneer. Everything is on high volume. The sets are overly colourful, the costumes are exaggerated, the acting is so over the top that it plays not just to the cheap sets but to someone standing in the street outside the theatre. That said, unlike the films of the era, underneath the [Gizmo] Bright Light! Bright Light! [/Gizmo] sheen, there is real emotional depth and psychological complexity to the characters.

As an example, when Barbi tries to get a job as a model after being fired by her breast fondling boss for being married, and she is drugged by her gay hair-stylist so that he can seduce his hunky next-door neighbour who is deeply in lust with Barbi (it is that kind of film) Deep breath. Where was I? Right, so when Barbi gets back late after these adventures, her husband, who is never home, has landed himself in the hospital, because Barbi was not there waiting at the doorstep with a martini and slippers. Barbi's reaction is to take a bath, reapply her make-up and then get dressed as a nurse to visit him in the hospital. Anna Biller described this behaviour after the movie as "passive-aggressive". I would go with borderline psychotic personally. Never mind the delay in rushing to her jerk husband's bed-side. Never mind getting dressed as a nurse to "nurse" your husband back to health. Who in the blue hell actually keeps a nurse outfit in the house for just such an occasion?

Admittedly, this does fulfill one of the tropes of the genre and Barbi getting dressed as a nurse is one of the most deeply erotic moments of the film in a way that her getting undressed later on is not. Your mileage may of course vary.

I should also mention that Anna did mount a spirited defence of her on-screen husband Rick (Chad England) 's behaviour during the Q&A after the film. She is right that in comparison to the other men in the film, Rick comes off pretty well. Great, he's not a sexually harassing rapist, he is just a neglectful idiot. I don't like him. No, Sam, I don't. Even if him being a neglectful idiot is the engine that drives Barbi becoming Viva and embarking on her adventures. In fact, given how badly those adventures turn out, I hate him even more.

(There may in fact be some jealousy involved here. I recognize that being jealous of a fictional character is borderline insane. I am trying to deal.)

It should be said that there were nudie cuties of the time that had an equally pessimistic outlook on these journeys of sexual awakening. I seem to recall a British one of the period perhaps based around Candide in which the female star bounces from one sexual encounter to another while somehow clinging to her virginity before being rescued by a member of the British nobility who promptly deflowers and (I think) kills her on a beach. [Edit]I may be thinking of an adaptation of De Sade's Justine come to think about it.[/Edit]

Bambi/Viva's fate is much less dire although the film makes good use of the striking irony that Viva's most powerful moment - her musical roar - takes place during an orgy right after she has been drugged and just before the proto-Roofies kick in so that her Bohemian artist boyfriend can take what will not be given freely. It also subverts Bambi's one pleasant sexual encounter of her quest, her (genre required) lesbian encounter with Agnes (Robbin Ryan) as Agnes stands back and watches as Bambi gets plowed over.

Anna said that the Artist rapist was based on the rapist from Hitchcock's Frenzy. Personally, he reminded me of Micky Dolenz from The Monkees only evil. (Or is Micky Dolenz EVIL~ too? Can we get a ruling?)

The film benefits from the fact that virtually all of the women in the film, especially the leads, are naturally beautiful and look like they have actually had a sandwich in the last month, rather than the lettuce and watercress eating stick thin waifs that Hollywood normally gives us.

The film took four and a half years to make and it was obviously a labour of love. If I had to criticize it it would be based on the fact that at 120 minutes, the film could have probably have done with a ruthless edit by someone who was not as emotionally involved with the footage. On the other hand, while the film may meander a bit, the films that it is paying tribute to had a tendency to do that too, so I guess I can give the film a pass for being too faithful to its source material.

**************************************

7. Hatchet Adam Green, USA, 2006

Reportedly, the last film to be shot in Louisiana before Hurricane Katrina which proved that there are greater and more destructive evils in the world than psychopathic unkillable ghosts that just want to be left alone and will fucking kill you without pause or mercy if you are fool enough to wander around in their backyard.

Harlan Ellison once wrote about the horror of watching The Omen and realizing how black the souls of the next generation was after watching them cheer the priest decapitation scene. If that depressed him, the audience for this movie would leave him frothing at the mouth. To be frank, Fantasia audiences are ghouls. We like to be scared. We like to cheer for the bad guys. We like inventive on-screen kills.

Does this film deliver on that?

Oh yeah.

Ten-Four on that good buddy.

Big uh-huh.

And I saw the soon to be butchered just slapped with an NC-17 version that the MPAA will no doubt insist be cut to ribbons much like the victims in this film.

Hatchet follows an ill-fated swamp tour featuring two senior citizens, two would-be porn starlets and their sleazy director, the moody mystery woman played by the really cute Tamara Feldman and friends Ben (Joel Moore) and Marcus (Deon Richmond). Marcus has dragged Ben to Mardi Gras to help him forget being dumped by his childhood sweetheart. In retaliation, Ben drags Marcus on a haunted swamp tour. Problem is one of the legendary monsters badly described on tour guide Shawn (Parry Shen) 's cue cards turns out to be very real.

The monster, the Bayou swamp dwelling Victor Crowley, is a cross between The Elephant Man, The Toxic Avenger and Jason Voorhees and is inhabited by the man that most fans would consider the one and only Jason, Kane Hodder, who plays Crowley with a vengeful glee as though the director Adam Green pulled him aside at the start of the movie and said to him, "You know how they used to ask you to tone Jason down because you were scaring the other actors? That's not going to be happening on this set. In fact, if I don't have actors whining to me about how they have been ruining their wardrobes because they have been pissing themselves with fear, I am going to be profoundly disappointed."

Victor Crowley makes Jason and Mike Myers look sedate. For one thing, they mainly use tools. Victor will use tools, if one is handy, but he is quite prepared to rip somebody apart with his bare hands if that is required. (Demonstrated in the opening minutes of the film which includes a meeting of Robert Englund with Kane Hodder in a sort of Freddy vs. Jason moment. Tony Todd also cameos.)

Part of the fun with a film like this is deciding who is going to die next and how. There comes a certain point in this film where I was imagining the most sick twisted disgusting gut-tearing eye-popping plot twists possible and the film just went beyond the worst things that I could possibly think of every single time.

The film is relentless, ferocious and fucking evil.

It is also very funny.

But mostly EVIL. Fucking EVIL~ to the fucking core.

**************************************

Me Bizarro Number One Movie Critic.

Llakor send Bizarro to see Square Jaw Theatre comics movies by comics fans.
Comics fans have too much time on their hands.
Like Bizarro.

1. Red Ketchup Mission: Mission Secret
Mission so secret, Bizarro watch movie ten times not know what it is.
Secret Agent Man shower, brush teeth, get dressed in creepy way to creepy music.
Bizarro excited by what happen when Secret Agent Man go out front door.
Secret Agent Man go out front door.
Movie ends.
Bizarro say: WHAT THE FUCK?

Bizarro not feel this way since Lois kiss Bizarro, call Bizarro cute, then fuck Superman instead.
Then Superman get Lois pregnant and leave Earth for ten years to find Krypton.
Even Bizarro know Krypton go boom.
In first page of every Superman comics.
Superman dead-beat Dad.

Superman stupid.
Lois stupid.
Movie stupid.

2. Japanese Spiderman
From 1984 when even Bizarro could buy rights to Spiderman if Bizarro had money.
Peter Parker Japanese and ride motorcycle.
Girlfriend take pictures instead of Peter Parker.
No Aunt May.
Peter Parker have Father.
Father is Space Archaeologist.
This make perfect sense.
Bizarro wonder where you go study Space Archaeology?
Giant Robot crash into mountain.
Father for to dig up Giant Robot with tiny shovel.
Evil woman has Play-Doh Monster.
Play-Doh Monster grow to twenty feet kill Father.
Peter Parker stabbed by gray ninjas with groucho noses
Peter Parker fall into cave.
Peter Parker meet man from planet Spider.
Man from planet Spider can turn into tiny spider.
Man from Planet Spider trapped in cave for 400 years because of poisonous spiders.
This make Bizarro head hurt.
Man from Planet Spider save Peter Parker with spider juice.
Peter Parker become Spiderman.
Peter Parker given giant bracelet to summon giant robot.
Peter Parker hide Spiderman costume in giant bracelet
No one look there
No one notice that Peter Parker and Spiderman have same giant bracelet.
This make Bizarro head hurt.
Metal-Head Bad Guy steal Nu-klar Smart Guy to make bomb.
Spiderman rescue scientist
Spiderman beat up gray ninja with groucho noses.
Play-Doh Monster grow to Eighty Feet try to squish Spiderman.
Spiderman kill Play-Doh Monster with Giant Robot.
This just first show of full series!

Llakor say Bizarro get movie completely wrong.
Unpossible say Llakor.
Bizarro rethinking whole "Not squish Llakor head like grape" policy.

3. The Sorrow of Superman
Korean Superman look like Ronald Raygun
Bizarro think this funny
Bizarro not registered Democrat
Korean Superman hears cry for help - leaves job
Korean homewives makes Superman clean kitchen
Korean Superman hear cry for help from Boobie-Girl
Boobie-Girl tell him to kill bug
Korean Superman fired from job because never there
Always cleaning floors instead
Bizarro laugh and laugh and laugh

4. Le Mariage de Batman
Batsman get married in 1950's to Kathy Kane - Batswoman
Kathy Kane big sexy lesbian but Batsman have no beard
This make Bizarro head hurt
Film take 1950s comic book and scan for pictures
Sound is 1960s Quebec album of Batsman marriage
Found in garage sale
Quebeckers are weird
Batsman french accent funny

5. Doctor Octopus
What if dentist was Doc Ock?
Bizarro find new dentist
Next

6. Catwoman: The Diamond Exchange
Catwoman wear classic purple costume.
Boots look like drawn by Frank Miller.
Bizarro not want to be kicked by Catwoman
Catwoman kick Deadshot ass.
Catwoman have martial arts pillow fight.
Catwoman hot
Film keep saying "To be Continued"
Then film continue
This make Bizarro head hurt.

End of film say "The End - Go Home"
But not the end Square Jaw Theatre
Bizarro not go home.

Guy who make Catwoman movie make Question movie that we not see.
Bizarro wonder if Question in film is dead boring Vic Sage or hot lesbian Montaya.

7. Superhero Theatre Presents
Movie star Bizarro.
Yay.
Me Number one Bizarro fan of Bizarro actor
Movie also star Superman.
Superman stupid.
Superman and Bizarro act in "Of Men and Mice"
Superman play Gary Sinise
Bizarro play John Malkovich
Bizarro play much better actor than Superman
Movie Bizarro talk about alfalfa and rabbits
Bizarro like rabbits
Bizarro hug him and squeeze him and call him "George"
Then Movie Superman use red vision and blow Bizarro head clean off
Superman Stupid
Bizarro no like this ending
Bizarro call Superman to complain
Superman say ending "faithful to John Steinbeck book"
Bizarro crush John Steinbeck head like grape
Then movie have blooper ending
Blooper ending better
Bizarro head not blown off
Pretty girls in bikinis
Bizarro think Superman use X-Ray vision to look at bikini girls boobies
Bizarro tell Lois
Maybe Lois divorce Superman
When Bizarro use Ray-X vision bikini girls wear MORE clothing
Sometimes even Bizarro confoozled by Bizarro powers.

8. Wonder Woman: Balance of Power
One Eyed Bad Guy catch puny Steve Trevor
Make trap for Wonder Woman
Wonder Woman pretty
One Eyed Bad Guy use magic rope to make Wonder Woman tell truth
Silly One Eyed Bad Guy
Wonder Woman always tell truth
Wonder Woman say she have secret identity
Wonder Woman say she work for CIA
Wonder Woman hit head hard
Not work for CIA in twenty years
Even Bizarro know that
Not have secret identity
Not need secret identity
Then puny Diana Prince meet puny Clark Kent
What this have to do with Wonder Woman?
Then friend Lex reveal secret weapon to crush Wonder Woman
Crush head like grape
Secret weapon look Superman
Bizarro think Superman really Bizarro
Friend Lex tell Bizarro not to take long trips

9. I'm Power-Girl Dammit!
Boobie-Girl fight Bizarro
Boobie-Girl mad that Bizarro call her Boobie-Girl
Why Boobie-Girl mad?
It her name
Boobie-Girl put fight on hold to take call from Broken Bat-Girl
This make Bizarro mad
Broken Bat Girl try to set up Boobie-Girl on date
Not with Bizarro
Bizarro sad
With Ted Kord
Ted Kord dead like crushed bug
Even Bizarro know that
Boobie-Girl call Bizarro kitty-dog
Bizarro not kitty-dog
Bizarro big lion
King of Jungle
ROAR
Boobie-Girl steal Bizarro cape
Boobie-Girl mean
Boobie-Girl no like Huntress
Bizarro call Huntress for Super-Hero Team-up Giant-Size Special Man-Thing Number One
Bizarro bring brains
In brown paper bag
Huntress call Boobie-Girls names
Together crush Boobie-Girls head
Like grape
Boobie-Girl swear
Boobie-Girl break Bizarro nose
FUCK
Broken nose hurt like bitch
Square Jaw Theatre done
Movie say "The End - Go Home"
This time really the end.
Bizarro Go Home

Bizarro Number One Movie Critic the best
Bizarro steal thumb from neighbour
Give Square Jaw Theatre three thumbs up.
Bizarro hope they can put thumb back on.
Next year Square Jaw Theatre need more Bizarro.


**************************************

9. The Tripper former WCW World Champion David Arquette, USA, 2007-07-15

I have been burning the candle at both ends a little bit getting the film festival that I am organizing
[cheap plug] (the YoungCuts Film Festival www.youngcuts.com August 16-23 in Montreal) [/cheap plug]
ready, so Thursday, July 12th, before I went to this film, I sort of nodded off at my desk and woke up in a puddle of my own drool.

Missed the film.

Well, that moment of revelation was awkward.

Moving on…

Two of the films that my co-reviewer Bizarro saw, were done by the same guy: Chris R. Notarile.

His website is http://www.blinky-productions.com

And you can see a variety of pretty cool, low-budget superhero films made by someone who is quite obviously continuity obsessed, including the two mentioned above, the Catwoman one and the Powergirl one. (There are two other films both for Powergirl and Catwoman including one where they meet.) Having seen them, his Catwoman is good, she (Niki, his wife) is really attractive and convincing, but the actress who plays Powergirl, (Tawnya Manion) just gets that character perfectly. The survival of Powergirl has always been a bit of a miracle, her whole continuity has been in shreds since Crisis and it was never very solid even before, but there is something about her personality, her frustration at the way that others and life treat her, her irreverence and her total refusal to ever take advice from anyone, but especially from Wildcat (sadly not in any of the Powergirl films) that makes her a favourite not only with fans, but I guess with comic book creators as well.

Her costume probably doesn't hurt either.

**************************************

10. Stalker Andrei Tarkovsky, Russia, 1979

At the risk of bringing down on my head the wrath of the FILM ELITE~! Let me just say that I have tremendously mixed feelings about this film. It is a like an incredibly beautiful woman who is a total cock-tease, because this film keeps promising and promising and then nothing happens and then it gets you all worked up again and again nothing happens. It's like a roller-coaster that keeps climbing the hill but never drops you back down again.

Visually it is stunning. Especially because the film is shot on a square TV canvas, but no one who has ever shot in these dimensions has ever filled the screen the way that Tarkovsky does. He adds to his difficulty level even more by shooting many of the scenes through doorways and archways and tunnels, artificially shortening his already smaller canvas, but he shoots with the eye of a painter filling the oddest spaces with stunning content. The artificially constrained screen also creates a sense of claustrophobia and menace that pervades the entire film.

The film is about a place called the Zone which may have been created by a meteor strike or by UFOs or by the Soviet government. The Stalker of the title guides people into the Zone past the Soviet military and through the death-traps that supposedly litter the Zone. At the middle of the Zone is a room which according to rumour grants the secret desire of those who enter it.

The film opens in a weird sort of sepia colouring, suspended almost perfectly between black and white and colour. The story goes that when Tarkovsky was set to film Stalker his European distributor sent him the newest, best Kodak film available. Various stories have circulated about what happened next. Some say that the Soviet film technicians treated the fragile film the way that they treated all film and ruined the film, some say that the film sat too long untreated, Tarkovsky's theory was that the technicians did their jobs properly, but that his film was ruined because a jealous competitor stole the new film and swapped in the old regular film, so when the technicians used the new methods on the old film, it ruined the film.

I am guessing that the sepia coloured film is the "ruined" film. (Tarkovsky had to go back and reshoot the film almost entirely.) This gives the opening sequence an ethereal almost dream-like state, heightened in my case by the fact that I was so tired going into the film that I was nodding off through most of the opening sequence as the Stalker guides the writer named the Writer and the professor named the Professor into the Zone. When they arrive in the Zone the transition is marked by an explosion of colour mostly of green. It is as though everything outside the Zone is unreal and it is only in the Zone that things are not a dream.

This sense is heightened by the fact that the sepia film returns twice more: once when the three men take an odd nap inside the Zone in a scene which plays out as if one of the Zone's death-traps is finally going off, and then at the end. Oddly at the end the old footage is mixed in with the new, and in a strange way. The new coloured footage is used whenever the Stalker's crippled daughter Monkey is awake and in the picture. We are told that Monkey was crippled by her exposure to the Zone at an early age. The film seems to imply with the use of the footage that Monkey may be crippled, but she seems to carry around a piece of the Zone with her as partial compensation.

The sleep/dream sequence is the crux of my whole issue with the film. All through the trip through the Zone, we are teased by the Zone's deadly nature, and the odd glimpses of corpses, old, old skeletons becoming part of the landscape, confirms that there is real danger, but just when it seems like they have set off one of the traps, the film grinds to a halt and quite literally nothing happens because the three men go to sleep. It's like Tarkovsky is playing with the viewer, giving them what they want and then taunting them because having got it, they no longer want it anymore.

It is visually stunning, incredibly influential (Every post-apocalyptic film afterwards borrows its visual cues from this film or from a film that swiped it from here first.) the acting is great, the dialogue is good enough that it makes you want to learn some Russian to understand it better, and I can appreciate that the man was working in a system where it was better to make films that were symbolic and obscure, because what your masters could not understand they could not punish you for. (Sure are a lot of religious allusions and talk for a Soviet film though.) And I can appreciate the way that the film predicts Chernobyl in a very eerie way.

All of that said, this film to me is like medicine. It is good for you, but I could do with some straight forward narrative with my allegory, please.

**************************************

11. Silk aka Guisi Su Chao-Bin, Taiwan, 2006

The whole J-Horror angry ghost movie trope seems a little played out at this point, especially when you are dealing with the scary mother ghost with the long black hair over her face and the spooky little boy ghost. But this film completely pulls it off by rooting the film in some real emotion and combining the angry ghost idea with a mad scientist who is building an anti-gravity device. Naturally, the military is all over his junk hoping that he can mass produce these devices. Unfortunately for everyone involved though, the mad scientist in question is less interested in the more practical uses of his device and more interested in a weird side effect: the devices called "the Menger Sponge" allows his team to see and capture ghosts.

There is no Ghostbusters humour going on here and anyone who has seen Ringu 2 knows that mixing mad scientists with ghosts is a supremely bad idea. (The mad scientist in question is also a diabetic, so I had an immediate connection with him.)

The other interesting thing that this film has going for it is that you see the ghosts all the time. This is not a movie where the fear comes from the ghosts playing hide and seek all film. The amazing thing is that the film manages to make these ghosts completely innocuous because you see them all the time, and then instantly like the flipping of a switch the film scares the ever-living shit out of you and reminds you that – oh yeah - ghosts are fucking scary.

Worth going out of your way to see.

**************************************

12. End of the Line Maurice Devereux, Canada, 2006

Compassionate Monsters

By the director of $la$her$ a film that I am just obsessed with, so I was predisposed to liking this film. But had I never seen $la$her$, I would still completely fucking love this picture. I [heart] this film. And the fact that it does not yet have a distributor is some kind of cinematic injustice.

I am not, despite my cinematic hard-on for Hatchet and $la$her$ espoused above, a huge fan of the gore. I gross-out easily, and scare even easier, so I have to steel myself to see a film like this and consequently I hold films like this to a higher standard than I do other films. If you are going to revolt me, if you are going to play the gore card, you had better have a compelling reason to play it.

This film's compelling reason: the dangers of religious fanaticism.

There is certainly room for a movie about the dangers of Muslim religious fanaticism, but Devereux makes the allegory more immediate (and more universal) by tackling Christian fanaticism.

Have you ever sat down on a bus or a subway besides one of those polite, clean-cut religious missionaries, with their clean white shirts and perfectly creased black pants and their straight black tie and that spooky little black name tag with their name and rank? They are a little bit creepy aren't they? And isn't one of the reasons that they are a little scary, the fact that they have a rank – implying that they are organized like an army and that they take orders. ("Don't be insolent with me," barks one of the film's villains, "I outrank you!")

What if (asks End of the Line) they did get orders? What if their pagers or cell phones went off one day with an order? And what if that order was to kill everyone who was not a member of the Church?

(Just to be clear the religious fanatics of the film are NOT Mormons. The film gives us equally polite, equally well groomed, brown-shirt wearing members of a fictitious Christian faith.)

Made on a shoe-string budget, the film does not look it. The cast is universally excellent, and the film benefits from that most dangerous weapon in a writer's arsenal: a good idea. There is a sequence involving a dying battery in a flashlight that will haunt me for years.

The film takes place in the Montreal Subway system, "The Underground City", but in such a way that it could be a subway from any North American city. (A subway stop in Toronto was used in the film and the trains themselves are complete movie creations, so the film drapes a fictional cloak over the very real Montreal Metro, much the way that it drapes a fictional cloak over its religious zealots. The French signs seen in glimpses are a bit of a give-away though.) Since the victims of the film are trapped deep underground, we are trapped with them in claustrophobic dead ends, and like the film's victims, we are uncertain whether this is an isolated phenomenon or, as the compassionate monsters of the film claim, part of a Universal Armageddon. Isolated and desperate, the well-drawn characters of the film have no choice. As another director at Fantasia, Jim Mickle of Mulberry Street said, "It's a Zombie movie. Zombies chase you and you run." This is as true of religious zombies as it is of the undead.

The film is paced like a Zombie film only the killers are all too human, and the film allows us to see the whole gamut of faith at work: the true believers, the doubters, the lapsed, those who joined to satisfy loved ones and those who merely profess belief. The worst of the fanatics is also in a weird way the most reassuring. "I am not sure if I really believe in this stuff, but I am trying to keep an open mind," he confesses to one of his victims. He is the worst of the villains, because he kills (and threatens rape) even though he does not believe that he is getting orders directly from God, but he is also a little reassuring because we can understand him, he is the traditional bad guy from hundreds of horror films. The rest of his tribe are a little harder to categorize.

Because they are very human monsters, you feel real anguish when these compassionate monsters are hurt or killed. They are not faceless undead. They are very real people with real doubts and real beliefs. And because they are neither drooling plague victims nor shambling undead, they get to articulate their point of view. Devereux allows room for doubt that they just might be right.

And that objectivity allows Deverux to give us the most horrible tableauxs. There is a beautiful, terrible, gory AWEFUL sequence in the middle of the film, one of such devastating emotional power that reportedly when they were colour correcting, the female technician got up at this sequence, declared that she had worked on Gapar Noe's Irreversible so she was not squeamish, but this was too much.

Bill Maher got into hot water and some suggest saw his successful talk show cancelled when he said (partially), "We have been the cowards lobbing cruise missiles from 2,000 miles away. That's cowardly. Staying in the airplane when it hits the building, say what you want about it, it's not cowardly. Stupid maybe, but not cowardly." What I think Bill Maher was trying to say is that calling these religious fanatics names may be satisfying, but if we lie to ourselves, we can not understand them. The truth is that the 9/11 hijackers may have been monsters, but they were also people, with fears, doubts and with courage. This does not make what they did better. It makes it worse.

It would be so much easier if these were just faceless brainwashed monsters, drooling undead. What makes this film so God Damned terrifying is that the compassionate monsters truly believe that by killing those not of the church, that they are sending them straight to God, saving them from unbelievable anguish and torment in the final days.

I call them monsters, because what they do is monstrous. I call them compassionate, because they do what they do out of love.

From Sandman: Season of Mists by Neil Gaiman:
Remiel: "We will hurt you. And we are not sorry. But we do not do it to punish you, We do it to redeem you. Because afterward, you will be a better person. And because we love you. One day you'll thank us for it."

Damned Soul: "But... You don't understand... That makes it worse. That makes it so much worse."

Please understand, this is not some namby-pamby you might like this film review. This is a film I would go to the trenches for. If the only way to see this film is to crawl through barbed wire, start crawling. If I were a dog, I would hump this film's leg.


(edited by Llakor on 16.7.07 1651)
---

"Don't Blame CANADA, Blame Yourselves!"
Promote this thread!
The Great and Mighty OZ
Weisswurst



Since: 20.11.02
From: Montreal, Quebec, Canada

Since last post: 3801 days
Last activity: 3801 days


AIM:
#2 Posted on
Yeah, so Llakor, my ex-roommate, called me up and asked me to go on and post this for him since he could no longer edit the post (or reply to it). Apparently you can reply to a post for three weeks (in this sub-forum) but you can only edit the post for a week.

Oh, and anyone who is actually reading this, do me a favour and say something willya. It is freaking pathetic that Llakor is getting more response from film directors reading his reviews than people on this board.

Actually, maybe pathetic is not the right word, unless we were using the word to describe Llakor, but he's whining to me about it when we are standing in-line at Fantasia and it's driving me nuts.

Llakor will no doubt pontificate for hours about why it's cool, but let me just say that I saw a gritty street-level super-hero movie by the Chilean body double stuntman for the Rock and it kicks major league ass.

We now resume your Llakor pontificating.

**************************************

Just as a follow-up to a few things above. Director Anna Biller of Diva wrote to me:
"Dear Ryan,
Thanks for the review, I appreciate it. I'm glad you enjoyed the movie.

Best, Anna"

People call me Ryan all the time. I don't get it. Although it is better then being called Bryan which also happens to me a lot.

Her website is http://lifeofastar.com/


Also, Maurice Devereux of End of the Line wrote to me:
"Hi Michael,

Hope you're doing great (and not too burned out from seeing too many films...)...Wow...Thanks for the review...It's really appreciated! It's always fun to know some people appreciate. I will post it on my site with a link as soon as possible.

By the way small typo...it's GAPAR NOÉ'S "Irreversible" and not "Irresistible".)

Best, Maurice"

Yeah, so I'm an idiot. (but you knew that.) You will note that I have in fact corrected the error. Serves me right for writing/editing a review at 2 am.

His web-site is http://www.endofthelinemovie.com/

The other thing that this reminds me of is that in his other great film $la$her$, you get the same interesting dynamic of vulnerable monsters. $la$her$ is built around the conceit that you are watching the filming of a Japanese reality game show in which the contestants are locked in a warehouse with three serial killers. Any one who survives the taping splits one million dollars. One of the gimmicks is that during commercial breaks, everyone has to freeze in place, held to this by an electro-shock collar. Just before of these commercial breaks, one of the serial killers is about to kill one of the contestants. During the commercial break, the killer taunts his victim, who coolly informs him that they will both die because rather than dying easily, they are both going over the edge of the catwalk that they are standing on onto the spikes below. The killer panics once he realizes that his intended victim is serious, even more so once he realizes that his collar holds him in place just as much as it does his intended victims. Again, it is a moment that reinforces that the monsters of the film are human and vulnerable which makes their actions that much crueler.


And Chris Notarile who does Super-Hero short films and whose web-site I posted above: http://www.blinky-productions.com/ also wrote to me:
"cool. thanks a lot. and im glad you enjoyed my films.

chris"

**************************************

I am I must confess, a fan of musicals. Despite that, I found myself loathing Chicago. I mean I loved the individual numbers of the film, but I hated the film as a whole. What killed it for me is the way that the film is presented as a dream, so that we can explain away why people keep bursting into song. Never mind that this structure makes John C. Reilly's musical number inexplicable and pointless. What kills me is the way that the film sabotages itself by apologizing for what it is.

Although there has been a recent revival of Musicals that don't apologize for being what they are, Musicals (like Westerns to a certain extent) have been forced underground. We end up with "Stealth Musicals" either children's cartoons where characters bursting into song is not considered abnormal because they are cartoons, or films like My Best Friend's Wedding which are Musicals in disguise. I don't hate Wedding the way that I do Chicago, largely because even though it hides its own identity, it at least goes to the trouble of trying to find an organic natural reason for each musical number rather than the cheap self-loathing "it's just a dream" solution of Chicago

All of which I offer as explanation for why I loved...

13. The Fox Family aka Gumiho Gajok Lee Hyung-gon, Korea, 2006

This quirky family comedy follows in the vein of films like The Host, The Quiet Family and especially Takashi Miike's musical version of The Quiet Family called The Happiness of the Katakuris (which I will shamefully admit to never having seen.) The film also has clear Western influences ranging from Little Horror Picture Show to The Addams Family

The idea behind the film is that a family of fox spirits, a gruff father, his gigolo son, his sexy daughter (a former Miss Korea) and his cute as a button, but lethal pre-teen daughter, have used a magic spell to transform into humans and plan to take advantage of a once every thousand years lunar eclipse to turn into humans.

The only catch: to do so they have to eat a fresh human liver during the lunar eclipse. Also, their plan for luring humans to be victims by running a circus isn't exactly working out the way they planned.

Now, the film was already charming and quirky and dark and funny, but then the wayward con man fleeing from his loan shark stumbles into the circus and comes upon Si-Yeon Park singing on the trapeze about how lonely she is and the film just kicks into another wacky gear.

It is not just that the film transforms itself into an unapologetic musical. It is not just the ingenuity of the dance numbers. It is the subject matter of the songs. I don't think that I have heard darker more morbid and funny songs since Sondheim's Assassins. When Si-Yeon Park sings about how she finds it hard to choose between her love of blood and killing and her love of being in love, it is funny and dark and heart-wrenching and a little bit scary all at once.

The film refuses to apologize for being what it is and I salute its bravery.


---

Llakor is a TOOL~!
Llakor
Landjager



Since: 2.1.02
From: Montreal, Quebec, CANADA

Since last post: 1708 days
Last activity: 1699 days


AIM:
#3 Posted on | Instant Rating: 7.25
Further Follow-Ups to the above.

Anna Biller, director of Viva RE-wrote me.


Originally posted by Anna Biller

---

Dear Michael,

When I first read this, I was on a strange computer, running to the airport, so I only skimmed it. I've read it again, and I wanted to thank you for a well-thought-out, thorough review!

Best, Anna

---


Then she RE-RE-wrote me.


Originally posted by Anna Biller

---

Dear Michel,

I also wanted to tell you, it's not the artist that was based on the Frenzy character! It was the red-headed, older man who came to the apartment to rape Barbi. The artist was kind of a rocker, sort of Micky Dolenz, you're right! I was more thinking Mick Jagger, though.

Cheers, -Anna

---


So, I rewrote her.


Originally posted by Llakor

---

Hi Anna

Ok that makes sense because i was confoozled when you mentioned Frenzy. I was thinking Micky Dolenz, because you KNOW Mick Jagger is up to no good, but Micky always gave off this surface layer of total innocence with a hint that something much darker lurked underneath.

I mean really would you drink something offered to you by Mick Jagger at an orgy?

No, I didn't think so. (Or at least you wouldn't be surprised at the results.)

-Mike

---


I am trying to restrain my crush on her and failing miserably.

**************************************

14. Death Note aka Desu Noto Shusuke Kaneko, Japan, 2006
15. Death Note: The Last Name aka Desu Noto: The Last Name Shusuke Kaneko, Japan, 2006

I was predisposed to liking this film because Shusuke Kaneko is the guy that took the moribund Gamera franchise, about a giant turtle, sort of a kiddy-safe version of Godzilla, and made three amazing films that simultaneously showed respect for the original fims and reimagined the concept for a new generation. I [heart] his Gamera films.

Unfortunately, one of the Fantasia programmers (I think it was Andre Dubois) came out and said that the film was his favourite film of the Fantasia festival, which is always the kiss of death. I mean Mitch Davis will come out and pump up an audience, but he won't (usually) flat-out say that a movie is his favourite. He will say something along the lines of "Are you ready to go to hell? Are you ready to feast your eyes on the most daring, eye-popping, blood-curdling, transgressively funny bloody piece of cinematic filth to crawl up from the depths in eons?" I [heart] Mitch's almost wrestling -like promos.

So yeah, there is always this "uh-oh" moment when one of the other Fantasia programmers come out and kill a movie by declaring it their favourite. Now, I need to be clear, there is a lot to like about these two films. (They are more like Kill Bill in that they are two chapters of the same film, than a successful film and its sequel.) They are very smart, well acted, and they do that very rare thing in a film: they make you think.

The problems that I have with the two films are two-fold.

First, they are built like logic puzzles. The problem with that is that there are two related massive logic/continuity problems with the ending on the level of "How did Indy survive the submarine trip in Raiders of the Lost Ark?" Thing is, what you can forgive in a pulp action movie, you find harder to forgive in a logic based cat and mouse adventure like say Sleuth.

Second, the films seem like a lost cinematic opportunity in that most of Light Yagami's moral dilemmas are internalized in the actor, rather than being externalized on the screen. This, it should be said, might be an artistic decision, but I am not a fan.

The two films (based on the popular Manga) are built around the idea that Light Yagami finds a "Death Note" dropped by an apple loving God of Death (there are more than one) named Ryuk. Anyone's name who is written in the book will die, so Light, studying to be a lawyer and the son of one of Japan's best cops, decides to use the book to go after the criminals that the law can't touch. With the Deathnote in one hand and Friedrich Nietzsche's Beyond Good and Evil in the other and with Ryuk cheering him on, Light slowly goes power-mad.

So here is the first problem. I get that Light is being corrupted by absolute power. Fine. But to me, there is a lost chance. here. Light begins his campaign of terror on criminals simply by writing their name in the book which gives them heart-attacks within a minute. He does not use the book's abilities to specify the time or manner of death until the police (and the public) start figuring out that someone is behind all of these mysterious death's and sets out to catch the vigilante. It is almost like Light wants to be caught. (Admittedly that may be the point.)

The other issue here is that Light crosses the line when his sword is crossed by a detective named simply "L" that Light can not kill with the book, because one of the book's arcane rules is that you need to know your target's real name and know what he or she looks like to get them. Since Light starts out knowing neither "L"'s real name nor what he looks like, the film turns into a battle of wits between the two men. My issue is not that Light goes from killing criminals to killing innocents and police officers, my issue is how easily he crosses that line. (Again, admittedly that may be the point.)

The film itself highlights this dilemma when in the second film, Light's would-be girlfriend, a cute goth pop-idol beloved by both the audience and the various Gods of Death despite (or perhaps because of) her murderous streak, gets her own book and begins bumping off people in a very public killing spree. Light appears horrified. Granted, he is standing next to his father and "L" at the time, so he could be acting, but he appears genuinely troubled by the blood-bath. His objection could also be the lack of subtlety, but it just seems odd that this is the first (and really only) time in the two films when he appears to have any moral reservations at all.

Granted that arm-chair booking is too damn easy, hindsight being 20-20 and all, but to me it would have made sense if we saw Light experimenting with changing the time of deaths and changing the manners of death, before the police get involved, giving the chance to throw in some Rube Goldberg death constructions torn from the Final Destination franchise or cruelly appropriate deaths like in Michael Fleischer and Jim Aparo's Wrath of the Spectre. There are a variety of things that could be done here. Light could experiment with killing a criminal a week ahead only for the criminal to go on a killing spree which Light was powerless to stop because once someone's name is specified in the book, it can not be changed. One of Light's arcane death traps could lead to the death of an innocent bystander. Or an innocent man falsely accused could be written in the book. Two of these ideas would also work as effective fore-shadowing for later events.

And they would allow for the viewer to feel the gradual disintegration of Light's moral values as he goes from a do-gooding vigilante to a desperate cornered cop-killer lashing out at anyone that threatens his freedom and his mission. We do get complicated logic puzzles built around the rules of the book, used by Light to cover his tracks and to try and determine "L"'s true identity, but only once Light realizes that the police are trying to catch him and he begins to feel cornered.

Again, it may have been the intention of the film maker to make the point that the line between the do-gooder vigilante and the mass murdering cop-killer is not that fine a line at all. And the fact that I am picking this fine a nit does testify to the film's strengths.

I am going to spoilerize my other big issues with the two film because it necessitates talking about the ending.


---

Spoiler Below: Highlight text to read

---

At the end of the first film/start of the second film, we are told that Misa Amane, Light's would be girlfriend, got her book because a Death God named Jealous saved her life by writing the name of her stalker in his notebook, before the stalker could kill Misa Aname as he was fated to do. In the process, Jealous sacrificed his own life freeing his book to be passed on to Misa Aname by Jealous' friend and fellow Death God Rem. Later, Rem sacrifices herself to save Misa Aname again by writing the name of "L"'s elderly assistant Watari in her book. Rem does take the precaution of destroying her book as she dies preventing it from falling into Light's hands.

At the climax of the second film, Light begs Ryuk to write the name of the investigation team (including his own Father!) into his (Ryuk's) book, saving him. Instead Ryuk writes Light's name into his book. But Ryuk does not die for writing someone's name into the book who is not destined to die. This seems contradictory.

(Unless, Light was always destined to die at that point?)

The other major logic problem is where Ryuk's book came from. In the first film we are told that Ryuk dropped his book for Light to find. If that was not his book, where did it come from?

(In the manga, Ryuk explains that he found the extra book in the Death dimension and decided to have some fun by passing it on to a mortal to see what chaos would ensue. Would have been nice to have that explanation in the films.)


One of the other criticisms of the film that I have heard is that the Death Gods whose designs seem to be taken directly from the manga are not that scary. I have no issue with that since part of the point of the film is that humans like Light are more terrifying than any Death God if that level of power falls into their hands.

To me, a good but flawed set of films. Worth watching especially for fans of vigilante-style comic books.

**************************************

I need to talk about two other films before I get to my next Fantasia film Mulberry Street

28 Weeks Later shattered me in the theatres this year. I truly believe that it is a better film than 28 Days Later. First, because it ups the ante by using the film to criticize the US military, its dangerous use of civilian contractors and its bone-headed decisions that seem to lead directly to blood-baths rather than avoiding them. The film also resonates by focusing on family and making one of the film's characters a sort of zombie family annihilator.

The film also puts faces on its monsters, something that Romero certainly did but sometimes lacking in some other films of the genre. Making the monsters more human, or at least once were human, just ups the tragedy level, makes everything that is happening worse.

The film also has a totally nightmarish sequence set in the London underground which seems borrowed from Stephen King's The Stand as the film's characters scramble over dead bodies in the dark, although in this case there is always the heightened fear that the dead bodies might not be quite dead yet. (As noted above, Maurice Devereux' End of the Line has a similar (but not the same) scene that gave me the creeps as well. Of course, End of the Line spends virtually the entire film inside the thinly disguised Montreal Metro, where 29 Weeks Later merely makes a brief nightmarish visit.)

If I had to list my top films that I have seen this year, Pan's Labyrinth would take the top spot, with Hot Fuzz nipping on its heels. My next three films are all zombie films, all built around films that use zombies as a metaphor to talk about really important issues. All three try to put a human face on their zombies and all three have a connection to the War in Iraq and 9/11.

In order:
28 Weeks Later
End of the Line
Mulberry Street

(And Grindhouse probably fits into my top ten somewhere and its first half Planet Terror hits many of these points although it does it as a blood-soaked farce. Best example of this is that Planet Terror and 28 Weeks Later use virtually the same sequence of a helicopter slicing zombies to bits, Planet Terror playing the sequence for laughs, while 28 Weeks Later miraculously manages to pull it off as a serious moment.)

I mention this because I am not predisposed to liking zombie films, unlike say one my best friends, GURPS line editor Sean Punch. I will give a zombie film a chance, but I am no more likely to like it than any other film, and I am as likely to like a romantic comedy as I am a horror film. I find it quite stunning that I liked three different zombie films this much and that all are both so different and so similar.


Quick other film digression

To my shame, I actually paid good money to see Evan Almighty. It is simultaneously completely innocuous and incredibly offensive. I think the reason that I went to see it, besides the fact that it was one of those weeks where the only movies playing were Evan and the other sequels Shrek, Pirates and Spider-Man, so there was not a lot of choice. I think I was also intrigued by the fact that the film was being attacked by its Christian base who were insulted that the film was a modern re-telling of the Noah myth when the Bible clearly says that God promised Noah no more floods.

"The Rainbow is the Covenant! The Rainbow is the Covenant!" they thundered and I got suckered in on the basis that anything that a Christian fundamentalist hates, has to have some redeeming features. Sadly, it was just a case of them not watching the movie. Morgan Freeman never says anything about a flood. He just tells Evan to build an Ark and to take it on faith that it will come in handy. Evan, like the Christian fundamentalists, jumps to the conclusion that there will be another capital F Flood, but that is not the plan.

The film does have three good jokes: the wood for the Ark comes from 1-800-Go 4 Wood (Noah's Ark was built with gopher wood), Evan drives by a theatre playing "The 40 Year Old Virgin Mary" and when Evan's wife leaves him and takes the kids, she is counselled in a roadside diner by waiter Morgan Freeman who wears a name-tag calling him Al Mighty. There, I just saved you the price of the ticket. The rest of the film are jokes recycled from the Santa Clause franchise or the Doctor Dolittle franchise.

As I said the film is harmless. A funny in (too few) places biblical family comedy.

The obscenity comes from the fact that the damn thing cost something like $175 million dollars. The money certainly did not end up on the screen. For that kind of money, you could buy about 200 End of the Lines and I may be seriously over-estimating Maurice's budget. And you could buy. ummm let me do the math, more than 2000 (!) Mulberry Streets.

Which brings us neatly to...

16 Mulberry Street Jim Mickle, USA, 2007

Unlike the End of the Line, Mulberry has a distributor (Lions Gate), but it looks like it will be released directly to DVD and not get a theatrical distribution. That would be the shame, because this film NEEDS to be seen on the big screen. Hell! It NEEDS to be seen full stop.

Do not be scared away by the low budget, the film looks amazing. It was made by wizards who created the film with brains, sweat and their life's blood rather than money. While there are no actors that you would recognize as stars, the acting is universally excellent. I may be projecting here, but the cast feels like it was built out of the extras from Dick Wolf's Law and Order franchise and spin-offs. All of the actors have that vague aura of having been either the corpse that Lenny Briscoe throws the sheet over in the opening scene, or the partner of the cop that briefs Lenny - the one that does not get any lines.

The low budget probably helps the story in some ways, because it forced the film makers to tell their apocalyptic vision of New York island being over-run by plague rats and the rat zombies (or were-rats you pick) that result from the rat bites, by focusing on one New York neighbourhood (Mulberry Street) and one building on that street. Drama is heightened by compressing time and by compressing space. By tightening the screws on where the film takes place, we allow ourselves to extrapolate the destruction of this one neighbourhood, the destruction of this small world, into the destruction of the world entire.

The two main characters of the story are an aging boxer and his daughter who has just returned from Iraq.

The film borrows heavily from the film noir trope of the war veteran returning home from the war only to find that home no longer exists, or that if it does that it can no longer exist for him, because the veteran's scars both internal and external prevent him (or her) from making a real return.

Although, really her journey is that of Odysseus, trying desperately to return home to his loved ones, battling both monsters and the geography that once welcomed him to return to a home that no longer exists as it did when he left it. She is betrayed just as Odysseus is betrayed, because having sacrificed for her country, she returns to find that she has no country.

The building that her father lives in is being yuppiefied, meaning that her neighbourhood is being destroyed as she returns. The film then takes the idea of this slow, gradual destruction of her neighbourhood and makes it literal as the rat zombies destroy the already doomed building and its inhabitants.

And you can see why she desperately wants to return, because her neighbourhood is the kind of place which accepts the scarred and the broken. Everyone in the building is an outcast, battling against some kind of disability, whether it is being an over-the hill boxer, being a single mother, being a moody and misunderstood teenager, being in a wheelchair, being nearly deaf, needing oxygen to survive and etc. The film also emphasizes the veteran connection by making one of its really great characters a World War Two veteran (ANZIO!) and I think the wheelchair character is a Vietnam veteran. All veterans have already been forgotten and betrayed by their country, so the film makes the dilemma a generational one giving more depth to the problem.

(By the way, I am not suggesting that the black and gay character is a freak or suffering from a disability, but he does fall into the category of characters that are marginalized yet accepted by all the outcasts.)

The only characters in the building that might qualify as not-outcasts are the Yuppie family who desert the building at the first sign of trouble, where all of the other outcasts rally together. In many zombie or apocalyptic films, the main characters inside are almost as much danger to themselves as the monsters outside. Not in this film. In this film, the characters are family who rally to each other's aid (except of course the Yuppie family who flee) which just makes the deaths as the rat-zombies pick off the members of the family one by one that much more tragic.

I have had horror films scare me before. I have had horror films make me think. I have had them make me angry. This film does all of these things, but it does something more - it made me cry, because you are connected to these characters and you do not want them to die. And every death diminishes not just the audience, but the characters who are left as well, as the rat zombies destroy their neighbourhood, piece by piece and brick by brick. A family and a neighbourhood more real because its members choose each other.

Even the building's janitor, who in most films would be a stereotype villain, in the pockets of the developer, but in this case, he is a member of the community, ribbed good-naturedly by his neighbours for the building's disintegrating infrastructure, but also making the necessary repairs as quickly as he can in a losing race as the building disintegrates faster than he can repair it. (And tellingly, he is bitten trying to make a repair.) He is one of the early victims of the plague, but also tellingly, when he attacks his neighbours, they choose to lock him up rather than kill him.

The film also makes good use of the idea that in a disaster the media and the government are of little help as the characters (and the audience) get their information in dribs and drabs and that information is frequently incorrect or useless. (No points for guessing that the film makers gets a lot of mileage from the Katrina comparison.)

I guess I probably love End of the Line ever so (just a rat-hair smidgen) slightly more than this film, because it is a film from my neighbourhood, with characters that I recognize and a problem that I worry about. I am not however saying that Mulberry Street is a film that can only be appreciated by those who live near that street. Because it is so specific, it achieves a level of universality.

Again, you NEED to see this film.

(edited by Llakor on 22.7.07 1307)

---

"Don't Blame CANADA, Blame Yourselves!"
Cerebus
Scrapple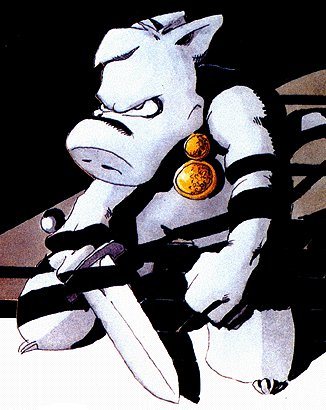 Since: 17.11.02

Since last post: 163 days
Last activity: 158 days

#4 Posted on | Instant Rating: 1.48
I was very disappointed to read that you fell asleep and missed THE TRIPPER. It was quite excellent and it needs to be seen by more people.

The criticism about DEATHNOTE's Death Gods not being scary enough, I think, is only coming from people who are talking out of their asses and probably have no idea that they look almost exactly as they do in the manga.

This reminds me of the people who bitch about the overly violent BATTLE ROYALE films who have never read the original novel or the manga series and have no idea what was cut out to make them theatrically adaptable.