TwisterF5
Italian



Since: 18.2.04
From: The Houston 'burbs

Since last post: 1374 days
Last activity: 898 days

#1 Posted on | Instant Rating: 0.00
Was there a particular show that you loved watching that got canned? Anything more obscure, rather than say..."Seinfeld"? I loved the HBO show "Dream On". With the recent trend of putting entire seasons of television shows on DVD, I have yet to see that show on DVD. What about the rest of you?


---

"Cunnilingus and psychiatry brought this on" - Tony Soprano
Promote this thread!
Gugs
Bierwurst



Since: 9.7.02
From: Sleep (That's where I'm a viking)

Since last post: 1852 days
Last activity: 981 days

#2 Posted on | Instant Rating: 5.10
Rocko's Modern Life
Are You Afraid of the Dark?
Angry Beavers
Kablam!


---

What are you, some sort of critic?
oldschoolhero
Knackwurst



Since: 2.1.02
From: nWo Country

Since last post: 3322 days
Last activity: 3256 days

#3 Posted on | Instant Rating: 5.20
"Are You Afraid of the Dark?"

Are You Afraid Of The Dark? RULED IT. I love you.



---
"You're A Big Hunk Of Hero Sandwich, And You Wanna Save The Girl!"
Santa Sangre
Bockwurst



Since: 21.6.02
From: Germany

Since last post: 663 days
Last activity: 663 days

#4 Posted on | Instant Rating: 7.58
Oh where to start...

The Tick
The Critic
Buzzkill
The State
Nowhere Man
My So Called Life (Just Kidding LOL)

I didn't know Are You Afraid of the Dark got cancelled. I just thought it ran its course back in the day.

I never really liked Rocko's Modern life, don't know why but it just wasn't funnyy to me. Swank theme song though.

I'm not sure if the cartoon garfield show got cancelled or not, but it was funny as hell and once again had a good theme song.



---

Originally posted by thebadguy

Edge would be good on RAw to see a reprive of the Edge and Christian team. man they had some mint matches

Originally posted by Hogans My Dad

I wish I was Donald Trump so I could fire you.

Evil Antler God
Potato korv



Since: 10.1.02

Since last post: 4274 days
Last activity: 2400 days

#5 Posted on | Instant Rating: 5.39
Millenium
pieman
As young as
he feels



Since: 11.12.01
From: China, Maine

Since last post: 6 days
Last activity: 4 days


ICQ:
#6 Posted on | Instant Rating: 8.21

Haven't we had this thread about five times before?


---
Gabba Gabba Hey!
Oliver
Scrapple



Since: 20.6.02

Since last post: 1205 days
Last activity: 1199 days

#7 Posted on | Instant Rating: 3.36
Ummm...that's a good question. A few that come to mind:

WCW Saturday Night
Camp Wilder
Family Guy
Animaniacs (the cartoon show)

Those are all I can think of at this present moment.


---

SD2: April, Year 3; what's the point to the Career mode, anyhow?
FF7: Disc 1; 4h into game; en route to the next reactor
FF8: Disc 2; 15h into game; Squall, Rinoa, Irvine vs. Master NORG.
FF9: Disc 1; 6h into game; Hunting down Dagger after she drugged me!

Heading home to Toronto NEXT WEEK!!
Mr Heel II
Lap cheong



Since: 25.2.02

Since last post: 106 days
Last activity: 4 days

#8 Posted on | Instant Rating: 5.87
"Firehouse". It lasted 13 episodes in 1974. Loosely based on a TV movie in 1973 that still shows up on television once in awhile starring Shaft himself, Richard Roundtree

The TV series had nothing to do with the movie plot (one cast member, two character names, and Engine 23 were pretty much the only things saved according to IMDB) and was put together as a half hour single engine company knockoff of "Emergency", which I also was a big fan of.

an Anchor Bay or somebody put out a DVD of the movie and series together as a package, though it would be financially absurd to do so, especially since the movie is available on DVD for five bucks.

As a fun aside, as I was putting together info on this at IMDB, I found it funny that IMDB's one "If you liked this you'll like..." recommendation is Disney's "Holes".


Jaguar
Knackwurst



Since: 23.1.02
From: In a Blue State finally

Since last post: 502 days
Last activity: 304 days

#9 Posted on | Instant Rating: 5.72
Originally posted by pieman

---

Haven't we had this thread about five times before?

---


Yes, but now we umm.... have more flavor! ....in the thread... Hmmmmmmm.

Well, it's not like they could go back and reply in the other threads. To quote my favorite dictator:


Originally posted by CRZ

---

Just start a new [thread]. It'll be much easier on the people who have been here longer than a week, believe me.

Even better, combine ALL your replies into one new thread!* Wild! ;-)

*(If it looks too weird, feel free to start more than one thread.)

---


But I realize you're just cranky cause you're old


-Jag


---

The Bad Boys of Punctuation


Add liberally to any post for best results
John Orquiola
Scrapple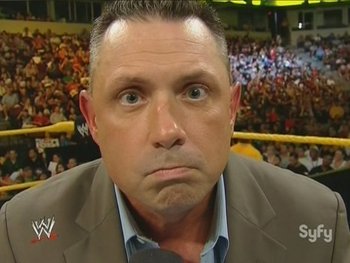 Since: 28.2.02
From: Boston

Since last post: 1451 days
Last activity: 1451 days

#10 Posted on | Instant Rating: 5.90
Futurama
Angel
Dark Angel
Son of the Beach
Star Trek: Deep Space Nine

Thanks to DVD, who needs new TV?

On the wrestling front, WOW. And I second WCW Saturday Night. Hell, I strangely miss all of the old WCW now.


---

"Strong words. Strong words from a strange man." - Kent Brockman
cranlsn
Toulouse



Since: 18.3.02
From: Hartland, WI

Since last post: 95 days
Last activity: 11 hours

#11 Posted on | Instant Rating: 6.67

Soap
Quark - intergalactic garbage scow...what's not to like.

Oh...and maybe Family, for my pre-teen crush on Kristy McNichol. (Way before I learned that THAT was a wasted effort.)




---
StampedeFan23
Morcilla




Since: 12.1.02
From: BC, Canada

Since last post: 3387 days
Last activity: 2923 days

#12 Posted on | Instant Rating: 4.07
Automan
Max Headroom
Undergrads (damn you MTV!)
Harvey Birdman: Attorney at Law
Mann and Machine (yes, I actually liked this show...)


---

Are you ready for Mahkan-mania to run wild all over you?

I mark for Molly Holly and Lance Storm.
JST
Toulouse



Since: 20.1.02
From: Quebec City, CAN

Since last post: 128 days
Last activity: 8 days

#13 Posted on | Instant Rating: 6.12
Action
Fastlane
John Doe
Dark Angel (hey, the concept of Hot Chick In Tight Clothes Kicks Ass was a little new to me, so I liked)
That 80's Show
Birds Of Prey
Andy Richter Controls The Universe

I sadly await the day when they announce the cancellation of Tru Calling. You just know it's gonna happen. I hate FOX sometimes.


---


Welcome to Wienerboard. Only *I* may dance.
albert44
Italian



Since: 12.2.02
From: houston , TX

Since last post: 4732 days
Last activity: 4464 days

#14 Posted on
Strange Frequency on Vh-1.
FREAKY SH!T INDEED!!!
aNYONE remember that show.

(edited by albert44 on 22.2.04 1121)

---

albert44

BOSsportsfan34
Pepperoni



Since: 2.1.03
From: MA

Since last post: 815 days
Last activity: 146 days

#15 Posted on | Instant Rating: 5.55
I can't believe no one remembers the genius TV that was "Manimal".


---



Patriots win another Super Bowl. So much for that idea of a "Curse of Jim Plunkett" book.
J. Kyle
Banger



Since: 21.2.02
From: The Land of Aloha

Since last post: 25 days
Last activity: 6 hours

#16 Posted on | Instant Rating: 4.56
X-E's co-Worst Poster of all time!
JKyle.com says:
When did Birdman get it?

The Collected Works of Tom Arnold (The Army Show, Jackie Thomas, The Tom Arnold Show)

Beat the Geeks

Angel... dammit.

And I'll just C&P my old top 10...

10. (THE ABC ARE BASTARDS TIE)
Clerks
Miracles

9.(Every Bruce Campbell show... Where the FUCK is my Autolocus:The Series?)
Jack of All Trades
The Adv. of Brisco County JR.
Hercules
Xena (pre-Joxer's death)

8.(THIS LAST YEAR ON FOX TIE!)
Andy Richter Controls the Universe
Greg the Bunny
Undeclared
John Doe

7. (THE UPN/WB doesn't always save the good shows tie)
Do Over
Twilight Zone

6.Upright Citizens Brigade ("They race them in Mexico...")

5.American Gothic (someone's at the door...)

4.(The "Yes, ANOTHER tie" TIE)
Brimstone
Quantum Leap

3.Forever Knight

2.(ANIMATION FESTIVAL OF A TIE!)
Futurama
Family Guy
The Critic
Duckman
Undergrads
GARGOYLES!!!!
Gundam 0079

1.Haunted

(edited by AngryJohnny on 22.2.04 0209)

---
Cast in the Name of God
Ye Not Guilty
(I SWEAR THAT FLCL PICTURE'S LINK WORKS NOW!)

Mild Mannered Madman
Toulouse



Since: 1.3.02
From: Westminster, CA

Since last post: 1804 days
Last activity: 1522 days

#17 Posted on | Instant Rating: 6.27
Shows that are luckily out or coming out on DVD:
Sports Night
Mystery Science Theater 3000
Invader ZIM (April)
The Tick
Clerks
Soap
Red Dwarf

Shows lost in the ether:
Andy Richter Controls The Universe
The Adventures of Brisco County Jr.
Herman's Head
Misfits of Science
The State




---

There is a theory which states that if ever anyone discovers exactly what the Universe is for and why it is here, it will instantly disappear and be replaced by something even more bizarre and inexplicable. There is another theory which states that this has already happened.
- The Restaurant at the End of the Universe
uberlou
Merguez



Since: 26.3.03
From: Glendale, Cali

Since last post: 2952 days
Last activity: 2723 days

#18 Posted on | Instant Rating: 6.51
-Firefly
-Family Guy
-Clerks
-The Brak Show

and now add Angel to that list.

Will "Wonderfalls" be added come next year? I hope not. But it's Fox...



---
Net Hack Slasher
Banger



Since: 6.1.02
From: Outer reaches of your mind

Since last post: 4924 days
Last activity: 3344 days

#19 Posted on | Instant Rating: 6.59
*Sledgehammer! - Trust me I know what I'm doing. Come on it has an exclamation mark after the name. It has to be good ask Smackdown!
*NightStand - Make believe talkshow. Use tos tay up really late to watch this syndicated masterpiece.
*Police Squad - Well at least we got some good movies out of it.
*That's my Bush - Haha
*Nightmare Cafe - Wes Craven had a major part in it. Never really got the opportunity it deserved.
*Mission Hill
*The Tick (cartoon)
*Friday the 13th. The Series - Don't know if this counts because it actually got a respectable run.
*Undergrads
*Jack of All Trades




---

smark/net attack wienerville advisory is lowered to BLUE alert - Guarded (Due to Eddie being WWE champ and facing Angle at WM, Benoit winning the Rumble in World title match in mania BUT Kliq members is still a threat - Vince you can save us from these threats) 2/17

Honors for Smartest thing ever written, 5th Horseman "When Victoria, Trish, Molly, and Lilian were in the ring.. I commented to my friends that all of the 4 ladies in the ring were hotter than the all 4 that are fighting over who is the hottest in the WWE"
HitTheSnoozeButton
Boudin rouge



Since: 2.1.02
From: Pittsburgh PA

Since last post: 3424 days
Last activity: 630 days

#20 Posted on
Homicide: Life on the Street

Was there a better cop show than this? Ever? Law and Order, and even The Shield can't compare to Homicide. In its prime (pretty much its entire run) it was a show to behold. And Andre Braugher and Kyle Secor going after someone in the box? True must see TV.


---

"She's screaming like crazy...You have this myth you're sharing the birth experience. Unless you're passing a bowling ball, I don't think so. Unless you're circumcising yourself with a chainsaw, I don't think so. Unless you're opening an umbrella up your ass, I don't think so."
--Robin Williams on birth

Pages: 1 2 3 Next