The Great Thomas
Sujuk



Since: 17.6.02
From: Miami, Florida

Since last post: 4713 days
Last activity: 4713 days

#1 Posted on
If you've been watching WWE for as long as I have, you'll have noticed Kane's ever changing ring attire. First, he came out in a mask and full body outfit, then he got rid of one of his sleeves, then no sleeves, and now he's exposed part of his face! And we have yet to see any of Kane's alleged "hideous scars" anywhere on him!

I know that continuity isn't one of the WWE writers' strong suits, but at least they should remember that Kane is still a man who was horribly scarred in a fire (Unless his gimmick was shot to heck during the whole Katie Vick fiasco). At the rate they're going, pretty soon Kane will be wrestling in only the mask and a pair of black trunks! And we STILL won't see any scars on him!

This got me to thinking: Shouldn't Kane and the WWE prove that he IS a burn victim? Don't we think the WWE fans want, nay, DESERVE to see, once and for all, that Kane was indeed disfigured in the fire? Oh, sure, Kane's been unmasked before, and we have been teased by him running off backstage, his hair being the only thing hiding his identity, but shouldn't we, at least one time, see what Kane truly looks like?

Here's how I would go about it:

* We start off with Kane and RVD constantly interfering with the plans of Chief Morely and the Bischoff Administration. The Chief finally gets fed up with it and comes up with a plan.

* Chief Morely issues a one-on-one match between RVD and Kane at a big PPV. The stipulation? If RVD loses, he is fired from WWE. But if Kane loses, he will be unmasked!

* Before the PPV match, Glenn Jacobs has one of those Freddy Kreuger makeup deals done on him.

* At the PPV, the match finally begins. Kane and RVD desperately fight each other. Chief Morely appears with a steel chair, and tries to hit RVD, but misses and KO's Kane instead.

* RVD takes advantage of the opportunity and hits the Five-Star Frog Splash, and pins Kane. 1...2...3.

* RVD is reluctant to remove Kane's mask, but Morely attacks RVD from behind and throws him out of the ring. He then hits Kane with the chair a couple more times for good measure, and then calls in a cameraman.

* The Chief yells at the camera: "Take a good look at this! I want the whole world to see this!" And he rips off the mask!

* After a good, long shot of Kane's "fried" face, Kane does the ZOMBIE SIT-UP! He then beats down Morely, shoves the cameraman out of his way and runs backstage.

However, this will be the ONLY opportunity anyone will EVER have of seeing Kane's face. Any other future references will either have Kane's face blurred out, or the footage will stop just as the mask is being pulled off. That way, Kane can still retain a measure of his aura of mystery, but above all, it will finally prove that Kane was INDEED scarred.

And if ANY continuity is to be ignored, it should be the Katie Vick storyline, in which he had a childhood of going to parties and whatnot.

So there you have it. Comments are more than welcome.


---
Please Support The Neo-Geo Pocket Color!
Promote this thread!
Tenken347
Knackwurst



Since: 27.2.03
From: Parts Unknown

Since last post: 3 hours
Last activity: 44 min.

#2 Posted on
You know, he could have just been using those WWE paychecks to pay for cosmetic surgery.
Big Bad
Scrapple



Since: 4.1.02
From: Dorchester, Ontario

Since last post: 2 days
Last activity: 20 hours

#3 Posted on | Instant Rating: 5.54
I don't think they should ever remove Kane's mask. It differentiates him from the other wrestlers, and I don't think the gimmick really 'requires' a lot of mic time. Heck, I liked Kane more back when he just moved his head to communicate; Glen Jacobs is good at getting a point across through body language.


---
Over 1100 posts and still never a Wiener of the Day!



Are you racist?

Brought to you by the good folks at sacwriters.com.

JST
Toulouse



Since: 20.1.02
From: Quebec City, CAN

Since last post: 131 days
Last activity: 9 hours

#4 Posted on
I notice they always had angles that involved him being unmasked but it never really went anywhere. Either he "got it back" or came back with a whole new one.

- Summer of 2000: Taker returns as the bad ass and Kane inexplicably turns on him. They have a brawl at Summerslam where Taker rips the mask off him. Taker rides around with the mask on his bike, but after not even a week, nothing else is made of it.

- Last year, nWo reformation: Kane faces X-Pac in a hardcore match. Hall and Nash interfere freely, giving X-Pac the win. They beat Kane down and steal his mask. Pac is seen walking around with Kane's mask on. Pac is later fired, Kane later returns with a new outfit altogether.

- Just recently: Kane is being beaten down by Evolution, when Randy Orton once again steals the mask. Kane runs off backstage. Next week he somehow has it on again. And I refuse to believe that (in kayfabe terms) Orton would simply "be nice" and give the mask back.

Like Thomas says, give him a Freddy Krueger makeup job and take the damn thing off him once and for all.


---
Super Shane Spear
Bierwurst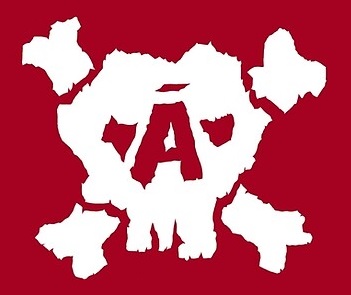 Since: 2.1.02
From: Sector 7 Slums

Since last post: 2929 days
Last activity: 2928 days

#5 Posted on | Instant Rating: 3.08
I say you get a time machine and go back to 1998 when it would've been something that might have sold a ticket or pay-per-view broadcast. Plus, if you have a time machine, you can go back and prevent H from ever being born.

You don't have to do it in that order either.

(edited by Super Shane Spear on 22.4.03 0957)
MoneyInk
Polska kielbasa



Since: 10.2.03

Since last post: 5497 days
Last activity: 5497 days

#6 Posted on
Or just have a match at a ppv where Undertaker and Kane are teamed up and then when the Undertaker rides out on his motorcycle, Kane can be sitting in one of those side car things attached to it without a mask and shorter hair. And the Biker Bros tag team will be created.

(edited by MoneyInk on 22.4.03 1019)
OlFuzzyBastard
Knackwurst



Since: 28.4.02
From: Pittsburgh, PA

Since last post: 402 days
Last activity: 378 days

#7 Posted on
If I remember my unsubstantiated Internet rumors correctly, they had something similar planned way back in '98.

Vader had been out with an injury for a while, and the WWF was going to give him a monster push upon his return, on the condition that he dropped some excess weight. He was set to have a mask vs mask match with Kane, who injured him in storyline terms, during the May PPV. Vader was going to go over, and they were going to reveal a hideous burned face for Kane which, by all accounts, was going to be Kane's permanent look.

Of course, Vader returned ten pounds HEAVIER, wound up jobbing to Kane and becoming "demasked" (Oh my god, it's VADER!), and delivering the infamous "I'm a big fat piece of shit" speech before getting released and heading for Japan.


---
Great warrior? Wars not make one great.
fuelinjected
Banger



Since: 12.10.02
From: Canada

Since last post: 4599 days
Last activity: 4599 days

#8 Posted on
Vader in a Mask Vs Mask match would be like Lance Storm in a Hair vs Hair match.

That was just one of the dumbest matches ever. Especially when Kane pulled out the toolbox from under the ring.
Spaceman Spiff
Knackwurst



Since: 2.1.02
From: Philly Suburbs

Since last post: 92 days
Last activity: 2 hours

#9 Posted on
Might as well just let him keep it on. They've gotten as much as they'll ever get out of him, and he's pretty much risen as high as he'll ever get. Unmasking him isn't going to make him this super huge draw and/or make him a top guy in the fed. Unmasking him might do more harm than good for him.


---

Matthew: You would've loved it, David. A week in a foreign country, strange people, strange customs...
Dave: Oh, I know what you mean. I've been to Canada.
tasslex
Salami



Since: 15.10.02
From: Eagan, MN

Since last post: 5001 days
Last activity: 4958 days

#10 Posted on
Originally posted by MoneyInk

---

Or just have a match at a ppv where Undertaker and Kane are teamed up and then when the Undertaker rides out on his motorcycle, Kane can be sitting in one of those side car things attached to it without a mask and shorter hair. And the Biker Bros tag team will be created.

(edited by MoneyInk on 22.4.03 1019)

---

I'm SO glad I'm not the only person that thinks Kane in Undertaker's Side Car would be awesome.


---

I donít go to sleep at night, I job to my blankets.

When my mom dies I'd like to know it was peacefully in her sleep, and not fucked to death by 38 men with AIDS.
Eradicator
Kolbasz



Since: 4.1.02
From: Chicago

Since last post: 1179 days
Last activity: 429 days

#11 Posted on
From rumors I had read at the time (think it may have even been on Scoops!) Jaks had even produced an unmasked Kane action figure before that match to be released after the unmasking. I believe there was even a picture floating around of it on the net (unless it was a custom job).

Makes you wonder what they would have Kane up to today if they had unmasked him in '98.


---

"The Universe is shaped exactly like the Earth. You go straight long enough you end up where you were."
Doc_whiskey
Frankfurter



Since: 6.8.02
From: St. Louis

Since last post: 50 days
Last activity: 1 day

#12 Posted on
They could have him be demasked and look normal. They could then go with the emotional scar and guilt of him thinking he was hideously deformed, but actually wasn't, it was all in his head.


---

So I pranked him...to death.....with a tire iron!
NIKO
Chorizo



Since: 24.4.02
From: Amherst, Massachusetts

Since last post: 4899 days
Last activity: 4808 days

#13 Posted on
Originally posted by tasslex

---




Originally posted by MoneyInk

---

Or just have a match at a ppv where Undertaker and Kane are teamed up and then when the Undertaker rides out on his motorcycle, Kane can be sitting in one of those side car things attached to it without a mask and shorter hair. And the Biker Bros tag team will be created.

(edited by MoneyInk on 22.4.03 1019)

---


I'm SO glad I'm not the only person that thinks Kane in Undertaker's Side Car would be awesome.

---

I always thought Paul Bearer would have gone in the sidecar perfectly.


---

"Mankind must put an end to war, or war will put an end to mankind."
--John F. Kennedy

cactuspete
Blutwurst



Since: 22.9.02
From: Parts Unknown

Since last post: 5469 days
Last activity: 5468 days

#14 Posted on
RAW IS RESURRECTION

COACH: Oh no, Katie Vick has come back from the dead and she is taking off Kane's mask! Oh no, his scars!

LAWLER: Wait its, its . . . . I can't believe its him! It's my old dentist Isaac Yankem!

COACH: I dont know King, it looks like that bogus Diesel to me. The one that JR brought years ago.

JR: Bah gawd, he's come back from the dead too! Just like me!




---

"What do you mean 'Parts Unknown'? Are you telling me he doesn't have a social security number so we can track him down? How does he get a paycheck?" - G. Monsoon


rv581
Goetta



Since: 2.12.02

Since last post: 2820 days
Last activity: 1990 days

#15 Posted on
If they want to do a gimmick change, they could have a horribly disfigured Kane unmasked, be humiliated, and then RVD could take him to a plastic surgeon he knows (actually, replace RVD with Sable or Terri and you could be on to something) to "fix" the problem.

Kane could come back, showing his real face, thinking he's the most handsome fellow in the world, hitting on all the women, not understanding why he's getting rejected...

And yes, I know the feeling...


---

"Who ate my sandwich???"
shinstrife
Boudin rouge



Since: 5.10.02

Since last post: 840 days
Last activity: 10 days

#16 Posted on
I say keep the mask. With out the mask Kane wouldn't be Kane. Kane would be Glen Jacobs, a nearly 7ft tall man who hails from Missouri area and went to college where I live was a foot ball player.


---

"I stand for truth,and justice....BIAAATCH!"
Mr Heel II
Lap cheong



Since: 25.2.02

Since last post: 108 days
Last activity: 7 days

#17 Posted on
(RVD walks into locker room and accidentally sees Kane without the mask).

(RVD) "Dude, why do you even wear the mask?"
(Kane-startled) "Are...are you kidding me? LOOK at me! I'm horribly disfigured!"
(RVD-not playing along) "Uh, no you're not. You look fine."
(Kane) (Sigh) "Fine. Chicks dig the mask".

Heck, they could do that AND he could still wear the thing.

(Man, that actually sounds like something Gerwitz would write. Now I'm depressed.)

Keep the mask.


---

some things are classic. some things are just old.
OMEGA
Lap cheong



Since: 18.6.02
From: North Cacalacky

Since last post: 3278 days
Last activity: 884 days

#18 Posted on
I have a feeling that if they unmasked him, it'd be the end of his career. The poor soul had to endure the Katie Vick storyline. The least we can do is stop trying to ruin the rest of his career.


---
waffleking
Pickled pork



Since: 2.10.02
From: Missouri

Since last post: 4165 days
Last activity: 1854 days

#19 Posted on
I have always been against the unmasking of Kane but since they have screwed up his gimmick so much I don't think it would matter if he had the mask or not.



waffleking's crazy fantasy booking idea of 4/22/03-

Week 1: Kane and RVD are in a tag match with the Dudleys. When suddenly the ring post flares go off for no reason while Kane is in the corner, nearly getting cooked alive. Everyone acts confused. Kane and RVD win the match demanding a title shot. Chief Morley declares that Kane and RVD will have one last chance to win the tag titles. If they lose, they will have to quit tagging and Kane must lose the mask. Kane is obviously worried.

Week 2: Backstage, Kane leaves RVD in the locker room doing his stretching exercises and comes back and the room is dark. He turns on the light and RVD is bloody and beaten in the corner. Beside Kane's locker door we see Kane's old full face mask. Kane fights the tag match by himself and wins.

Week 3: Kane asks RVD what happened the week before and RVD says he didn't know, but he believes it must have been Morley and Storm. He says the lights went out and he was knocked unconscious and he remembered smelling something like sulfur or smoke... and not his kind of smoke. Afterwards Chief Morley and Storm decline any responsibility of the attack and book RVD and Kane into a handicap tag match to soften them up. During the match a referee or someone from the back runs up to tell Kane something while he is in the corner. He runs to the back parking lot and finds his car set ablaze. RVD loses the match.

Week 4 (PPV): Kane and RVD are winning the match and they get screwed someway. Everyone is waiting for Kane to de-mask and he is shaking like a leaf. Vince McMahon walks out to everyone's surprise and demands that Kane leave that mask on. Vince then tells everyone if they don't like it they can kiss his ass. Kane says that he is a man of his word and he has to do it. Kane pulls off his mask to reveal... a perfectly non-burnt face. The commentators are astonished. Then all of a sudden, the lights turn red and Kane's old music starts up. Vince quickly looks at the enterance scared shitless and before anyone comes out he runs out through the crowd.

Down the ramp comes someone dress liked the old Kane except for a darker more eviler full body suit. The "old" Kane stands face to face with Kane, punches him, and tombstone piledrives him.

It will be revealed that back in 1999 when Kane was institutionalized and then brought back as part of Vince McMahon's Corporation stable, it wasn't the real Kane that was brought back. Vince realized that Kane was too evil and violent to be controled so he paid off Glen Jacobs to play the part of Kane and left the real Kane in the asylum. Now 2003, the real Kane who is really burnt from head to toe has returned and ready for revenge. And for the record, Katie Vick was really a nurse at his old hospital and he not only screwed her, he also murdered her. This would work better if they brought in Paul Bearer to explain this.

This Kane can be played by some big tall guy like Brian Lee.


---

Quoth the Norman Darter, "Well Forevermore!"
InVerse
Boudin blanc



Since: 26.8.02

Since last post: 3 days
Last activity: 42 min.

#20 Posted on
I think he should just come out and wrestle one night without the mask on and after the match, have his pyro not work. Then when he gets to the back, have Teri grab him for an interview and ask him why he stopped wearing the mask. He would then feel his face and say "Shit, I wondered why the pyro wasn't working." and then never have it mentioned again.
Pages: 1 2 Next