mattstew
Cotto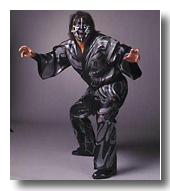 Since: 28.5.02
From: New York, NY

Since last post: 3933 days
Last activity: 3887 days

#1 Posted on
Watching the beginning of Smackdown, it finally dawned on me that the split is being booked to fail. It's very simple to explain why, actually. Here goes:

We see Easy-E is speaking to The Rock's voicemail. He says something about wanting The Rock to work for RAW. And since Eric Bischoff is the #1 stealer of talent 'round these parts, and heel owner/commissioner #243, we get the "evil smile of doom" to illustrate that his business ethics are indeed underhanded.

And then J.R. screams

"Oh my God! Bischoff can't steal Rock away from Smackdown! That's not right!" or some such.

To be honest, I thought RAW would suck so I didn't tape it. I can't transcribe his exact words. If someone can, please do. Because I know for a fact that his words were not:

"Oh My God! This is great! This is just what RAW needs! And thank God! Eric Bischoff is here to bring the most recognizable superstar of our era back to the RAW brand! Folks, this move will bring you the best entertainment the WWE has to offer! See ya next week, it's gonna be Can't Miss TV!"

The point is this: Why is J.R. not excited about Bischoff's attempts to make RAW the best show? Why does J.R. seem content to sit back on his show RAW, and watch matches and call them bowling-shoe ugly, when he can have The Rock back? Shouldn't he, as RAW talent, rally around the guy who's bringing in the biggest star of the past five years?

Oh yeah, and bringing Stephanie back (in the #2 slot in storylines, no less) is not a good sign either.




(edited by mattstew on 18.7.02 2135)

(edited by mattstew on 18.7.02 2136)
---

The luck is gone, the brain is shot.
But the liquor, we still got.
Doug Coughlin, Cocktail
Promote this thread!
drjayphd
Scrapple
Moderator



Since: 22.4.02
From: Outside of Boston

Since last post: 41 days
Last activity: 7 hours


ICQ:
#2 Posted on
I don't think the split is doomed. After all, isn't the point of it to keep talent separated? They're still only on one show a week, so at that level, it works.

But admittedly, they are handling the competitive element of the split horribly. They shouldn't plug the other roster's shows, house shows, whatever. If you mention the other brand, spit on them. Maybe that's the problem--it was portrayed as a brand extension...

Yadda yadda yadda...

...and in closing: Thanks, Steve!


But really, if they want to make the split look good, make it look like they're actually competing. However, on the level of "open up TV time for the new kids", then the split's working. Sort of.
mattstew
Cotto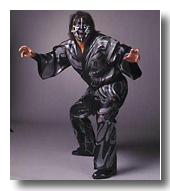 Since: 28.5.02
From: New York, NY

Since last post: 3933 days
Last activity: 3887 days

#3 Posted on
But really, if they want to make the split look good, make it look like they're actually competing.


Exactly.

No one cares that J.R. dislikes Bischoff in real life.

From a storyline persepctive it makes no sense at all to have J.R. challenge the fairness of Bischoff's competitive practices. They both work for RAW; If stealing Rocky will make RAW a better show then those announcers better get on the same page as the boss. They better pray that The Rock returns before fucking Jackie Gayda.

The announcers project the voice of their respective brands. If they don't care about being unique, then why should I pretend they are?




(edited by mattstew on 18.7.02 2150)

(edited by mattstew on 18.7.02 2150)
---

The luck is gone, the brain is shot.
But the liquor, we still got.
Doug Coughlin, Cocktail
deadbeater
Morcilla



Since: 12.2.02
From: Parts unknown

Since last post: 5683 days
Last activity: 5683 days

#4 Posted on
Now that makes JR look really shtupid, in a Mutts manner.

Does he really want to watch bowling-shoe ugly Jackie matches on his show, or does he want quality action to work with? I really think he wants the former, because he can shill for Texas that way. And don't get me started on Lawler.


---

"Business has just picked up" says JR. Then right on cue, Molly enters the arena! Never was JR any better in introducing someone. --Raw 7/15
Aphrodites Reflection
Chipolata



Since: 18.6.02
From: Atlanta GA

Since last post: 5549 days
Last activity: 5546 days

#5 Posted on
I think that Tazz is doing the best job of the commentators selling the split these days. Every week he takes a jab at Raw. Just tonight on Smackdown he acted as it if was obvious that Eric should be on Smackdown trying to steal talent. In the paraphased words of Tazz, Smackdown has better athletes, better matches, and a better show. Of course Eric would want to come and take some of their guys, since they are the best.

I think that Tazz has the right way to handle it down, and I agree with some other people, JR should have reacted differently. It IS possible to have characters with more than one dimension. JR could have still let his hatred of Eric be seen, but also be hopeful that maybe they would have someone like the Rock or Triple H on their show. It doesn't have to be one emotion at a time.
ges7184
Lap cheong



Since: 7.1.02
From: Birmingham, AL

Since last post: 46 days
Last activity: 34 days

#6 Posted on
I don't think he was saying "He can't do that!", more like "Can he do that?" Well, at least that's how I remember it, I'm not 100% sure.

Still, I agree that J.R. needs to put over that they are on separate teams, so in the same breath at saying "Can he do that?", he should say something like "That WOULD be a great steal for the RAW brand, if he can pull that off."

It's kind of a tricky thing, because they're promoting Bischoff as a heel, and J.R. is a face announcer, he's not suppose to like Bischoff. But he still needs to somehow put over that while he may not agree with the tactics, the end result might be a good thing for RAW.


Aphrodites Reflection
Chipolata



Since: 18.6.02
From: Atlanta GA

Since last post: 5549 days
Last activity: 5546 days

#7 Posted on
That is exactly what I am saying, ges. JR doesn't have to like Bischoff, but he can be excited about the thought of having a top name like the Rock come to RAW. He is allowed to portray multiple thoughts and emotions, not just one sided attitudes like "heels bad, faces good".
KilljoyTX
Longanisa



Since: 29.1.02
From: DallasTX

Since last post: 5772 days
Last activity: 5772 days

#8 Posted on
"Hello?"

"Yes, um, J.R. Ross, please..."
(mumble)

"It is? Great. Yeah this is David Spade calling - its called a STORYLINE. This would imply that it is linear, wouldn't it? Straight? Like an arrow? No breaks, no sharp right turns into the retaining wall, yes?"
(mumble)

"A little swerve here and there, no fading into the ether, no backtracking unless a headliner disappears and smacks his b*tch up, only hairpin turns and never two in a row, ok? Work on that, would ya? I gotta go call Russo about that NWA:TNA belt now.

Buh-bye."

[click]


---

Bruce Wayne: "We've met."
Selina Kyle: "Have we?"
Bruce: "Sorry, I mistook me for someone else."
- Batman Returns
mountinman44
Sujuk



Since: 8.5.02
From: San Diego, CA

Since last post: 2563 days
Last activity: 878 days

#9 Posted on
IMHO, I thought the split was going to work at first... get some new guys some TV time, maybe some fresher angles. Once Flair turned heel, the split concept started to die. When Vince beat Flair on RAW, the concept died.


---

"Young lady, in this house, we obey the laws of thermodynamics!" - Homer Simpson