geemoney
Scrapple



Since: 26.1.03
From: Naples, FL

Since last post: 9 days
Last activity: 6 hours

#1 Posted on | Instant Rating: 7.36
TONIGHT: Today is my birthday, and WWE has rewarded me with former Price is Right star Bob Barker as guest host. I don't know how to feel about that. Keep him in pre-tapes and he'll be fine. This will be the last chance for the Raw brand to hype up Breaking Point this Sunday. In ring action on tap tonight: Nothing scheduled as of yet. Are we going to get a gimmicky, PIR-like selection of matches? Is that why everything is hush-hush? Only one way to find out....

-WWE Open.

-They went right to the arena, with the camera panning the crowd wildly and Howard Finkel playing Rod Roddy, introducing Bob Barker to "Price is Raw." He's even got the long microphone! The ramp was designed to look like the Price is Right set. Huge ovation for Barker. Barker told the fans they'd really be partying tonight. He complimented the fans, saying they're the ones that have kept him on TV for over half a century. Barker mentioned playing a pricing game, and needing contestants. Bob asked Howard to get him four contestants. One was Santino Marella. He even ran down out of the crowd with the name tag! Jillian Hall was the second. Third was Irwin R. Schyster. And then Chris Jericho! Jericho didn't come down immediately, and Fink had to say his name again. Jericho finally came out from backstage wearing his ring gear and his name tag on his bare chest. They were all at contestants row. What they were bidding on: The Best of Smackdown 10th Anniversary DVD, modeled by Rosa Mendes. Can I say how bizarre this is? I feel like I'm on an acid trip. Barker implored the fans to help out the contestants.

Santino was first to bid: He requested a vowel. Barker said he's been bodyslammed too many times. Marella looked to the crowd. He bid $1,465. Jillian wanted to sing first, and Bob let her. Quickly, she said the fans had had enough. He asked her to sing her bid. $75. IRS asked if the bid included taxes. IRS bid $50, including the taxes. Jericho was the final one, and he looked none too happy. Instead of giving him the bid, Jericho walked slowly up to Bob. Barker said Jericho's mother would not be proud of the way he's behaving. Jericho told Barker to watch his mouth. He said that no one calls him "Chris." He told Barker to call him "Mr. Jericho" because he's the best in the world at what he does. Jericho was about to say he was one-half of the tag champs, but Barker said he heard "one" and that's Jericho's bid. The actual retail price: $18.90, which means Jericho wins. Barker then sent Jericho to the ring. He can win another prize: A fabulous trip to Hawaii. The Bella Twins modeled that. Barker said if Jericho beat his opponent he'd win the trip. His opponent: MVP.

(1) Chris Jericho vs. MVP
This is a return match from last week. Jericho took MVP to the mat immediately, and stretched him out. MVP turned things around by pounding away at Jericho in the corner. I hope they play the failure music if Jericho loses. Montel Vontavious Porter got back-dropped, but landed on the apron. MVP avoided a springboard dropkick, and Jericho landed hard on the outside. This one-of-a-kind Raw will continue after the break.

[Commercial Break]

As they came back from break, Jericho sent MVP back out of the ring and to the outside as Jerry Lawler and Michael Cole discussed the trip to Hawaii being at stake for Jericho here. Jericho toyed with MVP once they went back in the ring. Hard whip into the buckle by Jericho. On a slam attempt, MVP hooked in an inside cradle for two. Clubbing blow by Jericho for a near-fall. Crowd chanted for MVP. He came back, avoiding a knee-lift by rolling Jericho up for two. Enziguiri by Jericho missed an MVP came back with a pair of clotheslines. MVP kinda looks like he's in slow motion out there. MVP put his head down and Jericho kicked him, then landed a bulldog. Lionsault, Jericho landed on his feet, but a double-thrust to the throat by MVP put him down. "Ballin!" elbowdrop followed. At least, an attempt, as Jericho prevented it by grabbing MVP's leg and putting him in the Walls of Jericho. Inside cradle by MVP for two. Crowd is electric. Big boot and MVP got another near-fall. Playmaker, no, Jericho countered, but MVP held onto the ropes on a Codebreaker attempt. Jackknife cover and it's over.

Winner: MVP, at 10:58. Needed more Bob Barker. But seriously, this is the kinda match that can be taken to the next level of enjoyment thanks to the crowd.

-Cole and Lawler talked on camera about last week's Raw, specifically, the situation surrounding the WWE Title. They showed clips of last week's Raw, with Big Dust making the Orton vs. Rhodes title match, then the subsequent attack. They didn't show Dusty eating an RKO though.

-John Cena will take on Cody Rhodes later tonight.

[Commercial Break]

-Backstage, Barker was with Kelly Kelly, who asked Barker about the foundation that proceeds of his book go to. Then DX came in and they said they were big fans. Michaels asked how they might be able to get Rhodes and DiBiase spayed and neutered. Barker took them over to spin a big wheel. Michaels told him this isn't a game show, it's their livelihood. Kelly explained how it worked: They'd spin a wheel and on the screen is the Raw Roster. Michaels hit the button and the spin landed on Chris Masters. Triple H made fun of his hair plugs. Triple H's spin landed on Randy Orton. Not clear if they're facing these guys or not. DX said they could make it work, then Triple H told him they'd be back for the showcase showdown later.

[Commercial Break]

-Chavo was in the ring- Bob Barker came up on the TitanTron, and said if Chavo won he would win a new car. Fancy red one too, that the Bellas showed off as The Fink gave the details. Chavo was happy about that. Chavo's opponent: Evan Bourne.

(2) Chavo Guerrero vs. Evan Bourne
Chavo handled this one easily at first, putting Bourne across the top turnbuckle and kicking him in the gut. Chavo with an abdominal stretch. Then it was a kick to the ribs by Chavo after a one-count was registered. Lawler even talked about winning a red corvette by winning a match. Hurricanrana by Bourne, then a flying double-chop. Kick to the back of the head off the second rope. Chavo brushed Bourne's face with a boot in the corner, then sat on the top rope. Jumping knee to the face by Evan and Bourne went for a hurricanrana, but Chavo dodged out of the way on the jump, with Bourne landing butt-first on the top rope and flipping backward to the mat. Three Amigos by Chavo, then he went to the top. But his ankle or knee was giving him trouble. Hornswoggle came from under the ring with a super soaker. He sprayed it a couple times, but it stopped working so Chavo came after him. Chavo shoved him down and Bourne rolled Chavo up for three.

Winner: Bourne, at 4:19. This would be a good feud if they'd give Chavo even an iota of credibility.

-Cole and Lawler talked about Breaking Point, then thanked Skynyrd for "Still Unbroken," the official BP theme song.

-John Cena was walking backstage. He's battling Cody Rhodes next.

[Commercial Break]

-They showed AJ Pierzynski, Gordon Beckham, Jermaine Dye, Chris Getz and other Chicago White Sox at ringside. They too had nametags on.

-After coming to the ring for his match, Rhodes took the mic and assured that he's still a member of Legacy, even though he doesn't agree with what Orton did to his dad. Cody did say that Dusty Rhodes didn't make him a main-eventer; Randy Orton did. Cody said his father was and is an excellent father. Cody said he chose his career over family and said when they make DX tap on Sunday, the fans will know he made the right choice. As a favor to Orton, he said he'd make Cena tap out now.

(3) Cody Rhodes vs. John Cena
Cena took Rhodes up for the Attitude Adjustment early, but didn't hit it. He threw Rhodes off of him and Rhodes rolled to ringside. They went to break less than a minute into the match.

[Commercial Break]

They returned with the camera focusing on the TitanTron and Raw set, that was decorated with Price is Right colors and logos. High back-body drop by Cena. Rhodes suckered Cena to the outside and into a drop-toe-hold that sent Cena into the announce table. In the ring, Rhodes stomped away at Cena. Hard clothesline out of the corner got Cody a two-count. Cena tried to set up the STF, but Rhodes stopped him. Crowd was into Cena, and Rhodes got good heat. Lawler talked about not seeing a situation where either Cena or Orton would say, "I quit." Rhodes locked in a rear chin-lock, sitting on Cena's back and with his arm tied. Cena powered out. Cena missed a charge into the corner and Rhodes locked in an arm-breaker. I don't think arms are supposed to bend like that. The announcers sold the possibility of Cena tapping there. Could you imagine the crowd reaction if it happened there? Cena held onto the ropes, causing Rhodes to dropkick air. Two shoulder tackles and a face-plant. John-boy went to the top rope, but Rhodes thankfully dodged the worst move in the business (AKA Cena's top-rope leg-drop). Cody put Cena in the figure-four- well, Cena did block it, and began twisting Cody's ankle. He flipped Cody over and into the STF. Randy Orton ran out and got in the ring, causing the ref to call for the bell. Cena tripped up Orton, but Randy squirmed away before the STF could be applied.

Winner: Cena, via DQ, at 10:33. Fine match that certainly didn't hurt Cody's standing.

Cena hit Rhodes with an Attitude Adjustment with Orton looking on. This felt like the end of the show.

-Still to come: Randy Orton & Chris Masters vs. DX.

[Commercial Break]

-They advertised Batista's return next week.

-The Fink re-introduced Bob Barker (and his 19 Emmy wins!). Barker's even got a Titan-Tron! Barker asked Howard for another player. They showed Fink in a sparkly jacket. AJ Pierzynski is the next contestant. He hugged Santino once he got to contestant's row. Lots of boos from the fans. Must be Cubs fans. Bob asked if they liked the Cubs and they booed that. Huh. Just fickle then? AJ said he loved wrestling but loved Barker more. After some small talk- the bid was on a Wrestlemania 26 travel package. AJ's bid was $1,000. IRS went with $2,000. Jillian sang her $5,000 bid. Santino, "What is $1,200?" Actual retail price: $1,247. Santino wins. Bob said he had an opportunity to win another prize: A new hot-tub. Do the bikini-clad Bellas come with it? Hey, he asked that question too! Barker said the Bellas were not included. Barker said if Santino can bodyslam his opponent first, he'll win. If he can't, he loses. Marella said it was a great competition. His opponent: The Big Show. Show smiled as he walked to the ring.

(4) Santino Marella vs. The Big Show- Bodyslam Competition
Santino tried, but failed. Show tried and Santino begged off, but he slammed him. Aww.

Winner: Big Show, at :18. And they played the music!

There was some confusion as to whether Show actually got the win or if Santino got another chance, but the ref ended up raising Big Show's hand. Barker said he had another opponent for Show, and it was Mark Henry. Henry came to the ring as the show went to break.

[Commercial Break]

(5) The Big Show vs. Mark Henry- Bodyslam Competition
Apparently, the hot tub is still in play. Henry went after Show offensively, sending Show to the outside and already containing more action than the last challenge. Headbutt by Henry. He tried a slam and got one leg off the ground, but that was it. Show worked over the back of Henry. Show tried a slam but Henry slugged him in the back. Henry again only got one leg up, but he held his back in pain. Show got one leg way up, but collapsed onto his back. Henry waited for Show to get to his feet, but again Show stopped him from slamming him. Henry got a boot up on a corner charge, then whipped Show into the buckle. This time, Show got an elbow in the face of Henry. Show couldn't get Henry up again and Henry finally slammed the big man.

Winner: Henry, at 3:14. Worse than last week's offering, but that was the high end of what they could do.

MVP came out to celebrate with Henry after the match as Henry still appeared to be in pain.

-Josh Mathews was backstage in a sit-down with Bob Barker, in front of his Price is Right back-drop and with his books all over the table. Barker talked about the wildest that happened on the show- a woman coming to Contestants row in a tube top, and her breasts popped out as she celebrated. We even got footage of it, with the inappropriate parts censored. Mathews asked if he had ever been hurt on a game show- Barker said most it was when the contestants celebrated. Barker said he had a broken toe, but the most painful was a short lady jumping up-and-down and standing under his chin. "The dental bill was horrific," he said.

-Yet to come, DX faces Masters & Orton.

[Commercial Break]

-Next Monday: Trish Stratus will be the guest host. Personally, I'm waiting for Alf as guest host.

-Cole and Lawler were in the ring to talk about the Breaking Point card.

-Bob was reading his book backstage and said he enjoyed his book more everytime he reads it. Chavo came running up and said Hornswoggle and Bourne cheated him out of the match, and the car. Bob said, "you win some, you lose some." Chavo said he wasn't leaving without his car. Chavo told Barker that just because he trained in karate with Chuck Norris, doesn't make him tough. Barker then nailed Chavo in the gut and chopped him in the back of the neck. Barker said he had a great time and then signed off. Well, you knew they'd try to recreate the Happy Gilmore scene.

-The camera eavesdropped on Masters and Orton talking things over for tonight. The tag match they're involved in is next.

[Commercial Break]

-Cole and Lawler again plugged Barker's book, and they thanked him for hosting Raw tonight.

(6) Degeneration X vs. Chris Masters & Randy Orton
DX did their pre-match spiel and called DiBiase and Rhodes WWE's version of Sigfried & Roy. Hunter said they'd be the tigers hanging onto their jugulars at the end of the night. Hey, Roy almost died from a tiger attack!

Masters was quickly taken down, then went to ringside to consult with Orton, again, less than a minute into the match before they went to break.

[Commercial Break]

Orton was giving some stiff right hands to Hunter in the corner out of break. But after an Irish Whip, The Game recovered and clotheslined Orton down. Michaels then tagged in and as all offense against Orton. Then Triple H came in and went for The Pedigree, but Orton back-dropped him. Orton was thrown off on an RKO attempt and Hunter suplexed. Hunter threw Orton into Shawn's boot in the corner. Orton was able to fell Michaels, leading to a tag to Masters. Shawn chopped at the Masterpiece, then HBK did his flip sell on the corner whip and Masters unloaded with a back-breaker. Orton started doing some weird head bobs as he tagged in. Diving knee-drop for two. Masters came back in to work over Michaels and Orton brought him to the outside when the ref's back was turned. More nefarious deeds by Orton as the ref was elsewhere occupied. Orton came in and waited for Michaels to slowly get to his feet. When he finally did, Orton dropkicked HBK down. Cue the rear chin-lock. Michaels fought out but appeared to have little in the tank. Michaels commenced with a flying forearm, leaving both men sprawled upon the mat. Both men made tags, with Shawn kipping up and tagging after Orton tagged. Triple H cleaned house on Masters. It was the usual offense from Hunter, and Orton tried to interfere, but did enough to distract Triple H, well I thought he did, but Masters got spinebustered. Shawn came in and did the elbowdrop. Chaos ensued- Orton and Triple H on the outside- Michaels went for a superkick but Masters locked in the Masterpiece. Triple H broke it and HBK superkicked him. Both men locked in figure-fours- Orton got to the ropes but Masters tapped.

Winners: DX, at 14:04.

The rest of Legacy attacked as soon as the bell rang. The fought up the side of the ramp as Orton hid backstage, or just to the side of where they were fighting, to avoid getting into another confrontation. The brawl continued backstage as a camera finally got there, and they were fighting in the hallway. A plastic garbage can was thrown at Legacy, then the fight spilled into the concourse. Interesting that this is getting the final hype rather than the title match. DiBiase finally cut Hunter off, but Michaels came out of nowhere and took him down. DiBiase was thrown out the door. He shoved a security guy off a chair, then picked up the chair. He gave it to Rhodes and said he'd get the car. Rhodes swung and missed HBK, but Rhodes ran for the car while a man shouted, "that's my car!" They made it away before DX could inflict more damage.

Back in the ring, Orton pointed out the look of disappointment on DX's face. Orton said to get used to it because Legacy is going to make DX submit this Sunday. He then said he'd retain the WWE Championship. He said it's what he lives for, the only thing that he considers important in life. Orton said Cena's name, then his music played. Cena ran to the ring and attacked Orton- the fight went to ringside, and Orton was thrown on top of the announce table. Orton got back in the ring and DDT'd Cena with Cena's feet on the middle ropes. Orton got a chair from ringside and set it up in the ring. He grabbed Cena and RKO'd him onto the chair. Orton yelled to the unconscious Cena that he will say "I Quit" this Sunday. If there was any doubt as to who was winning on Sunday.....there you have it.
Promote this thread!
CHAPLOW
Morcilla




Since: 14.5.04
From: right behind you

Since last post: 1440 days
Last activity: 677 days

#2 Posted on | Instant Rating: 4.01
The Price is RAW #1 9/7/09

Did anyone else laugh when Randy Orton, after dramatically setting up the chair and foreshadowing his incoming murder of John Cena just like kind of RKO'd him on the chair idk... not even RKO because Randy Orton really took most of the chair damage imo
redsoxnation
Scrapple



Since: 24.7.02

Since last post: 1791 days
Last activity: 1791 days

#3 Posted on | Instant Rating: 4.85
Really had my hopes up when I heard Fink's voice to open the show, but they still haven't put him back in his rightful spot.
If Hunter or Michaels breaks out the scorpion deathlock in Montreal on Sunday, does a riot breakout for a mid-card match?
Chavo was correct. Hornswoggle came into the ring during a match that was in progress in which he was not a participant. That is cause for disqualification.
They actually gave Master's some credibility, as he was able to avoid the superkick and was able to use Michaels' momentum for the full nelson.


(edited by redsoxnation on 7.9.09 2327)
Hokienautic
Lap cheong



Since: 2.1.02
From: Blacksburg VA

Since last post: 22 days
Last activity: 3 days

#4 Posted on | Instant Rating: 1.24
What are the odds that the WWE will bring up the Trish Stratus-Chris Jericho history next week? After all, Jericho is one of the guys they seem to have interacting with every guest host.
CxMorgado
Boudin rouge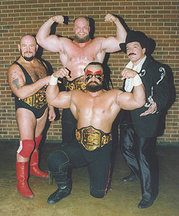 Since: 21.1.02
From: Boston MA is the rippen'ist town...

Since last post: 852 days
Last activity: 755 days

#5 Posted on | Instant Rating: 3.63
Why do I feel like Jericho's expression through out the whole Price is Raw segment wasn't acting...

IRS asking if the price included taxes was great.

So Evan Bourne can't get a clean win on a guy who not only regularly gets beaten up by a midget, but gets karate chopped down by an old man. Guess we know where he is on the Raw pecking order.

Barker did a good job, felt a little bad for him when he got all mixed up at the end of the Big Show/Santino body slam "competition" (why is Santino a face again? He still gets humiliated like a heel every week).

Say what you want about Cena, but anytime an undercard guy gets in the ring with him, they come out looking like a credible opponent. And that was a pretty good pre match promo from Cody as well.

Should HHH really be ragging on people's hair plugs when half of HBK's skull always ends up shining in the lights by the end of the match? And should two guys who regularly ask a crowd full of men and boys to "suck it" while sporting penis euphemism shirts be making thinly veiled gay jokes about their opponents? I think too much.

Definitely one of the better guest host shows tho.

(edited by CxMorgado on 7.9.09 2340)

---
http://wrestling.insidepulse.com/​author/​christophermorgado/​
thecubsfan
Scrapple
Moderator



Since: 10.12.01
From: Aurora, IL

Since last post: 5 days
Last activity: 1 day

#6 Posted on | Instant Rating: 10.00
Chris Jericho v Bob Barker was the greatest thing this on the show. Maybe ever.


---

thecubsfan.com - luchablog
Oliver
Scrapple



Since: 20.6.02

Since last post: 1182 days
Last activity: 1176 days

#7 Posted on | Instant Rating: 3.31
Someone, please give Bob a WWE contract - he should co-host always.

The MICROPHONE~ made a return. I've missed it.

Great seeing the Fink.

Everyone was ON tonight. I think this was easily the best Raw I've seen in ages. Keep it up!


---

"I have a feeling that waiting isn't as pointless as it seems. If someone is waiting, that place becomes a place to return to."


Tsukasa to Jii-san, Kamen Rider Decade # 25

My Blog - My Twitter
CRZ
Big Brother
Administrator



Since: 9.12.01
From: ミネアポリス

Since last post: 10 days
Last activity: 20 hours


ICQ:
#8 Posted on | Instant Rating: 8.85
So if Jillian had won, she would have had to take on MVP or Big Show in a bodyslam challenge? (The answer is no, because they would have never written it that way.)

I guess we can now officially rule out that there were any new hair plugs installed on Michaels during his hiatus. (This also unfortunately means that when Triple H made the hair plug joke, he couldn't have been making it about Michaels!) Let's get some new screencaps and welcome some new worthless search engine hits STAT




---


shawnpatrick
Kishke



Since: 31.7.07
From: Leesville SC

Since last post: 2201 days
Last activity: 2083 days

#9 Posted on | Instant Rating: 1.09
Bob Barker and Finkel made this show. Even with the screw up by Barker with the Big Show, it was good. The wrestling was not good except the Cena-Rhodes match. Jericho had an off night in the ring, that probably is MVP's fault.

Can we please have the Fink as guest GM one night? Maybe on a night with a title change so we can hear one more time "and NNNNNNNNNEEEEEEEEEEWWWWWWWWWWWWWW world heavyweight champion"
BigDaddyLoco
Scrapple



Since: 2.1.02

Since last post: 5 days
Last activity: 4 days

#10 Posted on | Instant Rating: 3.74
Steve Blackman had cooler glow sticks than DX. How much are they hammering fans for those?


Super Shane Spear
Bierwurst



Since: 2.1.02
From: Sector 7 Slums

Since last post: 2903 days
Last activity: 2903 days

#11 Posted on | Instant Rating: 5.64
What's more is that Shawn always throws them to the crowd one at a time. You can hardly make an X with one glowstick.


---

You should listen to what I listen to
Mr Shh
Lap cheong



Since: 9.1.02
From: Monmouth County, NJ

Since last post: 88 days
Last activity: 88 days

#12 Posted on | Instant Rating: 8.42
Ah, technology... (1010wins.com)


---

The former host of "The Price Is Right" was the subject of enough posts, or Tweets, Monday evening on Twitter for his name to be listed among the "trending topics" list on the social networking site.

Often with celebrities, especially those who are older or aren't frequently in the spotlight, that means they've passed away. But Barker didn't inspire dozens of Tweets per minute because he died, he inspired them because he served as the guest host on the pro wrestling show "WWE Raw."

---
---

You askew my mirror. I askew yours.
StaggerLee
Scrapple



Since: 3.10.02
From: Right side of the tracks

Since last post: 5 days
Last activity: 17 hours

#13 Posted on | Instant Rating: 3.08
Originally posted by BigDaddyLoco

---

Steve Blackman had cooler glow sticks than DX. How much are they hammering fans for those?



---


They are ten bucks at a live show. Not sure online prices.
Rudoublesedoublel
Frankfurter



Since: 2.1.02
From: Kentucky - Home of the 8 time NCAA Champ Wildcats

Since last post: 196 days
Last activity: 125 days

#14 Posted on | Instant Rating: 6.26
Originally posted by CxMorgado

---

Why do I feel like Jericho's expression through out the whole Price is Raw segment wasn't acting...


(edited by CxMorgado on 7.9.09 2340)

---


Jericho's tweets were glowing about working with Barker. I got the impression that he (and the rest of the roster) was absolutely giddy to work with him, so my guess is that Jericho was just being awesome.




---

"I'm on my time with everyone." - Kurt Cobain
TheOldMan
Landjager




Since: 13.2.03
From: Chicago

Since last post: 1153 days
Last activity: 140 days

#15 Posted on | Instant Rating: 4.62
Originally posted by Rudoublesedoublel

---

Jericho's tweets were glowing about working with Barker. I got the impression that he (and the rest of the roster) was absolutely giddy to work with him, so my guess is that Jericho was just being awesome.

---


It reminded me of the 'musical chairs' match from a few years back, when Eugene was somehow in charge of the show. Barker did such a good job, I didn't even mind the plugola interview segment.


---

R-Dub
Pickled pork



Since: 25.8.05
From: Michigan

Since last post: 131 days
Last activity: 47 days

#16 Posted on | Instant Rating: 3.00
I am curious to see what the ratings will be for this. The ovation at the beginning of the show was just unreal. The world loves Bob Barker.

geemoney
Scrapple



Since: 26.1.03
From: Naples, FL

Since last post: 9 days
Last activity: 6 hours

#17 Posted on | Instant Rating: 7.36
Originally posted by R-Dub

---

I am curious to see what the ratings will be for this.


---

http://pwtorch.com/artman2/publish/WWE_News_3/article_35191.shtml

3.83 rating, 5.48 million viewers, good for fourth out of the 11 guest hosts.