The Great Thomas
Sujuk



Since: 17.6.02
From: Miami, Florida

Since last post: 4716 days
Last activity: 4716 days

#1 Posted on
Earlier this morning, I became a "Jobber To The Stars." Please don't call me Chris Benoit. It's time for The Great Thomas SmackDown! Report!

The Return of The Rock: He's still bald, and staring at TWO interesting boxes! It's 8:04 and NOW he's got the mic! At 8:06... FINALLY... The Rock speaks. NEWS FLASH: The Rock gots himself a new tattoo! The ultimate way to get heel heat... ignore everyone and talk on your cellphone. The Rock promises a confrontation with Hogan. If ya smellalala... oh wait, this ain't Sing-Along with The Rock anymore! Ha! Ha! Ha!

Zelda: The Wind Waker: I pre-ordered it and got the promotional Ocarina of Time game. Am currently playing it. w00t.

Benoit vs. A-Train: Rey Mysterio wil be wrestling Sunday... on Heat! STRETCH BUSTER by A-Train! Benoit wins via schoolboy.

Dark Cloud 2: Oooh, cel shading!

Funaki: He can't get an interview with The Rock. Awwww...

Rikishi vs. Stamboli: GORILLA PRESS SLAM to Rikishi! HOLY SHIT! Rikishi wins via Rikishikick. Afterwards, da mob gives Rikishi a beatdown.

Team Angle: They psyche up Kurt.

Los Guerreros: Oh... my... God. This is the greatest thing I have ever seen! Viva la raza!

Mysterio/Kidman vs. Hardy V.1/Boy Band Man: First we had Naked Spanky, now we have Naked Matt! Hardy wins via Twist of Fate. Which means, he won't win the Cruiserweight Title at No Way Out.

Cole et Jones: Crikey. Nathan's a nut.

WWE Confidential: A tribute to "Mr. Perfect" Curt Hennig.

Dead or Alive: Extreme Beach Volleyball: Tina gives the other girls a bad reputation. I never liked her.

Undertaker: Two gifts. What are they? A PUPPY AND NOTHING, THAT'S WHAT! Afterwards Big Show attacks Taker and gives him AAAAATHECHOKESLAAAAAM! Surprise! Ha! Ha! Ha!

Torrie vs. Nidia: I had a bad premonition about this! TWO GIMMICK MATCHES in two weeks?! That's just absoludicrous! The good news, NIDIA BEAT TORRIE!!! And she got to paddle Torrie! And FUNAKI made the save! Forget the bad premonition, this is great!

Dumb and Dumber: With Jim Carrey and Jeff Daniels!

Hogan et Rock: Why are these people chanting "HOCKEY!"? Why was The Rock responsible for the Muppet commercial? The Rock shakes hands with Hogan, then spits in his face and runs up the ramp like a bull with gas. This was one of the greatest The Rock promos I've seen yet!

No Way Out: Jeff Hardy replaces Test.

John Cena: I told you! Lesnar broke Cena's leg!

Wrestlemania Main Event: The stipulation? It's a GAUNTLET MATCH! Surprise!

Lesnar vs. Haas: Lesnar wins via F-5. Let's go to commercial break!

SHOWTIME: It's Tyson vs. Jay-Z! No, wait...

Lesnar vs. Benjamin: Lesnar wins via Angle Slam.

Wrestlemania Main Event: Lesnar wins via DQ from Heyman. Afterwards, Team Angle do a beatdown on Brock, but Edge and Benoit run-in, and Team Angle flees the scene. And... we're out.

That's all for this week. Until then, Good Night, take care of yourselves, and I just want to say, I want a Wienerville No Way Out betting game! That is all.

Papa Shango Sightings: 0


---

With Triple H knocked out, Booker runs over and pins him causing the crowd to erupt and banners and confetti to float down from the sky in celebration.

-Raw Satire 2/18, New Yuna

Does anyone think they're gonna sell t-shirts with "Evolution" on them? What, are they gonna have a picture of a hunched-over ape slowly evolving into Hunter?

-asteroidboy


Promote this thread!
fuelinjected
Banger



Since: 12.10.02
From: Canada

Since last post: 4602 days
Last activity: 4602 days

#2 Posted on
Thugenomics for February 20th:

"I'd like to take this time to say thank you Brock - You shattered my knee on TV, now I can't walk. It's official, I got crippled by the meat head - but Brock, you left me breathin when you should've left me DEAD! So I swear John Cena's a name you'll remember. From this point on, I declare war on Brock Lesnar. This is more then a match, it's a total obsession - I'll be watching everything you do 24/7. Forcing you to keep me in the back of your mind - since your brain's so small, I won't be hard to find. I'll break you down, watch you drown and not through a rope! We're in prison now, we inmates, you just dropped the soap! Word life."
Evil Antler God
Potato korv



Since: 10.1.02

Since last post: 4279 days
Last activity: 2405 days

#3 Posted on
Heel can't-be-arsed-to-be-here Rocky rules it on so many levels


---
Anybody can kick people's asses. But it takes a true monster to kick people's asses AND breastfeed at the same time
- Excalibur05
Teppan-Yaki
Pepperoni



Since: 28.6.02

Since last post: 2277 days
Last activity: 2247 days

#4 Posted on
Is it me, or did anyone think that Rock's new tattoo came with a Start point in the middle and a solution on how to get out? One monster tattoo.

Also, was it me, or did Torrie partake in "Sick Bump of the Week" part deux?


---

"We had four couples, eight questions, a refrigerator and that's it."
--Chuck Barris, talking about The Newlywed Game on LIVE! With Regis and Kelly
ScreamingHeadGuy
Frankfurter



Since: 1.2.02
From: Appleton, WI

Since last post: 2088 days
Last activity: 2088 days

#5 Posted on
Here's the last one for a while, folks.

...and a Fashion Report, too.

No opening this week, we go right into...Rocky, in black dead cow vest and pants, with a fancy tattoo on his left arm, shades, and a HUGE brahma bull belt buckle, nearly bald, talks (eventually). Damnit, CRZ, why you gotta call during the show? 16 minutes.

Why does Zelda have a british accent? I thought she'd sound more, you know, elven.

Ben-wa, in black "Toothless Aggression" tshirt and red trunks, vs. Albert (again?!), in black undies and hair. Fast, but good while it lasted.

Ass, in black tshirt and manskirt with red star/white dragon, vs. Johny, in black "Stamboli" undies. Short, not bad. WHy put the jacket over his head; he already knows it's you beating him?

Eddie and Chavo are...heels? sitcom characters? I don't get it.

Rey, in gold/black/white mask and trunks, and Billy, in black/purple design fullcuts, wearing the belt (with his horrible music), vs. Matt and Shannon, in "V1" shirts and funny pants (with footage). Nice match. Paying attention to the commentary, I must, again, say that it is great stuff.

Milky talks to Cole. Crikey, he payed his Jews?

This week, TWO crates, with footage. Taker, in grey tank top, black dead cow pants, and bandana, rides on down. Aw, a puppy (awfully big crate for a puppy). Hey, (and Paul), in black singlet and jeans, from behind.

Women on a pole match=checking my email. Hey, I'm honest about it. If they were gonna actually, y'know, wrestle, I might care, but I've got better stuff to do with my time than watch this. Heck, I wouldn't watch ANY "on a pole" match.

Hogan, in red "Hulkamania" shirt and black jeans is out. Rocky is, too. Wait - he said "I"! You can't do that, Rocky. 10 minutes.

Whitey raps-out his diabolical plan for getting revenge on Brocky (once he's done with Angle, that is).

Brocky, in black undies, vs. Kurt, in red jacket and blue singlet, wearing the belt and gold medals, with Paul in suit and NY hat, and Team Angle, in red warmup gear. Or not. Charlie, in blue singlet, goes first, followed by Shelton, in red/blue singlet and his blue leggings, and THEN Angle. A nice series there.

Overall: Nice show. Build to the PPV was good. Matches were a bit short, but with nearly a half-hour of Rock and/or Hogan talking, that's to be expected.

Expect the Fashion Report to be back in about a month or so.

Edit: Oh-oh, The Great Thomas is using Mimi as his user picture again!

(edited by ScreamingHeadGuy on 20.2.03 2144)

---
Fashion Reporter Extraordinare

Do you know where your Chainmail, +1 vs. Cruiserweights is?
Mr Heel II
Lap cheong



Since: 25.2.02

Since last post: 111 days
Last activity: 10 days

#6 Posted on
I can't say enough about how much I love the build they're making with Angle and Lesnar. I can't wait for Wrestlemania (oh...there's a PPV this weekend too?)

The Nathan Jones promo didn't impress me at all. The Undertaker is feuding with Big Show at the moment, and here's a guy on television for the first time with no televised matches yet basically calling him out?

So Rock is coming to the ring to interrupt Hogan and I hear a sarcastic "It's Stone Cold!" He really did have a Stone Cold vibe going there with that black vest and swagger down the ramp...

I hope Rock takes a call during his match with Hogan. That would rule.

We watched the Chavo/Eddy segment and just kind of looked at each other and said "THAT was supposed to be funny?!?" That was the worst element of the show for me.

Cena's going after Lesnar? When are they going to fit THAT in? Good promo nonetheless.

So if Matt wins the cruiserweight belt on Sunday, can we have him feud with Mysterio for awhile? Nice preview of that possibility tonight.

Another happy night watching Smackdown.



---

this post brought to you by the wholesome goodness of deep fried clam strips
fuelinjected
Banger



Since: 12.10.02
From: Canada

Since last post: 4602 days
Last activity: 4602 days

#7 Posted on
They HAVE to have Cena limping around with a pimp cane next week. It's just a must.

There's FIVE Smackdown's between No Way Out and WrestleMania so they need a little side issue for Lesnar to go through along the way. Angle's the main focus but how many times can you do things like they did this week?

What more can be said about The Rock? He was just on tonight and when he's on, there are few better then him. It's a shame he's not gonna be around for very long.
Super Shane Spear
Bierwurst



Since: 2.1.02
From: Sector 7 Slums

Since last post: 2931 days
Last activity: 2931 days

#8 Posted on | Instant Rating: 3.08
I was wondering what happens if Matt wins the Crusier belt on Sunday and then gains weight by next Thursday. Do they strip him of the title and give it back to BIlly, or what?


---
Fighting to challenge and challenge to fighting toniiiiiight! Digga doodle digga doodle daaaaaaa!
ShotGunShep
Frankfurter



Since: 20.2.03

Since last post: 3877 days
Last activity: 3764 days

#9 Posted on
Great Smackdown, I must say.
The Rock started it off with a bang. I loved the dynamics with the crowd. The Rock is the great heel again, but I don't know if that is going to work out. I have a feeling that the TV audiences will root for the Rock, while those in the arenas will boo him. He was making me laugh really hard tonight, and I can't help cheering for him.(That and Hogan is way too old, Brother). But anyway, the rest of SD was pretty good. I liked the whole Team Angle, Lesnar segment. (except when Lesnar hops back and forth, it's okay for a second or two, but he does it forever!).
Umm, don't really knwo what else to say. John Cena is apparently hurt, but that didn't stop him from making me laugh again. He is pissed at Lesnar and will probly fued with him until WM...
tomvejada
Andouille



Since: 2.1.02

Since last post: 5414 days
Last activity: 5414 days

#10 Posted on
Random Smackdown Thoughts:

Heel Rock rules.

I liked the Los Guerreros segment. Best part about that was the old Adult Swim theme playing in the background.

I also liked Lesnars' matches with Team Angle despite what the crowd thinks.

Overall, another pretty good Smackdown.


---

"I just got pinned by a friggin twelve-year-old."

Kurt Angle

Mr Heel II
Lap cheong



Since: 25.2.02

Since last post: 111 days
Last activity: 10 days

#11 Posted on
Originally posted by Super Shane Spear

---

I was wondering what happens if Matt wins the Crusier belt on Sunday and then gains weight by next Thursday. Do they strip him of the title and give it back to BIlly, or what?

---
He could come up with some bizarre injury with fake doctor's note that says he can't get on the scale, and have Shannon weigh in on his behalf.

Imagine the comedic opportunity...


---

this post brought to you by the wholesome goodness of deep fried clam strips
OlFuzzyBastard
Knackwurst



Since: 28.4.02
From: Pittsburgh, PA

Since last post: 404 days
Last activity: 381 days

#12 Posted on
I forgot how awesome Heel Rock was. The little things he did, screwing up the rhythm on his catchphrases so the fans couldn't chant along ("why don't you just know the role, and, um, you shut the mouth"), and how he called himself "I" as often as "The Rock". Dammit, I actually missed the guy...


---
"Contrary to popular belief, there are no good wars, with the following exceptions: the American Revolution, World War II and the 'Star Wars' trilogy."
-Bart Simpson
sentonBOMB
Frankfurter



Since: 25.11.02
From: Jersey

Since last post: 3314 days
Last activity: 2014 days

#13 Posted on
Originally posted by Mr Heel II

---

The Nathan Jones promo didn't impress me at all. The Undertaker is feuding with Big Show at the moment, and here's a guy on television for the first time with no televised matches yet basically calling him out?

---


the fact that cole assumed it was the undertaker that jones was talking about, leads me to believe that he's talking about someone else. the key is probably jones' reference to having 'unfinished business' with someone. of course, all i could think of was, 'oh my God he's going to feud with the big boss man!' which i'm sure is not the direction they're going. :-D

(edited by sentonBOMB on 21.2.03 1142)
The Sham
Kolbasz



Since: 20.1.02
From: Hamden, CT

Since last post: 3065 days
Last activity: 2417 days

#14 Posted on
As one who delights in the sort of comedy that reduces peopel of all races and ethnicities into crude stereotypes, I ABSOLUTELY LOVED "Viva La Raza."

Eddie is probably the best actor in the WWE, and Chavo is pretty good too (This was his best showing in a skit since he dressed as a Bandito for Halloween.)

I know it's wrong to laugh at this sort of thing, and that's what makes it so damn funny.

(Where is DEAN?)


---

"Cram it with walnuts, ugly!"- Mr. Homer Simpson

"Nothing says 'bad ass' like beating up Randy Orton."- Matt Hocking, RAW SATIRE- January 21, 2003
Mr. Heat Miser
Blutwurst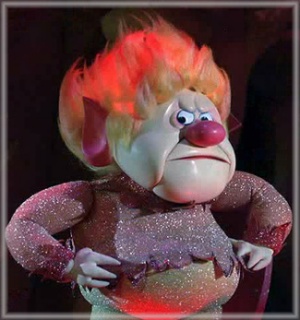 Since: 27.1.02

Since last post: 3885 days
Last activity: 1987 days

#15 Posted on
Originally posted by Super Shane Spear

---

I was wondering what happens if Matt wins the Crusier belt on Sunday and then gains weight by next Thursday. Do they strip him of the title and give it back to BIlly, or what?

---


Or, do they have some kind of cruiserweight blow-out, like a gauntlet match, at WM? Or a tournament w/ finals at WM? That could be a way of re-invigorating the division...I do think that having Matt gain the weight back so he couldn't defend would be a great move.


---

-MHM, winner of the 2000 Throwdown in Christmastown.
Ringmistress
Lap cheong



Since: 15.1.02
From: Philly

Since last post: 4015 days
Last activity: 4014 days

#16 Posted on
Definitely a better pre-PPV Smackdown than the pre-PPV RAW. All I'll say is this, The Rock + Leather = Yum! Great show all around, but missed the wrestling elements that make it great. But that's okay. The Guererros segment was good, but I think it could've been better if Eddy did his Latino Heat thing on that lady (like he did with Chyna before she decided to hook up with him) while Chavo did all the robbing. Team Angle is Team Angle, and Vanilla Cena is one funny MFer, and speaking of MFers, Matt Hardy needs a new apprentice, stat. Good pre PPV Smackdown, and I know I'll probably be the only one asking, but where the hell was Stephanie???

Ringmistress


---

Proper planning prevents piss poor performance"
William Regal

Learn it and live it, Vinnie Mac!
Dagent913
Bockwurst



Since: 18.11.02
From: Strong Island

Since last post: 5012 days
Last activity: 4543 days

#17 Posted on
Let's see, I walked out of the room for a second and apparently missed the segment with Eddie and Chavo. Can anyone enlighten me?

I caught everything else on the show, though. One question.....Matt Hardy only made weight once he took his clothes off. Does that mean he has to wrestle Kidman naked?

I never really liked Cena all that much, right up until his match with Brizzock. I thought his rapping was always great, but I never really thought much of his wrestling before last week. This week, he went and delivered his best promo ever. Looks like I'm becoming a Cena fan.

I'm not a dog person, but I gotta tell ya, that puppy the Big Show gave 'Taker was just adorable. Would he still have attacked the Dead Man if he held onto the dog rather than hand it to that stage hand dude?




---

What if your grandfather was a kazoo?







Take the "Which Marvel Comics Hero are you" quiz!
fuelinjected
Banger



Since: 12.10.02
From: Canada

Since last post: 4602 days
Last activity: 4602 days

#18 Posted on
They should do a vignette after Matt wins the title with him celebrating and pigging out on hamburgers and beer and everything. Then Stephanie comes in and tells him he has to defend against Kidman in a rematch on Smackdown. "Shannon! Get me the EXLAX!"

With Edge out of the picture, does that open up someone for Benoit at WrestleMania? They could always do Eddy Guerrero again and drop Chavo down into the Cruiserweight Title mix. Or if Rhyno winds up on Smackdown, that'd be a good feud. Some may think it's a step down but I'd like to see a Benoit-Cena feud. Angle and Jericho got really good matches out of him months ago and he's improved since then. His heel raps combined with people digging Benoit as a ruthless ass kicker would help get both guys more over.
asteroidboy
Andouille



Since: 22.1.02
From: Texas

Since last post: 2769 days
Last activity: 1677 days

#19 Posted on | Instant Rating: 4.95
I dig Rock's new tatoo, is it real?

I think he's lost some of his timing.. it really dragged when he starting milking the crowd reactions, whereas he used to be so sharp in his prime. I still think he got the point across and draws strong emotions from the crowd, even when they're pissed at him.

Apparently Hogan has to be carried in his promos, now. He's worthless.


---
"My brother saw the Undertaker walking through an airport." - Rex
"Was he no-selling?" - Me


"...release the dogs, or the bees, or the dogs with bees in their mouths, and when they bark, they shoot bees at you?"
-- Homer Simpson

Net Hack Slasher
Banger



Since: 6.1.02
From: Outer reaches of your mind

Since last post: 4929 days
Last activity: 3349 days

#20 Posted on
- Rock interview- Now THAT'S and opening promo. The Rock was superb tonight. The ending stopping int he middle of "If yo smellla" you booing me for 20 minutes now you want to sing a long with me, Only the Rock will do this. LoL Amazing stuff.

-Benoit vs. Albert- Why does Albert 2 minute matches seem like 6 LoL. Oh well at least it wasn't 6 like last week which felt like 15.

-Rikishi vs. Stamboli-Firstt off the press slam by Stamboli was f'n impressive. But other then that, even for only 2 minutes it's hard to grab my attention.

-Matt Hardy/Moore vs. Rey/Kidman- I really don't get how unover Kidman is. I remember one part he kicked out of a sure pin or something and I looked up at the crowd and no one seemed to care. Oh well. Matt's twist of faith on Kidman always looks extra cool for some reason.

-Taker/Bigshow/Puppies- Why does SD feel the need to do such stupid add on crowd reaction. The AWWWW the second the puppy appeared, really made me roll my eyes. Gosh don't try so hard with the sound effects.

-Nidia vs. Torrie-Torrie lost, it was 3 on 1 with one of them being a male. 3rd match under 2 minutes and you know what I'm kind of glad all these matches are under 2. Lame match, Torrie's clothesline is such a powerful force, Bradshaw must not be happy... If the stipulation is if you get the paddle you can use it, why was it a heel move for Nidia to do just that?. The only good part about this is listening to Cole & Tazz. Tazz gives his little lines in and the second poor Cole tries to say some sexual in nature, Tazz gets all over him calling Cole a freak and a sicko. Oh I adore these two, they make horrible segments watchable

-Rock/Hogan interview- 2 interviews by the same person 95% of the time would have me diss it. But this not the case here brother. Rock carried this interview, he was amazing once again. Acted like a total jerk, and I loved it.

-Brock vs. Team Angle- For some reason I couldn't really get into this, I knew they weren't going to give us Angle/ Brock but oh well.

-other stuff- I'll be alone here but I didn't like the Guerrero thing, I don't think I was offended, I just didn't enjoy it or thought it was funny, my personal opinion... I did like the Cena rap, it was one of his bests... Jury still out (no pun intended, but pretty clever anyways
) on Nathon Jones.

The Rock alone made the entire 2 hour show worthwhile, the wrestling and matches seemed a little sub par. It's really amazing how one man amazing performance could make you forget about a lot of crappy stuff on the show, which the Rock did on SD this week.

Line of the night: and they were many, From Tazz to Cena but I had to go with Rock " If you smel.... Hey you boo the Rock for 10 minutes and now you want to sing a long with the Rock. No the Rock sings by himself, have some self respect you sheep". Classic!




---

Oh they have the internet on computers now!