The Great Thomas
Sujuk



Since: 17.6.02
From: Miami, Florida

Since last post: 4687 days
Last activity: 4687 days

#1 Posted on | Instant Rating: 5.42
I'd like to wish everyone a Happy Halloween. But don't come to my house, 'cause you'll be getting NOTHING! That's right, I'm totally bereft of candy. Suck it up and head on over to the next house!

It's time for The Great Thomas SmackDown! Report!

Backstage: Al Snow and the Tough Enough Contestants are WALKING! into the Locker Room. Big Show objects to this, and kicks them out. You need to PAY YOUR DUES to be in the Locker Room. Al drags the boys into the ring. One of the contestants had quit over the weekend. They introduce us to the seven remaining finalists. Tonight's challenge: Cut a promo on the Big Show. Mike Mizanin (Real World Man) gets huge pops. Nick Mitchell does wacky... yoga? Daniel Puder (Ultimate Fighter and the guy Big Show shoved) cuts a classic wrestling promo. Al calls out Big Show, who says he will bodyslam all of them. And so he does. You must learn to TAKE A BODYSLAM! BODYSLAM AND ELBOWDROP to Justice Smith! Daniel Rodimer (the ham) continues to get in Big Show's face. BODYSLAM AND KNEEDROP to Daniel! And that's it. The 7 finalists seem to be shaken, but nothing serious.

LAST WEEK: Booker T cemented his face turn.

Chavo vs. Nunzio: Billy Kidman comes out for Guest Commentary. Nunzio takes advantage of Kidman's distraction, but Chavo comes back easily. Obviously a squash match. Tazz and Cole rip Kidman a new one. Kidman: "What do you know about injuries, Cole? The last injury you had was Carpal Tunnel Syndrome!" Nunzio get clotheslined out of the ring. Kidman tries to hit the SHOOTING STAR PRESS on the fallen Chavo, but misses! Chavo hits the GORYBOMB on Nunzio for the win!

Backstage: Josh Matthews interviews JBL. JBL says that Booker T pinned him in a TAG-TEAM MATCH, so it means nothing. Booker T walks in, and tries to challenge JBL for the title. The two trade angry words, when Mr. Long steps in, and makes a match for tonight: Booker T vs. Orlando Jordan, and if Booker T wins, he'll get the right to challenge JBL for the WWE Title at Survivor Series!

Meanwhile: Heidenreich is on a cell phone, begging Heyman to get the Undertaker to sign the contract for Survivor Series.

SmackDown! Your Vote: Chris Nowinski and Mark Henry urge young'uns to vote.

Undisclosed Location: Heyman is meeting with the Undertaker to get the Undertaker to sign the contract. Taker does, and tells Heyman that it will be the execution of Heidenreich. Cue DRAMATIC MUSIC!

Public School 197, Harlem: Mick Foley reads "Wrescal Lane" to the schoolkids.

Angle vs. Mysterio: Angle messes around with Mysterio, and vice versa. Angle BELLY-TO-BELLY SUPLEXES Mysterio out of the ring! Let's go to commercial break!

Angle vs. Mysterio (cont.) NASTY BELLY-TO-BELLY by Angle! BODYSLAM! GIANT GERMAN SUPLEX! BODYSCISSORS! Mysterio counters a TILT-A-WHIRL SLAM into a DDT! SPRINGBOARD SENTON! HEADSCISSORS! Mysterio is a HOUSE O' FIRE! 6-1-9 misses! SPRINGBOARD CROSS-BODY hits the referee! Luther Reigns and Mark Jindrak try to interfere, but Rob Van Dam thwarts them! Kurt hits the ANGLE SLAM! But Eddie Guerrero attacks Kurt! FROGSPLASH to Angle! Mysterio pins Angle 1-2-3!

Backstage: Torrie gets ready for the costume contest, when Kenzo walks in and tries to hit on Torrie, with little success.

Big Show: Behind the scenes of Star Trek Enterprise. It ain't easy being green.

GM Room: Eddie, RVD, Mysterio, Jindrak, Reigns and Angle argue with each other. Mr. Long makes a classic Survivor Series match for PPV. 4 members on Eddie's team, and 4 members on Angle's team. And so the six men walk off to find a fourth partner.

Backstage: Josh Matthews interviews Carlito. He introduces us to "Jesus", who is a very big man. Carlito admits he was at the same nightclub that John Cena was in, but he left as soon as Cena appeared, and that he had nothing to do with Cena's stabbing. He then says Josh still isn't cool, so he makes Jesus hold him while he spits in his face.

Halloween Costume Contest: Michael Cole is the emcee. Torrie comes out dressed like a pixie, and Dawn Marie is a nurse. Dawn Marie says that this is the outfit she wears while nursing Charlie Haas back to health. BUTWAIT! Miss Jackie is here, and she's really ANGRY! She strips Dawn Marie, and actually falls out of her top. Now I'm glad I taped this! Heh heh...

Backstage: Big Show finds Eddie Guerrero, and demands to be the fourth member for Team Guerrero. Eddie says he's already decided on the fourth member, and it's Big Show!

RAW Rebound: Eric Bischoff has the day off, Maven upsets Batista, and the Anti-Evolution movement murderizes Triple H.

Backstage: Team Angle are discussing their situation. The Dudleys walk in and suggest that one of them become the fourth member for Survivor Series. Angle says that if The Dudleys can eliminate the Big Show, they'll earn a spot in Team Angle. Spike says he has a plan.

Jordan vs. Booker T: Brawling. SIDESLAM by Booker! Chops galore by Booker. Chops galore by Jordan. More brawling. Jordan gets clotheslined out of the ring. Booker and JBL have a staredown. Let's go to commercial break!

UPN News at 10: Michael Moore runs wild in Florida. MOOREAMANIA RUNNIN' WILD, BROTHER!

Jordan vs. Booker T (cont.): SUPLEX by Booker T! And ANOTHER! JBL and Booker trade some words.Jordan takes advantage of this. Bodyslam by Jordan. NINJA CHOKEOUT! SIDESLAM! Orlando mocks Booker's "I'm looking at my hand" pose. Orlando's FLYING CROSS-BODY is countered into a rollup, but Jordan kicks out. Booker's nose is busted open. NECKBREAKER by Booker! But Orlando still has the advantage. FLAPJACK by Booker! Booker does a SUPERMAN COMEBACK! SPINEBUSTER by Booker! THRUST KICK! Booker hits the SCISSORS KICK for the win! It's Booker vs. JBL at Survivor Series! And... we're out.

That's all for this week. Until then, Good Night, take care of yourselves, and even with only THREE MATCHES, this show wasn't any easier to recap. Phooey.


---
FIRST EVER "W of the Day"! (4/12/04)
Please Support The Neo-Geo Pocket Color!
Promote this thread!
geemoney
Scrapple



Since: 26.1.03
From: Naples, FL

Since last post: 9 days
Last activity: 53 min.

#2 Posted on | Instant Rating: 3.74
Man, that opening Tough Enough crap was bad. You'd think they'd learned something from the DivaSearch with doing this. Pre-taped segments of the kids training would be nice. Instead, we get to see them cut terrible promos. A couple of them can't even take a bodyslam....Kidman is kinda entertaining as a smarmy heel. The Chavo/Nunzio match was all-right, but I expected more....

The Heyman/Undertaker stuff was straight out of 1994 WWF....I really liked the Angle/Mysterio match....Finally! A CLASSIC Survivor Series match....I'm assuming CCC's partner in crime is the newly trademarked Jesus Aguilera (since they did call him Jesus and he used to wrestle as Aaron Aguilera). I thought he'd speak with an accent though....

The women's stuff was obvious, but I suppose was well done for the point it was trying to get across....Did we NEED a long recap of the TE stuff too?....Booker/OJ was pretty decent too. Almost 20 minutes!


---

College, Sports and more!: Experience It
A Fan
Liverwurst



Since: 3.1.02

Since last post: 4868 days
Last activity: 4868 days

#3 Posted on | Instant Rating: 2.31
The Rey/Kurt match made the show, but I missed the TE stuff letting the wife watch her anime, Hellsing, which in hindsight was twenty times better than the beginning. The Rey/Kurt match was good about time Rey wins one. The Booker T/Orlando was ok. I just hope they do the right thing and let Booker get the title. I just can't believe they have protected Bradshaw since before Wrestlemania that is just weird.
Mayhem
Scrapple



Since: 25.4.03
From: Nashville, TN

Since last post: 306 days
Last activity: 191 days

#4 Posted on | Instant Rating: 4.36

Did Cole say that it had been years since there had been the classic Survivor Series matches? He must have forgotten last year ...

Not sure I'm digging Carlito's new running buddy ... I hope they don't turn them into an eventual Los Boricuas 2004 ...

TE stuff = bad


---
Mild Mannered Madman
Toulouse



Since: 1.3.02
From: Westminster, CA

Since last post: 1781 days
Last activity: 1499 days

#5 Posted on | Instant Rating: 5.70
For those who care, "Jesus" is Aaron "The Hardkore Kid" Aguilera. He's made a number of Heat appearances. He was initially trained in lucha, and trained as well in UPW & NJPW-U.S.



---

There is a theory which states that if ever anyone discovers exactly what the Universe is for and why it is here, it will instantly disappear and be replaced by something even more bizarre and inexplicable. There is another theory which states that this has already happened.
- The Restaurant at the End of the Universe
Kevintripod
Banger



Since: 11.5.03
From: Mount Pleasant, Pa.

Since last post: 5 days
Last activity: 18 hours

#6 Posted on | Instant Rating: 3.71
Originally posted by Mayhem

---

Not sure I'm digging Carlito's new running buddy ... I hope they don't turn them into an eventual Los Boricuas 2004 ...

---



I totally agree. Did Carlito really need a sidekick ?

And if they wanted Carlito to help give this new guy a quicker push with his rub, they could have at least waited till Carlito's character was a little more established with the WWE fans.

I don't think this is cool.


---

"This just got a hell of a lot better." - Stifler, American Pie
Alessandro
Lap cheong




Since: 2.1.02
From: Worcester MA

Since last post: 50 days
Last activity: 4 days

#7 Posted on | Instant Rating: 3.04
So this is how the new "work"-style Tough Enough is going to play out ... rather than (gasp!) expose the business, they're going to try to weave these guys into storylines and make it look more "real"?



(edited by Alessandro on 29.10.04 0845)

---

Alessandro "Hercules" Boondy


Just take a flannel shirt and paint it red,
Then draw a chicken on it, with two poker-dice for eyes,
An' have it wavin' razors round its head ...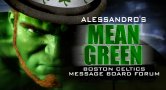 OMEGA
Lap cheong



Since: 18.6.02
From: North Cacalacky

Since last post: 3252 days
Last activity: 858 days

#8 Posted on | Instant Rating: 5.32
This Tough Enough deal is, IMO, been horrible so far. It just takes up too much time. I hope it ends up being like the Diva Search, where WWE starts out by giving them a lot of TV time, but then realizes that nobody cares, and ends up only devoting one segment to it.

Really, if you couldn't find a station that wanted to air it as a seperate show then just count your losses. This thing is taking up way too much precious TV time.


---
The answer to WWE's financial problems...

Never 'Wiener of the Day', and is actually quite bitter about it.
MonteCarl
Potato korv



Since: 21.1.02
From: Saginaw, MI

Since last post: 1122 days
Last activity: 150 days

#9 Posted on | Instant Rating: 6.71
How great was the Undertaker "dramatic" music when he grabbed Paul? And by "great" I mean "really dumb" but in a fun way.

--Monte N
http://www.thebananaconvention.com
Spaceman Spiff
Knackwurst



Since: 2.1.02
From: Philly Suburbs

Since last post: 66 days
Last activity: 1 day

#10 Posted on | Instant Rating: 4.05
Originally posted by Alessandro

---

So this is how the new "work"-style Tough Enough is going to play out ... rather than (gasp!) expose the business, they're going to try to weave these guys into storylines and make it look more "real"?

---

Except for the fact that a bunch of the TE guys no-sold the bodyslams, which was obviously edited out (with Steph, of all people, being the voice of reason in that decision).


---
JoshMann
Andouille



Since: 17.11.03
From: Tallahassee, FL

Since last post: 3603 days
Last activity: 3601 days

#11 Posted on | Instant Rating: 4.76
Originally posted by MonteCarl

---

How great was the Undertaker "dramatic" music when he grabbed Paul? And by "great" I mean "really dumb" but in a fun way.

--Monte N
http://www.thebananaconvention.com

---


Would it have been too much of a break of character/production values if after Heyman fled after getting choked out by Taker that Taker gestured to the cello player in the corner as if to say "OK, that's enough".






---

"They're demanding a government of the people, peopled by people...our faith, our compassion, our courage on the gridiron...the basic indifference that made this country great...vote once, vote twice, for Bill McKay....you middle-class honkies!"
-The Candidate


The only thing dead is YOUR BABY!

sentonBOMB
Frankfurter



Since: 25.11.02
From: Jersey

Since last post: 3285 days
Last activity: 1986 days

#12 Posted on | Instant Rating: 1.44
Originally posted by Spaceman Spiff

---

Originally posted by Alessandro

---

So this is how the new "work"-style Tough Enough is going to play out ... rather than (gasp!) expose the business, they're going to try to weave these guys into storylines and make it look more "real"?

---


Except for the fact that a bunch of the TE guys no-sold the bodyslams, which was obviously edited out (with Steph, of all people, being the voice of reason in that decision).

---


The only really bad no-sell was the ultimate fighter guy on the end, who landed in a very jujitsu-like way.
too-old-now
Bockwurst



Since: 7.1.04

Since last post: 2610 days
Last activity: 1535 days

#13 Posted on | Instant Rating: 2.96
The problem with the TE guys and the Big Show was that Show is just not quick enough to catch all of these guys - when they all clearly knew what was coming. Call these the Dumb Enough gang...
Spaceman Spiff
Knackwurst



Since: 2.1.02
From: Philly Suburbs

Since last post: 66 days
Last activity: 1 day

#14 Posted on | Instant Rating: 4.05
If you read the live reports, a bunch of the guys hopped right up after taking the body slam like it was nothing. A few of the guys did sell, but (I think) Al Snow had to pull them aside to mention it to them. Supposedly there was a big discussion about whether to leave that in or to edit it out. Steph pushed to edit it out, which is what they ended up doing.


---
Snookum
Kishke



Since: 19.6.03
From: Louisville

Since last post: 3949 days
Last activity: 3931 days

#15 Posted on | Instant Rating: 7.13
The first TE guy, Nawrocki, sold it okay. They even made sure to film him as he rolled away and then slowly got up. It wasn't perfect, but still better than Mazinin, who not only screwed up his promo but was the first to jump right back up after being slammed by TBS. You would think The Miz would know better.

After that, they cut away after every body slam, with the exception of Rodimer and Smith, who both got a little something extra after being slammed. It wouldn't surprise me if TBS added those moves just to make sure the guys stayed down.

I wasn't so much upset with the general idea of the TE guys in the ring doing this, but I think it was way too early for them to pull it off properly. They should have spent the next two-three weeks showing them working out and learning the skills (learning how to do moves doesn't ruin kayfabe if they filmed it properly), and then when they were down to three or four contestants who had a better understanding of what they were doing, that's when you bring them into the ring for a stunt like last night's Smackdown.

Myself, after watching the show, I'm leaning towards Rodimer. He did the best promo of the group and was singled out to represent them with The Big Show while in the ring. I thought he did the best job of the group.

We'll see how that continues, however.
Net Hack Slasher
Banger



Since: 6.1.02
From: Outer reaches of your mind

Since last post: 4901 days
Last activity: 3321 days

#16 Posted on | Instant Rating: 6.10
-Tough Enough- Of Horror! TE guys go with Snow into the men dressing room they aren't welcomed. Off to the ring they go, introducing each one. Oh thank gawd I'm watching this on Repeat at 11, I can switch to Daily Show. Flip back to SD, oh gosh they are cutting bad promos now, they are searching for the next Snitsky! Back to DS fast. DS in commercial back to SD... BigShow is slamming all of these dudes, some of them seem to be sandbagging it. Worked really well for Bob Holly vs. Lesnar did it, smart move idiots. Back to DS, Yes This Week in God.

-Chavo vs. Nunzio- I thought the FBI was face, maybe they are and Chavo is heel, very complex. First time this century the thought of "Cool Kidman's out here" crossed my mind. Gotta love Kidman's 80s wrestling jacket... Match was good and high spirited even though Nunzio has not character to speak of unfortunately. Like Kidman going for the Shooting Star Press out of no where on Chavo as Chavo moved. Chavo wins.

-Mysterio vs. Angle- Cole speaks of the excitement that St. Louis will be next week because of World Series fever, yup I'm sure St. Louis residents are just giddy. Angle chases Rey as Kurt runs himself through the ropes & to the outside. Kurt regroups & throws Rey belly to belly over the top rope to the outside as we take a break... Great match with these two, lots of great reversals like Kurt tilt a whirl during into a Rey DDT. Run in's a plenty, I guess for revenge for the match last week. Is there any point of staying up for the rest of the show, ah I'm a gluten for punishment.

-Dawn Marie vs. Wilson- Halloween costume and there's no winner. Dawn makes suggestive, ah forget it she comes right out and say she screwed Charlie Haas. This brings Jackie out, instead of beating on Dawn she decides to rip her clothes off... Back to the storage compartment with the SD diva's

-Booker vs. Jordan- Is Jordan even Velocity main event worthy? First part of the match, it was actually good... When they came back from the last commercial break, Jordan looked either tired or confused as he was bumping all wrong towards the end of the match.

-OtherStuff- Josh backstage with JBL & Jordan, Booker walks in & get in their face, calls OJ "houseboy"(hey that's Kado), Long walks in & makes a match of OJ vs. BT on SD tonight... Josh is a busy guy as he interviews CCC, asks him if he had anything to do with Cena injury(Poor Cena, Sox win the World Series & he can't enjoy it). Some big dude roughs up Josh for asking the wrong question (Should have made Josh sign a loyalty oath). Big guy holds Josh as Carlito bites into an apple & eats it, takes another bite & Apple mist on Josh!... Kenzo and Torrie backstage skit was ah lame.

Heidenreich is on the phone with Heyman saying he needs the Undertaker... Heyman is in some dark room sitting across the Undertaker(or they make you believe). You see a tattoo arm grabbing the contract, you hear the signing & the contract returned to Heyman. Ah I bet the had some guy put on fake tattoos because Undertaker isn't arou.. Oh wait there's his face, forget the last part I wrote... Big Show wants in Eddie's team, Eddie messes with BS a little but says he's in... Spike wants a Dudley in the Survivor Series heel team. Kurt says if you solve a "big"(nudge, nudge) problem you are in.

-Line of the Night: Cole: "It's been a number of years since we had a traditional Survivor Series match." - Cole is such an idiot, my wrestling memory isn't the best but even I remember there was one just LAST YEAR.
-3Stars of the Night: 1)Mysterio. 2)Angle. 3)Kidman.

The show was good from half hour in to slightly past the top of the second hour. Kurt/Rey is always enjoyable, Chavo/Nunzio was okay... I find these Tough Enough guys more bland than the Diva search girls. Show ended kind of weak, even though I'm happy for Booker getting a push.

(edited by Net Hack Slasher on 29.10.04 1858)

---

smark/net attack wienerville advisory holds at ORANGE alert - High (JBL is STILL WWE champion and now smarks arch enemy HHH is the World Champion. Major red threat, but the undercard seems okay. The alert holds... for now)- 9/19
saturn93
Italian



Since: 21.4.03
From: Naperville, IL

Since last post: 22 days
Last activity: 4 days

#17 Posted on | Instant Rating: 3.71
Just got through watching this episode of Smackdown. As for me for Halloween, I stopped dressing up for trick-or-treating in my teens. This is probably the only holiday that I am so indifferent about, except for the leftover candy. But, we only got 100 pops (as in Dum-dums, or whatever the product is). After #100, if we get that far, lights out whatever the time is. I'll just be watching football that day.

Back to Smackdown, here we go.

1) Tough Enough -> Embarassingly bad. Did you hear the "What?" chants? That Rodimer guy, looks a little like Val Venis. Big Show comes down, a little surprise by the elbow and the knee. It just went too long. My thought...this should have been on Raw, and the Diva Search should have been on Smackdown, especially with the lack of Divas on Smackdown.

2) Guerrero/Nunzio -> pretty boring until Kidman's backfired interference.

3) Heyman meets Undertaker at the dreaded "undisclosed location." I think it was probably in two places...somewhere in Omaha, and Stamford, CT. Was the background music just a little too much. That sure went pretty slow.

4) Angle/Mysterio -> the best of the night. We actually made a compliment about Mysterio and that he is a good athlete, despite his size. He actually made Angle look like an idiot with the run around and then falling through the ropes. HA!!! A Jim Lampley reference!!! Even a blind guy could see the ref bump coming. Look at his location, so obvious. After that, all bets are off. Pretty interesting match.

5) Torrie/Kenzo -> how long until the singing gets old?

6) Big Show (w/hair - goatee) in Star Trek -> AHHHHH!!!! It's Shrek!!! Don't think I'll be watching because the show is over as of this writing.

7) Carlito/Jesus interview -> Enough with the nightclub thing, please. The apple thing...getting a little lame.

8) Halloween Costume Contest -> Speaking of Lame...Just cut and paste any other contest between the two in the last 5 years and change the clothing. I abstain from responding for the remainder of the segment.

9) Jordan/Booker T -> Nice match. Yeah, you can get Foley's new book and a MR SOCKO package...whoopee. What's in that package anyway. It seems like that JBL has nothing in between, a big smile one minute, and a big frown the next. No gray area. Note to Cole and Tazz, when you are talking about moves that block the flow of blood, don't do that when the blood is actually flowing. A personal funny scene for us...we had to respond to a phone call, so we paused TiVo. When it was paused, it had JBL in the background, and what looked like the ghost character from Scream was right on top of his head. It just looked that way. Anyway, no Orton this time as Booker wins and gets his title shot at SS.

That's it for now. Have a good weekend and be back on Tuesday.