John Orquiola
Scrapple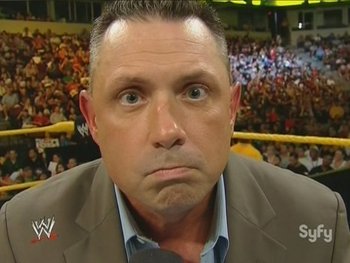 Since: 28.2.02
From: Boston

Since last post: 1485 days
Last activity: 1485 days

#1 Posted on
WrestleMania XIX is one day away as of this writing. I'm excited to see the show, but even I will admit, despite what is on paper the most loaded card in the show's 19 year history, something does seem to be missing. A certain something that by now, sadly, is undeniable.

What's missing is that special feeling.

Why doesn't a WrestleMania that features Hulk Hogan, Steve Austin, The Rock, Vince McMahon, Triple H, Booker T, Shawn Michaels, Kurt Angle, Brock Lesnar, and Chris Jericho all in main event level matches have the same electricity as the WrestleManias of previous years? Why is it with all of this star power - the most in the history of the show or perhaps even of the industry, WrestleMania has a dark cloud over it?

I won't cop out and say The War in Iraq. Too easy. Maybe that has something to do with the public's mood as of late, but the war is a scapecoat that dodges the real issues.

The first thing missing from WrestleMania this year is the sense that when RAW comes on at 9pm on Monday night, Things Will Be Different. WrestleMania has always been the end of the year for WWE, the culmination of the previous year's storylines and action. The day after WrestleMania is New Year's Day - the slate is wiped clean somewhat and things start anew. But it doesn't necessarily feel that way this year. When WrestleMania ends, we could have a series of new champions, we'll know "who created Hulkamania" (an issue that was never hotly debated among even longtime fans such as myself), and perhaps The Rock will have beaten Stone Cold Steve Austin.

But what will CHANGE on Sunday? Will the company go in a new direction? Are there new stories they will tell, new thrills to empart, a new emotional roller coaster to take the fans on? Will there be new risks taken or will the company continue to play it safe, fearful that the loyalists still in love with WWE will abandon them as others have if they change what little still works? In all my years as a fan, I have never before sensed that WWE was afraid. Certainly, during the Attitude era, WWE was afraid of nothing, and in many ways, they continue to pay for their hubris. Today, the feeling in the air is that WWE lacks a strong vision for the future and will wait out the next few years Remembering and Re-enacting What They Were instead of looking for What They Will Be Next.

A good example is Booker T. I am fully in Booker T's corner at WrestleMania because he is the Newest Thing at the top of the card - the one thing I haven't seen before, a brand new WWE main eventer going for the World Title at the biggest show of the year. But if Booker wins the belt, will he lose it back to Triple H the next day? In a week? At Backlash? It's too risky to put all my faith in Booker as the new flagbearer of RAW because of the fear that he will be a one trick pony. I don't know if WWE truly is serious about him. The fear all fans share is that when the smoke clears at WrestleMania, Triple H will get his belt back soon after and lodge himself back atop the card while Booker is banished as an also-ran: the status quo will be resumed and maintained. We'll have to wait and see, but fans have every right to be skeptical.

WrestleMania this year is also tinged with a sense of Loss and Sadness. No matter how well the match with Brock Lesnar goes, at the end of the night we are losing Kurt Angle, perhaps for a year, perhaps forever. Angle has been for 3 years the most consistently excellent all-around performer in the company. WWE WAS serious about Kurt. The fans knew it too. Whether it was comedy or violence, promos or skits, wrestling clinics or brutal fights, the fans believed everything Kurt did. Kurt was a piece of magic. Losing Kurt is devastating. Losing Edge was a blow but Edge is young and has not yet reached the level Kurt had. The company will need Edge in the future, but WWE needs Kurt NOW, and unfortunately for everyone, we will have to make do without him.

Meanwhile, the Icons of Attitude are going through the motions. Stone Cold Steve Austin and The Rock are both back, but for how long? Austin is still the most famously disenfranchised megastar in the company, while The Rock is at best a generous part-timer. What's more, their long-time rivalry from 1997-2001 ended when they sang a duet together on RAW. This third WrestleMania battle for the two men who took WWE to its greatest height is the best example of going to the well once too often. They are having fun with each other, and the odds are favorable that they will have a great outing at WrestleMania, but is it anything we haven't seen before? Not really. Perhaps the Rock will win. Perhaps Goldberg will arrive on the scene. Either way, The Rock will be back in Los Angeles soon working on his real career.

While the Rock is making his exit plans, we are still waiting for the real Stone Cold Steve Austin to appear. The Steve Austin who returned to RAW just a few weeks ago is pensive and uninvolved. Granted, Steve Austin has a history of being a slow starter. When he appeared at the Ringmaster, it took him months to find the inspiration to be Stone Cold. When he returned from his neck surgery in 2000, he wasn't himself until Kurt Angle battled him on RAW in January, 2001 and gave him his first great match in over a year. Then Triple H and Austin had their two out of three falls Match of the Year, and Stone Cold was finally back. After turning heel at WrestleMania X-7, Stone Cold spent several more months figuring out his new heel character before being too good at being a sniveling comedic coward forced him to turn back into a face.

But when the real Stone Cold does return to raise some Hell, who will it be against? Eric Bischoff, the current substitute for Vince McMahon? How many times can the angry employee (who is now well-known as wealthy and capable of quitting at a moment's notice) wage bloody war against his arrogant employer? And besides, this story already found its logical end when Steve Austin joined Vince McMahon two years ago: the employee finally saw it the boss's way and joined him instead of fighting a noble but futile battle to remain employed.

We potentially could see a dream match: Goldberg vs. Stone Cold Steve Austin. Three years ago, this could have been promoted as an epic, but today it is merely a curiosity. Essentially, the only star a dead company ever created, and one who is vastly overrated to boot, would take on the biggest star in the history of the industry at a time when the industry is weaker than it has been in 5 years. What's more, Goldberg vs. Austin is really just a wrestler vs. a wrestler. There is no apparent Greater Theme involved, no Story That Fans Can Innately Relate To (like a renegade company coming to take over, or the best idea ever - an angry employee vs. an evil boss.) No matter how one looks at it, as the solution to WWE's many problems, Goldberg is not it.

And yet, despite all of this, I am excited for WrestleMania XIX. Not as excited as I could be, but excited nonetheless. It is still a loaded card bursting with historical significance and the potential for excellent matches. Why, if I were cryogenically frozen in 2000 and awoke Sunday afternoon, and you showed me the card for this year's WrestleMania, I wouldn't believe you. Vince McMahon fighting Hulk Hogan? Booker T in the main event at WRESTLEMANIA against Triple H? Shawn Michaels against Chris Jericho? Plus (after some explanation as to who Lesnar is) Brock Lesnar vs. Kurt Angle? Those are dream matches. The rest is icing on the cake.

At 8pm on Sunday, I'll be sitting with the same friends I've watched wrestling with for over a decade, and I will watch WrestleMania and I'm going to enjoy myself. I'll be looking for the little things. I'll be happy as I watch Trish Stratus continue her brave and wonderful uphill climb as the first fully-capable babyface female wrestler and champion in the company's history. I'll hope against hope Nathan Jones doesn't embarrass himself or the Undertaker, and I'll swallow the bitter pill that the Undertaker is this low on the card babysitting the Australian Hillbilly Jim. I'll thrill to the Triple Threat tag team match for the WWE Tag Team belts. I'll enjoy watching Chief Morley get his comeuppance at the hands of RVD and Kane and perhaps the Dudleys as well. I'll be bursting with appreciation for Mattitude as Rey Mysterio defies gravity to take the Cruiserweight title from him. I'll probably even squeal with delight like the King will when the Miller Lite Catfight Girls make their special appearance.

And I'll watch the top matches looking for the Big Things. I'll say goodbye to Kurt, cheer on Booker T, hope the Rock eats a few Stunners and does his crazy supersells, enjoy the dream turned into reality when Jericho and Michaels collide, and I'll be beside myself with amazement as two fifty year olds bleed and fight to bring their 20 year mutual legacy to a close. But also I'll be looking for the signs of change, the hope for tomorrow that things will be different.

Hey, you never know. As I understand it, Anything Can Happen in WWE. That's probably why I keep watching. That and I still love it, even after all these years.

That probably won't ever change.

Promote this thread!
FurryHippie
Frankfurter



Since: 29.10.02
From: New York

Since last post: 4348 days
Last activity: 3036 days

#2 Posted on
It has that special feeling to me. I can't really sit and write a detailed article, like you nicely have, but I'm feeling the jitters already...there's nothing like WrestleMania...


---

Want my opinion of the war?

"The problem with the rat race is that even if you win, you're still a rat" - figure it out.
SKLOKAZOID
Bierwurst



Since: 20.3.02
From: California

Since last post: 8 days
Last activity: 3 days

#3 Posted on
Originally posted by John Orquiola

---

And besides, this story already found its logical end when Steve Austin joined Vince McMahon two years ago: the employee finally saw it the boss's way and joined him instead of fighting a noble but futile battle to remain employed.

---


That's not the way I see the story at WMX7. The Austin vs Vince feud, for all intents and purposes, ended at Fully Loaded '99, where Austin defeated The Undertaker and banished Vince from TV. When Vince came back, Austin and Vince had occasional interactions where they would sometimes be helping each other and sometimes be at each other's throats, but the feud had its final blowoff in July of '99 after a year and a half of intense battle.

Back at Survivor Series '99, when Austin got hit by the car, Vince was one of the first people out there to check on Austin to see if he needed help. Likewise, Austin helped Vince defeat HHH for the WWF Title on SMACKDOWN!

After WMX7, you didn't see Steve Austin wearing suits, taking photo opportunities, or doing any of the corporate things Vince wanted to have him do at the onset of the feud. He did stop drinking beer for a while, but months into their alliance, Vince was the one that started begging Austin to drink beer. That seems to indicate that Vince started to see things Austin's way, too.

Yes, Austin did admit that he needed Vince's help at WMX7, but it wasn't without Vince making some concessions to Austin, as well. It was only after Austin won the feud that they came to the conclusion that working together was the best way to go for the both of them.

(edited by SKLOKAZOID on 29.3.03 0759)
Monte
Mettwurst



Since: 27.3.03
From: Montauk, New York

Since last post: 3050 days
Last activity: 449 days

#4 Posted on
I have to say that your article expresses many of my views. I really have to thank you for writing it. Good job!


---

"Keep On Keepin' On." - Joe Dirt
Madame Manga
Boudin rouge



Since: 16.1.02
From: Silicon Valley

Since last post: 729 days
Last activity: 443 days

#5 Posted on
A well-spoken and enjoyable article that had me nodding in agreement throughout. ;-)

MM
Biggs316
Longanisa



Since: 12.8.02
From: Grayling, Michigan

Since last post: 5567 days
Last activity: 4384 days

#6 Posted on
Here here!!


---

Austin's still a champ to me

Ya know how people say you'll go blind by "doing it" too much? Screw that, I think I went deaf!
socetew
Chourico



Since: 23.5.02
From: NYC, baby!

Since last post: 4237 days
Last activity: 4234 days

#7 Posted on
Fingers crossed that things will change. Maybe in the coming year, newcomers Orton, Batista, Cena, Spanky, Nunzio, Maven, Nowinski, Rico, Lesnar, Benjamin, Haas and others will rise up and become the de facto leaders of the sports entertainment world. But then again, I've never ordered a pay per view anyway, so I can't really relate. Besides, this Sunday, I've got a hip hop open mic to perform in, but perhaps I'll give a shout-out to WM.

--soce, the elemental wizard


---

If you think what I write here is funny (plus you'd like some free music samples!), then check out my personal website:

Elemental Wizardry online
rockdotcom_2.0
Frankfurter



Since: 9.1.02
From: Virginia Beach Va

Since last post: 1950 days
Last activity: 150 days

#8 Posted on
That was a really great read. You should fax the Zim Bros your resume ;-)


Also is it a certainty that Kurt Angle is having the surgery? I thought it came out a few weeks ago that he may put off the surgery and work thru it even after Wrestlemania.


---

The 173d Airborne Brigade was reactivated on 12 June 2000 on Caserma Ederle in Vicenza, Italy, where it serves as European Command's only conventional airborne unit.
Eradicator
Kolbasz



Since: 4.1.02
From: Chicago

Since last post: 1210 days
Last activity: 461 days

#9 Posted on
Great article. I have been feeling the same way this year. I was considering making a post about it the other day, but didn't get around to it.

As or the lack of special feeling- I was thinking that maybe, for me, it has something to do with the split. I was never against the split, and have been enjoying it since last April, but I think that having two seperate rosters going into the biggest card of the year is taking some of the luster away for me. I can't really explain it, but I guess I'll say that it seems like two mini ppvs put together instead of one super card that is encompssing every issue going on in the fed.

Also, what you said about all the year's issues coming to an end, and a new year starting- I just don't get that this year. I'm sure Austin/Rock will be great, but why? This match just eels like something thrown together because both have big names. This is not an issue that needs to be settled before the "new year" starts. At least Angle/Lesnar has been brewing for quite a while, but as you said, that has a dark cloud hanging over it. And it seems to have lost some steam over the last ew weeks. I know that this is probably because of Angle's neck, but it still hurts the buidup. Booker T/HHH doesn't really excite me, and not because I'm convinced that HHH has used his evil powers to pull out a win. Booker just doesn't feel right in this role at this time. I love Booker, but they should have been building him up months ago, not just since the battle royal on Raw. It feels like a PPV main event on one of the regular monthly PPV. Again, it's just too rushed. The only "main event" match that I get a twinge of that "special eeling or is HBK/Jericho. It has had a great buildup, it has potential to be a great match, and either guy could win. And that's what Wrestlemania should be all about.


---

"The Universe is shaped exactly like the Earth. You go straight long enough you end up where you were."
Dustin
Cotto



Since: 4.6.02
From: Pratt, Kansas

Since last post: 4902 days
Last activity: 2193 days

#10 Posted on
Thanks John. That was an enjoyable read.

I think I'll go ahead and order the show, now.
UnsUwe
Chourico



Since: 6.7.02
From: Germany

Since last post: 1933 days
Last activity: 1576 days


ICQ:
#11 Posted on
I might say too that this was some awesome article, and written with the heart of a true fan.
However, I look more forward to this show than I did last year, because WM X-8 did not have any special build up, the card was awfully weak, and there was nothing special about it. This year it all sounds different - at least to me - , and I haven't been that anxious to watch a WWE PPV in over a year.


---
Sweet dreams......
LeechOfTheNight
Head cheese



Since: 16.1.02
From: New Hampshire

Since last post: 5548 days
Last activity: 4689 days

#12 Posted on
Good to hear from ya, John. Great read and I agree with ya. I gotta say, I felt the same way about last year's Mania, too, although that whole Rock-Hogan thing kinda made it particularly special.