emma
Cherries > Peaches



Since: 1.8.02
From: Phoenix-ish

Since last post: 4 days
Last activity: 4 days

#1 Posted on
The bad news is that Matt got beaten to crap by Bob Holly. The good news is that Matt is soooo in after his handling of it, he'd be a winner if he were in a body cast. Next Thursday is the last regular show of the series -- just go ahead & send him to the PPV on Sunday.

The MTV editors managed to double swerve me. From the previews I figured that somebody (Bob) had accidentally caught Matt a little harder than he intended, but we were gonna see Matt be a trooper. At the opening of the show, when they teased upcoming practical jokes, I was totally convinced that Bob & Matt had gotten together & planned a work/lesson for the rest of the kids, including blood capsule. Then we see the actual act of Bob beating the crap out of the boy, quite systematically.

Wasn't the tape date of this have been after Bob got injured? Even more of an honour, I suppose.
Promote this thread!
Ana Ng
Blutwurst



Since: 6.8.02
From: Naples, FL, USA

Since last post: 5177 days
Last activity: 4751 days

#2 Posted on
Ehhh, Bob Holly is a prick. I know wrestling is a tough business, and it's not always going to be all cuddly in the ring, but I didn't see any really good reason for him to just start pummeling the poor kid.

And I guess old Bob tried that "rough up the rookie" act with the wrong guy in Brock, and got dropped on his fucking head for it.

Notice how they kept the Gayda content to a minimum? heh.



---

Think Happy Kurt Angle Thoughts.
emma
Cherries > Peaches



Since: 1.8.02
From: Phoenix-ish

Since last post: 4 days
Last activity: 4 days

#3 Posted on
I can imagine the phone call: "Bob, we've got this kid on the show who's probably a shoo-in. But he's really nice, he's never done anything wrong or bad, & we all like him a lot. None of us -- not even that wussy Bill -- can bring ourselves to really pound on him to see if he'll fall apart. Would you mind dropping by ..."
Pool-Boy
Lap cheong



Since: 1.8.02
From: Huntington Beach, CA

Since last post: 2655 days
Last activity: 55 days


ICQ:
#4 Posted on
I personally think that Bob Holly is a necessary component of the WWE.
Wrestling IS a rough sport, and shit happens in the ring. You want guys there who can handle anything. Be it egomaiacs who deliberatly fuck things up in the ring, to green guys who are likely to mess up a thing or two or blow a spot, to someone getting so tired that they cannot adequatly "help" pull a move off (Brock's failed powerbomb of Holly for example), or someone who is just super stiff in the ring, you want people there who are not going to snap or fall to pieces (like Saturn?).
So they send Holly in to try the guy out. So Holly goes dead during a Powerbomb, and Brock has to decide what to do. Or Holly goes in and roughs the hell out of a rookie. You can take the guy after the match, and if he is worth keeping, but fucks up his response, you teach him how to handle it properly. If he spazzes and the match turns "legit," you know it is likely that the guy is really not cut out for the buisness.
So the kid got beat up a bit. It happens. We don't see what goes on off camera, and maybe Holly was apologetic and explained why that was happening, and why, and how to be prepared in the future. You HAVE to be able to take that sort of thing, so what is wrong with sending in "your guy" to test it out?


---
My attempt at a webpage
InVerse
Boudin blanc



Since: 26.8.02

Since last post: 6 days
Last activity: 14 hours

#5 Posted on
What annoyed me about it is how Al was blowing it off like it was nothing, saying that was just how Bob was. Are we honestly supposed to believe that if Al tried something like that on Al or Bill that they'd just play with it? Hell no, they'd either tie him up or give it right back to him. I was honestly hoping to see one of the other kids jump Holly from behind, maybe with a chair. Would have been great to see him punked out by one of the rookies.
Madame Manga
Boudin rouge



Since: 16.1.02
From: Silicon Valley

Since last post: 700 days
Last activity: 415 days

#6 Posted on
Yes, they blew it off, because since Bob has plenty of seniority and this kid doesn't even have a contract yet, he has the authority, in wrestling terms, to commit assault. That's the way the cookie crumbles in the business--try what Dynamite Kid did to Mick Foley in his first WWF match. Bob probably wouldn't do that to Al or Bill, no, because he knows the rules, and they have the authority to go straight back on him. Hell, they probably had a LOT worse done to them on the way up. Plenty of assholes find their way to a wrestling ring, and that ain't never going to change.

And yes, Bob Holly is an asshole. He proves it every time he opens his mouth, and every time he does some dumb thing like sandbagging Brock and getting dropped on his head. Really taught that green kid a lesson, didn't he? He's lucky he can still sit upright unassisted. I hope he likes the view from his porch.

Matt did need a little toughening up, apparently never having felt a blow in anger, but watching him cry like a rape victim (which he more or less was) didn't make me feel warm and fuzzy about the whole thing. I doubt very much that Bob would apologize to him--to his mind, that would negate the whole point of the exercise. That little glimpse of the internal dynamics of the wrestling world was interesting, to say the least.

MM
Karlos the Jackal
Lap cheong



Since: 2.1.02
From: The City of Subdued Excitement

Since last post: 907 days
Last activity: 4 days

#7 Posted on
You HAVE to be able to take that sort of thing, so what is wrong with sending in "your guy" to test it out?

I think the problem is that it's not even a veteran/rookie kind of deal, which would be par for the course, and which I wouldn't have a problem with. This is more of a teacher/student relationship, and as such, I do think that there was a trust that was violated there.

--K
tomvejada
Andouille



Since: 2.1.02

Since last post: 5413 days
Last activity: 5413 days

#8 Posted on
I think that after what happened to Matt, he's going to get one of the contracts. Jonah being the other.

I thought this week's episode was pretty good with the exception of the ribs.


---

"I just got pinned by a friggin twelve-year-old."

Kurt Angle

rabidzebra
Linguica



Since: 23.6.02
From: Charleston SC

Since last post: 4163 days
Last activity: 2994 days

#9 Posted on
Originally posted by Pool-Boy

---


So the kid got beat up a bit. It happens. We don't see what goes on off camera, and maybe Holly was apologetic and explained why that was happening, and why, and how to be prepared in the future.

---
If that was the case the kids wouldn't have called Bill to their house to explain why it happened. If it was a lesson the trainers could have taught it a hell of a lot better. They should have explained it right after the match. I don't understand why you would mess with a kids confidence and ruin the lesson they drilled into the kids that they can trust their opponent with no explaination of why Holly beat the hell out of Matt.

(edited by rabidzebra on 10.1.03 0821)
---

The way of Hercule is the philosophy of daily training, constantly pushing your limits, and never giving up to build a powerful body and mind... and having a wild time all the time.
I am a H-Fer.
Wonderful1
Haggis



Since: 23.11.02
From: New York, NY

Since last post: 5610 days
Last activity: 5610 days

#10 Posted on
Last night's episode was probably the single best episode of Tough Enough ever. It probably is better for Matt to learn the lesson he learned last night now rather than later. I think Holly was too rough but wrestling is a rough business and there will be stiff workers and Matt and the others have to learn how to deal with it and continue the match.

After hating Jonah last week, he does something that makes me like him. He was there for Matt and acted like a true friend. Bill's speech was amazing and his words of wisdom was something to take to heart. The phone call about Rocco Rock's death was the exclamation point to Bill's point. I had tears in my eyes after seeing Bill's reaction to the news and the group hug was touching. The news also gave viewers who followed wrestling a sense of when everything took place.

Of course before things got too sad the ribbing continued. It was a nice way to end the episode. The viewers needed a laugh and the water bombs did provide that.

Next week is the time for predictions. Keep mind that it is the viewers who will play a role on who will be picked. That will play an important factor on who is likely to win. Likability on the part of viewers will play a big role on who gets a contract. Think about that.

Wonderful1
GRL
Frankfurter



Since: 13.7.02
From: Austin

Since last post: 78 days
Last activity: 15 days

#11 Posted on
I really enjoyed the theory behind this episode, but I almost had to completely agree with Matt and Jonah on this one. I understand the value of the lesson that was taught, but I really think they just took a good kid who wanted to learn about the business and broke his trust a little bit. His reaction was the right one as far as I'm concerned... I'd feel the same way.

Conversely, Bill DeMott actually took a step towards being likeable, which is very new. It figures it's towards the end of the season.
Simba
Frankfurter



Since: 7.8.02
From: Boston, MA

Since last post: 3844 days
Last activity: 3452 days

#12 Posted on | Instant Rating: 6.20
I was just wondering why we never saw anything like this in earlier seasons. I mean, if anyone deserved a total beatdown test, it was Jake from last season. And Bob was a trainer on the damn show!
And fuck MTV for cutting the HBK segment to like 3-4 lines. You mean a 15 year veteran had nothing more to say to these kids than "believe and have fun"? Their superstar guest shots this year have been total shit for the most part.


---

The WWE could put on 2 hours of Kevin Kelly sitting on the toilet reading a phone book, and I'd still watch next week.
UJM
Cotto



Since: 26.7.02
From: Sioux Falls, SD

Since last post: 5490 days
Last activity: 5324 days

#13 Posted on
Originally posted by Wonderful1

---

Last night's episode was probably the single best episode of Tough Enough ever. It probably is better for Matt to learn the lesson he learned last night now rather than later.



---


I agree wholeheartedly. In my mind, by far the best episode of Tough Enough I've seen. I wasn't sure until the end if Matt was going to make it or not. What's even more effective TV is that I wanted him to.

As far as whether what Bob did was the right thing or not, I think it had to be done. It's been reasonably clear to this point that Matt's a shoe-in, and from what we've been shown, it's really been a piece of cake. I can't begin to imagine how hard the business is, day in and day out. Matt's heart really hadn't been tested yet, and that was precisely the purpose of Bob's beatdown. Now that it appears he's made it, no one in that locker room (who all first hand know what a badass Bob Holly is), can question this kid's guts or heart. He's made.

Besides, once he gets to the show (barring anything unforseen), he's got a HOT built in program with Holly. Don't think that wasn't part of the reason Holly was there, and we didn't see him after the beat down.

What a rough day/week for Bill. My heart goes out to him.




---

Jack

"Why Johnny Ringo, you look like someone just walked over your grave."
Parts Unknown
Lap cheong



Since: 2.1.02
From: Darkenwood

Since last post: 270 days
Last activity: 270 days

#14 Posted on
Holly is a piece of crap.

What he did to Matt was just another form of rape - someone, whom you trust and admire, physically violates you to the point of destroying you emotionally and sapping your pride and will.

The episode made me so mad I think I would give $200 to see someone beat Holly with a lead pipe.


---


"This is Hard Harry reminding you to eat your cereal with a fork and do your homework in the dark." - Christian Slater, Pump Up the Volume


"So I got a lotta eggs...and I keep 'em in the couch..." Strong Bad
tasslex
Salami



Since: 15.10.02
From: Eagan, MN

Since last post: 5003 days
Last activity: 4960 days

#15 Posted on
I just wish they were presenting DeMott on SmackDown the way he is on Tough Enough, a grizzled veteran with a lot to teach and a well-hidden heart of gold. Instead he's just a braindead cruiserweight killer that the crowd doesn't give a flip about.
jvincion
Linguica



Since: 7.11.02
From: Seattle, WA

Since last post: 5003 days
Last activity: 4894 days


ICQ:
#16 Posted on
Simba - they have to save some good stuff for the DVD collection don't they? Or maybe after the abortion that TE2 was, they're not going to do the DVD set this year, which would be a shame.

Parts Unknown - while watching Holly get his "just desserts" at the hands of some menacing person with a lead pipe could be fun, it's not as if karma didn't catch up with him right after that when Brock dropped him on his neck and put him out for a year. Although you could argue that was just Holly being a damn idiot, and I wouldn't disagree.


As for Matt, I also can understand why he'd be upset, but if something like that happened to me, I'd be glad that I didn't get the treatment that Hulk Hogan or Mick Foley got when they were coming in. A black eye and a busted lip heal a lot quicker than a broken leg or a broken jaw.


---

Jason Vincion
http://www.natthimmel.com - music with a good dose of metal & insanity
Torchslasher
Knackwurst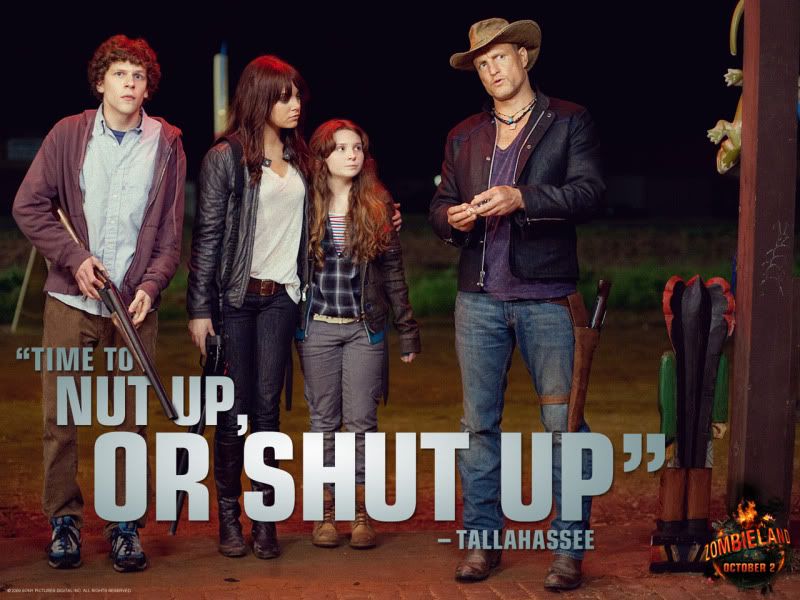 Since: 17.1.02
From: New F'n Jersey

Since last post: 104 days
Last activity: 104 days

#17 Posted on | Instant Rating: 6.44
I agree with the people who loved this episode. I do believe that this was the best episode of Tough Enough ever made bar none.

The Bob/Matt issue added another layer on the sometimes twisted relationship between wrestlers, a relationship I will never fully understand. And that's just fine with me. I think Al felt the need to give Bob's side of the story, and that was why he kind of brushed the issue off. Al has assuredly been on both sides of the mistrust issue, and can see it from both sides. I have to admit though, that this episode just gives me more anger toward Bob "never truly over" Holly.

On the other hand, I have a new respect for Bill DeMott. He has been the Bob Holly character this year, but unlike Bob, he knows when to be serious and show a human side. He stuck his neck out by talking so candidly to Matt and offering support. Then Bill gets the sad call about Ted Petty, and he mostly contains his composure and gives the kids some good advice. I was fighting back the watery eyes at that moment, as that moment reminded me why I dig wrestling as both as an entertainment product and a very human business.

Just a great episode all around, and if Jamie ever gets in the WWE, she and Maven will have a story the WWE can use.


---

The call is from heroism; will you accept the charges?

Treasurer of the RFMC
Lotty
Chourico



Since: 23.3.02
From: Bay Area

Since last post: 4705 days
Last activity: 3979 days

#18 Posted on | Instant Rating: 0.00
Bob Holly = ASSHOLE of the year


---
THA FUTURE
Spaceman Spiff
Knackwurst



Since: 2.1.02
From: Philly Suburbs

Since last post: 95 days
Last activity: 15 hours

#19 Posted on
Bob Holly is a dick, plain & simple. I hope he never appears again on WWE television, and if he does, Brock drops him on his head again & ends his career.

And to those who said what Bob did was needed: why just do it to Matt? Why not everybody else? Why not Jamie? They took the smallest guy and fucked with him.

Fuck Bob Holly.


---

Matthew: You would've loved it, David. A week in a foreign country, strange people, strange customs...
Dave: Oh, I know what you mean. I've been to Canada.
Madame Manga
Boudin rouge



Since: 16.1.02
From: Silicon Valley

Since last post: 700 days
Last activity: 415 days

#20 Posted on
Originally posted by Wonderful1

---

After hating Jonah last week, he does something that makes me like him. He was there for Matt and acted like a true friend.

---


Oh, boy.

The only thing I could think while watching that? "Well, that little piece of work sure didn't waste ANY time pointing out to the guys in charge just how DEVASTATED and FRAGILE one of his competitors is right now, and that they should come and see for themselves that he's ready to go home (and is a total QUITTER) just because Bob violated both his trust and his body. He'll sit by and play Concerned Friend and rack up points with the unsuspecting while doing his best, through well-orchestrated 'sympathy' and gentle pats on the knee, to get the guy to cry on camera and look like a PUSSY."

Fuck you, Jonah. To him everything's an act, sincerity is a ploy, everyone's out for his own advantage, so screw 'em before they screw you. He's demonstrated that mindset over and over.

He ought to do just fine in WWE.

MM
Pages: 1 2 3 Next