Faust
Salami



Since: 27.7.02

Since last post: 5720 days
Last activity: 5665 days

#1 Posted on
I thought occured to me while playing a rousing game of No Mercy 64:

I've never seen any tag team Iron Man Matches.

I was wondering what everyone thought about the idea? Perhaps it's been done before, but I've never heard about it. Think about it - you could easily have them go an hour because they could rest up while not tagged in and with potentially four guys in there, the action and falls could always be exciting and not redundant. Of course, right now, WWE doesn't really have any tag teams outside of Benoit/Guerrero that could do this - but what do you think of the concept?

The only drawback I can see is that it sorta dumbs down the idea of an "Iron Man" Match, in the sense that more people would be able to pull it off. It makes it seem real special if Iron Man matches were reserved for the absolute best of the best.

Maybe the tag teams could go for an hour and a half instead of just an hour?

What does everyone think?

P.S. - If you could put together any two teams to do a match like this, who might you pick?





(edited by Faust on 1.8.02 0138)

(edited by Faust on 1.8.02 0139)
Promote this thread!
AWArulz
Scrapple



Since: 28.1.02
From: Louisville, KY

Since last post: 13 days
Last activity: 1 day

#2 Posted on
I saw a couple of these.

At the Chicago Ampitheatre back about '73 or maybe 72, I saw Nick and the Crippler take on Lanza and Bobby Duncum for the belts. I believe Lanza and Duncum were the title holders. Duncum and Nick carried the fight and it headlined. It had to be at least and hour, but it was great the whole way. Nice fight.

Similarly, I saw the Fantastics go against the Freebirds. I think Bobby and Tommy were the champs and retained. There must have been a 10 minute chin-lock in this match at one point, but you can't fault this match. Fulton did it all and Buddy Roberts was gold in this match. He worked Fulton's arm the whole match, while Hayes just flew around and did his thing. It was fun and I think it was the only outside card I ever saw. I don't remember the exact time, but it had to go over an hour. This would have been '80 or '81, I guess.

I don't think it could happen today. The boring chants would start as soon as the mat wrestling did.



---

Goldie, Goldie, Goldie, my brother - mah brothuh - my strong, assertive, somewhat perverted tag team partner, Oh my brother - only in America, only in America, now can u dig THAT - suckaaaaaaaaaaa!! (Thanks to CRZ's transcription service)
WhoBettahThanDeion
Bockwurst



Since: 4.1.02

Since last post: 5720 days
Last activity: 5556 days

#3 Posted on
I'm against it. For some reason Tag Matches are just TOO damn formulaic. I can't watch Tag matches longer than 15 minutes. And an Ironman match? I wouldn't watch it. I don't know why, Tag matches are like toxic poison to me.


---

I RESPECT your opinion. Please respect mine. Or feel the wrath of Buddha!

Giving the 7/29 RAW match of Benoit/RVD 4 stars is like Whitney Houston calling Bobby Brown the "King of R&B." The "King of R&B"!? SHIT! Ribs and Barbecue! Rocks and Blunts! That match wasn't no four stars, just like he ain't the "King of R&B"! You ain't that high! Now, I'm not saying you're a crack-head. Just very...Crackish. (credit to "I Might Need Security" the Jamie Foxx comedy hour)
Scott Summets
Sujuk



Since: 27.6.02

Since last post: 5242 days
Last activity: 5210 days

#4 Posted on
I think it would be cool, and it would allow more resting time for the guys on the apron, so the match could last longer. Right now, I think the best Ironman tag match the WWE could put on would be Benoit/Eddie vs Edge/RVD. Benoit and Eddie could bring the matwork, keep the match together, RVD could bring the highspots, and Edge and RVD both are faces that crowd could get together for when they rally. Imagine how cool it would be if Eddie and Benoit worked on Edge or RVD's arm or leg in vicious fashion for an hour.

(edited by Scott Summets on 1.8.02 0913)

---

I'm gonna get me an oversized guitar, gain 40 pounds, and become the next D!
Zeruel
Thirty Millionth Hit
Moderator



Since: 2.1.02
From: The Silver Spring in the Land of Mary.

Since last post: 398 days
Last activity: 341 days

#5 Posted on | Instant Rating: 4.05
to turn this sideways? what do you think about a 3 or 4 way singles iron man match?

the one who gets pinned, submits, or gets DQ'ed the least wins...




---

"You can't fire a gun in a confined space! What are you tring to do, make us deaf?!"
"Just get out of the chopper."
"What?"
"Get out of the chopper!"
"The crops!?" - Jack Lemmon and James Garner, "My Fellow Americans", and the reason I say "The crops?" instead of "Huh?"


R-D-Z
chazerizer
Italian



Since: 11.7.02
From: Pittsburgh, PA

Since last post: 5727 days
Last activity: 2183 days

#6 Posted on
That sounds like a good idea on paper, but in reality, it could just turn into a mess. The problem is, you really need guys who aren't really tag team wrestlers (Benoit and Guerrero are a tag team now, but they aren't really tag team guys. The Rock and Sock connection is another example of that.)

I think it could be cool to watch, but you'd need to have some kind of limitation on coming into the ring without being tagged. This is normally a messy situation, but for an iron-man, it'd make it abysmal.

One last thing: Although I love RVD, an ironman match would kill him with that style. Just kill him.


---

"Sales of penis-enlargement treatments and devices in 2000 totaled in excess of $600 million," Skolnick said. "Cock-lengthening is, no pun intended, a consistent growth industry in the U.S., and this bill would severely emasculate it. As usual, it's the little guy who suffers."
JayJayDean
Scrapple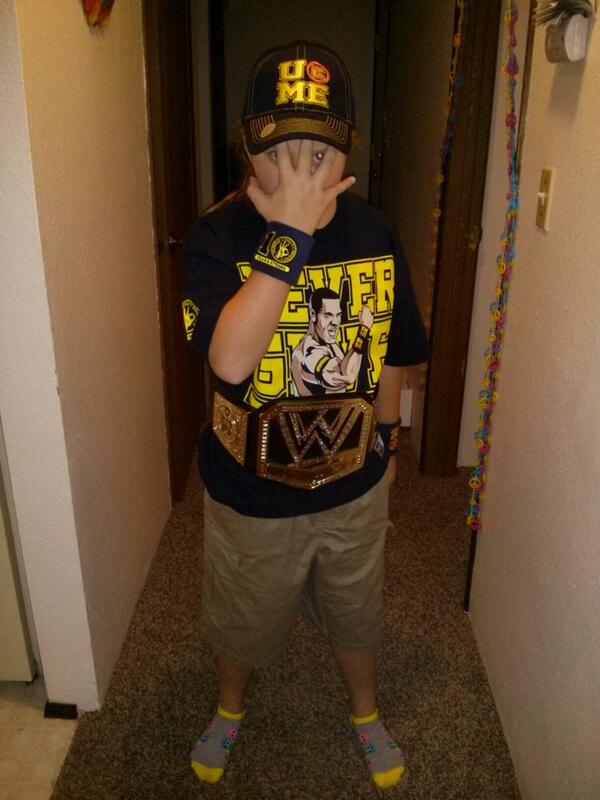 Since: 2.1.02
From: Seattle, WA

Since last post: 877 days
Last activity: 455 days

#7 Posted on
Doesn't the idea of a tag team "Iron Man" match seem sort of self-contradictory?

"Look at Matt Hardy...he's been waiting for the tag from Jeff for over 10 minutes...he could be cramping up out there...standing on the apron is hard work."

I can definitely see the use in a 60-minute-most-falls-wins tag team match, but calling it an "Iron Man" match implies that they would be somehow testing their stamina, which to me, eliminates the idea that tagging in and out can be involved.

Of course if the WWE (whee!) ever booked one of these, surely they WOULD call it an Iron Man match.
Scorpio
Boudin rouge



Since: 18.2.02
From: Laurel, MD, USA

Since last post: 5201 days
Last activity: 5152 days

#8 Posted on

Yeesh. Is nothing sacred anymore? We've already watered down the Hell in a Cell match, do we need to ruin the heat for the Iron Man match now?

Our gimmick matches aren't respected enough as is. Please let this one stay.



---
PMMJ
"Nothing remains interesting where anything may happen." -H.G. Wells
WyldeWolf1
Boerewors



Since: 20.6.02
From: Florida

Since last post: 5768 days
Last activity: 5767 days

#9 Posted on
Originally posted by rikidozan

---

to turn this sideways? what do you think about a 3 or 4 way singles iron man match?

the one who gets pinned, submits, or gets DQ'ed the least wins...



---


This could be interesting, but I'd approach it a little differently. Do it more as "3 strikes and you're out". A wrestler who is pinned/submits/DQ'd a certain number of times is eliminated. You could have very interesting psychology. For example, you may have one guy who is the favorite to win, but he only has one fall left, so the other 2 or 3 guys team up and get him eliminated. Or you have the major underdog in the match with only one left, but one of the opponents keeps saving him from the guy who is favored to win because he needs the help. Lots of possibilities....


---

WyldeWolf1
The Man of 1,008 holds, making him 3 holds better than Chris Jericho!