geemoney
Scrapple



Since: 26.1.03
From: Naples, FL

Since last post: 9 days
Last activity: 9 min.

#1 Posted on | Instant Rating: 9.33
TONIGHT: We'll find out the #1 Contender to John Cena's WWE Championship. Cena will get to decide the stipulation. How will WWE write John Morrison out of things now that he's on the shelf with a neck injury? Plus, Over the Limit hype begins. (Wrestling a dark match tonight: Trevor Murdoch)


-WWE Open.

-Right to the arena they went, where Alberto Del Rio had already pulled his car into its usual spot (actually, on the opposite side of the ramp). Ricardo Rodriguez introduced Del Rio, who Michael Cole called "the #1 pick in the WWE Draft." I don't know where to begin correcting that statement, but it's Cole, so I guess the hyperbole can slide. They showed Josh Mathews, Jerry Lawler and Cole (in his box) on camera. Cole called Del Rio "real royalty" and said Lawler was a "faux King." Del Rio got the mic and said his opportunity to fulfill his destiny was delayed by Edge. He said destiny can be put off, but can't be stopped. He questioned why they spent so much time on The Rock, because it should've been a celebration for his arrival. Del Rio said John Cena may be the WWE Champion, but there is no one better than him. He said he should face Cena, with Rodriguez filling in his name. Then Rey Mysterio came out to spoil the party. Please don't tell me they're going to do the "everyone interrupts to say they deserve a shot" again. Mysterio said Del Rio isn't any more worthy of a title match than he is. He told Del Rio his destiny isn't to be a champion, but to one day be the personal ring announcer to Ricardo Rodriguez. Rodriguez thought it was funny, but Del Rio looked at him and he stopped laughing. Mysterio challenged Del Rio to a match tonight. They already showed the graphic of all the guys involved in the #1 contender match in the cut-in on Tough Enough. Anyway, The Miz interrupted Del Rio's response.

Once in the ring, Miz said Teddy Long's incompetent decision making led to things like this on Smackdown, but Draft or no Draft, this is his show. Miz was out with Alex Riley, who he called out for costing him the WWE Title last week. Del Rio said Miz had his chance last week and didn't get the job down, so go back to the end of the line. Miz said Del Rio is wrong, he did pin Cena last week, but the prejudiced ref reversed the decision. Miz said he used the belt before Cena could use it on him. Miz told Rey and Del Rio to fight each other in a Taco Bell parking lot. R-Truth walked out after "The Truth has set me free" came over the PA. It sounded like it was the start of his new theme, but then no music played. I don't think he had a mic either. He took one as he got into the ring and talked about how he hates hospital food (as the crowd did their "what" thing). Truth said you never get it when you really want it, then said John Morrison is eating a lot of hospital food right now, since he took him out last week. They showed clips of that attack. Truth said Morrison had to have surgery today, and it's even on WWE.com. Truth told Morrison that hospital food gives you constipation. Truth said he didn't have any problem making sure the rest of those guys are hooked up to the same IV. He said it doesn't matter if you're Kermit from LA (in front of Miz, who is from Cleveland) or some bottlenose from San Diego (said in front of Rey). Truth yelled to the crowd that when an angry black man is talking, they should shut up. The GM buzzed in.

Cole read it off his iPad and said only three deserve a shot as the #1 Contender at Over the Limit. Miz is in, since he deserves a rematch. Alberto Del Rio, the crown jewel of the WWE Draft, is in too. As for the third competitor….Cole went silent and we didn't know what was going on. The GM buzzed in again and apparently he was so excited he hit "send" too soon. That was dumb. The third competitor: Rey Mysterio. Truth looked like he was about to snap in the ring. "Again?" he asked. He was not happy about this happening again. He said he was better than them all, then got in Rey's face and said, "especially you." Rey said for once he agrees with the GM, and that's what's up. It'll be a Triple Threat match with Miz, Del Rio and Rey. Truth exited the ring and went up the ramp. Sounds like some fans were singing "The Goodbye Song" to Truth. Back in the ring, Miz told everyone that he doesn't' care what they've accomplished, or didn't accomplish, on Smackdown. Here on Raw, they're day laborers, they're chump change. Miz said the next champion is…then Ricardo Rodriguez announced his name. Del Rio was pleased, until A-Ri attacked him. Rodriguez broke out a dropkick on Riley, then Miz and Del Rio brawled. Rey nailed Del Rio outside the ring and was the last one left standing. They've done a similar segment to this three times now (once before on Raw setting up the gauntlet match, and once on Smackdown last week) in about the last month. Give me a break.

[Commercial Break]

(1) The Bella Twins vs. Eve Torres & Kelly Kelly
Hey, Little Guido is the ref! The Bellas did some double-teaming early on, and boy was it ugly. Kelly dodged a clothesline and it appeared this match was occurring in slow motion. Kelly took out one of the Bellas with a headcsissors then knocked the other off the apron. Face-buster by Kelly, then Eve prevented double-team. Roll-up by the legal Bella, but it was reversed by Kelly for the three count.

Winners: Kelly and Eve, at 1:24. That match is going to give me nightmares.

The babyfaces couldn't celebrate long, as Kharma's music played and she walked to the ring. Eve and Kelly were still in the ring. The Bellas were at ringside, and they ran away up the ramp when Kharma reached the apron. Kelly went to the corner, then left the ring. Kharma had her eyes on Kelly, so Eve tried to attack from behind. They inexplicably changed camera shots to one that was on the ramp, so we didn't get a clear shot of Kharma dropping Eve. Very un-WWE-like. She went to ringside for Kelly, but Kelly ran up the ramp. Back in the ring, she grabbed Eve and gave her an Implant Buster. So much for her only going after the heels. They did show a replay of Kharma flattening Eve.

-Kane was walking backstage. He met up with Big Show, and they headed to the ring as Kane has a rematch with Mason Ryan next.

[Commercial Break]

(2) Mason Ryan vs. Kane
CM Punk accompanied Ryan to the ring. They showed a replay of Ryan matching Kane's strength last week. Big Show seconded Kane. Ryan shrugged off a rear waist-lock applied by Kane. Kane fired back with an uppercut then came at Ryan with a flurry of rights. Ryan exploded out of the corner with a clothesline. Shades of Dr. Death with a powerslam by Ryan for two. Punk got involved, which caused Big Show to chase after him and give him a knockout blow at ringside. Ryan was sent outside the ring by Kane. That led to the rest of Nexus running down and getting involved. That drew the DQ.

Winner: Kane, via DQ, at 2:14. About what you'd expect from these two.

Kane and Show easily fended Nexus off (with Kane doing most of the work himself). Double chokeslam on Ryan. Nexus continues to look like bumbling goofs.

-Tonight, we'll hear from John Cena live.

[Commercial Break]

-Santino Marella was in the ring for a match when Vickie Guerrero walked out. She introduced Dolph Ziggler as "the man who represents the future of WWE." She also called him "new and improved."

(3) Santino Marella vs. Dolph Ziggler
Ziggler gave Santino a right hand, and Marella just collapsed. Fireman carry take-over, followed by a high elbowdrop. Shot to the back of the neck by Ziggler. He just has no personality out there anymore. He faced up with Santino, but Santino landed a hip-toss. Cobra was set up, but Ziggler got good elevation on a high dropkick. Zig Zag ended it.

Winner: Ziggler, at 1:41. Good squash to get Ziggler over.

-A Triple-Threat #1 Contender's Match is still to come, as Del Rio vs. Miz vs. Rey is the main event.

[Commercial Break]

-They showed the exterior of the University of Tennesse, the location for Raw tonight.

-The Smackdown Rebound aired. When was the last time they did one of these?

-On camera, Mathews said he didn't think it was fair for Christian to have to put his title up on Friday. Lawler said by making Orton vs. Christian, Long is doing what he can to compete with Raw. Huh? In what way?

-Truth was backstage with ear buds in, talking to himself. Scott Stanford walked up and asked him a question. Truth said it's a conspiracy and talked about letters he's getting from parents that want him to go back to dancing (and once again imitated little Jimmy and his mom). Truth said he's doing things on his own terms now. Stanford was about to throw it back to the announcers when Truth came back to him. He tol dstanford to say it, say "what's up." Stanford was confused, but said it. Then Truth said "say hi to little Ronnie for me."

-John Cena was talking to Zack Ryder backstage. Ryder was teaching Cena how to fist pump. Cena then walked down the hallway, all the while you could still see Ryder doing the fist pump in the background.

[Commercial Break]

-A video aired showing Miz hitting Cena with the title in their match last Monday and getting the pin. Unfortunately, the ref saw the belt and reversed the decision.

-Riley and Miz were in the locker room. Riley tried to defend himself, saying he didn't know Miz's hand that he raised had the title in. "How stupid do you get?" asked Miz. He took exception to Riley hugging him and raising his hand. Miz called Riley an amoeba, the lowest form of life (they don't even have brains!). Then he promoted him to a troglodyte. Riley apologized again and Miz said he doesn't know why he even allows Riley in his presence. Riley said he'd make it up to Miz. "Watch this," he said, before walking out. The camera caught up to Riley, who began walking in the hallway. He walked a long ways, then appeared to walk to the curtain area. He then came out into the arena.

Riley got the mic in the ring and said he knows everyone hates him, but he doesn't care. In fact, the only person in his life he cares about is The Miz. He wanted to prove it by challenging John Cena to a match. When Cena didn't come out, Riley wondered why. He said he's just Miz's little apprentice and can't do Cena any harm. Finally, Cena's music hit and he came out. We've got a bell and a ref, so we've got a match.

(4) Alex Riley vs. John Cena
Go-behind by Cena, then a single-leg take-down. Snap mare was next. Cena seemed to be just toying with Riley. "He's getting a good wrestling lesson here," said Lawler of Riley, dropping the dreaded "w" word. Riley avoided a Cena charge and clotheslined Cena down. Back suplex by Riley and another two-count registered. He settled into a chin-lock at 1:40 of the match. Mathews said this would be the biggest win in his career. Since I don't even remember him getting a win since he came to Raw, I'd agree. Cena began his comeback at about 2:15, and dropped a Five-Knuckle Shuffle. Riley was up for the Attitude Adjustment, but Miz walked out. Cena paused, but delivered the move anyway. And he gave him a second one, staring at Miz the entire way. Then, the STF was locked in. The tap followed soon after.

Winner: Cena, at 3:11. Certainly looks like they're continuing Cena vs. Miz, and I wonder if WWE is tipping their hand at who will win tonight (besides, Del Rio and Rey, based on last week, are going to have a feud of their own).

-Still to come, the Triple Threat #1 Contender's Match. It still hasn't been explained why exactly Cena is getting to choose the stipulation.

[Commercial Break]

-Mathews thanked Rise Against for the official Over the Limit theme, "Help Is On The Way."

-Cole was in the ring with a mic. He said he has a very important announcement to make. After beating Lawler at Wrestlemania and Extreme Rules, he can't get any higher. After much deliberation, he decided to announce his retirement from in-ring competition. He said that, as the only WWE Superstar to retire undefeated, he wants to go into the Hall-of-Fame as a dual announcer and competitor. Lawler interrupted and Cole reminded him that if he touches him, he's fired. Lawler said it's true, but it wasn't true for The Rock last week. They rolled the footage of that attack. Lawler said it was very entertaining, then said if Cole is ever inducted into the WWE H.O.F, then life as we know it would cease to exist. Lawler said maybe there is a way. He said if Cole were to defeat him in another match, he will personally induct Cole into the H.O.F and give him his Hall-of-Fame ring. Cole was intrigued at the possibility of getting King's ring. Cole turned it down, then walked back to his Cole Mine.

He stood on the table and told Lawler he couldn't let him retire in peace. He said Lawler again had to steal the spotlight. Cole asked what was wrong with the people of Tennessee that made them sore losers. Cole said Al Gore, for example, who lost to the greatest US President, and he's complaining about it how many years later? Or how about the Elvis fans, who don't want to believe he died on the toilet. Cole said Lawler has to come to grips with the fact that he lost at two straight PPVs. He said he made his mind up to retire yesterday, Mother's Day. He said it was a banner day at Casa de Cole. He said his mother and him watched the Wrestlemania match over and over and over again. What did she do to deserve that? Cole said there is nothing better in the world than to spend a day with your mother (obviously rubbing it in that King's mom died). He asked Lawler what he did for Mother's Day. Then he said he was sorry and said it was so insensitive. He said he forgot that Lawler's mother passed away in February. Lawler leapt out of the ring and went after Cole. But before he could touch him, Jack Swagger came from behind to attack. If you're Cole, why not let Lawler touch you? He'd be fired and out of your hair. Swagger tossed Lawler into the ring post and he and Cole told Lawler to "get out of here."

[Commercial Break]

(5) Jack Swagger vs. Kofi Kingston – United States Championship Match
Swagger took Kofi down with a single-leg early on, but couldn't hook on the ankle-lock. Kofi looked for his finisher early too, to no avail. The finishers were teased in the first 30 seconds of the match. Knee to the gut of Kofi by Swagger to break out of a rear waist-lock. Diving forearm by Kofi and Swagger tried to regroup outside the ring. Cole coached him on from the announce booth. Kofi went to dive over onto Swagger, but Swagger entered the ring and Kofi caught himself on the apron, barely. Swagger kicked Kofi in the head, which for some reason he didn't really sell, so Swagger hit him with a right to knock him to ringside. They went to break about 2:00 in.

[Commercial Break]

Kofi was trying to break out of a rest-hold, but Swagger kept him at bay. Kingston sized up Swagger for Trouble in Paradise, but Swagger back-pedaled and stumbled enough to avoid it. High cross-body off the top by Kingston for two. More cheerleading from Cole. Kofi skinned the cat when being thrown out by Swagger. Kofi fell victim to the ankle-lock, but was still in the ropes. Swagger let go at 4 ½. More work on the ankle, but Kingston countered. Crowd not much into this at all. Swagger threw Kofi off on a Tornado DDT attempt, and Kofi tried to land on his feet, but his ankle was too far gone. Lawler appeared on the ramp to distract Swagger, leading to Kofi hitting Trouble in Paradise.

Winner: Kingston, at 8:23. Eh. It was okay, but not as good as it could've been.

Lawler came to the ring and tossed Swagger over the barricade. He threw a chair into Cole's Mine, then grabbed his tie through one of the air holes and kept pulling it, ramming Cole's face into the insdie of the Mine. Cole made cartoon faces as referees came to pull Lawler away. A cameraman took a bump in the melee. Swagger rescued Cole and then grabbed a mic and told Lawler he was fired for touching Cole. Lawler said he never touched Cole, only his tie. Swagger said on behalf of Cole, he accepts the match. No pop for that at all. As they went up the ramp, Cole tried to come to grips with Swagger putting him in a match. Why does Cole have to fight just because Swagger says so? Lawler stood on the announce table as the crowd chanted his name.

-At the Santa Barbara Film Festival, the cast of "That's What I Am" gathered for the movie. They showed comments from those involved in the movie.

-Next, it's a Triple Threat match to find the #1 contender to the WWE Title.

[Commercial Break]

(6) Alberto Del Rio vs. Rey Mysterio vs. The Miz – Triple-Threat Match to Determine the #1 Contender for the WWE Championship
Rey fought off both heels to start. he took a high, hard back bump after jumping over Miz to dropkick Del Rio. He set them both up for a 619 early on, but Del Rio clotheslined him to stop it. He tossed Rey out of the ring, but Miz rolled Del Rio up for two. Roll-up by Mysterio, but the pin was broken up by Miz. Miz threw Del Rio shoulder-first into the ring post. Miz went to work on Rey…he connected on the corner clothesline for two. Snap mare by Miz, who slowed Rey down by keeping him on the mat. Miz was tripped up by Rey in 619 position, but Del Rio tripped Rey up as he ran the ropes. Del Rio sent Rey over the top rope and in front of the announcers. Miz and ADR exchanged roll-ups, which was followed by a double clothesline. All three were down as they went to break at 3:32 of the match.

[Commercial Break]

They came back with 6:24 gone. Miz was in pain at ringside while Del Rio and Rey took it to each other inside the squared circle. Titl-a-whirl back-breaker by Del Rio for two. Del Rio rammed Miz into the ring post, showing a lot of light there. ADR went back into the ring to go after Rey. Rey fought out of a chin-lock, but as Del Rio hit the ropes, Miz low-bridged him. Sunset flip by Miz, but Rey rolled through and kicked Miz in the head. Legdrop over the top rope by Rey for two. Miz suckered him into the corner, sending Rey face-first into the middle buckle. Miz missed his corner clothesline, then Del Rio pulled him out and clotheslined him. Rey came over the top and dove onto Del Rio at 9:35. With Del Rio in the ring, Rey came off the top and dropped the dime (though he almost overshot him). Springboard cross-body for two by Rey. Headscissors take-over by Rey. Miz went to the top this time, but Del Rio was thrown into that corner, which crotched Miz. Roll-up by Rey for two. Lawler pointed out referee Mike Chioda (another oops from Lawler), saying he was the one who reversed the decision in Miz's match last week. Del Rio applied the cross arm-breaker. Del Rio dodged a big boot by Miz and rolled him up for a very near-fall. DDT by Miz from Del Rio's knees, and he got two. Miz prepped for his finisher on Rey, but Mysterio kicked him out of the ring. Alex Riley limped to the ring at 12:50 of the match. He tried to help Miz up. Del Rio had Mysterio up for a powerbomb, but he was given a hurricanrana into Riley, who got on the apron. 619 connected, as did the splash, but Miz pulled Del Rio out of the ring. Miz then came into the ring and rolled Rey up for the win.

Winner: Miz, at 13:40.

As Miz celebrated on the ramp with Riley, John Cena came out. Cena said he wanted to congratulate Miz, just like he did after he won at Wrestlemania. He said when Miz lost, there were just excuses. But that ends at Over the Limit. No DQs, no count-outs, no submissions, no pinfalls…it's an I Quit Match. Cena then headed to the back as the cameraman walked around Miz to get his facial expression. He seemed to be pondering things, and didn't look too confident. Back in the ring, R-Truth came out of nowhere to give his finisher to Mysterio. They went out on Truth screaming "now that's what's up."

Promote this thread!
JustinShapiro
Scrapple
Moderator




Since: 12.12.01
From: Pittsburgh, PA

Since last post: 82 days
Last activity: 1 day

#2 Posted on | Instant Rating: 9.01
R-Truth = amazin'
Spiraling_Shape
Bierwurst



Since: 2.1.02
From: PA

Since last post: 15 hours
Last activity: 15 hours

#3 Posted on | Instant Rating: 9.43
I really enjoyed the triple threat...as many times as we've seen Rey & ADR, adding Miz to the mix made it a really entertaining match.

So Ziggler's new attitude is working a slow, methodical, robotic pace? I miss the slightly goofy, athletic Ziggles.

R-Truth as crazy, ramblin' R-Truth is...at least he's something different.

Ed Harris is starting to resemble Monty Burns.

Thanks for coming, Punk? Can he play with all the other guys who get to talk for 10 minutes? I miss weekly Punk and Barrett monologues...


---

"You've got the crazy eyes." - RAW GM Laptop, 9/27/10
ekedolphin
Scrapple



Since: 12.1.02
From: Indianapolis, IN; now residing in Suffolk, VA

Since last post: 16 days
Last activity: 4 days

#4 Posted on | Instant Rating: 3.06
My
God,
R-Truth is more amazing with each passing week. Did anyone get a screencap of that hideous death's-head look on his face when he confronted Mysterio at the top of the show?
The triple-threat match was fantastic. The U.S. Title match was pretty good, too. And Lawler repeatedly smashing Cole's face against the wall of the Cole Mine was hilarious.
Here were my posts that made it through on WWE.com's Live Chat, as well as some context:
9:07:
I love how even though Miz doesn't still have the title, he still does the upside-down WWE logo on his mic.
WWE Staff Member Katie Raymond-Santo:
Eddie - very observant!
9:17:
Oh, my GOD, R-Truth's angry face will be in my NIGHTMARES tonight.
9:34:
That was an impressive Side Effect by Ryan on Kane last week, too.
9:43:
Dolph Ziggler should have kept the old haircut. Now he looks like Ted DiBiase.
10:04:
(regarding Riley's challenge) Oh, please. Cena is going to beat you before he even gets his shirt off.
10:06:
OK, Cena *did* have time to take his shirt off.
10:39:
(regarding Cole's reaction to Swagger challenging Lawler on his behalf) "Why did you accept the match?!"
10:43:
(Fink always plays "We're All American Boys" every week, and does so again) If Fink went a week without bringing out the theme for the Fabulous Rougeau Brothers, I'd think he was going mad.
The Fink:
Soap Box Time:
a) I personally feel that a Triple Threat match of this magnitude should have an out-of ring referee working.
b) Why is Mike Chioda refereeing this important match after all of the controversy that evoked under his officiating last week??
Thank you.....Off Soapbox
10:52:
Yeah, but if there was never any referee controversy, Fink, y'all wouldn't be able to use that as a heat-building device.
The Fink:
Totally disagree, Eddie.... Chioda did a lousy job last week when the heat was on. Shake up the refs to all work the final match.
10:58:
This is a GREAT match.
10:59:
I've loved triple-threat matches ever since WM20. (Note: I didn't expect even a veiled Benoit reference to get through the moderators, and I was
stunned
when it did).
11:01:
WHOA, so many near-falls!
11:04:
There is no way John Cena will ever lose an I-Quit match. Way to give away the ending.
---
"Nobody ever came out and said, 'Please pass a law so I can be forced to stop doing something I shouldn't be doing,' no, it's always 'Please pass a law to force them to stop doing something that I don't like.'"
--Manny Garcia, The Moon is a Harsh Mistress by Robert A. Heinlein
Fan of the Indianapolis Colts (Super Bowl XLI Champions), Indiana Pacers and Washington Nationals
Certified RFMC Member-- Ask To See My Credentials!
Co-Winner of Time's Person of the Year Award, 2006
CxMorgado
Boudin rouge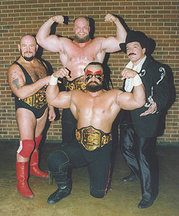 Since: 21.1.02
From: Boston MA is the rippen'ist town...

Since last post: 906 days
Last activity: 808 days

#5 Posted on | Instant Rating: 8.00
The Nexus is the Corre. The Corre is the Nexus.

R-truth is fantastic, even when rambling semi-incoherently about hospital food. And did anyone else notice that the white's of the man's eyes are ORANGE?!

Ah, Jack Swagger vs Kofi Kingston. Truly, the draft has brought us fresh match ups.

Really enjoyed the second half of Raw. Cole/Lawler may have run it's course months ago, but the live crowd still gets hot for it and I got two giant laughs out of the segment tonight: first for Cole's dead pan "I have a special announcement: Jerry lawler is in pain.", and the second was for Cole's squished up face when Lawler was smashing his head into the Cole Mine via neck tie (Mr Lawler, Mattel on line 2...). Plus Jerry tossing his swivel chair into the Cole Mine... I'm a mark for thrown chairs, I am.

Main event was a really good match. I am officially sick of Alex Riley for sure tho.

(edited by CxMorgado on 9.5.11 2342)

---
http://wrestling.insidepulse.com/​author/​christophermorgado/​
www.comicnoize.com
It's False
Scrapple



Since: 20.6.02
From: I am the Tag Team Champions!

Since last post: 121 days
Last activity: 58 days

#6 Posted on | Instant Rating: 9.04
I know they just had one at Extreme Rules, but couldn't they have made the Over the Limit main event a Last Man Standing match? There would be a lot more drama there, since we've seen Miz lay out Cena multiple times. I don't think anyone buys that Miz would make Cena say "I quit," so there's not a lot of suspense going into that match.

I'll jump in on the R-Truth love. Even when his promos aren't making any sense, it's still good stuff. That feud with Morrison (whenever he gets back) is going to be some hot stuff and Rey's a good way to keep him occupied. Definitely beats another Rey/ADR feud.

Cole banging his head against the Cole Mine...man, he pretty much IS just a cartoon character now, isn't he?

Truth's new Psychotic Rambling heel character pretty much trumps Dolph getting a haircut, so the heel push goes to Truth while Dolph gets lost in the shuffle. I'd show some sympathy for Dolph, but it does show that he needs to work on his heel character with something more than "I got an EVIL haircut!"

EDIT: I'd remiss if I didn't add that Ricardo springing into action with a dropkick was freakin' awesome!

(edited by It's False on 9.5.11 2309)
---
yamcharulez
Mettwurst



Since: 6.1.02
From: chicago

Since last post: 80 days
Last activity: 2 days

#7 Posted on
I asked someone that same question about R-Truth they said Usually It's a sign of strong intoxication or prolonged substance abuse.


---

Dont say its not worth it, when you can sleep with no fear, that kind of time is worth any thing.- FFX
Stefonics
Frankfurter



Since: 17.3.02
From: New Jerusalem

Since last post: 317 days
Last activity: 30 days

#8 Posted on | Instant Rating: 6.62
Rambling Truth is awesome. I wish he smoked more. He just missed his shot as the face of Nico-Water.

That Kingston - Swagger match had no flow at all. And the problem with lack of flow is that it gives me time to question Swagger's sobriety. As well as the reasoning behind slamming his opponent's knee into the ground when his finisher is an ankle lock.

(edited by Kidbrooklyn on 10.5.11 0038)
Big Bad
Scrapple



Since: 4.1.02
From: Dorchester, Ontario

Since last post: 11 days
Last activity: 1 day

#9 Posted on | Instant Rating: 6.66
Ziggler will be up there with Keri Russell in terms of a haircut that ruined a career. He's gone from wrestling like Curt Hennig (awesome) to wrestling like Randy Orton (too slow, coiling a bit before delivering his finisher). I look forward to Dolph being drafted to Smackdown next year and we all hope the move helps him get off of Superstars.


---

No DQs, no count-outs, no submissions, no pinfalls…it's an I Quit Match.

---


Hey Cena, 'I quit' is submitting.


---

"It breaks your heart. It is designed to break your heart. The game begins in the spring, when everything else begins again, and it blossoms in the summer, filling the afternoons and evenings, and then as soon as the chill rains come, it stops and leaves you to face the fall alone." --- Bart Giamatti, on baseball
shawnpatrick
Kishke



Since: 31.7.07
From: Leesville SC

Since last post: 2255 days
Last activity: 2137 days

#10 Posted on | Instant Rating: 9.00
R-Truth heel character has improved but he really did botch the delivery of the hospital line.... I bet he forgot his lines during that segment....

Okay, they need to add something to the Kharma character now, her coming out and doing the same thing 4 times in a row is getting old.

Lawler yanking Cole's tie and beating him senseless inside the Cole Mine was cool although the close ups of people getting their noses squashed into the plexiglass is getting old now.
AlbySure
Boerewors



Since: 10.12.01
From: LA

Since last post: 428 days
Last activity: 2 days

#11 Posted on | Instant Rating: 8.79
Originally posted by geemoney

---

The babyfaces couldn't celebrate long, as Kharma's music played and she walked to the ring. Eve and Kelly were still in the ring. The Bellas were at ringside, and they ran away up the ramp when Kharma reached the apron. Kelly went to the corner, then left the ring. Kharma had her eyes on Kelly, so Eve tried to attack from behind. They inexplicably changed camera shots to one that was on the ramp, so we didn't get a clear shot of Kharma dropping Eve. Very un-WWE-like. She went to ringside for Kelly, but Kelly ran up the ramp. Back in the ring, she grabbed Eve and gave her an Implant Buster. So much for her only going after the heels.

---


Eve attacked first, so that makes her fair game.
Hokienautic
Lap cheong



Since: 2.1.02
From: Blacksburg VA

Since last post: 76 days
Last activity: 6 min.

#12 Posted on
Aren't they doing pretty much the same story line on Smackdown with Zeke Jackson playing the part of Mason Ryan? Wonder if they're planning on teaming up Jackson and Ryan ... now that would be a side of beef worthy of Good Ol' JR!

Although I guess it's somewhat different on Smackdown since Barrett booted Zeke out of the Corre. But definitely close enough for hand grenades.
CRZ
Big Brother
Administrator



Since: 9.12.01
From: ミネアポリス

Since last post: 3 days
Last activity: 8 hours


ICQ:
#13 Posted on | Instant Rating: 9.84
Originally posted by shawnpatrick

---

R-Truth heel character has improved but he really did botch the delivery of the hospital line.... I bet he forgot his lines during that segment....

---
I think he was fine. He got in the wwe.com plug, made the "bedpan" joke (which geemoney missed, looks like) and I think there was also something racial about ADR which geemoney missed (consults YouTube) - ah yes, "and it doesn't matter if you're some pompous Mexican fence jumper, liver lips!" OOOH BURN.

I like that even though he was primarily focused towards Rey, he still had some fun insults for Miz ("Kermit" was great) and ADR - man, that Truth...he just hate on ERRVRYBODY. He truly is an angry black man!
---

Okay, they need to add something to the Kharma character now, her coming out and doing the same thing 4 times in a row is getting old.

---
Merciful heavens, she debuted eight days ago and you're worried about her character getting stale? Do you have ADD or something? Pro wrestling is all about repetition. It's one of the secret ways they get characters over!
---

Lawler yanking Cole's tie and beating him senseless inside the Cole Mine was cool although the close ups of people getting their noses squashed into the plexiglass is getting old now.

---
Wow, speaking of repetition...

EDIT: I watched the opening segment again and Truth really had some great stuff that surely wasn't scripted by somebody who wasn't named Ron Killings. "You kick my dog, I'm gon' kick your cat!" Who could possibly write that? Also, calling John Cena "lily white." And finally, backstage with Scott Stanford, the bit about "little Ronnie" - even though it should have been obvious, somehow I was STILL surprised that he actually came back at the end of the show.

Also, did I just imagine a face pop for Ricardo's dropkick on Riley (3)? Gotta be careful, because funny heels get turned face, and his timely interruption of Miz (2) along with laughing at Mysterio's idea of Del Rio announcing for HIM (1) - well, things happening in threes is enough to make one wonder if they're already planting some seeds for Rodriguez' next life as a wrestler...

Also ALSO, Miz calling Rey and Alberto "day laborers?" Truth is rubbing off on him! Hmmmmmm, that's good racism!

It's sad that Miz had Riley and Del Rio had Rodriguez, but Rey only has...well, the heart of every child at ringside he touched foreheads with, I guess.

(edited by CRZ on 10.5.11 0111)

---

Tenken347
Knackwurst



Since: 27.2.03
From: Parts Unknown

Since last post: 6 days
Last activity: 17 hours

#14 Posted on | Instant Rating: 5.03
I just do not get the love for R-Truth. He is seriously my least favorite guy in the company, face or heel. As far as other stuff on the show, I noticed that not only does Dolph Ziggler have naturally brown hair instead of blond, it's also naturally curly, not strait. So whatever he was doing to maintain his look before must have been killing his hair. The new look still sucks, but I can see why he might have wanted to give his hair a break.
Kei Posiskunk
Kolbasz



Since: 7.1.02
From: Central PA, USA

Since last post: 1194 days
Last activity: 311 days

#15 Posted on
That may have been the greatest opening segment in RAW History.

Not only does R-Truth bring the NXT CONTINUITY (Remembering William Regal's "Kermit" insult for Miz from the finale of NXT 1) amongst all of his glorious ramblings, but then we get this :

Miz : The Next WWE Champion will be--
Ricardo : ALLLBERRRRTOOOOOO DELLLLL RRRRRRRIIIIIIOOOOOO!!!

And a Ricardo dropkick to boot!

That was absolute insanity at its best, and WWE could use a damn sight more of it.


---
My username is kind of inaccurate, now...
lotjx
Scrapple



Since: 5.9.08

Since last post: 9 days
Last activity: 9 days

#16 Posted on | Instant Rating: 0.97
I feel like I have been watching the same episode for the last four months. The only difference is R-Truth is interesting and the same episode of Smackdown is getting thrown in there. I was wondering who was going to take Morrison's place as the number 2 face and I forgot about Rey when asking this question. It feels same old same old for the most part. I am not going to complain about Kharma, because she should be destroying everyone every week til the end of time.


---

The Wee Baby Sheamus.
BigDaddyLoco
Scrapple



Since: 2.1.02

Since last post: 32 days
Last activity: 6 days

#17 Posted on | Instant Rating: 4.00
Originally posted by shawnpatrick

---

R-Truth heel character has improved but he really did botch the delivery of the hospital line.... I bet he forgot his lines during that segment....



---

How long creative can keep from structuring Truth's work is going to be the key to his success. He's got that Scott Steiner ability where he can screw up his lines and it actually helps the crazy aspect of his charcter.


dwaters
Bierwurst



Since: 16.10.02
From: Connecticut

Since last post: 30 days
Last activity: 3 days

#18 Posted on | Instant Rating: 8.38
I don't know what is going on with Cole and Lawler- it's like it never ends. I thought it was building to something, but it's still Cole taunting Lawler, Lawler getting pissed, Swagger going after Lawler, again, again, again, Eventually, they're going to have to do something, you know, different.

I'm glad they're trying something with R-Truth and he seems to be into his character, but he just seems like a rambling homeless guy than an actual threat to anybody.

Mason Ryan just looks like a beast. If he has any personality or charisma at all he is going to be a star.

Last year, The Nexus really shook things up. They desperately need something like that right now as the draft has become a joke.
John Orquiola
Scrapple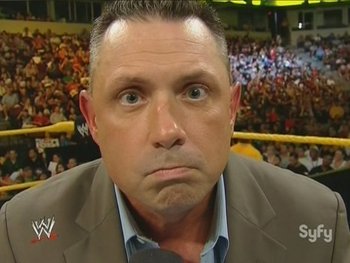 Since: 28.2.02
From: Boston

Since last post: 1482 days
Last activity: 1482 days

#19 Posted on | Instant Rating: 6.28
I offer my live Tweeting of RAW, including the inglorious ending of my live Tweeting of RAW:

@BackoftheHead John Orquiola
"Alberto, you're no more worthy of a championship match than I am." @reymysterio's English, not so great. Syntax is everything. #RAW #WWE

@BackoftheHead John Orquiola
No no no. @thebellatwins didn't run from @kharma. They remembered they left the iron on backstage. Had to prevent a fire. Safety first. #RAW

@BackoftheHead John Orquiola
Post haircut and dyejob, @HEELZiggler has Kyle Broflovski hair. @SouthPark #RAW http://www.planearium2.de/pics/pics-510-2.jpg

(I'm rather proud of that Ziggler Tweet)

@BackoftheHead John Orquiola
"I'll go to the papers if I have to" is a threat. "I'll go to the Internet if I have to" - not quite the same menace. @RandyOrton #RAW

@BackoftheHead John Orquiola
The 1000% increase in promo time for @RonKillings must mean Vince McMahon thinks he's hilarious. As we know, Vince is never wrong. #RAW

@BackoftheHead John Orquiola
Sir @MichaelCole: "It is so hard to keep a man the size of @RealJackSwagger down." That's what she said. #RAW

@BackoftheHead John Orquiola
I was live Tweeting #RAW last night but fell asleep during RAW while in mid-Tweet. @WWE RAW: The cure for insomnia and Twitter.

There were a few instances where I had a joke ready to Tweet and saw that either @CRZ, @WWE_Creative or both nailed that same joke before I could. Great minds think, all right.


---

@BackoftheHead






www.backofthehead.com
JustinShapiro
Scrapple
Moderator




Since: 12.12.01
From: Pittsburgh, PA

Since last post: 82 days
Last activity: 1 day

#20 Posted on | Instant Rating: 9.01
So did Riley just politely decline his drafting to Smackdown, or.

I wonder if Miz/Cena will end the same way every "I Quit" has for six years with the heel quitting right before something painful happens and then getting it anyway.

Bellas held in turbo. Go Bellas go.


Originally posted by shawnpatrick

---

Okay, they need to add something to the Kharma character now, her coming out and doing the same thing 4 times in a row is getting old.

---


it's been ONE WEEK


Originally posted by Tenken

---

I just do not get the love for R-Truth. He is seriously my least favorite guy in the company, face or heel.

---


WHEN THE ANGRY BLACK MAN IS TALKIN Y'ALL NEED TO SHUT IT UP
Pages: 1 2 3 Next