Sammich`s Weiner
Medisterpoelse



Since: 7.2.02

Since last post: 5960 days
Last activity: 5924 days

#41 Posted on
I'd go with "Right Next Door To Hell" by Guns n' Roses. Or maybe Barbie Girl, depending on my mood.
Stephanie
Landjager



Since: 2.1.02
From: Madison, WI

Since last post: 1860 days
Last activity: 21 days

#42 Posted on
Anthrax - "Be All, End All"

Steph


---

I'm going twenty-four hours a day...I can't seem to stop
- "Turn Up The Radio", Autograph
rockdotcom_2.0
Frankfurter



Since: 9.1.02
From: Virginia Beach Va

Since last post: 1920 days
Last activity: 120 days

#43 Posted on
"Bring the Pain" by Method Man.


---
BigDaddyLoco
Scrapple



Since: 2.1.02

Since last post: 6 days
Last activity: 3 days

#44 Posted on
'Death Star' by Atari Teenage Riot
'Them Bones' by Alice in Chains
'Twist of Cane' Danzig
'Green Hell' The Misfits

Saruman
Salami



Since: 25.1.02
From: Kirksville, MO

Since last post: 5794 days
Last activity: 5765 days

#45 Posted on
Face: "Song 2" Blur - pyro on the whoohooo
OR
Heel: "Archives of Pain" Manic Street Preachers - darkened blue lighting


---

Insert clever comment.
Notorious F.A.B.
Pepperoni



Since: 4.2.02
From: Dudleyville's Gay Ghetto

Since last post: 5365 days
Last activity: 5351 days

#46 Posted on
Originally posted by Saruman

---

Face: "Song 2" Blur - pyro on the whoohooo


---


ooh! you could also have a little trampoline set up on the other side of the entrance way so you could jump out at the same time.


---

It's just you against the group mind.
I like weiners.
BrewGuy
Kolbasz




Since: 2.1.02
From: Pickering, Ontario

Since last post: 1885 days
Last activity: 423 days


ICQ:
#47 Posted on
"War" or "Psycho Monkey", both by Joe Satriani.

Or, "Raven" by me.
[/self-servance]

(edited by BrewGuy on 6.3.02 1420)
---

Tha Puerto Rican
Bauerwurst



Since: 23.1.02
From: New York City, USA

Since last post: 5713 days
Last activity: 5310 days

#48 Posted on
If I were to be a face, I would be a kinda dorkish Kurt Angle/Rocky Maivia circa 1996 type of face. I would come to the ring smiling but once in the ring, I be a BADDASS! The music would represent as I would come to the ring with New Radicals "Get What You Give" and leave to Salivia's "CLick Click Boom!" Sorta like Mankind did before 1999.

However, if I were a heel (which I intend to be if I become a wrestler), I would be pure evil in a Hollywood Hogan/Triple H kind of way. I would come to the ring with my championship belt, Crips bandana, LWO shirt, and red baggy pants with THa Puerto Rican on the side to the tune of "Bulls ON Parade" by Rage Against THe Machine or "bawitchdaba" by Kid Rock.


---

THa Puerto Rican

LWO 4-Life
dMp
Knackwurst



Since: 4.1.02
From: The Hague, Netherlands (Europe)

Since last post: 6 days
Last activity: 1 day

#49 Posted on
Birth Ritual or Jesus Christ Pose by Soundgarden
both would mean I have a long entrance and lots of cool lights so I better be a main eventer when I join

(Drop the)Leash by Pearl Jam..



---

"...And I use that to fuck them some place fairly uncomfortable."
"What, like the back of a volkswagen ?"
-Mallrats
Marx_of_Death23
Linguica



Since: 6.3.02
From: Chi Town Baby

Since last post: 5682 days
Last activity: 5679 days

#50 Posted on
dMp... excellent choice with the "Birth Ritual" I love that song. And I forget who mentioned it earlier... but the Hum song "Iron Clad Lou" is a great one as well... I used to see Hum all the time back when I lived in Champaign where they came from. Only band I've ever got to see go from my "local boys" to MTV back to, well, not much lately. As for my entry... grab the Tool CD Lateralus, go to the last couple seconds of track 6 and lead into "Parabola". I just think thats a bad-ass little intro to a nice riff.


---

"Are those two the gay ones you were talking about? I mean... look at those hideous pants.." - a female friend on seeing Kurt Angle and Chris Jericho on screen
ManiacalClown
Landjager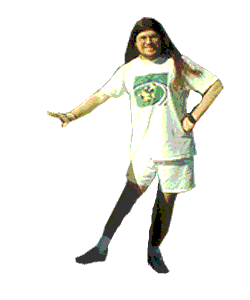 Since: 2.1.02
From: Houston, TX

Since last post: 1884 days
Last activity: 1884 days

#51 Posted on | Instant Rating: 0.00
I found a bad-ass live cut of Dave Matthews Band - Halloween that would be awesome. Song would probably work better as an instrumental, though.


---
The Thrill
Banger



Since: 16.4.02
From: Green Bay, WI

Since last post: 1528 days
Last activity: 162 days

#52 Posted on
So many choices, so little time:


For a dancin', fun-lovin' face:

* "Thriller" by Michael Jackson
* "HellaGood" by No Doubt
* "September" by Earth, Wind & Fire
* "Disco Inferno" by The Trammps


For an intense face:

* "Invincible" by Pat Benatar
* "Stupefy" by Disturbed (already in use in indy's by Kamikaze Ken Anderson)


For a brooding, inner-child's-all-p*ssed-off heel:

* "King Nothing" or "Unforgiven" by Metallica


There's others, but I'd have to be sober to remember them.



---

Star wipe, and...we're out.
Thrillin' ain't easy.
.
.
THE THRILL
ACW-TV...er, Home Video Technical Director...and Circle Too 4 Life!
Travis
Boerewors



Since: 7.3.02
From: Baltimore, MD

Since last post: 5877 days
Last activity: 5813 days


ICQ:
#53 Posted on
"the Despair Factor" by AFI
or
"Blag the Ripper" by the Dwarves


---

Fueled by Guinness, powered by YOUR LOVE.
RandomWrestling:Now with an "air of superiority"!
N8P
Weisswurst



Since: 11.4.02
From: St. Paul, MN

Since last post: 5762 days
Last activity: 5185 days

#54 Posted on
Beck's "American Wasteland". It's a remix of "Devil's Haircut" done up to sound like hardcore punk, and I am being only slightly hyperbolic when I say it is the coolest motherf***ing thing EVER.


---

Nate Patrin

"Flex Kavana was in the Power Spotlight and he seems like he will be impressive after a while." -DVDVR #5
Trineo
Mettwurst



Since: 19.3.02
From: Boston

Since last post: 5738 days
Last activity: 5604 days

#55 Posted on
I'd have to go with "Epic" by Faith No More. Ever since hearing it as a promo song for one of the ECW Videos, I've thought that would be a kick ass entrance theme.


---

It takes a big man to cry, but it takes a bigger man to laugh at the man.
The Big Kat
Kishke



Since: 11.1.02
From: Austin, TX

Since last post: 1800 days
Last activity: 2 days

#56 Posted on
Mine would be one of my favorite songs of all time, "Thunderstruck" by AC/DC. The crowd could even chant along, "Thunder!" Get'em on their feet.


---

-The Big Kat
"It's not that I'm lazy, it's that I just don't care." -Peter Gibbons, Office Space
astrobstrd
Bockwurst



Since: 13.3.02
From: Loveland, OH

Since last post: 3919 days
Last activity: 3887 days

#57 Posted on
L7 - "shitlist" or "fuel my fire"
Limp Bizkit - "break stuff" i hate this song, but damn if it doesn't scream "hardcore garbage wrestler theme song"
System of a Down - "Spiders" for your dark broody character
Sepultura - "Procreation of the Wicked"
Ministry - "Tonight We Murder" or "Jesus Built My Hotrod" just without the talking at the beginning (hell, they even have the song "New World Order". I'd love to see the nWo come out to that)
Clutch - "Texan Book of the Dead" I bet you could get a mean "ooh-eee-ooh-ah-ah ting-tang walla-walla bing-bang" chant going.
for a tag team Type O Negative - "We Hate Everyone"

I'll probably think of more later.

...like Corrosion of Conformity - "Albatross"
Nonpoint - "Endure"
Tool - "Sober"

(edited by astrobstrd on 19.4.02 0247)

(edited by astrobstrd on 30.4.02 0237)
---
"Your mother ate my dog!" "Well...not all of it." 4/3/02-"Your undisputed randomly selected wiener of the day"
StampedeFan23
Morcilla




Since: 12.1.02
From: BC, Canada

Since last post: 3391 days
Last activity: 2927 days

#58 Posted on
Easy. "Headhunter" by Front 242. It's on my favourite walking tape, so I have the rhythm walking with the beat already down...


---

Are you ready for Mahkan-mania to run wild all over you?
drjayphd
Scrapple
Moderator



Since: 22.4.02
From: Outside of Boston

Since last post: 69 days
Last activity: 19 days


ICQ:
#59 Posted on
Heel: Slipknot: "Surfacing" (I could see fans crapping themselves if they saw someone coming out to this.)
Face: CKY: "96 Quite Bitter Beings" (If you saw the skit on Jackass with them driving shopping carts into curbs, this was the song. I think it was on CKY2K, too.)
James F'n X
Bockwurst



Since: 2.1.02
From: Seattle, WA

Since last post: 4425 days
Last activity: 4392 days

#60 Posted on
Well, since everyone else is weighing in on this topic, it's time for my ¢¢.

Face - I could go old school/new school and bust out the Stevie Wonder tribute, "Higher Ground" by RHCP. Or the rap/rock love that is "Rock Superstar" by Cypress Hill. But Chris Jericho had it right (even though he was a heel at the time) with "Evenflow" by Pearl Jam, methinks.

Heel - Where do I begin? "Sweet Dreams" by Marilyn Manson just has a nice, eerie feel to it (plus a convenient pyro point.) As suggested earlier, "Jesus Christ Pose" by Soundgarden brings the hatred like little else. But the song I like the most is "Shout 2000" by Disturbed.

Can you tell I like cover songs? :)


---

"In our short film, we've come long ways..."
Pages: Prev 1 2 3 4 5 Next