Caliban
Chipolata



Since: 18.5.02
From: Orlando

Since last post: 1149 days
Last activity: 820 days

#42 Posted on
Anyone else remember the Idiot Box on MTV starring Alex Winter? Only about 6 episodes, but it was great.
Brian P. Dermody
Liverwurst
Moderator



Since: 20.9.02
From: New York, NY

Since last post: 2244 days
Last activity: 1667 days

#43 Posted on
Originally posted by Dexley's Midnight Jogger

---

1) Dead at 21 (Can anyone tell me how it ended? I missed the last few shows

---


If memory serves...
Doogie Howser's girlfriend was arrested by Whip Hubley (the best actor name in 20 years), then Jack Noseworthy (a terrible, terrible name) had a weird hallucination thing like he was always having. Then he died.

--------
As for my Top 10? In no particular order
- MST3k, and stop hatin on Pearl. That show was always in the writing.
- SportsNight
- Homicide: Life on the Street
- Sifl & Olly
- Dr. Katz, Professional Therapist
- The Critic
- 120 Minutes (circa '93-'96)
- Mr. Show
- The Tick (animated)
- Global Wrestling Federation (so sue me)

And I couldv'e gone for another season or two of Charles in Charge, and a Quantum Leap TV mmovie every year or so.


---
Find Out If You Are John Stamos!
Modern Humorist
DrewDewce
Bratwurst



Since: 2.1.02
From: The Derby City

Since last post: 45 days
Last activity: 22 days

#44 Posted on | Instant Rating: 6.75
10 Andy Richter Controls the Universe
9 The State
8 Sledgehammer
7 Herman's Head
6 Cliffhanger
5 Police Squad!
4 The Jackie Thomas Show
3 It's Your Move
2 Cupid
1 Pig Sty


(edited by DrewDewce on 18.6.03 1707)

---

"You have the right to suffer. You have the right to feel pain. If you wish to have an attorney present, I'll hurt him too!" - The Big Bossman
Net Hack Slasher
Banger



Since: 6.1.02
From: Outer reaches of your mind

Since last post: 4896 days
Last activity: 3316 days

#45 Posted on
Some ones that haven't been mentioned

Jack of All Trades, have to mention this. It was so cheesy and dumb, but I thought it was funny as hell. Bruce Campbell is hilarious. I tried to catch this sill half hour show on the weekend as much as possible. It lasted only 20 or so episodes

Undergrads and Mission Hill were couple cartoons that were one year wonders which I enjoyed

Going a little early 90. They did horror show on the small screen called Nightmare Cafe created by Wes Craven... I really enjoyed Friday the 13th: The Series. Two young antique store owners sold a bunch of cursed antiques and every week had to get the stuff back before it's too late. (late 80s)

Some that have been mentioned

The Job with Dennis Leary, I don't watch too much TV these days, I have very few can't miss shows. But this was one of them, it was the best show in in the last few years and only had about 20 episodes made.

Sledgehammer!(the only show other then Smackdown! that I remember having an exclamation point on it LOL) was fantastic. The funniest thing about it is that they thought it was certain that it was going to get cancelled after the first season that they killed everyone off with an nuclear bomb, which of course Sledge Hammer accidently detonate himself "Trust me I know what I'm doing" indeed. And then to everyones surprise they got picked up for a second season so they started the second season 3 years before the world blew up LoL. Unfortunately that was the last season of Sledgehammer... Police Squad was fantastic as well. What is with all these great cop comedies getting the ax so fast.

I was a fan of Wings, very underrated. A year ago they showed it on syndication at night but not anymore. They were overshadowed by a lot of other NBC shows at the time. But Wings was very good with a great cast of character who interacted with each other really well. They had a pretty good 8 year run... Night Court could be my favorite sitcom of all time and I think got better with time. A decade later it still holds up amazingly A&E used to show the repeats of it a few years ago but not anymore. Wings & Night Court, 2 shows that mostly took place in a work environment and both very good that I would like to watch again in syndication.



---

cause there's limits to our liberties.
'Least I hope and pray that there are,
cause those liberal freaks go too far.

I'll crush all opposition to me
And I'll make Ted Kennedy pay
If he fights back, I'll say that he's gay
Brian P. Dermody
Liverwurst
Moderator



Since: 20.9.02
From: New York, NY

Since last post: 2244 days
Last activity: 1667 days

#46 Posted on
Wings is on Nick at Nite at 1am. Except this week, when there is nothing but Sanford and Son.


---
Find Out If You Are John Stamos!
Modern Humorist
Wolfram J. Paulovich
Frankfurter



Since: 11.11.02
From: Fat City, Baby

Since last post: 4263 days
Last activity: 3634 days

#47 Posted on
My favorite postmodern drama-history-comedy-weirdfest, starring the most famous B-rated chin:

"The Adventures of Brisco County Jr."


---

The Obtuse Angle Archive.

Burns: Smither's this beer isn't working! I don't feel any younger, or funkier....
Smithers: I'll switch to the tablespoon, sir.
Ubermonkeys
Frankfurter



Since: 2.1.02
From: Michigan

Since last post: 4825 days
Last activity: 4699 days

#48 Posted on
You're really going to hate me when I tell you my friend who we're going with knows Wain and we most likely will get to meet them. I'll tell them you said "hi!".

You're right.


If you see the guy from Stella that says "sloppy wet... pizza", give him a hug for me. And tell MIB that Spy TV is a flaming shithole without him.

No particular order... Louie visits The Last Supper, Punks vs. Amish vs. Nuns street fight with MIB as Michael Jackson, "Chicken sandwich, CARL!", the undercover cop in kindergarten, and "the call is coming from... inside your pants!"

I too am an old Night Court fan. I used to stay up late watching reruns on WGN and then started up again when they hit A&E as NHS said. Also a SledgeHammer fan from forever ago. I could have sworn somebody said Moonlighting, but I don't see it now, so consider it mentioned.

Just how many shows in the 80s were centered around putting a guy and girl together, but not having them romanticly linked, and once they did, the show died?

Kinda back on the cancelled game shows tip, ABC was running an 8-9pm slot on Saturday (I think) with two game shows, one of which was Monopoly. I don't even remember how the premise worked, but I thought it was really cool to somehow make that into a gameshow. I also miss Rock N Roll Jeopardy. Yack yack yack...


---
June 13, 7:30 P.M.

Currently listening to: Sara run her FAT FUCKING MOUTH

Bullitt
Shot in the dark



Since: 11.1.02
From: Houston

Since last post: 629 days
Last activity: 629 days

#49 Posted on
- not in alphabetical order

Mystery Science Theater 3000
Bakersfield, PD
Sports Night
Undeclared
WKRP in Cincinnati
Dr. Katz, Professional Therapist
Atlantic Grand Prix Wrestling
Two Guys, a Girl... (I don't care, Ryan Reynolds is funny)


---
You kids like the rock 'n roll music? Then here's Matthew Good.
J. Kyle
Banger



Since: 21.2.02
From: The Land of Aloha

Since last post: 31 days
Last activity: 1 day

#50 Posted on | Instant Rating: 4.56
X-E's co-Worst Poster of all time!
Jkyle.com says:
Props to Grimis for remembering Jackie Thomas. Tom Arnold's genius continues to go unappreciated. The Army Show had Griff from Married with Children.... where WERE you people??

10. (THE ABC ARE BASTARDS TIE)
Clerks
Miracles

9.(Every Bruce Campbell show... Where the FUCK is my Autolocus:The Series?)
Jack of All Trades
The Adv. of Brisco County JR.
Hercules
Xena (pre-Joxer's death)

8.(THIS YEAR ON FOX TIE!)
Andy Richter Controls the Universe
Greg the Bunny
Undeclared
John Doe

7. (THE UPN/WB doesn't always save the good shows tie)
Do Over
Twilight Zone

6.Upright Citizens Brigade ("They race them in Mexico...")

5.American Gothic (someone's at the door...)

4.(The "Yes, ANOTHER tie" TIE)
Brimstone
Quantum Leap

3.Forever Knight

2.(ANIMATION FESTIVAL OF A TIE!)
Futurama
Family Guy
The Critic
Duckman
Undergrads
GARGOYLES!!!!
Gundam 0079

1.Haunted

And if what I've heard is true, Beat the Geeks would be 11.


---

I am 62.52465% Geek, an Extreme Geek!
Something less stupid. Thanks!"you're the odds-on favourite in the 'who will CRZ ban next' pool." Our Dictator

11/04/02 Bastard of the Day
(Still waiting for the Hyatte/Scotsman Feud)
Selling an unopened Godsmack CD for ONE dollar. Somebody bid for God's sake.
Zeruel
Thirty Millionth Hit
Moderator



Since: 2.1.02
From: The Silver Spring in the Land of Mary.

Since last post: 369 days
Last activity: 311 days

#51 Posted on | Instant Rating: 4.05


If I'm not mistaken, the Small Rouge One can be found on BBC America.

If the movie is a hit, they will do a series 9


---

"Grabbin your butt? That's not very lady-like."
"I'm not a lady."
"Oh. Whatever."


力堵山
Dagent913
Bockwurst



Since: 18.11.02
From: Strong Island

Since last post: 4979 days
Last activity: 4510 days

#52 Posted on
I was loving Beat the Geeks, until they got that new host and all. Along the same vein, I also dug Vs. And am I the only one on the planet who didn't hate Pearl-era MST3K? I don't understand why everyone hates her so much. Also, I've been watching Family Guy on Cartoon Network, and, sad to say, it's just not as funny as I remembered. Oh well.

I hate Court TV for taking the best show of all time (that being Homicide: Life on the Street), away from me for no reason. I also miss Andy Richter, Undeclared, and a whole bunch of other shows. Too many to name here, but most of them have already been mentioned by others. Oh, and Millennium, if it had kept up with the standards set by its first season.


---

What if your grandfather was a kazoo?







Take the "Which Marvel Comics Hero are you" quiz!
Enojado Viento
Potato korv



Since: 12.3.02
From: Your Grocer's Freezer, NC

Since last post: 2028 days
Last activity: 1300 days

#53 Posted on
Originally posted by Dagent913

---

And am I the only one on the planet who didn't hate Pearl-era MST3K? I don't understand why everyone hates her so much.

---


I hated her because she wasn't all that funny. Pearl-era host segments are damn excruciating in their unfunniness and I've seen KTMA episodes, for God's sake.

The Pearl-era MST3K's stick out because the show was just getting *tired*--the writing got less and less witty, the host segments were generally pointless (and why were all the host segments photographed in near total darkness?), and it looked for all the world like people trying to keep a train going long after it ran outta steam.

That's why as much as I love MST3K it doesn't need to come back. Let it go, folks. Let it go.


---


-LS
"ahhh...vague, mandatory knee-jerk cynicism. God Bless Internet Forums.."
StampedeFan23
Morcilla




Since: 12.1.02
From: BC, Canada

Since last post: 3359 days
Last activity: 2895 days

#54 Posted on
Does MASH count? If so, it's at the top of my list. If not, Futurama, Undergrads, Max Headroom, Kids in the Hall are at the top. And the live action Tick, way ahead of its time.


---

Are you ready for Mahkan-mania to run wild all over you?

I mark for Molly Holly and Lance Storm.
Mild Mannered Madman
Toulouse



Since: 1.3.02
From: Westminster, CA

Since last post: 1776 days
Last activity: 1494 days

#55 Posted on
Originally posted by Dagent913

---

I was loving Beat the Geeks, until they got that new host and all.

---


Agreed. Although you can always just move to Santa Monica, and hang out with the Movie Geek. =)



---
As the days go by, we face the increasing inevitability that we are alone in a godless, uninhabited, hostile and meaningless universe. Still, you've got to laugh, haven't you?


Torchslasher
Knackwurst



Since: 17.1.02
From: New F'n Jersey

Since last post: 71 days
Last activity: 71 days

#56 Posted on | Instant Rating: 6.44
Here is my favorite TV show to ever get prematurely cancelled:

The show was called Likely Suspects, and it starred Sam McMurray of Tracey Ullman fame as the lead detective. He investigated murder mysteries, and we the audience served as the rookie along for the ride. Sam would talk to the camera (us) as though we were on the case. They would go through the case and then before the last break, Sam would get the suspects in a room and tell them that he had figured out the mystery.

This was one of the few shows that my whole family watched, taped, and discussed. We would always all watch, and all guess on who we thought the murderer was before the final segment of the show. Alas, no other family in America watched the show, and it was canned after not many episodes (6 or 10 at the most).

By the way, I also enjoyed the It's Like, You Know as the Seinfeld of LA program.

Other faves included Herman's Head, Twin Peaks, MST3K, and the newer Fantasy Island starring Malcolm McDowall.


---

The Hurricane main eventing a Raw show? See, the WWE is listening to the 'Net. Well, they're listening to me anyways. Look for the next push to go to Molly.
Chico Santana
Boudin rouge



Since: 2.7.02
From: Jaaaaamacia Mon, No Problem.

Since last post: 5361 days
Last activity: 5359 days

#57 Posted on
Top 14

14)SNME
13)Fragle Rock(sic?)
12)Mr. Show
11)Sledgehammer!
10)M.A.S.K
9)Dr. Who
8)Buck Rogers
7)Parker Lewis Can't Loose
6)Robotech
5)Herman's Head
4)Banana Man
3)WCW Monday Night Nitro
2)Danger Mouse
1)Wizards & Warriors


---

"SAL BANDINI, WANNA WRESTLE?"
drjayphd
Scrapple
Moderator



Since: 22.4.02
From: Outside of Boston

Since last post: 36 days
Last activity: 1 day


ICQ:
#58 Posted on
Originally posted by SamRulezTheWorld

---

- Invader Zim
- Clone High

That is all I have to add.

- Sam

---


HELL YES. So many great shows are just wasted on Nickelodeon, simply because they appeal to an older audience (Invader Zim and Ren & Stimpy being two notable examples).

And as for Clone High, 3 South, and Undergrads: MTV has apparently only been ordering up about six to eight eps of most new (to the US) animated series at a time. Thus, the premature "cancellations" of all three... MTV just doesn't bother getting the whole season.

And allow me to throw Dilbert in the ring... another example of how Comedy Central can rock shit with the prematurely-cancelled shows. Although I personally think they dropped the ball on Beat the Geeks and Battlebots (maybe it's just me on that one). I mean, 5:30 PM? Shit, that's PTI time around here. Good thing they brought the Daily Show reruns back to the 7:00 hour.


---

Today's Out-Of-Context Quote, Courtesy of hardygrrl:

"...between the grime layer and the Seventies game show host hair, I'd rather rim Undertaker after a White Castle/Schlitz bender."
Grimis
Scrapple



Since: 11.7.02
From: MD

Since last post: 2576 days
Last activity: 1031 days

#59 Posted on | Instant Rating: 7.29
Originally posted by DJ Ran

---

Wings is on Nick at Nite at 1am. Except this week, when there is nothing but Sanford and Son.

---

SWEET!!


---

"I'm going to fill a dark awful basement with radioactive cockroaches. Yep. Big nasty ones like skateboards on legs, that go click-click-click when they walk. And maybe poisonous. I'm going to starve them for a week.

Then I'm going to catch all the coercive priss-spigots in the world, the ones that want to ban second-hand smoke and dwarf-tossing and beer. I'll smear the rascals with bacon fat, so the roaches won't know what they're eating, as otherwise they might not.

Then I'm going to toss all those greased busybodies into the basement. And whoop. And dance. Ha."
- Fred Reed
jfkfc
Liverwurst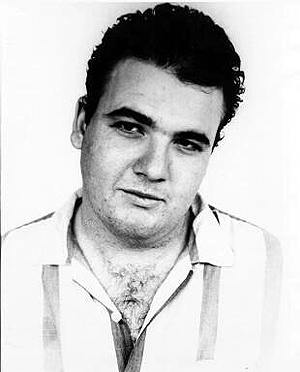 Since: 9.2.02

Since last post: 749 days
Last activity: 558 days

#60 Posted on | Instant Rating: 3.87
1. Night Stand (with Dick Dietrich)
2. Parker Lewis Can't Lose
3. 21 Jump Street
4. Police Squad
5. The Good Life (Drew Carey before the Drew Carey Show)
6. Almost Live
7. The New Show
8. What's Happenin'
9. CPO Sharkey
10. Sqare Pegs


---

"You know Monsoon, I am impressed, and I don't impress easy"
-Jesse "The Body" Ventura
Pages: Prev 1 2 3 4 5 6 Next