Kawshen
Liverwurst



Since: 2.1.02
From: Bronx, NY

Since last post: 3268 days
Last activity: 1528 days

#1 Posted on
OK, we just had Brock Lesnar return to the heel side of the fence and I'd be lying if I said I didn't see it coming.

So - the question to the WB is: Which heel or face turns just shocked the hell out of you?

I'd mark down the Rock turning heel at Survivor Series 1998 or HHH's heel turn in the "Who ran over Austin?" thing.


---
Promote this thread!
darkmatcher
Bockwurst



Since: 12.2.03
From: New York, USA

Since last post: 3985 days
Last activity: 3061 days

#2 Posted on
Originally posted by Kawshen

---

or HHH's heel turn in the "Who ran over Austin?" thing.

---


Wasn't HHH already heel?

I'd say Taker's heel turn early last year was pretty surprising, and even Goldberg's heel turn in early 2000-though it didn't have much of an effect. And I didn't see the Stephanie heel turn at Armegeddon '99 coming either.


---

what you say
OMEGA
Lap cheong



Since: 18.6.02
From: North Cacalacky

Since last post: 3250 days
Last activity: 856 days

#3 Posted on
Originally posted by darkmatcher

---




Originally posted by Kawshen

---

or HHH's heel turn in the "Who ran over Austin?" thing.

---



Wasn't HHH already heel?.

---


That heel turn happened after Austin had returned in late 2000 and was looking for the driver. Hunter was a babyface at that point, fresh off of his feud with Kurt Angle (which ended up drastically changing WWF, and not for the better).

Austin was wrestling Rikishi and Kurt Angle in a handicap match. Hunter, right before the match, said to Austin: "Remember, don't trust anybody". Most people chalked that up to Hunter warning Austin to be careful in his match. Well, Hunter ran down the ramp, cleared the ring of the heels, and then... whacked Austin in the face with a sledgehammer. Very few people saw it coming. I know I didn't.

I also didn't see Hunter's heel turn in July of 2002 coming either. I knew he was gonna' turn heel sooner or later, but had no idea he was gonna' pedigree Shawn Michaels right then and there.

(edited by OMEGA on 9.8.03 1947)

---
The answer to WWE's financial problems...

cfgb
Bierwurst



Since: 2.1.02
From: Ottawa, Ontario

Since last post: 248 days
Last activity: 6 days

#4 Posted on | Instant Rating: 7.87
I'll start with the weirdest...

Spring of 1999! Diamond Dallas Page had been battling Scott Steiner for a couple of months because Steiner was stalking Kimberly. At Superbrawl 9, Steiner had Page go face first into an exposed turnbuckle bolt, and then caused him to pass out from the Recliner.

Page took about 6 weeks off to recover from this beating. When he returned, he came back with an attitude and demanded not to be called the People's Champ any longer. It was COMPLETELY unexpected and strange considering WCW had spent about 2 and a half years pushing the shit out of a face Page and didn't really make a lot of sense. He wound up winning the title a couple weeks later which REALLY pushed the weirdness over the top since he wasn't remotely over due to the very strange turn a couple weeks earlier.

And now the most shocking...

I'll admit the Triple H admitting he was behind running over Austin sure shocked the shit out of me. I did not see it coming since he'd spent about 6 weeks slowly turning face, and earlier in the evening apparently completing it by reuniting with Degeneration X. HOWEVER, I'll go with...

Booker T when he came to the WWF. I know he'd been a heel early in his WCW career until about the time the nWo rolled into town, but after the singles push I didn't see it POSSIBLE to boo the man. He was everything GOOD about pro-wrestling. However, Vindictive Vince and the gang spent SO many years burying WCW that it came about that apparently WWF fans hate ANYTHING WCW and booed his ass until they turned him. It also turned out to be the most irritating turn I've had to experience. To this day, WCW hasn't recovered (and how can they when Jim Ross STILL on TV to this day makes statements about how terrible the "old Turner WCW" was.) and many of their stars are still turned heel because the fans have been programmed to hate them.

And I'll end with the dumbest...

Sting, Fall Brawl 1999. Was that really neccessary Eric? REALLY?


---
Contact cfgb
Visit SHOOTING STAR PRESS - regular updates, great writers. Check it out!
John Orquiola
Scrapple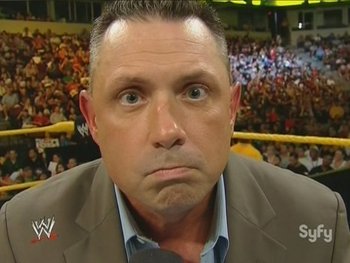 Since: 28.2.02
From: Boston

Since last post: 1425 days
Last activity: 1425 days

#5 Posted on | Instant Rating: 5.90
Back in the day, Andre the Giant turning on Hulk Hogan and siding with Bobby Heenan during Piper's Pit in '87 was pretty shocking. Same with Paul Orndorff turning on Hogan the year before. And then Randy Savage turning face to feud with the Honky Tonk Man was pretty surprising, given Savage's behavior as a heel up to that point. I remember Savage had already gotten crazy face reactions from the crowds but his turn still surprised me. Hell, every turn surprised me when I was 12.

Hulk Hogan turning heel and joining the nWo was jaw-dropping.

The Rock joining Vince McMahon as the Corporate Champion at Survivor Series Deadly Game in '98 was awesome. I don't remember if he was actually a full-fledged face at that point. I remember Rock was still a heel and a member of the Nation of Domination at Summerslam when he faced Triple H in a ladder match, but the months leading up to Survivor Series are a blank. Still, great swerve. The reaction Rock got on RAW the next night was awesome.

Stone Cold Steve Austin turning heel and joining Vince McMahon at WrestleMania X-7 was amazing. In my opinion, that set the stage for the most entertaining run Austin had in WWE as the sniveling, cowardly, hug-needing, guitar-strumming leader of the Alliance. I know most people have bad memories of the Invasion era, but I had a great time watching heel Austin every week.


---

"Strong words. Strong words from a strange man." - Kent Brockman
odessasteps
Scrapple



Since: 2.1.02
From: MD, USA

Since last post: 1437 days
Last activity: 1404 days

#6 Posted on | Instant Rating: 6.41

Orndorff's turn was telegraphed for weeks (if not months).

It's funny, turned that take too long to set up are dismissed as "slow-building", whereas impromptu ones are dismissed sarcastically as "shocking swerves."

The one that stands out for me was Nikita Koloff's face turn, which was an emergency turn due to Magnum's car accident.

The best in recent years would have to be Hogan joining hte NWO and jumpstarting his career.


---


Braving the horror show that is Comicon. We're not set up, but we'll be around all weekend.
fuelinjected
Banger



Since: 12.10.02
From: Canada

Since last post: 4571 days
Last activity: 4571 days

#7 Posted on | Instant Rating: 5.15
Originally posted by cfgb

---

Sting, Fall Brawl 1999. Was that really neccessary Eric? REALLY?

---


If I recall the timeline correctly, Eric Bischoff was ousted from power before Fall Brawl and Fall Brawl was the first show of the Bill Busch "era".

I'd go with Bret Hart turning heel in WWF. It was somewhat of a gradual thing but when he cut that bull**** tirade after the cage match on RAW, it was shocking to see ultra good guy Bret go off with profanity.

Also, when Sting walked out on WCW in War Games, that wasn't really a turn from face to heel but it was surprising because it was the first time Sting didn't trust everyone and get stabbed in the back.


Rock at Survivor Series 98 was good because Rock had never really turned face, people just started cheering him and they rolled with it and actually managed to get people to hate him again for a few months.
Doc_whiskey
Frankfurter



Since: 6.8.02
From: St. Louis

Since last post: 23 days
Last activity: 12 hours

#8 Posted on
I was at the Survivor Series in 98, and along with the Rock, Shane McMahon joining Vince also had the people pretty shocked. If I remember correctly, Shane was battling with his dad all fall, even being demoted from announcer to ref at one point.

HHH turning on X-pac I think at Wrestlemania 15 was pretty surprising as was Chyna turning on HHH earlier that year.

I still remember though as a kid HBK turning on Marty Jannety had the kids at school talking for weeks.


---

Brazen Snatch
domino
Loukanika



Since: 18.7.03

Since last post: 3404 days
Last activity: 2935 days

#9 Posted on
Off the top of my head, the turns that made my jaw drop were:

Michaels at the Barbershop.
Rock at Survivor Series '98.
Triple H at Wrestlemania XV.
Austin at InVasion.

I honestly didn't see any of these coming.
redsoxnation
Scrapple



Since: 24.7.02

Since last post: 1788 days
Last activity: 1788 days

#10 Posted on
I'll go with a few of the older ones:

Nikita Koloff face turn in October of '86: As shocking as Magnum's car accident, the most hated man in the company (hell, the year before, Flair had to work as a face because Koloff was so hated), saves Dusty Rhodes and becomes a face overnight.

Barry Windham turning on Lex Luger in April of '88: Tag Title defense where Windham turns on Luger at the end of a long TV match and joins the Horsemen, then participates in a vicious locker room beatdown on the 'mysterious' Midnight Rider when he tries to confront Windham after the match.

Manny Fernandez taking Paul Jones $50,000 briefcase and turning on the Boogie Woogie Man Jimmy Valiant in October of '86. Fernandez would win the tag titles with Rick Rude 2 months later while Valiant disappeared after winning a hair vs. hair match at Starrcade against Paul Jones.




---

Cubs, White Sox and Red Sox fans unite. Its time to overthrow the German Government and re-install our beloved Kaiser. Remember, Kaiser ='s World Series victories.
CANADIAN BULLDOG
Andouille



Since: 5.3.03
From: TORONTO

Since last post: 1855 days
Last activity: 1853 days


ICQ:
#11 Posted on
Very easy answer for me:

Hulk Hogan's nWo turn at Bash of the Beach was perfectly done. At the time, he had been away from the company for a bit and his value was starting to drop a bit. I was watching the PPV live and nearly fell out of my seat when he turned. Okay, maybe I kind of saw it coming about 5 seconds before he legdropped Savage, but a shock nonetheless.

The unfortunate thing is that we'll never see a heel (or face) turn done that effectively again. Hogan was really the only `untouchable' good-guy type that hadn't turned yet (well, in recent history; he was a heel early in his career). Thanks to the Russo era of shocking swerves, nothing will ever that suprising again.


---

Kain Interview: the first since he's been unmasked!!! Major changes to SummerShow main event!!! All this plus an interview with Kain in the latest Inside The Ropes!!!
bootyman
Medisterpoelse



Since: 9.8.03
From: Melbourne Australia

Since last post: 5397 days
Last activity: 5370 days

#12 Posted on
The most shocking heel turn and in fact the most shocking moment in wrestling was Hogan turning heel and joining the NWO.

Others include:

Michaels turning on Jannetty,
DDP - the wholesome good guy turning heel back in 98
Undertaker - i never thought i would see it happen when he was lord of darkness
Andre turning on hogan

HMD
Andouille



Since: 8.6.02
From: Canada

Since last post: 406 days
Last activity: 406 days

#13 Posted on
Hogan's turn legitimately shocked me. That'd be the big one for me. Having been watching since the early days, I had still never seen Hogan as a heel (and before the 'net hadn't even heard of his early heel days in Florida) so this blew my mind.


---

"Whatever I just posted above is what your mother said in bed last night."
dskillz
Landjager



Since: 2.1.02
From: Houston Texas

Since last post: 4509 days
Last activity: 4214 days

#14 Posted on
I agree with the Bulldog, Hogan at "Bash at the Beach" shocked me!!! I mean, really shocked me. It was the ebst turn in history, IMO. But then again, the entire NWO angle probably was the best angle done, even though it evolved into a big heap of Wrestlecrap in the end. Actually some of the people turning on WCW to join NWO was cool. Scott Steiner turning on Rick at Superbrawl 98, was pretty cool. I didn't expect it, but that is when Big Poppa Pump was born.

Stephanie revealing she was in on the marriage all along was pretty cool. I just remember being really shocked and amazed that WWF had fooled me so well. I need to look back and find the details of that revelation.

HHH turning on DX to join the Corporation at WM15 was cool. I was completely shocked. That was a good turn because it came out of nowhere, yet when you thought about it, it made sense.

One of the most stupid turns was Nash on Nitro turning heel to lay down for the finger poke of hell. It was so badly timed. Nash finally broke Goldberg's streak, became the champ, and then just gives it all to Hogan? Someone he had been fueding with? It made no sense.

This turn didn't happen, but the night after WMX7 and the Rock/Austin rematch and Hunter running in would have been one of the best face turns in history if he had hit Austin with that sledgehammer. OMG, Austin would have had a face to challenge, since Rocky was leaving. It really, really would have been good, IMO. Plus Austin/HHH had history so it would have been natural. Miss chance for a great turn, or atleast a trip to tweener-ville.




---

January 4th 1999 - The day WCW injected itself with 10 gallons of Liquid Anthrax...AKA...The day Hogan "Defeated" Nash to win the WCW title in front of 40,000.
The Goon
Banger
Moderator



Since: 2.1.02
From: Calgary, Alberta, Canada

Since last post: 199 days
Last activity: 172 days

#15 Posted on
Originally posted by odessasteps

---


Orndorff's turn was telegraphed for weeks (if not months).

---


For me, the thing with Orndorff's turn was that I had never seen anyone turn heel up to that point, so my adolescent brain saw the signs, but kept saying, "Paul and Hulk will patch up their differences."

How wrong I was.
Nag
Landjager



Since: 10.1.03
From: Enter your city here

Since last post: 3486 days
Last activity: 1541 days

#16 Posted on
Yeah, Hogan's first turn was the most shocking.

Some others that I remember.

Undertaker saving Elizibeth and Savage, that came out of nowhere.
Perfect turning on Mero.
Bulldog turning on Diesel and joining camp Cornette

Ubermonkeys
Frankfurter



Since: 2.1.02
From: Michigan

Since last post: 4827 days
Last activity: 4702 days

#17 Posted on
These are both crap, but for some reason, thinking about the topic, they are the first two that came to mind after Hogan.

Great American Bash 96, Mongo turns on Kevin Greene and joins the 4 Horsemen. Completely out of nowhere, plus it had the "Paul Roma WTF" vibe as well.

Saphire turns on Dusty and joins the Million Dollar Man. If any wrestling couple had more charisma together than those two, I never saw it.


---
That Satan's a good guy. He shares his Skittles.
BigVitoMark
Lap cheong



Since: 10.8.02
From: Queen's University, Canada

Since last post: 4687 days
Last activity: 4596 days


ICQ:
#18 Posted on
The only turn in recent years I can think of where I was legitimately shocked was Hogan joining the NWO. Most other turns since then have at least had signs that they were coming.

I'm not old enough to remember seeing Andre or Orndorff when they happened, but I was blown away when the Big Boss Man refused Ted DiBiase's payoff on the Brother Love Show and gave the Million Dollar Belt back to Jake Roberts. Maybe it's because I was only 9 years old, but I didn't see that one coming in the least.
12characters
Cotto



Since: 17.7.03
From: Auckland, New Zealand

Since last post: 5401 days
Last activity: 5396 days

#19 Posted on
Shawn Michaels turning on Janetty and putting him through the barber shop window. It looked like Michaels was staying face but then WHAM! Didn't see that one coming at all. Also, Goldust's heel turn (when he became 'Forever Unchained') was surprising to me. Don't really know why, I just didn't see it coming.


---

RantWars runner-up. At least I beat Dave Shilling.
Big Bad
Scrapple



Since: 4.1.02
From: Dorchester, Ontario

Since last post: 7 days
Last activity: 16 hours

#20 Posted on | Instant Rating: 5.54
Mick Foley had a couple of surprising turns in early 1998. When he came out as Dude Love to break up the first ever Austin/Vince match on RAW (the one that broke Nitro's ratings winning streak), I was surprised that Foley was going heel again after such a successful face run.

Then, a couple of months later, after losing to Austin at Over the Edge (a legendary match btw), Mick comes out as 'himself' on RAW and is fired by Vince to huge heat from the crowd. Mick then shows up later in the show not to attack Vince, but instead to try and get back on his good side by becoming Mankind to attack the Undertaker. This set up Hell in the Cell, and the rest is history.


---

Colin Mochrie


Which 'Whose Line is it Anyway?' actor are you!?
brought to you by Quizilla

Pages: 1 2 3 Next