Chumpstain
Bockwurst



Since: 21.1.02
From: Canada

Since last post: 213 days
Last activity: 13 hours

#1 Posted on | Instant Rating: 8.22
Sorry guys, I was writing up a recap and then accidentally closed the tab I was writing in, and lost the work. That's disheartening! If I have the time and inclination I'll come back later for a detailed recap, but for now here's the Quick 'N Dirty.

Alberto Del Rio cuts a promo, threatens to deport illegals in the audience, Sheamus interrupts but gets taken out by car-related violence.
The Great Khali and Layla def. Antonio Cesaro and Aksana: Layla wins via Lay-Out.
Cody Rhodes def. Christian in a Money in the Bank Qualifying Match: Cody wins via Crossrhodes. Christian is already qualified and doesn't lose his spot, the match was simply a second chance for Cody after his petition to the Board of Directors.
Dolph Ziggler def. Alex Riley in a Money in the Bank Qualifying Match: Ziggler wins via Zig-Zag.
Michael Cole interviewed AJ. Daniel Bryan and CM Punk both arrived to reach out to AJ in their own ways. Bryan sucked up to her while Punk told it straight and said she needed help. AJ made out with Bryan, and as Punk left, she chased him down and made out with him as well.
Santino Marella, Sergeant Slaughter and Hacksaw Jim Duggan def. Hunico, Camacho and Drew McIntyre: Santino wins via Cobra.
The Ryback def. Curt Hawkins: The Ryback wins via his yet-unnamed finisher.
20 Man Battle Royal to determine next week's Interim Smackdown GM: Zack Ryder pulls out the upset, eliminating Kane at the end for a measure of revenge from earlier this year. Zack Ryder will be the GM next week on Smackdown.

Discuss! And sorry for the weak recap! If anyone else wants to take a stab at it they're welcome to, otherwise I'll try to find time to edit something in tomorrow.
Promote this thread!
JustinShapiro
Scrapple
Moderator




Since: 12.12.01
From: Pittsburgh, PA

Since last post: 169 days
Last activity: 3 days

#2 Posted on | Instant Rating: 8.75
NIGHT RYDER. Zack gets comeuppance against Damien Sandow, Eve, and Kane all in one show! Way to persevere.

SD MITB is looking slightly more normal now with Ziggler and Rhodes added to its bonkers field. Swagger and Sin Cara seem to be on the outs. Kofi is always in, unless he's defending the tag titles. I hope Ryder re-qualifies himself next week.

More importantly I hope they get Rey in the Raw match to up the odds that it's good. He could come back and cost Del Rio the title too, but Rey has so many long-term injury slide that sometimes he just has to let them slide.
El Nastio
Banger



Since: 14.1.02
From: Ottawa Ontario, by way of Walkerton

Since last post: 10 days
Last activity: 5 days


ICQ:
#3 Posted on | Instant Rating: 3.42
Originally posted by JustinShapiro

---

NIGHT RYDER. Zack gets comeuppance against Damien Sandow, Eve, and Kane all in one show! Way to persevere.

---


I noticed this, I was greatly pleased. I also noticed a few other eliminations with feuds tied to them. Some tight booking!

Ryder also tweeted a photo of the loading dock that Kane threw him off a few months ago before the show.

(edited by El Nastio on 4.7.12 0153)
Kevintripod
Banger



Since: 11.5.03
From: Mount Pleasant, Pa.

Since last post: 7 days
Last activity: 1 day

#4 Posted on | Instant Rating: 3.60
Damn, Natayla looked hot tonite.

The writers better be careful or AJ might start getting "SLUT" chants. I don't think that's what they want.


---


"You have enemies? Good. That means you've stood up for something, sometime in your life." - Winston Churchill
Stefonics
Frankfurter



Since: 17.3.02
From: New Jerusalem

Since last post: 405 days
Last activity: 37 days

#5 Posted on | Instant Rating: 5.80
I'm starting to believe that AJ might be the June surprise. She has certainly renewed my interest in the product.

Nice touch with her wearing a lightening bolt pendant. I don't know if she's always had it, but this was the first time I noticed it.

She continues to be the best part of both shows. Either someone in talent relations/creative knows what they're doing or they got really lucky by finding someone who can talk, act, and wrestle. When was the last time the crowd chanted for a Diva's name?
InVerse
Boudin blanc



Since: 26.8.02

Since last post: 55 days
Last activity: 18 days

#6 Posted on | Instant Rating: 2.21
Originally posted by Chumpstain

---

Sorry guys, I was writing up a recap and then accidentally closed the tab I was writing in, and lost the work. That's disheartening!

---


If you're using Firefox or Chrome, I highly recommend installing the Lazarus Form Recovery add-on. Even if your browser completely crashes, it will save whatever you typed into the form.

Also, in Firefox, if you use the Reopen Closed Tab feature, it keeps whatever you had typed into the closed tab.
lotjx
Scrapple



Since: 5.9.08

Since last post: 27 days
Last activity: 2 days

#7 Posted on | Instant Rating: 1.24
I am getting close to AJ Overload. I do love that she does the little things like the wave she gave Cole after Punk screamed at him. Other than that a 110 LB. woman putting the world champ and the 1 contender through a table is pretty stupid. While it is intriguing to see where they go from this, but you get the feeling that the SummerSlam plans may not have AJ in mind if its going to be Punk/Cena.

I am so happy for Ryder to get a night to avenge all the shit he has gone through since January. I am actually hoping they add him to the Smackdown MITB. Ryder vs Punk is more appealing to me than Cena vs. Punk, but I know I am in the giant minority on that one. A pretty good show mainly for the Night Ryder and ADR actually looking like a threat til Cena dispatched without a sweat.


---

The Wee Baby Sheamus.Twitter: @realjoecarfley its a bit more toned down there. A bit.
Llakor
Landjager



Since: 2.1.02
From: Montreal, Quebec, CANADA

Since last post: 2014 days
Last activity: 2006 days

#8 Posted on | Instant Rating: 5.68
Originally posted by lotjx

---

Other than that a 110 LB. woman putting the world champ and the 1 contender through a table is pretty stupid.

---


Revisionist history.

Punk was off-balance after she kissed him and Bryant was standing on the table because he thought AJ was going to jump and he wanted to be able to catch her.

Made perfect sense.


---

"Don't Blame CANADA, Blame Yourselves!"
Chumpstain
Bockwurst



Since: 21.1.02
From: Canada

Since last post: 213 days
Last activity: 13 hours

#9 Posted on | Instant Rating: 8.24
Okay, it's the next day and I'm writing this in Notepad to copy and paste into the thread afterwards. No more recap erasure! Unless the thunderstorm going on here now blows out the power, in which case, screw it.

This is Super Smackdown! Live! The Great American Bash!

The show opened backstage, with a party going on. Natalya was talking to anyone who'd listen about her Uncle Bret, leading Yoshi Tatsu, Hunico and Camacho to translate into their own languages. Hornswoggle was hanging out in a kiddy pool, with Kaitlyn and Tamina nearby in bikinis. And there was the master of ceremonies himself, Interim Smackdown GM Teddy Long, wearing a silly hat and a Kiss The GM apron. Teddy welcomed everyone to the Great American Bash, and told them not to worry about making a mess. He had a very special volunteer who would clean up any mess that was made, and the camera panned over to Eve, wearing a maid's uniform and the "Hello, My Name Is Eve" oversized nametag. To officially kick things off, Teddy introduced the US Champion, Santino Marella, to light the barbeque. Santino proved both tentative and ineffective at doing so. A hush fell over the room as Kane arrived, and Santino retreated. Kane lifted his arms into the air, and on dropping them the barbeque exploded into fire. He stalked off, and the party began in earnest.

Coming up tonight, Michael Cole will interview AJ and find out what's gotten into her mind. A 20 man Great American Bash Battle Royal to determine who will be Interim GM of Smackdown next week. And possibly more Money in the Bank Qualifying Matches. To the arena we go!

Lilian Garcia introduced Ricardo Rodriguez, who himself introduced Alberto Del Rio. During his entrance, his beatdown of Sin Cara on Raw was recapped. Del Rio said that he was here to talk about something even more important than America. He was here to talk about himself. He would finally get the one on one title shot he'd earned three months ago at Money in the Bank, and he'd beat Sheamus because Sheamus was just a peasant. When he was through with Sheamus, he'd chase him back to where he came from. Del Rio said that people shouldn't dislike him because he's successful. He worked hard in both Mexico and America to earn his money, and unlike the people in attendance tonight in Texas, he did it LEGALLY. This led to him hopping out of the ring to ask front-row fans to see their papers. The first guy actually produced them, ha! He found someone along the entrance ramp who said he didn't have them, and thus called back for security to deport the illegal. The man yelled into Del Rio's mic that "This isn't Arizona, this is Texas!" Del Rio looked like he was about to attack the fan, but Sheamus interrupted with his entrance.

Del Rio threw Ricardo at Sheamus and tried to attack off the distraction, but got nowhere. Sheamus commenced the beatdown, throwing Del Rio off the stage towards his car. Ricardo tried to intervene a couple more times, and as Sheamus took care of him with clubbing blows, Del Rio struck with a kick to the head. Del Rio stomped away as Ricardo opened the hood of the luxury car de jour (a 1955 Rolls Royce worth $125000, if I remember right). Ricardo held the hood open and motioned for Del Rio to put Sheamus on it, and after thinking it over Del Rio did just that. He slammed the hood of the car on Sheamus' head and shoulders repeatedly. After about eight blows, Sheamus crumpled to the ground. The referees came out a little bit too late to save the day.

After the break, the attack on Sheamus was recapped. Back live, the referees were helping carry Sheamus to the back. He looked dazed, and was bleeding from the forehead. Blood? On Smackdown? Eek!

The Great Khali and Layla vs. Antonio Cesaro and Aksana: For those who watched NXT and saw Cesaro's new music and entrance video there, sorry. He's still using his old entrance here on Smackdown. Khali opened with some lumbering offense, until Cesaro clipped his leg. He started working Khali over, but didn't get too far before Khali got back to his feet and landed clotheslines. After he staggered to his corner, Aksana tagged herself in, which brought Layla into the match. Aksana got absolutely nowhere against Layla. Layla hit her springboard crossbody out of the corner, but Cesaro pulled her off the cover. Khali tossed Cesaro from the ring, and Layla hit Aksana with the Lay-Out to pick up the win. Cue the dancing! Layla managed to get Khali to dance with her. That's two in-ring segments now, and no Americans involved yet in the Great American Bash. or can we count the referees?

Backstage, Teddy Long was dancing himself, watching Layla's celebration. Cody Rhodes walked up and stared in disbelief at Teddy's outfit and dance. As Teddy asked what he wanted, cody revealed that his appeal to the Board of Directors had been successful, and that they would give him another chance to qualify for the Money in the Bank match tonight. Teddy said that was old news, since the Board had given him permission to pick Cody's opponent. He was going to pick someone that Cody had never defeated, the Intercontinental Champion, Christian! Christian already had his spot in the ladder match, and that wouldn't be at risk in the match. It was all on Cody. Upset, he left the scene.

Another Raw 1000 moment! This one takes us back to... WCW Monday Nitro? The dulcet tones of Tony Schiavone ring out once more, telling us not to change the channel, because Mick Foley was about to win the world title on the other show, like that'll put asses in the seats. It was Mick Foley's favourite moment, when he won the WWE Championship on Raw. And despite Schiavone's exhortation, 600000 people changed the channel to Raw to watch Foley's win. Nitro never again beat Raw in the Monday Night War ratings.

Cody Rhodes vs. Christian, in a Money in the Bank Qualifying Match (for Cody): Christian dominated early, as he seemed to have Cody's number. His pendulum kick in the ropes was blocked by Cody, though, and Cody hit the Beautiful Disaster on Christian while he was tied up in the ropes. He then hung Christian's arm up on the top rope, aggravating the injuries Christian had suffered two weeks back when dealing with Alberto Del Rio and Cody. Cody proceeded to work over the arm, and cut off Christian's first comeback attempt with his Hardcore Holly offense. Christian turned the Alabama Slam into a sunset flip for two. Another go at the Beautiful Disaster missed, and Christian was thrown shoulder-first into the ringpost. That only got two. Frustrated, Cody went to the opposite turnbuckle and started taking it off. The referee interrupted and reattached it, while Christian hit his reverse DDT, but only for two. Christian signalled for the Killswitch, but his left arm gave out as he hooked the move, allowing Cody to grab him and hit Crossrhodes for the win. A week late, but Cody Rhodes has qualified for Money in the Bank!

Backstage, the party continued. Zack Ryder arrived, asking Teddy Long for permission to deejay the event. Teddy said to go for it, and Ryder said he had a whole playlist of Justin Bieber, the Backstreet Boys and the New Kids on the Block. After an awkward pause where no one looked sure whether they should be happy or not, Heath Slater arrived to dismiss Ryder and say he could provide all the music that was needed. He began singing his One Man Band song, but barely got into it before garbage flew at him from all directions. Ryder got control of the music and started the Funkasaurus theme, bringing Brodus Clay and the Funkadactyls out to dance. Everyone else followed suit!

Dolph Ziggler w/Vickie Guerrero vs. Alex Riley in a Money in the Bank Qualifying Match: No entrance for Riley. Ziggler, meanwhile, was introduced by the Queen Diva herself, Vickie Guerrero. No dissension was shown between the two despite last week's slap. Ziggler badmouthed Riley at the start and immediately ate a dropkick for a near fall. Riley continued his flurry but Ziggler took control and slowed the match down. His headstand chinlock followed. Riley started a comeback, hitting some clotheslines and a spinebuster, but Ziggler countered the Edgecution attempt and fled to the apron. When Riley pursued, Ziggler hung him up on the top rope, and from there the Zig Zag was academic. Ziggler advances to Money in the Bank.

Michael Cole was up next for his interview, saying that he was always air and balanced. He summoned AJ, who skipped happily to the ring. Cole showed what happened on Raw, with AJ's despair over CM Punk ignoring her leading to her pushing him and Daniel Bryan through a table during their main event match. Cole said that he had always been fair to her, but he had to ask, what was she thinking? AJ started to respond, but Cole pulled the mic away and cut her off, saying that she wasn't thinking. Cole did the same schtick to her the last time he tried to interview her, too. Cole proceeded to run her down, saying that it was a disgrace that the Board of Directors put her in a position where she could decide who would be the next WWE Champion. Her retort was again cut off, as Cole asked her angrily what she saw in Punk and Bryan. She had to set her sights higher than them. She should look for a real man. Perhaps... a former war correspondant? Perhaps the Voice of the WWE? He opened his suit jacket and motioned to his body, saying that AJ could have all of this if she wanted to. AJ seemed annoyed. Or bemused? But her answer would have to wait, as Daniel Bryan's music brought him out.

Bryan was selling the ribs from his table bump, and there was no YES!ing on the way down to the ring. On entering, he immediately got in Cole's face, telling him to back off. Cole was nothing more than a sexist bully. You tell him, Bryan! He said that this wasn't about Cole, it was about him. Turning to AJ, he told her that he knew that when she pushed Punk off the ropes, she didn't realize that Bryan was behind him and that he'd go through the table too. But Bryan was going to be the bigger man here. After stroking her cheek, he took her hand in his and said "I forgive you". AJ seemed pleased, but CM Punk had something to say.

Punk wasn't holding his ribs as he marched down to the ring, but he was clearly more subdued than normal, with no Clobbering Time or Best In The World yells. Getting into the ring, he told Cole to shut up and get out. Cole protested, and Punk looked about to attack him, so he quickly retreated. AJ gave him a little wave as he left, ha! Punk spoke to AJ, saying that unlike Daniel Bryan he wasn't going to pretend that nothing had happened on Monday. She deserved someone who would be honest with her, not someone who'd try to lead her on with false platitudes. He told her that after what had happened on Monday, that she needed help. She needed mental help, and he would be remiss in his duty as a friend if he didn't try to get it for her. This was the first time in this segment that AJ really seemed upset by anything. Bryan cut Punk off, saying that he could see through Punk's transparent scheme. He was doing the passive-aggressive act to try to lure AJ in, but he never actually cared for her. Bryan was the only one who cared for AJ. Punk was just trying to suck up to her now because he knew that without her help, there was no way he'd be able to beat Bryan at Money in the Bank. Punk made a move as if to strike Bryan, and the mics were dropped on both sides, but AJ got in between them and held them apart. Turning to Bryan, she stepped up to him and gave him a deep, lengthy kiss. Punk watched for a moment and shook his head, turning to leave the ring. By the time the kiss was broken, Punk was on the floor starting back, so AJ hurried outside to catch him. She grabbed his arm and turned him around. Punk asked what she wanted, and she responded simply by kissing him as well. Bryan went from smug to shocked as he watched what was happening. As her kiss finally broke with Punk, she gave them both a bemused look and skipped back up the ramp like nothing was wrong. Both Punk and Bryan seemed shocked watching her, and she stopped at the top of the ramp to give the night's first "Yes! Yes! Yes!" chant.

Santino Marella, Sergeant Slaughter and Hacksaw Jim Duggan vs. Hunico, Camacho and Drew McIntyre: The usual 4th of July style matchup. USA chants galore! Duggan wound up hitting Hunico with the Three Point Stance, but McIntyre broke it up. Everything broke down, with Cole making fun of the notion that things would break down in a six man tag match. Santino got the tag and hit the Cobra for the win.

Backstage at the barbeque, R-Truth and Teddy Long were bemoaning the state of Little Jimmy, who apparently had a low alcohol tolerance. But the party was put to a stop with the arrival of Damien Sandow, who bemoaned the state of the company that this was the way they chose to celebrate the holiday. Zack Ryder took umbrage, saying that in America they could do what they wanted to do, and if he didn't like it he could leave. The other gathered superstars chanted for Ryder. Sandow looked like he'd take up the offer to leave, but he suddenly turned to attack Ryder, who was prepared. Ryder smacked Sandow around and knocked him to the ground. Rather than capitalize, he spotted the punch bowl and grabbed it up, waiting for Sandow to stand. Ryder threw the bowl's contents at him, but he dodged out of the way, and Eve wound up being drenched instead. She shook with rage as everyone pointed and laughed at her, then a chorus of "Woo woo woo!" and some hideous dancing from Derrick Bateman took us to break.

The Ryback vs. Curt Hawkins w/Tyler Reks: Hawkins and Reks had a coin flip earlier, with Hawkins apparently winning it, so he got to face The Ryback. It was, as might be expected, a lost cause. His attempt at a sleeper was turned into a piggyback stunner. The Ryback went for a corner charge, but Hawkins ducked out of the way. The Ryback stopped himself from actually hitting the corner, and turned around to meet Hawkins with the Clothesline From Sin City. Hawkins was then Shell Shocked for the win. That's apparently what The Ryback's finisher is called! Reks wouldn't go in the ring to check on Hawkins until The Ryback left, and he seemed to be poking fun at him for the decisive loss.

The next Raw 1000 moment was... Donald Trump's favourite moment? The Donald talked about upstaging Vince McMahon on his Fan Appreciation Night, and I find it hard to spend much effort detailing the words of a paranoid birther.

20 Man Great American Bash Battle Royal to determine the Interim GM of Smackdown Next Week: Sheamus couldn't participate in the match due to Del Rio's attack earlier. So here's the rundown of competitors shamelessly stolen from someone else's recap! Alberto Del Rio, Big Show, Brodus Clay, CM Punk, Christian, Cody Rhodes, Damien Sandow, Daniel Bryan, Dolph Ziggler, Ezekial Jackson, the Great Khali, Heath Slater, Jack Swagger, John Cena, Justin Gabriel, Kane, Kofi Kingston, Santino Marella, Tensai, and Zack Ryder were all in the battle royal. Big Show quickly eliminated Gabriel and Brodus. Ezekial Jackson was the next out, while Ryder eliminated Sandow for some more retribution from last week. Cody eliminated Santino, but Big Show then eliminated both Cody and Kofi at the same time. During the following commercial break, Heath Slater was quietly eliminated with the commentators apparently never bothering to tell us. Punk eliminated both Bryan and himself with a high crossbody. Big Show and Kane had duelling chokeslams, but Kane actually won out and chokeslammed Big Show. Cena rallied, attacking everyone who was still up. He eliminated Del Rio, and as Tensai tried to toss him, Cena turned the tables and threw Tensai out instead. But before he could recover, Big Show effortlessly dumped Cena over the ropes. Christian tried to attack Show but also got tossed. That left us with the final four, Big Show, Dolph Ziggler, Kane and Zack Ryder. Ziggler and Show struggled near the ropes, and so Kane dumped them both. That left only two, and it was two with a bit of a history!

Ryder tried to hit and run, but to no avail, as Kane took him down with a big boot. Still, Ryder refused to go away. A drop toe hold sent Kane crashing into the middle turnbuckle and he slumped down in the corner, letting Ryder hit the Broski Boot. He set up for the Rough Ryder, but Kane caught him mid-jump and went for a chokeslam. Ryder ducked behind Kane on the move, and when Kane charged Ryder ducked and pulled the ropes down to send him spilling over. Zack Ryder wins! Zack Ryder wins!

Zack Ryder will be the Interim GM next week on Smackdown! Will he find a way to book himself a title match, or into the Money in the Bank? We'll find out next week from Colorado!
Tyler Durden
Landjager



Since: 22.2.04
From: Frankfurt, Germany

Since last post: 698 days
Last activity: 698 days

#10 Posted on | Instant Rating: 4.12
Nothing makes perfect sense, as far as this whole AJ "angle" is concerned.



---

#WatchROH
CruelAngel777
Sujuk



Since: 7.4.02

Since last post: 800 days
Last activity: 783 days

#11 Posted on | Instant Rating: 4.43
I liked Derrick Bateman's dancing.....

It's so satisfying to see Zack Ryder get a win, and a big win against Kane and Eve in one night. I would really like them to keep it up with his character as they could make him the ultimate underdog that they have been trying to find to replace Mysterio for the past year or so.

Natalya may want to switch to some kinda hotpants/tiny pants outfit from here on. She has a really nice lower section.

I don't know if Cole has ever made me laugh as hard as he did hitting on A.J. this week, nor has he ever creeped me out at the same time. Good on ya!
cfgb
Bierwurst



Since: 2.1.02
From: Ottawa, Ontario

Since last post: 392 days
Last activity: 4 hours

#12 Posted on | Instant Rating: 6.97
While I give him No Shot In Hell - I'd like to see Santino win Money In The Bank. I am not sure the company realizes what they have in him; but he is the perfect plucky underdog that the fans adore.

If he announced in advance he was cashing in at Summerslam, and they built the match as his life's dream to main event The Summerslam and win the double double E title, I guarantee you'd have a winning mid-summer storyline.

They tested Santino to a degree in the spring and it went over like gangbusters. For god sakes, if this company can give trial MITB wins to Kennedy and Swagger, Santino's got to be at least as worthy of a dice-roll.
Matt Tracker
Scrapple



Since: 8.5.03
From: North Carolina

Since last post: 48 days
Last activity: 2 days

#13 Posted on | Instant Rating: 8.12
Originally posted by cfgb

---

They tested Santino to a degree in the spring and it went over like gangbusters. For god sakes, if this company can give trial MITB wins to Kennedy and Swagger, Santino's got to be at least as worthy of a dice-roll.

---


He's the perfect choice to be the first to lose the MITB challenge. He would lose no support and might gain some if he can work the match beyond looking for the Cobra.


---

"To be the man, you gotta beat demands." -- The Lovely Mrs. Tracker
used2bcool
Merguez



Since: 5.11.08
From: Ashland, MA

Since last post: 109 days
Last activity: 80 days

#14 Posted on | Instant Rating: 9.34
While I'm not sure about Santino in particular, I really love the idea of taking away the surprise element of the cashing in of the MitB title shot. I know they make a big deal of the anytime, anywhere stipulation, but if done with the right wrestler, the announcement of cashing it in at a big show and the subsequent build are an easy storyline that they haven't done since RVD cashed his in on Cena at One Night Stand. It puts the focus on the wrestler in question (preferably a face, and I guess Santino's as over as anyone, but we really haven't seen much from him in-ring), and can be a great tool in introducing someone as a main-event player and hopefully getting the audience to connect to him. I'd suggest Kofi Kingston because I think he's one who can turn serious and talk the way WWE wants their main-eventers to talk - I seem to remember a brief feud with Randy Orton when Kofi dropped the Jamaican gimmick and went serious.
John Orquiola
Scrapple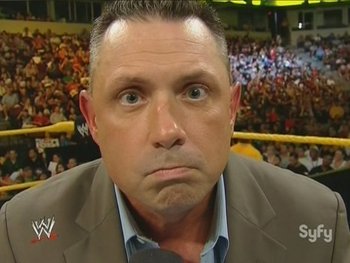 Since: 28.2.02
From: Boston

Since last post: 1569 days
Last activity: 1569 days

#15 Posted on | Instant Rating: 6.26
Right before he hit on her, Cole outright called AJ "a teenager" to her face and AJ didn't dispute it. The announcers in the past have also referred to AJ as a "young girl" having her "first love".

AJ is actually 25 but it seems like she's playing herself as a teenage character. If so, is AJ the first person in WWE to play younger than she really is?*

*I guess not counting Hornswoggle, who was of indeterminate age and mental capacity for years before learning how to talk in a Christmas 2011 miracle.


---

@CMPunk
"@ZackRyder: @CMPunk She played me bro" I got your back.