Tom Dean
Bockwurst



Since: 30.8.02
From: New York, NY

Since last post: 4642 days
Last activity: 4012 days

#21 Posted on
Was the commitment ceremony longer than "This Is Your Life, Rock"?


---

Three Faces of Dean: Teenage Riot, T.R., and now this guy

"How YOU Doin'?"
- me, weekly (or so) at [slash]

"History is being make-ed... someone is going to get their head completely shaved off"
- David McLane, PPV opening promo

You see this? You see how my body's glowing like that? Yeah... a lot of people can't do that. Come get some of this glowing. Oh, okay, you. You want some. You want some of the glowing. Look, man... your soul... I'm going to totally floss with it and chew on your spirit. I read that somewhere. But I'll do it.
Excalibur05
Knackwurst



Since: 19.1.02
From: Minnesota

Since last post: 807 days
Last activity: 675 days

#22 Posted on
Awesome, Awesome show.

Read the spoilers and I still enjoyed every minute of it.

A few random notes:

- Rico is a great heel, but what the hell is he going to do on RAW? I only imagine C+B will be following him on over there.

- John Cena's "Viking" tights were kind of neat, I guess, but...What, is he only going to wear them twice a year?

- Eric Bischoff = Great actor! Wow. If I didn't know that it was him, I totally wouldn't have known that it was him. My roomate (who watches no wrestling but stays in the room when it's on) was totally sold that it was just some old guy.

- Benoit and Eddie were ON tonight.

- Matt Hardy is 300x the actor that his brother is and 500x more entertaining.

- I'm not a huge, huge fan of Goldberging the WWE Title with Brock, but whatever floats their boat I guess, if they can stay interesting.

- Heyman was great with Sara, it's just too bad I couldn't say the opposite.

-Did Matt beat Taker by Count Out? Oh, man, I bet we NEVER hear the end of that...("See, Shannon? I beat Taker! Jeff never beat Taker! It's the Mattitude!!")

-Not happy to see Godfather back, but at least he was funny.

That's it. Great show, again.



(edited by Excalibur05 on 12.9.02 2213)

---

HLA! Hunter Loves Ass!
CruelAngel777
Sujuk



Since: 7.4.02

Since last post: 683 days
Last activity: 666 days

#23 Posted on | Instant Rating: 2.70
GHEYEST SHOW EV-AR!!!

Incest Stinkfaces, mentioning of molesting young boys, gay weddings, yet I haven't seen a better show all year!

Didn't watch the Brock v. Holly match cause Hardcore Holly career isn't going anywhere, and I hate to see him try so hard. Didn't make sense to open up the show with the WWE Champion in a match.

Saw the incest stink face, and was all like.....Bleech! Chavo smiling while Eddy was in his butt was a trip-out. "I-I I didn't know it was your face Eddie!!"

Angle's opening speech was frickin' great. I was crying from laughing so hard. Then the match started and I realized how glad I am that Rey is back. Time to buy one of those masks.

People are realizing that Matt is working a great gimmick. I've been going around my job reffering to myself as Version 1, which get's my ass whomped. But when I pull myself off the floor, we have a good laugh at the antics of Matthew Hardy.......Mattitude!!

Benoit Rikishi, whatever. I played Angle v. Rey again.

The wedding played out in more detail than the spoiler said. I had no idea the wedding singers would be singing "It's Raining Men", and that the ceremony would be blessed by the HO TRAIN!!! I really liked when Godfather was talking about Chuck not being picky about his women, except for the fact that they had to be Hefty Hos! The uncomfortable looks on Chuck's face, and Billy's Shifty eyes we're great acting moments. Did everyone see the reaction B & C got when Billy said they weren't gay? That's kinda politically mean isn't it?

Oh yeah, great acting by Bischoff, I had no idea until he said 3 minutes. That had to be his coolest moment evar!!

Torrie v Nidia was pointless that late in the show, especially since it didn't advance storyline.

Excellent show by the way, with some of the funniest moments since Gold Dust the Crocodile Hunter. Tazz was suprisingly entertaining tonight, he had some good lines. Now that's saying something.....

MATTITUDE!!

(edited by CruelAngel777 on 12.9.02 2256)
It's False
Scrapple



Since: 20.6.02
From: I am the Tag Team Champions!

Since last post: 91 days
Last activity: 29 days

#24 Posted on
Excellent Smackdown, outshining Raw once again, which amazes me. If I had told you that a Smackdown featuring a gay wedding would be better than a Raw with Hot Lesbian Action, you'd probably demand I turn in my Heterosexual Membership Card.

GOOD:
-'Til (the angle's) Death Do You Part: The spoilers didn't do this justice. The commitment ceremony was awesome and it's pretty safe to say that the investment in Eric Bischoff was a wise one. No one else could have pulled this off like he could. And was it me, or did the Island Boyz destroying Stephanie draw a FACE POP?

-Benoit/Angle for Unforgiven: Speaks for itself and it makes Unforgiven worth the $30 right there.

-Angle/Mysterio: Every bit as good as their match at Summerslam. Everything from Angle's opening promo to the amazing finish was gold! The day this man leaves for the Olympics will be a much bigger tragedy than the day Rocky left for the movies.

-Edge & Cena/Guerreros: Anytime Chavo and Eddie team up, it's a treat for me. But with Cena being depushed and Edge and Eddie apparently getting in a real scuffle, it doesn't look like we'll be treated with this again.

-The Ending: The way Smackdown went off the air was awesome! Now THAT'S how you make Brock into a psycho/intense machine-type heel. He's quickly reminding of Vader circa 1993.

BAD:
-Rikishi/Benoit: I believe this match proves Benoit is NOT God, because he could not carry Rikishi's big ass to a watchable match. Give Kurt three minutes (no pun intended) with Rikishi and he'll give us a *** match, at least.

-I Died and Woke Up in 1998: The Godfather has returned uninvited. Charles Wright is dead weight at this point. His character is beyond stale and he NEEDS to go! Give up that roster spot for someone from OVW or an NWA: TNA talent.

Good show. Why can't Raw be this way?


---

"That's right! You suckas better FIND somewhere to run! 'cause it's me - Booker T - not only am I the Scorpion King, but I'm the five-time WCW Champion - and I got a sword, too! Now can U dig THAT - SUCKAAAAAS"
NotAWrestler
Pinkelwurst



Since: 6.9.02

Since last post: 5699 days
Last activity: 5691 days

#25 Posted on
I was lucky enough to have taped the show before going out tonight, so I just got finished watching Smackdown!. I must say, much as I loathe the man, Eric Bischoff is an amazing actor. When he said "three minutes" it took a second for it to click, then ... "what the FUCK?!?" And the Mission Impossible face-rip ... man, they went all-out on that thing. He must've been sitting on the makeup chair for hours while they did that getup.

I thought the "wedding" was a bit overlong, but I taped it so I was able to fast-forward to the payoff.

Haven't been able to see Rey Rey before tonight, other than in WCW, and the little guy is AMAZING. I could tell from that match that Heyman definately had to be booking, because it was as smooth and as spotty as an ECW match. Angle's pre-match interview completely unwrote his awful stint as a face last year in my eyes, and the top-rope Angle Slam was great.

I didn't mind the women's match that much, other than the fact that it was, indeed, pointless. Still, some quite decent wrestling, no Trish, and just the right amount of flesh made for a decent segment.

Lesner was ubercreepy in the final segment, and his squash in the first few minutes was a good way for WWE to say to all the people who tuned in for HOT GAY WEDDING ACTION to present their new champion. As for the meaning behind "life's a bitch" ... I think he was trying to say, look at the kind of world you're brining a life into. And I didn't realize how DAMN HUGE he is until I saw that he could wrap one of his hands almost all around her stomach. It looks like Lesner is going to destroy Undertaker at Unforgiven, and I'm fascinated.

Now I see what the altercation between Eddie and Edge was all about. I must say, hitting someone in the nuts isn't a good way to endear yourself to them ...

As for the Godfather ... eh, could be worse. Could've been the Big Bossman.

SD! rocks. Now if only Heyman would start writing RAW, too ...


---

"Master! Sir! Did you see my MAD SKILLZ?!?"
-Hammer, Xenogears

"Hey, hey, hey, Rock!"
-"Mizark" Henry
tomvejada
Andouille



Since: 2.1.02

Since last post: 5410 days
Last activity: 5410 days

#26 Posted on
Random Smackdown Thoughts:
Was I the only one that noticed that Sara looked a lot like Steph last night.
I think that Chavo Guerrero is the most underrated wrestler today.

Lesnar-Holly was sloppy but alright.

Another hilarious promo by Angle. Angle-Mysterio was very good.

The wedding was better than I thought. I even didn't mind the Godfather there. The ending was one of the best things I've seen in the WWE this year. I liked how the faces and heels chased the Island Boyz out.

Anyone getting deja vu from Angle tending to Steph.

Torrie looked hot last night.

I liked the ending with Heyman talking to Sara and Taker pushing him and Lesnar hitting Taker from behind with a chair. I also liked Lesnar saying "Life's a bitch" to Sara.
I like the setup to Lesnar-Taker.

Overall, a very good Smackdown.


---

"I just got pinned by a friggin twelve-year-old."

Kurt Angle

The Goon
Banger
Moderator



Since: 2.1.02
From: Calgary, Alberta, Canada

Since last post: 225 days
Last activity: 199 days

#27 Posted on
Does anyone have a screencap of Bischoff in full disguise mode? WWE.com only has the metamorphosis. I'm trying to explain this all to a buddy who missed it.
Mr. Heat Miser
Blutwurst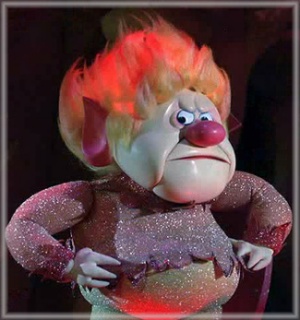 Since: 27.1.02

Since last post: 3881 days
Last activity: 1983 days

#28 Posted on
Originally posted by Fuzzy Logic

---

I thought that MISSION IMPOSSIBLE BISCHOFF~! was channeling the dude who played Zecki, the Head Greedy Ferengi in charge of GREED on DS/9, who also played the sicilian in The Princess Bride. With the weird voice and all.


---


INCONCEIVABLE!

"I don't think that word means what you think it means."

(Wallace Shawn as the Sicilian and Andre t. Giant as Fezzig)


---

Everything I touch, starts to melt in my clutch........
I'm too much!
skorpio17
Morcilla



Since: 11.7.02
From: New Jersey

Since last post: 3745 days
Last activity: 3745 days

#29 Posted on
A great Smackdown to contrast all the bad Raws. Did Michael Cole really say he doesn't watch Raw? What a tool.

Opening the show with Brock is good, not bad. Non-fans who read all of the pre-wedding hype(the media is full of such morons that they really thought they'd see a gay wedding...Suckers)got suckered into watching the show thinking they'd start off the whole show with a wedding. Instead they got to see Brock before they got up to change the channel. They weren't familiar with the new kid, but they got to see him. Good Move!

Angle and Mysterio got overlooked at Summerslam, but this match gets props.

The wedding was long and sappy just like it was supposed to be. The crowd would've popped for anyone to interupt. The Godfather is a very good entertainment character. Let's not forget how over he was when he got the IC belt. He can be that over again. I knew from the start they had a phony minister looking like Ted Dansen in 3 Men and a Baby pt. 2 or Nash as Arn retiring. Bischoff did great overacting. The set-up was great with Rico orchestrating the whole thing. Finally good writing that understands logical plot development and foreshadowing.

I love the whole Three Minute gimmick even if the crowd was slow to catch on to it. At the next PPV, lets see a special "Three Minute" match between Billy & Chuck and Rosie & Jamal. If B&C win, they get 3 minutes in the ring alone with Bischoff. If Rosie & Jamal wins they get 3 minutes alone with Steph.
OlFuzzyBastard
Knackwurst



Since: 28.4.02
From: Pittsburgh, PA

Since last post: 400 days
Last activity: 377 days

#30 Posted on
I kinda thought Bischoff looked like Robin Williams as Mrs. Doubtfire.

Still, that was a great show they put together, and hopefully will be enough to keep casual viewers who will tune in to see the very hyped-up wedding tuning in week after week.


---

"The only difference between lilies and turds are those humankind have agreed upon, and I don't always agree."
---George Carlin

"Those who dance are considered insane by those who can't hear the music."
---Anon.
Bishoplaud
Haggis



Since: 11.9.02
From: Darkest Michigan

Since last post: 5194 days
Last activity: 4543 days

#31 Posted on
I thought the wedding was a brilliant payoff to the whole thing, and most of the rest of the show was great too. It just seems to me, though, that as the champ, Lesnar should be in a much more up-front role than he is now. Opening against Bob Holly?? I just hope that at Unforgiven he isn't made to look at all weak against 'Taker. His actual confrontation with UT was awesome, I just have vague fears about the PPV. That point aside, SD was GREAT last night!

(edited by Bishoplaud on 13.9.02 1030)
Dr Unlikely
Liverwurst



Since: 2.1.02

Since last post: 64 days
Last activity: 14 hours

#32 Posted on
I wish Booker, Goldust, RVD and Regal could come over to SmackDown for a special visit and decide to stay, and then Bischoff could switch places with Stephanie. SmackDown, you're so much better than Raw!

The Angle/Misterio feud, in ring, is as good as I'd hoped. I know a few people weren't nuts about the ending of this match, but I think it really plays into the in-ring story they've told in both matches (and I hope they start telling out of the matches, too) where Angle, who comes from a non pro-wrestling background, is unfamiliar with Misterio's offense and can't find a way to get control of the match. Misterio finds counters to all of the moves that Angle has found successful, thus keeping Angle on defense and looking for that one spot where he can finally stop Misterio and put him away.

It's a nice update on the little guy vs. big guy match, where it's usually the super fast little guy running around the super slow big guy, and the drama is that if the big guy catches him, it's over. Here, Angle's almost as fast as Misterio, but when he does catch him, it's like that Road Runner where Wile E. Coyote catches the giant Road Runner and holds up the "What do I do know?" sign. Even when he has Misterio, he can't hang on and put on the moves he knows will do the trick, like the Angle Slam or the Ankle Lock. So we keep seeing Misterio find ways out of the Rolling German Suplexes or doing that absolutely incredible counter to Angle's over the should throw where Misterio landed on his feet on the top and immediately countered with Angle's big top rope move, the Moonsault. That was awesome.

But then Angle, who's already had a great match with Misterio and has been in the ring with him before that, figures things out and finds a spot where Misterio leaves himself open at the top, so Angle can just get in to nail the top rope Angle Slam.

I really hope they keep building the angle with Kurt being frustrated that he doesn't know how to deal with Misterio's style because it's not something he's familiar with, and he decides to look into lucha. I think the great SmackDown could only be better with segments of a flabbergasted Angle watching lucha tapes and seeing guys with "freakin' horns on their heads" or "that guy's a freakin' skeleton!" and maybe breaking out the Patriot mask and trying to pass himself off as a master of Misterio's art.

The belly-to-belly suplex where Rey flips all the way over and lands on his chest is terrific, too. It was actually kind of cooler when Chavo did it to him in Misterio's SmackDown debut, just because it looked like it might have been unintentional.

Speaking of Chavo, if you take out the ass-cest post-match ending, the Guerreros vs. Edge/Cena match was great, too. Both Guerreros are tremendous when they get to do their thing. The only shame of this is that, after having the tag belts on the wrong show for so long, they finally move them and once again manage to have the best possible tag team on the show with no tag titles. I still like Booker and Goldust as a team, but Eddie and Chavo could be the Team of Edge & Christian-like heel tag team they need to make those belts big again. But even if there aren't belts, I'd be happy to see matches like this every week with the two of them being all great and Edge being one of the best face-who-gets-beat-up they have now.

I realized, eventually, that Cena's tights were Viking-themed, but before that clicked, I thought he just had some weird obsession with peanut butter and jelly or something. That was really disconcerting. They need to explicitly make Cena's fascinating attention to his wardrobe part of his gimmick (which is to say, he needs something, anything for his character). They could have him go into detail explaining his decision for the night and show us the full collection of his crayola gear. He should probably get rid of the PB&J combo, though.

You know who else is cool? Matt Hardy. I like the new Hardy, and his personality is starting to crystallize more. He appeared to be a bad guy pretending to be a good guy at first, but now he seems like a good guy who just screwing up and being an ass. Kinda like the original take on Angle when he came in, a guy who truly believes he means well but just makes everyone around him miserable.

You know who else is cool, too? Jamie Noble. So, SmackDown, even though you're my friend now, you need to do something here. I don't know what Noble's doing or not doing on Velocity, but he should get to do a lot more on SmackDown and have feuds over his belt there and remind us that, without the belt, he'll starve. This is the one area I'd like to see them tighten up a bit where they can actually do it (they can't really do anything about Brock's post-SummerSlam momentum being killed by that first Raw and the shitty Raw Title angle).

Oh, and the wedding. Well, I'll say this, there were two problems with it. First, getting all that extra media attention and having GLAAD take notice and then having them come out and say it was a publicity stunt probably wasn't the best idea. But, ya know, what's done is done and it's not that big a deal. I think they really could have gone for it, though, and had Billy realize that he DOES love his friend Chuck. The early parts of the ceremony, with Billy giving that "Aw, that's why I'm marrying this guy!" look to Chuck when Godfather was talking about Chuck sleeping around a lot, that was the best Billy's ever gotten into a character. Ah, c'est la vie.

The other problem was a logic problem I had watching when it broke down. Maybe I'm missing something here, it's highly possible, so feel free to point out my stupidity, but I couldn't figure out just how Chuck and Billy expected it to end in the first place, if it was a stunt. They never bothered to ask Rico where it was going or how they were supposed to finish the bit? And what would Rico have done if they DID go through with it? Told Bischoff not to attack?

But anyway, anyway, looking past all that and how it ended up going down? I never thought it would be the case, but it was pretty cool. Bischoff continues to be one of their best characters. That quick incidental shot of him, still in disguise (as mentioned in a post above, he indeed looked like Akroyd in the worst movie ever made, "Nothing But Trouble") old-man-dancing around to It's Raining Men? Hilarious. The first line where he dropped his fake voice (I do wish I hadn't known what was going to happen and wonder if I'd have been able to tell from the voice) and went into the normal Bischoff voice? Cool. The beatdown was cool and Rico will make a good assistant for Bischoff, and anything to help Raw is a plus.

Then they briefly had some nice nods to continuity, with the pseudo-defunct team of Edge, Misterio and PB&John Cena running the Raw people off and Angle checking on Steph. Of course, they had to have D-Von right up in the camera, which made me remember that he was ordered to be at ringside for the wedding last week, wasn't he? Ah well, the big good there outweighed that little bad.

And that's SmackDown for you, in a nutshell - the good is so good that the bits of bad or missed opportunities don't matter much. Cool show. Imagine how even more cool it could be if Brock was still on that "I killed Hulk and Rock" roll that he had when SummerSlam ended.
vsp
Andouille



Since: 3.1.02
From: Philly

Since last post: 4369 days
Last activity: 624 days

#33 Posted on
Originally posted by Dr Unlikely

---

I really hope they keep building the angle with Kurt being frustrated that he doesn't know how to deal with Misterio's style because it's not something he's familiar with, and he decides to look into lucha. I think the great SmackDown could only be better with segments of a flabbergasted Angle watching lucha tapes and seeing guys with "freakin' horns on their heads" or "that guy's a freakin' skeleton!" and maybe breaking out the Patriot mask and trying to pass himself off as a master of Misterio's art.

---


This would ABSOLUTELY RULE.

Someone needs to send Angle and the writers a comp tape of some truly over-the-top gimmicks and antics. We NEED to see Angle react to Alushe, if nothing else.

(Dr. Wagner Jr. throwing a kitten out a window, Dr. Cerebro's exposed-brain masks, the Power Raiders, Antichristo...)


---

"No society has managed to invest more time and energy in the perpetuation of the fiction that it is _moral, sane and wholesome_ than our current crop of _Modern Americans_."
-- Frank Zappa
Net Hack Slasher
Banger



Since: 6.1.02
From: Outer reaches of your mind

Since last post: 4925 days
Last activity: 3345 days

#34 Posted on
I don't think it was the best show but it was a good show. Again much better then Raw.

-Brock v. Bob Holly- This match was really really sloppy. I mistimed powerbomb and dropping Holly on his head. I badly timed and executed forward role for a 2 count. Not to sound bitter but if it was Trish/Vicki that spotlight on these type of errors would be On stronger. Kinda strange, holding green women up higher then the world champ. Oh well I'll move on.

-Edde/Chavo v. Edge/Cena- The match was actually really good. Unfortunatly the aftermath of sticking people faces in peoples asses isn't. I got a sense of humor I swear I do, I just don't find this ammusing at all.

-Angle v. Mysterio- Angle plays with boys (wow stinkfaces, playing with boys and we haven't gotten to the "gay" part yet..lol) Great match, Mysterio jump over Angle and landing feet first on the ropes was cool as hell. I thought the finish was great too a superAngleSlam from the top!

-Benoit v. Rikishi- Now that piece of crap Bradshaw is out of the picture with an injury. I think Rikish is now the biggest piece of crap on TV. Oh great another stink face.

-It's wedding time- I liked Rico backstage being all nervous about the wedding, I like Rico period (that's right learn to live with it boys.lol) It's Raining men was a good selection. Old Man Bischoff looked and sounded awesome, I even give Steph credit in selling the old man voice, and again the commentators did a good job in Tazz *sighing* whenever Old man opened his mouth and Coles "With this guy this ceremony is going to take all night". Not totally pleased with Godfather coming back (If he does Rikishi got competition in the piece of crap department)... Bischoff under the makeup and 3 minutes was PERFECT. Notice that the fat boyz went pretty safe on Steph unlike the midgets and women they attacked in the past. I do not get why all of a sudden make them "not gay" anymore, I think they could still make it cool with Eric ruining the ceremony.

-Torrie v. Nidia- quick short kicking punching match. Is Torrie's finisher a neckbreaker. I was thinking it's just setting up but it hit the 3 count.

Matt Hardy v. Undertaker- No real match happened either here. But I am digging Matt's new Mattitude. Where the heck did Matt find a personality?

Smackdown was better then Raw, and it really is amazing that how the announce team is so much better then Raw's now. Even Cole give out a few good lines like "With this guy we are going to stay all night" talking about old man Bischoff and "I don't watch Raw".






---

WWE new slogan "WWE: circling the drain"
Ringmistress
Lap cheong



Since: 15.1.02
From: Philly

Since last post: 4011 days
Last activity: 4010 days

#35 Posted on
All I got to say is, it's raining men. Nice job WWE, please, please, PLEASE keep it up on RAW.

Ringmistress


---

Ringmistress - A bitch among heels.
Scorpio
Boudin rouge



Since: 18.2.02
From: Laurel, MD, USA

Since last post: 5200 days
Last activity: 5152 days

#36 Posted on
Originally posted by Dr Unlikely

---

I really hope they keep building the angle with Kurt being frustrated that he doesn't know how to deal with Misterio's style because it's not something he's familiar with, and he decides to look into lucha. I think the great SmackDown could only be better with segments of a flabbergasted Angle watching lucha tapes and seeing guys with "freakin' horns on their heads" or "that guy's a freakin' skeleton!" and maybe breaking out the Patriot mask and trying to pass himself off as a master of Misterio's art.

---


It's true, that would rule in a major way. However, it won't happen, except in some Bizarro-World parallel universe, where Vince McMahon acknowledged there is wrestling outside the WWE.



---
PMMJ
"Nothing remains interesting where anything may happen." -H.G. Wells
"Show me the country in which there are no strikes and I'll show you that country in which there is no liberty." -Emma Goldman

Faust
Salami



Since: 27.7.02

Since last post: 5720 days
Last activity: 5665 days

#37 Posted on
To comment on what CuelAngel1777 said about the way the crowd responded, specifically that it may have been "anti-gay" -

I take the crowd response with a grain of salt, because:

A) B&C were heels

B) Steph and Test also got "Just say NO" chants - and they were even popular faces.

c) Most importantly, for some reason, it has been my experience that whenever a group of heterosexual men come into contact with something or someone who is homosexual, they seem to have a subconscious urge to "prove" their heterosexuality in some way. Is it insecurity? Probably. All I know is that I have otherwise perfectly rational and comfortable friends who now and again seem to feel the need to be "obviously heterosexual" when I'm around. Again, it probably stems from some insecurity . . .whatever . . . I don't take it personally, however, because I understand it is not "anti-gay," otherwise they wouldn't be such close friends to me.

D) Also, bear in mind that if you had two closet gay men declare their homosexuality in a sea of gay men - you'd get pretty much the same response, so make of that what you will.

As far as how WWE handled the whole ceremony - well, I have to admit it wasn't exactly what *I* wanted to see, but then I'm sure my opinion is different than most people's opinion on this subject, and hence, what WWE did was best for business. I didn't really find anything actively offensive, and despite being a little dissapointed, I must admit that I still got some laughs out of it, and finally the WWE has provided a VERY satisfying conclusion to a long storyline.

Nice job, WWE.
---

"And in front of the entire world, I want to show my little boy that sometimes - just sometimes, you have to FIGHT to be a man." - Michael S. Hickenbottom, the man who does not take part in angles that conflict with his religion, swearing violent revenge on HHH in full view of his two-year-old son. 11:06 PM, EST. 08/05/02. This angle, which has gone from being a "clean" wrestling match to an all-out unsanctioned street fight for bloody revenge is apparently sponsored by the book of Joshua.

Pages: Prev 1 2