Gavintzu
Summer sausage



Since: 2.1.02
From: Calgary ... Alberta Canada

Since last post: 4782 days
Last activity: 4782 days

#1 Posted on | Instant Rating: 0.00
Best. Smackdown. Ever.

Okay, maybe not ever, but probably ...

Best. Smackdown. SinceAustinVs.BenoitinEdmonton.

I could watch Angle and Rey fight every week from now until January. Dissention in the Guererro household means Eddie vs. Chavo next week! Stinkface on Benoit means Angle/Benoit at Unforgiven! The commitment ceremony went THREE MINUTES too long! Both Lesnar and Undertaker were hungry for some squash! Torrie Samuda in a nice pink outfit!

How can RAW be so bad while Smackdown is so good? (Heyman is the best wrestling writer on the planet?) Yeah. "Life's a beeeitch!"





---

I can't go away with you on a rock-climbing weekend.
What if something's on TV and it's never shown again?
Promote this thread!
The Goon
Banger
Moderator



Since: 2.1.02
From: Calgary, Alberta, Canada

Since last post: 497 days
Last activity: 445 days

#2 Posted on
Wow.

Best.Wrestling.Segment.Ever.

That wedding, from start to finish, was just done brilliantly. I'm so happy I didn't look at the spoilers, because I was jumping up and down on the couch with all the swerves being thrown around. Of course, the best part was Chuck "enjoying the hefty ladies."

What a great show!
Bullitt
Shot in the dark



Since: 11.1.02
From: Houston

Since last post: 1238 days
Last activity: 1238 days

#3 Posted on
Was that Bischoff, was that or Dan Aykroyd redoing that wacky judge character from "Nothing But Trouble?"


---

"I never felt uncomfortable, even with my clothes off
Chillin' so hard my ass almost froze off"

- Buck 65 "Pants on Fire"

www.Gordie.ca
rockdotcom_2.0
Frankfurter



Since: 9.1.02
From: Virginia Beach Va

Since last post: 2497 days
Last activity: 62 days

#4 Posted on
Am i missing something? Its 9:17 EST and Billy and Chuck aint even in the ring yet.....


---

When a chicken in this neighborhood gets angry, it will chase you down...
Gavintzu
Summer sausage



Since: 2.1.02
From: Calgary ... Alberta Canada

Since last post: 4782 days
Last activity: 4782 days

#5 Posted on | Instant Rating: 0.00
rockdotcom2.0 asks:
---

Am i missing something? Its 9:17 EST and Billy and Chuck aint even in the ring yet.....

---

Canadians get to watch Smackdown an hour earlier than Americans! All the while drinking strong Canadian beer! Canada rules!

Edit: Hmmm, my original post was a spoiler. But if you don't want Smackdown spoiled, don't click on a post titled "Smackdown thoughts" I guess.

Edit II: Bullitt asks:
---

Was that Bischoff, was that or Dan Aykroyd redoing that wacky judge character from "Nothing But Trouble?"

---


Aw, man. I've never been a huge Demi Moore fan, but she wore a little white outfit throughout that entire movie that was hotter than when she was naked in Striptease. Her finest 100 minutes on film. Am I going to have to make a Blockbuster run to rent a shit movie like Nothing But Trouble? That is so sad.


(edited by Gavintzu on 12.9.02 1825)


(edited by Gavintzu on 12.9.02 1846)
---

I can't go away with you on a rock-climbing weekend.
What if something's on TV and it's never shown again?
The Goon
Banger
Moderator



Since: 2.1.02
From: Calgary, Alberta, Canada

Since last post: 497 days
Last activity: 445 days

#6 Posted on
Ah crap, sorry America. We get the show an hour earlier up North.

(flitting off until 10pm)
Markme123
Polska kielbasa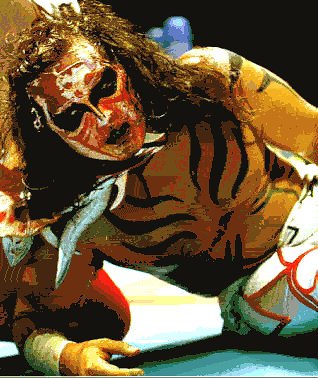 Since: 7.1.02
From: San Jose, Cali

Since last post: 5642 days
Last activity: 5351 days


ICQ:
#7 Posted on
Post written at 6:35 pm PST

I read the spoilers after a conversation with BrewGuy. It sounds like a hilarious segment. (still about an hour and a half way from the start of the show)


---
"We can't bust heads like we used to, but we have our ways. One trick is to tell them stories that don't go anywhere. Like that time I took the ferry over to Shelbyville; I needed a new heel for my shoe. So, I decided to go to Morganville, which is what they called Shelbyville in those days. So I tied an onion to my belt, which was the style at the time. Now, to take the ferry cost a nickle, and in those days, nickles had pictures of bumblebees on them. "Give me five bees for a quarter," you'd say. Now where were we? Oh yeah, the important thing was that I had an onion on my belt, which was the style at the time. They didn't have any white onions, because of the war; the only thing you can get was those big yellow ones..." -Abe Simpson
WhoBettahThanDeion
Bockwurst



Since: 4.1.02

Since last post: 6300 days
Last activity: 6136 days

#8 Posted on
Hey Yo...

Classic. I don't care what anyone says, I was five years old again! I'm glad I didn't read the Spoilers because it was PERFECT! Period!


---

Zen and the Art of Motorcycle Maintenance
Santa Sangre
Bockwurst



Since: 21.6.02
From: Germany

Since last post: 1244 days
Last activity: 1244 days

#9 Posted on
Angle-Rey rocked the casbah. Those two can both carry people to good matches, so put them together and damn they're good. And Angle reprising his role as dorky young boy loving guy was awesome.

Brock curtain jerking the show should really tell you how much his stock has fallen in the last while. Yeah, I really can't wait for his match with UT, um hooray.

Even though I knew what happened for the wedding ceremony it was still sweet. BnC are really going to be over as faces now, and I actually would like to see them face The Three Minute Boyz.

How's about for Survivor Series, since they're really building up this cross brand thing now with the wedding fiasco, Wee sets up this match. Title unification Survivor Series style. 4 Raw guys against 4 Smackdown guys with the Ultimate Survivor uniting the titles.




---
---
My shit list for the week of September 8-15.
1. The whole offensive line
2. John Howell - Learn how to friggin block.
InVerse
Boudin blanc



Since: 26.8.02

Since last post: 518 days
Last activity: 481 days

#10 Posted on
Originally posted by Santa Sangre

---

Brock curtain jerking the show should really tell you how much his stock has fallen in the last while.

---


Yeah, it tells me that the WWE realized that a lot of new people would be tuning in to the show, so why not start out by showing off their new champion whom nobody outside of wrestling knows about yet? Seemed like a great strategy to me.


-InVerse
insideSOLUTION
Chorizo



Since: 3.1.02
From: toronto, ontario, canada

Since last post: 6273 days
Last activity: 5727 days


ICQ:
#11 Posted on
woo, that was a pretty damn good show.

brock - holly was eh.. not bad, not great. just sorta there. the botched powerbomb was SICK, though. but the match.. well, it was a match.

i missed most of guerreros vs e&c, but what i saw was alright. i'm still very sick of the whole beat-down-the-face-oh-look-a-hot-tag! formula, but when you get the guerreros and edge in there, it can never be *too* painful. maybe we'll get an eddie - chavo match. SCORE.

i'm diggin' matt hardy more and more each week. "someday i'll have a little matt hardy.. version 2!" haha.. the whole thing just made taker look like sort of a really big asshole, though. but eh, whatever.

rey - angle.. MORE MORE MORE, that match was bitchin'. i just caught the summerslam match on tuesday night, and that was really good, this one wasn't quite up to that level, but it was really good for a tv match. OH AND the pre-match micwork from angle was hilarious, i was on the floor.

i missed benoit - rikishi, because i was dubbing the angle - rey match onto my *best of the wwe september - october* comp. didn't look like i missed much, though. i did catch the stinkface, and angle's reaction.

the wedding.. well, i knew what was going to happen, and eventually (geez, the whole thing was a bit TOO long, no matter how good it ended up being) when it happened, i still went nuts. i had a big smirk on my face through the whole thing, too. i watched it with my less-informed younger brother (who, unlike me, didn't read the spoilers), who was laughing his ass off at bisch as the old man.

i missed torrie - nidia, because i blinked.

matt - taker was just a squash, but brock coming down with him was a nice touch, and the ending of the show.. well, i was thinking that brock was going to say "congratulations." to sara (about the kid), but "life's a bitch." will have to suffice, i guess.

all in all, it was a pretty good show. i think i'm digging the raw vs smackdown thing more than i was digging the invasion! insanity! let's hope they don't screw it up.
The Goon
Banger
Moderator



Since: 2.1.02
From: Calgary, Alberta, Canada

Since last post: 497 days
Last activity: 445 days

#12 Posted on
I think I'm going to avoid spoilers from now on, because it really heightened my enjoyment of the show, and not just in the wedding angle.
Ana Ng
Blutwurst



Since: 6.8.02
From: Naples, FL, USA

Since last post: 5753 days
Last activity: 5326 days

#13 Posted on
Brilliant! Outstanding!

My boyfriend read the spoilers a couple days ago, and since then he'd been saying over and over how cool the show was going to be. I'm telling you, it was driving me crazy. But I resisted and didn't read the spoilers. And oh, it paid off!

Everything on the show was fantastic, top to bottom. And the wedding.. well, that was the perfect way to end it. I *completely* couldn't tell it was Bischoff, but I kept commenting the whole time "What the hell is UP with that minister??" I feel like a marky mark mark. And I love it.

Matt Hardy rules all. So does Rey, Brock, and especially Kurt.

This definitely makes up for what we had to suffer through on Monday.


---

As soon as you're born you start dying, so you might as well have a good time.
mskj
Summer sausage



Since: 10.1.02
From: Tennessee

Since last post: 2884 days
Last activity: 2643 days

#14 Posted on
Great show. Matt Hardy was awesome, and I can't belive I typed that. The wedding was classic, classic stuff. Perfectly played by all involved. If only Raw could catch up with this show.
Mr Heel II
Lap cheong



Since: 25.2.02

Since last post: 363 days
Last activity: 99 days

#15 Posted on
Chavo gets the quote of the night with "I wiped! I wiped!"

The wedding was every bit as brilliant as it sounded in the spoilers. Bischoff was brilliant (never thought I'd say THAT.) That was just fabulous.

Angle and Mysterio were great again. Angle on the stick with the accidental gay references wasn't his best timed work ever, but it was still the best promo on the show.

If RAW has to be as bad as it is in order to satisfy Vince and get him to leave Smackdown alone, I'll sacrifice RAW to keep Smackdown going as is.
Quezzy
Scrapple



Since: 6.1.02
From: Pittsburgh, PA

Since last post: 380 days
Last activity: 379 days

#16 Posted on
Oh come on now! Nobody knew that the minister was Bischoff all along?? As soon as I heard him talk I said, man that old minister sure sounds a lot like Bischoff. And then the whole thing earlier with the limo that was for the wedding which was obviously some big surprise since we didn't get to see who it was. Then for some reason Rico begged Steph to be in the wedding. I thought it was pretty obvious it was a setup. It was still entertaining, but i wasn't surprised one bit.



---

Lance's Response:

THAT IS AWESOME!
RKMtwin
Boudin rouge



Since: 1.3.02
From: Denver, Colorado

Since last post: 4099 days
Last activity: 3542 days

#17 Posted on
A thought about the wedding--

I thought the wedding angle was well done, but I guess what had me shaking my head about it was the resoundingly anti-gay crowd response (I mean, after all, how ELSE can you classify the Target Center crowd's reactions?) Only when they started dropping in the hints as to Rico's heelishness, such as the more embarassing moments of the Billy & Chuck tag team being shown in the highlight film and Billy's shifty eyes, did it seem like the crowd was starting to get it.

Boy, It makes me wonder how far our society has actually come along. So Rico was the heel the whole time. (Maybe I haven't watched SD! enough over the last couple of months to catch the hints) So this whole thing was an angle. But the crowd reaction? Man, that really disappointed me. Yeah, I know it's not real. The crowd reaction was, though.


Good matches and intrigue made for a DAMN good episode of SmackDown! Kudos, WWE.




---

David Crockett sez it best, folks: "Look at 'im, Tony! Look at 'im!"
Fantomas
Polska kielbasa



Since: 23.2.02
From: New York

Since last post: 6309 days
Last activity: 4905 days

#18 Posted on
I read that deadbeater post where he accidentally spoiled what happened, and I think that has colored my opinion of the show. Usually I'm not uptight about spoilers but god damn I wish I hadn't read that.

Brock vs Holly: OK the match was not bad but why the hell is the champion in the curtain jerker? What the hell is that? This is like when Big Show had the belt and defended it halfway through raw every week. Brock is not the Big Show, I am happy to say.

Also about Brock - he is getting cheered and I think it is a mistake to try to force the fans to boo him by having him threaten a pregnant woman. I really don't think that will make the fans boo him, anyway. They made their choice. Brock is like Goldberg without the total squashes. HEYMAN is the heel.

The tag match was good. Edge needs something... a crowd popping signature move and a catchphrase, maybe. Easier said then done, I guess.

Angle/Mysterio was the shit.

Nidia/Torrie - I was disappointed they put Torrie over there. Why? Does Torrie have more training than Nidia (Doesn't LOOK like it). Will this win ever amount to anything? Does anyone want to see Torrie stumble through a match with Molly for the women's title? I think Molly and Nidia make great opponents because they are complete opposites.

The Wedding - I have mixed feelings.. On the one hand, it feels like a big cop out to completely bail on the gay wedding. Instead they used the publicity as an attempt to try to get everyone into the brand extension... But on the other hand, it was pretty damn cool. I read the spoilers and bischoff STILL fooled me. Could have done without the singers though.

But here's my beef with the brand extension - What are they fighting for? What is their goal? How does Raw or Smackdown "win" this war?? That was my same problem with the invasion. How can they NOT explain this?

I think Matt Hardy's new gimmick kicks ass. I think he should change his name to "Version 1". And wow Taker way to give him the rub. What a locker room leader!

Oh yeah, where was Funaki?!? Am I the only one who enjoys his antics?

Overall, pretty good stuff! Hopefully this doesn't mean Raw will feature Stephanie's revenge, because that will just guarantee another shitty raw in a long line of shitty ass raws.

Fuzzy Logic
Summer sausage



Since: 31.3.02
From: Happy Valley - Goose Bay, Newfoundland and Labrador, Canada

Since last post: 5133 days
Last activity: 4857 days


ICQ:
#19 Posted on
I thought that MISSION IMPOSSIBLE BISCHOFF~! was channeling the dude who played Zecki, the Head Greedy Ferengi in charge of GREED on DS/9, who also played the sicilian in The Princess Bride. With the weird voice and all.

Sadly, I was asleep for most of smackdown (trying to sleep off the evil pain of evil wisdom teeth comin' in, and putting off going to the dentist), and only got to see the last bit of the wedding. Which means I missed the singing of Raining Men. And damn, that last bit with Sarah & Brock was creepy.
ICEMAN
Landjager



Since: 23.5.02
From: Nashville,TN

Since last post: 3791 days
Last activity: 3480 days

#20 Posted on
My Smackdown! thoughts now with extra Mattitude!!!!!!


Brock v. Hardcore Holly:Good match, but why is Brock jerking the curtain?
The screwed up powerbomb into Gansobomb was awesome though.


Edge/Cena v. Guerrero/Guerrero Jr.:
Good match but Cena's tights UGHHH,I wonder if he come to Nashville if he'll wear Navy and Powder Blue tights.

Eddie getting the "incest" stinkface was hilarous especially after the match.

"I wiped,I wiped" is the greatest line ever to be uttered on Smackdown!


Matt Hardy gives the name Matt a good name,wait,that didn't make any sense I meant that Matt Hardy is good name for people named Matt,NO AHH SCREW IT,you know what I mean.

Kurt v. Rey-Rey:An awesome match with a great finish.Rey carried they whole match and it was awesome.I love you Kurt and Rey-Rey,wait,I didn't mean to type that I was thinking it,OH SHIT!!,Don't admit your thinking it,OH CRAP!!,I didn't mean to say that.

Angle's promo:Everyone loves accidental gayness followed by real(FAKE!) gayness.


"The Commitment Ceremony":
Brillant,just fricking brillant.I loved every minute of this,all 12 million.It was awesome.

Torrie v. Nidia aka Torrie Samuda v. Everyones Favorite Redneck Princess:
No (K)Noble,Eh,but at least Torrie is wearing a tight Neon Pink dealie.See I'm not gay,I like women.(Brain: If so why do you keep bringing it up)

Me:Shutup!!!,Brain.


MATT!!! Hardy v.Undertaker: Taker in kinda a sqaush but who ever thought MATT!!! would be main-eventing with Taker? I didn't.


SaraTaker/Paul E. Heymanously/Taker/Brock Segment(In order of appearence): "Lifes a Bitch"? What the hell does that mean? Is he kinda calling Sara a bitch?


Overall a great show and god I spent too much time writing this.









---

Rebecca: Oh,face it,you just hate everybody.

Enid: That's not true.I just hate all these
extroverted,obnoxious,pseudo-bohemian losers.

---Ghost World


"May the schwartz be with you"
Pages: 1 2 Next