Hurrikane757k
Salami



Since: 20.1.04
From: Fairfax, VA

Since last post: 4991 days
Last activity: 4089 days

#1 Posted on | Instant Rating: 4.08
From pwinsider.com:

*The Dudley Boyz defeated Rico and Charlie Haas to win the WWE Tag Team championships. Bubba Pinned Rico with his feet on the ropes. Haas had bumped Jackie Gayda off the apron and was checking on her outside of the ring during the pin.

*At the ramp, Paul Heyman greeted the Dudleys. After commercial, Heyman did a long interview explaining that at the Great American Bash PPV, it would be The Undertaker vs. The Dudleys in a handicap match. Heyman explained that "The Undertaker's conscience" (Paul Bearer) would be sitting inside a glass "crypt" for everyone to see at the PPV and if Undertaker didn't do the right thing, they would fill the crypt with cement. They had a coffin and cement truck for visual effect.

*WWE champion cut a promo in the ring, challenging John Bradshaw Layfield to come out. Instead The Bashams came out, telling Eddie they have unfinished business. This led to...

*WWE champion Eddie Guerrero pinned Doug Basham.

-Backstage, John Cena came to Kurt Angle's office. Angle tells Cena that later tonight, he will have to team with Rob Van Dam vs. Rene Dupree and Booker T. Angle also said the Great American Bash 4 way will be an elimination bout.

-Backstage, Funaki (dressed like Cena) does a battle rap with John Matthews. Funkai makes fun of Kurt Angle. Angle tells Funaki he will face Luther Raines.

*Kenzo Suzuki pinned Spike Dudley.

*They aired news footage about John Bradshaw Layfield being fired by CNBC. Layfield cut a promo in the ring saying that CNBC never called him, and that American media stinks because it focuses on the negative. Eddie Guerrero came out and brawled with Layfield.

*Rey Mysterio pinned Chavo Classic to win the WWE Cruiserweight championship in a short match. Classic hugged Chavo Guerrero in the ring after the match.

-Backstage, they showed Luther Raines preparing for his match against Funaki.

*Luther Raines pinned Funaki. Raines warned that anyone who messes with Kurt Angle and has to go through him. Angle comes out and made Raines beat down Funkai.

*Torrie Wilson comes out dressed like Uncle Sam promoting the PPV.

*Backstage, Booker T is interviewed by Josh Matthews, saying he got screwed out of beating John Cena last week. Rene Dupree warned Booker that he better have Dupree's back tonight.

*Rob Van Dam & John Cena vs. Booker T & Rene Dupree - Cena and RVD ended up fighting during the bout after clearing the ring of the heels. The lights go out and Undertaker appears and is in the ring. He tombstones Cena. Paul Heyman and The Dudleys come out. It appears the show ends here.

After the show ends, The Dudleys try to shake Undertaker's hand. John Bradshaw Layfield comes out and after some banter, ends up chokeslam.

Interesting how they shift the focus of the program from the Eddie/JBL feud to the Taker/Dudleys program after the Germany incident... I am a little surprised that they took the tag belts off of Rico and Haas, although with their supposed match at the GAB being against the Chavos, Classic getting fired screwed that up.

So... 3 matches announced so far for the Bash:

- Eddie/JBL
- U.S. title match
- Taker/Dudleys

Wow.
Promote this thread!
Phantom
Frankfurter



Since: 17.3.02

Since last post: 3928 days
Last activity: 3905 days

#2 Posted on | Instant Rating: 3.06
I'm actually surprised and impressed that Classic did that one last match to drop the belt. I worried that this would be like the time that X-Pac had the Light-Heavyweight belt and then just disappeared with no on-camera excuse given.

And it's nice to see that the four-way will be an elimination match, as that'll add a nice change of pace to the usual "Champ never gets pinned" scenario.
redsoxnation
Scrapple



Since: 24.7.02

Since last post: 2032 days
Last activity: 2032 days

#3 Posted on | Instant Rating: 5.34
Even if the Chavos were going to face Haas/Rico for the tag titles, why take the belts off of Haas/Rico and go to the Dudley default position?
For a World Champ, Eddie seems to have many non-main event matches. And, wouldn't it make sense for Eddie to have a bullrope match against the Bashams in order to demonstrate that he is capable of working with the stipulation?
If it can be presumed that the top 2 matches at GAB are The Dudleys vs. Taker and Bradshaw vs. Eddie, that means 4 of the 5 top guys will be the 'locker room leaders'.
Surprised they actually let Chavo Classic have a match.


---

What's the difference between Sidney Ponson and a bucket of shit? The bucket.
Freeway
Scrapple



Since: 3.1.02
From: Calgary

Since last post: 1858 days
Last activity: 1546 days

#4 Posted on | Instant Rating: 6.16
It's odd, but it seems that every RAW main event has some combination of Benoit, HBK, HHH, Randy Orton, Shelton Benjamin, Eugene & Edge. Most Smackdown main events are the Dudley Boyz, RVD, Rey Mysterio and Bradshaw. Strange.


---

2004 CALGARY FLAMES:
42-30-7-3 in 82 games for 94 points in the regular season
15-11 in 26 games in the playoffs
2004 Western Conference Champions

DVDs I Own
Hurrikane757k
Salami



Since: 20.1.04
From: Fairfax, VA

Since last post: 4991 days
Last activity: 4089 days

#5 Posted on | Instant Rating: 4.47
Originally posted by redsoxnation

---

Even if the Chavos were going to face Haas/Rico for the tag titles, why take the belts off of Haas/Rico and go to the Dudley default position?

---


With the way it happened, it looks like they're setting up for a rematch down the road... although either way, Haas and Rico would have been stuck in a match at the Bash against some lame duck team like the Bashams or the FBI. Could still be, too, just for filler.
Big Bad
Scrapple



Since: 4.1.02
From: Dorchester, Ontario

Since last post: 36 days
Last activity: 36 days

#6 Posted on | Instant Rating: 5.59
So, even though Undertaker is on his side, Heyman is going to have him wrestle the Dudleys just for kicks? Nice booking, Smackdown.

Undertaker attacking Cena is an interesting twist, however. Perhaps it will set up a rematch of last year's Summerslam bout, except that maybe Cena can go over. Smackdown's lack of top heels doesn't leave much for Eddie at Summerslam, however; a rematch with Angle?

So they went to a lot of trouble to debut a guy that dresses all in white with a vaguely supernatural gimmick (Mordecai) and a Japanese guy (Kenzo), neither of whom can wrestle. Why not just resign Hakushi and combine the best of both worlds, plus you get a guy that can actually work?




---
THE QUEST FOR LORD STANLEY'S CUP

Tied for 9th: St. Louis Blues, New York Islanders, Dallas Stars, New Jersey Devils, Nashville Predators, Boston Bruins, Vancouver Canucks, Ottawa Senators
Tied for 5th:Montreal Canadiens, Detroit Red Wings, Toronto Maple Leafs, Colorado Avalanche
Tied for 3rd:San Jose Sharks, Philadelphia Flyers
Second:Calgary Flames
The Champion:Tampa Bay Lightning

chill
Landjager



Since: 18.5.02

Since last post: 4240 days
Last activity: 4240 days

#7 Posted on | Instant Rating: 1.88
I gotta say...

...this sounds pretty decent. I'm liking some of the feuds that are developing, including where the Heyman-Taker angle might be going. I haven't watched Smackdown in so long... we're talking months now. But I may give this week a chance. Half of it looks bad, but I like the odds of the other half being entertaining. Figure out what's going on between Rico & Haas (have Haas go heel with the predictible betrayal of Jackie on Rico, and I'm happy to see them feud).

Side question... I caught a few minutes of one of WWE's weekend shows this past week and saw Rico wrestling. Maybe it was Velocity? Anyway, has anyone else noticed that Rico has a big gut now? It's been a couple months since I watched, but has he really gained this much weight so suddenly?
Phantom
Frankfurter



Since: 17.3.02

Since last post: 3928 days
Last activity: 3905 days

#8 Posted on | Instant Rating: 3.06
I actually like the idea of a Haas/Rico vs. Dudleys feud. Especially if they go through with a time-honored but long-ignored Dudley tradition and put Miss Jackie through a table.

But there's the problem. I don't see why the Dudleys were given the tag titles this early, since there's no intention of actually doing a tag title feud. There's no point to it at all, especially if they're going to be used in what will likely be a non-title handicap match at GAB.

OMEGA
Lap cheong



Since: 18.6.02
From: North Cacalacky

Since last post: 3494 days
Last activity: 1100 days

#9 Posted on | Instant Rating: 5.64
It looks like next week is going to be a "Slap the card together of Great American Bash" show. I know I keep harping on it, but I feel it's an important issue: SmackDown NEEDS to pay more attention to the undercard. What do we have for GAB?

Eddie v. Bradshaw
Undertaker v. Dudleyz
Cena v. Van Dam v. Booker v. Dupree
Mysterio v. Chavo (possibly)

Other than that, there is NOTHING that can be added that wouldn't be just slapped together at the last minute.

Sad to see Rico/Haas lose the titles, but they haven't been using them too much lately anyways.

Why do I have the feeling that Kenzo Sazuki, Mordecai, and Luther Rains will be stinking up the main-events very soon?


---
The answer to WWE's financial problems...

Never 'Wiener of the Day', and is actually quite bitter about it.
Mayhem
Scrapple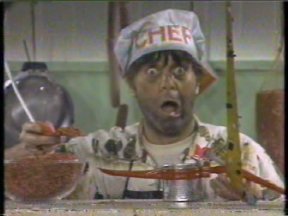 Since: 25.4.03
From: Nashville, TN

Since last post: 548 days
Last activity: 433 days

#10 Posted on | Instant Rating: 4.89

I can't understand why Mark Jindak & Teddy Long haven't been given much Smackdown time. I'd much rather watch those two than Mordecai or Susuki.

Jindrak could be built into a credible heel if given the right opportunity.

Smackdown is full of teams (well, more than RAW, anyway) that could have taken the belts instead of Dudley Boyz (Bashams, FBI, London & Kidman) ...


---


Go banana.
Ringmistress
Lap cheong



Since: 15.1.02
From: Philly

Since last post: 4228 days
Last activity: 4227 days

#11 Posted on | Instant Rating: 2.00
Well, it's great to see the Classic Era end so well. But it's still not good enough, and it looks like it won't be for a while yet. Honestly, this GAB buildup is a joke. I know they'll put the title on Bradshaw anyway, so just get that over with.

(edited by Ringmistress on 16.6.04 1459)

---

Suck it in, Hunter, or no sugar for you!
Phantom
Frankfurter



Since: 17.3.02

Since last post: 3928 days
Last activity: 3905 days

#12 Posted on | Instant Rating: 3.06
Originally posted by Mayhem

---

Smackdown is full of teams (well, more than RAW, anyway) that could have taken the belts instead of Dudley Boyz (Bashams, FBI, London & Kidman) ...

---
Have ANY of those teams even won a match in the last three months? I guess the FBI beat Akio and Sakoda on Velocity, but that's the only one I can recall off the top of my head. The Bashams are currently Eddie's designated whipping boys, London and Kidman have been getting fed to Mordecai on the rare occasion that they get moved up from Velocity, and the FBI lost cleanly in singles to SPIKE. The Dudleys are probably the only dedicated heel team on the roster who haven't been made to look like total chumps, so they're the ideal heel duo to put the belt on because it'll make it more eventful if a babyface duo can beat them.

The problem isn't really the lack of tag teams on the Smackdown roster. It's that through a combination of booking and a lack of personality displayed on their part, none of Smackdown's tag teams have been able to give the fans a reason to care.
Spaceman Spiff
Knackwurst



Since: 2.1.02
From: Philly Suburbs

Since last post: 127 days
Last activity: 6 hours

#13 Posted on | Instant Rating: 4.05
SD looks inoffensive, but I'm really looking forward to Knoble/London on Velocity. Let's see if they can top the fantastic match they had prior. That's assuming they give it some time.


---