The Great Thomas
Sujuk



Since: 17.6.02
From: Miami, Florida

Since last post: 4716 days
Last activity: 4716 days

#1 Posted on
This is starting to become painful. It's time for The Great Thomas SmackDown! Report!

Tag Team Tournament (Part 5): Mysterio continues to be a "Put-Me-Over" machine. OMG GANZOBOMB by Simmons! Hometown hero Edge wins via Edgecution.

Funaki: Tajiri speaks Spanish! Anyway, I'm looking forward to a Nidia face turn!

WWE ANTHOLOGY: Oh, wow. It's the Ultimate Warrior!

Noble vs. Nidia; Special Referee: Tajiri: Great. More violence against women. And instead of a Nidia face turn, I get a beatdown on Tajiri. PFFFFT!

Undertaker: He talks about kicking ass. Same old, same old. At least it was short.

Benoit et Guerrero: These two are GOLD! And Benoit doesn't even need to open his mouth! GOLD, I SAY!

Kidman vs. Cena: OMG! The ugly tights do a heel turn! "CENA SUCKS!" chant... High spots galore! Cena wins via backslide, with feet on the ropes.

Jackass: The Movie: Why is it that they put that "WARNING" sign all the time, yet people still injure themselves imitating it? Wrestling I can understand, but Jackass?

Lesnar vs. Palumbo: Oh no! Chuck's heterosexual friend Billy is injured! Cole and Tazz shill Hell in a Cell. Lesnar wins via F5, and gets an Undertaker beatdown.

8 Mile: Go see Eminem's movie.

Torrie et Mr. Wilson: She knows about him Dawn Marie! Oh, no!

Dawn Marie/Hardy vs. Rikishi/Torrie: That entrance is the greatest thing I have ever seen in my life. I SEE BREWGUY'S SIGN! HOLY SHIT I SEE BREWGUY'S SIGN! Dawn Marie wins via Hardy. Matt Hardy fucking rules. But any way, I saw BREWGUY'S SIGN! YOU RULE, GRIZZLY!

Torrie: GO, MR. WILSON! GO!

The Main Event: Tag Team Tournament (Part 5): Edge and Mysterio beatdown everyone...and we go to commercial break.

The Main Event (Part 2): Yes! Smart fans! Chant for angle, smarks! "WE WANT ANGLE!" "WE WANT ANGLE!" OMG I SEE BREWGUY! I'm marking out! Everyone's bumping like crazy! ANGLE SLAM! It's Benoit/Angle vs. Edge/Mysterio for the titles at No Mercy!

Stephanie: DAMMIT! He's gonna wear the cast! Shit! Beat his ass, Brock! And that idiot Heyman gets his butt whipped. PFFFFFT!

That's all for this week. Until then, Good Night, take care of yourselves, and now, my new slogan, is "Please Support Chris Benoit!" Join my honorable crusade, Wieners!

(edited by The Great Thomas on 17.10.02 1901)

---
Please Support Chris Benoit!
Promote this thread!
The Sham
Kolbasz



Since: 20.1.02
From: Hamden, CT

Since last post: 3065 days
Last activity: 2417 days

#2 Posted on
I was afraid they weren't going to show BrewGuy's sign (though he got plenty of air time without it), and then it got airtime during Rikishi's entrance. Nice.

Cena's finally a heel. Good.

Benoit, Guererro and Chavo: THAT's how you do a Benoit skit. Sweet.

Why was Tracy kicked off Smackdown? Because she's hotter than Stephanie, Dawn Marie and Nidia.

WHY IN THE HELL WOULD UT NOT BE ABLE TO WEAR THE CAST?!

Hell in the Cell is a NO DQ match... it should have never even been a question.

(edited by The Sham on 17.10.02 2206)

---
"Cram it with walnuts, ugly!"- Mr. Homer Simpson
ScreamingHeadGuy
Frankfurter



Since: 1.2.02
From: Appleton, WI

Since last post: 2089 days
Last activity: 2089 days

#3 Posted on
And a fashion report, too!

Frick, BrewGuy, I saw you! (you're a famous weiner now)

BBQ sause DOES go with everything.

Man, these bros. of destruction sure do have messed-up relationships.

Edge, in burgundy trenchcoat and red/flame trunks, and Rey, in gold mask w. white feathers and gold/coat-of-arms trunks, vs. DVon, in fishey shirt, and Ron, in black trunks. Yummy match!

The dozen words of Japanese I know pay-off; Tajiri says "baka". Jerry Springer stuff.

Noble, in flannel/jeans (both cutoff) vs. Nidia, in tank top and Daisy Dukes. Huh? Well, at least it's character development.

Tazz wears a black suit w. orange handkercheif (in his coat pocket), Cole wears a white shirt. Taker wears a black hooded sweatshirt and a cast. Man, more details of messed-up sex life. At least it was short.

Eddie/Chavo...strut. Ben-wa doesn't HAVE to talk (Eddie does enough).

Brocky, Paul, and Chick...move.

Kidman, in black/purple full-cuts vs. Cena (and a heel promo) in blue/white ensamble. Hey, Cena is Smackdown!'s (uninjured) Randy Orton! Cheat to win. GOod match and character development.

Steph - oh oh, slightly curly hair! Paul uses logic. Steph books a match in retribution.

Booker, baby, terrorizes the frozen food aisle. Somebody FEED him!

Taker rants and Steph reasons. That poor lamp was just one day away from retirement.

Brocky, in longhorn-skull undies, and wearing the belt, with Paul, vs. Chuck, in "CP" black undies. Nice match. Hey, now Steph HAS to nix the cast.

Damnit, Torrie's dad is freakin' me out!

Dawn, in white top/bottom and black boots, and Matt, in black shirt and with a funky, choppy entrance video, vs. AssMan, in dragon-star skirt, and Torrie, also in white top/bottom (but with white boots). I laughed when 'kishi gave Dawn a piggyback ride into Matt. Okay and funny match, but two EvilAssManeuvers is too many.

Hey, does Pete Rose know about Kane's past, too? Maybe HE's the one who told Thhhor (as revenge for this humiliating No Mercy ad).

Ben-wa DOESN'T TALK and Kurt. That face says it all.

Torrie learns a dark secret. Gouge your eyes out!

Kurt, in flag singlet, with medals, and Ben-wa, in blue/silver blade trunks, vs. Eddie, in red "Latino" trunks w. black flames and Chavo, in black trunks w. red flames. HOT crowd, suplexes, headbutt!, submission moves. Great match (cool how the crowd chanted for Angle during the match and then did "you suck" afterward).

Steph's announcement. Eh, I don't care; I'm not gonna get the PPV anyway.

Good show, but the Raw half of the PPV doesn't make it worthwhile. At least my Thursdays are fun viewing.


---
Fashion Reporter Extraordinare
My life is like one big masturbation joke. Which explains the laughter.
And, of course, the masturbation.
Excalibur05
Knackwurst



Since: 19.1.02
From: Minnesota

Since last post: 811 days
Last activity: 679 days

#4 Posted on
Was Brock about to make out with Stephanie?

A good show. Brewguy made it a great show.

The Mattitude.com is a great entrance.


---

Since everyone else is doing it (ok, not EVERYONE, but...)

Vikings (1-4) - A win is a win.
Badgers (5-2) - Indiana? INDIANA?!?! *sigh*
Twins (OUT) - Oh well, if we're still around next year...
Buffy 7.3 earns a 8.04 Out of 10 for being the funny, but throwing out enough plot contrivances to last us the whole damn season. Anya however = Hillarious.
Jaguar
Knackwurst



Since: 23.1.02
From: In a Blue State finally

Since last post: 507 days
Last activity: 310 days

#5 Posted on
Originally posted by The Sham

---

WHY IN THE HELL WOULD UT NOT BE ABLE TO WEAR THE CAST?!

Hell in the Cell is a NO DQ match... it should have never even been a question.

(edited by The Sham on 17.10.02 2206)

---


If this was the case, you'd be able to bring your own lead pipe, or baseball bat, or something into the cell with you, right? I think it's more a question of bringing in an outside weapon. If you get out of the cage, or use something in the cage already, it's all fair game.

And of course, Brock's a heel, so of course he'd try and make sure that UT doesn't get an advantage, even in a no DQ match.

-Jag


---
With poison running through your veins, and death marching solemnly towards you, heroic acts become more of a necessity as you see your time dwindling.

Vanquishing your enemies, making amends to those you have wronged, and leaving words of love and kindness for those around you become second nature as your own mortality looms

However, true strength lies not in these last desperate acts, but in the actions of one who has to get out of bed the next day and face the consequences of doing that which you believe is right.
BrewGuy
Kolbasz




Since: 2.1.02
From: Pickering, Ontario

Since last post: 1886 days
Last activity: 424 days


ICQ:
#6 Posted on
I should be on EVERY show. That way, if you don't like what you're watching, you can just watch ME.


I must remember to make my sign bigger next time - you could see the logo well, but not the writing at the bottom. Plus, holding up a sign when you're right behind Rikishi ain't gonna do much.
Damnit, I should've brought a [slash] sign.

After seeing the show, they really didn't edit that much at all. I think they cut down the Cena/Kidman match a bit (it seemed a lot longer live), and they moved Eddy's promo up (if memory serves, it was shown right before the main event live), but they didn't edit the crowd noise much - in fact, Tazz totally played up the fact that the T.O. crowd wanted to see Angle in there during the main event. Awesome.

Should I start getting all cocky and talking in the third person, feel free to give me a Mattitude adjustment. Until then, it's all about MEMEMEMEMEMEME


EDIT: Oh, and they kept the cast on so Brock can rip it off during Hell In A Cell, I'd bet. :)

(edited by BrewGuy on 17.10.02 2230)

---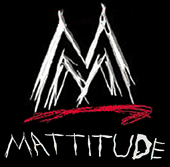 ManiacalClown
Landjager



Since: 2.1.02
From: Houston, TX

Since last post: 1885 days
Last activity: 1885 days

#7 Posted on | Instant Rating: 2.65
And then CONSUME the cast, rip off his mask, and reveal he was BREWGUY THE ENTIRE TIME!

And while we're on the subject for signage, I'll have a couple at No Mercy this Sunday. I don't know how much they'll be on the TV, though. Look for "BRING BACK GANGREL," definitely. I'm trying to think of a couple others. Gotta have a CRZ reference, and I was thinking of some variant of "THEY FOUND YOUR SEMEN," but you just know the sign police won't let that one fly.

I should make a Mattitude sign. :)


---
deadbeater
Morcilla



Since: 12.2.02
From: Parts unknown

Since last post: 5711 days
Last activity: 5711 days

#8 Posted on
Pretty good show.

The soap opera didn't get to my eyes, and the matches were well performed.

Mattitude is infinitely better than nWo.

Paul can yell without a megaphone.


---

"Business has just picked up" says JR. Then right on cue, Molly enters the arena! Never was JR any better in introducing someone. --Raw 7/15

You want the title? Keep your clothes on!!!
Super Shane Spear
Bierwurst



Since: 2.1.02
From: Sector 7 Slums

Since last post: 2931 days
Last activity: 2931 days

#9 Posted on | Instant Rating: 3.08
Line of the night: "Hey uh...shouldn't I be hosting a bikini contest about now?" - Tazz




---


Tonight stopped being about who is right and who is wrong - it became about two men wanting to prove who the better man is - for YOUR entertainment. And that, my friends, is the credo of SmackDown!"
shea
Bockwurst



Since: 1.2.02
From: Brooklyn NY

Since last post: 5340 days
Last activity: 5226 days

#10 Posted on
one observation:

Either Stephanie's pregnant or she was wearing Gwyneth Paltrow's fat suit from "Shallow Hal".


Fuzzy Logic
Summer sausage



Since: 31.3.02
From: Happy Valley - Goose Bay, Newfoundland and Labrador, Canada

Since last post: 4557 days
Last activity: 4281 days


ICQ:
#11 Posted on
Originally posted by ManiacalClown

---

I was thinking of some variant of "THEY FOUND YOUR SEMEN," but you just know the sign police won't let that one fly.

I should make a Mattitude sign. :)

---


Maybe if you made it "OMFG! THEY FOUND UR SEA MEN!" it'd be passable by the sign police. I wish I could have watched SmackDown! but my sister was watching stupid survivor for dummies, then CSI for pooheads, so I didn't get to watch SmackDown! I suck.


---

Jack Valenti fears NASH, EATER OF non-CHILDREN~!
Mike Sweetser
Boerewors



Since: 2.1.02
From: Seattle, Washington

Since last post: 4424 days
Last activity: 4316 days

#12 Posted on
Something I was shocked to find after seeing Matt's SWANK entrance video:

http://wwemattitude.com

It really exists.


Mike




---

Mike Sweetser
Systems Administrator, Cyber World, Inc.
mikesweetser@mikesweetser.com
---
"You have the mind of a four-year-old, and I bet he was glad to get rid of it." - Groucho Marx
dMp
Knackwurst



Since: 4.1.02
From: The Hague, Netherlands (Europe)

Since last post: 7 days
Last activity: 4 hours

#13 Posted on
Mattitude is an Awesome site!
Great to see him get a push like this (who would have thought 3 months ago when he was hanging out on heat?)


Looking forward to seeing Brewguy on the tape of SD I get next week..
Does this make this a brush with fame?



---

The only person who is capable of carrying a broom to a five star outing is none other than....
Torri Welles
Net Hack Slasher
Banger



Since: 6.1.02
From: Outer reaches of your mind

Since last post: 4929 days
Last activity: 3349 days

#14 Posted on
Hey I made the show too... yay me but up in the top level because I'm cheap =)

-Rey/Edge v. D-von/Simmons - First off I'm so happy Simmons changed his name so I don't have to misspell Farooq every time I mention him =). It's always fun to see Rey/Edge so I liked this match.

-Noble v. Nidia- It came off really bad live (cause I couldn't hear the backstage interview). It came off a little better on TV with Tazz making the match very tounge and cheek. But still I found it uncomfortable. Boyfriend/ girlfriend trashy arguing = funny. Boyfriend/ girlfriend in ring fighting = not fun. First time in a long time I didn't enjoy what these two did.

-Cena v. Kidman- Called it Cena wearing MapleLeaf blue/ white. Good match nothing outstanding. It was a nice average match.

-Brock v. Chuck- This was WAY better then I thought it was going to be. The little offense CHuck got Brock sold amazing. Running into a mule kick (both legs) OUCH. This was a real surprise.

-Matt/Dawn v. Rikishi/Torrie- This is a tough match cause I absolutly adore the heels and can't stand Rikishi and well Torrie is err. Freakin Amazing intro when I say it live I freaked out, It comes off good in person. I'm still in shock over how Mattitude has taken off... Matt shielding his face with Dawn. OMG what heelness (PLEASE DO THAT TO LITA). Fine comedy match

-Angle/Benoit v. Eddie/Chavo- OMG how good it this was. Very exciting. The fans were eating up Angle. Liked this match. SHOULD HAVE ENDED THE SHOW. Funny fans sung you suck to angle when he came in. Yelled "We want angle" during the match. And sung you suck afterwards (lol)

-CastDown- Wow a lot of focus on mold on some guys arm. Don't care, find it boring, OH great Undertaker offense is even MORE limited now. but now he's got an excuse.

-other stuff - Takers opening promo boring as hell actually was "whated out of the arena" ohh WWE must protect his boringness by taking the what's away... Boy is that Tracy chick fully loaded. Good gawd. Oh Paul was great actually making a decent point... Benoit/Guerreros was freakin awesome as hell, got a great reaction live. Eddie was just too funny so was Chavo "Your hurting my feelings homs"... Backstage MVP OLD MAN WILSON, He was awesome, we know who got the acting talent in that family. HIm fully clothed in the showere with a NAKED DAWN. I heard he's Torrie's dad legit. HOW THE HELL did he luck into this cameo angle. Poor Stu Hart had to have Lawler call him brain dead. But OLD MAN WILSON is up against Dawn freakin Marie in a shower!! Man won the WWE lottery of family memeber cameos.

Line of the night: Eddie to Benoit "YOur hurtin my feelings hom's"

Sign of the night: Brew Guys sign of course =)


(edited by Net Hack Slasher on 18.10.02 0423)

---

WWE new slogan "WWE: circling the drain"
Evil Buddha
Pickled pork



Since: 10.1.02
From: Somerville, MA

Since last post: 4161 days
Last activity: 3559 days

#15 Posted on
Super Shane Spear
Line of the night: "Hey uh...shouldn't I be hosting a bikini contest about now?" - Tazz

2nd best line: "If he's Version 1.0, why's he always got 3 fingers in the air?" - Tazz


---

"Come to the Dark Side... You Know You Want To!"
The Evil Buddha, spreading Alcoholism, Bad Humor and Chaos since 1971
tomvejada
Andouille



Since: 2.1.02

Since last post: 5414 days
Last activity: 5414 days

#16 Posted on
Random Smackdown Thoughts:

Bautista was still in the Smackdown opening.

Steph saying Tracy has no respect for anyone, Pot,Kettle Black.

Tajiri's a face, now. Good he's better as a face.

Very good promo by Eddie Guerrero.

Matt Hardy's entrance is the best entrance in a long time. Sadly, Brew's sign was better than the two they showed during Matt's entrance.

The only other sign that came close to Brew's was "My Pumpkin has more teeth than Benoit."

Los Guerreros-Angle/Benoit was very good. Angle was more over as a face than Benoit. Hmmm.

They should've put the crap with Lesnar/Taker before the main event.

Overall, another very good Smackdown.




---

"I just got pinned by a friggin twelve-year-old."

Kurt Angle

El Duderino
Pinkelwurst



Since: 15.10.02
From: Looo-vuhl

Since last post: 5692 days
Last activity: 5680 days

#17 Posted on
Looky-loo! It's the Brewguy show, starring Brewguy! Damn, that was some mad face time, holmes... although I'm pretty sure Jimmy Average Viewer was saying "Uh, Hey ma, how come that big guy keeps a-holdin' his sign upside down?"

In other news...

TAKE YOUR DAMN SHIRT OFF, AL! You're not 12, this is not a public pool, and you aren't the kid with man-teets everyone picks on... are you? If WEEEE fans can cheer Hogan's rich Cordovian sag and Rikishi's oatmeal-in-a-sack "poo cannon" (tm DEAN~!), I think Mr. Wilson's paunch would be acceptable viewing.

Funaki interviewing Tajiri was rather kickass, I must say.
Tajiri: [Japanese] Noble-uh (makes international sign for 'cuckoo') cuh-razy. Needia (again) cuhrazy.
ME: OMGROTFLMAO AND OTHER ACRONYMS TO EXPRESS CHILDISH GLEE. And then he busts out the Spanglish, to boot. AND THEN the obligitory face turn that had already happened in the heart and mind of every real American and rasslin' afficionado.

The angle was pointless, but Paul's slimy "reasoning" tone, and later blade job made that whole thing work. And Taker works best with a prop, so I have NO PROBLEM with the cast. Taker may be old and broke-down, but he still kicks it with the PSYCHOLOGY. And blood on the cast wasn't quite as awesome this week, but is still mighty fun.

The main event rocked my meager shit, as expected, but the booking gets ye olde WTF. Eddie and Chavo are BY FAR the best choice for tag champs - The Angle/Benoit Megapowers will self destruct and though Eddie/Rey are fun, they're not a logical enough team to last the month. I assume they're setting up Angle face turn v.2 for a Brock vs Angle run sometime soon, but Benoit/Angle 2 was RIGHT THERE and now Eddie doesn't have a PPV match. Bleh.

And now, a sign idea especially for YOU ManiacalClown:

STEPH'S WRITING SAGS

*takes bow*

El Duderino




---

not into the whole brevity thing, man