It's False
Scrapple



Since: 20.6.02
From: I am the Tag Team Champions!

Since last post: 5 days
Last activity: 1 min.

#1 Posted on | Instant Rating: 6.47
TONIGHT! It's a LIVE SmackDown for the holidays! Mark Henry's on one leg and he'll attempt to defend the World Heavyweight Championship against Daniel Bryan in a steel cage...in a match that I'll probably have to watch on MUTE! Plus, Mick Foley hosts in what can only be a step up from the last time we saw Mick Foley! SmackDown is NOW!

WWE - The Champ Is Here!

We are greeted by festive holiday music and an outside view of Charlotte, NC with some CGI snow! We are NOT TAPED from Charlotte, NC tonight!

So let's start off with "Joy to the World" to bring out MICK FOLEY in full Santa suit. Chimel introduces him as Jolly Old St. Mick. Well, ok, then. The stage area starts filling up with fake snow. Mick grabs the mic and, for the sake of getting this out on time, I'll have to skimp on transcription again this week.

Mick greets the crowd and talks about how much he loves Christmas. He offers up a cheap pop before running down tonight's card. Daniel Bryan actually gets a mixed reaction (oh, that can't be good), but Mark Henry gets big heel heat. We'll also have a Miracle on 34th Street Fight and an All I Want For Christmas Over-the-Top-Rope Battle Royale. Mick also wanted to have a Michael Cole-free night, but Cole's here anyway because Vince McMahon said so because Cole's apparently got a hell of a legal team. Again, I have to say it, God forbid we go a SINGLE SHOW without Michael Fucking Cole!

So Mick brings out MICHAEL COLE dressed as a reindeer with a red nose. Hilarity ensues. Cole sells indignation and Josh Matthews gives some courtesy laughs. Matthews makes fun of Cole, even though it's quickly revealed that Matthews is wearing an equally-stupid-looking elf costume.

Mick goes on to introduce BOOKER T, who comes out in his own full Santa outfit. Booker does NOT look happy about this. Mick wants a Spin-A-Roonie and the crowd is quickly turning on this segment. This is a TOUGH crowd! Mick hits the dreidel music and Booker gives us a Spin-A-Roonie. Booker digs the holidays, sucka!

Interruption comes from CODY RHODES, so let's get this wrestler/announcer feud over with, shall we? Cody calls this segment out and says that time is being wasted on guys that can't go anymore. Booker rebuts that he can still go. Cody counters that Booker's jealous that he'll never be able to call himself champion again. Mick asserts that Booker is a legend and books Cody against Booker for tonight. Well, at least this feud should be short! With that out of the way, Mick segues to a Divas match. The Divas are all dressed in holiday regalia and come out to holiday music. Their match is next!

Ad break - Raw promo

BRIE BELLA v. NIKKI BELLA v. ALICIA FOX v. AJ v. KAITLYN v. TAMINA v. NATALYA v. AKSANA: MISTLETOE MATCH
Mick explains the rules. It's basically a mistletoe-on-a-pole match and whoever gets the mistletoe wins. The mistletoe entitles the winner to a special prize from now until Christmas.

The Divas fall all over each other trying to get to the pole. We are interrupted by the "Not Chris Jericho (or IS IT?)" YouTube link. The Bellas toss Alicia Fox on her face...and quickly turn on each other! Brie knocks Nikki on her face and climbs over her and grabs the mistletoe at what has to be less than 90 seconds.

WINNER: Brie Bella - Short and utterly hideous.

Post-match, Mick clarifies that the mistletoe wasn't for a Divas title match. Instead, Brie can give a kiss to any male Superstar of her choice. Brie looks perfectly satisfied with this. Ahhh, that's some good wholesome sexism!

We look at slo-mo stills of Big Show Pillmanizing Mark Henry's knee from Survivor Series. Later tonight, Mark Henry defends his title against Daniel Bryan in a steel cage.

Ad break - WWE Shop promo

JUSTIN GABRIEL v. JINDER MAHAL
Justin Gabriel gets half an entrance, so I give him little chance here. Jinder Mahal cuts a Hindi promo on the way to the ring, before switching to English to run down the holidays.

Mahal takes control quickly and hits a double-underhook suplex. Soccer kick and hotshot lead to choking. Corner charge hits. Suddenly, Ted DiBiase's shitty autotune music hits and TED DiBIASE comes out with a Santa hat and big red sack to hand out gifts to the crowd. Mahal is not amused by any of this and gets distracted. He turns around and eats the STO and Gabriel finishes with the Sternum-Crushing 450 Splash in a two-minute special.

WINNER: Justin Gabriel - All angle, no substance.

Backstage, Mick is trying to learn the Samoan war dance from the Usos. Roddy Piper enters the picture and asks for a strait jacket for Christmas. Hornswoggle tries to score with some egg nog and fails. Dusty Rhodes enters the picture and offers Hornswoggle a picture of Lady Gaga eating a corned beef sandwich. Hornswoggle exits disgustedly and Dusty turns around to find GOLDUST!!! Holy shit, it's great to see Goldust again! Mick shares some stories with the Usos about Rikishi raising them. Roddy Piper recommends some egg nog tips for Trent Barreta, but David Otunga and his evil bowtie enter the picture and note that such a thing would be against WWE rules. Otunga delivers a message from Super Dave Laurinaitis and threatens to shut down the holiday party. Mick counters this by putting Otunga in the Miracle on 34th Street Fight against Randy Orton.

Ad break

Kane Resurrected promo

We are NOT TAPED from Charlotte, NC! Matthews and Cole shoot it off to a video package recapping the Rhodes/Booker feud.

Your hosts are Dipshit 1 and Dipshit 2. Cole runs down Booker. Matthews and Cole shill for WWE 12.

Backstage, the demoted Matt Striker talks to Booker T, which doesn't last long, because Cody attacks Booker from behind. Rhodes destroys Booker's arm with the belt...and then asks for a handshake. HA!

Ad break

KOFI KINGSTON v. TYSON KIDD
Tyson Kidd gets no entrance, because he's cannon fodder, of course.

WINNER: Kofi Kingston - Only notable for Kofi donning the reindeer hat for the finish.

Backstage, Hornswoggle is trying to decorate the tree while Kaitlyn antagonizes him. Hornswoggle walks by Sheamus and Teddy Long. Sheamus asks what an All I Want For Christmas Battle Royale is. Long says only Mick knows for sure. Aksana's cheesy saxophone music hits. Sigh...ok, we've been doing this for a couple of months now, are they GOING ANYWHERE with this? Oh, and thanks for showing up, Curt Hawkins!

Randy Orton is walking through the backstage area. The Miracle of 34th Street Fight is next!

Ad break - B.A. Star promo

WWE Rewind is brought to you by Goldeneye Reloaded - Dolph Ziggler beats Randy Orton thanks to some help from Wade Barrett.

RANDY ORTON v. DAVID OTUNGA: MIRACLE ON 34th STREET FIGHT
I should be more upset that I'm about to watch David Otunga attempt to wrestle, but then again, I'm not expecting him to get much offense here. Otunga still has his most recent music, but now has a lawyer-themed Titantron video and Harvard-style hot pants.

We start with a wrestling sequence, which is always how you want to start a street fight! Orton takes control quickly and things spill to the outside. Orton tosses Otunga at a Christmas tree! NOT THE CHR...oh, fuck you, Cole, for making the exact same joke! Orton tosses Otunga at a second Christmas tree! Tinsel can be very abrasive! Otunga drives Orton into the apron, as we finally hear the word "Nexus" for the first time in months. Orton doesn't let Otunga's offense last long, as he bashes him into the announce table. Orton grabs a tray of cookies! He tosses the cookies off, but not before taking a bite out of one (HA!), and bashes Otunga good with the cookie tray! Orton grabs a wreath and puts it over Otunga's head. He gives Otunga a "HO HO HO!" before chucking him into the steel steps! Orton's slow to follow-up, allowing Otunga to reverse a whip into the steel steps. Otunga follows with a vertical suplex on the outside and stops to search for PLUNDAH! Otunga finds...a candy-cane striped kendo stick. Yup. Orton tackles Otunga and goes to the mounted punches. Orton smacks Otunga with the kendo stick. Otunga tries to take a walk, so Orton chucks a box at him! Orton can't even keep a straight face, as he's clearly having a good laugh over how goofy this match is. Orton points at the Christmas props on the top of the ramp. Orton tosses Otunga into the giant Christmas tree! Orton poses to the crowd...and licks his fingers from the cookie he had earlier. This is great stuff! Orton grabs Otunga and starts punching him back towards the ring, as Otunga trips over the box that was chucked at him. Orton hits the Hanging DDT on the outside! Here's WADE BARRETT to put an end to these shenanigans! Big boot puts Orton down! Barrett puts Otunga on top and leaves, but the cover only gets 2! Otunga tries to stomp away in the corner and works him over with shoulder thrusts. Otunga tries a whip and gets nowhere. Orton makes the babyface comeback. Snap powerslam hits. VIPER COIL! RKO finishes at about 7 minutes and change.

WINNER: Randy Orton - This has to be one of the most fun matches that I've recapped in the year-plus that I've done this. It was just so over-the-top ridiculous, in a good way!

Backstage, Teddy Long asks Mark Henry if he's in the Christmas spirit. Henry gets in Long's face and offers to send Daniel Bryan a message tonight. Henry says Bryan's dream will be the nightmare before Christmas and sends Long on his way.

That sends us to a video package of what happened last week between Big Show, Mark Henry, and Daniel Bryan. Later tonight, we get the big steel cage match.

Ad break - Promo for...the SmackDown Holiday Special? The one that's on RIGHT NOW?

20-MAN ALL-I-WANT-FOR-CHRISTMAS BATTLE ROYALE
So far in the ring, we have TYSON KIDD, HEATH SLATER, EZEKIEL JACKSON, TITUS O'NEIL, "SHOWTIME" PERCY WATSON, YOSHI TATSU, THE USOS, TED DiBIASE, JINDER MAHAL, JUSTIN GABRIEL, JTG, CURT HAWKINS, DARREN YOUNG, JOHNNY CURTIS, KOFI KINGSTON, and TYLER REKS. We're in time for entrances from HUNICO, of all people, followed by "THE GREAT WHITE" SHEAMUS. Oh, and HORNSWOGGLE is apparently in this match, too! Hornswoggle suddenly realizes what he's gotten into and ducks under the ring.

Darren Young is out first, thanks to Sheamus. Sheamus quickly tosses Jimmy Uso next. Hunico crotches JTG and gets rid of him. Things slow down for a bit, with a lot of people just hanging around. Jackson chucks Curt Hawkins and we get the face-off between Zeke and Sheamus. They go at it to almost ZERO heat! Yikes! Jackson tries for a lariat, but Sheamus backdrops him out. Johnny Curtis tries to jump on Sheamus and gets tossed. Cole has no idea who he was, which gives you a nice idea of what Curtis' future is with this company. Kofi eliminates Jey Uso and a seated dropkick from Tyson Kidd sends out Kofi! Kidd then eliminates Yoshi Tatsu! DiBiase tries to dump Kidd, but Kidd skins the cat and sends out DiBiase with a headscissors! Hey, Tyson Kidd's on a hot streak! GO, KIDD, GO! Oh wait, Hornswoggle yanks out Kidd. Dammit. Back to Jobberville, Kidd! That takes us to our next ad break.

We come back with the "Not Chris Jericho (or IS IT?)" YouTube plug. Justin Gabriel tries for a springboard, like a dope, and gets sent out by Jinder Mahal. Titus O'Neil nails Tyler Reks with the Clash of the Titus! He barks like a dog, but his barking is no match for Sheamus' clothesline, which ends O'Neil's night. We're down to Sheamus and four other guys. I mean, really, this is a VERY unremarkable field, so can we speed this up? Sheamus makes the babyface comeback, as if having heard me. Tyler Reks nails Sheamus, but Sheamus no-sells and the fight between everyone has moved to the outside. Everyone exits through the bottom rope, so there are no eliminations. Sheamus is downed on the outside and the remaining four all go back in the ring. We have four heels all facing off, so the crowd's momentarily out of it. Jinder Mahal reminds everyone that Hornswoggle's still around, so the four heels all exit and take a side. Mahal slides Hornswoggle in and he's surrounded. The heels all toy with him for a bit, before Sheamus comes in and cleans house on everyone. Tyler Reks is taken out, Hunico gets dumped, and goodbye Jinder Mahal. Heath Slater exits via Brogue Kick! Sheamus suddenly realizes that Hornswoggle's still legal. Hornswoggle wants a fight, but Sheamus simply tells him to vamoose! Hornswoggle tells HIM to exit instead and kicks Sheamus in the shin! Sheamus has had enough of this, so he picks up Hornswoggle and tries to get rid of him, but Hornswoggle's stuck on the top rope. Sheamus gets on the apron to loosen him and scolds him some more. Hornswoggle wants a hug and the crowd SO knows where this is going. Sure enough, Sheamus moves in like a total sucker and Hornswoggle shoves him off.

WINNER: Hornswoggle - That ending got silly fast.

Post-match, Sheamus picks up Hornswoggle on his shoulder, impressed by the little guy's gumption. Hit Sheamus' music anyway!

We take a look at what happened last week with Daniel Bryan winning a four-way to get into the cage match tonight.

Ad break

Back at the holiday party, The Bellas try to ask Ricardo Rodriguez what to get Alberto Del Rio for Christmas. Ricardo wants to talk about it over dinner, but gets shot down. Well, can't blame him for trying. We see a brief convo between Roddy Piper and Dusty Rhodes before Santa Mick asks Hornswoggle what he wants. Hornswoggle wants to talk. Mick tells him that he could talk all along, so Hornswoggle finally starts TALKING! He goes around greeting everyone, including "grandma" Vickie Guerrero! They get into an "Excuse Me"-off! HA! Hornswoggle exits, as Mick Foley (out of his Santa suit) enters the picture. Everyone suddenly realizes that we had an actual Santa sighting.

Daniel Bryan is backstage and ready to go. He gets a good luck kiss from AJ! The demoted Matt Striker enters the picture and asks for a word. Bryan says this is the best chance he'll have and he knows his dream will come true tonight.

The cage lowers. The main event is next!

Ad break - Slammy's promo!

DANIEL BRYAN v. "THE WORLD'S STRONGEST MAN" MARK HENRY: WORLD HEAVYWEIGHT CHAMPIONSHIP STEEL CAGE MATCH
Cole notes that Bryan knows 17 different submission holds to apply to Mark Henry's injured leg. Matthews notes that Bryan still hasn't cashed in his briefcase, which could become important later. Chimel offers up the championship intros and, with 12 minutes or so of show left, here we go!

Bryan tries to race Henry to the top of the cage and gets caught. Even on a bad leg, Henry manages to catch Bryan. Bryan tries to work over Henry with kicks and gets shoved off. Bryan tries to target the leg, but gets tossed into the cage. Henry sandwiches Bryan into the cage with a charge. That takes us to our final ad break of the night!

We come back with Henry working over Bryan with methodical offense. Bryan tries to come back and eats a clothesline. Henry tries to exit the door and gets a seated dropkick in the back. Bryan tries to hammer away, but Henry hits a HUGE clothesline with a 360 oversell for 2! Henry tries to leave again, but Bryan hangs on to Henry. Bryan starts stomping away on the bad ankle and hammers away at it! Bryan tries to climbs out, but gets crotched on the ropes and eats another clothesline! Crowd is FINALLY getting a "Daniel Bryan" chant started! Took them long enough! Henry wants to leave again, but Bryan catches him again. Henry knocks Bryan down with another clothesline. Henry tries to scoop up Bryan, but Bryan knocks Henry down and tries to clamp on the LeBell Lock! He doesn't have it all the way and Henry tries to power Bryan up! Bryan turns that into an anklelock! Crowd's TOTALLY buying into this now! Henry pushes Bryan off with his good leg! Bryan tries to climb out, but gets caught again! Now HENRY'S climbing, but gets caught! Bryan leapfrogs over him, but Henry pulls him back in! Bryan tries for a top-rope 'rana, but can't get it! So Bryan climbs over him, instead! He gets pulled back in again! Henry finally has a good grasp on Bryan and hits a TOP-ROPE WORLD'S STRONGEST SLAM! And THAT will put an end to Daniel Bryan at 13 minutes!

WINNER: Mark Henry - Finishing sequences don't get anymore suspenseful than that.

Show quickly ends with Henry posing with the belt, while making sure to sell the ankle.

FINAL THOUGHT

I gave Bryan zero chance going into this match, but damn if that buildup wasn't effective. I was almost convinced that he might pull this out! And DAMN if that wasn't a hot finishing sequence!

The rest of this show was good! Even though nothing notable happened, it was good clean fun and I enjoyed it immensely. And really, that's all anyone can ask for.

Until next time!

(edited by It's False on 29.11.11 2024)
---

"This is bad comedy."

Promote this thread!
dwaters
Lap cheong



Since: 16.10.02
From: Connecticut

Since last post: 11 days
Last activity: 1 day

#2 Posted on | Instant Rating: 5.99
I thought the candy cane kendo stick was such a great touch.

That match had Mick Foley's fingerprints all over it. The backstage skits seem to improve when he's around as well, so I assume he must have some writing input.
JustinShapiro
Scrapple
Moderator




Since: 12.12.01
From: Pittsburgh, PA

Since last post: 6 days
Last activity: 12 hours

#3 Posted on | Instant Rating: 9.27
greatest match David Otunga will ever have
all about the power all all about the power
BigDaddyLoco
Scrapple



Since: 2.1.02

Since last post: 9 hours
Last activity: 8 hours

#4 Posted on | Instant Rating: 6.67
This felt like a throw away Raw from yesteryear and I loved it. Nobody hogged the spotlight, there was a nice mash up of random talent, there were a lot of jobbers present and there was some wrestling thrown in as well.

Not sure who had the idea for Kofi to put on the Reindeer hat and nose.

The Battle Royal was pretty terrible and might have had the worst Battle Royal lineup of all time and I love Battle Royals, but Jinder Mahal had himself a moment that almost made him look as smart as Heenan back in his Battle Royal glory days (youtu.be)

I don't like anything about face Sheamus. I hate his music, his shirt, his nickname is terrible and his smile creeps me out.

I really wanted Otunga to get one shot in with that candy cane stick.

It would have been nice if they cut down on the Sheamus/Hornswoggle standoff and added time to the cage match, but the cage match was still fun. I want to see more of Bryan and Henry.


Spiraling_Shape
Bratwurst



Since: 2.1.02
From: PA

Since last post: 21 hours
Last activity: 16 hours

#5 Posted on | Instant Rating: 6.11
The most Fun Randy Orton Match Ever...cookie-eating, empty gift box tossing...

Aksana calls back to the infamous line about being "beaten with shovels!"

Hornswoggle's magical ability to talk gets him a few more years out of this gimmick!

Johnny Curtis still works here!

"HAPPY NEW YEAR!" - Mark Henry


---

"Ice cream bars! Ice cream bars!" - RAW crowd, Boston, 7/11/11
John Orquiola
Scrapple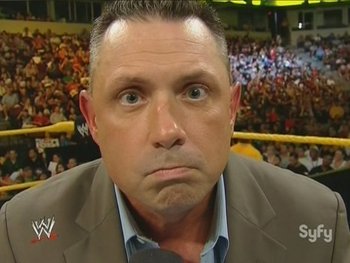 Since: 28.2.02
From: Boston

Since last post: 147 days
Last activity: 147 days

#6 Posted on | Instant Rating: 6.26
I NEED a gif of Orton throwing the green gift box at Otunga's head and then breaking character and laughing.


---

@BackoftheHead


www.backofthehead.com

(V) (;,,;) (V) ZOIDBERG
CxMorgado
Boudin rouge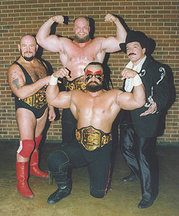 Since: 21.1.02
From: Boston MA is the rippen'ist town...

Since last post: 334 days
Last activity: 1 day

#7 Posted on | Instant Rating: 2.68
Despite some painful bits, that show was a LOT of fun.

Goldust in an Xmas sweater? Cody calling Booker "Announcer" over and over? Candy cane singapore canes? Orton having fun? A great main event that had Henry go over while still making DBry look good? At the end of those 2 hours, I was a pretty happy guy.


---

http://wrestling.insidepulse.com/author/christophermorgado/
www.comicnoize.com
Amos Cochran
Lap cheong



Since: 28.8.09

Since last post: 3 days
Last activity: 1 day

#8 Posted on | Instant Rating: 6.00
I'm sure some people found the Hornswoggle thing cute and all, but wouldn't this have been a great way for Ryder to get his US title shot?
Tenken347
Boudin blanc



Since: 27.2.03
From: Parts Unknown

Since last post: 16 hours
Last activity: 7 hours

#9 Posted on | Instant Rating: 5.03
I have to say, I still don't really like Randy Orton, but I've grown to respect him as a performer. He wrestles two long matches every week, and he's getting guys like Ziggler and Barret over while he does it. Guy's a workhorse.
Matt Tracker
Scrapple



Since: 8.5.03
From: North Carolina

Since last post: 4 days
Last activity: 6 hours

#10 Posted on | Instant Rating: 7.22
The Kiss of AJ weakens a man. Obviously.

The Lovely Mrs. Tracker watched the skit where Hornswoggle gains speech and quietly offered her sympathies to me, the wrestling fan. Prepare yourself for Horny and Hunter recreating Game of Thrones scenes.

If this is the Christmas episode, what does SmackDown do for the next three weeks?




---

"To be the man, you gotta beat demands." -- The Lovely Mrs. Tracker
Tyler Durden
Landjager



Since: 22.2.04
From: Frankfurt, Germany

Since last post: 26 days
Last activity: 12 hours

#11 Posted on | Instant Rating: 4.10
Awesome main event. Sadly we are now going back to the feud "we all want to see", Mark Henry vs. Big Show. And after that: Kane?
John Orquiola
Scrapple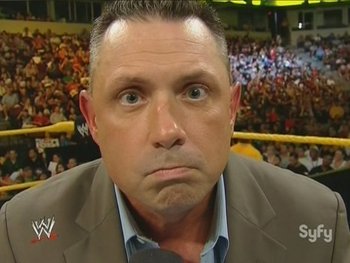 Since: 28.2.02
From: Boston

Since last post: 147 days
Last activity: 147 days

#12 Posted on | Instant Rating: 6.26
Originally posted by Amos Cochran

---

I'm sure some people found the Hornswoggle thing cute and all, but wouldn't this have been a great way for Ryder to get his US title shot?

---


Technically, the US Title is RAW exclusive, so this isn't the show to set up Ryder getting a shot at Ziggler. And besides the Bellas, Alicia Fox, Otunga, and Kofi, who is dual branded as one half of the WWE Tag Team Champions, this was a primarily Smackdown affair.


Originally posted by Matt Tracker

---

The Kiss of AJ weakens a man. Obviously.

---


Indeed! Oh, she looks all cute and innocent but AJ is a succubus. Her kiss caused the downfall of Daniel Bryan. She was the weak link in the Chickbusters. Kaitlyn was wise to bail when she did. Beware of AJ.

(edited by John Orquiola on 30.11.11 0659)

---

@BackoftheHead


www.backofthehead.com

(V) (;,,;) (V) ZOIDBERG
TheOldMan
Landjager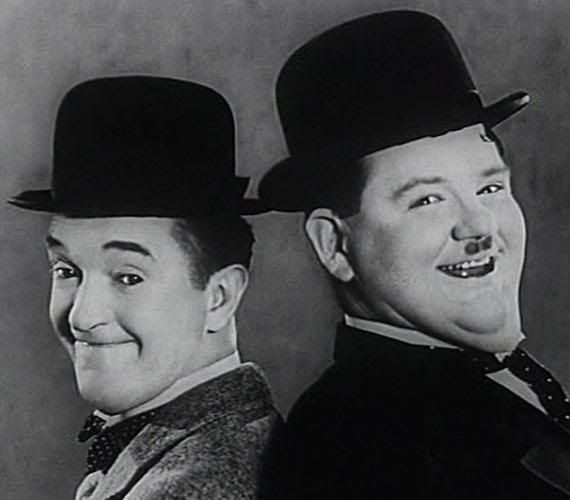 Since: 13.2.03
From: Chicago

Since last post: 145 days
Last activity: 5 hours

#13 Posted on | Instant Rating: 5.55


With that motley group of heels left at the end of the battle royal, I almost thought the four of them would be dumb enough to simultaneously jump over the top ropes when they were going back out to surround Hornswoggle. It must have been Horny trying to be understood in the earlier backstage scene, I had the angle all figured out for a change there.

Did they say that one of the two Raws left before the TLC PPV with exactly one match announced so far is going to be a 3-hour "Slammy Awards" gala special?


---

Matt Tracker
Scrapple



Since: 8.5.03
From: North Carolina

Since last post: 4 days
Last activity: 6 hours

#14 Posted on | Instant Rating: 7.22
Bryan's current gear was designed by comic artist Jill Thompson (Sandman, Scary Godmother, a slew of other books). She's a HUGE wrestling fan. Here's the most recent outfit proposal sketch she posted on Twitter:


---

"To be the man, you gotta beat demands." -- The Lovely Mrs. Tracker
thecubsfan
Scrapple
Moderator



Since: 10.12.01
From: Aurora, IL

Since last post: 2 days
Last activity: 3 hours

#15 Posted on | Instant Rating: 9.64
When Bryan was backstage wearing that jacket, I was convinced I'd pay $150 to buy that jacket. A little less now when I see it has "Bryan" on the back. But only a little.

(I hope she liked the ResistancePro show more than I did.)

(edited by thecubsfan on 30.11.11 1524)

(edited by thecubsfan on 30.11.11 1536)
---

thecubsfan.com - luchablog
Packman V2
Bratwurst



Since: 16.3.04
From: Albuquerque, NM

Since last post: 79 days
Last activity: 13 hours


AIM:
Y!:
#16 Posted on
My burning question of the night...Daniel Bryan sees the much slower, Mark Henry trying to climb the cage to get out, and instead of using his speed to run for the door and get out, he chases after Henry. Why?


---
It's False
Scrapple



Since: 20.6.02
From: I am the Tag Team Champions!

Since last post: 5 days
Last activity: 1 min.

#17 Posted on | Instant Rating: 6.47
Originally posted by Packman V2

---

My burning question of the night...Daniel Bryan sees the much slower, Mark Henry trying to climb the cage to get out, and instead of using his speed to run for the door and get out, he chases after Henry. Why?

---

My only answer is that he was caught up in the moment and you don't think clearly when you're hyped up with that much emotion. I'd imagine he thought that if he could send Henry crashing down, he'd have a clear shot to the top.


---

"This is bad comedy."
CHAPLOW
Morcilla



Since: 14.5.04
From: right behind you

Since last post: 159 days
Last activity: 159 days

#18 Posted on | Instant Rating: 9.64
I really loved this show, just like all of you I was exceedingly entertained by Randy Orton not being able to hold back laughter after he bounced that present off of Otunga's head; it was so perfect. Randy Orton is the shit right now, he is such a huge asset and it is nice to see him having a good time out there.

I like that Daniel Bryan came out looking pretty good at the end of the day, but they didn't make Mark Henry look soft and looking for excuses like they do on RAW.


---

Please take a minute to follow my graphic design/animation team :]
on Facebook www.facebook.com/teamrenegade
on Twitter @teamrenegadehq
CEOIII
Boudin rouge



Since: 25.7.02
From: Franklin, PA

Since last post: 8 days
Last activity: 10 hours

#19 Posted on | Instant Rating: 1.51
So what's going on on SyFy Friday that they moved SD up to Tuesday?


---

I'm Charlie Owens, good night, and good luck.


Get your Portable ID!
odessasteps
Scrapple



Since: 2.1.02
From: MD, USA

Since last post: 158 days
Last activity: 125 days

#20 Posted on | Instant Rating: 6.08
Originally posted by CEOIII

---

So what's going on on SyFy Friday that they moved SD up to Tuesday?

---


a rerun of the tuesday show


---

Mark Coale
Odessa Steps Magazine presents


RUSSIAN FLAG BURIAL - an examination of 1984 mid-south



Pages: 1 2 Next