The Great Thomas
Sujuk



Since: 17.6.02
From: Miami, Florida

Since last post: 4682 days
Last activity: 4682 days

#1 Posted on
It's time for The Great Thomas SmackDown! Highlights!

Rikishi vs. Piper: This match was nothing more than propaganda for the Rikiski/o'Haire match at Backlash! PFFFFT!

Sable Invitational: OMG NIDIA AND DAWN MARIE WIN!!! THEY WIN!!! TORRIE LOST!!! Afterwards, Nidia and Dawn Marie beat down Torrie, and Sable taunts her! IN YO' FACE TORRIE! I'm so happy!

John Cena: I love this guy! He's gold on the mic. Even if he doesn't win at Backlash, he could be the next breakthrough star!

That's all for this week. Until then, Good Night, take care of yourselves, and get ready for Backlash this Sunday!


---
Please Support The Neo-Geo Pocket Color!
Promote this thread!
El Pescado
Kolbasz



Since: 3.1.02
From: Toms River, NJ

Since last post: 2479 days
Last activity: 2302 days

#2 Posted on
Stephanie McMahon was the highlight of the night for me. Did she look hot tonight or what? =D


---
"You won't see that on Everybody Loves Raymond!"
-J.R. after Trish gets pasted with a chair
ScreamingHeadGuy
Frankfurter



Since: 1.2.02
From: Appleton, WI

Since last post: 2055 days
Last activity: 2055 days

#3 Posted on
What, no Great Thomas Smackdown! Report? Just Highlights? Um, okay.

...and a Fashion Report, too.

Cena, in a New Jersey Nets jersey and backwards baseball cap, with lock and chain, vs. Rhyno, in black "Rhyno" singlet. Okay match.

Tazz, in black suit and orange shirt, with light blue handkercheif, and Cole, in black shirt, talk.

Stambolli in glasses is just wrong. Good thing there was a camera right by the coffee earlier today.

LittleBoy, in black "Smackdown!" polo, and MatureLady, in unzipped black latex, fool around.

Nunzio, in green undies and red kneepads, with Chuck and Johny, both in wifebeaters and black slacks, vs. Benoit, in black "Toothless Aggression" tshirt and red "Wolverine" tights. Nice match - Benoit never takes his shirt off.

Rey, in silver mask and trunks, vs. Crash, in black "V1" tshirt and "Crash Holly" full-cuts, with Shannon, in "V1" tshirt and red bellbottoms, and Matt, in black/white vertical stripes and the belt. A surprisingly nice match. DO they have a new announcer? 'Cuz the pronunciation of "Rey Mysterio" really rolls the r's.

Man, that WAS a nasty bump Albert took.

Rikishi, in black red-star, white-dragon manskirt, and "Rikishi" shirt and belt, vs. Piper, in black kilt and "Piper's Pit" tshirt, with Sean, in long leather jacket (looking evil). Well, Sean looked okay. Sorry about the necklace, Rikishi.

The French are so superior. I bet they can surrender without even trying.

MatureLady, in the same thing as before (and the same thing as last week - what a faux-pa) has a segment. I think CNN will be better.

Hey, Team Angle! Just in time to flip back, I see. Shelton, in red warmup, wearing the belt, and red/blue "Team Angle" singlet, vs. Chavo, in red tights, with Eddie. Nice match.

Big SHow, in one-strap black singlet, vs. Tajiri, in black trunks with white dragons. Oh - come on! The ref was watching Show the whole time he was counting him; he HAD to have seen Rey's interference. Poor match 'cuz I couldn't suspend my disbelief.

Steph, in black top and shiny skirt, showing some nice leg, brings us...Mr. America's video package. She's highlighted her hair sometime in the past three weeks.

Cena, now in old-school Milwaukee Bucks shirt and backwards cap (how many sets of clothes does he carry around with him?) is out. Albert, in black undies, vs. Brock, also in black undies, wearing the belt. Cena's He-man reference=great. Crowd=hot. Commentary (with Cena)=great. My heart nearly stopped when Brock hit those suplexes (I guess the Footage got to me). Good power match. Cena looks tiny compared to Brock when he picked him up.

Overall: Since I skipped the MatureLady segment, I say it was a good show. Anything Torrie is in is crap to me (I shall never get over the god-awful experience that was Dawn/Torrie/Al nor the promising crapfest that is MatureLady/Torrie). Good build-up for the PPV, too.


---
Fashion Reporter Extraordinare

Wisdom is learning from one's mistakes.
Greater wisdom is learning from the mistakes of others.


I am somewhat disturbed when someone who registered a month ago has more posts than me.
I am less disturbed when I relize it means I actually have more of a life than some people.
Spiraling_Shape
Bierwurst



Since: 2.1.02
From: PA

Since last post: 6 days
Last activity: 5 hours

#4 Posted on
Cena's He-man reference=great

Yes! The highlight of the show was Cena namedropping Man-E-Faces...followed by Cena making a reference to Brock not being a "prototype."

I`m quickly becoming a fan of Thugonomics.

(edited by Spiraling_Shape on 24.4.03 2023)

---

Wiener of the Day - 9/9/02
shinstrife
Boudin rouge



Since: 5.10.02

Since last post: 809 days
Last activity: 20 hours

#5 Posted on
Originally posted by Spiraling_Shape

---

Cena's He-man reference=great

Yes! The highlight of the show was Cena namedropping Man-E-Faces...followed by Cena making a reference to Brock not being a "prototype."

I`m quickly becoming a fan of Thugonomics.

(edited by Spiraling_Shape on 24.4.03 2023)

---


Is it possible to be an MFer and a student in Thugonomics 101?


---

"I stand for truth,and justice....BIAAATCH!"
The Great Thomas
Sujuk



Since: 17.6.02
From: Miami, Florida

Since last post: 4682 days
Last activity: 4682 days

#6 Posted on
Originally posted by ScreamingHeadGuy

---

What, no Great Thomas Smackdown! Report?

---
Well I WOULD have my report if only I didn't stupidly delete half of it instead of copying and pasting. I'm an idiot.


---
Please Support The Neo-Geo Pocket Color!
Spiraling_Shape
Bierwurst



Since: 2.1.02
From: PA

Since last post: 6 days
Last activity: 5 hours

#7 Posted on
Is it possible to be an MFer and a student in Thugonomics 101?

Apparently so!

Cena`s quickly becoming the best thing about SD!, with most of the other guys being misused in random feuds (note that Benoit and Rhyno are missing from the PPV).


---

Wiener of the Day - 9/9/02
ICEMAN
Landjager



Since: 23.5.02
From: Nashville,TN

Since last post: 3181 days
Last activity: 2870 days

#8 Posted on
Cena is just gold and I always want to see old-school stuff he'd wear. He is very good ring-wise too. Everything he has done I have liked so far but tonight I thought he wasn't going to be able to get Brock up for the DVD but he did while looking really tiny in the process.



And Stephanie......Damn.....I'm sorry but I can't understand why people think she's fat. I think she's a total babe.





---
Mr Heel II
Lap cheong



Since: 25.2.02

Since last post: 77 days
Last activity: 13 days

#9 Posted on
It's the John Cena show! He was all over the place. "You aint even a Prototype". HAHAHAHAHAHA.

I don't know why it is but every time I see Palumbo with the FBI I think to myself "Wait a minute...Is that Chuck Palumbo?!?"

Piper has no more business taking his shirt off in public than I do. In fact, Piper has LESS business taking his shirt off in public than I do. Heck, Piper has less business taking his shirt off in public than A-TRAIN.

The things Crash will do to get back on TV.

Torrie gets the beatdown for HLA! Has a lesbian EVER gotten out of a WWE ring without a beatdown? (No I am NOT seriously looking for an answer to that).

I already had a bad taste in my mouth for Backlash after attending last year's crapfest known as Backlash. I didn't get any better tonight. It was a decent show, but if anything it sold me on buying TNA next week just to change things up.


---

some things are classic. some things are just old.
StampedeFan23
Morcilla




Since: 12.1.02
From: BC, Canada

Since last post: 3358 days
Last activity: 2894 days

#10 Posted on
I just caught the last match and was shocked at how watchable it was! So, is the hype on Albert true, or did Lesnar just drag a good match out of him?


---

Are you ready for Mahkan-mania to run wild all over you?

I mark for Molly Holly and Lance Storm.
saturn93
Italian



Since: 21.4.03
From: Naperville, IL

Since last post: 16 days
Last activity: 2 days

#11 Posted on
OK, here I go with the 2nd TV opinion, the first for Smackdown.

1) Cena/Rhyno...The thing that surprised me was the clean pin in the match.

2) Nunzio/Benoit...A checklist of the FBI about a year or so ago. Nunzio...w/Noble, Stamboli...Heat/Velocty, Palumbo...In great tag team, and ready to be in one of the more interesting storylines of the year. Now, he is behind some small, 200-pound weakling in an already-used-in-another-league stable. What happened Chuck?

3) Rey/Crash...I had my line of the night, "Wake me up when this match is over." I never cared about masked wrestlers (you will never see me turn on one of those Lucha Libre programs, one minute of that...and I am out.) Crash, never cared, even the hardcore title 24/7 angle.

4) Cena/A-train backstage promo was, in my opinion, a disaster, but hilarious. Cena: "I'm so excited, I knocked the VCR off.", or something like that. That should make the blooper reel. A-train fumbling his lines. This "train" of a promo just got "derailed."

5) Piper/Rikishi...When they said Piper was weighing 220 pounds, was that his weight in 1986? He looked more like 255. 2 Words for you Roddy...Weight Watchers.

6) Sable invite...who cares. I want more wrestling, not bikini contests, debates, dance contests, rap contests, etc.

7) Guerrero/Benjamin...I like Team Angle, and they should be big stars if used correctly. Nice match.

8) Big Show/Tajiri...My dad had a great line. "Big Show is a big boob." Don't think getting kicked in the face and falling on your rear one week, and getting smacked against the post and tripping over the steps the next would make this giant become angry.

9) Stephanie...Can't wait for Mr. America to come (I was being sarcastic), hope it's not Duggan. Anyway, is it me that Stephanie has been on once in the past 3 weeks, and it seems like Bischoff has been on TV every 5 minutes on RAW? Hmmmm.......

10) A-train/Lesner...OK match.

11) Aftermath, Cena attacks Lesner, Smack with belt, bladejob. On Raw, Goldberg took, in my opinion, a little stiffer hit with a chair, and did nothing. Anyway, tonight was way too much Cena.

I'll be back this weekend for my Backlash picks, even though I won't be getting the PPV. More interested in the Sunday Night Game.

Later.


Dagent913
Bockwurst



Since: 18.11.02
From: Strong Island

Since last post: 4978 days
Last activity: 4509 days

#12 Posted on
Ok, I'm going to come right out and say it: A-Train is starting to grow on me. I enjoyed his match with Brock tonight. I don't know if it's one of those things where Brock carried him or what, but I'm starting to dig him. He obviously works real hard, and he's making the most of this opportunity He was a good match up for Lesnar and his power moves, this was way better than their last match (by the way, I could have done without that view of A-Train landing on his head like that....OUCH!! Talk about Cringe TV.) That's right, I've got a foot on the A-Train bandwagon. Take away my smark membership card if you wish, but I'm sticking by it.


---

What if your grandfather was a kazoo?







Take the "Which Marvel Comics Hero are you" quiz!
tomvejada
Andouille



Since: 2.1.02

Since last post: 5380 days
Last activity: 5380 days

#13 Posted on
Cena-Rhyno was the match of the night. Also, Cena's various promos were very good.

Piper-Rikishi was God-awful.

I thought Cena's commentary during Lesnar-A-Train,was the best guest commentary since Austin's during the Angle-Benoit cage match.

Lesnar-A-Train was alright. Probably A-Train's best match with the exception of Benoit.

Overall, Smackdown was alright.



(edited by tomvejada on 25.4.03 0537)

---

"I just got pinned by a friggin twelve-year-old."

Kurt Angle

CANADIAN BULLDOG
Andouille



Since: 5.3.03
From: TORONTO

Since last post: 1852 days
Last activity: 1850 days


ICQ:
#14 Posted on
Is it just me, or is this whole `Happy Brock' gimmick ruining his character as of late?

I mean, it was fine when he came out all smiles during his first post-Mania SmackDown. He won the title, escaped a career-threating injury, etc. Then the next week, exact same thing, and even last night.

Brock got over, in part at least, because he was billed as a monster who rarely talked (Paul Heyman's also a big part of that, but that's another story for another day). These days he comes out with that shit-eating grin on his face and I'm thinking he doesn't look nearly as menacing.




---

"If I told Mooah to act her age, she'd die." -- Jerry Lawler, 1999
vsp
Andouille



Since: 3.1.02
From: Philly

Since last post: 4339 days
Last activity: 594 days

#15 Posted on | Instant Rating: 0.00
Originally posted by Mr Heel II

---

Piper has no more business taking his shirt off in public than I do. In fact, Piper has LESS business taking his shirt off in public than I do. Heck, Piper has less business taking his shirt off in public than A-TRAIN.

---


Yeah, but when A-Train takes his shirt off, he's still wearing one.



---

"You may be wondering why I have been making so many references lately to Fox News. The reason is that it is now my cable news network of choice -- because if Iím going to watch the news and be lied to, I want it to be ridiculously obvious that I am being lied to." -- Center for an Informed America, Newsletter #34
sergeial
Boerewors



Since: 27.2.02
From: Minneapolis

Since last post: 4343 days
Last activity: 4260 days

#16 Posted on
John Cena was gold last night. He has a spring in his steps that just says "I am so on!" I loved it when he called Brock a disappointment and careless and bad on the mic. That was such a low blow!

And for the record, I love "Happy Brock". Please don't bring back "Intense, angy-all-the-time Brock". But I like "laid-back RVD", so what do I know.

After seeing the footage of Albert's near death experience, my wife feels that they should do an injury angle on Brock and send him to OVW till he stops dropping people on their heads. Personally, I think a "Hey, I pushed you to the moon and made you champ, stop making me worry I made a mistake, please", from Vince should be sufficient.

I loved this show, and watching John Cena becoming a star before my eyes was the main reason why. I don't see him taking the belt on Sunday, but I'd be shocked if he didn't get a run with it sometime in the next year. (But I said the same thing about RVD a year ago, so what do I know.)

sergei


---

"A true champion knows how to deal with adversity."-- Kurt Angle
tasslex
Salami



Since: 15.10.02
From: Eagan, MN

Since last post: 4970 days
Last activity: 4927 days

#17 Posted on
Cena/Rhyno - Good match, but what the hell was that at the end? Did Cena just throw him to the ground and lay on him for the Pin?
Nunzio/Benoit - Decent enough match I guess, they both put the effort in, but Nunzio's going nowhere.
Rey/Crash - Good little match, Tazz and Cole made this one a lot of fun with their commentary
Piper/Rikishi - I was actually really surprised at how much fun I had watching this match. Piper didn't really try to "wrestle", but he was entertaining as hell with the blatand ref distraction + low blow right away.
Guerrero/Benjamin - Inoffensive match, but I just don't react to Team Angle. I know they're talented in the ring, but beyond the Angle association they just don't seem to me to have the charisma and ability to connect to the crowd that that others do. Bright futures for those two though.
Big Show/Tajiri - I actually really enjoyed this match, kept me interested. When I watch Big Show in the ring lately he really seems to be putting the effort in. The Rey Rey interference was kinda silly though, in that Show just kinda stood around near the Ringpost looking everywhere but where Rey Rey was getting ready to run in from. Tajiri's kicks are actually believable offense against the Big Show, especially when he can work Show's legs and Show SELLS it.
A-train/Lesnar - I can't believe this, but I have to say this was probably my Favorite match of the night. The collisions were amazing (especially that Noggin Knock - Tazz was right, did you SEE the sweat fly off Brock's melon?!) and Lesnar's amateur quickness versus A-Trains raw power was pretty fun.

As far as non-wrestling segments, A-Train + Cena in backstage segments was GOLD. Cena is an excellent talker, I thought everything he did was top notch. Even knocking the VCR down was kinda funny - he at least ACKNOWLEDGED that it happened and gave me a chuckle with that line. When A-Train grabbed Cena's chain and started hollering he really brought the intensity. I think whoever at WWE says he's got potential to be an excellent ME guy someday is right on.

The Sable Invitational was OK, the Torrie/Sable grinding was inappropriate, but HOT.
The way they ended it was pretty lame though, I'm sick of left-field swerves.

All in all probably one of the best Smackdown's I've seen in a while. The build up for Backlash here was pretty good. I was seriously considering not ordering the PPV after the clusterfuck of disappointment that RAW was on Monday, but I think this got my hopes back up.


---

I donít go to sleep at night, I job to my blankets.

When my mom dies I'd like to know it was peacefully in her sleep, and not fucked to death by 38 men with AIDS.
Mr. Heat Miser
Blutwurst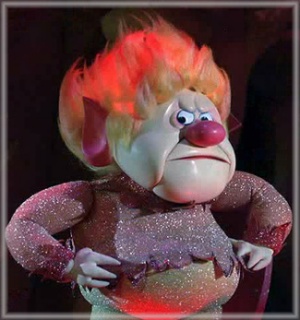 Since: 27.1.02

Since last post: 3851 days
Last activity: 1953 days

#18 Posted on
I can live w/ Happy Brock for a while longer, I think - why shouldn't he be happy? He's the King of Smackdown! right now, w/ no one really close to challenging him. Plus, in the long run, it sets him up for becoming intense/obsessed/evil/whatever, upon next losing the title or getting screwed over in some other way. I say give him at least a few months as Happy Brock, and start some storm clouds gathering in the distance now, so they can break when Happy Brock gets stale.

Of course, that would be long term thinking.




---

-MHM, winner of the 2000 Throwdown in Christmastown.
Wpob
Bierwurst



Since: 21.11.02
From: Williston Park, NY

Since last post: 8 days
Last activity: 1 day

#19 Posted on
Is it possible to be an MFer and a student in Thugonomics 101?
---


I hope so cause I am. Hardy and Cena and the two best reasons to watch Smackdown, especially with Angle out. I love both of their personas. The sky's the limit.


---



Big brother representative: Now, Mr. Simpson, may I ask why you're here?
Homer's Brain: Don't say revenge. Don't say revenge.
Homer: Ummm... revenge?
Homer's Brain: Okay, that's it. I'm outta here.
[Sound FX: step step step step step... slam]


dwaters
Bierwurst



Since: 16.10.02
From: Connecticut

Since last post: 22 days
Last activity: 8 days

#20 Posted on
I think the world would be a better place if we all did the "Brock Happy Dance" before getting in the car, sitting at our desk, standing in line at the bank. You know the one he does on the stage: bounce left, right, left.

-or-
Have Cena follow you around all day with a mic and rap to the people you encounter,
Bad service in a restaurant?
"Hey yo! Waiter..
your skills is wack,
cuz you're a Chicken McNugget
and I'm a Big Mac!"

Word, Life!

Can you imagine Rock vs. Cena dueling promo??? It would be so great!
Pages: 1 2 Next