mattstew
Cotto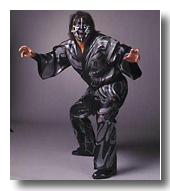 Since: 28.5.02
From: New York, NY

Since last post: 4172 days
Last activity: 4126 days

#21 Posted on

flair is the only person with the personal history to make all the marky marks mark. plus he's waaay too old to keep rasslin. i say make some bullshit up about flair being the head of a "consortium" of former owners/commissioners lobbying mcmahon for the gm job to keep bischoff in check. if it's stephanie i swear to christ i will first puke and then punch myself in the balls. thank you.





---

The luck is gone, the brain is shot.
But the liquor, we still got.
Doug Coughlin, Cocktail
Iron Mike Sharpe
Pickled pork



Since: 16.6.02

Since last post: 5631 days
Last activity: 5631 days

#22 Posted on
Maybe they can get the hottest piece of ass on the Divas roster, Mae Young, to be the GM.
count olaf
Goetta



Since: 15.7.02

Since last post: 5040 days
Last activity: 5037 days

#23 Posted on
Remember they eluded more than once tonight to Bischoff's revealing match results. What they didn't mention (yet, possibly) is the most awful example- Giving away Mick's first title win. That would give Foley some real motivation as Linda's Smackdown GM.

Of course, that will never happen.
Iron Mike Sharpe
Pickled pork



Since: 16.6.02

Since last post: 5631 days
Last activity: 5631 days

#24 Posted on
Heh, just thought of something that would be cool, but obviously would never happen.

Just as SmackDown goes on the air Thursday night, Bischoff intercepts the satellite (and I don't mean Perry Saturn) feed and gives away all the match results.
Tom Dean
Bockwurst



Since: 30.8.02
From: New York, NY

Since last post: 4857 days
Last activity: 4227 days

#25 Posted on
Logically, it'll probably be HBK, and yet, perhaps precisely because it would border on insane, my guess is Heyman.


---

"How YOU Doin'?"
- Tom Dean, weekly at [slash]
"History is being make-ed... somebody here is getting their head completely shaved off"
- David McLane, PPV opening promo

gonna build a giant drill and bore straight into hell releasing ancient demons from their sleep-forever spell so they can walk upon the earth and get recituated and run the diet pill pyramid that MC Pee Pants has created
ManiacalClown
Landjager



Since: 2.1.02
From: Houston, TX

Since last post: 2096 days
Last activity: 2096 days

#26 Posted on | Instant Rating: 0.00
It is SO Gangrel...

Please believe it.


---
Eddie Famous
Andouille



Since: 11.12.01
From: Catlin IL

Since last post: 727 days
Last activity: 268 days

#27 Posted on
It's Hogan.


---

George Washington gave his signature
The Government gave its hand
They said for now and ever more that this was Indian Land

"As long as the moon shall rise"
"As long as the rivers flow"
"As long as the sun will shine"
"As long as the grass shall grow"



Phantom
Frankfurter



Since: 17.3.02

Since last post: 3926 days
Last activity: 3903 days

#28 Posted on
Road Warrior Animal!
Stephanie
Landjager



Since: 2.1.02
From: Madison, WI

Since last post: 2072 days
Last activity: 30 days

#29 Posted on | Instant Rating: 5.22
Originally posted by Eddie Famous

---

It's Hogan.

---


Now that would definitely be Hell.

I have a feeling that, given the state of the Internet, they will pre-tape the announcement and not play it until Smackdown! is televised on Thursday.

Steph


---

I'm going twenty-four hours a day...I can't seem to stop
- "Turn Up The Radio", Autograph
Ike
Salami



Since: 14.2.02
From: Burlington, Ontario

Since last post: 5938 days
Last activity: 5924 days


ICQ:
#30 Posted on
Geez, you think they'd piss off the live audience like that? Besides, I'm sure they'll give the new GM some face time in the ring.

Gotta go with Dusty on this one.


---

Karl: If you had a neck and I had hands I would squeeze your brain which is your body right out of the top of your head which does not exist!
Zorak: That's some great hair.
Karl: Thanks, it's not real.
BoromirMark
Potato korv



Since: 8.5.02
From: Milan-Ann Arbor, MI

Since last post: 1379 days
Last activity: 1379 days

#31 Posted on
Think about it. It's gotta be someone who can play off Bischoff, generate some heat, has name recognition with fans...hrm...





RODDY f'n PIPER.
GodEatGod
Bockwurst



Since: 28.2.02

Since last post: 1121 days
Last activity: 560 days

#32 Posted on
Y'know, I never thought of Piper, but, by God, it'd make sense. Admittedly, he was sometimes a rambling jack-ass towards the end of his WCW days, but if he can channel the Hot Rod of old...woo boy, that's some good TV.
---

"All I ever asked for in life is an unfair advantage." Microchip, Punisher Annual #2

Mild Mannered Madman
Toulouse



Since: 1.3.02
From: Westminster, CA

Since last post: 2020 days
Last activity: 1738 days

#33 Posted on
It'll be Stephanie. I'd put money on it.




---
We're all mad here... I'm mad... You're mad...
LordOfTheSmarks
Chipolata



Since: 18.3.02
From: THE ohio state university

Since last post: 6031 days
Last activity: 5924 days

#34 Posted on

Let's work through this:

Of all the people mentioned, would any of them be able to carry the job of GM on a solo effort? I don't think so.

We've firmly established that the GM cannot be benevolent. No, he has to be something different.

Put these together: There needs to be two people - co-GMs if you will. They need to be not good; no, they need to be eeeeeeeeeeeeeeeeeeeeeeeeeeeevil.

Kai en Tai - your new Smackdown co-GMs.

Indeeeeeeeeeeeed.


---

"somewhere down in suburbia it ain't right"
joepet
Tocino



Since: 17.4.02

Since last post: 4220 days
Last activity: 3835 days

#35 Posted on
Bruno Sammartino!
Ole Anderson!
Bob Backlund!
Stu Hart!
Stinger
Cotechino



Since: 29.1.02

Since last post: 5564 days
Last activity: 5563 days

#36 Posted on
I'm thinking it's gotta be someone bigger than Easy E, I mean if it's not won't it be a let down? If it's shane or steph I'll throw up and hate wwe forever. Vince wouldn't make us suffer watching them again would he.

my 5, some way out on a limb picks are:

Vince Russo: it's probably not as far fetched as you think.
Vinny Mac: Vince vs. Bischoff in a ratings war that he can't lose?
Dusty: WOW! it's that big guy, the son of a trucker, garbage man, plumber, carpenter...I remeber him...then nobody will care cause I can't think of anything dusty could do to stir things up.
Ted Dibiase:there's always hope
Ultimate Warrior:one can always dream



Freeway
Scrapple



Since: 3.1.02
From: Calgary

Since last post: 1856 days
Last activity: 1544 days

#37 Posted on
Okay, the Smackdown GM is equal to or greater than Eric Bischoff in coolness. Which means, here are your suspects:

Eric Bischoff: Both shows? Unlikely...
Shawn Michaels: They've already blown THAT load...
Bret Hart: Stroke, nope.
Vince Russo: NWA, nope.
Hulk Hogan: But what of the feud? No way.
Paul Heyman: Nope. Tied up on RAW.
Stephanie McMahon: Possible...but unlikely.
Shane McMahon: Possible.

So, I'm guessing that it's somebody that nobodys mentioned yet...but when he's announced as the GM, we'll all go "OHHHH...that makes sense."

Former WWF President Jack Tunney!


---

Bart: Hey, immigrants! Beat it! Country's full!
Sailor: OK people, you heard the lady. Back into the hold. We'll try Canada.
[the immigrants moan]
-- "The City of New York Vs. Homer Simpson"



"That's what the Internet is for, slandering others anonymously" Banky Edwards (Jason Lee) in Jay & Silent Bob Strike Back
tomvejada
Andouille



Since: 2.1.02

Since last post: 5625 days
Last activity: 5625 days

#38 Posted on
Hopefully: Foley

Maybe: Dusty

Probably: Stephanie


---

"Catching Hitler was neato!" "Next stop, Hirohito!"
Bart Simpson
Jobberman
Kishke



Since: 2.1.02
From: West Palm Beach, FL

Since last post: 1633 days
Last activity: 159 days

#39 Posted on
No votes for Goldberg? Even after his "I'll be back in the ring in 2002" comments?

Just kidding, kinda.
A-MOL
Frankfurter



Since: 26.6.02
From: York, England

Since last post: 5425 days
Last activity: 5367 days

#40 Posted on
Maybe one of Scott Keith's applications was successful and...
Pages: Prev 1 2 3 4 Next