Matt Tracker
Scrapple



Since: 8.5.03
From: North Carolina

Since last post: 8 days
Last activity: 2 days

#1 Posted on | Instant Rating: 6.49
The show begins with the return of Jeff Hardy, taking the ring in full regalia and the fans are -- nope, it's Punk, being a delightful dick to the WWE Universe. He affirms the departure of the Enigmatic Enabler and calls out Undertaker. There's no response, and Punk runs him down as cheap theatrics while bragging about his own credentials. He's the "choice of a new generation" (TM Pepsi about 15 years ago) and reminds the fans he has no vice. Well maybe one vice. And it's not a monkey on his back. It's an anaconda. But out comes Matt Hardy, who charges the ring. Refs pull them apart.

After the commercial, Punk demands Teddy stand up for his show's champion. Teddy instead makes a match for tonight with Matt. Punk is worried that it's for the title and is quite relieved when Teddy says it isn't. Just straight-up, one on one. Punk promises to get rid of the other Hardy tonight.

Virtually every ad break has a teaser for Taker to reappear tonight.

Mike Knox/Kane vs. Great Khali/Finlay
Kane and Khali will now meet in a Singapore Cane Match at Breaking Point. Knox gets an inset monologue about bone compression. This is all Finlay as Khali gets very little ring time. Finlay goes up against Knox, but Kane shoves him off, and Finlay hurts his arm. Knox and Kane target it, and this is a fearsome tag team. KNOX BLOCK! It gets a replay! Everyone loves the Knox Block! Finlay regains composure and evades a charging Kane. He goes outside and grabs Singh. Khali defends his brother/translator, distracting the ref enough for Finlay to smack Knox with the shillelagh. That gets the pin.

R-Truth hits the arena for his match, but Drew McIntyre ambushes him again and delivers the sit-out double-arm DDT. He feels slighted for not getting a match this week and promises to disrupt the show every week until he's treated properly. He's wearing really weird floppy dress shoes. Also, I hate his ponytail.

IC champ Rey Mysterio vs. John Morrison
This sucker is awesome. Awesome. They start evenly with reversals of holds and pins, and that's the tone for the whole match. Rey works the ribs, and John targets the shoulder. Rey uses a series of lightning legdrops. Morrison evades the 619. Rey does hit the legswing, but John avoids and pops Rey with the Flying Chuck. When Rey uses a sitting surfboard, John reverses with a PERFECT double-leg mule kick somersault that tags Rey on the chin hard. When Rey gets momentum later, he goes up top, but Morrison decks him in the gut with a dropkick as Rey flies off the turnbuckle. Again, PERFECT. JR calls it the game changer, and it might very well be. The standing moonsault only gets two. The running knee only gets two. Rey won't die. Morrison goes up for the Starship Pain, but Rey catches him and sets up for a reverse super huracanrana. Morrison holds the corner cable, and Rey flops to the mat. Morrison flies into a second-drop corkscrew legdrop, and that gets three. We have a new champ. The audience is standing for this one. Morrison helps Rey to his feet, and they hug. Rey slips away to allow Morrison to take his bows. I'm not doing this justice. It's nothing we haven't seen from either guy before, but they do the basics so well. Every pinfall was a credible ending. It's almost a shame this is on free TV.

Michelle McCool taunts Maria and Melina backstage and threatens Melina with arrest if she attacks her again.

Eve/Maria vs. Layla/Natayla
Maria is the face-in-peril. Eve tags in takes control. She goes for her handspring moonsault finisher, but it's not a clean hit on Layla. It does get the pin. Kinda there.

World champ CM Punk vs. Matt Hardy
Matt insists before the match that he doesn't want the belt or a submission. He wants to take Punk's career. But he approaches this match as if it were any other, and it's frankly boring. Punk's doing what he can. He hides behind the ref to start and goes full heel with his offense. He taunts Hardy when he has control. Matt looks rusty. No, he looks drowsy. This should be a bigger showing by Matt. Punk works the ribs, and they go outside. Punk grabs a chair and pops Matt (to no DQ, oddly). He sets him up for a neck Pillmanizer just as Jeff suffered, and BONG. Lights out. Lights on, and Taker goozles Punk for an announce-table chokeslam. That's your show.

A really dead main event despite rabid heat against Punk and some residual Jeff love aimed at Matt. But they couldn't follow the IC match. No one could.

You know, given how kid-centric the top faces are -- Jeff. Rey, Taker -- it's amazing that we got such solid wrestling alongside the cartoony heroes. It shouldn't balance, but it's done as well as you could hope.


---

"To be the man, you gotta beat demands." -- The Lovely Mrs. Tracker
Promote this thread!
CxMorgado
Boudin rouge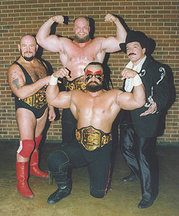 Since: 21.1.02
From: Boston MA is the rippen'ist town...

Since last post: 1056 days
Last activity: 958 days

#2 Posted on | Instant Rating: 3.63
Punk paraphrasing Straight Edge Revenge* was a total mark out moment for me and every other Straight Edge/hardcore kid who watches. And him no selling the mystique of Takers "magic" was great. Nice to see they are remembering the Anaconda Vice now that there's a submission ppv on the horizon, but too bad he didn't use it in the match with Matt to build it up after something like a year of it not getting used.

That Rey/Morrison match was SWEET. I would almost say it was WCW cruiserweight quality.

Boy, do I dig this show.


*-

"I'm as straight as the line that you sniff up your nose
And I'm as hard as the booze that you swill down your throat
I'm as bad as the shit you breath into your lungs
And I'll fuck you up as fast as those pills on your tongue.
Straight. Edge. Revenge."

Project X, 1987.

(Yes, it's tongue in cheek; their drummer was like 13.)



---
http://wrestling.insidepulse.com/author/christophermorgado/
John Orquiola
Scrapple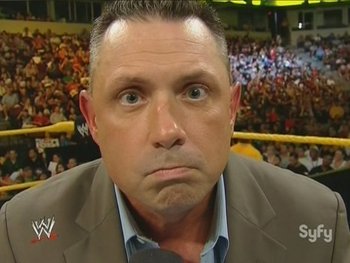 Since: 28.2.02
From: Boston

Since last post: 1631 days
Last activity: 1631 days

#3 Posted on | Instant Rating: 4.96
I love that Punk gets announced by Tony Chimel as "the only straight edge World Heavyweight Champion in WWE history." That's right, every other world champion was a druggie, a boozebag, or both. But not this guy.

It's amazing how much Punk looked like Vampiro when he smeared the paint off his face. The reaction shots from the Hardy marks were priceless. No fans give better reactions than Hardy marks.

Teddy Long's face when Punk promised to get rid off Matt the way he got rid of Jeff was also great. They should pushed it further:

Long: "Now, why would I want that, playa? Why would I want to lose both Hardys, two of the top guys on Smackdown who fans buy tickets to see, sell merchandise, and deliver great matches? Why would I want that, you idiot?"

Furthermore, why was Vince so pleased Jeff left the WWE? Sometimes crazy Vince skits give me migranes but I thought this one about Vince's Pepto-colored suit was funny.

Eve really slammed the knees down onto Layla during her finish. I like her standing flip senton. Eve needs hundreds of hours of ring time to get where she could be, but she has a lot of potential to become a good wrestler. And Layla's getting pretty good too.

IC Title match was heavenly.

I can't imagine how Punk can make Undertaker submit in his first match back at Breaking Point. He probably won't, but I'm happy to pay to see him try.
Oliver
Scrapple



Since: 20.6.02

Since last post: 1385 days
Last activity: 1379 days

#4 Posted on | Instant Rating: 3.29
The IC title match should have been the main event.

The Undertaker's back? Yawn. Same thing everytime. Special effects announce his return. Shortly afterward, he starts to attack his intended victim, often from behind. He'll wrestle a few dates, maybe win the title. Shortly thereafter, he'll disappear. Sorry, not interested.


---

"I have a feeling that waiting isn't as pointless as it seems. If someone is waiting, that place becomes a place to return to."


Tsukasa to Jii-san, Kamen Rider Decade # 25

My Blog - My Twitter
Matt Tracker
Scrapple



Since: 8.5.03
From: North Carolina

Since last post: 8 days
Last activity: 2 days

#5 Posted on | Instant Rating: 6.49
I should have mentioned the Vince/Teddy segment. I'm convinced Vince was trying to crack up Teddy, but Long played it straight and gave Vince a great improv line.

"Have you ever been lucky?"
"I work for you."
"Good answer."


---

"To be the man, you gotta beat demands." -- The Lovely Mrs. Tracker
StaggerLee
Scrapple



Since: 3.10.02
From: Right side of the tracks

Since last post: 57 days
Last activity: 24 days

#6 Posted on | Instant Rating: 3.02
Morrison V Rey was more than enough to make this show a thumbs up.

As for straight edge champs, I am SURE Bob Backlund falls into that category as well.

The kids near tears when they realize its Punk in the Hardy paint was fabulous!


Wpob
Bierwurst



Since: 21.11.02
From: Williston Park, NY

Since last post: 30 days
Last activity: 1 day

#7 Posted on | Instant Rating: 6.09
My kids were in tears at home watching it!!! I had to explain to them that Jeff Hardy will be back sometime down the road and when he comes back, he is going to beat up Punk. Needless to say, they could not get enough of the undertaker putting Punk through the table.

I loved Rey/Morrison. IU hope for a long run withthe belt for Morrison but I fear a quick title change to Xiggler is coming.




---

Life is hilariously cruel.


Shem the Penman
Toulouse



Since: 16.1.02
From: The Off-Center of the Universe (aka Philadelphia)

Since last post: 1778 days
Last activity: 1577 days

#8 Posted on | Instant Rating: 4.97
Maybe I just haven't been paying enough attention, but I noticed that Matt looked pretty bulked up, and not in a good way -- that was definitely an incipient gut on him.


---

"The object of persecution is persecution. The object of torture is torture. The object of power is power. Now do you begin to understand me?"
odessasteps
Scrapple



Since: 2.1.02
From: MD, USA

Since last post: 1642 days
Last activity: 1609 days

#9 Posted on | Instant Rating: 6.54
Originally posted by Shem the Penman

---

Maybe I just haven't been paying enough attention, but I noticed that Matt looked pretty bulked up, and not in a good way -- that was definitely an incipient gut on him.

---


If you didn't know, he recently had abdominal surgery and came back "too soon" so they could return the Hardys as a team before Jeff left.


---

Mark Coale
Odessa Steps Magazine
The Affirmation, Baby Blog