FOOTAGE! from last week's Main Event. It works 'cuz everyone likes a "Holy Shit" moment.

It's my life, my time, my rights, my rhyme. It's Ssssmackdown! and a Fashion Report, too.

Vince, in white shirt with thin blue stripes (top two buttons undone) and black slacks, talks. Brocky, in black skulled muscle shirt, black shorts, wearing the belt, interrupts. Book a match...for an as-yet-to-be-disclosed date. 12 minutes.

Cole, in white shirt (top two buttons undone) and Tazz, in black suit, electric blue shirt, orange hanky, and orange/white tie, commentate. And show FOOTAGE!

Benoit, in blue "Toothless Aggression" wolverine-headed trunks, vs. Mattitude (with FOOTAGE!) in black "V1" tshirt and red pants with black pockets and gold prints, with Shannon, in silver bellbottoms. Hebner The Younger, in ubiquitous blue shirt and black slacks, is the refere. Hardy gets bloodies - looks like he's eatin' raw meat. Nice visual - Hardy, blood covering his teeth, doing the neck-slitting motion. Hardy bleeds LIKE A MAN. A good match. Hey, doe sthe audio seem fuzzy to you? I felt certain they woulds' Adbreak'ed that match, but I'm glad they didn't.

VInce, in the Room of Fun, meets Steph, in pink tanktop and black pants, with black choker (hair is straight). Pink accentuates her boobies.

Meanwhile, in the back, Angle and Lesnar have a confrontation/friendly encounter.

Noble, in cutoff khakis with Nidia, in genuine imitation mock mink coat, light purple top, and Daisy Dukes, vs. Ultimo Dragon, in platinum sparkly maks, pauldrons, cape, tights, and bracers with white spines. Noble is distracted by Torrie and MrAss. Average match - too short.

Cena, in Indiana jersey (#11), in a graveyard, disses, via rap, Undertaker. And he pees on a grave.

Acolytes, in the back, do some crap. I still dislike 'em.

Kidman, in black "Kidman" fullucts, and Rey, in black/turquoise mask and pants, shirt pulled-down to his hips, wearing the belt, vs. Conquistidores, in black masks and undies. Yes - this SO reminds me of Saturday-morning wrestling from my childhood. An average match.

Vince (again!) is out to talk. Um, is he supposed to be boring-up the show like this? Cena, now in a Kings (#10) jersey, white sunvisor, and lock 'n chain, thankfully interrupts. But "seems" doesn't rhyme with "Reeves". Taker, in black tanktop, leather pants, backwards red devil cap, rides on down. Cena counters the MAGIC STEEL STEPS by throwing them, then he runs.

Rhyno, in black "Rhyno" singlet, vs. Sean, in long black trenchcoat with silver flamin' cuffs. Acolytes come out to invite 'em to a party. Um, no match. SOrry about that.

Meanwhile, Sable drinks and bitches at Sarah (a member of the catering staff). What the hell purpose is THAT segment supposed to accomplish? Is the non-chilled wine important to the show's flow? Or is it that Sable is abusing the servers? Or is it just a way to waste 10 seconds?

White Caddy (2 FAT4U), with Eddie, in red "Latino" tights with gold/black flames, vs. MrAss, in neon green "Mr. Ass" fullcuts with purple lips, with Torrie, in white dress with black trim 'n straps. That hiptoss/brainbuster looked like it nearly killed Eddie. Average match - Billy Gunn elicits nothing from me (or the fans, who cheered for: Eddie, Torrie).

Josh interviews Sable, who gets more booze. Hey, it's Steph, in serving-staff outfit. Mucho grunting and screaching by the ladies. And I laugh so loud my sides hurt. Finally Security saves me from splitting myself. I cannot adequately express my delight.

FOOTAGE! of the whole thing again. Stopit, I'm hurting here.

Run-down the PPV card.

Angle, in USA-flag-style singlet (right is blue/stars, left is stripes) with gold jagged-steps at the legs, and gold medals, with FOOTAGE!, vs. Adbreak, vs. Well, it's the Big Show, in one-strap black singlet, and Haas/Benjamin, in maroon singlets with silver trim, wearing the WWE Tag Team Titles. Hey, how about ANOTHER Adbreak? Zack, in one-sleeved black "Vengeance" tshirt and warmups, tries to help. OMG, what a cool spot with Angle smacking BigShow with the steps. A good match, bordering on great (for free TV).

Overall: A good show. A little too much Vince/Steph/Sable, but for the payoff gut-buster, laugh-inducing food-fight bit, it's okay. Still with a week left, Vengeance looks to be a good PPV.


---
Fashion Reporter Extraordinare

...And Steph, crying a warcry from the deep primal regions of the human soul, flies in to kick Sable's ass. - the Fashion Report for Smackdown! July 10, 2003
Promote this thread!
Evil Antler God
Potato korv



Since: 10.1.02

Since last post: 4251 days
Last activity: 2377 days

#2 Posted on
Wow, O'Haire has a BITCHIN evil laugh

And the APA is back to what they should be, not wrestling, just randomly wandering around picking fights. I have no complaints


---
Anybody can kick people's asses. But it takes a true monster to kick people's asses AND breastfeed at the same time
- Excalibur05
Mr Heel II
Lap cheong



Since: 25.2.02

Since last post: 83 days
Last activity: 19 days

#3 Posted on
Some good matches. Angle was all kinds of awesome in the main, and I enjoyed Hardy/Benoit and Guerrero/Gunn. I wouldn't mind a Noble/Gunn feud if it gives Noble something to do.

Vince's on-camera character is so over-the-top ridiculous now that I just want him off my TV. And take Big Show with you. If Big Show is the best you can do in every main event for weeks, bring Goldberg over to Smackdown. HE doesn't seem to have anything better to do on RAW.

Cena in the graveyard...Good. Cena in the ring kissing up to MacMahon...bad. Say! Undertaker makes an appearance on the bike and nobody moved the stairs. (For props, I know, but still...)

I found the APA bit during the O'Haire/Rhyno match pretty funny. The women in the room were all kinds of pissed off that O'Haire never got his coat off.

I thought it was one of the better Smackdowns overall lately.

(edited by Mr Heel II on 17.7.03 2223)
---
XPacArmy
Frankfurter



Since: 13.5.03
From: Woodbridge, VA

Since last post: 1663 days
Last activity: 1660 days

#4 Posted on
I only saw one match and that was the Billy Gunn vs Eddie match. Damn, when did people start hatin Gunn so much? Also, like always, Eddie was great!


---

Homer: I want to set the record straight: I thought the cop was a prostitute.
The Goon
Banger
Moderator



Since: 2.1.02
From: Calgary, Alberta, Canada

Since last post: 201 days
Last activity: 175 days

#5 Posted on
First time I've caught Smackdown in a while. It's frightening how much Bradshaw now looks like Will Ferrell.

The main event was so damn good I can't believe it was on free TV. The finish with the spin kick by Benjamin on Haas (and the subsequent ankle lock)looked fantastic.
InVerse
Boudin blanc



Since: 26.8.02

Since last post: 9 days
Last activity: 21 hours

#6 Posted on
I summarized the show to a friend who missed it as having some good matches but being a bit boring overall. But when I started listing the highlights, I came up with so many that I realized I enjoyed it more than I thought I did.

Ron Simmons bagging on Bradshaw's hair was awesome.

Bradshaw not getting to hit O'Hare was nice.

Matt Hardy bleeding like he was in the Cell was awesome, even if it was an accident. His expressions capitalized on the gore perfectly.

The people chanting Eddie! Eddie! in time to Torrie's pounding on the mat as she attempted to get them behind Billy Gunn was the greatest thing I've seen in a long time. How often do you see somebody chanting the name of the guy in control, let alone when he's a heel?

Tazz & Cole's commentary during the Kidman/Mysterio vs. Conquistador's match was great as well. Cole even brought out a Missing Link reference. I didn't realize he was old enough to remember the Missing Link.

And line of the night goes to Cole. "Put away the twenty five grand, Torrie just screwed you for free."


---

Sponsor me in the 2003 Blogathon as I try to write poetry for 24 hours straight on behalf of the ClearWater Project!
ced64
Mettwurst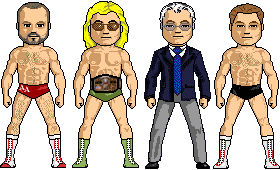 Since: 26.11.02
From: MS

Since last post: 5062 days
Last activity: 1595 days

#7 Posted on
good luck making eddie heel, hes gone into rock territory, u know, it doesnt matter what dastardly thing he does they are gonna cheer him anyway,


---

MEAN! WHOOOOOOOOOOOOOOOOOOOOO! BY GAWD...GENE
Octavian
Weisswurst



Since: 17.7.03
From: Pittsburgh, PA

Since last post: 5333 days
Last activity: 5170 days

#8 Posted on
Originally posted by InVerse

---

And line of the night goes to Cole. "Put away the twenty five grand, Torrie just screwed you for free."

---


Tazz and Cole have been so many kinds of awesome as of late that King and JR need the hubble to catch a glimpse of T&C's shadow. They call moves. They contribute to the ring psychology by noting injury histories and match tendancies. Their chemistry is seemless now. Certainly they benefit from touch ups during post-production, but I don't think that can count for the lightyears between them and their RAW counterparts.

As an aside, the last RAW I really enjoyed was when I was forced to go to a bar to catch it and didn't have any audio. Coincidence?

-MMM
Firecracker
Salami



Since: 26.6.02
From: Miami, FL

Since last post: 4893 days
Last activity: 4728 days

#9 Posted on
Good show. Loved the main event and Benoit-Hardy matches. APA brawl should be fun... the flyers were a nice touch, all we need now is the old office door. Oh, and Eddie cheating to win with that chair just plain RULED!


---

Yo, it's me, it's me, it's (points to self) P-A-B!
Octavian
Weisswurst



Since: 17.7.03
From: Pittsburgh, PA

Since last post: 5333 days
Last activity: 5170 days

#10 Posted on
Originally posted by ced64

---

good luck making eddie heel, hes gone into rock territory, u know, it doesnt matter what dastardly thing he does they are gonna cheer him anyway,

---


I hope WWE realizes what they have on their hands with Eddie right now. He is CRAZY over thanks to the combination of the creative cheating he's been booked with and his undeniable charisma playing off of those moments. The crowd loves being on the inside of the joke. Forcing a full fledged heel turn down our throats is the worst possible thing they could do.

As much I can't stand Gunn, I give him kudos for playing off of the fans rabid chanting for Eddie near the conclusion of their match.

Please please please please WWE - listen to the fans PUHLEEEEEZ

-MMM
CANADIAN BULLDOG
Andouille



Since: 5.3.03
From: TORONTO

Since last post: 1858 days
Last activity: 1856 days


ICQ:
#11 Posted on
Benoit-Hardy was great, especially the finishing sequence. Hope that eventually ends up developing into a classic-type rivalry, the way Benoit-Guerrero gets every time these guys lock up. And speaking of which... thankfully, Vince went with the only logical final for the U.S. title.

Why do they have Brock dressed like a dork? Wasn't he an unstoppable monster at one point; I forget. And DON'T put him in the ring with Vince. Besides for the obvious reasons, buddy doesn't look that much bigger than Mr. McMahon. Not a good sign for a so-called monster....

Here in Canada, they ran a commercial for a local pizza chain, which is giving away sample-sized bottles of JR's BBQ sauce. In the end of the commercial, JR delivers a line in which I SWEAR he's reading off cue cards. Come on, at least to pretend to act you like you care about it, JR.

Those were NOT The Conquistadors, dammit! How dare WWE pull a bait and switch. And..... uh.... couldn't they find anyone better for Rey and Kidman to face? Velocity called; they want their jobbers back.

Not a good show, in my opinion, except the opening bout.


---

The REAL Trish Stratus interview? A Scott Keith fan club? Plus the latest in hair care products in the newest Inside The Ropes!
fuelinjected
Banger



Since: 12.10.02
From: Canada

Since last post: 4574 days
Last activity: 4574 days

#12 Posted on | Instant Rating: 5.15
I enjoyed the show this week. Great opener and a good Main Event can do wonders for whatever they throw in the middle.

The pacing of Smackdown seems a little slower then RAW overall which is good because good or bad, most of what happened sticks with you.

Hopefully the Vince/Lesnar stuff is leading to an F5 and Vince being off TV for a few months again. Stephanie doesn't seem to be going any place and having both of them is overkill.

The Benoit/Guerrero match at Vengeance will be very interesting because Benoit is a much stronger face then either Tajiri or Billy Gunn. Which way will the crowd go? And will Benoit just totally go into heel mode on the spot? Their last match at Armaggeddon was really good and with the added heat of Eddy being so over now, it should only help make this one better.

I really dug them using Conway & Dinsmore under the hoods as jobbers. Squash matches can be a very useful tool. It allowed Rey and Kidman to show off their tag team work to the WWE fans so they can buy them as threats to Haas & Benjamin.

John Cena continues to amaze me with his promo work. He's a natural and just continues to improve and update his act. And they don't have him wrestle on TV too much to show how green he is in the ring. Personally I'd have Cena beat Undertaker clean at Vengeance, Taker offers his respect and Cena spits in his face. They can continue the feud for a couple months and it won't even matter if Undertaker gets the last win because Cena will already be on his level after that first win.
dskillz
Landjager



Since: 2.1.02
From: Houston Texas

Since last post: 4511 days
Last activity: 4216 days

#13 Posted on
Originally posted by ced64

---

good luck making eddie heel, hes gone into rock territory, u know, it doesnt matter what dastardly thing he does they are gonna cheer him anyway,

---


Like Dave M. said on his radio show, Eddie's heel turn might be the best and worst thing to happen to him in the WWE. Great because he is more over than ever, but if the suits pay attention to the cheers, they might bring him over back to face-land and kill his momentum. Either way, I am happy with this and will enjoy the heel Eddie as long as it lasts.


---

January 4th 1999 - The day WCW injected itself with 10 gallons of Liquid Anthrax...AKA...The day Hogan "Defeated" Nash to win the WCW title in front of 40,000.
tomvejada
Andouille



Since: 2.1.02

Since last post: 5385 days
Last activity: 5385 days

#14 Posted on
I don't want to see Vince-Lesnar. The Angle-Lesnar segment later was another fun segment.

Benoit-Hardy was good.

Cena rapping and pissing in the graveyard was fun. His Zach rap wasn't that good.

Only positive in that APA segment was O'Haire laughing.

I also liked Tazz and Cole's commentary during the Conquistadors match.

Main event was fun.

Overall, Smackdown was decent.


---

"Oh my God, Brian, there's a message in my Alphabits! It says, 'Oooooo!'" Peter Griffin
"Peter, those are Cheerios." Brian
The Thrill
Banger



Since: 16.4.02
From: Green Bay, WI

Since last post: 1501 days
Last activity: 135 days

#15 Posted on
"America may have some problems, but it's our home. Our team. And if you don't wanna root for your team...then you should get the hell out of the stadium. Go America."
--Stan Marsh, South Park
---
Cena throwing ring steps in the path of Undertaker's bike around the ring was one of the coolest heel-ish actions I've seen in a long time...complete witih Undertaker's "Oh no you DIDN'T" look. Subdued heelishness, but in a I'll-mess-with-your-gimmick-'cause-I-don't-give-a-F*CK way.

Way cool.


---

Star wipe, and...we're out.
Thrillin' ain't easy.
.
.
THE THRILL
ACW-NWA Wisconsin Home Video Technical Director...& A2NWO 4 Life!


All-Star Championship Wrestling...now a proud member of the NWA!



"And on the seventh day I created the Gobbledeegooker because fuck you guys." --Notorious F.A.B. on a Vince biography



Tenken347
Knackwurst



Since: 27.2.03
From: Parts Unknown

Since last post: 7 days
Last activity: 3 days

#16 Posted on
I think they should have a Conquistadores match every week, with different guys under the hoods every time. It'd be a great way to give developmental talent a tryout, and if you want to pull a bait-and-switch with some real opponants, it might just work. Also, I'm glad I'm not the only one here who thinks Bradshaw looks like Will Ferrell
YossinoIC
Cotechino



Since: 28.6.03
From: Massachusetts

Since last post: 5370 days
Last activity: 5160 days

#17 Posted on
I loved this week's show. Pretty much everything on the program was decent, good, or great except for the Stephanie/Sable stuff and the idiotic continuation of the Brock/Angle buddy-buddy shit.

Benoit vs. Hardy - Loved it. Absolutely loved how Hardy gets his face busted and then SNAPS and hits the Side Effect three times. Only thing that would've made it cooler would've been if he did rolling side effects.

Gunn vs. Guerrero - Guerrero made it decent.

Cena - Graveyard ruled, Zach rap was "eh." The UnderTaker steel step throwing was awesome.

Stephanie - I couldn't even laugh at how cartoonishly Stephanie fell over that chair. It was really awful.

Noble, Dragon, Rey, Kidman - Short matches but good stuff none-the-less.

Main Event - Rocked. Words cannot describe how awesome that Dragonwhip spot was.


---

You Never Majored in Huganomics

Ringmistress
Lap cheong



Since: 15.1.02
From: Philly

Since last post: 3987 days
Last activity: 3986 days

#18 Posted on
That sig is so f'n FUNNY! I don't know, but Smackdown felt kind of 'eh' to me. I guess it's the Vince overkill, coupled with the fact that Sable's officially the newest billionaire toy. I liked the main, as well as Eddie's cheating, and the Benoit-Hardy match. Why shouldn't Matt be WWE champ?! I hate the indecent proposal thing, it's just so lame. I definitely don't want to see Jamie and Nidia split, they are underutilized on the big show, and I like them together. I can't fault a show with not one, but TWO Cena promos, but I can fault a show showcasing a Steph/Sable catfight that still has no explanation. Oh yeah, that match will be up there with the Flair/Steamboats all right...

I give the week to Raw, just because (unlike on Smackdown) the big angle there has me really curious (whether on how much they'll blow it or how clever they really are).

P.S.: Now that Jindrak's out of the running, put O' Haire in Evolution, please!

(edited by Ringmistress on 18.7.03 1020)

---

1100 bitches and counting....
It's False
Scrapple



Since: 20.6.02
From: I am the Tag Team Champions!

Since last post: 67 days
Last activity: 5 days

#19 Posted on
Somehow, I don't think Conquistadors #45 and #47 will meet the same success as Uno and Dos. Now THOSE Conquistadors reeked of awesomeness!

Smackdown did NOT reek of awesomeness. I can't believe Vince is still expecting "some guy vs owner" to draw money. I was ready to switch channels when a handicap main event was announced AGAIN. (Surprisingly, Angle even managed to make THIS watchable!) But while the handicap match wasn't terrible, there was far too many McMahons on this show to make it worthwhile.


---
Why are these two men unemployed???
Net Hack Slasher
Banger



Since: 6.1.02
From: Outer reaches of your mind

Since last post: 4901 days
Last activity: 3321 days

#20 Posted on
-Vince/Brock interview- Vince's character is so stale right now, he really is getting the "ah crap" reaction from me now. I just don't care for what he has to say anymore or his act.... - Benoit vs. Hardy - Wow no commercial needed straight to the match! Matt wears only a sock in the tanning both (singular!). This match was fantastic! Matt getting busted up and the sight of his own blood got him really intense, hitting two side-effects and going for his own flying headbutt and but hitting only mat! Matt got bloodied, looked like Hannibal in there LoL. These guys put on as perfect a match as you can, intense and good moves. This was Final's good if you ask me

-Ultimo vs. Noble- Pretty lackluster first month for Ultimo I must say. Being the fodder to set up a Gunn/Noble feud. Oh well, at least he got the win.

-Kidman/Mysterio vs. Conquistadors 45,47- oookay. Maybe they want to show Kidman/Mysterio offense ability to make them seem strong going into their PPV tag match. Tazz & Cole did a good job keeping my interest.

-Vince/Cena interview- Oh no more Vince. Used to find when he came out something important is going to happen, now he just bores me. Cena comes out and helps out on the positive side. Taker comes out and Cena throws the steps in front of the bike blocking traffic, good heel move.

-Rhyno vs. O'Haire-kinda, just setting up more APA bar fight gimmick. Something I'm totally uninterested in.

-Eddie vs. Gunn- We have a heel that everyone loves and chants his name and a babyface that has his opponents name chanted when he's wrestling (see Cena 1st round). So what will happen here, Torrie pounds on the mat and the fans chant Eddie LoL... Pretty scary looking brainbuster by Gunn, it looks good hope it's safe. Eddie looks great, it seemed like Gunn was trying to keep up with him throughout the match. Eddie cheats to win to the love of the crowd, of course Torrie being the fantastic manager that she is didn't even bother telling the ref what happened after Eddie hit Billy and then played hurt. LoL at Eddie evil snickering during the end.

-Angle vs. Benjamin/Haas/BigShow- Like last week I never really like these "against the odds" matches the concept does nothing for me. But man seeing Angle do his thing for 16 minutes is awesome. Angle blocking Benjamins kick and spinning him towards Haas was an amazing spot.

-Other Stuff- I never liked the APA schtick... Steph/Sable cat fight was well a cat fight

-3stars of the night- 1)Hardy, 2)Angle, 3)Eddie - 3rd spot is a toss up because Benoit could be in there as well.

The Benoit/Hardy match was fantastic what an amazing match. The main event even though I don't like the concept, Angle was fantastic in it. Eddie smirky character is also very entertaining... Overall a pretty good show especially with that amazing opening and closing matches




---

cause there's limits to our liberties.
'Least I hope and pray that there are,
cause those liberal freaks go too far.

I'll crush all opposition to me
And I'll make Ted Kennedy pay
If he fights back, I'll say that he's gay
Pages: 1 2 Next