Chumpstain
Bockwurst



Since: 21.1.02
From: Canada

Since last post: 30 days
Last activity: 31 min.

#1 Posted on | Instant Rating: 8.47
Another abbreviated report here, I had company to watch the show and it would be kind of rude to try to type/transcript in front of them!

Randy Orton opened the show to cut a promo to run down Alberto Del Rio, calling him a miserable failure for failing repeatedly to defeat Sheamus and saying that Del Rio had gone after him to try to distract people from that. He mocked Del Rio for claiming to be the new apex predator, and was interrupted by Alberto Del Rio w/Ricardo Rodriguez and the Black Scarf of Mourning to offer counterpoint. Del Rio said that he'd fight Orton on his terms, as Rodriguez did the Orton pose behind him. Orton 'translated' for Del Rio, saying that he was a coward who talked big when he was on the stage and Orton was in the ring. Del Rio looked like he wanted to come down to fight, but decided against it and left, vowing to engage Orton on his terms. But wait! Orton was promptly wiped out from behind by Wade Barrett, who delivered a forearm to the back of the head and then left. Orton looked annoyed.

Backstage, Teddy Long accused Del Rio of setting up the attack on Orton, and Del Rio denied it. Barrett then happened along to ask Del Rio if that was what he'd wanted. Barrett needs to work on keeping these hirings on the down-low! Teddy informed them that Booker T had booked Randy Orton vs. Wade Barrett. Barrett looked happy!

WWE Tag Team Champions Kane vs. Cody Rhodes: We were joined on commentary by WWE Tag Team Champions Daniel Bryan and Damien Sandow. They immediately started arguing, with Sandow trying to correct Bryan's grammar in his champion declaration. Both Sandow and Mathews played up that Daniel Bryan was the weak link in the team, which was protested by both Bryan and JBL. Meanwhile, in the match, Kane countered the Goldust drop-down uppercut with a choke grab, and landed the chokeslam for the win. Sandow was displeased with the outcome, but said that they had a plan for Sunday.

Backstage, Booker T met with Big Show to try to encourage calm in the later face to face meeting with Sheamus in the ring. Big Show said he'd be fine on his end because he had nothing to prove.

It's the Raw Rebound! Ryback dominated CM Punk on Monday! We saw that on Raw! Well, they also replayed an interview with Paul Heyman from Main Event, which I didn't get to see.

The Miz vs. Yoshi Tatsu: Thanks for showing up, Yoshi! Miz wins pretty easily with the Skull-Crushing Finale.

Backstage, shenanigans erupted with Booker T, Teddy Long, Eve Torres, Aksana, Kaitlyn and Layla, as the women argued over the attack on Kaitlyn and Booker tried to mediate. The upshot of all of that was Booker threatening to remove Eve from his administration if she was really behind the attack, and two matches. At Hell in a Cell, Eve will face Kaitlyn and Layla in a triple threat match for the Divas title. And tonight, Eve and Aksana would team to face Kaitlyn and Layla.

Randy Orton vs. Wade Barrett: These two draw the top of the hour lengthy match slot. JBL took Josh Mathews to task for describing Orton as 'slithering' into a cover, mocking him for using snake terms. After Orton finally got the second-rope DDT, he coiled for the RKO, but Alberto Del Rio w/Ricardo Rodriguez and the Black Scarf of Mourning made his entrance to cause the distraction. After a couple of teases, Barrett turned Orton around into the Souvenir for the three count. Del Rio jumped into the ring for the post-match beatdown, wrapping his scarf around his fist (why?) to punch Orton. The ineffectiveness of that showed through as Orton dodged the subsequent corner enziguiri, and nearly turned the cross armbreaker setup into an RKO. Del Rio fled for his life, and hopefully will know for the future that a scarf is not a suitable foreign object to bludgeon someone with!

Now it was time for Booker T to try to guarantee civility from Sheamus for the main event interview. Unlike Big Show, Sheamus refused to comply.

It's another Raw recap! AJ resigns! John Cena is to blame! We saw this on Raw! Apparently Vickie Guerrero will provide proof of Cena's affair on Monday.

Eve Torres and Aksana vs. Layla and Kaitlyn: After being taken down by the heels (is Aksana still a heel?), Kaitlyn had a couple of opportunities to try for a tag, but instead wound up making the comeback on her own. She took out both Eve and Aksana, when Layla came in to help. Their double-team took down Aksana, but the attempted double-team on Eve backfired when she ducked, causing Layla's Chick Kick (well, it's apparently named the Bombshell now) to hit Kaitlyn instead. Eve went ahead and pinned Kaitlyn. Dissension!

WWE Tag Team Champions Daniel Bryan vs. Damien Sandow: On commentary for this match was WWE Tag Team Champions Kane and Cody Rhodes w/icepack, nursing his wounds from his earlier match. Kane didn't speak a word on commentary, while Sandow cut a pre-match promo denigrating the 'Yes' chant and offering suitable synonyms, like indubitably. When the battle spilled to the outside, Cody moved to get involved but got shoved down by Bryan, allowing Sandow to clothesline Bryan down. That got Kane up to his feet, but as he pursued Sandow around the ring (and distracted the referee) Cody jumped Bryan from behind and rammed him into the ringpost, letting Sandow hit his finisher in the ring for the win. Bryan was upset at Kane afterwards. Dissension!

Okay, that dissension isn't news.

The main event interview had Big Show and Sheamus, with security guards seperating them in the ring. Sheamus wasn't joking around anymore. Big Show claimed that the WM- er, Knockout Punch was the strongest finisher in WWE history, better than the Rock Bottom, the Stone Cold Stunner, and the Brogue Kick. Sheamus said that it wouldn't matter, because Big Show wouldn't be able to hit him with it. Show reminded Sheamus of his inability to Brogue Kick him a few weeks back, saying that Sheamus simply couldn't kick that high. Sheamus explained that he'd do whatever it took to beat the Big Show, whether it meant cutting him down to size first, whether it meant hitting ten Brogue Kicks. He'd do whatever he had to. He said that he'd looked forward to the match with Big Show since he won the #1 Contendership, because it would be a great fight. Big Show won the title Sheamus carried now on his first day as a wrestler. He was a giant, a monster, the biggest challenge Sheamus has ever faced. But Sheamus has faced every challenge since Wrestlemania head-on and beaten them all. And now he wasn't going to wait until Sunday. The time for talking was over, it was time to fight. And the fight was on! Security tried to stop them, but Big Show and Sheamus wiped them all out. As Sheamus tried to fly in with a Brogue Kick, Big Show bailed out of the ring and walked off. The irate Sheamus Brogue Kicked a security guard just to work out some frustration. And that's all for now!

So do either of these main event matches really need to be Hell in a Cell matches? Can't we kill these gimmick PPVs already?

(edited by Chumpstain on 27.10.12 0001)
Promote this thread!
John Orquiola
Scrapple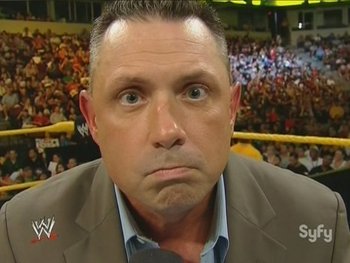 Since: 28.2.02
From: Boston

Since last post: 852 days
Last activity: 852 days

#2 Posted on | Instant Rating: 6.34
With Beth Phoenix gone, they took the brakes off of Kaitlyn wrestling a power game. Her offense is much more physical, all shoulder blocks and clotheslines. It's a huge improvement over whatever her in ring style was before.

Eve is amazing. She's teflon. They addressed how she has no passcode on her iPhone or iPad, and she still manages to deflect the evidence against her and implicate Teddy Long. The main problem with this angle is the babyfaces are so shrill (Layla) and vanilla(K8lyn), they're not even worth rooting for. I hope Eve never gets her comeuppance. YOU HEAR ME? NO COMEUPPANCE!

(edited by John Orquiola on 27.10.12 0842)

---

@CMPunk
"@ZackRyder: @CMPunk She played me bro" I got your back.
Spiraling_Shape
Lap cheong



Since: 2.1.02
From: PA

Since last post: 10 days
Last activity: 3 hours

#3 Posted on | Instant Rating: 6.42
Originally posted by John Orquiola

---

With Beth Phoenix gone, they took the brakes off of Kaitlyn wrestling a power game. Her offense is much more physical, all shoulder blocks and clotheslines. It's a huge improvement over whatever her in ring style was before.

---


And if you watched Saturday Morning Slam today, you could see her teach you how to make a homemade Halloween penguin costume! (And a pretty good Cesaro/Bateman match.)

Teddy Long also did a great Colombo in that backstage segment. Also nice touch with Aksana's flirty "hi" when Teddy entered the room.


---

"Ice cream bars! Ice cream bars!" - RAW crowd, Boston, 7/11/11
ekedolphin
Scrapple



Since: 12.1.02
From: Indianapolis, IN; now residing in Suffolk, VA

Since last post: 4 days
Last activity: 1 day

#4 Posted on | Instant Rating: 3.17
So far as I'm aware, the Show/Sheamus match isn't a Cell match, right? WWE.com, last I checked, still only had the Punk/Ryback match as taking place in the Cell.
In any event, I'd love to kill the gimmick PPVs except for Money in the Bank, but at least having Punk/Ryback in the Cell
should
guarantee that the match won't end in a screwy DQ or Dusty Finish. (Not that WWE is incapable of such a thing.)
---
"Don't do anything I wouldn't do."
--Stone Cold Steve Austin
Certified RFMC Member-- Ask To See My Credentials!
Co-Winner of Time's Person of the Year Award, 2006
dMp
Banger



Since: 4.1.02
From: The Hague, Netherlands (Europe)

Since last post: 4 days
Last activity: 4 hours

#5 Posted on | Instant Rating: 7.89
My wrestling (watching) buddy just jokingly commented that Kaitlyn could be the female Sheamus, working a very hard style.
Just at that moment she actually started doing that. Good to see.

I liked how Eve shrugged off everything and I wouldn't be shocked if in the end she somehow wasn't behind the attack, but it was AJ. Just to find a way to put AJ back in the wrestling mix.

Once again Smackdown just was "there" for me.
Nothing bad but nothing that makes me want to gush about it.



---
Matt Tracker
Scrapple



Since: 8.5.03
From: North Carolina

Since last post: 16 days
Last activity: 58 min.

#6 Posted on | Instant Rating: 9.42
Hey that Orton kneedrop to Wade's head was nasty. He was halfway across the ring.


---

"To be the man, you gotta beat demands." -- The Lovely Mrs. Tracker