Chumpstain
Bockwurst



Since: 21.1.02
From: Canada

Since last post: 213 days
Last activity: 12 hours

#1 Posted on | Instant Rating: 8.46
It's time for Smackdown, which should feature 100% less fan abuse than Raw. Here we go!

We're airing from somewhere unspecified for Smackdown! And opening the show, we have... a contest? The Big Show's KO Punch vs. the Brogue Kick? Here's Booker T coming to the stage to explain it for us! "Thank you, thank you, ladies and gentlemen, in just two weeks from this Sunday night, the World Heavyweight Championship will be on the line. For the very first time, ever, the Big Show will face the World Heavyweight Champion, Sheamus. Now there's a buzz, a buzz going around the WWE Universe wondering which is the most devastating maneuver, the Brogue Kick or the KO Punch. Now personally, I wouldn't want to get kicked with neither, but I know Sheamus and I know the Big Show, and both these men feel like their move is the most powerful. Well, we're gonna find out right now." Hmm, there's some kind of contraption set up behind him. "Ladies and gentlemen, without any further ado, please join me in welcoming the largest athlete in the world, the Big Show." And here comes said Show, wearing a big hoodie. Wait, tonight's commentary is Josh Mathews and JBL? Hallelujah! Of course, it figures that once Michael Cole stops being an intolerable heel who buries the product that then he's taken off both shows. But kudos to whoever realized that more JBL, a heel who builds up the product, is a good thing!

Anyway, there's a boxing apparatus set up on the stage, the smaller weight that hangs to be punched, not the full-on punching bag. There's also some computers and a big screen hooked up to it to presumably demonstrate the power used to hit it. So lets see where this goes. A replay is shown of Raw, where Big Show caught a Brogue Kick and tossed Sheamus unceremoniously to the floor. For those who were worried about Sheamus' health, I have to assume he didn't suffer a concussion there because he is on the show tonight. "And ladies and gentlemen, really needing no introduction, please join me in welcoming the World Heavyweight Champion, the Celtic Warrior, Sheamus!" And Sheamus is out, posing for the crowd and ignoring the Big Show. "Now gentlemen, Big Show, just calm down, Sheamus. Now tonight guys.. is all about.. the Big Show and Sheamus." Big Show pauses here to mouth off at the crowd, which dutifully boos. "Big Show, let me remind you of what we talked about in the locker room, aight? This is not about the Hell in a Cell PPV, and despite what happened on Monday Night Raw and what both of you may be thinking right now, take it out, let it all out on this right here. Aight? Waitaminute, wait a minute Big Show, the deal is this. Both of you guys will get one shot. The winner will be determined by who gets the higher score. Now, yeah yeah, that's right, now I know a little bit about boxing, and a world heavyweight championship boxer carries a punch about 776 pounds per square inch. So now Big Show, with you having the most devastating punch I'm gonna let you go first." Big Show protests! "I'm not going first. There's no way I'm gonna play some kind of game" "Big Show, Big Show." "You wanna know how powerful my punch is? You ask Undertaker! You ask John Cena! Gimme that!" Big Show, who'd been shouting off-mic, grabs the microphone from Booker.

"Don't boo me! Don't boo me! I have knocked out Randy Orton! I have knocked out John Cena! I have knocked every superstar in the WWE out, and I'm not doing that." Booker grabs the mic back to try to calm Big Show down, and Sheamus produces his own mic out of nowhere to interrupt. "Whoa whoa, hey, if he's just gonna stand there and whine and complain, I'll take a crack at it, I'm game." "Go for it." So Sheamus is now up first! He lines up the target, pounds his chest, and scores... 1322 pounds of force per square inch! JBL protests, saying a kick is always more powerful than a punch. "Big Show, how 'bout it, fella? Why don't you take a crack at it, c'mon!" Big Show steps up, hands in his pockets, looking at the target, but he shakes his head and turns back to Booker, speaking off-mic again though close enough to Booker's for it to be picked up. "I'm not doing it, I know what this is. You know what's gonna happen? I'm gonna take a swing at this, it's gonna move, it's gonna blow up, it's gonna make me look funny, I'm not gonna do this!" Sheamus is trying to calm Big Show again. "Show, hey hey, Show, what's wrong with you, fella? We're here in the spirit of competition! Everyone wants to find out what has more of an impact, the Brogue Kick or your WMD. C'mon, fella, show everybody, let everyone find out which is the best!" Big Show continues to protest. "Hey Show, Show, what's wrong with ya, fella? Are you okay? You need a hug or something?" Does Dr. Shelby have a new client? As Show yells that this is ridiculous, Sheamus continues. "What's a matter with you? Are you worried about being embarassed, is that it? Are you worried that my Brogue Kick is more devastating than your WMD? Is that what it is? Look, if you're worried about being embarassed, Show-" At this point, Josh Mathews is talking over Sheamus, saying "The WMD is, of course, Big Show's knockout punch." What, are they not allowed to call it the WMD anymore, and Sheamus is forgetting? "I mean, c'mon, nothing could be more embarassing than your last World Heavyweight Championship run that lasted, what was it again, 45 seconds? 45 seconds, that's what your last World Heavyweight Championship run was. I mean, this conversation we're having right here, Show? This is actually longer than your World Heavyweight Championship run. That's embarassing. So if you're worried about being embarassed.." Why hasn't Big Show just teed off on Sheamus yet at any point in the last couple of weeks? He's really asking for it! Instead, Big Show turns and wallops the target, scoring 1809 pounds of force per square inch. JBL: "I guess I was wrong!" Booker: "Wow. One thousand, eight hundred and nine pounds of force per square inch. Big Show. You're the winner." Big Show just gives Sheamus the stare of death. "Guess I'll be seeing you at Hell in a Cell. Fella." And Big Show stalks off backstage as Sheamus looks surprised. "Sheamus, you saw it right there, 1809. You got your work cut out for you. What do you gotta say about that?" "Y'know, Booker, I know I've been joking around here and everything, but there's no doubt that that's impressive. I mean, he's a giant, he's over 7 foot tall, 500 pounds, but lets be honest, he's hitting a machine that's standing still." And as if on cue, here's the attack from behind on Sheamus by, wait, Tensai? Yup, Tensai lays Sheamus out, before Booker gets in the way and yells at him, threatening to fire him if he doesn't back off. Sheamus is sprawled on the ramp as we go to commercial.

Back from the break, Sheamus is pacing in the ring, apparently ready for a match that was signed in the break!

Sheamus vs. Tensai w/o Sakamoto: So where is Sakamoto, anyway? Sheamus comes out of the ring to cut Tensai off, and they brawl on the outside, with Sheamus getting the advantage. Tensai into the barricade, but Tensai fires back, giving clubbering forearms and trying to run Sheamus into the ringpost. Sheamus blocks that, slamming Tensai into the ringpost instead, then rolls him into the ring. The referee tries to stop Sheamus, as the match hasn't officially started yet, and he has to check to make sure Tensai is ready to go. He checks Tensai in the corner, who says he's good, and the match is on! Sheamus charges in and starts smashing Tensai in the corner. Whip to the other corner, running forearm. Another whip, reversed, but Sheamus blocks with two big boots. Sheamus off the ropes, but a Tensai back elbow drops him. Tensai picks him back up, whip off the ropes, clothesline ducked, and Sheamus with the chop block to the knee! It gets one. Clubbing forearms by Sheamus, and shoulderblocks in the corner. Tensai comes out of the corner with a clothesline to take Sheamus down. These two always lay into each other! Tensai picks Sheamus up, he wants a vertical suplex. Sheamus blocks it, and he counters with a suplex of his own on the big man! JBL talks about Tensai's IWGP Championship as both men slowly get back to their feet. Tensai's corner charge misses, and Sheamus hits two Irish Hammers. Running shoulder in the corner, followed by the kneelift. Sheamus wants a powerslam, and gets it! 1, 2, Tensai kicks out! Now Sheamus wants the Irish Curse, but Tensai elbows out, and engulfs Sheamus with a clothesline. The senton misses! Sheamus hefts Tensai up on his shoulders, and hits White Noise! We all know what that means. The corwd certainly does, they're all on their feet! Brogue Kick connects! 1, 2, 3! And there's some revenge for the Pearl Harbour attack by Tensai. Wait, am I allowed to call it that? Sheamus poses with the title after the match. JBL plays up Big Show catching the Brogue Kick, something Tensai couldn't do there.

Hey, we're coming from the HP Pavillion in San Jose, California! It only took two segments to let me know. And the San Francisco 49ers at at ringside! Well, that can't be all of them. "I'd trade them all for my Dallas Cowboys right now!" That's some pride in your home team, JBL. And talk about the Cowboys getting squashed segues into a recap of Alberto Del Rio destroying Randy Orton after Smackdown ended two weeks ago. Tonight, Randy Orton will be here! This is a big deal, when John Cena or Randy Orton are off TV for a week, that's a big absence! And backstage in the locker room, we join Alberto Del Rio w/ Ricardo Rodriguez and the Black Scarf of Mourning. "What are you doing here?" "Well, the rumours.." "What rumours? About Randy? About Randy showing up tonight? Are you crazy, Ricardo? I don't care what Randy said on Twitter the other day. Do you remember what I did to him two weeks ago? And what Big Show did Wednesday on Main Event?" Why no, I don't remember what Big Show did on Wednesday, no one made a thread for Main Event. C'mon people, I'm in Canada, I don't get that show! "Ricardo, hey, don't worry. If you so worried about it, why don't you just go and try to find him. "Ah, but, I-" "Go and try to find him." And Ricardo reluctantly leaves.

Ricardo is wandering backstage after the commercial, looking for Randy Orton and asking people in Spanish. They answer in Spanish! I can't transcribe Spanish! Ricardo pauses, as he hears the hissing of a snake. Oh boy, I think we all know where this is going. He tucks himself against the wall, in a panic, because of course Randy Orton makes snake noises backstage. There's no way this could possibly be someone's sock puppet! Ricardo makes the sign of the cross to protect himself, looks around the corner to see the Cobra attached to Santino Marella, and yelps like a little girl while ducking away. "What's the matter, Ricardo? You scared of snakes? Well you should be! This is a Cobra, one of the deadliest snakes in the worlds! There's another snake, Ricardo, that's equally deadly, and some would say moreso. It's called the Viper! But you don't have to worry about the Viper's bite, you have to worry about its RKO, ese!" Ricardo protests in Spanish, so the Cobra strikes him in the chest. "You got him good, but you've got to work in the ring tonight. Take it easy, lets go." Ricardo looks more emotionally hurt than physically hurt by the Cobra attack, and he retreats backstage, as Josh Mathews welcomes JBL back to WWE. JBL, unsurprisingly, has nothing to say about that segment. And we have tag team action coming up!

Heath Slater, Jinder Mahal and Drew McIntyre make their entrance! A recap is shown of The Encore taking out Marella and Ryder on Raw. Slater has the mic! "WWE Universe, listen up!" Well, that's four words, now it's Drew's turn. "Now what happened on Monday Night Raw was more than just a simple beatdown. It was more like beautiful music." Jinder! "As solo acts, our careers were way out of tune, but now we're united. We've formed a super-group! We-" Slater grabs the mic back. "Now we're a BAAAAAND, baby! Now hit our music!" And they hit Slater's music. Everyone air guitars together. Yes, Jinder Mahal looks as ridiculous as you think he would doing air guitar in his robe and turban. But here come their opponents to interrupt!

Heath Slater and Jinder Mahal w/Drew McIntyre (The Encore) vs. Santino Marella and Zack Ryder (Team CoBro): Zack Ryder comes to the ring packing his own Cobra, while Santino is wearing a Ryder headband. Hang on, are they actually being called The Band instead of The Encore? Didn't TNA already have The Band a while back? I don't know, so lets take a commercial break!

Back from the break, Ryder and Marella play Rock/Paper/Scissors to see who starts. Both get Scissors at first, then Ryder's Rock beats Santino's Scissors, so he gets to start against Jinder Mahal. JBL rants about doing Rock/Paper/Scissors in a tag match, telling Josh that he and Ron Simmons never did that. Headlock by Ryder, launched off the ropes, clothesline ducked, facebuster takes Mahal down. Big dropkick gets one. Tag to Santino! Arm wringer by Ryder, Santino climbs to the top rope.. no, that's too high. Back down to the first rope, and off with an axe-handle to Mahal's arm. Arm-wringer again, yanking on the arm, but Mahal hits the kneelift to cut him off. Clothesline ducked with the splits, hiptoss by Marella! He tries to go off the ropes, but sees Slater ready to hit him and stops. Shaking his head, he just turns around and goes for the diving headbutt as is, but Mahal rolls out of the way. Clothesline by Mahal, tag to Slater. Snapmare on Marella, diving clothesline by Slater for two. "Count quicker!" Punches and stomps. Whip to the hostile corner, punches and stomps there, tag to Mahal. Stereo stomping on Santino. Tag to Slater, more stereo stomping. Kickout at two. Marella rolls under Slater's clothesline, rolls to the corner and jumps for a tag.. falling short by two inches. Slater grabs him with a rolling headlock vise back to the centre of the ring, but Santino fights back to his feet and takes Slater down. Punch to Slater's gut, and the Splits Stunner connects! Santino lunges for the tag! ...to the wrong corner. Okay, now he gets the tag, and Ryder is in againt Slater! Clotheslines to Slater! Whip, reversed, double knees knocks Slater down. Second rope missile dropkick! Running forearm drops Slater in the corner. Woo woo woo! Broski Boot! Mahal breaks it up at one. Santino runs interference but Mahal dumps him over the top, leading Ryder to clothesline Mahal over the top in kind. McIntyre hops up on the apron, only to jump down to avoid Ryder's attack. But Slater hits the kick, and "Innovative Offense" takes Ryder down. Yeah, apparently that move doesn't have a name yet, but it looks like an RKO where Slater drops to his hands and knees instead of onto his back. The Drum Roll? The Final Verse? Maybe they can call the move the Encore if they won't call the group that? Group air guitar after the match! Heath Slater is on a winning streak!

Lets move on to a Raw recap of Bryan and Kane vs. Ziggler and Del Rio. Here's a Tout from Dolph Ziggler to complain about losing! Ziggler challenges Kane to a match tonight. This blast of fire at the entrance seems to be WWE Tag Team Champions Kane responding in the affirmative! We'll see that match after this ad break.

And the "Viewer Discretion is Advised" thing on The Score is still flickering. Arda Ocal is letting me down. Hey, apparently Renee Paquette was hired away from The Score by WWE. Her Twitter feed says she's going to be 'a host', but will it stop at that? Will she train to wrestle and become a full-time Diva? I don't know, but for most of the Americans reading this, you heard it here first!

WWE Tag Team Champions Kane vs. Dolph Ziggler w/Vickie Guerrero: "Excuse me! Excuse me! Stand up and show your appreciation for the man who loves to show off that he is the most athletic EXCUSE ME! He is the most athletic and gifted superstar in WWE, my client, Mr. Money in the Bank, Dolph Ziggler!" With that, Vickie brings out Dolph Ziggler to face Kane. Go-behind by Ziggler, but Kane turns it around. Kane tries a gutwrench suplex (!), but Ziggler lands on his feet, so Kane drops him with an uppercut. Ziggler regroups on the apron. Kane gets caught in the corner, and Ziggler lands punches in bunches. Kane shoves him off, clothesline ducked, another clothesline ducked, and Kane catches the crossbody. Ziggler fights out and hits a big forearm shot. Ziggler tries again but Kane sidesteps and tosses Ziggler out over the top rope, but Ziggler holds on and skins the cat back in! No sooner has he done a sweat-flicking taunt than Kane lands a big boot and sends him properly spilling out to the floor, to Vickie's dismay. And we have a commercial!

We're back, with Kane beating Ziggler down in the corner. Whip to the other corner, Ziggler up and over, but Kane dumps him to the apron awkwardly. Ziggler hangs him up on the top rope, and climbs to the toip himself. Double axehandle fails, as Kane catches him for a chokeslam. Ziggler shifts out of the chokeslam mid-move, a lot more fluidly than most do, then hits a kick to the gut and a Fameasser! Kane kicks out at one after a slow cover. Ziggler lands some kicks in, and a headbutt. Kane fires back with punches. Whip off the ropes, but Ziggler counters with a swinging neckbreaker. Again, just one after a slow cover. Kicks to the head by Ziggler. He lands a series of elbowdrops, seven of them, followed by his embellished sweat-tossing elbow. That gets one. JBL protests the showboating, saying that many guys never get Kane down at all in a match, so when you've got Kane down you need to take advantage instead of playing to the crowd. Dolph gets Kane down in the corner and stomps away, as JBL now defends Ziggler's brief World Heavyweight Championship reign from Josh Mathews, saying that Roddy Piper and Ted DiBiase were never world champs. Kane rams Ziggler into the corner to break up the offense, and then does a judo throw (!!) out of the corner. Ziggler comes back with a big dropkick, but the Stinger Splash misses! Big running clothesline by Kane! Ziggler kicks out at two. Running dropkick on the seated Ziggler! Whip to the corner, clothesline by Kane, to the other corner, a second clothesline. Sidewalk slam! Ziggler kicks out at two. Okay, is that a side slam or a sidewalk slam? That always confuses me. Kane to the top rope, but Ziggler hits the ropes to crotch Kane. Dolph climbs up after Kane, hitting punches and repeated headbutts. Elbows too! A single headbutt by Kane drops him, though, and Vickie's up on the apron. Ziggler has the briefcase! Briefcase to Kane as he jumps off the ropes, but the referee catches it. Kane wins by DQ! But Ziggler isn't done.. his running shot with the briefcase is interrupted by an uppercut. And here's WWE Tag Team Champions Daniel Bryan running in to help Kane as well!

Ziggler rolls out of the ring, as Bryan stands guard in front of Kane and the crowd chants yes. Kane protests that he didn't need help, and the two start arguing. "I saved you! Yes! I saved you!" "What are you talking about? I had it!" Hey, here's Matt Striker appearing out of nowhere with a microphone. "Gentlemen, gentlemen, please! Please! Gentlemen, please excuse me! Do you agree that it's this bickering that may cost you the tag titles at Hell in a Cell?" Both champs stop arguing to stare him down, so he tries a different tack. "Daniel, many feel that you may be the weak link in this team. How do you respond?" Bryan responds by taking Striker down and applying the No!lock! JBL: "Cinch it in, cinch it in! C'mon, Daniel Bryan! I've never liked Matt Striker!" Kane looks on in disbelief, before grabbing Bryan by the beard and hauling him back to his feet. Bryan backs off to the corner and looks on in disbelief, as Kane slowly helps Striker up. Josh: "You're not supposed to put your hands on an announcer." JBL: "That's not an announcer, that's Matt Striker." And Kane grabs Striker by the throat! Bryan emerges from the corner to yell No! at Kane getting to destroy Striker instead, prompting Kane to yell Yes! right back. The crowd, obviously, makes its voice known as the champs argue. Chokeslam to Striker, to JBL's vocal joy!

Backstage, Ricardo Rodriguez is still looking for Randy Orton. Why is he doing this? Can't he just go hide somewhere and pretend he'd gone looking? It's not like Del Rio wanted him to do anything with Orton when he found him! He asks a few more people in Spanish if they've seen him, and these ones respond in English, pointing him in a certain direction. As he passes a closed door, a mechanized voice behind it says "Are you ready for an RKO?". Rodriguez pauses, leaning against the door to listen to it. "Be smart, walk away." Rodriguez, because he's stupid, psyches himself up and barges into the room, only to see Hornswoggle playing with a Randy Orton Brawling Buddies doll. Sorry, action figure! Eh, screw it, it's a doll. Rodriguez kicks and smashes the doll, which just keeps talking all the while, before leaving.

Lilian Garcia welcomes breast cancer survivors in attendance, for the Susan G. Komen foundation. Join the fight against breast cancer!

And now joining the commentary team is The Miz, sitting next to JBL. That's going to go over well! Okay, maybe it will JBL steps up immediately to defend him from Josh's accusation that he's had a rough week, calling him Larry King's best guest since Abraham Lincoln. A recap of that Raw segment airs. We saw that on Raw! And we have a match up next.

Kofi Kingston vs. Big Show Miz and Kofi will fight for the Intercontinental Championship at Main Event on Wednesday! Yeah, Kofi is doomed. Another recap airs of Show and Sheamus from Monday. Kick by Kofi, and he dodges the big chop. Shoulderblock by Show takes Kofi down, and he rolls out to the floor, only for Show to grab him by the hair and lift him back up onto the apron from the ring. Kofi hangs Show up to escape the grab, but his springboard crossbody is met by a big chop to take him down. Another chop, as Miz hypes himself on commentary. Josh mentions JBL hating the Miz before, and JBL says that Miz worked hard to get where he was, and that's admirable. Miz also says that JBL's hard times helped motivate him to work, and thanked him for that. JBL says that the hard times he gives Josh, however, are just to make him quit. Yeah, I'm talking about the commentary because absolutely nothing is happening in the ring, Big Show is standing around as Kofi picks himself up. Now Big Show tries a corner charge, but Kofi gets the boot up. Another charge, met by the pendulum kick. Off the top rope with a big missile dropkick! Boomdrop! Kofi wants Trouble in Paradise! And Big Show just raises his arm to block it. Big Show hits the WM- er, the Knockout Punch! And that's that. As Big Show leaves, Miz grabs a mic and goes to check on Kofi, as a trainer attends to him. "Really? Really? Really? I mean, isn't this appropriate? Kofi, this is where you should be, this is what always happens, doesn't it? You lying flat on your back, beaten again. But I mean, that's the story of your life. You always come soooo close, only to come up short. Now you'll have to excuse me, I'm going to leave with my head held high, the Intercontinental Championship over my shoulder, just like it's going to be this Wednesday on Main Event when I beat you. Because I'm the Miz, and I'm awesome." JBL praises Miz's awesomeness as he departs.

Voting on WWE.com of who CM Punk should face is split down the middle, with 50% voting for Cena and 50% for The Ryback so far. Lets show some Touts from fans about the decision!

Ricardo Rodriguez has regrouped with Alberto Del Rio w/Black Scarf of Mourning. "I know he's here, *Spanish*" "Ricardo, Ricardo, *Spanish*", but Del Rio's foreign language is cut off by an approaching shadow outside the locker room, leading the two to panic. But emerging around the corner isn't Randy Orton, but instead WWE Tag Team Champions Daniel Bryan, who smiles. "Expecting somebody else?" "In fact, yes, I was expecting a little snake, not a smelly goat." "Well, if I am a goat, it's G as in Greatest, O as in Of, A as in All, and T as in Time. And, I'm the Tag Team Champions." "Hahaha, everybody knows you have that title just because of Kane." "Everybody knows that the only reason you're talking to me now is because Randy Orton hasn't found you yet." C'mon, is Del Rio really that hard to find in his locker room? "That isn't true." "Yes it is, and you want to know what else is true? I just got out of Booker T's office, and he told me that we have a match tonight. I guess we're going to find out who the real goat in the WWE is. Oh yeah. I'm the Tag Team Champions." Del Rio and Rodriguez start discussing in Spanish, but we have a scene shift!

Booker T, Teddy Long, Layla and Kaitlyn are all in Booker's office. You're up, Layla! "It proves it, right? We found it, we found it, we found a blonde wig!" Everyone talks all over each other for a while, until Teddy Long explains that Aksana found a blonde wig in Eve's bag. It's nice to see Teddy and Aksana tolerating each other again. Eve Torres enters to dispute these slanderous allegations. "Wait a minute, am I hearing this correctly? So suddenly it's alright to rummage through other people's personal property? Well, that's alright, because I actually happened to go through your bag, Teddy. And I found this." And she produces a blonde wig. "So before you all go pointing fingers, Teddy, how do we know it wasn't you?" She puts the wig on Teddy. Layla and Kaitlyn both protest, accusing Eve of changing the subject. Everyone argues until Booker calms them. He takes Layla and Kaitlyn away for coffee, leaving Teddy and Eve alone. "I don't know what you're trying to do, or what you're trying to prove, but you know I had nothing to do with this." Eve smirks in response. "Neither did I. ...Teddy, you looked ridiculous in that wig."

Sin Cara vs. Damien Sandow w/Cody Rhodes: A plug is made for the Tag Tournament finals coming on Monday. So where's Rey Mysterio? And is Sin Cara chewing gum under his mask? Josh talks about the Rhodes Scholars being undefeated since forming their team. I'm pretty sure they actually lost the first time they teamed. Someone should check that for me. Sin Cara lighting comes up for this match. Sandow pushes SIn Cara into the corner and gives him a facewash. "Today is not your day!" He backs up and poses, laughing. Cara lands a kick, so Sandow shoves him down, but Sin Cara kips right back up and lands more kicks. Super Flippy Top Rope Armdrag sends Sandow to the floor, where he kicks the ring steps and regroups. Kneelift on Sin Cara, thrown into the corner, stomps take him down. Side russian leg sweep takes Cara down, followed by the Elbow of Disdain. Kobito Acquiet? I need a spelling on that! Whip, Sin Cara lands on his feet from the tilt-a-whirl, jawbreaker on Sandow. Whip off the ropes, Cara with the handspring elbow. Flying head scissors takes Sandow to the apron, springboard dropkick takes him to the floor. Sin Cara to the top! His crossbody only hits Cody Rhodes as Sandow dodges! Kick to Sandow's head from the apron, but Rhodes pulls him off the apron while the ref isn't looking. On seeing Sin Cara on the outside, the referee, who's That Replacement Ref for those keeping score, banishes Cody from ringside. Cody and Sandow both protest, but to no avail. As Sandow argues with the ref, Sin Cara springboards from the apron right over the referee into a hurricanrana pin on Sandow! 1, 2, 3! Sandow is pinned for only the second time in his (post Michelle McCool) WWE career. Cara bails out before Cody can run back to attack, and Sandow is in disbelief. He rocks back and forth in the ring.

WWE Tag Team Champions Daniel Bryan is walking backstage preparing for his match, when he runs into WWE Tag Team Champions Kane, leading to the Smackdown theme that was sending us to commercial being cut off as they start talking. I like when they do things like that, to make it seem more spontaneous. "Look, even if it seems like I'm in trouble, I don't want you even thinking of coming out to rescue me, okay?" "Don't worry, I won't. Okay?" Daniel Bryan vs. Alberto Del Rio is next!

WWE Tag Team Champions Daniel Bryan vs. Alberto Del Rio w/Ricardo Rodriguez, the Black Scarf of Mourning, and a $175,000 Bentley Flying Spur: One sign is destroyed in Bryan's entrance, though he doesn't break anyone's glasses in the process. JBL once more gives the tag champs props for destroying Matt Striker. Lockup, Del Rio pushes Bryan to the corner. No clean break, and Del Rio wants an armbar? The No!lock? Bryan fights back with uppercuts. Snapmare by Bryan and a kick to the back, one count. Del Rio takes Bryan into the corner, kicking him and choking him with his boot. JBL says these two have history, with Daniel Bryan being trained by Randy Couture and Alberto Del Rio wrestling Randy Couture many times. I'll leave it to someone more knowledgable about MMA than me to comment on the validity of that. Snap suplex on Bryan, one count. Del Rio's corner charge misses, and Bryan starts with corner No!kicks. The fans dutifully chant Yes!. Bryan turns Del Rio onto his stomach. He wants a surfboard hold, but Del Rio fights it, so Bryan just stomps on both of his legs instead. Two count from that. The two trade kicks, with the No!kicks triumphing. Del Rio reverses a corner whip, but Bryan goes up and over with a backflip, running off the ropes, ducking a clothesline and hitting his flying clothesline! He has the crazy eyes! No!kicks on the kneeling Del Rio! Eight of them, followed by a running No!kick! Del Rio struggles up in the corner, and Bryan's running dropkick misses! Del Rio hits the corner enziguiri, landing on Bryan's shoulder. He chokes Bryan on the ropes after Bryan bails to the apron, then gets a running start, but Bryan dodges aside as Del Rio does his jump through the ropes. Del Rio saves himself this time, catching the top rope to hang on, but that just leaves him in perfect position to be kicked in the chest and sent falling to the outside anyway! Bryan goes for the jumping knee off the apron, but Del Rio dodges aside and slams him shoulder-first into the barricade. Lets go to presumably our last commercial break!

Back from the break, Bryan is fighting back, but is caught by a tilt-a-whirl slam (not quite a backbreaker, though I think that's what he wanted) for a two count. Bryan's arm is hurting, and Del Rio is stomping away on it. Wristlock applied. Bryan fights back to his feet. Punches to Del Rio's gut breaks out of the hold. As Bryan runs off the ropes, Del Rio wants another tilt-a-whirl, but Bryan lands on his feet! Roundhouse kick misses, and Del Rio lands a kick to the gut. He wants the cross armbreaker! Bryan dodges, and he pulls Del Rio down for the No!lock! It's locked in, but Rodriguez hops on the apron. Which doesn't do any good, as Bryan doesn't let go of the hold and the ref is only distracted for a moment. Del Rio tugs at Bryan's pink wristband and struggles, but he's in the middle of the ring! He crawls for the ropes, crawls... and he gets his finger on the ropes to break the hold. Del Rio looks dead. He picks himself back up slowly on the apron, and when Bryan comes over to grab him, Del Rio grabs his arm. He doesn't hang it over the top rope, instead latching on and applying the cross armbreaker hanging off the ropes on the apron! He breaks on 4 just before being disqualified, but quickly gets back into the ring and throws Bryan shoulder-first into the ringpost! Now Bryan's down, and Del Rio is ready to finish it. Cross armbreaker applied, in the centre of the ropes! Bryan taps out!

Del Rio grabs the mic after the match. "Yes yes yes yes, I heard the rumours, I heard the talking. The social media is messing with you, with all of you. He's fooling you, because Randy Orton will not show up tonight. And I'm gonna show you why." Lets look back to two weeks ago, again, to Del Rio beating up Randy Orton after Smackdown ended. Now we have extra highlights from Main Event! Hey, Big Show brought back to Colossal Clutch! Big Show won with the chokeslam, apparently. "Randy Orton is not a Viper. Randy Orton is not the ahpex predator. Because the new ahpex predator in WWE is Alberto Del Rio. Randy Orton is nothing but a slimy garden snake. With no cojones to show his face tonight! But you know what, Randy, you made the right decision, you made the right decision hiding in the shadows like a little girl. If you were here, I will give you a piece of your own medicine." Orton pose by Del Rio! Rodriguez wants him to pound the mat like Orton. Del Rio psyches up to do that, spinning around and dropping to the mat on his fists, only to be face to face with Randy Orton in the same pose! Now that's good camerawork to hide him until then! And Orton's on the attack, dragging Del Rio to the apron and pounding away on him. Kicks to the chest! Del Rio is thrown onto the announce table. European uppercut! Head to the ringpost! Now into the ringsteps! Orton clears off the announce table, and I don't think JBL got his cowboy hat out of the way in time. Del Rio is deposited on the announce table, and Orton climbs on top too, but Del Rio tries a few kicks. Orton beats him down, and it looks like he's going to go for the DDT off the edge of the announce table, but Ricardo Rodriguez is back and jumping on Orton's back to distract him. Del Rio rolls off the table, and... runs away. That leaves Orton with Rodriguez at the announce table. Orton seems content with that! He grabs Rodriguez on top of the table, looking to the crowd for encouragement as JBL begs with him not to do it. RKO on the table, which doesn't break! Play his music! Del Rio looks on from the stage as Orton stares him down from the ring, and we're out!
Promote this thread!
John Orquiola
Scrapple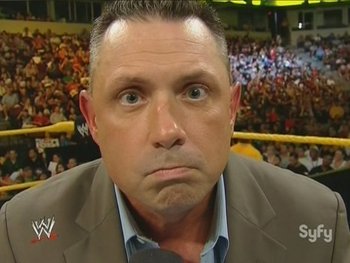 Since: 28.2.02
From: Boston

Since last post: 1569 days
Last activity: 1569 days

#2 Posted on | Instant Rating: 6.48
On the Ivan Drago scale, both Sheamus' Brogue Kick and Show's WMD fall short of one punch from Ivan Drago. Drago hits at 1850 pounds per square inch. Whatever he hits, he destroys!

Hey, where did you get the name 'The Encore' from? No one said the words 'The Encore' during the entire segment. Slater, McIntyre and Mahal have always referred to each other more or less as The Band as far as I know.

If The Band were called "The Encore", it might as well be spelled "The EnCorre".

Probably Josh Mathews' best call of the night: "Heath Slater is well versed in air guitar."



(edited by John Orquiola on 13.10.12 0705)
---

@CMPunk
"@ZackRyder: @CMPunk She played me bro" I got your back.
Spiraling_Shape
Bierwurst



Since: 2.1.02
From: PA

Since last post: 12 days
Last activity: 1 day

#3 Posted on | Instant Rating: 6.41
The Punch vs. Kick scale reminded me of the good ole NXT Challenges.


Originally posted by John Orquiola

---

Hey, where did you get the name 'The Encore' from? No one said the words 'The Encore' during the entire segment. Slater, McIntyre and Mahal have always referred to each other more or less as The Band as far as I know.

If The Band were called "The Encore", it might as well be spelled "The EnCorre".

---


I think the Internet has been calling them "Encore" but I dunno where it originated. Maybe they just haven't named their band yet...and we'll get to vote on it via Twitter hashtags!

But still, having bandmates kinda *completely negates Slater's "One Man Band" nickname*!




---

"Ice cream bars! Ice cream bars!" - RAW crowd, Boston, 7/11/11
Chumpstain
Bockwurst



Since: 21.1.02
From: Canada

Since last post: 213 days
Last activity: 12 hours

#4 Posted on | Instant Rating: 8.46
Originally posted by John Orquiola

---

Hey, where did you get the name 'The Encore' from? No one said the words 'The Encore' during the entire segment. Slater, McIntyre and Mahal have always referred to each other more or less as The Band as far as I know.

If The Band were called "The Encore", it might as well be spelled "The EnCorre".

---


I got it off the internet, which was apparently a mistake. I didn't think they'd go with The Band, because of the old TNA faction, but apparently they don't care about that. Or the faction might not be officially named yet and Slater is just stating that he's no longer a one-man band. Presumably we'll find out in the coming weeks.

Who would have thought something written on the internet could have been wrong?
JustinShapiro
Scrapple
Moderator




Since: 12.12.01
From: Pittsburgh, PA

Since last post: 169 days
Last activity: 3 days

#5 Posted on | Instant Rating: 8.73
I don't follow Heath Slater, nor any wrestler, on Twitter, but I thought the story was that Heath was hashtagging Encore when they first put the group together.

https://twitter.com/TheDrewMcIntyre/status/249694422030221312

I'm only halfway through the show but the air guitar concert was incredible.

(edited by JustinShapiro on 13.10.12 1403)
Big Bad
Scrapple



Since: 4.1.02
From: Dorchester, Ontario

Since last post: 99 days
Last activity: 3 days

#6 Posted on | Instant Rating: 5.70
So Eve wears a blonde wig to hide her identity while attacking Kaitlyn....then carries the wig around with her for another month. Ah, that's some fine police work, Lou.


---

"It breaks your heart. It is designed to break your heart. The game begins in the spring, when everything else begins again, and it blossoms in the summer, filling the afternoons and evenings, and then as soon as the chill rains come, it stops and leaves you to face the fall alone." --- Bart Giamatti, on baseball
John Orquiola
Scrapple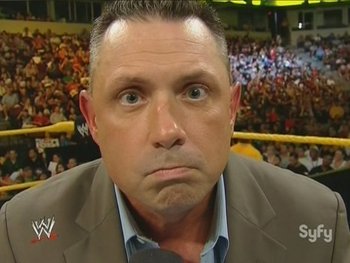 Since: 28.2.02
From: Boston

Since last post: 1569 days
Last activity: 1569 days

#7 Posted on | Instant Rating: 6.48
Originally posted by Big Bad

---

So Eve wears a blonde wig to hide her identity while attacking Kaitlyn....then carries the wig around with her for another month. Ah, that's some fine police work, Lou.

---


She didn't do it! It wasn't her! (Maybe it was Goldberg when he wore Goldust's wig, anyone ever think of that??)


---

@CMPunk
"@ZackRyder: @CMPunk She played me bro" I got your back.