It's False
Scrapple



Since: 20.6.02
From: I am the Tag Team Champions!

Since last post: 96 days
Last activity: 33 days

#1 Posted on | Instant Rating: 6.56
Just walked back in from The Avengers and HOLY SHIT, that movie rocks! If you haven't seen it, GO SEE IT NOW! I said it in the Avengers thread and I'll say it again, this is how superhero ensemble pieces SHOULD be done! I hope whoever's doing the Fantastic Four reboot is taking notes.

And I go from that to this. Man, if ever there was a recap to phone in. Let's get to it!

TONIGHT! It's the Friday after Extreme Rules and we move from Sheamus/Bryan to...Sheamus/Del Rio! Let's see how they build up this thrilling feud! SmackDown is NOW!

WWE - The Champ Is Here!

Opening credits - Do You Know Your Enemy? Opening pyro! Later tonight, we'll see what Brock Lesnar did to Triple H, which immediately tells me that Lesnar's supposed departure is a total work, otherwise why bother to show it? Plus, we'll see that unstoppable juggernaut John Laurinaitis bring the pain to John Cena. Um...are they going to advertise any ORIGINAL content for tonight's show? Because if I wanted to see clips from Raw, I have Hulu Plus. Hell, I have WWE.com for that!

Alrighty, let's start off with World Heavyweight Champion SHEAMUS and his Too Many Limes! I'm so burned out from the whole Avengers experience, so I'm skimping on transcription this week. Sheamus grabs the mic. His name is Sheamus and he LOVES to fight! Huh...has he been talking to Finlay lately? Sheamus says that Daniel Bryan wants one last match, which starts up the YES! chant from the crowd. Sheamus answers the challenge with a resounding YES! YES! YES! YES! YES! YES! YES! YES! YES! YES! YES! YES! YES! YES! YES! YES! YES! YES! YES! YES! YES! YES! YES! YES! YES! YES! YES! YES! YES! YES! YES! YES! YES! YES! YES! YES! YES! YES! YES! YES! YES! YES! YES! YES! YES! YES! YES! YES! YES! YES! YES! YES! YES! That's not an exaggeration, either! Sheamus is clearly YES-ing too hard! He YES'd through all of DANIEL BRYAN's entrance! Bryan doesn't look pleased by any of these proceedings. Only Daniel Bryan can say YES!, dammit! So yeah, we have a match!

SHEAMUS v. DANIEL BRYAN: NON-TITLE MATCH
Sheamus overpowers Bryan to start, but makes sure to sell the shoulder off a shoulderblock. Bryan grabs a drop toehold, but Sheamus knocks him down with a clothesline. Bryan takes control off a single-arm DDT and starts kicking the arm. Bryan works over the arm and grabs the armbar. Both men exchange blows, but Sheamus starts to make the comeback. Sheamus charges into the corner and clotheslines Bryan over the top rope. Suddenly, Sheamus turns around and finds RICARDO RODRIGUEZ on the top rope. Ricardo nails Sheamus with a TOP-ROPE CROSSBODY! ALBERTO DEL RIO quickly follows and...yeah, this was a waste of time.

WINNER BY DQ: Sheamus - Angle advancement.

Post-match, the beatdown is on and Del Rio clamps on the jujigatame. Bryan comes back in and yells at Del Rio, because he's much rather clamp on the YES Lock! Now Bryan gets in Del Rio's face over costing him the match. Referees tend to Sheamus as we go to our first...

Ad break

We take a look at what we just saw a few minutes ago.

Backstage, the medical staff is checking on Sheamus' arm.

R-TRUTH & KOFI KINGSTON v. CAMACHO & HUNICO
We take a look at Air Truth beating Epico & Primo on Raw to win the tag titles. After the heels make their entrance, we're joined by EPICO & PRIMO, ROSA MENDES, and AW, who stop atop the ramp to watch the match.

R-Truth starts off by high-fiving his invisible friend, Little Jimmy. Hunico slaps the shit out of Little Jimmy. Yes, Hunico just slapped an invisible person. That really just happened. Truth avenges invisible people everywhere by pounding on Hunico. Kofi comes in with a second-rope forearm for 2. Camacho provides a distraction, which allows Hunico to send Kofi to the outside. Camacho gets a cheap shot in with a big clothesline. Hunico tosses Kofi back in and hits a slingshot senton for 2. Camacho tags in and hits rights before hitting a delayed back suplex. Jumping legdrop gets 2. Already, he's shown more of a moveset than Darren Young, so that's a plus in his favor. Camacho pounds away in the heel corner. Hunico tags in and hits the slingshot corner seated dropkick. Time to hit the chinlock. Kofi fights out of the heel corner, but can't make the tag. Hunico tries to cheap shot Truth, but Truth counters with his own right hand. Hunico tries to stop Kofi from tagging out, but gets hit with a monkey flip. Tags are made on both sides and Truth is a house of fire. Truth hits the Lie Detector on Camacho for 2. A 'rana sends Hunico out. Truth splits-counters a clothesline and finishes with the What's Up in a two-minute special.

WINNERS: R-Truth & Kofi Kingston - Decent enough. There are worse ideas out there than using Hunico and Camacho exclusively as a tag team.

Post-match, Air Truth hold the belts up and taunt the AW contingent.

Coming up next, Brodus Clay faces Jack Swagger!

Ad break

BRODUS CLAY (w/THE FUNKADACTYLS) v. "THE ALL-AMERICAN AMERICAN" JACK SWAGGER (w/VICKIE GUERRERO & DOLPH ZIGGLER)
Swagger tries to start with a wrestling sequence, but rushes into a belly-to-belly suplex. Swagger takes control quickly, but runs into a clothesline. Dolph provides a distraction, which allows Swagger to hit a running shoulder tackle. Dolph tries to attack, but jumps into the big headbutt! Swagger tries a corner charge, but gets caught by the exploder suplex! Brodus tries to finish with the Big Fat Funky Splash, but Swagger rolls out and decides to take a walk.

WINNER BY COR: Brodus Clay - Wait, so Dolph does a clean three-minute job at the PPV, but we need a countout finish to protect JACK SWAGGER? Who's booking this shit?

Post-match...You Can Dance, You Can Dance, Everybody Look At Your Pants! Cole calls the kids in the ring the Funkateers. Is that anything like the Planeteers? I always thought the Russian one was kind of a fox.

Later tonight, The Big Show teams with Randy Orton to face Kane and Cody Rhodes. Plus, we look at John Laurinaitis insert himself into the main event. Yeah, that'll put asses in the seats.

Ad break

Your hosts are the three flying monkeys. They shoot it off to stills from Extreme Rules followed by Cena going from big bad unstoppable monster Brock Lesnar to retired jobber John Laurinaitis. I don't know how much more I can harp on this (since I already sound like a broken record on this), but using the real-life VP of Talent Relations in a PPV main event when he would have never even sniffed such a position in his prime is such an insult, it's not even funny.

Backstage, Daniel Bryan and Alberto Del Rio are STILL arguing over what happened earlier. Bryan demands that Eve Torres make another match for later tonight. Eve gets in Bryan's face, exercising those fine acting chops that we all recognize her for. She's in charge tonight, you know.

Damien Sandow is walking through the backstage area. He makes his debut next!

Ad break

"THE SELF-PROFESSED INTELLECTUAL SAVIOR OF THE MASSES" DAMIEN SANDOW v. DERRICK BATEMAN
Sandow enters to "HALLELUJAH!" That's pretty awesome, but if they're going to start digging into the classical music archives, I wish they would have dusted off Triple H's old "Ode to Joy" theme! That was some fine, upbeat classical theme music!

Bateman, who's an even bigger NXT loser than Young and O'Neil, doesn't get an entrance. You'd THINK this would make him cannon fodder, but Sandow grabs the mic to start. Even SANDOW'S offended at how much of a loser Bateman is, so he refuses to wrestle. He's far too enlightened for the likes of him, you know. Sandow wishes to spare us all this match, so he refuses to compete. We're welcome!

Now Bateman grabs the mic and shows off his dazzling mic skills. Bateman demands a match NOW! Well...

RYBACK v. DERRICK BATEMAN
Faster than you can say "Hey, Ryback has pyro now!", the KNOCK THE PISS OUT OF YOU Lariat and running musclebuster send Bateman back to NXT Purgatory where he belongs.

WINNER: Ryback - At least they're moving Ryback onto the next tier of jobbers, like I suggested last week.

Quoth Michael Cole: "Derrick Bateman's pretty accomplished. He's been on NXT over a year..." Yup.

Coming up next, The Big Show and Randy Orton face Kane and Cody Rhodes.

Ad break - WWE Magazine promo

KANE & CODY RHODES v. THE BIG SHOW & "THE APEX PREDATOR" RANDY ORTON
We see stills of Cody Rhodes winning the Intercontinental Championship at the PPV. Cole notes that Show will get his rematch "at live events this weekend", which probably means we won't be seeing that match again, thankfully.

Orton and Rhodes start off and Orton wins the exchange with a clothesline. Cole makes the requisite Legacy reference. Hey, where's that OTHER Legacy guy been lately? Show tags in and goes to work with the standard Big Show offense. Orton tags back in and hits a big kneedrop for 2. Dropkick gets 2. Kane tags in and Orton and Kane work each other over. Kane goes to work with corner rights and shoulder thrusts. Orton counters a shoulder charge and tags out. Show hits the spear and pulls Rhodes back in for a chop. Show pounds on Kane in the corner and puts him down with a headbutt. Show telegraphs a backdrop and Kane hits a DDT to send us to our next ad break.

We come back with Rhodes stomping away on Show. Show and Kane pick Show apart with frequent tags. Kane hits a seated dropkick for 2 and hits the chinlock. Show counters with a back suplex. Tags are made on both sides and Orton's a house of fire. Kane saves Rhodes from the Hanging DDT, but he gets caught with it himself. VIPER COIL! Kane shoves out the RKO and Rhodes lowbridges Orton. Kane avoids the shove into the steel post and wipes Orton out with the big boot. Rhodes now tags in and starts beating down Orton. Orton's brief flurry is stopped with a standing dropkick. Kane tags in, but misses a corner charge. Orton's backbreaker puts Kane down, but he can't make the tag. Time to hit the chinlock again. Cross-Rhodes is countered with a backdrop. Show gets the hot tag and demolishes Rhodes. Show tries for the chokeslam, but turns around into a top-rope clothesline from Kane. Kane immediately walks into the RKO from Orton! Rhodes disposes of Orton, but the Disaster kick is caught with a big chop. The Mayweather Sucker Punch finishes at about 13 minutes.

WINNERS: The Big Show & Randy Orton - Good formula tag match.

The demoted Matt Striker is standing outside the medical room. Sheamus comes out sporting tape and assures Striker that he came here to fight. His match with Daniel Bryan WILL happen later tonight!

Ad break - Wrestlemania XXVIII DVD promo

LAYLA v. NATALYA: NON-TITLE MATCH
Natalya gets no entrance, because she's cannon fodder, of course. Lay Out, goodbye, in less than two minutes.

WINNER: Layla - Would more time for these two be too much to ask?

Let's take a look at John Cena on Dream Machines.

We go backstage to a photo shoot with Aksana and a shirtless Antonio Cesaro. Eve thinks Cesaro needs more oil, so she demands Teddy Long apply the oil. This is as homoerotic as it sounds.

Coming up next, we recap the Brock Lesnar/Triple H segment from Monday.

Ad break

Backstage, Kaitlyn is talking to Alicia Fox. AJ enters the picture, so Fox exits. AJ has seemingly come to her senses and apologizes. Kaitlyn tells her that her pity party over Daniel Bryan needs to stop, but AJ snaps upon hearing Bryan's name and ABSOLUTELY SLAPS THE EVER-LOVING PISS OUT HER! Seriously! Watch that slap! Holy shit!

Your hosts are the three morons. They shoot it off to the Raw Rebound. Announcers note that Triple H has suffered a broken arm and needs to undergo surgery to repair tendons. No word on Brock, but we'll find out his status on Monday.

RICARDO RODRIGUEZ introduces ALBERTO DEL RIO, who will be joining the announcers for commentary. This week, Alberto Del Rio arrives in a Bentley Continental. We look at what happened earlier tonight and...yeah, Del Rio's armbreaker looks REALLY tame compared to that legit-looking kimura that we just saw Brock use a few minutes ago. The main event is next!

Ad break

DANIEL BRYAN v. SHEAMUS: NON-TITLE MATCH
Daniel Bryan may only get the tail end of his entrance, but that's not going to stop him from leading a chorus of YES! chants!

Sheamus tries to keep Bryan at bay with his good arm and puts Bryan down with a right. Bryan takes Sheamus down with a drop toehold and kicks away on the arm. Bryan works over Sheamus' arm and picks away at it. Sheamus tries to come back with a tilt-a-whirl backbreaker, but crotches himself on a Brogue Kick attempt. The YAAAAAAAH running dropkick sends Sheamus to the outside and sends us to our final ad break of the night.

We come back with Bryan continuing to work on the arm. Sheamus slumps to the outside and Bryan follows. Bryan sends Sheamus shoulder-first into the steel post. Diving headbutt hits the bad shoulder, but only gets 2! Now it's time to go work with some kicks (but not YES! kicks) and pound on the shoulder some more. Sheamus reverses a whip attempt and chucks Bryan shoulder-first into the steel post. Sheamus follows with the ten-count chest strikes. Here's a second round of ten-count chest strikes! Vertical suplex gets 2. Corner charge eats boot, but Bryan charges into the Irish Curse for 2! Bryan hangs Sheamus' arm on the ropes and climbs up top. Top-rope seated dropkick gets 2! Bryan charges in, but eats an Irish Hammer that gets a 360 degree oversell! Sheamus tries for the High Cross, but Del Rio jumps on the apron. Bryan tries for the YES Lock, so Sheamus chucks him into Del Rio! Bryan climbs up top, but jumps right into the Brogue Kick to emphatically end this one at about 16 minutes.

WINNER: Sheamus - These two continue to show great chemistry. Good match!

And so our show ends with Sheamus celebrating with the title, as Del Rio looks on from the ramp.

FINAL THOUGHT

This was a fine SmackDown. It was light on angle advancement for the PPV, aside from Sheamus/Del Rio, but we got a good Sheamus/Bryan and a couple of halfway decent tag matches.

Nothing much else to say this week. Until next time!


---

"This is DIET Double Dew, Kyle! It only has half the caffeine and sugar of Double Dew!"

Promote this thread!
Spiraling_Shape
Bierwurst



Since: 2.1.02
From: PA

Since last post: 8 days
Last activity: 18 hours

#2 Posted on | Instant Rating: 6.40
Derek Bateman actually is kind of awesome and entertaining, from what I know of his recent work on NXT. However, the best part of that segment was learning Ryback's theme is called "MEAT" and the little inset CD graphic of his face over the word MEAT.

Chickbusters slap week two! Whoa!


---

"Ice cream bars! Ice cream bars!" - RAW crowd, Boston, 7/11/11
CruelAngel777
Sujuk



Since: 7.4.02

Since last post: 687 days
Last activity: 670 days

#3 Posted on | Instant Rating: 1.70
Was it a good idea to job Bryan clean to Shaemus for the 4th time right after he was deemed number one contender for Punk's World Title? Nice job of having Lobsterhead piggyback D-Bry's face reaction by having Shaemus preempt a "yes" chant, and doctoring crowd noise again Creative.

Speaking of "Stupid Shit Creative Does", how the hell did they turn Ryback into a Goldberg clone from finishing combo and moveset similarity, posing similarity, and look, but then didn't anticipate loud Goldberg chants each week? This happened with Mason Ryan but that was because they look kinda similar in the face. With Ryback it's like they just gave him an old WCW Goldberg tape and said "become". Ryback/Cloneberg/Imperfect Bill is fucking boring.

Chickbusters noooooooooooo!!

No Titus and Darren this week?! What is this, I don't even.....
JustinShapiro
Scrapple
Moderator




Since: 12.12.01
From: Pittsburgh, PA

Since last post: 57 days
Last activity: 12 days

#4 Posted on | Instant Rating: 8.73
Derrick Bateman is absolutely outstanding. Please stop casting aspersions against the NXT roster; you're prejudiced against the gold brand.

The stupidity of pointlessly beating someone on one show when he's in an important match on another reeks of that stupid "they have to job when they're leaving the territory!" thing they do when someone switches shows. So I wonder if that means Bryan is going to be on Raw now, or if they're just dumb.


Originally posted by CruelAngel777

---

how the hell did they turn Ryback into a Goldberg clone from finishing combo and moveset similarity, posing similarity

---


FEED ME MORE is also WHO'S NEXT. It's hilarious, considering they wouldn't even let Goldberg do the real Goldberg act.
BigDaddyLoco
Scrapple



Since: 2.1.02

Since last post: 7 days
Last activity: 4 days

#5 Posted on | Instant Rating: 5.13
Sweet crossbody by Ricardo off the top rope.


lotjx
Scrapple



Since: 5.9.08

Since last post: 4 days
Last activity: 4 days

#6 Posted on | Instant Rating: 1.25
It probably means that Jericho will be added to the Punk/Bryan match or be replaced by Jericho. I have no idea what they are thinking with having Bryan lose, at least any rational ideas.

Smackdown is just going through the paces right now until they decided to care about it for that month during the summer. Like they usually do. Sheamus/ADR leaves me cold. Dean Ambrose at least did something original. Ryback did not.


---

The Wee Baby Sheamus.Twitter: @realjoecarfley its a bit more toned down there. A bit.
dwaters
Bierwurst



Since: 16.10.02
From: Connecticut

Since last post: 5 days
Last activity: 2 days

#7 Posted on | Instant Rating: 7.25
Smackdown is really just the same five guys fighting in different main event combinations week after week after week.
The problem is SD guys appear on Raw all the time, but the opposite doesn't happen- making it seem like more limited of a roster. Maybe the draft will help.

I love the Damien Sandow gimmick. It is such an old school heel style like The Genius Lanny Poffo, Mr. Backlund and so many others. It comes off as fresh in 2012.
Lexus
Andouille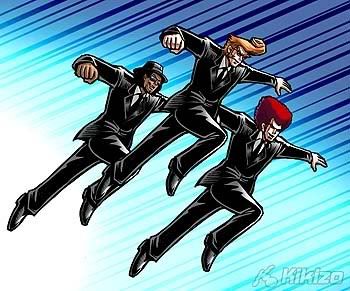 Since: 2.1.02
From: Stafford, VA

Since last post: 3 days
Last activity: 18 hours

#8 Posted on | Instant Rating: 5.02
Originally posted by dwaters

---



I love the Damien Sandow gimmick. It is such an old school heel style like The Genius Lanny Poffo, Mr. Backlund and so many others. It comes off as fresh in 2012.

---


Me too. It's the smile he gives when saying you're welcome that just makes it.




---

"Laugh and the world laughs with you. Frown and the world laughs at you."
-Me.