It's False
Scrapple



Since: 20.6.02
From: I am the Tag Team Champions!

Since last post: 94 days
Last activity: 32 days

#1 Posted on | Instant Rating: 6.56
TONIGHT! It's the go-home show for Wrestlemania! Any last-minute shenanigans will be seen here! SmackDown is NOW!

Here are the last couple of minutes of the Cena/Rock special. I do like the cases made on both sides for why Cena and Rock need to win this match. Good ending.

WWE - The Champ Is Here!

Opening credits - Do You Know Your Enemy? No opening pyro, as we immediately start off with "LONG ISLAND ICED Z" ZACK RYDER. Looks like we're starting with a match tonight. Your hosts are...Josh Matthews and the demoted Matt Striker??? Could it be? We're getting a COLE-FREE SHOW??? Holy shit, we haven't had one of those since 2010!!! Really! We've almost gone TWO FULL YEARS with Michael Cole on EVERY SINGLE SHOW! The Streak has finally ended! Fuck yeah, I'm going to enjoy every minute of this! If I didn't know any better, I'd say that's a genuine smile on Josh Matthews' face! And that's an even bigger smile on Striker's face, who's just happy to be back, even if it's most likely for one night only.

By the way, this should also prove that no one (not even the people within The E) watches NXT, because apparently, they're right smack dab in the middle of a "Matt Striker is missing" storyline. I know this, because...um...hey, look, our opening match!

"LONG ISLAND ICED Z" ZACK RYDER v. DREW McINTYRE
We get a Wrestling Challenge insert promo from Ryder, who once again credits Eve for him getting on Team Teddy. Because Zack Ryder's an idiot who can't do anything without her help, naturally. McIntyre does NOT get his full entrance this week.

McIntyre backdrops Ryder to start and taunts him. Ryder comes back with an armdrag and a roll-up for 2. Striker talks about the Ryder/Eve relationship while getting in a few moronic lines. But honestly, he's Aristotle compared to the two doorknobs I deal with every week. McIntyre takes over with a headbutt, but Ryder comes back with a dropkick and a pancake. McIntyre takes over with a kick off a flapjack. Snap suplex gets 2. Time to hit the armbar! Ryder comes back, but McIntyre hits him with a tilt-a-whirl gutbuster for 2. That's another new addition to the McIntyre moveset! Me like! Time to hit the chinlock. McIntyre misses a corner charge, but catches Ryder's own charge with a boot. Second-rope whatever from McIntyre hits boot and Ryder makes the babyface comeback. Corner forearm and Broski Boot get 2! McIntyre hits a big boot for 2. Corner charge eats knees and the Rough Ryder finishes for Ryder at about 10 minutes.

WINNER: Zack Ryder - Good match between these two!

Later tonight, Chris Jericho faces off against Kofi Kingston.

Lord Tensai promo. It can't possibly be Albert, because he's denied it on Twitter. And wrestlers NEVER lie on Twitter, right?

Ad break

Let's go to WWE Axxess, where AWWWW FUCK, it's Michael Cole and Jerry Lawler. The Streak lives on. Fortunately, it's during a Fan Axxess segment, which I feel safe in hitting the FFWD button!

We recap the Triple H/Undertaker feud with a special video package.

Later tonight, Chris Jericho faces Kofi Kingston!

Ad break

More WWE Fan Axxess! Go away, Michael Cole! FFWD!

Let's recap the Divas feud. FFWD!

Ad break

Another look at WWE Fan Axxess! Nope! FFWD!

Here's a video package on the CM Punk/Chris Jericho feud. Gotta love the first half of that video package, which really sells that Punk and Jericho are fighting over who's the best. And then they just HAD to throw in the soap opera element, because feuds about actual wrestling are BORING! That's why The E has writers! To save you from BORING FEUDS ABOUT WRESTLING!

Ad break

Yet another look at WWE Fan Axxess! Shut your face, Michael Cole! FFWD!

Here's a look at the feuding GM's, featuring CM Punk destroying Christian to take him out of the Wrestlemania match and Booker T inserting himself into the feud.

Up next, we hear from The Big Show.

Ad break

We finally go back to the arena, as we are joined by THE BIG SHOW. We take a look at Cody Rhodes escalating the feud with his Mayweather impression two weeks ago. Show has the mic and it's promo time!

"Woo, Atlanta! You know, I gotta tell you, I've been...I feel very fortunate. I've had a very extraordinary career, you know. I've been fortunate enough to compete against some of the greatest superstars this industry has ever seen. I even won the World Heavyweight Championship my very first match, professional match, first time. But there's one thing I don't have, there's one thing I've never done, and Cody Rhodes has had a...enjoyed pointing that out to all of you is...I've never had a Wrestlemania moment. Now Cody's called me a choke artist and Cody's called me a failure. Cody's made it abundantly clear that he plans on making a name for himself by beating me on the grandest stage of them all. Yeah. I gotta be honest, you look at the history, it's a brillian plan. It's well-thought out, it's a brilliant plan. But you see, the thing is, Cody Rhodes won't be stepping in the ring this Sunday at Wrestlemania with history. He's going to be stepping in the ring with the world's largest athlete. Now I noticed some of you, my words may ring a little hollow, I've talked the talk before, I know. But I gotta tell you, this time...this time...it's a bit different. You know, I feel it...I feel it in my gut. It's a big gut, I know. I feel it in my mind. Most of all, I feel it in my heart, ok? Cody Rhodes is going to Wrestlemania, gonna call me a choke artist, he's gonna get chokeSLAMMED. Cody Rhodes thinks his career's gonna get made, his career's gonna get broken when I beat him and become the new Intercontinental Champion. This Sunday at Wrestlemania, I will have MY Wrestlemania moment!"

Hit Big Show's music! Look at him point at that Wrestlemania sign!

Chris Jericho walks through the backstage area. He faces Kofi Kingston later tonight!

Ad break

Back to WWE Fan Axxess! FFWD!

Here's a look at the Daniel Bryan/Sheamus feud. "Let's hear it for ME!" YES! YES! YES!

Later tonight, Chris Jericho faces Kofi Kingston. Plus, we look at the final face-to-face between John Cena and The Rock.

Ad break

More Fan Axxess! More FFWD!

Here's a second look at Triple H/Undertaker. Ok, now they're just wasting time on purpose.

Coming up next, Chris Jericho faces Kofi Kingston!

Ad break

Here's a B.A. Star promo!

CHRIS JERICHO v. KOFI KINGSTON
Jericho starts with an armdrag and poses. Now we move into a hammerlock sequence, which Jericho wins with a back elbow. Kofi gets a back elbow off a running-the-ropes sequence and clotheslines Jericho over the top rope. Kofi follows with a baseball slide. Back in the ring, Jericho cuts off the springboard to take us to our next ad break.

We come back with Jericho hitting a catapult guillotine. Baseball slide puts Kofi out. Jericho DUSTS OFF HIS HANDS! Here's a Hogan earcup! Jericho slams Kofi's head on the announce table. Jericho undoes a piece of the barricade and slams Kofi's head on the steel barricade. Back in the ring, we hit the chinlock. Kofi breaks it and rolls up Jericho for 2. Jericho quickly comes back with an enziguiri for 2. We slow things down with some choking. Striker mentions that it's Eric Clapton's birthday, noting that Chris Jericho told him to say that. HA! Jericho crotches himself on the ropes and Kofi makes the babyface comeback. Jumping clothesline misses, but Kofi quickly follows with the S.O.S. for 2! Chops and a dropkick set up the Buzzsaw Legdrop! BOOM BOOM! Trouble In Paradise misses and Jericho tries to counter into the Walls before getting tossed off. Kofi comes back with the top-rope frog crossbody for 2! Strikes notes the similarities between Kofi and Punk's styles, saying that Jericho will scout the tape on Kofi to prepare for Punk. You know the difference between Striker's stupidity and Booker's stupidity? At least Striker's idiocy is intended to somehow sell the product and not meant to spout off cliches for the sake of spouting off cliches. I miss Matt Striker...in a relative sense. Kofi charges into a back elbow. Jericho tries for the Lionsault, but eats knees. Trouble In Paradise is CAUGHT and turned into the Walls of Jericho. It's a full-on Liontamer this time around, so Kofi taps out at about 12 minutes shown!

WINNER: Chris Jericho - Great match! I really hope we don't see the last of Jericho this Sunday. Striker gives a full analysis of the Liontamer, just to REALLY get on my good side!

Up next, we see the final face-to-face between John Cena and The Rock.

Ad break

We already see the closing credits go up for SmackDown, meaning we're about to end this one. We see a graphic go up for Cena/Rock with the giant words "Twitter War," as I band my head against the wall repeatedly. The E's entire audience is now dumber for having seen that.

We shoot it off to Raw's closing segment in its entirety. And...yeah, I feel good with calling this an early recap. End show.

FINAL THOUGHT

This show was one final shill for Wrestlemania. It was what it was. And hey, it got Cole away from the announce table. I can't complain about that one bit. Plus, we got better wrestling this week than we have on most weeks. So that's a plus!

How are you feeling if you're Randy Orton and Kane and your match was the only one not covered? Jeez, even the DIVAS got a video package!

Until next week!


---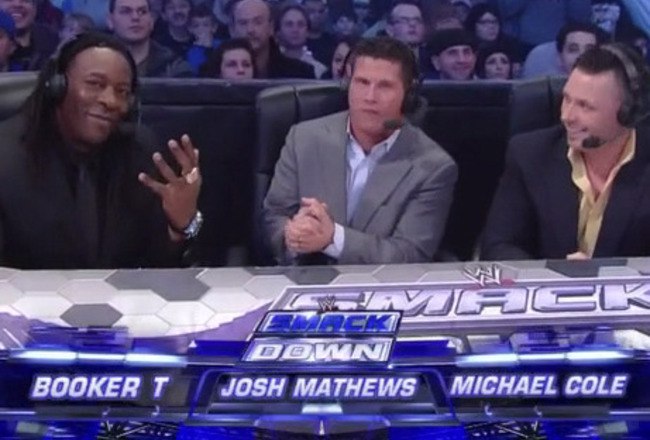 "We need to go derper!"

Promote this thread!
jerichofan717
Pickled pork



Since: 21.12.10
From: Albany, NY

Since last post: 332 days
Last activity: 74 days

#2 Posted on
The WWE production team's brilliance couldn't even make a video package on the Kane/Orton, um, feud look good. Not much to work with when the highlights are Kane's "welcome back" Randy's "it's good to be back", exploding ringposts and a couple of RKO's.
dwaters
Bierwurst



Since: 16.10.02
From: Connecticut

Since last post: 4 days
Last activity: 1 day

#3 Posted on | Instant Rating: 7.45
I found it hard to swallow when Cole and King were standing side-by-side talking about how personal things have gotten between Jericho and Punk. Last year at this time those two were feuding like crazy, with Cole dragging in Lawler's family members and old pictures and videos.

They spent so much time building about to a very blah match that really didn't change anything or give Cole much comeuppance.