It's False
Scrapple



Since: 20.6.02
From: I am the Tag Team Champions!

Since last post: 12 hours
Last activity: 9 min.

#1 Posted on | Instant Rating: 6.56
Man, how often am I going to switch on Syfy and see zombies attacking closing credits to the sounds of "Down With The Sickness"? I feel like that happens every other week. Anyway...

TONIGHT! It's a clash between #1 contenders, as Chris Jericho faces Sheamus! Plus, more silliness with GM's! SmackDown is NOW!

The Champ is NOT Here, as we go straight to the...

Opening credits - Do You Know Your Enemy? Opening pyro! We are taped from Columbus, OH!

LILIAN GARCIA starts this show off on a great note by introducing CHRISTIAN, returning after a long injury. This show then tries to aim for the toilet by showing us your hosts, the three cockroaches. Cole's still in the center seat, for anyone who cares. Let's focus on Christian, who has the mic. It's promo time!

Christian: Ladies and gentlemen, welcome to the return of The Peep Show. And I'm so excited for this show, this is going to be an amazing, this is going to be a very interesting show. Because it was reported this week on the NEW WWE.com that at Wrestlemania, there would be a huge 12-man tag team match...featuring representatives from Team John Laurinaitis and representatives from Team Teddy Long. And let's just say that that will affect the future of the WWE, because the winner will become both the Raw General Manager and the SmackDown General Manager. So without further ado, being accompanied to the ring by his captain, Mr. David Otunga, he is the Executive Vice President of Talent Relations and Interim General Manager of Raw, Mr. John Laurinaitis.

And...I've lost interest in this segment. Here's SUPER DAVE LAURINAITIS and DAVID OTUNGA. Laurinaitis kisses up to Christian for a bit before Christian brings out TEDDY LONG and AKSANA. Announcers note that R-Truth lobbied to Teddy Long through "social media" (however the hell that works) to join his team and Long accepted, so pencil in R-Truth for Team Long.

Christian talks about the stakes of the match and offers up his services to either team, giving each GM a chance to convince him to join. Christian gives us his One Joke. Guess the writers aren't tired of that one yet. Long refuses to pander to Christian. Laurinaitis promises Christian a title shot if his team wins. Christian backs Team Laurinaitis. Hit Christian's music! Cole's already getting on my nerves. I haven't had enough green beer yet.

Long interrupts Christian's music to try and book him in a match, but Laurinaitis points out that Christian isn't medically cleared. So Long books Otunga, instead, against the newest member of Team Long...KOFI KINGSTON! He comes out with SANTINO MARELLA, as Cole loses his shit. He's going to be VERY annoying tonight, isn't he? Let's go to our first...

Ad break

DAVID OTUNGA v. KOFI KINGSTON
Otunga hammers away on Kofi to start, but Kofi quickly comes back with rights and kicks. The announcers have been joined by Long and Laurinaitis. Oh boy, I hope they ARGUE! I never get tired of that! Kofi gets a leap frog sequence and hits a back elbow. Monkey flip is blocked and Otunga goes to work with his shitty offense. This gives the GM's and Cole plenty of time to ARGUE! I'd ask them to CALL THE FUCKING MATCH, but let's be honest, Otunga's doing absolutely nothing here, already going to the chinlock. Kofi jumps into a powerslam for 2. Otunga with more shitty offense, showing nothing beyond "clothesline" and "stalling". Booker makes my head explode by mentioning the WBF! Kofi comes back with a top-rope springboard and hits a dropkick. Jumping clothesline hits, but Christian trips Kofi up. Long tells the referee what happened, so Christian is ejected. The GM's get in each other's faces again. Otunga takes off his belt and wraps it around his fist. Truly, the power of LEATHER will turn the tide of this match! Oh, but Santino takes the deadly belt away, so Otunga decks him. He then turns around and eats Trouble In Paradise to give Kofi the win.

WINNER: Kofi Kingston - Cole says, "This is an absolute embarrassment." I agree. David Otunga's wrestling is an absolute embarrassment.

We go backstage to the Divas locker room...and see Daniel Bryan. AJ comes out wearing a dress that Bryan bought her and tells him that the dress doesn't fit. Daniel has her do a quick twirl before agreeing with her. "Yeah...I don't get it. The dress just looked so much better on a mannequin." HA! Bryan wants AJ to be the Liz to his Savage, so he had her booked in a match tonight. He offers to join her at ringside and they make out. Her match is next!

Ad break

NIKKI BELLA (w/BRIE BELLA) v. AJ (w/DANIEL BRYAN)
Come on...you know it wouldn't be Daniel Bryan if he didn't get his own entrance. This week, we get five YES's!

Nikki mocks AJ by getting on her knees, so AJ dropkicks her in the face. Nikki bops AJ's face on the turnbuckle and hits a snapmare for 2. Nikki stands on AJ's hair and hits the chinlock. Announcers take this moment to ARGUE! AJ comes back with a roundhouse. Very ugly top-rope crossbody hits. The Bellas try for the switch, but Bryan alerts the ref, who stops it! Unfortunately, Bryan stays on the apron a little too long and Brie's able to take AJ down by the hair. Nikki picks up AJ, but AJ rolls her up for the pin in a two-minute special.

WINNER: AJ - So naturally, they hit BRYAN'S music and BRYAN celebrates! Bryan's the best! Oh, the match kinda sucked, but who cares? DANIEL BRYAN! YES! YES! YES!

Later tonight, Sheamus faces Chris Jericho in tonight's main event! Up next, we see the Rock 'n Rap Concert again.

Ad break

The Raw Rebound recaps our musical show. I really miss Thuganomics Cena. THAT GUY was cool! Oh, The Rock's performance from Raw is now apparently available on iTunes. Really? REALLY? THAT'S on iTunes now?

Your hosts are the three dingleberries. This Monday, John Cena faces Mark Henry. There's no way that match ends up happening, is there? Even The E wouldn't be dumb enough to risk Cena hurting himself before the biggest match in a decade.

We go backstage to the demoted Matt Striker standing with Cody Rhodes. Rhodes credits Show as one of the most dominant forces in wrestling...except for Wrestlemania night. Rhodes points out that Show's never won in a one-on-one setting at Wrestlemania and will show off how he plans to beat him tonight. Up next, he faces The Great Khali.

Ad break

THE GREAT KHALI v. CODY RHODES: NON-TITLE MATCH
Rhodes sticks and moves to start, but gets caught and shoved. Rhodes tries a chop, so Khali no-sells it and hits an overhead right. Time for some corner chops. More overhead rights. More corner chops. Cody goes to the knee and hits a single-arm DDT. Time to hit the armbar. Khali shoves him off, so Rhodes works on the leg. Rhodes tries a Figure 4 (WOO!) and gets shoved into the corner. Cody comes off the rop and eats a chop. Khali makes the babyface comeback with clotheslines. JUDO CHOP~! misses and Rhodes goes to the legs again. Cody hits the Disaster kick (with Charles Robinson nearly getting in the way!) to finish this two-minute special.

WINNER: Cody Rhodes - Bad match. I'm not filled with confidence for the Rhodes/Show match.

Backstage, Randy Orton heads to the ring. He'll address his feud with Kane, next!

Ad break - B.A. Star promo

The WWE Rewind is brought to you by Pep Boys - The Miz's burial continues, as Orton defeats him easily. Orton and Kane then fight into the crowd.

We are joined by "THE APEX PREDATOR" RANDY ORTON. Announcers talk about what happened last Monday, as we saw Kane's pyro...and no Kane. Ok, it's promo time!

Orton: My name...is Randy Orton. And usually, when I have a problem with somebody, I don't come out here and talk about it. I hunt them down. But for the past few weeks, it feels like I'M the one who's being hunted...by Kane. Now we are both going down a path that leads to us destroying one another. And that's fine by me, but before that happens, I have to know why Kane chose me. Now I'm not John Cena! I embrace hate! And in turn, hate embraces me! Call it morbid curiosity or whatever, but Kane...I'm calling you out. And I want you to explain yourself, because when the time comes that I have to put you down, I want to know why I had to do it.

Pyro goes off on the ramp and the lights go out. KANE emerges from the smoke atop the ramp with his own mic.

Kane: So you're demanding an explanation? Does it make you uncomfortable, living in the unknown, Randy? You see, normally, I'd enjoy watching you twist in the wind, unsure of why or when or how I'd strike next. But since you asked so politely, I'll clue you in, Randy, because it's obvious that you've forgotten all about this, even though it's something I obsess over.

We go back to last summer, when Randy Orton and Kane faced off in a street fight, with Orton winning with the RKO. We also see the post-match handshake. Wait a tick...you mean I was RIGHT? They ARE feuding over that match? I wasn't entirely serious when I said that, but...ok, cool!

Kane: That was July 22, 2011. I watched that footage everyday. EVERY SINGLE DAY to remind myself of what I had become...a wretched, mangled wretch of humanity. But the person that shook your hand is gone. He's been replaced by someone who doesn't have a single vestige of humanity left inside of him. He's been replaced by the monster that I always should have been. But the journey is not yet complete. The WWE isn't big enough for the both of us, Randy! I need...closure. I will not become whole again until I have utterly and completely decimated you.

Orton: That was very enlightening. Thank you. Thank you for that. Now shut your mouth, come down to this ring, and let's just SEE if you can finish what you've started!

Kane comes down the aisle, but stops halfway through.

Kane: Actually, Randy, slaughtering you right now will not satiate my craving for your suffering. No, no...when I end you, I want it to be on the biggest stage possible. I want your demise to happen...at Wrestle...MANIA!

Hit Kane's pyro and music! Kane and Orton stare each other down to end the segment.

Later tonight, Sheamus faces Chris Jericho for the first time ever!

Ad break - Rock DVD promo

The Law Office of David Otunga promo

DREW McINTYRE makes his entrance, because he works here now! We look at McIntyre beating a midget last week. Teddy Long appears on the Titantron, noting that McIntyre signed a one-year contract, so Long's booking McIntyre against...

DREW McINTYRE v. THE BIG SHOW
I have no idea what the point of this angle is anymore.

WINNER: The Big Show - SQUASH!

Backstage, Cody Rhodes looks on from his locker room.

Ad break

"THE WORLD'S STRONGEST MAN" MARK HENRY v. YOSHI TATSU
Hey, Yoshi Tatsu's on my TV again! Unfortuantely, he gets no entrance, so he's cannon fodder, of course. Doesn't even take two minutes for Henry to send Tatsu crashing back to NXT Hell.

WINNER: Mark Henry - SQUASH!

Your hosts are the three monkeys. They shoot it off to Zack Ryder, who lobbies to get added to Team Long. Holy crap, they might actually give Zack Ryder something MEANINGFUL (well...meaningful compared to any junk involving Eve Torres) to do??? THANK GOD!

Backstage, Chris Jericho heads to the ring. Our main event is next!

Ad break

We take a quick look at the new WWE.com.

CHRIS JERICHO makes his entrance for our main event. But before we get to that, Chris Jericho grabs the mic and it's promo time!

"Before I dismantle Sheamus tonight, I want to address the comments that I made about CM Punk and his father on Raw. I can tell from the thousands of hateful Tweets that I received and the e-mails that a lot of you aren't happy with what I said. A lot of you want me to apologize. But I'm not going to do that. I know you think I went over the line, but you can never go over the line when you're telling the truth. And I told the truth about CM Punk, I mean, the truth is he's a fraud. He's the typical product of an alcoholic father, of a broken home, a man who has hundreds of tattoos across his body to hide the fact that he has an alcoholic gene running through his veigns. He writes an 'X' on his hand to hide who he really is, but I know who CM Punk is, I have figured out the real CM Punk, I know him better than he knows himself. I know that he stayed up at night crying as a little child because of what his father was doing to him. I know that every time he unleashes one of his famous pipe bombs, he's really wishing he could say those things to his parents, to his family.

"I know that every time he comes into the ring and hears all of you chanting 'CM Punk' hiding behind the wall of the sarcastic anti-hero, that he really wishes the demons in his head would just go away, but they will NEVER go away. CM Punk wishes that he was the best in the world at what he is, but he is not. I am the best in the world at everything I do! While CM Punk only pretends to be...as a matter of fact, he wishes he was me. He's a Chris Jericho wannabe, just like all of you here tonight. Jericlones, who will never be what I am, because I prove it night-in and night-out, that everything I say is true. I'm going to prove it tonight when I beat Sheamus, I'm going to prove it at Wrestlemania when I beat CM Punk. And when I leave the stadium in Miami on the evening of April 1, I will prove it by walking out the new WWE Champion! And at the Wrestlemania afterparty, I'm going to fix myself a nice stiff cocktail, I'm going to take a nice big drink...I'm going to take a nice big drink, I'm going to hold it up to the sky, and I'm going to make a nice toast, not just to myself, but I'm going to toast CM Punk and his pathetic father! So go ahead! For one of the last times that you can, chant for your anti-hero! Chant for CM Punk! CM Punk! CM Punk...CM Drunk...CM Drunk...CM Drunk...Pipe Bomb!"

Hit Jericho's music! Our main event is next!

Ad break

CHRIS JERICHO v. "THE GREAT WHITE" SHEAMUS
We get the feeling-out process to start, as the announcers finally note that Jericho and Sheamus were the last two men in the Rumble match. Sheamus power Jericho around, so Jericho regroups on the outside. Sheamus chases him around and knocks him down with the slingshot shoulderblock for 2. Jericho tries to come back with a corner splash, but hits his head on the ring post and falls to the outside. Sheamus brings him back in and hits the ten-count chest strikes. Sheamus hits a Davey Boy suplex for 2. Sheamus charges in and gets lowbridged. Jericho knocks him down with a baseball slide. We are suddenly joined by DANIEL BRYAN and AJ to take us to our final ad break of the night.

We come back with Jericho hitting a catapult guillotine, as Daniel Bryan and AJ have taken a seat near the announce table. Jericho pounds away in the corner. Time to hit the chinlock! Sheamus breaks it, but runs into a knee. Back suplex gets 2. Sheamus tries to fight his way up, but eats a seated dropkick for 1. Back to the chinlock. Sheamus backs Jericho into the corner, but Jericho takes control again. He tries for the bulldog, though, and gets shoved into the opposing corner. Sheamus makes the comeback with Irish Hammers. Jericho floats out of the powerslam attempts, but eats the Irish Curse for 2! Jericho counters the corner charge, but Sheamus nails the rolling fireman's carry for 2! Jericho gets the thumb to the eye, but the Codebreaker is blocked! Sheamus crotches himself on a Brogue Kick attempt and Jericho nails the springboard dropkick! Lionsault gets 2! Jericho stalks Sheamus in the corner and gets booted down. Sheamus climbs to the top, but gets crotched. Superplex is blocked and Jericho gets headbutted down! Irish Missile gets 2! High Cross is countered with the Walls, but Sheamus reaches the ropes. Second High Cross attempt, but Jericho floats over. Sheamus clotheslines him out and follows. He chucks Jericho at Bryan and AJ, narrowly missing them! Sheamus tosses Jericho in, but stops to mouth off to Bryan, so Jericho knocks Sheamus into the announce table! Bryan keeps Sheamus down with a seated dropkick into the announce table and that'll do it!

WINNER BY COR: Chris Jericho - Good match, even with the cheesy interference at the end.

Post-match, Sheamus chases Bryan, who runs up the ramp. Yes, he remembers AJ this time. So with Bryan having escaped him, Sheamus wipes out Jericho with the Brogue Kick. Hit Sheamus' music! And so our show ends with Sheamus staring down Daniel Bryan.

FINAL THOUGHT

A lot of terrible wrestling and squashes for that first hour and a half, but the Sheamus/Jericho main event saved this one. And for as much as I dislike the soap opera twist given to the Punk/Jericho feud, this was one of Jericho's strongest promos in a while.

Two more SD's left until Wrestlemania! Until next time!

(edited by It's False on 18.3.12 1410)
---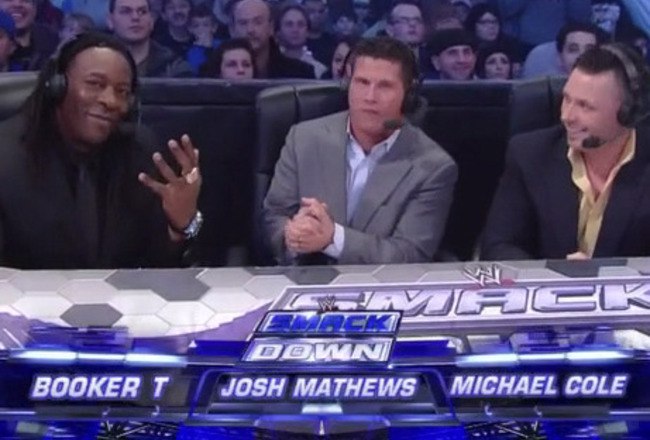 "We need to go derper!"

Promote this thread!
Matt Tracker
Scrapple



Since: 8.5.03
From: North Carolina

Since last post: 2 hours
Last activity: 31 min.

#2 Posted on | Instant Rating: 7.92
Yes, they were with Ziggler and Jericho, but Sheamus's last two matches have been very good. He's got his working boots on. That Mania match should be right nice.

Hi, AJ. How you doin'?

The audiences are going bonkers for these GM matches. Just BONKERS.

I like Kane's promo a lot. Orton's stance distinct from Cena was one of his strongest.

Now that Henry seems healthy, he needs back in the title picture OR a decent feud.


---

"To be the man, you gotta beat demands." -- The Lovely Mrs. Tracker
dMp
Banger



Since: 4.1.02
From: The Hague, Netherlands (Europe)

Since last post: 23 days
Last activity: 54 min.

#3 Posted on | Instant Rating: 7.89
I liked Cody vs Khali.
I don't think I've ever seen Khali sell as much or as realistic like this.
It was really the smaller guy chopping down the big tree and eventually overcoming him.

Little addition to the backstage AJ/DB bit.
The dress did fit her perfectly. But it was definitely not her style. Too sexy for the chick who prefers t-shirts and converse.

Jericho-Sheamus was a very good match. They've made Sheamus a tad less impervious in the past few weeks. That bodes well for making the WM match a solid one (and not a glorified squash) *fingers crossed*



---
Big Bad
Scrapple



Since: 4.1.02
From: Dorchester, Ontario

Since last post: 21 hours
Last activity: 4 hours

#4 Posted on | Instant Rating: 5.73
Team Laurinitis: Christian, Otunga, Ziggler, Swagger, Henry and Del Rio

Team Long: Kingston, Santino, Ryder (no point in teasing it if it won't happen, unless WWE truly are dicks), Truth, Khali and I guess Rey Mysterio if he's healthy enough.


---

"It breaks your heart. It is designed to break your heart. The game begins in the spring, when everything else begins again, and it blossoms in the summer, filling the afternoons and evenings, and then as soon as the chill rains come, it stops and leaves you to face the fall alone." --- Bart Giamatti, on baseball
John Orquiola
Scrapple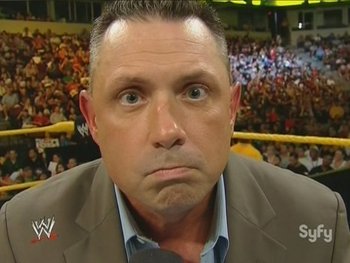 Since: 28.2.02
From: Boston

Since last post: 275 days
Last activity: 275 days

#5 Posted on | Instant Rating: 6.15
AJ really could be coming out of this Daniel Bryan storyline with the Divas Title at some point. Whenever Beth pops up on TV, her spiel is she has no competition. With Karma MIA, the next logical storyline is for a David and Goliath scenario with a babyface. They already did one with Kelly last year, and there's no Diva littler than AJ. What would be awesome is if Daniel and AJ were WORLD HEAVYWEIGHT CHAMPIONS together. YES! YES! YES! Plus imagine the pop when AJ finally slaps Daniel, asserts her independence, and breaks up with him.

(edited by John Orquiola on 18.3.12 0648)

---

@CMPunk
"@ZackRyder: @CMPunk She played me bro" I got your back.
El Nastio
Boudin blanc



Since: 14.1.02
From: Ottawa Ontario, by way of Walkerton

Since last post: 2 days
Last activity: 2 hours


ICQ:
#6 Posted on | Instant Rating: 3.44
Originally posted by John Orquiola

---

What would be awesome is if Daniel and AJ were WORLD HEAVYWEIGHT CHAMPIONS together. YES! YES! YES!

---


Especially when AJ wins and Bryan launches into the Big Yes on her behalf.

OR!!!!

AJ HERSELF launches into the Big Yes, with either Bryan being proud or telling her to calm down.

Either way, I like this.

(edited by El Nastio on 18.3.12 1224)
CRZ
Big Brother
Administrator



Since: 9.12.01
From: ミネアポリス

Since last post: 11 hours
Last activity: 11 hours

#7 Posted on | Instant Rating: 9.39
Originally posted by John Orquiola

---

What would be awesome is if Daniel and AJ were WORLD HEAVYWEIGHT CHAMPIONS together. YES! YES! YES!

---
I would only endorse this if Bryan carries both belts and never lets AJ have hers.


---

Moss
Summer sausage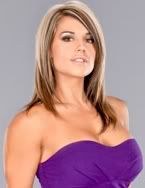 Since: 23.9.10
From: Calgary, AB

Since last post: 168 days
Last activity: 152 days

#8 Posted on | Instant Rating: 6.87
I'd endorse it either way, but I prefer CRZ's version.


---

Shut up, Josh!
hansen9j
Andouille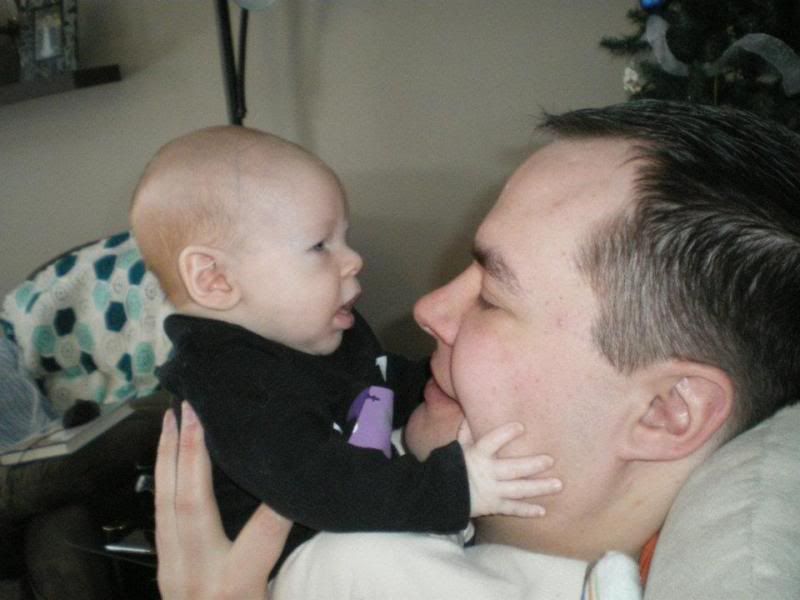 Since: 7.11.02
From: Riderville, SK

Since last post: 7 days
Last activity: 2 hours

#9 Posted on | Instant Rating: 8.59
Originally posted by It's False

---

Otunga takes off his belt and wraps it around his fist. Truly, the power of LEATHER will turn the tide of this match! Oh, but Santino takes the deadly belt away, so Otunga decks him.

---
I think the belt was actually an improvisation, as Otunga looked like he was expecting to find something on the steps to use (presumably the #travelcoffeemug). As far as improv goes, it was a pretty good choice.


---

The Big Bossman raised the briefcase.

Go Pack Go! Owner of one (1) share.
Let's Go Riders! Owner of one (1) share.
JustinShapiro
Scrapple
Moderator




Since: 12.12.01
From: Pittsburgh, PA

Since last post: 13 hours
Last activity: 1 hour

#10 Posted on | Instant Rating: 8.79
I too am really pleased that Ryder looks headed for the GM tag instead of something with the Eve match. Teddy's team composition is making a comeback.

That AJ match brought back so many wonderful memories.


AlbySure
Boerewors



Since: 10.12.01
From: LA

Since last post: 5 days
Last activity: 1 hour


AIM:
#11 Posted on | Instant Rating: 6.59
Originally posted by JustinShapiro

---

I too am really pleased that Ryder looks headed for the GM tag instead of something with the Eve match. Teddy's team composition is making a comeback.

That AJ match brought back so many wonderful memories.



---


Like two baby pigs fighting in a gunnysack.