It's False
Scrapple



Since: 20.6.02
From: I am the Tag Team Champions!

Since last post: 8 hours
Last activity: 16 min.

#1 Posted on | Instant Rating: 6.30
So here we are at the go-home show for the PPV on Sunday. And what do they have? Two Chamber matches (one of which is a man short going into this show), an inconsequential Divas match, and an Ambulance Match between Cena and Kane. How staggering is it that Cena/Kane is going to be the easy frontrunner for 2012's Worst Feud of the Year...and it's only FEBRUARY! In fact, there are so many "Worst of" categories that can be won by all the major players in this feud (Cena, Kane, Ryder, and ESPECIALLY Eve), which is just stunning given how early in the year it is. Before I rant any further, let's dive into tonight's show.

TONIGHT! It's the go-home show for the Elimination Chamber PPV! And with four whole matches booked for the event, this should be a BARNBURNER of a show! So let's get this over with. SmackDown is NOW!

The Champ is NOT here, as we go straight to a video package on what happened last Monday, as Randy Orton falls to injury...again.

So that takes us backstage to Randy Orton sitting in Teddy Long's office. Long expresses his regrets, but pulls Orton out of the Chamber due to his concussion. Long tells Orton that security is ready to escort him out for his own safety.

Opening credits - Do You Know Your Enemy? Opening pyro! We are taped from Fresno, CA!

THE BIG SHOW & THE GREAT KHALI v. CODY RHODES & WADE BARRETT
Show is not his normal jovial self tonight. Matthews reminds us that Daniel Bryan has not arrived yet.

Barrett tries to stick and move with kicks, but Khali shoves him down and works Barrett over with his dizzying array of moves. Barrett tags out and Rhodes reluctantly comes in. Rhodes tries for a chop and gets nowhere. Khali hits an overhead right hand and slams Rhodes on the turnbuckle. Here's another corner chop. Cole gives us his dipshit fuzzy math again, saying Bryan has a 1 in 6 chance of winning. Rhodes tags out and Barrett actually gets some offense in. The heels work over Khali in their corner. Khali still makes the hot tag and Show destroys Barrett. Spear for Barrett. Rhodes is piefaced out. Barrett eats a chokeslam and that's it.

WINNERS: The Big Show & The Great Khali - No better way to build up your Chamber match than by squashing two of its entrants.

Post-match, Show lays out Khali with the Mayweather Sucker Punch, for fun.

Backstage, Teddy Long is on the phone noting that Orton's out of the Chamber match. Mark Henry suddenly enters the picture and offers to take Orton's place in the Chamber. Henry notes that there's nobody else available. Sadly, he has more of a point than anyone thinks. Big Show enters the picture and demands Daniel Bryan tonight. Henry takes umbrage to this and demands Show wait his turn. Show stops Henry in mid-sentence with the Mayweather Sucker Punch. Show starts turning Long's office upside-down. Well, thanks for showing up, Mark Henry! That'll teach you to get injured at the wrong time! The E sure taught HIM a lesson!

Ad break - LIVE Super SmackDown coming this Tuesday!

Let's go back to what we just saw a few minutes ago!

Elsewhere backstage, Teddy Long order security to remove Big Show from the building. One of the security guys pusses out. Way to earn your check, big guy! Long offers to call for backup.

TED DiBIASE v. HUNICO (w/CAMACHO)
Yes, give me this match for the FIFTH TIME IN SEVEN WEEKS! That's REALLY going to put me in a good mood!

WINNER: Hunico - I am rapidly losing patience with this show and we're less than a half hour in.

Later tonight, Daniel Bryan joins us!

Ad break - Hey, you know Darth Maul, the only watchable part of Episode I? Let's turn him into a claymation clown to sell Lipton! That's Brisk, baby!

Let's waste some time by looking at a video package of Shawn Michaels and Triple H. They'd be very well-advised to shelve the whole "Triple H won't destroy Undertaker because it's good for business" angle. They don't need to start planting doubts that Triple H would throw a WM match because it's good for business.

THE USOS make their entrances. They face off against PRIMO & EPICO (w/ROSA MENDES), who make their entrances just before the...

Ad break

THE USOS v. PRIMO & EPICO (w/ROSA MENDES)
Haven't we seen THIS match a billion times already? (Hmm...maybe I can look it up during the ad break) Shockingly, this match has NOT been driven into the ground with a sledgehammer...yet. Considering there are no other tag teams out there, I'm sure it will be soon enough.

Primo and Jey have a wrestling sequence to start. Primo tries to win with a headbutt, but those Samoans have hard heads, you know! Remember when The Usos said they WEREN'T going to be stereotypical Samoan wrestlers? The Usos work over Primo with some double-team moves. Jimmy hits a big slap, but Epico causes the distraction to give Primo the upper hand. Primo hits a nice arm-wringer/leg sweep combo and brings Epico in with a SWEET vertical suplex/senton combo! Epico pounds away in the heel corner, as Primo comes in off a tag and hits a dropkick. Time to hit the chinlock. The announcers all take this opportunity to argue amongst themselves for the billionth time. Primo misses a corner dropkick and gets hung up in the Tree of Woe! Tags are made on both sides and Jey makes the babyface comeback. Umaga buttslpash misses, but Jey hits a big Samoan Drop for 2! Epico manages to tag out, but gets lowbridged charging in. Primo tries for the Backstabber, but it's countered. Jey hits the superkick and tags out! Jimmy's top-rope splash hits knees and Primo finishes with the Backstabber at about four minutes.

WINNERS: Primo & Epico - This was decent enough, but...are ANY of these guys going to compete at the PPV? You know, the one that's coming up in 48 hours? What's the point of this match if no one's competing on Sunday?

Daniel Bryan has arrived and is all smiles as he walks through the backstage area.

Ad break - WWE Shopzone promo

LILIAN GARCIA welcomes in DANIEL BRYAN, who gets some nice heel heat coming out. He's got a mic and it's promo time!

Daniel: I take it you people must have seen what I did Monday night on Raw. I just got two for the price of one. You know, it was finally time for me to declare myself. Finally time for me to show all of you who I really am and what I'm about. Let's take a look.

We look again at what happened last Monday between Big Show and Randy Orton with Bryan destroying both men afterwards.

Daniel: Now...I understand that Big Show has been escorted out of the building, just like Randy Orton. You know, how convenient...if either of those guys were real men, if Randy Orton or Big Show had any guts, they would be out here facing me in this ring right now! But guess what...they're not. Because they are afraid. I can smell it in this arena. I can smell it in the locker. Everyone is afraid of Daniel Bryan! They are afraid of tapping out. They are afraid that I will make them look ridiculous by beating them once again. Because let's face it, I just keep on WINNING! You know, I know that none of you ever thought that I would be the World Champion. None of you had any faith in me. None of you thought I had the ability. None of you thought I had what it took. But guess what? I proved you all wrong! And this Sunday, at the Elimination Chamber, I will prove you all wrong yet again. And I know...I know, I'm facing overwhelming odds, but I've been beating the odds my entire life. And just as sure as I would have beaten Randy Orton in the advertised main event for tonight, I will emerge victorious at the Elimination Chamber. Because Randy Orton is not here. And just...just official...ring announcer, would you please announce, due to forfeit, the winner of this match...Daniel BRYAN!

Bryan exits the ring and tells Lilian to announce him as the winner. Lilian does so with zero gusto. Bryan celebrates like a madman! HA! But that brings out TEDDY LONG, who wants to book Bryan in a match tonight. It won't be Orton, but Long found a volunteer. It's SHEAMUS! Um...shouldn't they be saving this match for Wrestlemania? Do they really want to be giving it away for FREE?

Ad break - Elimination Chamber promo. Yes, they are actually attempting to sell this PPV with Cena/Kane. Even in a 30-second ad, this feud looks utterly stupid.

DANIEL BRYAN v. "THE GREAT WHITE" SHEAMUS: NON-TITLE MATCH
Sheamus actually tries to take Bryan in a wrestling sequence! Sheamus soon overpowers him with a shoulderblock and clothesline. Back elbow gets 1. Sheamus works over the left arm and hits the armbar. Bryan comes back with kicks. Bryan is backdropped to the apron, where Sheamus nails him with a knee. Ten-count chest strikes! Bryan grabs his belt and opts to take a walk. Sheamus chases after him with a clothesline. Bryan stops Sheamus with a baseball slide and a knee off the apron. Bryan runs back in and tells the referee to count, already starting his celebration! Sheamus rolls in, so Bryan kicks away some more. Bryan puts Sheamus down with a YAAAAH running dropkick for 2. Sheamus tries to make the comeback before Bryan gets a single-leg takedown. YAAAAH running corner dropkick hits. Bryan goes to the Tajiri kicks, but Sheamus pounds back at him. Sheamus hits Irish Hammers and makes the babyface comeback. Irish Curse is nearly turned into the LeBell Lock! Sheamus hits a clothesline and tries for the High Cross. It's countered, but Sheamus shoves Bryan into the corner. Bryan slaps Sheamus in the face, so Sheamus stomps a mudhole in him. Now Bryan spits in Sheamus' face, so Sheamus pounds on him some more. Bryan purposely goads Sheamus, so Sheamus chucks Charles Robinson and gets himself DQ'ed!

WINNER BY DQ: Daniel Bryan - A good character moment for Bryan. While that DQ is lame in many cases, Bryan's personality shone through here and made it work!

Backstage, Wade Barrett enters Teddy Long's office and wants to know who's filling in at the Chamber. Cody Rhodes enters the picture and blames Barrett for their loss before demanding the same thing. Teddy Long tells them that a Battle Royale will determine who fills in at the Chamber.

Rhodes: You can't just put some no-name in the Elimination Chamber!
Long: Watch me, playa.

Um...I'm going to have to side with Cody on this one. Regardless, a battle royale it is!

Ad break - LIVE Super SmackDown this Tuesday! Why? Well...just because, that's why!

JINDER MAHAL v. EZEKIEL JACKSON
Mahal pounds away on Zeke. Matthews notes that Drew McIntyre might win tonight. Wasn't he fired? Or are we suddenly pretending that angle never happened? Zeke muscles Mahal around and hits corner lariats. Side slam hits. Jackson wants the Torture Rack, but Mahal goes low and hits a DDT. Camel Clutch, but Zeke powers out of it. Mahal sticks with the chinlock and hits an inverted Russian legsweep. Camel Clutch again and Zeke taps.

WINNER: Jinder Mahal - So is Jinder getting pushed again? Are they going to make up their freakin' minds about him? Regardless, this match was atrocious. I can totally see why Brodus Clay needed to be demoted while these two clowns get to stay around.

Here's a brief video package reminding you that...yes, Tamina Snuka is the daughter of "Superfly" Jimmy Sunka. She's in action next!

Ad break - The Best of Raw & SmackDown 2011 DVD promo.

ALICIA FOX & TAMINA SNUKA v. NATALYA & "THE GLAMAZON" BETH PHOENIX
I had a recap ready to go and everything, but yes, they're going so far as to incorporate Natalya's farting into actual matches now, so fuck them.

WINNERS: "The Glamazon" Beth Phoenix & Natalya - NEXT!

Post-match, Tamina lays out Beth with a superkick. Beth escapes a Superfly Splash. Tamina still has zero chance this Sunday.

Backstage, Teddy Long's on the phone noting that everyone's invited to tonight's battle royale. John Laurinaitis and David Otunga enter the picture. Laurinaitis chides Long for allowing a no-name to enter the Chamber, implying that it's not going to sell. Um...this is a meta commentary, right? Laurinaitis enters Otunga into the battle royale.

Coming up next, we recap the Cena/Kane feud. Oh, the hell we will!

Ad break

Here's a Cena/Kane recap in its entirety. Here's me hitting my FFWD button! Question: Has Jack Swagger even BEEN on TV since winning the U.S. title? Yeah, I can totally see why they needed to immediately take the belt off Ryder and turn him into a freakin' crash test dummy every week. Hell, not even The Incredible Crash Test Dummies would take some of the bumps that Ryder's taken in the last month.

Let's run down the Elimination Chamber card one last time! And yeah, we still have only FOUR announced matches!

The battle royale participants make their way down. The battle royale is next!

Ad break

25-MAN BATTLE ROYALE
So who do we have here? We have TYSON KIDD, THE USOS, "BIG PIMPIN'" CURT HAWKINS (w/o PIMP CANE), ACCLAIMED ANIMATOR TYLER REKS, SANTINO MARELLA, EZEKIEL JACKSON, DREW McINTYRE (w/o PINK SLIP), YOSHI TATSU, TED DiBIASE, JUSTIN GABRIEL, EPICO, PRIMO, HEATH SLATER, DARREN YOUNG (w/o AFRO), ALEX RILEY (w/o CREDIBILITY), JINDER MAHAL (w/o DIRECTION), MICHAEL McGILLICUTTY (w/o DAVID OTUNGA'S MUSIC), "MAKE IT A WIN" TITUS O'NEIL, PERCY WATSON (w/o OH YEAH!!!), HUNICO, CAMACHO, JOHNNY CURTIS (w/o A CLUE), DERRICK BATEMAN (w/o HEAT), and DAVID OTUNGA. Otunga's the only one who gets an entrance, for anyone who cares.

Jeezum Crow, they aren't kidding about no-names. We are WOEFULLY short on star power here. I'm sure there's a lesson to be learned here about NOT burying your own talent and about NOT having everyone and their mother simply running in circles all the time, but who am I kidding? They're not going to learn a damn thing from this. Honestly, how sad is it that there are 25 GUYS on this roster that are at the lower-midcard level or total jobber level? I'd make a comment about Cole actually saying with a straight face that one of these guys could become world champion, but really, he doesn't have any credibility whatsoever, so let's just move on.

Well, it's a schmozz to start. Derrick Bateman goes out first by Otunga's hand. Seriously, it's so embarrassing to hear the announcers try and shill for guys that haven't been on TV in months and probably won't be on TV again for months after this. Percy Watson gets chucked out next. Jackson tosses Titus O'Neil. I'm sure he's going to Disneyland after such an accomplishment. Goodbye, Jey Uso! Crowd is just enthralled with this action. And by action, I mean "a bunch of guys just flopping around". McIntyre military presses Kidd out. Slater just flops out very slowly. I'd kill for someone to pull a Gail Kim here and just leave. DiBiase lowbridges Young. They have a nice fight off the skin-the-cat spot and DiBiase kicks him off. Hunico eliminates Tatsu. DiBiase dropkicks Camacho out. McGillicutty gets tossed. Let's take an ad break, shall we?

We're back and still a lot of nothing happening. Gabriel tosses out Hawkins. BORRRRRRRRRRING!!! Epico and Primo throw out Riley. Remember when Riley meant something? The tag champs toss Johnny Curtis into Tyler Reks and eliminates them both. The champs throw out Jimmy Uso next, but Primo suddenly chucks Epico! Hunico eliminates DiBiase and goes after him again like a moron, so DiBiase pulls him out. Oh goody, maybe they'll wrestle again for a millionth time in a month. Gabriel and Primo do battle and have a nice sequence of near-eliminations! They fight on the apron and fight some more. Gabriel kicks Primo in the head and Primo slumps out. Gabriel comes back and suddenly gets waffled by Jackson, who eliminates him! Zeke tosses out Mahal. We're down to Santino, Jackson, McIntyre, and Otunga. What a pathetic final field. Santino puts on the Cobra sock and everyone pounces on him. McIntyre takes everyone out, but stops to celebrate and Santino chucks him. Otunga has Santino on the apron, but Zeke makes the save. Santino lowbridges Jackson to send him out. Otunga clotheslines Santino. Otunga works him over SLOWLY, and Santino HULKS UP before making the comedy comeback! Saluting gorilla press misses! Otunga hits a shitty neckbreaker and stalls. Otunga tries to dump Santino, but Santino reverses it and wins!

WINNER: Santino Marella - This was what it was.

Post-match, Santino celebrates as the crowd pops huge! Santino does snow angels in the ring! Cole nearly loses his shit, but stops short of burying him, which is probably the smartest thing he can do. RUSTY TROMBONE! And man, aren't we all just blowing rusty trombones over this one. The show ends with Santino celebrating and we're out.

FINAL THOUGHT

What happens when you get a battle royale filled with guys that have been taken off TV, buried, and hampered by endless even-steven booking? Well, you get Santino Marella essentially getting into a PPV title match by default. And again, nobody's going to learn anything from this. Nobody's going to learn that maybe you should have at least one credible midcarder on-hand at all times for this sort of occasion. The silver lining? Let's face it, the SD Chamber match is probably jerking the curtain anyway, so at the end of the day, who really cares? Of course, that brings up a whole other issue that we won't get into today.

Oh, and we still have only four matches booked for this PPV.

Until next time!

(edited by It's False on 18.2.12 0025)
---
Promote this thread!
John Orquiola
Scrapple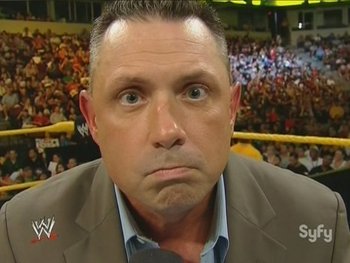 Since: 28.2.02
From: Boston

Since last post: 398 days
Last activity: 398 days

#2 Posted on | Instant Rating: 6.25
Oof. Pretty much a worthless show.

If you'd told me six months ago a Daniel Bryan promo would be the best thing on Smackdown, I'd have called you crazy or an idiot or a crazy idiot. But here we are.

Tamina Snuka's new music sounds like a jungle-fied remix of the old Deuce and Domino theme. Ba ba ba ba booo. A counter to the Sharpshooter: When the person applying it sets off a fart that incenses the referee. Bret Hart never could have imagined it.

What did Michael McGuillicutty say to David Otunga when Otunga entered the battle royal? "This used to be my music too"?

The coveted final spot in the Smackdown Elimination Chamber was decided by a WrestleMania Won't Be On The Show Dark Match Battle Royal. I went from being totally gung ho for Elimination Chamber a couple of weeks ago to not ordering or watching the show on Sunday.

I'm throwing this Tweet that happened tonight because it made me laugh. This is the best WWE angle on Twitter, way funnier than Cena and Rock's exchanges:

@EveMarieTorres
Some day you'll understand. RT @ZackRyder: "@EveMarieTorres: A beautiful day for a run" you already ran over my heart


---

@CMPunk
"@ZackRyder: @CMPunk She played me bro" I got your back.
shawnpatrick
Kishke



Since: 31.7.07
From: Leesville SC

Since last post: 1171 days
Last activity: 1053 days

#3 Posted on | Instant Rating: 1.82
The pop Santino got is why he is in the Elimination Chamber. No one else in the rumble, including Cody, can get that kind of pop.

I even predict Santino will be one of the two last men left losing to Danial Bryan this sunday.
Whitebacon
Boudin blanc



Since: 12.1.02
From: Fresno, CA

Since last post: 37 days
Last activity: 1 day


AIM:
ICQ:
#4 Posted on
I was there live and was totally confused by the Natalya match. They actually did that?

And yeah...the pop for Santino winning was HUGE.
CEOIII
Bockwurst



Since: 25.7.02
From: Franklin, PA

Since last post: 2 hours
Last activity: 59 min.

#5 Posted on | Instant Rating: 1.95
Saying that battle royal was a bunch of no names is a horrible insult to Vern Den Herder, Manny Fernandez, Bob Heinz, Bill Stanfill, Doug Swift, Nick Buoniconti, Mike Kolen, Tim Foley, Curtis Johnson, Jake Scott and Dick Anderson. Seriously. They couldn't do Brodus Clay v. Jack Swagger, winner is US champ AND in the EC?


---

I'm Charlie Owens, good night, and good luck.


Get your Portable ID!
JustinShapiro
Scrapple
Moderator




Since: 12.12.01
From: Pittsburgh, PA

Since last post: 14 hours
Last activity: 2 hours

#6 Posted on | Instant Rating: 8.79
I think they would've put Swagger in except they badly needed another babyface. No one's gonna root for Khali in that match but they'll get behind Santino. Maybe even re-do the Rumble finish where he has a chance to win and then Bryan cuts him off and taps him out for the big YES.
TheOldMan
Landjager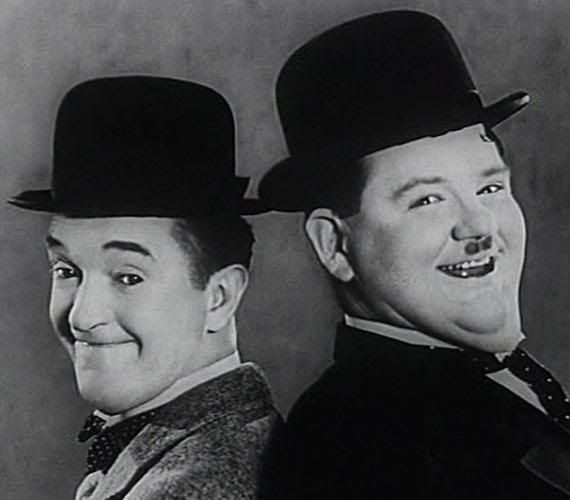 Since: 13.2.03
From: Chicago

Since last post: 123 days
Last activity: 121 days

#7 Posted on | Instant Rating: 5.58
Originally posted by JustinShapiro

---

I think they would've put Swagger in except they badly needed another babyface. No one's gonna root for Khali in that match but they'll get behind Santino. Maybe even re-do the Rumble finish where he has a chance to win and then Bryan cuts him off and taps him out for the big YES.

---


Actually, I thought it was a nice little nod to the '11 Rumble, Santino winning in the same way he lost to Del Rio. It's too bad they didn't have more time to give Santino a promo or two to dream his WrestleMania dream. Having the announce crew draw a parallel with the plot of "Rocky" was making lemonade out of the circumstances.


---

Big G
Potato korv



Since: 21.8.03
From: the people who brought you Steel Magnolias....

Since last post: 48 days
Last activity: 33 min.

#8 Posted on | Instant Rating: 7.30
Originally posted by JustinShapiro

---

I think they would've put Swagger in except they badly needed another babyface. No one's gonna root for Khali in that match but they'll get behind Santino. Maybe even re-do the Rumble finish where he has a chance to win and then Bryan cuts him off and taps him out for the big YES.

---


I've been mildly irked by how they handle Swagger for some time. He is a legitimately huge guy. Noticeably bigger than the other (just another guy) guys. Yet it's barely mentioned by the announcers and he works like he's Gregory Helms.

I'd be happy if they handled him similarly to Nikolai Volkoff. That is, every so often the announcers put him over as a legitimately big guy and have him fuck up some lower card guy in a meaningless tag match. Then he works better as a JTTS rather than Just Another Guy.

/EndRant


(edited by Big G on 19.2.12 0101)
Moss
Summer sausage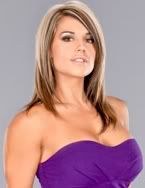 Since: 23.9.10
From: Calgary, AB

Since last post: 291 days
Last activity: 274 days

#9 Posted on | Instant Rating: 6.59
I know WWE throws around the words "main event" a lot (Did You Know? Chavo was in the main event of Wrestlemania), but this may be the worst use of it in history...which is shocking because this literally was a main event, not the opening match (which they've called the ME before).

And poor Derrick "Sweet Meat" Bateman, the biggest loser of all the big losers.


---

Shut up, Josh!
It's False
Scrapple



Since: 20.6.02
From: I am the Tag Team Champions!

Since last post: 8 hours
Last activity: 16 min.

#10 Posted on | Instant Rating: 6.30
Originally posted by Moss

---

And poor Derrick "Sweet Meat" Bateman, the biggest loser of all the big losers.

---


Just for the hell of it, I looked through the Chamber results thread for last year and saw Bateman's name pop up. Yes, he's literally been kicking around for more than a year and has literally made ZERO progress. He's no closer to making it to the main roster than he was in the 12+ months since he started. Hell, you can say that about all of the NXT guys. Especially Johnny Curtis, who had two months of worthless backstage segments given to him, got squashed in one night by Mark Henry, and never appeared on the main shows again.

NXT: WWE's answer to Wrestling Purgatory!


---