It's False
Scrapple



Since: 20.6.02
From: I am the Tag Team Champions!

Since last post: 3 days
Last activity: 26 min.

#1 Posted on | Instant Rating: 6.52
TONIGHT! The WWE has given Internet fans the gift that keeps on giving: watchable shows with watchable wrestlers! Will they give some more or will they fill our stockings with lumps of crap? SmackDown is NOW!

Hey, dig the ending of Batman Forever on Syfy! I don't care what anybody says, that movie was AWESOME! It was...sigh...the next movie where the wheels came off.

The Champ is NOT here, as we go straight to the...

Opening credits - Do You Know Your Enemy? Opening pyro! We are taped from Richmond, VA!

We start off with THE BIG SHOW, who looks to be all smiles. Hopefully that means they've dumped this silly idea of a heel turn, so fingers crossed. Your hosts are the three lumps of coal. Cole says he feels sorry for Show and...sigh...don't make me start a counter! Stop saying "9 years"! We get it! Booker says that Show needed to watch his back, which is brilliant unintentional comedy coming from the guy that's constantly gotten Pearl Harbored in the last month. Anyway, Show's got the mic and it's Promo Time!

Show: Ok...I admit it, I thought for sure I'd be standing out here tonight in front of you guys tonight as the new World Heavyweight Champion. But I'm not. And I can't believe it, the new World Heavyweight Champion is a man named Daniel Bryan. Now I'm gonna ask Daniel to come down here and congratulate him in a moment, but first...ever since Sunday, everyone's been asking me how I feel about what happened. I mean...I scratched and clawed my way for 9 years...9 YEARS to get back to World Champion...and I was there...I was finally there on Sunday...and it wasn't easy. Mark Henry says he's the World's Strongest Man, believe me, he IS! I've never been humbled, I've never been thrown around the ring the way Mark Henry threw me around. He's a genuine fire-breathing, smelly, gargantuan, superhuman, and I was so PROUD to be the new World Heavyweight Champion...and just like that...it was gone. So as you can imagine, I've got a lot of mixed emotions, there's...disappointment, anger, shock, rage, conflicted...all that and more was going through my head and...on Monday Night Raw, Josh Matthews asked me this question.

Let's take a look back at Raw, where Josh Matthews was a total dick. And I still think Show should have knocked his block off.

Show: You know what? I'm proud of myself. I am proud of myself, because I didn't go over the edge. I've had several days to think about this, so please allow me to stand here tonight, in front of you and give you my honest feelings...

Feelings are for CHUMPS, so interruption comes from MARK HENRY, who's still hobbling on one leg. Henry grabs the mic for rebuttal.

Mark: Did you say you were proud? Proud of what? Proud of the fact that you had the shortest World Heavyweight reign in the history of this business? I guess they gon' put that on your tombstone - Here Lies The Big Show...The Man with the Shortest in the History of the WWE. But you know, you said honestly...you gon' speak honestly? Well, I'm gon' tell you how you honestly feel...embarrassed, humiliated...I mean, that's the way *I* feel. What you should do, is take a week off...and quit the business. I mean, it's the holiday season. It's likely that you can get a job working as Santa Claus or something. I came out here to get my rematch with Daniel Bryan and I want it. And I want it tonight.

Show: Rematch? What makes you think you get a rematch?

Interruption comes from DANIEL BRYAN, who gets a nice pop. Bryan takes the mic and measures the crowd response before his rebuttal.

Daniel: Big Show, I know that you can't believe that I'm the World Heavyweight Champion and, Mark, I'm sure you can't believe it, either. In fact, I don't think there's anybody in this arena who fully believes that I'm the World Heavyweight Champion, not even me! Because let's face it, I'm not the World's Strongest Man. In fact, I'm not nearly as strong as most of the guys in the back. And clearly, I'm not the world's...tallest athlete. I'm one of the shortest guys in the WWE. I'm not the fastest, I'm not the smartest, I don't have a cool name, I have no catchphrase, I have no discernible charisma, I was just told that I'm not very attractive, and there's absolutely nothing about me that screams WWE Superstar. But I am a VERY good wrestler and, one day, I hope to be one of the great ones. And despite all the things that I'm not, I am the WORLD...HEAVYWEIGHT...CHAMPION!

Mark: What you ARE is a pip squeak! And every time I put my hands on you, I beat the hell out of you. And I'm not asking you, I'm telling you, YOU LOOK ME IN MY EYES RIGHT NOW and you see...I want that World Heavyweight Championship back and I want it tonight.

Show: Whoa, whoa! What makes you think you get a rematch tonight there, huh? Don't you remember TLC? Bad hand, my hand, your jaw, you knocked out, I pinned you 1-2-3, you forgot that?

Mark: How could I forget that? I remember it. I'm sure all these people, I'm sure those millions of people behind the camera saw it too...all 45 seconds of it.

Show: You got jokes? Hey, look at me! You got jokes? We can finish this...

Interruption comes from TEDDY LONG, who stops at the top of the ramp.

Teddy: Wait, wait...wait a minute. Now Show...Henry...now before the two of you go to rocking around the Christmas Tree, let me say this. Now both of you deserve the chance to compete against Daniel Bryan. But tonight, you are going to compete against each other. And the winner will be first in line to challenge Daniel Bryan for the World Championship. Now with that being said, good luck to both of you. And by the way, Daniel...congratulations, playa! Merry Christmas! Holla!

Hit Teddy Long's music. Mark Henry exits the ring. Daniel Bryan and Big Show exchange a handshake...with Show noticeably hanging on for an extra few seconds. Bryan exits and offers a handshake to Henry. Henry actually accepts, but Bryan does the Ric Flair "slick the hair back" move and walks up the ramp.

Coming up next, Zack Ryder faces Cody Rhodes in a Champion vs. Champion match.

Ad break - Raw promo

CODY RHODES v. "LONG ISLAND ICED Z" ZACK RYDER: CHAMPION v. CHAMPION
Cole rubs Booker's loss in his face. We take a look at stills from Ryder's win last Sunday.

Ryder grabs the side headlock to start and we move into a wrestling sequence. Rhodes charges into an elbow and Ryder hits armdrags and grabs the armbar. Rhodes takes control with the Goldust sliding uppercut before sending Ryder to the outside. Ryder tries to come back, but gets sent to the outside again. Rhodes shoves Ryder into Booker. Rhodes sends Ryder back in and stares down Booker to send us to our next break.

We come back with Rhodes hitting the Alabama Slam for 2. Rhodes hits the chinlock. Ryder tries to come back with a crossbody and misses. Both guys bump heads and both men are down. Ryder makes the babyface comeback, hitting the facebuster and corner forearm. Broski Boot gets 2. Ryder comes off the second rope and gets caught. Rhodes stomps away and...Booker grabs the mic and starts singing. Yup. Rhodes gets distracted and Ryder finishes with the Rough Ryder.

WINNER: Zack Ryder - Good match, even with the silliness kicking in at the end.

Post-match, Booker sings some more. Yup. Hit Booker's music! So I guess this feud isn't over yet.

Backstage, Teddy Long likes what he sees...before a cobra enters the picture. It's Santino, who wants a chance to take Long Island Zack D's old spot for assistant to the SmackDown GM. Long tries to answer, but is interrupted by Aksana's saxophone music. INNUENDO AND WACKINESS ABOUNDS! Vickie Guerrero and Dolph Ziggler enter the picture. Dolph wants his rematch with Zack Ryder, but first wants to make a pit stop and challenge Daniel Bryan for tonight. Long grants this match and makes Bryan/Ziggler for tonight. Long starts dancing. Yup.

Coming up next, The Big Show faces Mark Henry for a chance at the title.

Ad break - Steve Austin DVD promo

THE BIG SHOW v. "THE WORLD'S STRONGEST MAN" MARK HENRY
We are first joined by DAVID OTUNGA and his music, for some reason. He's got a mic, so I guess we have some interim shenanigans.

Otunga says that Mark Henry isn't medically cleared to compete, so he calls the match off. Otunga wants to wish everyone a Happy Holidays. Show wishes Otunga a Happy Holidays with the Mayweather Sucker Punch. Hit Big Show's music. Everyone leaves unhappy, as Otunga is tended to by refs. Booker tells Matthews that could have easily been him last Monday. Oh, if only! Oh yeah, almost forgot...

WINNER: No Contest

Later tonight, Daniel Bryan faces Dolph Ziggler.

Ad break

Teddy Long walks backstage, but The Miz cuts him off. Miz wants to know what he's doing tonight. Long doesn't know what he's talking about, but Miz was apparently told to show up tonight. Miz reads off his credentials and threatens to disrupt the show. Miz offers up an open challenge. Well, those never lead anywhere good...

Your hosts are the three fruitcakes. They talk general stupidity before shooting it off to clips from Tribute to the Troops.

THE MIZ makes his entrance. I reach for my MUTE button, as Cole has 50 orgasms. The Miz is in action, next!

Ad break

The Miz has the mic and it's Promo Time!

Miz: Really? Really? What's wrong, Teddy? Can't find anyone with the guts to come out here and face me? It's understandable. Can't blame 'em. Look at this footage.

We take a look at Miz taking out R-Truth a month ago and the end of John Morrison a week later.

Miz: Anyone? Anyone at all? Well...I guess that entire SmackDown locker room is a bunch of cowards, who are afraid that the same fate will happen. But not only does this show lack guts, it has no face...no star that shines brighter than the rest. No one larger than life with the ability to be a crossover superstar like me. I'm the one on talk shows, I've got movie deals, I'm on the top-rated radio show on Sirium XM, I'm on the main event of PPV's, Raw and SmackDown...

Interruption comes from SHEAMUS and it looks like we have a match.

THE MIZ v. "THE GREAT WHITE" SHEAMUS
We start with a lock-up and Sheamus slams Miz around for 2. Miz targets the arm to take control and chucks Sheamus into the steel post. Miz quickly grabs the armbar. Sheamus misses a corner charge and Miz hits the straddling corner clothesline. Miz hits a DDT for 2. Miz measures Sheamus, but runs into an Irish Hammer. Sheamus hits the Irish Curse. Sheamus tries for the High Cross, but Miz slips out and tries for the Skull-Crushing Finale. Sheamus slips out of that and finishes with the Brogue Kick.

WINNER: Sheamus - That was WAY too short for these two guys. Thanks for showing up, Miz!

Later tonight, Daniel Bryan faces Dolph Ziggler.

Ad break - Ad for YET ANOTHER Failed John Cena Movie Project

WADE BARRETT makes his entrance in his new T-shirt. He has the mic and it's Promo Time!

Wade: Now then, the Barrett Barrage has clearly been on a great roll of late. I've been inside the Viper's head like nobody ever before. And a minor speed bump here or there was never going to be enough to derail the Barrage. So what we're gonna do now, we're all gonna have a look at the Tron and see exactly how Wade Barrett went about skinning the Viper.

We take a look at SmackDown last month, where Barrett won with the tights-assisted roll-up.

Wade: He certainly didn't see that one coming, did he? Roll Clip 2!

We look at Survivor Series, with Barrett beating Orton in the elimination match.

Wade: One of the biggest stages of them all, Madison Square Garden, Survivor Series, Team Orton against Team Barrett, there was only ever gonna be one winner...me! Go ahead, roll the final clip.

We look at what happened on last Monday's Raw with Barrett putting Orton through a table.

Wade: My personal favorite, from this past Monday Night Raw, Randy Orton crashing through a table. Now given my sublime performances against a man who is...let me re-word...a man who WAS one of the greatest in the history of WWE until he encountered Wade Barrett, I think that puts me firmly in line for a title match against...and I can't believe I'm about to say this, against the new World Heavyweight Champion, Daniel Bryan. Well, ladies and gentlemen, that concludes what I came out here to say. Thank you very much for your time and, as we say in England, have a Happy Christmas.

Hit Barrett's music. Barrett exits, but Randy Orton's music hits and RANDY ORTON sprints down the aisle to get a piece of Barrett. Orton coils into the ring and tries for the RKO, but Barrett slips out and escapes. Orton chases Barrett into the back and the fight moves backstage! Barrett and Orton exchange blows, but Barrett gets the advantage with a side kick. The fight continues into the garage! Orton chucks Barrett into a fence and boots him over a rail. Orton opts for a hose! WATER! WATER! BY GAWD, HE'S HOSING HIM DOWN! Orton chucks Barrett over a table and over R-Truth's stash of water bottles. Orton takes a trash bin and dumps the trash over Barrett. Now Orton chucks Barrett onto the hood of a car. Orton slams Barrett's head onto the top of the car. Orton finishes this exhibition with an RKO on top of the car. Hit Orton's music back in the arena!

You know...even with Orton out of the title picture, he's been getting all of the fun segments lately. More of THIS, please!

Ad break

Here's the "Not Chris Jericho (Or IS IT?)" video package.

PRIMO (w/EPICO & ROSA MENDES) v. KOFI KINGSTON (w/EVAN BOURNE)
Primo only gets half an entrance, so I'm not expecting much here.

Primo rushes in aggressively and pounds away. Primo hits a Russian legsweep and shifts into an armbar. Primo hits a legsweep and legdrop. Elbow gets 2. Primo misses a corner charge and Kofi makes the babyface comeback at about a minute in. Kofi hits a springboard crossbody.

Matthews: Cole hasn't talked in 10 seconds. Go ahead, Cole.
Cole: I don't have anything to say.
Matthews: That's a first.

Epico tries to cause the distraction while Kofi goes up. Bourne removes Epico, while Primo hits the pop-up armdrag for 2. Primo takes too much time to prep his next move, so Kofi simply ducks a charge and finishes with Trouble In Paradise for the pin in about 2 minutes.

WINNER: Kofi Kingston - Again, too short. But good stuff from the little I saw.

We take a musical recap of TLC and last Monday's Raw.

That brings out DANIEL BRYAN for our main event, coming up next!

Ad break - King of the Ring DVD promo

DANIEL BRYAN v. DOLPH ZIGGLER (w/VICKIE GUERRERO): NON-TITLE MATCH
Wow! We've got about 25 minutes of show left, so they're going to let these guys go LONG! Get your popcorn ready!

We start with a wrestling sequence, which Bryan wins with a dropkick. We move into the test of strength, which Bryan shifts into a side headlock. Bryan catches a Dolph leapfrog and turns that into a surfboard! Bryan tries to opt for a reverse surfboard, but Dolph makes the ropes. Bryan misses a seated dropkick and Dolph hammers away. Dolph shows off with some sit-ups. Sit-ups are the new push-ups! Bryan wants the LeBell Lock, but Dolph reaches the ropes. Bryan tries for a corner charge and misses. Dolph nails an inverted powerslam for 2. That takes us to our next ad break.

We come back with Dolph hitting a dropkick and hitting the chinlock. Bryan runs the ropes and we get a double KO spot. We are suddenly joined by JACK SWAGGER, as Bryan tries to come back. Dolph cuts the comeback off, but charges and gets backdropped over the top rope. Bryan follows with the suicide dive. Bryan tosses Dolph into the rope, but gets waffled by Swagger! Now we're joined by THE BIG SHOW, as Dolph tosses Bryan back in. Dolph tries for the Sleeper Hold, but Bryan rolls out and gets the roll-up...which he then fluidly turns into a German suplex! YIKES! That impressive display gets 2! Bryan goes to the Tajiri kicks, but Dolph ducks the last one and tries for the Zig Zag. Bryan shakes Dolph off and kicks him in the head for 2. Bryan now puts Dolph on the top turnbuckle. Top-rope 'rana hits, but Dolph counters with the sunset flip for 2! Rocker Dropper gets 2 for Dolph! Now Dolph puts Bryan on the top turnbuckle. Bryan slips out and crotches Dolph. Blockbuster Superplex (!) hits and gets 2 when Dolph gets his foot on the ropes. Swagger suddenly tries to attack Show from behind, but Show no-sells it. Now they go into the ring, as Show goozles Swagger. TEDDY LONG runs out and turns this into a tag team match. Oh, COME ON! That was well on its way to being one of the best TV matches in MONTHS! Goddammit! Sigh...let's go to our last...

Ad break

THE BIG SHOW & DANIEL BRYAN v. THE VICKIE FAMILY (w/VICKIE GUERRERO)
We come back with Show overpowering Swagger with some wrestling moves! No, I can't believe it, either! Now it turns into a Big Show match again, as Show hits the corner chop. Swagger tags out and Dolph is slow to come in. Show works over Dolph in the corner and hits the chop. Here's a corner chop for Dolph. Show hits a bodyslam and tags out. Bryan goes to the corner kicks. Bryan's corner seated dropkick misses and Dolph tags out. Vaderbomb gets 2. Swagger already goes to the resthold, so Bryan stomps on his feet. He rushes the wrong corner, though, and gets taken down. Bryan tries to fight out of the heel corner, so Swagger puts him in the Tree of Woe. Swagger now goes to the leglock. What was the point of making this a tag match if Swagger's just going to use a bunch of restholds? Swagger tags out and Dolph goes to the single-leg crab. Bryan tries to crawl to the corner, so Dolph puts him down with a jumping elbow. Dolph grabs the Sleeper Hold and gets rammed into the corner, sending him to the outside. Tags are made on both side and Show's a condo of fire. Show single-handedly wipes out both guys. Swagger floats over from a chokeslam attempt and clips Show's knee. Bryan makes the blind tag and tries for a top-rope seated dropkick, but Swagger catches that and tries for the anklelock! Bryan turns that into the LeBell Lock for the submission.

WINNERS: Daniel Bryan & The Big Show - I am not happy about this turning into a tag match. Nope.

Daniel Bryan celebrates with the title in the ring, as Big Show looks on from the ramp, to end the show.

FINAL THOUGHT

This show's on cruise control for a while, as there's 5 weeks until the next PPV, and it showed. Short matches and angle advancement ahoy. Is SmackDown's roster really so thin that we needed guest spots from Dolph Ziggler, Zack Ryder, and The Miz?

On the upside, the matches we got were plenty fine, in spite of their length. And as I mentioned, that Bryan/Ziggler match was on its way to being one of the best TV matches of the year. So there's that!

And hey, it's a holiday weekend! So what if they were on cruise control? I'll cut them some slack and so should everyone else.

Until next time!

(edited by It's False on 23.12.11 1906)
---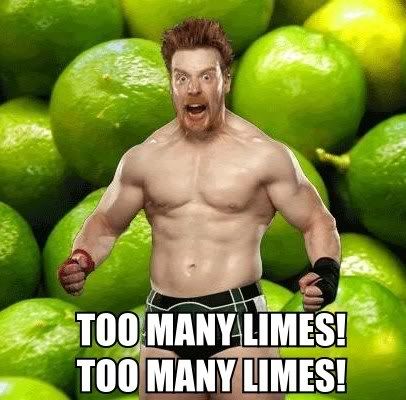 Promote this thread!
geemoney
Scrapple



Since: 26.1.03
From: Naples, FL

Since last post: 10 days
Last activity: 4 min.


AIM:
#2 Posted on | Instant Rating: 7.63
Yeah, Ziggler vs. Bryan was tremendous. I would've killed for 10 more minutes.


---

@gregmparks - live Tweeting of Raw and Impact, wrestling thoughts and other slices of life.
Spiraling_Shape
Lap cheong



Since: 2.1.02
From: PA

Since last post: 10 days
Last activity: 22 hours

#3 Posted on | Instant Rating: 6.11
I made sure to jot this down when Booker T left us with one last bon mot as a Christmas gift. Following Sheamus pinning the Miz: "Can a brother with a brostache get invited to this party?!"

Which I guess is a reference to those Geico ads with the dudes playing with dumb phone apps??

Also a "GO VEGAN" sign is the best pro-Daniel Bryan sign ever.

The video recapping Zack/Punk/Bryan as champs seguing into the RAW recap was pretty great.

Wade Barrett pointing out that in England they say "Happy Christmas" was awesome.

And I am also a fan of Batman Forever.

(edited by Spiraling_Shape on 23.12.11 2043)

---

"Ice cream bars! Ice cream bars!" - RAW crowd, Boston, 7/11/11
RedLion79
Longanisa



Since: 12.7.11

Since last post: 263 days
Last activity: 183 days

#4 Posted on | Instant Rating: 2.50
someone please shoot Michael Cole
superfurry
Chipolata



Since: 18.7.10
From: Worcester, UK

Since last post: 126 days
Last activity: 8 hours

#5 Posted on
A good show for the most part, as Smackdown has been for the last couple of months. I have been actively avoiding spoilers, and it really improves my enjoyment of the show (something fairly obvious, I think). I should note that I did skim them this week due to my fear of them taking the title off Bryan almost immediately.

There were a couple of things that annoyed me though:

Primo vs Kofi - the finish just served to make Primo look like an idiot, and the win does absolutely nothing for Kofi.

Miz vs Sheamus - Do you really need to sacrifice Miz, a guy who needs all the help he can get right now, to Sheamus? Seems unnecessary to me.


John Orquiola
Scrapple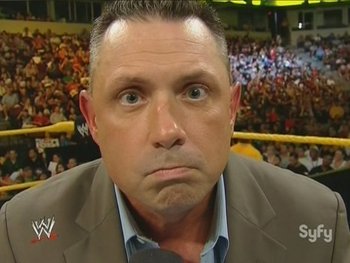 Since: 28.2.02
From: Boston

Since last post: 293 days
Last activity: 293 days

#6 Posted on | Instant Rating: 6.26
Originally posted by It's False

---

Is SmackDown's roster really so thin that we needed guest spots from Dolph Ziggler, Zack Ryder, and The Miz?

---


This is a strange, rhetorical question. Is RAW's roster so thin that we needed to see the Usos vs. Epico and Primo this week when both teams are Smackdown branded? Even though RAW is advertised each week as RAW Supershow and Smackdown isn't, the brand extension roster division has been loosened for months since Triple H declared Supershows would be the norm over the summer. It really shouldn't be a surprise anymore to have people from the other show appearing whenever WWE sees fit.


---

@BackoftheHead


www.backofthehead.com

(V) (;,,;) (V) ZOIDBERG
JustinShapiro
Scrapple
Moderator




Since: 12.12.01
From: Pittsburgh, PA

Since last post: 8 days
Last activity: 2 hours

#7 Posted on | Instant Rating: 8.77
Only just finished Smackdown. Seeing Orton take an RKO back bump on the top of the car kind of makes you go "well.."

Bryan/Ziggler was superb. Would've been better to see it go to a conclusion, but the tag match was an all-action affair as well, so start to finish the last block of that show was hot stuff. Should be an interesting new landscape going forward.