It's False
Scrapple



Since: 20.6.02
From: I am the Tag Team Champions!

Since last post: 12 hours
Last activity: 11 min.

#1 Posted on | Instant Rating: 6.42
TONIGHT! The Mexican tour concludes with tonight's show! Plus, it's the go-home show for the PPV! Yes, ANOTHER go-home show! SmackDown is NOW!

WWE - The Champ is Here!

Opening credits - Do You Know Your Enemy? Opening pyro! We are taped from Él Distrito Federal!

Let's start off with ALBERTO DEL RIO. And that's a HUGE home country pop for ADR! This week, Alberto Del Rio joins us in...nothing! He walks down the aisle with Ricardo Rodriguez to enjoy some of that home cooking!

Your hosts are the three pendejos. The chyron now actually has their Twitter handles, because some chucklenuts might accidentally decide to follow these dopes, I suppose.

It's promo time for ADR, but he stops to soak up the crowd noise first.

ADR: This Sunday, I will defend my WWE title against John Cena and it will be in a Last Man Standing match. But tonight...tonight, I was scheduled to compete against The Big Show...but unfortunately for YOU, that's not gonna happen. And I'm gonna show you why.

So let's take a look at last Monday. Hey, since I didn't watch that show, this is actually NEW to me, for once! Cena bashes Del Rio good with the steel steps before taking a seat and calling for the LMS match.

ADR: It was my dream to come to Mexico and compete for all of you. ¡Por mi...por mi México! But John Cena robbed me of that opportunity. John Cena robbed YOU of that opportunity! But I swear, I'm gonna make him pay. I'm gonna walk into Vengeance as the WWE Champion and I'm gonna walk out as the WWE Champion and as the greatest Mexican hero in history! ¡El más grande Mexicano...en todo la história!

Hit ADR's music to a big pop! Well, that was a nice way to start off the...no, wait, here's TEDDY LONG coming out to his music. Long comes out and tells Del Rio that he's been cleared by doctors to compete. Long says Del Rio's trying to weasel out of tonight's match and that he's afraid of competing against Big Show. Del Rio responds by calling Long a perro to another HUGE pop! So Long takes his case to the people, who all pop, so Long makes the match official for tonight. Hit Long's music.

Mark Henry's music hits next. Henry comes down for our next match. Later tonight, it's Mask vs. Mask in the final battle of the Sin Caras. Mark Henry enters the ring and briefly stares down Del Rio. He faces John Morrison next. Wait...really? Oh lord...

Ad break

"THE WORLD'S STRONGEST MAN" MARK HENRY v. JOHN MORRISON: NON-TITLE MATCH
If you think John Morrison has any chance here, I've got a T-shirt I'd like to sell you.

WINNER: Mark Henry - SQUASH! No, actually, despite my apathy, Morrison looked about as good as a guy can look in a two-minute special. This was not a total squash.

Later tonight, Cody Rhodes addresses the WWE Universe. Yes, worry not, there will be TALKING!

Ad break - Failed John Cena Movie Project promo

Let's go backstage to Vickie Guerrero and Christian. Christian wants the Spanish translation for his one joke. Vickie talks about John Laurinaitis giving Dolph and Swagger a tag title match at the PPV, before trying to recruit Christian into The Vickie Family. Teddy Long enters the picture and books Christian to face Sheamus at the PPV. Long then books Dolph Ziggler to defend the U.S. title against Zack Ryder on Sunday. Yes, folks, Dolph's working twice! Adjust your PPV predictions accordingly! Zack Ryder enters the picture. CATCHPHRASE! You know it! Vickie screams a lot.

Your hosts are the three cucarachas. They talk about Teddy Long a bit before moving into the Sin Cara feud.

Here's a video package for the Sin Cara feud. You know, I'll give them this. If they absolutely HAD to put these two in another match, at least they had enough sense to put it in front of the one crowd in the world that'll probably give a shit.

Wade Barrett and his kickass overcoat make their entrance for our next match. He faces Daniel Bryan next!

Ad break

WADE BARRETT v. DANIEL BRYAN
Battle royales aside, it's been WEEKS since we've seen either of these two guys. That's a little werid, especially if the idea is to supposedly build Bryan up as a world title challenger eventually. Anyway, Barrett gave a promo earlier today and it went a little something like this.

"In the past, I foolishly aligned myself with a legion of parasites. A bunch of nobodies who served zero purpose other than to leech off my own success. Well, time has taught me a very valuable lesson in that the only person I need to succeed is myself. The Great Barrett Uprising starts tonight."

We start with a wrestling sequence, before Barrett works over Bryan. Bryan gets a 2 off a crucifix. Bryan tries the LeBell Lock, but Barrett pushes him into the Boss Man Slam for 2. Barrett chokes away on the ropes and hits a running boot to the face. Barrett slams Bryan's back onto the apron and rolls him in for 2. Time to hit the chinlock. Corner charge eats boot and Bryan hits a second-rope seated dropkick for 2. Bryan missing a roundhouse and eats a boot to the face. Barrett goes to the mounted punches before going to the keylock. Barrett whips Bryan into the corner, but Bryan backflips and makes the babyface comeback. YAAAAAH running corner dropkick gets 2! Whip is reversed and while Bryan dodges the clothesline, he doesn't dodge the kick to the gut. Pumphandle slam gets 2. Barrett pounds away in the corner, but Bryan tries one more comeback. Unfortunately, he jumps off the second rope and gets caught, allowing Barrett to finish with Wasteland (Shantih shantih shantih) for the pin.

WINNER: Wade Barrett - Stop the presses. Bryan jobs again.

Coming up next, Sheamus teams with Zack Ryder to face Dolph Ziggler and Christian.

Ad break - Raw promo

"THE CELTIC WARRIOR" SHEAMUS & ZACK RYDER v. DOLPH ZIGGLER & CHRISTIAN
We take a look at what happened last week when Sheamus faced Alberto Del Rio, with Christian's interference and post-match extracurriculars. The announcers briefly take us to Carlos Cabrera and Marcelo Rodriguez, as I can only WISH my SAP feed would actually work here, because at least the Spanish announcers talk about THE ACTUAL MATCHES instead of constantly bitching at each other! Damn you, Verizon FiOS!

We start with a wrestling sequence, which Dolph wins. Dolph tags out, as Cole makes a G.I. Bro reference. Somebody shoot me. Ryder tries for a schoolboy and hits a back elbow before getting tossed. Dolph gets a cheapshot in, before Sheamus chases him off. The heels work over Ryder. Dolph hits a neckbreaker for 2. Ryder tries to hit some rights, but Dolph hits him with a dropkick in the face for 2. Dolph tries for another neckbreaker, but nearly gets rolled up for 2. Dolph tags out and Christian stomps away. Christian's corner charge is countered. SHUT THE FUCK UP, COLE AND BOOKER!!! MUTE buttons for everyone! Tags are made on both sides and Sheamus is an Irish shack'a'fire. Corner charge is countered, but Dolph whiffs on the Rocker Dropper. Sheamus turns that into the Irish Curse. Sheamus calls for the High Cross, but chases Christian out. Dolph tries to take advantage with the Sleeper Hold, but Sheamus shakes him off and turns him inside out with the Brogue Kick for the pin in 3 minutes.

WINNERS: Sheamus & Zack Ryder - Short match. What else is new?

Coming up next, Cody Rhodes TALKS!

Ad break

We take a look at what happened during the break...which is a funny concept on a taped show. Anyway, Sheamus was celebrating on the ramp and got ambushed by a Christian spear.

So CODY RHODES is in the ring. It's promo time!

Cody: Two weeks ago on Raw, I didn't just humiliate Randy Orton, I exorcised a demon.

We take a look at what happened two weeks ago on Raw with Cody destroying Orton after a Mark Henry attack.

Cody: Hahahahaha! Aha! You see, that demon didn't just come as a result of an RKO or a scar on the side of my head that will most likely be with me for the rest of my days because of a grisly attack with that damn ring bell. Am I supposed to pretend that Randy Orton didn't inflict serious...emotional damage to me LONG ago? The Viper's venom has contaminated the blood that runs through my veins since our days together in the Legacy. You know, one thing my father taught me was that man...man is basically good...basically good. How wrong...man is basically evil...twisted...and especially selfish. Randy Orton used me, he abused me, and he rewarded my loyalty with a swift kick to the skull. That was baggage that I had to carry. That was like...like a diseased albatross slowly rotting around my neck. SowhenIfinallygottheopportunity, when I finally got a bag of my own and got the chance to place it on Randy Orton's head...that was a release. I could take a step back and I can laugh at the fact that it was Randy Orton whose pride had been snatched away in front of millions of judging eyes and in that one, one moment...Randy, our lives had officially intersected. Except this time, I'M the champion. Hell, I'm even the one who's smiling again. I'm the one who has everything going for him. And Randy, you sir, are an embarrassed megalomaniac with no new tricks. In two days, we'll face one another at Vengeance, but I think...I think that can wait, because right now, Randy, I want you to come out here and I want you to admit a few things. I want you to admit that, like many people, you were wrong about me, that you made a mistake...and that you got what you deserved.

Cue the music. RANDY ORTON comes out to a big pop and stops at the top of the aisle with his own mic.

Randy: Mistake? Mistake? The only mistake that I've made, Cody Rhodes, is letting you breathe after costing me the world title not once, but twice! The mistake that you made was assuming that by placing a paper bag over my head that I would be humiliated. You think that you changed me, Cody? The only thing you've changed is the amount of torture I will put you through at Vengeance. Getting hit up the side of the head with the ring bell will pale in comparison to what I do to you this Sunday. Now...how about a little preview, Cody?

Cody's minions try to move in and they each eat a right hand from Orton. That allows Cody to get in a boot. Cody tosses Orton into the steel post. The fight goes into the ring where both men trade blows. Orton gets the better of the exchange and backdrops Cody to the outside. One of Cody's minions eats the Hanging DDT! Orton chases again and works over Cody. He wants to curb stomp Cody's head on the steel steps, before another minion steps in. So Orton curb stomps the minion instead, with a rather unfavorable camera angle, showing Orton missing by a mile. Yeah, it's not like this show was TAPED or anything. I can see why they'd leave that shot in. Cody grabs the Classic Intercontinental Championship and escapes. So Orton takes out his frustation on Cody's minion and kills him dead with an RKO. Hit Orton's music!

We go backstage to Sin Cara (BLUE)...oh, but it's a swerve, as he removes the mask to reveal Sin Cara (BLACK). It's Mask vs. Mask, next!

Ad break

Here's the voting on what the fans would name WWE'S first reality show with the Divas and the winner is...WWE Divas Heels on Wheels. Ok, they're clearly trolling us. Seriously, guys. Come on. What's the REAL name? ......Seriously? Man, people are idiots. Next poll: Name the show about the Monday Night Wars. Um...here's an idea. Why not name it THE MONDAY NIGHT WARS??? You don't have to get cute with all the names, you dopes!

SIN CARA v. SIN CARA: MASK v. MASK
I was ready to make fun of Matthews for calling this the first Mask vs. Mask match in SmackDown's history (kinda easy when you've never really had two masked guys wrestle each other before), but then he ups the moron ante that much more when he asks Booker, "From what I could gather, this is the second Sin Cara?" HE'S WEARING BLACK, YOU DIPSHIT!!! OF COURSE HE'S THE SECOND SIN CARA!!! God, I fucking hate these guys. Only these three twits could spend the entirety of both wrestlers' entrances arguing over who's who when BOTH WRESTLERS ARE WEARING DIFFERENT COLORS!!!

Hunico stomps away on Mistico to start and the crowd is REALLY into this one! Mistico hits his acrobatic spots to send Hunico out. Crossody to the outside hits. It's amazing to see this crowd pop big time for these spots when any crowd in the U.S. would be going apathetic by now. Mistico hits his double tilt-a-whirl headscissors spot perfectly to another pop. Mistico wants a springboard, but flies into a dropkick. Mistico tries for a sunset flip, but Hunico pulls him up by the mask. Hunico charges in and gets backdropped to the outside to send us to our next ad break.

We come back with Hunico hitting a double underhook backbreaker for 2. Time to hit the chinlock. Mistico comes back with a headscissors, but Hunico quickly hits a clothesline for 2. Hunico hits the...I don't know what...before moving into the single leg crab. Now we move into the camel clutch. Hunico hits a stiff-looking tilt-a-whirl backbreaker for 2. Cole drops some KNOWLEDGE by talking about El Santo, who was buried in his mask, just to show that even a blind squirrel can find a nut now and then. Hunico hits a hammerlock backbreaker for 2. Big "Sin Cara" chant from the crowd. Mistico whiffs on a dropkick and Hunico goes back to the camel clutch, while trying to rip the mask off. Hunico stomps away in the corner. Floatover seated dropkick hits! That looked neat! Corner somersault senton misses! Mistico makes the babyface comeback. Hunico tries for a tilt-a-whirl, but Mistico turns it into a 'rana pin for 2! Mistico tries for the victory roll, but gets 2. Hunico hits a Samoan Drop for 2. Hunico climbs the ropes, but gets caught. Mistico hits the top-rope 'rana! Seated dropkick looks to keep Hunico down to allow Mistico to hit the top-rope somersault senton! It only gets 2! Hunico tries for a back suplex, but Mistico lands on his feet. Mistico gets the airplane headscissors and fluidly falls into an armbar for the sudden submission!

WINNER: Sin Cara - This is a textbook example of how a crowd can make all the difference. This match would have bombed in the States, but this Mexican crowd was hot for just about everything. Save for a few slow spots, this is a 1000% improvement over their PPV outing.

Post-match, Hunico reaches for his mask, but decides "nuts to that" and tries to bail. Hunico attacks, but Mistico comes back and rips the mask off. Mistico puts the exclamation point on this one with a suicide dive. Booker makes fun of Hunico's face. Classy. Well, happy trails, Hunico! It was fun! What's Spanish for "future endeavored"?

Later tonight, Big Show returns to the ring and faces Alberto Del Rio.

Ad break - Ladder Match DVD promo

Video package for Brodus Clay.

We go to the ring with BETH PHOENIX and NATALYA, who have mics. They talk quietly and say nothing. This party gets crashed by EVE TORRES. This segment ends with Eve shoving Beth down. Beth frantically checks herself, as if she popped out or something. I certainly didn't see anything. Anyway, this was about as fun as you'd imagine.

Big Show warms up backstage. He faces Alberto Del Rio next!

Ad break

ALBERTO DEL RIO v. THE BIG SHOW
Ricardo's intro seems oddly subdued this week. This week, Alberto Del Rio joins us in a white 2011 Mercedes. Big Show is introduced at 397 pounds, which is a shock to me. That's the lightest he's been since his WCW days.

Show tosses Del Rio around to start. Corner chop. Bodyslam. Headbutt. It's all Big Show to start. ADR bails and when Show tries to chase, ADR hangs him. ADR comes off the top, but gets caught with a chop to the chest. That'll take us to our final ad break of the night.

We come back with Del Rio not faring much better. Show piefaces him over the top. Show tries to chase, but Del Rio dropkicks the steel steps into his knee. That doesn't do too much good, as Show starts dominating again. Show hits a bodyslam. This has been all Big Show. Show misses a corner charge, but still hits a clothesline. Show hits a chinlock. Show legdrop gets 2. More choking. You know, we're only in Del Rio's home country. Some OFFENSE would be nice! And it looks like we're finally getting it, as Del Rio gets a seated dropkick and wails away on Show. Armbreaker gets 1. But Show gets back in control quickly, making the babyface comeback after Del Rio got maybe 15 seconds of offense in. Corner buttsplash/shoulderblock combo hits. Show wants the chokeslam, but Del Rio gets the chop block and locks in the juji gatime! Show powers out of it. Show tries for the chokeslam, but Ricardo Rodriguez jumps on his back for the DQ at about 12 minutes.

WINNER BY DQ: The Big Show - So no, Del Rio isn't allowed to go over in his home, either. And WOW, did they ever neuter him in front of the Mexican crowd. Good thing they put the title on him for this, eh?

Post-match, Show lays out Rodriguez with the Mayweather Special Mayweather Sucker Punch. And just for shits and giggles, he knocks out Del Rio with the Mayweather Sucker Punch, too. MARK HENRY runs in out of nowhere, but he IMMEDIATELY runs into the Mayweather Sucker Punch and gets laid out. Hit Big Show's music!

Replays, closing credits, whatever.

FINAL THOUGHT

And that's how you neuter not one, but BOTH of your top champions in a matter of seconds. What an absolutely atrocious ending.

The show was already teetering on thumbs down for the lack of action. The Sin Cara match nearly saved it, but that main event...holy shit, that main event was just terrible.

It's another thumbs down for SmackDown. On the upside, it was better than last week.

See you all for Vengeance! Look for the Q'n'D to go up first before I chime in with the full report later. Until next time!

(edited by It's False on 22.10.11 1117)
---

"Your condescension is noted...and ignored."

Promote this thread!
CHAPLOW
Morcilla



Since: 14.5.04
From: right behind you

Since last post: 287 days
Last activity: 287 days

#2 Posted on | Instant Rating: 9.00
I'd say it's unfair to say the crowd at the PPV is indicative of how any crowd in the U.S. feels about Sin Cara vs Sin Cara. The crowd @ HIAC was really pathetically terrible.
They might as well have all gone to sleep for the entirety of the show.

That being said, I'm p sad that theyre getting rid of Hunico (which seems assured?) because this Cara feud was one of the few things that was actually interesting to me on WWE TV. Something new and cool, not to mention Hunico performed for the E when they were in a tight spot with Mistico, he doesn't deserve this.



(edited by CHAPLOW on 22.10.11 0709)

---

Please take a minute to follow my graphic design/animation team :]
on Facebook www.facebook.com/teamrenegade
on Twitter @teamrenegadehq
Big Bad
Scrapple



Since: 4.1.02
From: Dorchester, Ontario

Since last post: 21 hours
Last activity: 4 hours

#3 Posted on | Instant Rating: 6.40
Given how WWE is trying to hook the Hispanic audience, it's not a foregone conclusion that Hunico will be cut, right?


---

"It breaks your heart. It is designed to break your heart. The game begins in the spring, when everything else begins again, and it blossoms in the summer, filling the afternoons and evenings, and then as soon as the chill rains come, it stops and leaves you to face the fall alone." --- Bart Giamatti, on baseball
CHAPLOW
Morcilla



Since: 14.5.04
From: right behind you

Since last post: 287 days
Last activity: 287 days

#4 Posted on | Instant Rating: 9.00
Originally posted by Big Bad

---

Given how WWE is trying to hook the Hispanic audience, it's not a foregone conclusion that Hunico will be cut, right?

---


oh snap... I'm just a demographic, playing right into Vince's hands.


---

Please take a minute to follow my graphic design/animation team :]
on Facebook www.facebook.com/teamrenegade
on Twitter @teamrenegadehq
dwaters
Lap cheong



Since: 16.10.02
From: Connecticut

Since last post: 19 hours
Last activity: 7 hours

#5 Posted on | Instant Rating: 5.84
So if HHH is still COO, doesn't that give him the power to overrule any decisions made by Interim Raw GM John Laurenitis, thereby making his firing a pretty useless act?

Just sayin'.


(This would have been a great place to debut masked superstar Juan Cena)
Tenken347
Banger



Since: 27.2.03
From: Parts Unknown

Since last post: 1 day
Last activity: 4 hours

#6 Posted on | Instant Rating: 5.03
Yeah, I'm confused. Is there a rumor going around that they're firing Hunico? Because I don't see any reason you wouldn't want the guy on your roster. He moves well, already knows the WWE style, and his English, while not great, is decent enough. I thought they were just going to transition him away from pretending to be Sin Cara.
thecubsfan
Scrapple
Moderator



Since: 10.12.01
From: Aurora, IL

Since last post: 13 hours
Last activity: 15 min.

#7 Posted on | Instant Rating: 9.64
His reason to exist no longer exists. WWE could find him a new reason to exist, but rarely have reasons for anyone to exist, and would rather use the on new people. Hunico did have flaws, not critical ones, but new guys who haven't shown been on WWE are flawless by WWE logic, so why not use a new idea on them instead?


---

thecubsfan.com - luchablog
dMp
Banger



Since: 4.1.02
From: The Hague, Netherlands (Europe)

Since last post: 23 days
Last activity: 56 min.

#8 Posted on | Instant Rating: 7.82
Originally posted by It's False

---


MARK HENRY
runs in out of nowhere, but he IMMEDIATELY runs into the Mayweather Sucker Punch and gets laid out. Hit Big Show's music!

---


This made me yell out in annoyance.
What would have been a great ending to the show was Henry and Big Show slugging it out in the center of the ring like the two monsters they are.
Instead we get this? Ugh.

Cody's promo was good. Even Randy's reply was good.
I'm looking forward to this match.

The mask vs mask match was fun, and so much better than the match at the ppv. Both men went for it and it showed.
The finish was smooth as hell. Nice to see.

I do understand why they kept wondering who was the real one, because to them it was never established that Blue was the first one. Even though it was. Keep in mind the announcers have to play stupid because they expect their audience to be.





---
John Orquiola
Scrapple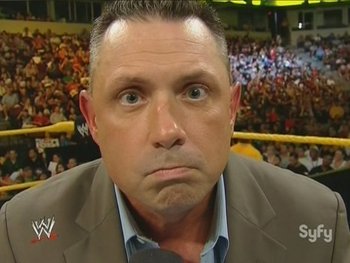 Since: 28.2.02
From: Boston

Since last post: 275 days
Last activity: 275 days

#9 Posted on | Instant Rating: 6.26
I enjoyed the Sin Cara match. Normally, I enjoy the bickering between Cole, Booker, and Josh but for fuck's sake, continuing to feign confusion about whether Azul is the original Sin Cara or not as the match happened made them all dumber than Tony Schiavone. Even Tony could spot the real Sting when he finally appeared amongst the impersonator(s).

I did like this exchange when Negro was unmasked:

Booker: "Look at his face!"
Cole (nonchalant): "What? It's normal with a crew cut."

That's right. It's not like Kane unmasking where he's deformed or real ugly. But Booker wouldn't drop it.

Booker: "Check it out! He's hideous!"
Cole: "I have nothing to say."

It's a clown show at the announce desk.

The Divas segment was ecch. Beth "We're just girls!" Phoenix was the only one halfway decent on the stick. Natalya is death on the microphone; great wrestler, sure, but horrid when she tries to express herself verbally. And Eve - what is it about Eve? She looks good (as her song says), but there's something about her that's just off. She has surprisingly little charisma or ability to garner empathy. You know what I mean, that intangible "IT factor" that makes you just like someone regardless of logic or rationality. Eve doesn't seem to have IT. Am I wrong? Is that just me?


(edited by John Orquiola on 23.10.11 0842)
---

@BackoftheHead


www.backofthehead.com

(V) (;,,;) (V) ZOIDBERG
Moss
Summer sausage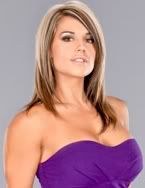 Since: 23.9.10
From: Calgary, AB

Since last post: 168 days
Last activity: 152 days

#10 Posted on | Instant Rating: 6.43
No, it's not just you. I've always found Eve to be pretty lame. In fact I could almost QFT that entire post- I don't think Nattie is death on the mic but the rest is bang on.


---

Shut up, Josh!