It's False
Scrapple



Since: 20.6.02
From: I am the Tag Team Champions!

Since last post: 142 days
Last activity: 58 min.

#1 Posted on | Instant Rating: 6.37
TONIGHT! Everybody walked out on Monday, so how is it that we have a show tonight? Let's find out! SmackDown is NOW!

The Champ is NOT Here, as we go straight to a video package (a LONG one, at that) for Triple H, ending with the roster walkout to put a cherry on top of one of the dumbest angles of the year.

That takes us backstage to Teddy Long on his cell phone. It's Triple H on the other end, as Long tells him that he won't let him down. Zack Ryder enters the picture, asking if it's Triple H. Oh, it's going to be one of THOSE kind of nights, isn't it? Long says that Triple H simply called to leave SmackDown completely in the hands of Teddy Long to avoid a second walkout. Ryder wants to know if everyone on Raw's getting fired, to which Long replies that it didn't come up and that he's happy to accept the roster members that walked out on Raw. Long makes his way out, presumably heading to the ring.
"TRIPLE H" COUNT: 2

Opening credits - Do You Know Your Enemy? Opening pyro! Tonight, The Big Show returns to SmackDown, with Mark Henry in his crosshairs.

So let's start with VICKIE GUERRERO shattering my eardrums. She welcomes us to the one-year anniversary of SmackDown on Syfy. Um...doesn't that mean it's time for a new theme? Why is Green Day still on my TV? Anyway, she leads the contingent that's far too bitchy to waste the "Legion of Doom" moniker on.

Anyway, CHRISTIAN takes the mic and talks about the walkout. Christian takes credit for calling out Triple H and takes credit for the roster walkout.

DOLPH ZIGGLER takes the mic next. This was a joint effort, blah blah blah. They made a statement, blah blah blah.

DAVID OTUNGA goes next. He says that Triple H has created an unsafe work environment on Raw and they'll wait for him to step down as COO. Otunga threatens to walk out of everything, PERIOD, if Triple H doesn't step down this Monday.

WADE BARRETT takes the mic and blames Triple H for everything turning to shit on Raw.

CODY RHODES says Triple H's head is so big that it won't fit in a paper bag. Cody says that there's a chance for change now.

JACK SWAGGER introduces ALBERTO DEL RIO. This week, Alberto Del Rio joins us in...nothing. He has no car this week.

Del Rio says he managed to surive Hell in a Cell, in spite of Triple H. ADR says no one is going back to Raw until Triple H steps down. ADR says he's here on SmackDown to compete and show the world what they're missing on Raw.

So here's Teddy Long to book tonight's card. He says that the heels talk too much and it's going to tune out the audience. I agree. So Long books Christian and Cody in tonight's main event against Sheamus and Randy Orton. Long books ADR against an opponent that he specifically requested, Sin Cara. ADR says that HE'S the only Mexican sensation in this company. Hit Del Rio's music!

Soooo...why exactly is SmackDown any safer now than it was last week? Why is SmackDown any safer than Raw? They know that the big 400-lb. angry black man breaking limbs is on THIS show, right? They know that the guy who busted Cody's head open is on THIS show, right? Soooo...why is this show so much safer? Or am I inserting logic where it doesn't belong?
"TRIPLE H" COUNT: 11

Ad break

ALBERTO DEL RIO v. SIN CARA (AZUL): NON-TITLE MATCH
Del Rio pounds away on SC to start. SC comes back with a headscissors. Handspring elbow is caught and turned into a German suplex. ADR hits the chinlock. Cole says he will not be at Raw unless Triple H steps down. Michael Cole won't be on Raw? If THAT doesn't pop a 3+ rating, I don't know what will! Del Rio chucks SC down and hits a fútbol kick for 2. Back to the chinlock. SC fights out of it, but eats a headbutt. Del Rio corner charge is countered and SC hits a top-rope headscissors. SC kicks away, but Del Rio shoves him to the corner. Another corner charge eats elbow. SC hits his tilt-a-whirl tornado DDT and DOESN'T botch it this time! It gets 2. Sin Cara goes for a crossbody off the top and...um...well, I think we had a miscue there. Anyway, Del Rio hits the armbreaker and the swinging juji gatime for the submission.

WINNER: Alberto Del Rio - This was a decent match, albeit a little short.

Post-match, some EVIL~! Sin Cara music hits! It's SIN CARA (NEGRO), who comes in and the beatdown is on. Announcers say they thought this was over, but it apparently isn't. Top-rope senton puts the exclamation point on this one. Are they SERIOUSLY going to continue this feud after how badly their match bombed on the PPV? Why would they trot these two out to die in front of a PPV crowd a second time?

Your hosts are the three cockatoos. Cole says he walked out because the show was out of control. Booker says he was going to the bathroom and thought the show was already over. HA! Ok, that's really dumb, but damn if that didn't get a laugh out of me. Cole gives us a Picard facepalm.

Backstage, the demoted Matt Striker talks to Air Boom. They face the Vickie Family tonight, but forget about that! Let's talk about TRIPLE H! TRIPLE H! TRIPLE H! They walked out on TRIPLE H! You know, this is exactly how CRZ's Poochie meme got started all those years ago! Hunter isn't here tonight, but let's talk about him during EVERY SEGMENT! I am rapidly losing patience with this show and we're only a half hour in.
"TRIPLE H" COUNT: 19

Ad break - Here's an ad for a movie starring TRIPLE H!

Air Boom make their entrance for our next match. After weeks of hearing me complain about the awkwardness of the music mashup, this week Air Boom debuts NEW music! I can't tell you if it's any good or not, because The Vickie Family ambush them mid-entrance to start this match. The beatdown is on! Air Boom is laid out. Zig Zag on Bourne puts the exclamation point on this beatdown. So...no match, I guess.
"TRIPLE H" COUNT: 20

Ad break

Ok, so we're back with Kofi trying to get a piece of The Vickie Family. Refs are tending to Bourne on the outside and...wait, we still have a match?

AIR BOOM v. THE VICKIE FAMILY (w/VICKIE GUERRERO): NON-TITLE MATCH
Ok, how does THIS make sense? If there's no team, there shouldn't be a match, right? Even the announcers note that this doesn't make any sense.

Kofi goes nuts on Swagger. Swagger tags out, so Dolph gets some punishment. Dolph's able to come back with a kick to the face. The heels double-team Kofi for a good while. Swagger tags in and hits a slam. Kofi tries to fight back, but Swagger tags out and Dolph works over Kofi with a back suplex. Ziggler milks this beatdown, but Kofi comes down with a clothesline. Bourne suddenly pops up on the apron and tags himself in. Bourne starts as a house of fire, but the injuries take their toll and Dolph gets a hangman's neckbreaker. Swagger tags in and finishes with the Swagger Bomb in about 4 minutes.

WINNERS: The Vickie Family - Nothing match. All angle, no substance.
"TRIPLE H" COUNT: 23

Later tonight, a tag team main event.

Ad break - Raw promo featuring TRIPLE H!

"THE GLAMAZON" BETH PHOENIX (w/NATALYA) v. ALICIA FOX
We look at what happened last Monday with the Divas. We take a look at Kelly Kelly going from happy and smiley to psychotic, which I'm sure doesn't have anything to do with the fact that she's a terrible actress.

Alicia actually gets an entrance, but she might as well have not had one at all. Glam Slam, goodbye.

WINNER: Beth Phoenix - SQUASH!

Post-match, Natalya clamps on her favorite submission. Beth makes her scream for her own amusement.

Your hosts are the three drumsticks. They whine and cry some more about chaos. This leads into a video package recapping Mark Henry/Big Show.
"TRIPLE H" COUNT: 24

Ad break

THE BIG SHOW returns to a decent pop in a camo-colored WMD Big Show shirt and beanie. The big guy grabs a mic and it's promo time!

Show: DAMN! I can't tell you how good it feels to be back! Wow, you guys are freakin' awesome! Let me tell you, the last four months have been brutal, walking around with a broke ankle. I spent the last four months going over the footage over and over and over and I know what you're thinking to yourself, you're thinking "What kind of sane person watches themselves get destroyed over and over?" You know what, I feel close to you guys. I want you guys to watch what I watched...several times a day, everyday when I was at home.

As we go back to the footage labeled "4 MONTHS AGO", I feel the need to be a douchebag and point out that Money in the Bank happened less than three months ago. But really, who's counting...besides me?

Show: I know, it's...you guys are very kind, thank you. I thought I was in...I thought I was infallible. I was humbled by Mark Henry. You know...Mark Henry...aw, you guys are great...Mark Henry reached into my chest and he tore my heart right out of it. Simple...simple everyday things, I couldn't do anymore, I mean, I know it sounds silly, but even putting on my pants or walking upstairs or putting on my shoes or even...even playing with my dogs is stuff that I took for granted.

We pause for a series of Big Show chants. We even get crowd shots to reassure us that they aren't piped in or anything.

Show: Ok, ok, I got it. I get it. So you say to yourself what kind of sick person would watch that kind of stuff over and over and...watch themselves getting destroyed and that kind of sick person is me, because...the physical pain I can deal with. I'm a professional athlete. Physical pain is part of the job. I can handle that. It was the humbling, it was the emotional pain that kept me awake at night. But that emotional pain along with the physical pain is what fueled the fire in my stomach! I used that pain...physical and emotional to get better, to get stronger! Mark Henry, all the pain you caused me physically and emotionally, I'm gonna pay you back ten times over! So Mark Henry...he's on a roll, you know, for the past ten months, he's destroyed everyone in his path, but it's a funny thing about being on a roll and having momentum. Mark Henry, your momentum...is a downhill roll. And at the bottom...I'm waiting to stop you. 'Cause I'm gonna take all that emotional pain and all that physical pain and I'm gonna ball it up in this fist and I'm gonna blast you in the side of the head as many times as I can until you are completely unrecognizable! I am gonna cause you physical pain! I'm gonna cause you emotional pain! I'm gonna take from you what identifies you as a WWE Superstar. I'm gonna take from you what validates your entire career...I am gonna take the World Heavyweight Championship from you, Mark Henry. The first championship I ever held in my hands at 23 years old is the very same championship you're holding right now. Listen to me, Mark Henry, I will settle for nothing less than facing you one-on-one. So Mark Henry, World Heavyweight Champion, World's Strongest Man, Man of Fire, Chairman...of the House of Pain, come out here and do the right thing. Give me the opportunity to face you one-on-one for the World Heavyweight Championship.

Let's hit Mark Henry's music! Here's the man for rebuttal.

Mark: Big Show...there's been a lot of changes in the four months that you've been missing. But let me get you up to speed real quick. See, after I put you out, I put out Kane, I ended Vladimir Kozlov's career, and I put Jerry Lawler through that table over there. So the Hall of Pain is getting really, really crowded. But most importantly, Big Show...I beat Randy Orton to become the World...Heavyweight Champion! So you come out here and you ask me...for a shot...an opportunity...at this World Heavyweight Championship. But what have you done? Who have you beat? You been sitting at home doing nothing for four months. A vacation that *I* afforded you! Well, I tell you what. I'll let you know...about when...and IF you ever...gonna get a shot...at this. And you know when that's gonna come? That's gonna come on Mark Henry time. That's gonna come...on World Heavyweight Champion time.

Show: Now Mark Henry, if I don't hear an answer from you by the end of the night, the answer that *I* want, I'm gonna take you, I'm gonna put you through THAT announcer table, I'm gonna put a chair around your ankle, and I'm gonna break YOUR ankle! I want an answer, Mark! I want my answer! I want yes! And I want it tonight! Or else!

Hit Big Show's music. Quick, let's cut away to...

The demoted Matt Striker talks to Randy Orton. Striker tells Orton that some people believe he's still owed a shot. Orton says he'll move on without asking for one more match, so I guess that ends the Mark Henry feud for now. But enough of that, it's time to talk about TRIPLE H! TRIPLE H! Orton deflects that question and promises bad things for Cody and Christian.
"TRIPLE H" COUNT: 26

Ad break - Raw promo! Look! More TRIPLE H! Tune in this Monday to see what happens to TRIPLE H! TRIPLE H!

Here's a video package for Brodus Clay!

We go straight to the ring where Jinder Mahal is delivering a promo in Hindi. He's interrupted by Ezekiel Jackson. Oh, we have a match?

EZEKIEL JACKSON v. JINDER MAHAL
Jackson starts off with a big "Shhhh!" Mahal counters that with more Hindi. Jackson tries another "Shhhh!" Mahal yells in Hindi some more, so Jackson knocks him down with a right.

Jackson overpowers Mahal to start. Mahal hits some knees, but an Irish whip gets nothing and likes it. Jackson hits a backdrop and bodyslam. Here's another bodyslam. Torture Rack is countered and Mahal hits some more knees and stomps. Mahal goes to the headlock, btu Jackson powers out. Jackson hits a bodyslam. another bodyslam! Here's...wait...wait...wait...ANOTHER bodyslam! Jackson's hit six wrestling moves and five of them have been bodyslams. Good gravy. Jackson mugs to the crowd, before picking up Mahal and...sweet Jesus, it's YET ANOTHER bodyslam! And this goof wonders why they had to cut his push short? Torture Rack finishes in a two-minute special.

WINNER: Ezekiel Jackson - SQUASH! Ok, so now's a good time to ask...whose cornflakes did Jinder piss in? First came the sudden killing off of the angle with Khali and now he's just been squashed for the third straight time. Who did he piss off?

Post-match, Zeke grabs the mic. "I told you! Shhhhh!"

Later tonight, Mark Henry answers The Big Show's challenge. Plus, main event tag team action. Amazingly, we went through this entire segment without mentioning Triple H once.

Ad break

Backstage, Teddy Long gets a knock on his door. Long assumes it's Aksana, but it's Super Dave Laurinaitis, because God forbid we go a single show without seeing his charisma-less corpse. Laurinaitis says that he's a company man (hint, hint) and offers his services. Can we PLEASE just do the obvious Vince reveal next Monday and get this over with?
"TRIPLE H" COUNT: 28

Your hosts are the three chucklenuts. They talk some more about the walkout, before Hornswoggle's music hits! Hornswoggle wants a spinarooni, so he drags Booker into the ring. Booker gives us a spinarooni! Hornswoggle gives us a spinarooni! Well, that was a waste of time.

Christian interrupts this nonsense by making his entrance for tonight's main event. Cody Rhodes makes his entrance. Our main event is next.
"TRIPLE H" COUNT: 29

CHRISTIAN & CODY RHODES v. "THE CELTIC WARRIOR" SHEAMUS & RANDY ORTON
Cole makes note of the CLASSIC~! Intercontinental title belt now in Cody's possession. We have about a half hour to go, so this should go long.

We start with Sheamus overpowering Christian. Sheamus tries the ten-count chest strike, but Christian slips out and tags out. Sheamus tries to dump Cody, but Cody skins the cat. Sheamus catches Cody and hits the ten-count chest strike. Running knee across the apron knocks Cody down. Christian distracts Sheamus, allowing Cody to hit a Russian legsweep for 2. Cody applies the headlock, but gets backdropped. Orton gets tagged in and he cleans house on Christian, hitting the snap powerslam. Corner charge is countered, but Orton manages to backdrop Christian off a leapfrog. Orton hits the ten corner punches. Hanging DDT hits! VIPER COIL! Orton eyeballs Cody, allowing Christian to escape. The numbers take over, though, as Christian hits a baseball slide on Orton to take us to our next ad break.
"TRIPLE H" COUNT: 32

We come back with Christian hitting the chinlock. Orton fights out of it, but runs into a back elbow. Tags is made and Rhodes stomps away. Tag is made to Christian, who works Orton in the corner. Orton fights Christian off, but runs into a spinebuster. Christian calls for the spear, but gets booted and clotheslined. Tags are made on both sides. Sheamus cleans up with Irish Hammers and a bodyslam. Corner clothesline hits and running knee takes Rhodes down. Sheamus wants the Irish Missile. It's a miss, but Sheamus lands on his feet and rolls through. Tilt-a-whirl backbreaker from Sheamus (called the Irish Curse by Cole, because he's an idiot) gets 2. Sheamus calls for the Brogue Kick, but stops to dump Christian. The camera misses Orton tagging himself in, as Orton slips in and puts Rhodes away with the RKO for the pin at about 10 minutes. Um...k.

WINNER: Sheamus & Randy Orton - A decent enough tag match, but...we still have about 20 minutes of show left.

Your hosts are the three noodlebrains. They show us the exact same video package that opened the show. You know, in case you haven't seen Triple H tonight! Announcers note that Raw's scheduled for Monday, but we don't know if anyone will be there.
"TRIPLE H" COUNT: 34

Mark Henry makes his entrance. He answers Big Show next.

Ad break

Mark: You know who I am? I'm Mark Henry and I'm the strongest man in the world, and I'm the World Heavyweight Champion. And I fear no man! And I, too, am infallible! And as far as The Big Show...having a title match for the World Heavyweight Championship? I say......NO!

Big Show's music hits and Show runs down to the ring. The two big men go at it and Show runs wild on Henry. The security brigade all swarm on Show, as Show tosses them off. Henry comes in, but Show spears him! Security swarms on Show again. Show knocks them all down like bowling pins. Chokeslams and headbutts for everybody! Mark Henry takes this opportunity to bail. Show holds up a security guy, as Henry watches, and knocks him down with the Mayweather Special. Show asks for a match again and Henry yells no! Henry holds up the belt and walks away.

Well, no he doesn't, because Show waffles him from behind. Show tries to whip Henry into the barricade, but Henry turns the tables on him! Henry clears off the announce table and rearranges some furniture. Henry tries to pick up Show, but Show fights back and CHOKESLAMS HENRY THROUGH THE ANNOUNCE TABLE! Show's not done yet, as he grabs the chair. Show wants the Pillmanizer! He sets up the chair and drags over the steel steps! Show preps for the attack, but here's Teddy Long!

Long says he'll give Show the world title match, but only if he stops his attack. Show thinks about it, looking conflicted. He reluctantly backs off. Show re-considers, though, and comes back. Rather than Pillmanize him, Show picks up the chair and whacks Henry with it. Show tells Henry's corpse that he'll take him out AFTER he wins the title. Henry convulses for our amusement. Hit Big Show's music!

Show ends with Show on the ramp and Henry's corpse around the remains on the announce table.

But lest anyone forget who the real star of the show is, let's end with one last Raw promo centering around Triple H.

FINAL THOUGHT

Final "TRIPLE H" COUNT ends at 34. And that's just the specific mentions of his name. That's not counting pronouns, Raw ads, or the giant WWE Magazine cover with Triple H's face on it that's hanging in Teddy Long's office. It's...a little much.

In non-Triple H related news, I like the idea of moving Mark Henry on to Big Show. I'm glad they got themselves out of the trap of going Henry/Orton for the third straight PPV. Orton will always be around. Henry's going to have plenty of feuds in the next few months, because Sheamus and the returning Kane are likely waiting in the wings after the Big Show feud. No need to overdo Orton as a challenger.

Oh, there's two more shows until the PPV, by the way, with only the presumed Henry/Show match announced. You'd think they'd want to announce some matches, but...well...TRIPLE H!

Until next week!

(edited by It's False on 7.10.11 2207)

---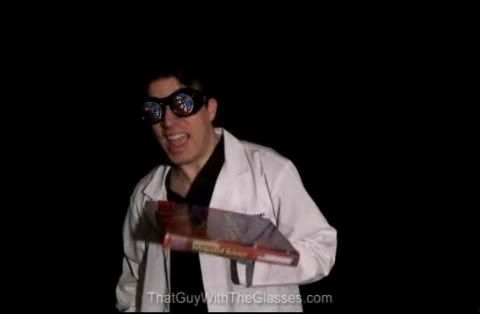 "I brought SCIENCE!"

Promote this thread!
John Orquiola
Scrapple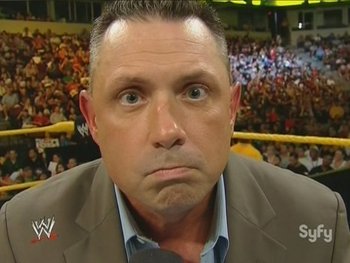 Since: 28.2.02
From: Boston

Since last post: 733 days
Last activity: 733 days

#2 Posted on | Instant Rating: 6.51
Booker T disavowing siding with the others walking out and claiming he walked out too because he thought the show was over and he had to go to the bathroom made me LOL.

The other moment I found very funny was the knock on Teddy Long's door and his immediate reaction: "Come in, Aksana."

Kelly Kelly's crying screams > Alicia Foxy's crying screams.


---

@BackoftheHead

www.backofthehead.com
Super-Crazy
Loukanika



Since: 19.9.11

Since last post: 1720 days
Last activity: 1719 days

#3 Posted on
Mark Henry should not have been humbled like that yet. This is one time I would like to see a 3 minute squash PPV title bout. Big Show needs to be splashed to hell.

I like the Triple H count thing haha. Why doesn't he get it, he's not a guy you can base a company around. He'll never wver be a Ric Flair or a Steve Austin. He's on the 2nd tier with guys like Edge and Orton in my book. I want a real authority figure that is entertaining like William Regal again. How about Chris Jericho? He would be moneyyyy.

Now I like Trips and all, I'd like him to return to action. He'd make a great bug for Henry to squash
ekedolphin
Scrapple



Since: 12.1.02
From: Indianapolis, IN; now residing in Suffolk, VA

Since last post: 6 days
Last activity: 5 hours

#4 Posted on | Instant Rating: 3.32
This is a rare example of WWE acknowledging that the WCW World Title belt and the World Heavyweight Title belt are (with the exception of the scratch logo) virtually identical. In fact it sounds to me like Big Show implied that those titles are one and the same, which is a nice thought for a WCW mark such as myself.

So, Teddy Long promised Big Show a title shot if he stopped his attack. Big Show didn't Pillmanize Mark Henry but then he did whack him with the chair. So does he still get the title shot? You'd think not.

This is one of those situations in which Big Show needs a best friend to say "No, no no, DON'T ATTACK HIM, you'll lose your title shot! I'll attack him for you!" like Christian did for Edge against Alberto Del Rio. (Well, Del Rio was the challenger in that situation, but nevertheless).

(edited by ekedolphin on 8.10.11 0154)

---
"Hold on, hold on, hold on... this doesn't happen a lot, I need to savor this... I am the most normal person in the room."
--Ethan, Ctrl+Alt+Del
Fan of the Indianapolis Colts (Super Bowl XLI Champions), Indiana Pacers and Washington Nationals
Certified RFMC Member-- Ask To See My Credentials!
Co-Winner of Time's Person of the Year Award, 2006
ekedolphin
Scrapple



Since: 12.1.02
From: Indianapolis, IN; now residing in Suffolk, VA

Since last post: 6 days
Last activity: 5 hours

#5 Posted on | Instant Rating: 3.32
And another thing: With WWE Champion Alberto Del Rio, U.S. Champion Dolph Ziggler, WWE Tag Team Champions Air Boom and Divas Champion Beth Phoenix refusing to wrestle on RAW, does that make all those titles SmackDown-exclusive?

If I were Triple H in this storyline, I'd make an ultimatum to those five people (or at the very least Del Rio and Ziggler): "Appear on RAW, or be stripped of the titles."


---
"Hold on, hold on, hold on... this doesn't happen a lot, I need to savor this... I am the most normal person in the room."
--Ethan, Ctrl+Alt+Del
Fan of the Indianapolis Colts (Super Bowl XLI Champions), Indiana Pacers and Washington Nationals
Certified RFMC Member-- Ask To See My Credentials!
Co-Winner of Time's Person of the Year Award, 2006
Tyler Durden
Landjager



Since: 22.2.04
From: Frankfurt, Germany

Since last post: 439 days
Last activity: 157 days

#6 Posted on | Instant Rating: 3.99
What a crappy SmackDown.

The Big Show return promo was so so bad. What was that supposed to accomplish in the first place, having Big Show cry and all? He's a giant, damn it, book him like a giant! And why in the blue hell does he run around like Bully Ray all of a sudden? He looked like a huge 12 year old.

Then the Mark Henry thing: They booked him so well for the past few months ... and now this! Why wouldn't a bad ass champion like Mark Henry, who crippled Big Show before, not accept a challenge? Stupid, stupid, stupid.

And where was the Real Best in the World, Daniel Bryan? (On NXT, I know. Great tribute to William Regal, by the way - watch it!)

About Triple H I don't really want to talk.
Matt Tracker
Scrapple



Since: 8.5.03
From: North Carolina

Since last post: 3 days
Last activity: 6 hours

#7 Posted on | Instant Rating: 6.89
"It's time for some tee-earrrs."

The Air Boom destruction was fun. The Vickie Family looked credible for once.


---

"To be the man, you gotta beat demands." -- The Lovely Mrs. Tracker
Tenken347
Banger



Since: 27.2.03
From: Parts Unknown

Since last post: 5 days
Last activity: 1 hour

#8 Posted on | Instant Rating: 5.03
I don't know, that last segment worked for me. After seeing Mark Henry run around killing people for the last couple months, seeing the Big Show make him look vulnerable really built him up as a serious contender.
geemoney
Scrapple



Since: 26.1.03
From: Naples, FL

Since last post: 16 days
Last activity: 39 min.


AIM:
#9 Posted on | Instant Rating: 7.83
Yeah, you simply can't have Henry destroy people every week. As much fun as that would be, they have to give someone credibility as a title contender and make people think he has a shot to win the title, otherwise, people won't tune in if they think Henry will squash that person.


---

@gregmparks - live Tweeting of Raw and Impact, wrestling thoughts and other slices of life.
wannaberockstar
Merguez



Since: 7.3.02

Since last post: 3 days
Last activity: 3 days

#10 Posted on | Instant Rating: 5.62
Originally posted by geemoney

---

Yeah, you simply can't have Henry destroy people every week. As much fun as that would be, they have to give someone credibility as a title contender and make people think he has a shot to win the title, otherwise, people won't tune in if they think Henry will squash that person.

---


Not only that but now they're building up two monsters that will meet up.

I thought it was a fun show - loved the Vickie Family destruction and the Big Show/Henry stuff.

On a side note, Christian is on Twitter with the OccupyRaw tag (a spin off of the political thing that is in the news) - I'm kind of intrigued to see if that plays out on television too, come Raw.
John Orquiola
Scrapple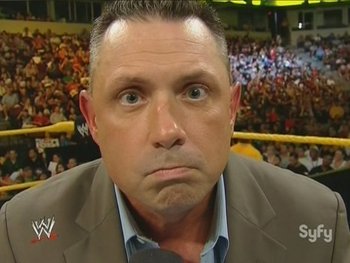 Since: 28.2.02
From: Boston

Since last post: 733 days
Last activity: 733 days

#11 Posted on | Instant Rating: 6.51
talk of #OccupyRaw moved to a new thread... (The W)

(edited by John Orquiola on 8.10.11 0849)
---

@BackoftheHead

www.backofthehead.com