It's False
Scrapple



Since: 20.6.02
From: I am the Tag Team Champions!

Since last post: 62 days
Last activity: 3 hours

#1 Posted on | Instant Rating: 6.84
TONIGHT! SmackDown tries to follow Raw's lead by following up on some of their own storylines. Mark Henry's still running wild on everyone! Can anyone stop him? Are we resigned to another Christian/Randy Orton match at Summerslam? Let's find out. SmackDown is NOW!

WWE - The Champ Is Here!

Opening credits - Do You Know Your Enemy? Opening pyro! We are taped from Philadelphia, PA!

Tony Chimel introduces Triple H. So this gives the new boss a chance to introduce himself to the Friday crowd, I guess. So Triple H, in full corporate suit, starts off with his best Vince strut before shrugging off that nonsense and just walking to the ring. Your hosts are Inky, Blinky, and Clyde, who say nothing of note, as usual. Cole notes that he did, in fact, opt to show up tonight, because God forbid we go a single show without Michael fucking Cole. Anyway, time for Triple H to grab a mic and it's promo time!

"Ok, so...I've had this Chief Operating Officer, COO, gig now...for...I dunno, 10-11 days, something like that. In charge of the day-to-day operations of the WWE and the one thing that I've figured out is...the more that you try to fix things around here, the more screwed up they get. It's like a bunch of dominoes, you touch one and they all fall over, you know. But a wise man once told me, you start at the top and you work your way down, so I'm gonna start with the things that are of the most paramount importance and that would be the World Championship here on SmackDown and the WWE Championship over on Raw. Now the WWE Championship is a little bit more complex at this point. We've actually got two champions. I started out the night on Monday night thinking I was doing the right thing, ending up with one WWE Champion and I ended up with two: CM Punk...and John Cena. And here's the thing, both men actually have legitimate claims to the WWE Championship. One was cheated out of his deserving rematch. The other, well, quite frankly...a current titleholder that I re-signed late Monday night. Now I don't know exactly yet what I'm gonna do with this situation, but I can tell you by Monday night, I'll have made a decision and we'll get to the bottom of this. Which leads me to the World Championship here on SmackDown. Now I've heard a lot of talk..."

Interruption comes from World Champion Christian and his music. Christian holds up the title atop the ramp before coming down to the ring and grabbing a mic of his own.

Christian: Triple H...Hunter Mr. COO. You know something, I just wanted to come out here, as the face of SmackDown, as the leader of this brand, I just want to say congratulations on your new position. And I for one, I am...words can't express how excited I am that you're in charge now. I really am. Because let's face it, it's no secret to you or anyone else the turmoil I've had to go through these last few months with...Teddy Long. He's tried to ruin this show. He's tried to run it into the ground with his blatant sucking up to Randy Orton. And even worse than that, his blatant sucking up to these loser ingrate fans, just like the faces I see here in Philadelphia. You see, fans that turned their back on me and took Randy Orton's side, which...which is the reason I had to see legal counsel. I didn't want to do that, I was forced to do that! I had to do that! So what I'm saying is, I know you're about to address the World Championship situation and that's cool. But as YOUR World Heavyweight Champion, I'm pretty sure you would like to have a close working relationship with me.

HHH: It's funny you should say that, because...no, actually, I don't. See, let me explain something to you...Vince McMahon liked to foster an environment around here where people were actually ENCOURAGED to interrupt him, um, he liked to think that you couldn't get ahead without stepping on toes, and that worked for quite a while. And hell, I stepped on a fair share of toes on the way up, so I would know. But here's the thing, Vince has the patience of a saint and while Vince had the patience of a saint, I don't. You see, interrupting me, basically, I'm gonna take as a slap to the face. And Christian, I think you've known me long enough to know that if you slap me in the face, I'm gonna slap you back. And I can slap a whole hell of a lot harder than you can. Now, if there's one thing I've learned in the last ten days on this job, it's that I don't like negotiations, I don't like meetings, and I sure as hell don't like lawyers. You and I don't need to have a meeting to discuss anything. I'm direct and to the point and I'll tell you the way it is right now. At SummerSlam, Randy Orton is going to get his rematch for the World Heavyweight Championship. And just so you don't have any complaints about the officiating or the rules or anything else, that match will have no disqualifications, because at SummerSlam, Christian, you will defend the World Heavyweight Championship against Randy Orton in a No Holds Barred match.

Christian: Hold on a second, here, hold on! You can't do this to me! I'm the World Heavyweight Champion! I deserve some respect...

Interruption comes from R-Truth, of all people.

R-Truth: Lookie, lookie, lookie here! Surprise! R-Truth back on SmackDown! I'm back home! Home cooking! I like home cooking. Everybody's glad to see R-Truth back on SmackDown! That's why we gonna pick up where we left off at...Mr. H! You see, I don't see no spiders crawling in that ring and I don't see you talking to yourself, either. ... Talking to himself! You see, everybody talking about titles and all that. ... You know there's a conspiracy against me! ... All these people know that there's a conspiracy against me! ... Don't WHAT me! ... I just wanna axe you a question!

HHH: "Axe" away.

R-Truth: So it's funny again, "Axe" away. You know what? ... I ain't gonna axe you nothin' now! ... I'm telling you! ... SHUT UP! ... This Monday, those conspiracies better be straightened out. Because I'm a man of action, buddy!

HHH: What? I'm just messing with you. Don't freak out and send all your guys in here, I'm just messing with you. Listen, I know you're a man of action, and I'm glad you're here tonight, because seeing you gives me a heck of an idea, Man of Action. You're gonna be in action, right here on SmackDown...when you go one-on-one with Randy Orton.

Christian: Hey, hey, Truth! Don't worry about that. You need any tips on how to beat Orton, I'm your man. He's never beaten me in a fair fight.

HHH: Hold on a second there, Crusty Veteran. Before you start giving out sage advice, I got a little news for you, too. I brought a little somebody over with me tonight on SmackDown and you've got a match with him. You might know him. His name is John Morrison. And don't, don't work yourself up into a tizzy complaining. Save your energy, because that match is next.

Play Triple H's music! So...is R-Truth a throwaway comedy character now? I'm starting to get that idea, since the announcers would start laughing after everything he said! And I would have thought they'd save Morrison's big comeback match for Raw, but what do I know? Well, I know his comeback match is next after the...

Ad break

But first, let's go backstage to Triple H walking with Teddy Long. They run into Zack Ryder. Ryder has an idea, but Triple H is tired of his ideas. Ryder wants to get his idea out there, but Triple H has one of his own. He makes Ryder an assistant for Teddy Long tonight. Triple H walks away, while Ryder acts like a goofball. Well, we wanted him...

CHRISTIAN v. JOHN MORRISON: NON-TITLE MATCH
Christian's already in the ring, of course. Morrison gets a nice pop coming out, as we see R-Truth watching in the back with his invisible entourage.

We start with a lock-up and Morrison backing up Christian with a kick. Christian moves in and gets tossed to the outside. Announcers talk about Triple H and when Booker (BOOKER, of all people!) tries to get them talking about the match...Cole keeps everyone talking about Triple H! AUGHHH!!! It's like they're BEGGING ME to put them on MUTE for another week! Anyway, Christian takes control, but Morrison comes back with a springboard kick for 2. Christian sends him to the outside, but misses with a plancha. Morrison hits with a corkscrew tope to take us to our next ad break.

We come back with Christian hitting a hangman's neckbreaker for 2. Christian goes for the straddling choke and takes Morrison down by the hair. Morrison tries to make the comeback, but Christian cuts that off. Morrison counters the Tornado DDT attempt and makes the babyface comeback. Christian tries to turn a bodyslam into his reverse DDT, but Morrison falls prone and kicks Christian in the face. Wheelbarrow pin gets 2. Morrison hits the pancake, but misses the finishing knee and walks into a spinebuster for 2. Christian misses the floatover uppercut and walks into the flipping uranage for 2. Morrison hammers away in the corner. Referee pulls him off, which allows Christian to hit the spear! It only gets 2. Christian climbs the turnbuckles, but gets caught. Both men are up top and exchanging blows. Morrison backdrops him off, but misses Starship Pain. Christian hangs him on the ropes and finishes with the Kill Switch at 11 and a half minutes shown.

WINNER: Christian - There were some rough patches towards the latter parts of the match. This was a nice way for Morrison to work himself back into ring shape.

Meanwhile, at a skybox, Jinder Mahal and The Great Khali are watching the proceedings intently.

Later tonight, Randy Orton faces R-Truth.

Ad break - Rey Mysterio DVD promo

Wade Barrett is in the ring and he has the mic, so it's promo time!

"Now I just wanted to come out here and talk to you all about the reasons why I left England and came to the States to become a WWE Superstar. Now I certainly didn't do it because I wanted to come here and entertain people like you. I did it because I wanted to make myself a lot of money. Now unfortunately, I kinda lost track of that in the last 12 months. That was until last week, thanks to a man named Daniel Bryan. Now I'm sure you all saw Daniel Bryan last week strutting around with what should have been MY Money in the Bank briefcase. We all saw him gloating about how he's going to cash in that briefcase at Wrestlemania 28 for a World Title shot. Now the paycheck that that brings should ALSO have been mine! Believe me, it doesn't get much bigger than a match at Wrestlemania and the paycheck reflects that. That's why today, we are going to see a return to basics for Wade Barrett, because greed is terribly underrated. And if you ask me, the only thing that Daniel Bryan has ever proved in the WWE is that it doesn't how overrated, overhyped, or in fact how over your head you might be..."

Interruption comes from Daniel Bryan, who comes out with his briefcase.

Bryan: Man, Wade, originality sure isn't your strong suit, is it? I mean, your buddy Heath Slater came out here last week and said nearly the exact same thing...and then I made him tap out...

Barrett: Hang on, just stop right there! Are you SERIOUSLY trying to compare ME to Heath Slater? Let me just remind you, I'm the man that took Heath Slater, Daniel Bryan, and the rest of the NXT Season 1 misfits and led them to revolutionizing Monday Night Raw, by MOLDING them...

Bryan: MOLDED? You didn't mold me into anything, ok? I came out in Nexus to make a statement and as soon as you sensed any sort of threat, BAM! I was gone! Now if you ask me, all that is water under the bridge. In the last year, you and I have done a lot more than that. Hell, you've main evented pay-per-views. But guess what. I won Money in the Bank! And THIS year, I'm gonna main event Wrestlemania!

Barrett whacks Bryan with a right hand to stop that promo short. Gee, it's really hard to transcribe a promo accurately when Cole is TALKING OVER BRYAN AFTER EVERY WORD like the asshole at the movie theater that talks through the film! That transcription should NOT have taken me that long! Anyway, Barrett grabs the briefcase and gets in Bryan's face, but he gets in a little too close, because Bryan locks in the LeBell Lock. Barrett starts tapping out and Booker (yes, BOOKER) makes the SMARTEST OBSERVATION EVER and asks "What's he tappin' for?" It really took BOOKER T to ask this question? Bryan takes his briefcase and exits. Play his music!

Backstage, Ryder has grandiose plans, as Teddy Long facepalms. Mark Henry enters the picture and Teddy Long tells him that nobody wants to face him anymore. Ryder jumps in and says he has an opponent for him. Teddy reluctantly accepts this, as Ryder offers a fist bump. Teddy leaves him hanging. Bummer.

Later tonight, the Usos get a tag title shot against the New Nexus.

Ad break

We are taped from Philadelphia, PA! The WWE was in South Africa recently, so now's as good a time as any to center a Justin Gabriel video package around this!

Your hosts are three dipshits that are rapidly getting on my last nerve yet again. Maybe they'll act like civilized humans for the next match and not like a threesome of incompetent fuckwits. Wait, no, it's a Divas match. Never mind.

NATALYA, KAITLYN & AJ v. ALICIA FOX, ROSA MENDES & TAMINA
The faces get no entrance, because nobody cares about them anymore. Good lord, AJ! That orange plaid pattern has to go YESTERDAY! ICK! Cole notes an ongoing NXT storyline where AJ is apparently crushing on Hornswoggle. Really? REALLY? This is actually happening? Really? REALLY?

We start off with Natalya and Tamina. Booker tries for the first second to talk about the match, but there's no way that's about to happen. Natalya tries to counter a clothesline with a crucifix, but Tamina catches her. Natalya's still able to roll her up for 2. Natty goes for a Sharpshooter, but Tamina powers her off. Tamina hits a Samoan Drop and tags out to Fox. Fox hits the provocative headscissors. Natalya powers her up and hangs her in the Tree of Woe and hits a corner dropkick. Hot tag is made at a blistering 60 seconds in to AJ, who makes the babyface comeback. It breaks down into a Pier Six and...holy cow, take a drink every time Booker says the word "spitfire" or "sparkplug" and hope you don't end up with alcohol poisoning by the end of this match. Which is in a few seconds, as Fox finishes with the Ask Kick to end this two-minute special.

WINNERS: Alicia Fox, Tamina & Rosa Mendes - Short and relatively inoffensive.

Let's go to a Mark Henry video package and then see Mark Henry make his way backstage. His match is next.

Ad break

"THE WORLD'S STRONGEST MAN" MARK HENRY v. ???
No music hits and Tony Chimel has to repeat "And his opponent..." a couple of times. And...it's a generic jobber. Chimel introduces him as Bobby Howard. He's every bit as tiny as Daniel Bryan without any of the muscle definition, so I'm guessing Ryder found this guy off the scrap heap. Howard tries to turn around and walk away, but Ryder comes out and gives him a pep talk. Ryder escorts him to the ring as a light "Bobby" chant starts up.

Match starts and Henry hits a tree slam. World's Strongest Slam hits! Another one hits! How about a STIFF backbreaker to finish at a minute and change.

WINNER: Mark Henry - Ryder's not very good at booking matches, is he?

Post-match, Henry continues the onslaught and grabs a chair. He wants the Pillmanizer, but Teddy Long sprints down to the ring. Long says that he can't let Henry compete anymore, because nobody wants to face him. A lawsuit pending isn't making things easier. Long says he'll find him an opponent, but suddenly SHEAMUS' music hits to a pretty big pop! Sheamus strolls in and grabs the mic for rebuttal.

"Thanks, Teddy. Teddy, if you're looking for a fella to fight him, I'll fight him. After all, he's just big. And as you said, Mark, bigger ISN'T better! You know, this reminds me of an old Irish story about a high king of Ireland, a man named Brian Boru. Now legend has it, Brian had an illegitimate son and one day an angry fairy came along with its magic wand, tapped that bastard on the shoulder, and turned him into one great big, enormous, 425-lb bag of crap!"

That's a pretty sizable "Sheamus" chant! Henry's not amused by this and yells at Long about finding him competition. He then tells Sheamus that he talks too much. Sheamus apparently agrees, so he takes action by slapping Henry in the face. Henry charges in and gets lowbridged. Sheamus holds him off with the chair. Henry tries to grab the steel steps as an equalizer, but they just won't go through the ropes, consarn it! Henry walks away and Sheamus' music hits. Ladies and gentlemen, we have a face turn!

Later tonight, Randy Orton faces R-Truth. But let's go backstage, as Otunga and McGillicuddy walk to the ring for their tag title defense. It's next!

Ad break

WWE Rewind is brought to you by CARFAX - The Usos beat the New Nexus in a non-title match on WWE Superstars. Yes, the tag titles mean so much these days that the tag champions are booked to lose on a WWE.com-exclusive show.

THE USOS v. THE NEW NEXUS: WWE TAG TEAM CHAMPIONSHIP MATCH
The Usos have new music since the last time they were on this show and it's pretty good. Otunga and McGillicuddy also have new music, as somebody THANKFULLY decided to retire "This Fire Burns" rather than let these two dopes parade around with it.

The Usos run wild on McGillicuddy to start, but McGillicuddy is able to tag out. Otunga eats a sunset flip for 2. He's able to counter a corner charge with a boot and choke away. Otunga goes to the chinlock, because perish the thought he show a single wrestling move. Jimmy hits a spinning heel kick and tags are made on both ends. Jey makes the babyface comeback and hits the Umaga buttsplash for 2. Jimmy dumps Otunga, but Otunga's able to toss Jimmy to the floor. Jey looks to finish with the Superfly Splash, but Otunga trips him up. McGillicuddy shows why he's a loser by botching the McGillicutter to finish at about two minutes.

WINNERS: The New Nexus - The Genesis of McGillicuddy, indeed. I would comment about how sad it is that the tag title match got less time than the Divas match, but I really don't want to watch Otunga and McGillicuddy attempt to wrestle, so I'll just shut up now.

Backstage, Zack Ryder tells Teddy Long that he's booked Ezekiel Jackson against Cody Rhodes AND Ted DiBiase...for some reason. Ok, then...

Later tonight, Randy Orton faces R-Truth.

We are taped from Philadelphia, PA. Here's the Raw Rebound!

That takes us to your hosts, the three dinguses. They regurgitate Triple H's talking points and add nothing.

Backstage, the demoted Matt Striker talks to R-Truth. Truth says he's gonna cut some bad loose and be like an eagle pouncing on a snake. Randy Orton gon' get GOT!

Ad break

WWE Smack of the Night is brought to you by 5 Hour Energy - Here's Ezekiel Jackson's match against Ted DiBiase from 2 weeks ago.

EZEKIEL JACKSON v. CODY RHODES & TED DiBIASE
The heels go to work on Jackson, but Jackson comes back with a double shoulderblock. Rhodes takes advantage of a DiBiase distraction to take control. Tag is made and DiBiase chokes away. Time to hit the chinlock at a whole 30 seconds in. Jackson tries to come back to no avail. DiBiase stomps away in the corner, but Jackson sends DiBiase airborn and drops him on the turnbuckle. Tag is made and Jackson meets Rhodes with a right hand. He hits a bodyslam. His moveset thus exhausted, Jackson opts for another bodyslam. He hits another...BODYSLAM! Damn you, Josh Matthews, it's NOT a "powerslam"! Jackson goes for the Torture Rack, which any idiot will note is ill-advised in a handicap match. Sure enough, DiBiase breaks it up. Jackson dumps DiBiase and hits Rhodes with a hip toss. Jackson's corner charge eats the steel post and Rhodes finishes with Cross-Rhodes in ANOTHER two-minute special.

WINNER: Cody Rhodes & Ted DiBiase - Ok, seriously. Is Zeke in the doghouse or something? Is there a reason he's been jobbing so much lately?

Suddenly, Jinder Mahal takes a mic and starts talking from the skybox...in Hindi. Can I get subtitles for the evil foreigner, please? Khali takes the mic...and talks Hindi. Oh, for fuck's sakes. That was a waste of a segment.

The SummerSlam recall - Shawn Michaels v. Razor Ramon from SS '95

Ad break

R-TRUTH v. RANDY ORTON
We start with a lock-up and Orton grabs a side headlock. Orton hits shoulderblocks, as Truth backs himself into the corner. Truth goes to work, but a corner whip is reversed. Orton hits a clothesline for 2. Orton misses a big kneedrop and Orton hits a Harlem sidekick for 2. The fight goes to the outside, as Orton's head gets tossed into the barricade and the apron. Truth gets distracted by the "R-Truth Sucks" chant and nearly gets taken down with the hanging DDT, before Truth gets a thumb to the eye and hangs Orton on the ropes. Truth hits a nice vertical suplex/Stunner hybrid for 2. Christian comes out to observe the proceedings from the ramp to send us to our last ad break of the night.

We come back with Orton making the babyface comeback, but gets caught with the Lie Detector for 2! Truth chokes away on the ropes and hits the chinlock. Orton fights out of it, but gets hit with a back elbow for 2. Truth goes for a Savage Axehandle, but gets caught on the way down. Truth's corner charge eats boot and Orton makes the babyface comeback. Snap powerslam hits. Orton mugs to the crowd. He's been doing that A LOT tonight! Hanging DDT hits! VIPER COIL! Christian heads down to the ring, as Truth escapes to the outside. Orton gives chase, but Truth shoves him into the apron. Christian gets the referee's attention, as Truth hits Orton with the dreaded WATER BOTTLE! Orton is miraculously able to recover from this plastic-based attack. Orton takes a drink from the fallen water bottle, as even Booker points out the stupidity of Matthews referring to a WATER BOTTLE as a weapon. Orton hits Truth with a spear and goes to the mounted punches. Orton decides to grab a REAL weapon in the form of a steel chair, which sends Christian retreating to the ramp. Orton whacks Truth with the chair to end this match.

WINNER: R-Truth - This was ok, but nothing to go nuts about.

Post-match, Orton continues the beatdown. The fight goes to the announce table, as Orton sets up shop to do some damage. Orton bashes Truth on the noggin with a monitor. Orton sets up Truth and hits the RKO on the announce table...which DOESN'T break! Truth is DOA, as Orton stalks Christian up the ramp. Orton's voices start talking to him, so he decides to go back towards the announce table, AGAIN mugging to the crowd! Is he morphing into John Cena or something? What the hell is this? Anyway, Orton grabs Truth and hits another RKO on the announce table...and it STILL doesn't break! Ok, who's the prankster that decided to make the announce table out of REAL wood this week? Randy Orton's music hits to end the show.

FINAL THOUGHT

This show...kinda sucked. Aside from Morrison/Christian, everything else was short, bad, or both. Orton/Truth was more angle advancement than anything else, to push the No Holds Barred stipulation. Then we had the Divas, the tag title match, the handicap match, and the Mark Henry nonsense, all of which didn't add up to 10 minutes of match time combined. What is this? TNA?

Thumbs down for this week. Until next week!

(edited by It's False on 31.7.11 0125)
---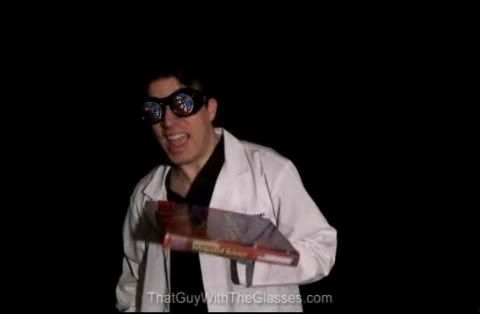 "I brought SCIENCE!"

Promote this thread!
ekedolphin
Scrapple



Since: 12.1.02
From: Indianapolis, IN; now residing in Suffolk, VA

Since last post: 1 day
Last activity: 6 hours

#2 Posted on | Instant Rating: 2.24
Nice to see Zack Ryder get some television time. I wonder if the "assistant GM" thing will last longer than just one episode.

Sheamus' face turn was... interesting. I think he's talented enough to pull it off. Good to see someone is willing to stand up to Mark Henry, though if Teddy Long was really that concerned, he'd suspend him. Especially with a pending lawsuit by a non-wrestler.

I would have liked to see The Usos win the tag-team title here so that Otunga and McGillicutty (minor nitpick: two T's, not D's) could immediately be sent down to FCW for more training, but it wasn't to be. On Superstars, Santino's been trying out different tag-team partners to battle New Nexus in non-title matches. He and Masters lost to them; he and Kozlov beat them.

Hell, Drew McIntyre's not doing anything, and in fact we still don't know if he's all right after Big Show attempted to slam him off the stage two weeks ago on RAW and he went flying into a black hole. Turn McIntyre face, team him with someone and have them win the tag-titles. Or give them to Rhodes and DiBiase. Something.

While they're at it, they need to get the I-C Title off of Jackson.

I wonder if Triple H's tacit admission that both Cena and Punk have legitimate claims to the WWE Championship means that they are literally both recognized as WWE Champion.

The table didn't break at MITB either when Orton RKOed Christian twice. Maybe they're using the same table. Explain to me again how a sociopath is a good guy? He's not even funny like Belkar Bitterleaf from The Order of the Stick.

As mediocre as Booker T is on commentary, that booth would be greatly improved by simply removing Michael Cole. It's like WWE is trying to get people to change the channel.

(edited by ekedolphin on 31.7.11 0641)

---
"Some people never go crazy. What truly horrible lives they must lead."
--Jonas, The Hit List
Fan of the Indianapolis Colts (Super Bowl XLI Champions), Indiana Pacers and Washington Nationals
Certified RFMC Member-- Ask To See My Credentials!
Co-Winner of Time's Person of the Year Award, 2006
AegisD
Cotto



Since: 22.5.10

Since last post: 1775 days
Last activity: 1631 days

#3 Posted on
Anyone else notice Randy watching where he was (gingerly) walking while he was setting up Truth for the RKO on the table?
JustinShapiro
Scrapple
Moderator




Since: 12.12.01
From: Pittsburgh, PA

Since last post: 23 days
Last activity: 9 hours

#4 Posted on | Instant Rating: 9.15
Cole in the Daniel Bryan segment was literally the worst announcing job of his career. Just unacceptably awful.

Aside from that and beating JoMo in his first match back, I thought it set up a lot of good things. Christian getting wins, Ryder getting a big TV role, Sheamus' turn, Bryan/Wade program.
shawnpatrick
Kishke



Since: 31.7.07
From: Leesville SC

Since last post: 2196 days
Last activity: 2078 days

#5 Posted on | Instant Rating: 2.53
They've done an incredible job turning Mark Henry into a monster... And I think turning Sheamus into a face is great and well needed now, and certainly a face who has a credible chance of beating Henry, I love the upcoming Henry vs Sheamus match.
Amos Cochran
Lap cheong



Since: 28.8.09

Since last post: 1238 days
Last activity: 1238 days

#6 Posted on | Instant Rating: 5.55
Originally posted by JustinShapiro

---

Cole in the Daniel Bryan segment was literally the worst announcing job of his career. Just unacceptably awful.

---


Seriously. I like Cole, for the most part, but that was "Al Snow upset at Mick Foley" embarrassing. I have no idea what that was supposed to accomplish.