It's False
Scrapple



Since: 20.6.02
From: I am the Tag Team Champions!

Since last post: 45 min.
Last activity: 8 min.

#1 Posted on | Instant Rating: 8.96
TONIGHT! Can this show hit a lower point than it did last week? I've got the vodka bottle in case it does. SmackDown is NOW!

WWE - The Champ Is Here!

Opening credits - Do You Know Your Enemy? Opening pyro! We are taped from Ric Flair's hometown of Charlotte, NC!

We start off with Alberto Del Rio. Tony Chimel's introducing ADR, because Ricardo Rodriguez is walking down the ramp with him, along with Brodus Clay. Del Rio's coming down the aisle because of what happened at Wrestlemania with Edge destroying his car. Hasn't it been established that Del Rio owns a bazillion cars? Can't he just get another one? Anyway, that takes us to your hosts for tonight, Josh Matthews and Booker T. As I start to wonder if we're missing someone, sure enough, Michael Cole cuts in THANKFULLY not wearing his singlet, so at least I don't have to see his nipples. Anyway, ADR's got the mic, so it's promo time.

"My name...my name is Alberto Del Rioooooooo! But you already know that. What you may not know is that destiny can be delayed. But hey hey hey hey, destiny can't be stopped. Last Sunday in Wrestlemania, my destiny was delayed. Was delayed by that opportunist, Edge. Oh, and the coward, el perro asqueroso, Christian! Together...together destroy my Wrestlemania moment. Together...they destroyed my car. My beautiful Rolls Royce. I paid $120,000 for that car. But don't get me wrong, because it's not about the money. Those cars are like my children. And I know they think they broke me, but it's not like that, because I'm gonna make them pay. And when I fulfill my destiny and I become the World Heavyweight Champion, everything that Edge did to my car..."

Interruption comes from Edge...I think. Oh, he's not coming down the aisle. He's driving in a tow truck with ADR's totaled car. Edge has his own mic, so he'll go ahead and take things from here.

Edge: Alberto, Alberto, Alberto, you know, when I saw you crying and hugging your car at Wrestlemania, and naturally I assumed it's because you're a greedy, arrogant, narcissistic moron. Yeah, yeah, who puts materialistic things over else...over everything else in his life. But then when you said that these...this car is like your child, it almost made me re-assess things. Because if this is like your child, then you need to love him unconditionally. I mean, yeah, he might be a little bit damaged, but it's nothing a little tender loving care can't fix. So...so just bear with me. Just watch.

Edge takes a yellow spray can and spray paints the car's hood.

ADR: Hey! Hey, you think this is funny? You think this is funny, naco! Everything is a joke for you? Hey! Just remember this! I had you this close...THIS CLOSE from tapping out in Wrestlemania!

Edge: Yeah, but guess what? You didn't get the job done! And that's why you're standing in the ring whining and crying and I stand here the World Heavyweight Champion!

ADR: Nonononono, this is what you gonna do. You're gonna give me a rematch. And that way, you're gonna redeem yourself from your behavior in Wrestlemania. And that's what you gonna do!

Edge: Rematch? Rematch? Hey, Alberto, you know, as much as I'd love to give you a rematch, I really would...like you said, it's destiny and you can't change it and you lost. So I think maybe you should buy a new car, drive to the back of the line, because there are so many other people that are...that are worthy of title shots. So many worthy contenders ahead of you, like...

The tow truck's horn starts honking, stopping Edge in his tracks.

The tow truck's drive comes out and it's Christian! And he's wearing the Brisco Bros. body shop uniform, just for fun.

Edge: Like Christian! I mean, am I mistaken, but he's beaten you once. Wait, he's beaten you TWICE! Which means he's WAY ahead of you in line. But I tell you what, if it's a fight you want, I got your destiny.

Edge makes his way down the ramp, but gets interrupted by Teddy Long.

Long: Wait, wait! Wait a minute, Edge! Wait a minute, Edge, Christian! Just a minute! Now you playas can talk about destiny all you want, but this is still my show. So I tell you what, if we're going to settle this, then we're going to do so in a match. So tonight, Alberto Del Rio will go one-on-one with Christian. The winner will face Edge for the World Championship at Extreme Rules! Now playas, let me explain something to you about Extreme Rules. It's the night that the WWE will go extreme! So the title will be on the line in Edge's specialty: a Ladder Match!

Play Long's music! Our main event it set for tonight.

Later tonight, we'll play a Raw segment in its entirety. Who cares which one, really? But up next, The Corre guys get their Wrestlemania rematch in a 2 out of 3 falls match. Hey, that means they'll definitely last longer than two minutes! Maybe.

Ad break

KANE, THE BIG SHOW, SANTINO MARELLA & KOFI KINGSTON v. THE CORRE: 1st FALL
We take a look at Wrestlemania where Big Show wiped out Heath Slater with the Mayweather Special, which was nearly THE WHOLE MATCH!

We start with Santino and Justin Gabriel. We get a feeling-out process that lasts nearly as long as the entirety of the Wrestlemania match. Heath Slater gets tagged in and he stomps away on Santino in the heel corner. Slater telegraphs a right hand, so Santino turns it into a hiptoss. He rams Slater into the face corner and tags in Kane. Kane hammers away in the corner and hits the seated dropkick. He tags in Show, who hits a big chop. Big bodyslam. Show walks over Slater and hits a big headbutt. Tag is made to Kofi, who comes off of Show's shoulders to hit a big splash. BOOM BOOM BOOM! Kofi goes for Trouble In Paradise and the rest of The Corre guys pull Slater out just in time. That takes us to our next ad break.

We come back with Kane slamming Wade Barrett's head into the turnbuckle and hammering away in the corner. Corner charge eats elbow and Barrett tags out to Ezekiel Jackson. If I'm not mistaking, this is the first time Jackson's actually wrestled in months. Kane grabs a side headlock. Kane comes off the ropes and shoulderblocks go nowhere. Kane comes off the ropes again, but gets tripped up and Jackson clobbers him. Jackson tags out to Slater, who goes to work on Kane in the heel corner. Tag is made to Gabriel, who continues the onslaught before tagging out to Barrett. Barrett stomps away some more and tags out to Jackson. Jackson tags out to Gabriel, who hits a top-rope missile dropkick for 2. Gabriel grabs a headlock, but Kane overpowers him and tosses him before tagging Kofi. Kofi comes in with a springboard clothesline and hits a high dropkick. He looks for the jumping clothesline in the corner and misses. Gabriel walks into Kofi's high kick counter and Kofi hits the frog crossbody for 3!

WINNERS: Kane, The Big Show, Santino Marella & Kofi Kingston

KANE, THE BIG SHOW, SANTINO MARELLA & KOFI KINGSTON v. THE CORRE: 2nd FALL
We come back with Slater hitting the chinlock on Santino. Santino tosses Slater off, but Slater takes control quickly with a forearm. Slater comes off the ropes, but Santino kips up and does his splits duck, before hitting an armdrag. Saluting gorilla press hits. Santino winds up for THE COBRA~!, except he doesn't notice that Slater's tagged out to Barrett, who wipes him out with a big boot. Barrett finishes with Wasteland for the 3.

WINNERS: The Corre

KANE, THE BIG SHOW, SANTINO MARELLA & KOFI KINGSTON v. THE CORRE: 3rd FALL
Barrett charges in and wails away on Santino. He brings Santino back to the heel corner and tags out to Slater. Slater chokes away, as the heels work over Santino. Slater tags out to Jackson, who hits a right hand. Jackson hits the corner lariat for 2. Gabriel is tagged in and he comes in with a senton for 2. Time to hit the chinlock! Gabriel hits an inverted Russian legsweep for 2. He looks for a springboard Vaderbomb and misses. Tags are made on both sides and Kane goes to work on Barrett. Corner clothesline and side slam hit for 2. Kane hits the top-rope clothesline, but Jackson breaks up the cover and we've got a Pier 8. Kane wants a chokeslam, but The Corre guys quadruple team him for the LAAAAAAAAAME DQ! Are you shitting me?!

WINNERS BY DQ: Kane, The Big Show, Santino Marella & Kofi Kingston - They're just messing with us now, right? Who the hell books a DQ finish in a 2/3 falls match?! Was this a case where people were pissed off over the 2 minute match at the PPV, so they thought it'd be funny to go completely in the other direction and piss people off with a 20-minute DQ finish?

Post-match, faces clear the ring. Hit Show's music. Bite me.

Later tonight, Christian faces Alberto Del Rio for the chance to face Edge in a PPV opener. This show has major problems.

Ad break - WWEShop.com promo

Sin Cara promo

CODY RHODES v. TRENT BARRETA
Trent Barreta gets no entrance, because he's cannon fodder. Cross-Rhodes, goodbye at 90 seconds.

WINNER: Cody Rhodes - SQUAAAAAAASH!

Post-match, Cody Rhodes keeps the punishment going until Rey Mysterio's music hits. Rey runs to the ring and tries to take Cody's mask off. Cody manages to escape, as Rey's music hits again.

Up next, John Cena confronting The Rock from Raw.

Ad break

Here's the main event interview from Raw IN ITS BLOODY ENTIRETY! We're a Kelly Kelly/LayCool match away from me bashing my head against the wall. Oh, and those four guys that you just saw in a 20-minute DQ match? Those are the four guys that just ran in and got dispatched, Spirit Squad-style. Just...great.

Backstage, Edge wishes Christian luck. Edge points out their history in ladder matches and that they helped revolutionize them. You know, an Edge/Christian ladder match really would be the most interesting thing they could do when you look at it that way. So naturally, Christian's losing, isn't he?

Ad break - Tough Enough promo

LAYCOOL v. KELLY KELLY & "THE GLAMAZON" BETH PHOENIX

**bashes head into wall, falls unconscious**

WINNERS: Kelly Kelly & "The Glamazon" Beth Phoenix - I hate everybody.

Later tonight, #1 contender's match.

Ad break - DX DVD promo

Now here's a Michael Cole promo and...no...just NO! I've completely lost all patience for this show and I am NOT about to put up with a FUCKING MICHAEL COLE PROMO! NOT TONIGHT!

Cole talks loud and says nothing (tm CRZ), Swagger says absolutely nothing of note, Sin Cara comes out and wipes out Swagger. I hope that dispels any myth that any of this nonsense was supposed to help Swagger get over at all. Let's just move on! PLEASE!

Here's footage of the Tough Enough promo from last Monday's Raw. WHY THE HELL DO WE NEED TO SEE THIS AGAIN?! WHAT PURPOSE DOES THIS SERVE FOR THIS PARTICULAR SHOW?!

Coming up next, the #1 contender's match. Is this show over yet?

Ad break

Backstage, Layla offers Michelle McCool a couples therapy meeting. Oh boy...that has the potential for Hornswoggle-level stupidity. Hell, I wouldn't be shocked if the therapist was Hornswoggle!

Your hosts are Josh Matthews and Booker T with no sign of Michael Cole, which is too little, too late for this show. They send it off to a HOF recap.

Tony Chimel hands the mic off to Ricardo Rodgiguez and...oh, forget what I said earlier, Cole's still here. Lucky me. This week, Alberto Del Rio joins us in...NOTHING, because he still doesn't have a car, allegedly. The main event is next.

Ad break

ALBERTO DEL RIO (w/BRODUS CLAY) v. CHRISTIAN
You know, the more the announcers talk about how awesome it would be to see Edge face Christian, the more obvious it becomes that Christian's losing here. Edge's music hits to bring out Edge. Edge joins the commentary team, as the bell rings.

We start off with Del Rio on the offensive. Del Rio grabs the side headlock and takes Christian down with a shoulderblock. Now we move to the test of strength, which ADR wins with the cheap shot. Christian hits shoulderblocks for less than a one-count (Booker: "Almost got him there!"). Christian grabs a side headlock, as Edge and Booker reminisce about their Wrestlemania match. The words "shampoo commercial" are thankfully not mentioned. Christian hits a LOUD uppercut! Christian bounces to the outside, but Del Rio avoids the uppercut. So Christian chases after him and dumps him. Christian keeps him out with a seated dropkick. Edge taunts Del Rio with his hood ornament and the title to take us to our last ad break of the night.

We come back with Del Rio shoving Christian into the steel steps. Del Rio follows by shoving Christian into the barricade. Here's some choking. Back in the ring, Del Rio hits chinlock.

Cole: Edge, I gotta ask you. Has Alberto Del Rio pressed charges against you for the damage to his personal automobile.
Edge: No, he hasn't. But you know what? I'd like to press charges against YOU for TRYING to look like an athlete at Wrestlemania.

Is it sad that that's been the most entertaining part of this match so far? It feels like these two don't have it tonight, which is an apropos way to end this wretched show. Del Rio hits a backbreaker for 2. Del Rio chokes some more. Del Rio comes over with a soccer kick for 2. Christian pulls up to the corner, so Del Rio nails him with a charging soccer kick. Del Rio slaps Christian in the corner, so Christian responds with an uppercut. He scales the turnbuckles and gets caught! Del Rio hits a big superplex to get this match going! Both men roll around through the 8 count. Del Rio gets up first and tries to pick up Christian, but Christian's playing possum and cradles Del Rio for 2! Del Rio pounces with the seated dropkick and pounds away! Christian clotheslines Del Rio and both men take a spill to the floor. Del Rio sends Christian into the steel post. Both men beat the count, but Del Rio misses the second-rope senton. Christian hits a forearm and hits a second-rope dropkick for 2. Christian scales the turnbuckles again and hits a top-rope crossbody for 2. Christian wants the Kill Switch, but Del Rio sets him up for the swinging jujigatime! Christian shoves Del Rio into the corner, but misses the corner charge. Del Rio's own corner charge is met with a boot to the gut and Christian gets a springboard sunset flip, but Del Rio counters that with a catapult! Del Rio gets the swinging jujigatime, but Christian reaches the ropes. Del Rio charges at Christian on the apron and gets hung. Christian gets back on the apron, but Brodus Clay comes over looking to cause trouble. That brings out Edge, who wipes out Clay with the spear. Christian reaches the top rope, but Del Rio's recovered and hits him with the pop-up enziguiri for the finish!

WINNER: Alberto Del Rio - That one took a while to get going, but it had a hot finishing sequence. But yeah, I probably should have known better than to think we'd get something cool like an Edge/Christian ladder match.

Del Rio celebrates on the ramp to end the show.

FINAL THOUGHT

I'm seriously about to lose my mind with this show. I can't even compare it to last week's show, because it was a completely different kind of terrible. But the endless repeats of Kelly Kelly/LayCool are the least of this show's problems at this point.

Look, we're all aware that SmackDown's considered the lesser of the two shows. But never has it been more evident than the last two weeks. The four-man stable that was supposed to running wild on this show has almost zilch in the way of credibility and they hold 2/3 of the show's titles! There are STILL no credible midcard babyfaces aside from Kofi Kingston. And the big prize that everyone's supposedly fighting for isn't even good enough to go beyond "PPV Opener" status. Look at the layout of the Wrestlemania matches. The first three matches were all SmackDown and ALL of the Raw matches closed the show. It's one thing to have an assumption that this is the B show, but it's another to have that completely thrown in your face.

This show has major problems and if it's going to become compelling television again, it needs an overhaul FAST. And sadly, it's an overhaul that may never come, considering we haven't heard squat about the draft.

(edited by It's False on 9.4.11 1314)
---
Promote this thread!
ekedolphin
Scrapple



Since: 12.1.02
From: Indianapolis, IN; now residing in Suffolk, VA

Since last post: 343 days
Last activity: 181 days

#2 Posted on | Instant Rating: 3.76
I'd like to thank you for sticking it out and doing the recap (even doing a recap of last week's show!) even though you're clearly not enjoying it. I hope the ops realize they're fortunate to have you, and I hope WWE gets it act together and puts on a compelling SmackDown show in the near future that won't make you want to rip out your own eyeballs.
---
"You are boring me to death, and I'm already dead. You're boring me back to death."
--Zombie in a Starburst commercial
Fan of the Indianapolis Colts (Super Bowl XLI Champions), Indiana Pacers and Washington Nationals
Certified RFMC Member-- Ask To See My Credentials!
Co-Winner of Time's Person of the Year Award, 2006
InVerse
Andouille



Since: 26.8.02

Since last post: 3 days
Last activity: 2 hours

#3 Posted on | Instant Rating: 1.57
I think Kelly Kelly deserves to be commended for being the only one to pay tribute to Ric Flair while wrestling in Charlotte. That was a very Flair-esque cross body she landed on Layla.
BigDaddyLoco
Scrapple



Since: 2.1.02

Since last post: 1 day
Last activity: 2 min.

#4 Posted on | Instant Rating: 6.00
So, Edge destroys the car. Then he just takes the car and pays for it to be shipped to Carolina. Del Rio not pressing chrarges is one thing, but how does he let this happen?


InVerse
Andouille



Since: 26.8.02

Since last post: 3 days
Last activity: 2 hours

#5 Posted on | Instant Rating: 1.57
Originally posted by BigDaddyLoco

---

So, Edge destroys the car. Then he just takes the car and pays for it to be shipped to Carolina. Del Rio not pressing chrarges is one thing, but how does he let this happen?

---


Del Rio has 500 other cars, what does he want with a wrecked piece of junk? Why not let Edge have it? Even in that condition it's probably the nicest car he's ever owned. Del Rio is taking pity on the commoner, throwing him a bone, so he'll have something to console him once he loses the big gold belt.

Sheamus in a tables match. Jack Swagger & The Miz via cheap Money in the Bank cash-ins. Now Del Rio presumably in a ladder match. When was the last time someone won a world title for the first time by pinning the reigning champion clean in a standard match?

December of 2008, Jeff Hardy cleanly pinned the champion, Edge, but it was in a triple threat match.

The Great Khali won the World Heavyweight Championship in July of 2007 in a Battle Royal.

June of 2006, RVD pinned John Cena to win his first WWE Championship but it was in an Extreme Rules match that involved Edgeferance.

So the answer is...

John Cena won his first WWE Championship by cleanly defeating JBL at Wrestlemania in April of 2005.

On the same night, Batista would defeat HHH cleanly to win the World Heavyweight Championship for the first time.

Six years since they had the balls to truly elevate someone with a world title win.
geemoney
Scrapple



Since: 26.1.03
From: Naples, FL

Since last post: 13 days
Last activity: 1 hour


AIM:
#6 Posted on | Instant Rating: 9.17
I'm not sure why you're ragging on how terrible the show was last week. It's not like WWE tried to make it an awesome show and failed miserably...it was supposed to be a hype piece for 'Mania, and that's what it was. It wasn't great to sit through (which I had to to recap it too), but they did the same thing last year, too, so it shouldn't be totally unexpected either.
dwaters
Lap cheong



Since: 16.10.02
From: Connecticut

Since last post: 3 days
Last activity: 18 hours

#7 Posted on | Instant Rating: 8.38
Unintentionally hilarious show highlight--

Jack Swagger talking up Michael Cole.

"This is a great man from head to toe.." (points to feet when saying head and points to head when saying toe)
Coulda been on purpose, but funny either way.

He's such a Biff, only this time he's helping little Marty McFly (Cole).
Peter The Hegemon
Lap cheong



Since: 11.2.03
From: Hackettstown, NJ

Since last post: 5 days
Last activity: 1 day

#8 Posted on | Instant Rating: 5.04
With the first pick in the 2011 WWE Draft, Smackdown selects...the Raw recap segments from Superstars!
Matt Tracker
Scrapple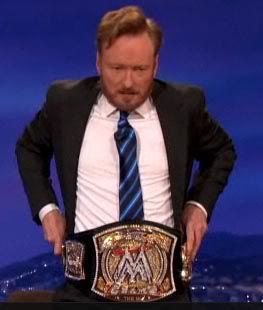 Since: 8.5.03
From: North Carolina

Since last post: 25 min.
Last activity: 0 sec.

#9 Posted on | Instant Rating: 8.71
Is that three consecutive weeks of Christian/Alberto? That's good for both of them, but they tread water until Edge defends the belt again. I'm glad Christian has this spotlight but it doesn't help him unless this angle takes a turn. Not a swerve, mind you. But a significant evolution.

I hoped Rhodes could move on to a new feud. I hoped we see a new contender for Wade's IC belt. I suppose we are in a holding pattern until the draft. I could go for Swagger/Cara.


---

"To be the man, you gotta beat demands." -- The Lovely Mrs. Tracker
JustinShapiro
Scrapple
Moderator




Since: 12.12.01
From: Pittsburgh, PA

Since last post: 2 min.
Last activity: 32 sec.

#10 Posted on | Instant Rating: 8.71
I kind of liked this show. It was a nice change of pace just to have regular wrestling stuff going on without John Cena or Michael Cole doing anything deleterious to the corre product.