It's False
Scrapple



Since: 20.6.02
From: I am the Tag Team Champions!

Since last post: 2 days
Last activity: 1 min.

#1 Posted on | Instant Rating: 4.80
TONIGHT! It's "win or you're out" for David Otunga, as fights for his spot in Nexus against Edge. Plus, The Big Show's not happy about the chokeslam he got last week. He'll go one-on-one with Kane tonight. SmackDown is NOW!

WWE – The Champ Is Here!

We start with a video package spotlighting David Otunga's predicament from Monday's Raw. He must win tonight or he's out!

Opening credits – Do You Know Your Enemy? Opening pyro! We are taped from Manchester, England! Tonight, it's Edge/Otunga. Isn't "excommunicated" a rather…melodramatic word to be using? Nexus isn't a religion, guys. Plus, Kane faces Big Show over what happened last week.

We start the show with Edge coming to the ring in street clothes. Anyone else notice that Chimel's voice goes up about ten octaves every time he introduces Edge? ("The Rated R SOO-perstar!") Good lord, I hope no one's taking a drink every time someone says the word "excommunicated" tonight, because I sense the announcers will be using that one a lot. Just for fun, let's keep count. But first, it's promo time for Edge.

"I'm gonna be honest with you, I don't know about the rest of you, but I am a busy guy. I really am. I looked at my agenda for the next few months. It's packed. It's packed. I'm gonna start backwards. I hope you don't mind and if you do, too bad. Here's the thing, I'm gonna start with hoping that all of you have tickets for Atlanta and Wrestlemania. Yeah, you see, because I am going to walk into Wrestlemania as the World Heavyweight Champion. I've main evented Wrestlemania before and I plan on doing it again. Now I know you're probably asking yourself the question, you're probably saying, 'Edge, that means you'd have to go through Kane.' And I will admit that's a tough task. Some might say it's impossible, but trust me, like I always do, I have a plan. The end of that plan sees me walking out of Miami, walking out of Survivor Series as a 10-time, God I gotta say it again because it sounds so good, 10 TIME World Heavyweight Champion!" Pause for 'Edge' chant. "Which brings me to my agenda tonight…David Otunga." Pause for boos. "My feelings too. Mr. A-list. The guy who thinks he's going to walk through me so he can stay in Nexus. No, Otunga, I really hope you keep depending on your wife. I hope she keeps making movies, because while she's walking the red carpet, you're going to be walking the unemployment line."

Interruption comes from Nexus and their music, led by Otunga. Barrett and Cena are absent again, because leaving Otunga in charge of these guys worked so well last week. The NNNNN surround the ring and Edge gets ready for a fight. Save is made by…Vickie Guerrero?

"Hold on, gentlemen! Stop right there. I have a huge announcement. Teddy Long has been detained by customs and he is not able to be here tonight, which means I'm in charge. Now Otunga, since I'm in charge, if any of your Nexus members step into this ring, you will lose your match tonight. And you know what that means, you will be excommunicated from Nexus. Now ladies and gentlemen, I have a HUGE show planned for tonight. Tonight, you will see The Big Show versus Kane and David Otunga versus Edge. Now I do not want a repeat from last week and I am not going to be somebody like Teddy Long that loses control of his show. I know that Nexus wants to be involved really, really bad and I am going to allow them to surround the ring tonight. Don't worry, Edge, because they will be joined by the entire SmackDown roster. Now excuse me, Edge, but I just want to let you know that since we are in Manchester, I think it's proper that we start this tonight with the both of you shaking hands like fine Englishmen. Otunga, get in the ring and the rest of Nexus get on the floor, now! Or Otunga, you WILL forfeit your match!" Otunga doesn't look amused, as he comes in and Nexus hits the ringside floor. "Now gentlemen, your match will now be a lumberjack match, so if y'all can make peace and shake hands, then we can get on with the rest of this night."

Otunga extends his hand and Edge opts to walk away. Vickie doesn't take kindly to that, so she threatens to take Edge out of the PPV title match if he walks. Cole actually remembers that these two were once married, which makes my head spin. Both men shake hands as we get a light "Spear" chant. Edge manages to hear that, so he stops before leaving the ring and decides to spear Otunga off the apron, dropping him on top of the rest of Nexus. Slater and Gabriel try to run in, but Edge is long gone. Hit Edge's music!
"EXCOMMUNICATED" COUNT: 3

We go outside the arena where Alberto Del Rio pulls up in a white Rolls Royce. He keeps the drive going, as he'll face Kofi Kingston next.

Ad break – Knucklehead DVD promo. WWE SmackDown vs. Raw 2011 promo.

ALBERTO DEL RIO v. KOFI KINGSTON
Thankfully, Alberto Del Rio has Christian's pyro again. That was a terrible one-week period.

We start off with a lock-up and ADR backing Kofi into the corner. ADR playfully taps Kofi on the cheek, so Kofi responds with some forearms and kicks. High dropkick gets 2. Corner charge eats boot and Del Rio hits a clothesline. He kicks away in the corner before the ref pulls him off. Bodyslam and kick to the back precede a quick small package for 1. Del Rio whips Kofi into the corner and hits a shoulderblock. Kofi gets whipped into the ropes where Kofi gets a pair of leapfrogs and a back elbow. ADR backs into the corner, so Kofi goes for some corner punches – this week, it's 5. European uppercut sends Del Rio to the outside. ADR tries to charge in, but a dropkick sends him back out. Kofi follows that up with a suicide dive through the ropes! Kofi rolls ADR back in for 2. Kofi whips ADR into the ropes for another leapfrog, but ADR stops himself and backdrops a charging Kofi onto the apron. Del Rio then connects with the enziguiri to send Kofi to the outside. That'll take us to our next ad break.

We come back with Del Rio hitting the chinlock, as we get a replay of the enziguiri. Del Rio hits some mounted punches with a handful of dreadlocks. Del Rio MOCKS Kofi's "boom", which is awesome! Kofi doesn't think so, though, as he fights his way back up, but Del Rio wheelbarrows him out of the corner for 2. Time for some choking and some kneedrops. Back to the chinlock, but that doesn't last too long before Kofi fights out of it. He kicks ADR into the corner and pounds away. He knocks Del Rio down with some double chops and a dropkick. Stinger splash misses, but Kofi counters a corner charge with a boot and hits a springboard frog crossbody block for 2. Del Rio looks for a clothesline, so Kofi gives him his cheesy Superman punch. Buzzsaw Legdrop follows. BOOM BOOM BOOM, but Del Rio ducks out before Kofi can hit Trouble In Paradise. Kofi gives chase, but that allows ADR to slam Kofi's shoulder into the steel post. Del Rio dropkicks the shoulder for good measure. Before Kofi can recover, Del Rio swoops back and locks in the swinging jujigatime and that'll be it for Kofi at 12 and a half minutes shown.

WINNER: Alberto Del Rio - Man, crowd was DEAD for this one. Too bad, because these two had a pretty good match. Surprised they'd job Kofi in such a clean fashion, though.

Post-match, Rey Mysterio's music hits and Rey rushes the ring. Rey hits his own enziguiri and wipes out Del Rio with the 619.
"EXCOMMUNICATED" COUNT: 4

Backstage, Nexus (minus Otunga) talk about changing their gameplan. Otunga enters the picture and pleads for their support, before rallying the troops.

Later tonight, The Big Show faces Kane.

Ad break – Old School Raw promo

NATALYA v. LAYLA
Announcers note that Natalya faces both members of LayCool at Survivor Series for the Divas Championship. And lord knows, that HAS to be the blowoff match, right? Layla comes down without Michelle McCool and I'm guessing it's because Michelle doesn't so European tours.

Wrestling sequence starts us off and Natalya wins that battle with a Davey Boy vertical suplex for 2. Layla tries to leapfrog a corner whip attempt, but Natalya catches her. Layla shakes out of her grip and shoves Natalya into the ropes to hit a dropkick. Layla nails a big kick to the head for 2. We hit the provocative headscissors. Scissor me timbers! Natalya powers out of it and turns it into a backbreaker. That looked really impressive, but you wouldn't know it from this dead crowd. Layla hits a clothesline, but legdrop misses. A Layla corner charge misses and Natalya hits a bodyslam. Discus clothesline follows. Butterfly suplex gets 2. Layla suckers Natalya into the corner and pulls her head into the turnbuckle. Layla tries to follow up with a kick, but Natty catches that one and…yeah, you know what happens from here. Sharpshooter ends this one at 4 minutes.

WINNER: Natalya - Crowd was dead for this one, too. And I can't really blame them, because this match is PLAYED. Let's hope Survivor Series ends this feud, once and for all.

We go backstage to Paul Bearer and Kane. Oh good, I was starting to miss the cheesy horror music. Kane talks to the crowd. "Many of you all around the world hope that Edge can defeat me at Survivor Series and become World Heavyweight Champion. Hope is the motto of the desperate. Yet all you sheep cling to the hope that Edge will find a way to beat me. You believe in Edge just like you believed in The Undertaker. You remember what happened to The Undertaker, don't you? I buried him, along with all of your hopes, all of your dreams, every last part of you that thought that you could succeed at anything in your meaningless lives! And tonight, you insects HOPE that The Big Show can exorcise the evil from The Devil's Favorite Demon. Oh, he won't. Because nothing can stop me. Not a phenom, not a giant, and certainly not the pathetic hopes of any of you. *I* am your champion! And the places that I intend to leave you will have you begging for the darkest corners of hell. HAHAHAHAHAHA! HAHAHAHAHA! HAHAHAHAHA!"

Up next, David Otunga faces Edge in a lumberjack match.
"EXCOMMUNICATED" COUNT: 5

Ad break – WWESHOP.com promo

"THE RATED R SUPERSTAR" EDGE v. DAVID OTUNGA (w/NEXUS): LUMBERJACK MATCH
After both men make their entrances, the SmackDown roster comes out of the locker room. Holy crap, someone give Kofi Kingston a raise, because he's TAPED UP his arm to REALLY sell Alberto Del Rio's cross armbreaker! That's dedication to the craft! Hey, what's Goldust doing here? Holy hell, it's a FINLAY sighting! GODDAMMIT, Striker just said the exact same thing!! I hate him so much sometimes. The SmackDown roster completely backs Nexus up to the aisle, pretty much nullifying their presence, as the bell rings.

Edge charges Otunga in the corner to start us off. He whips Otunga into the opposite corner and hits a spinning heel kick. Edge clotheslines Otunga over the top and Rey Mysterio gets a cheap shot in, as the rest of the SD roster backs Nexus off. Otunga gets rolled back in, where Edge takes him down again. Otunga looks around for escape, but the lumberjacks keep him in. We go to our next ad break.

We come back with Edge tossing Otunga to the wolves. The SD roster beat the crap out of Otunga before tossing him back in for a two-count. Edge whips Otunga into the ropes, but it's reversed and Otunga tosses Edge out of the ring. He lands next to a group of SD heels (Del Rio, McIntyre, etc.), but they opt to let Edge back in peaceably. Or maybe not, as Alberto Del Rio slams Edge's head on the apron. The other lumberjacks toss Edge back in, as MVP tears ADR a new one. Otunga goes to work on Edge with his dizzying array of punches and chokes before covering for 2. Otunga hits the chinlock, because what else would you expect from this clown? Edge fights back up, but runs into a back elbow for 2. Stomp, elbow, elbow, stall, elbow. Shockingly, this onslaught only gets 2. Otunga hits a vertical suplex for 2. Exhausted from performing an actual wrestling move, Otunga goes back to the chinlock. Edge hits a back suplex and both men are down. Edge hammers away and hits a flying forearm and clothesline. Edge-O-Matic gets 2. Corner whip is reversed, but Edge moves out of the way of a corner charge and gets a schoolboy for 2. Otunga kicks Edge to counter a backdrop attempt, but Edge pancakes him in response. His mind working in a frenzy, Edge decides to hit surprise Alberto Del Rio with a seated dropkick. That sets off a chain reaction, though, as now all the SD lumberjacks are fighting each other! Amidst the chaos, Otunga tries to hit his shitty spinebuster, but Edge counters into the Impaler. Edge sets up for the spear, as Michael McGillicutty rushes the ring. He gets speared, as I wonder why that's not a DQ. Edge sets up for the spear again, but Kane comes out of nowhere! GOOZLE! Chokeslam! Kane escapes through the crowd, as Otunga covers Edge for the 3 at 10 minutes.

WINNER: David Otunga - They thankfully kept this one relatively short. Otunga's an absolute waste.

Post-match, Nexus make off like bandits, dodging the SD roster along the way. Grisham reminds us that Nexus helped Kane in the Buried Alive match, as the plot point of the Nexus/Kane relationship thickens.
"EXCOMMUNICATED" COUNT: 9

Later tonight, Kane comes back, as he'll face The Big Show. But next, it's an Intercontinental Championship match between Dolph Ziggler and MVP.

Ad break – Wrestlemania promo

WWE Rewind – MVP winning the Triple Threat match from last week to get into tonight's title match.

DOLPH ZIGGLER v. MVP: INTERCONTINENTAL CHAMPIONSHIP MATCH
How sad is it that the announcers talk about Dolph Ziggler's 3-month title reign, as if it's setting some sort of longevity record? I'm sure The Honky Tonk Man sleeps well at night knowing THIS is what constitutes a long title reign these days, because his record will never be broken.

We start with MVP rolling up Dolph for 2. He rolls him up for another 2. Another roll-up for 2. Dolph kicks MVP to stop that nonsense. He tries to whip MVP into the ropes, but MVP reverses and takes Dolph down with a fireman's carry drop. Running kick sends Dolph to the outside, which sends us to our next break.

We come back with Dolph stomping away and hitting his jumping elbow for 2. Time to hit the chinlock. MVP gets out of that by stomping Dolph's foot and rolling him up for 2. Corner charge eats boot, though. Dolph tries to use the Ric Flair pin, but MVP kicks out anyway at 2. Dolph hits a hangman's neckbreaker for 2. Dolph keeps the old-school onslaught coming, as he tries to undo the turnbuckle. Ref stops him, but as the ref tries to put the turnbuckle back, MVP cradles Dolph! Ref gets back too late and Dolph's able to kick out. Dolph recovers first and hits a Rocker Dropper for 2. Dolph stomps away and goes back to the chinlock. MVP rises to his feet and gets whipped into the ropes. MVP kicks out of a backdrop attempt. Undaunted, Dolph goes for a corner charge, but there's nobody home. MVP's own corner charge eats elbow, though. Dolph tries to come off the ropes, but gets knocked down with a pair of clotheslines and a pancake. Facebuster gets 2 before MVP sets up for the Ballin' Elbow. Ballin' Elbow hits, but Dolph puts his foot on the ropes to break up the count. MVP now opts for the superplex, but Dolph headbutts him down. Second-rope double axehandle attempt falls right into a big boot, however, and MVP covers for 2. MVP starts to lose his temper and stomps away. Ref pulls him off, which allows Dolph enough time to recover and hit the Zig Zag! MVP puts his foot on the ropes at 2, but Dolph pulls it back out and ref counts 3 at around 9 minutes.

WINNER: Dolph Ziggler - Enough already with referee shenanigans during Dolph Ziggler matches! Worst part is, that probably means we'll see these two again and we've seen more than enough Dolph Ziggler/MVP matches in the last few months.

Stand Up For WWE – Are they really still doing this?

Your hosts tonight are Todd Grisham, Matt Striker, and Michael Cole. Striker and Cole exchange a high five.

We go backstage to Kane. Someone has taken Paul Bearer! But don't panic! The cheesy music is still there! Kane finds the urn left by its lonesome and makes angry faces!

Ad break – John Cena DVD promo

"Dashing" Cody Rhodes makes his entrance and he's got a mic in hand, so it's promo time! But first, he stops to admire his amazing reflection! Ok, NOW it's promo time! "Ah, not exactly the reception I was expecting, after all, our countries…our countries are allies. I mean, historians deemed it 'the special relationship'. We're friends, me, you, all of us, we're friends. And as a friend, I am sick, I am tired of every stereotype, every satire, every cheap knockoff that implies the British men and women having a lack of oral hygiene, you having bad teeth, I'm sick of it! I mean, it's outplayed, it's tired, it's lame, it's…absolutely true, your teeth are GODAWFUL! You know, I'm looking around right now, you know what I see? Summer teeth. Some are yellow, some are green, well…some are missing. It's like rotting stalagmites on the inside of a cave and the collective breath of this entire audience, of everyone I've come into contact with in this country, literally singes my perfect hair-free nostrils. THAT is not dashing!" Now it's time to heckle the crowd. "You, sir! You! I know you may be reluctant to use this." Cody takes out a Listerine bottle helpfully labeled 'MOUTHWASH'. "But here's the thing, it has alcohol in it and you're British, so it should work out. And YOU, little pal. Christmas came early to Manchester. I've got something for you." Cody takes out a toothbrush. It's thankfully not labeled 'TOOTHBRUSH'. "We call this a toothbrush. Brush up! Ah, now I've prepared something for everybody to watch, but I have to be honest, it's not a quick fix, it's not going to take care of the problem we have here, but if you pay attention, who knows…maybe you, maybe YOU, sir, maybe you could end up…" Cody pauses, as the guy he's picking on has an absolutely priceless 'Who, me? Why me?' look on his face. Cody opts for the guy next to him instead. "You know what, maybe YOU can end up…ok, never mind, NOBODY is going to end up being dashing, but if you pay attention, maybe you'll at least have some teeth in your head. Please, roll the footage."

This segues into some more Grooming Tips from "Dashing" Cody Rhodes. "There's nothing more repugnant than a set of teeth that hasn't been properly flossed. My name is 'Dashing' Cody Rhodes and I'm here to tell you that you too can be dashing! We've all been caught in that conversation with a person that has that piece of spinach stuck in their teeth. You NEVER want to be that person. So I'm going to show you, with proper oral hygiene, how one can prevent life-altering embarrassing moments. Carefully dispense approximately 18 inches of floss, but not just any floss. When it comes to my teeth, I use a mint, satin floss. You want to take it about one to two inches with your index finger and your thumb and you want to glide it between each tooth in a nice 'sawing' motion. Perform that on each tooth and then start practicing your smile. I'm 'Dashing' Cody Rhodes, bringing you one step closer to dashing." Close with goofy smile and then cut away to the live Cody with the exact same face!

"God save the Queen and God save your teeth!"

Some might call that a wasted segment. Those people…are killjoys. This segment was ten different kinds of awesome!

We go backstage, where Kane continues his pursuit of Paul Bearer. No, the cheesy music didn't follow him.

We get the Tale of the Tape for tonight's Kane/Big Show match. That match is next!

Ad break – Wrestlemania promo. WWE SmackDown vs. Raw 2011 promo.

Behind-the-scenes with Knucklehead.

KANE v. THE BIG SHOW: NON-TITLE MATCH
We start with Kane hammering away on Show, but Show fights back with some big rights of his own. Both guys collide with shoulderblocks, with Show getting the better of that exchange. Show hits a corner avalanche and works over Kane's kidneys. Show whips Kane into the ropes, but Kane hits a seated dropkick to Show's knee. Kane works Show over in the corner and we get corner punches before Show shoves him off. Kane hits a corner clothesline and continues hammering away. He goes back to the corner punches, but Show shoves him off again. Kane charges in and gets knocked down with a back elbow. Show hits a Vaderbomb for 2, as Grisham and Cole have an exchange that breaks my brain.

Grisham: You don't have too many earthquakes in England, but that one certainly registered on the seismic scale!
Cole: It's the Richter scale.
Grisham: What'd I say?
Cole: Seismic. It's seismic activity, it's Richter scale.
Grisham: Thank you, Dr. Joyce Brothers.
Cole: WHAT? She's a psychiatrist!
Grisham: You need one!

That sound you hear is my IQ dropping. We get the usual GOOZLE exchange from both men. That one ends in a stalemate and Kane hits a clothesline that sends both men over. That takes us to our last ad break of the night, but not before we see Paul Bearer tied up to a wheelchair in a dark room backstage, with his tie being used as a gag!

We come back with Show hitting the armbar. Show elbows the arm a few more times and headbutts it for good measure. Back to the armbar, as the match really slows down. This is not helping what's been a dead crowd so far. Show shushes the crowd (somehow, I don't think that'll be a problem) before hitting the big chop. Show whips Kane in and telegraphs the backdrop, allowing Kane to hit a DDT for 2. Kane hammers away, as Grisham reminds us that Show and Kane were former tag partners/champions. Kane continues the onslaught, culminating with a seated dropkick for 2. Now we hit the chinlock, just to really pick up the pace. Show fights up and shoulderblocks Kane to the outside. Kane guillotines Show on the top rope and attempts to go up for the top-rope clothesline, but Show crotches him. Show sets up for a superplex (!), but Kane blocks and headbutts Show down. Kane does hit his top-rope clothesline for 2. We go back to the chinlock. Show rises up and hits a back suplex. Show hits clotheslines and another corner avalanche. A second one eats boot and Kane hits a second-rope clothesline. Kane calls for the chokeslam, but Edge suddenly calls out for Kane. He's at the top of the ramp with Paul Bearer tied up and a mic in his hand.

"Have you been looking for your father? He's been a little tied up. I know you have a dysfunctional family, I know…I know you have daddy issues. But Kane, I can resolve those for you right now if you want. You want me to take care of your daddy issues? Kane…Kane, Kane I wouldn't take another step. You see, these wheelchairs…they…they have a mind of their own. Once they get going in one direction, it's really…it's really hard to stop them."

Edge teases pushing Paul Bearer off the ramp, sending Kane in a tizzy. He doesn't realize that Show's up, though, and he turns around into a Big Show chokeslam. Show will win this one at 14 minutes.

WINNER: The Big Show - Awful match, but it was pretty much just angle advancement anyway.

Post-match, Edge asks Paul to say goodbye, as he wheels away with him. Show ends with Kane going mad in the ring.

FINAL THOUGHT

FINAL "EXCOMMUNICATED" COUNT: 10 - I didn't think we'd reach double digits once the actual match happened, but Michael Cole managed to drop one more during the main event. How nice of him.

Can't say I really enjoyed the show this week outside the Kofi/ADR match and the fabulous Cody Rhodes promo. The two main events were both terrible and we didn't get much towards building any other matches for Survivor Series, aside from the Divas match.

Until next week.

(edited by It's False on 12.11.10 2204)

---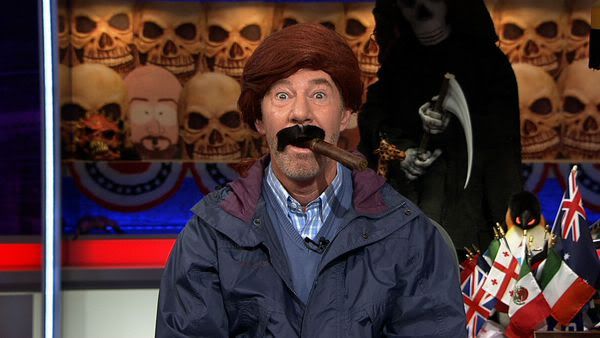 Promote this thread!
ekedolphin
Scrapple



Since: 12.1.02
From: Indianapolis, IN; now residing in Suffolk, VA

Since last post: 7 days
Last activity: 7 hours

#2 Posted on | Instant Rating: 3.01
The "excommunicated" count thing was funny.
---
"If I die in here, I'll kill him!"
--Urdnot Wrex, Mass Effect
Fan of the Indianapolis Colts (Super Bowl XLI Champions), Indiana Pacers and Washington Nationals
Certified RFMC Member-- Ask To See My Credentials!
Co-Winner of Time's Person of the Year Award, 2006

Spiraling_Shape
Bratwurst



Since: 2.1.02
From: PA

Since last post: 2 days
Last activity: 2 hours

#3 Posted on | Instant Rating: 0.91
Yeah I've been amused by Chimel's "SOOOO-per-star!" call for the past few weeks.

I'm calling it now...Alberto Del Rio will be YOUR new King Of The King in a few weeks.

Otunga's Nexus hoodie is pretty sweet.

I'm not thrilled that the goofy NXT-style commentary is making its way onto SD!... I think it starts to subtly hurt the show and you can't really take anyone or anything seriously at a point.


---

"You've got the crazy eyes." - RAW GM Laptop, 9/27/10
dMp
Banger



Since: 4.1.02
From: The Hague, Netherlands (Europe)

Since last post: 5 hours
Last activity: 5 hours

#4 Posted on | Instant Rating: 5.78
Originally posted by Spiraling_Shape

---


Otunga's Nexus hoodie is pretty sweet.


---


Watching the show right now and thinking the same thing.

I noticed that Goldust and I think Tyson Kidd are among the lumberjacks. Pretty sure those are Raw guys.
Doesn't really matter but it's an oversight.




---
redsoxnation
Scrapple



Since: 24.7.02

Since last post: 249 days
Last activity: 249 days

#5 Posted on | Instant Rating: 5.88
Originally posted by dMp

---

Originally posted by Spiraling_Shape

---


Otunga's Nexus hoodie is pretty sweet.


---



Watching the show right now and thinking the same thing.

I noticed that Goldust and I think Tyson Kidd are among the lumberjacks. Pretty sure those are Raw guys.
Doesn't really matter but it's an oversight.



---







Perhaps Goldust has realized that since there is no corresponding Million Dollar Belt holder on SD, he thus has the right to travel between shows.
The Game
Boudin rouge



Since: 5.5.09

Since last post: 151 days
Last activity: 151 days

#6 Posted on | Instant Rating: 1.35
Originally posted by It's False

---

Edge sets up for the spear, as Michael McGillicutty rushes the ring. He gets speared, as I wonder why that's not a DQ.
___________________________________________________________
I was wondering the same thing when it happened and I thought for a moment that McGillicutty did it on purpose to have Otunga "excommunicated" from Nexus seeing how the original stipulation was if any Nexus member interfered, Otunga would lose on the spot.

(edited by The Game on 13.11.10 1202)
Matt Tracker
Scrapple



Since: 8.5.03
From: North Carolina

Since last post: 1 day
Last activity: 22 min.

#7 Posted on | Instant Rating: 7.08
Dr. Joyce Brothers? What channel is rerunning the original Hollywood Squares?

Just an OK show this week, and I'm cool to Edge tying up Paul. Feels a little close to Jericho and Chyna ... speaking of old references.

Feels like MVP could turn again after that prolonged reaction shot.


---

"To be the man, you gotta beat demands." -- The Lovely Mrs. Tracker
John Orquiola
Scrapple



Since: 28.2.02
From: Boston

Since last post: 84 days
Last activity: 48 days

#8 Posted on
Yo, Otunga needs some new ring gear. I mean pronto. His ass was eating those trunks like it hadn't been fed for weeks. I don't mind if Otunga's the guy in Nexus who shows ass, but not like this. Not like this!




---

@BackoftheHead



www.backofthehead.com