It's False
Scrapple



Since: 20.6.02
From: I am the Tag Team Champions!

Since last post: 16 hours
Last activity: 19 min.

#1 Posted on | Instant Rating: 4.82
TONIGHT! It's the go-home show for the PPV! I feel like I'm typing that a lot these days. The SmackDown roster invaded Raw last Monday. Will the Raw roster respond in kind? One Raw superstar that WILL be here is Randy Orton. He faces Kane one-on-one. Why yes, they ARE giving away a Champion vs. Champion match on free TV, why do you ask? SmackDown is NOW!

WWE – The Champ Is Here!

Opening credits – Do You Know Your Enemy? Opening pyro! Tonight, it's Champion vs. Champion as Randy Orton faces Kane one-on-one. We are taped from Edmonton, Alberta.

We start off with the Raw and SmackDown Bragging Rights teams both in the ring (with the notable exception of R-Truth, who's probably still having visa issues), facing each other from opposite sides of the ring. Theodore Long takes the mic and welcomes us all to SmackDown. Long says he won't be booking tonight's matches, but will let the superstars book their matches. With that, he hands the mic to The Miz.

Miz says he should be getting credit for single-handedly boosting SD's ratings. He books a six-man with himself tagging with Ezekiel Jackson and Sheamus. Big Show takes the mic and accuses Miz of hiding behind big guys, just like he hid behind Show during their tag team run. Show recruits Kofi Kingston and Rey Mysterio as his partners.

Edge goes next and says he wants in on tonight's action. He challenges CM Punk one-on-one.

John Morrison takes the mic and decides to challenge Alberto Del Rio. Ooh, THAT should be good.

Jack Swagger takes his mic and derides Santino Marella before challenging him to a match.

Long confirms the matches and we're going to start with the six-man match, but first we take a look at our hosts for the night, Todd Grisham, Matt Striker, and Michael "What does 'overexposed' mean?" Cole.

THE BIG SHOW, REY MYSTERIO & KOFI KINGSTON v. THE MIZ, EZEKIEL JACKSON & "THE CELTIC WARRIOR" SHEAMUS
Our participants are already in the ring and the bell rings. We start off with Rey and Sheamus. Sheamus immediately asserts the power advantage. The Irishman tries to position Rey in the corner, but Rey won't stay put. Rey gets a second-rope 'rana, but runs right into a clothesline. Sheamus gives him another one for good measure and throws in some clubbing blows. Sheamus whips Rey into the ropes, but Rey kicks Sheamus in the face to counter a back drop attempt. Tag is made to Kofi and he greets Sheamus with a springboard cross body for 2. Kofi kicks away, but Sheamus asserts the power advantage again. A scoop is countered and Kofi lowbridges Sheamus, as Striker brings up that Kofi's leading the WWE.com Fantasy Football league. I swear to God, they bring this shit up on purpose just to cater to Cole and give him a holier-than-thou forum. Rey comes off the apron and knocks Sheamus down again. That'll take us to our first ad break of the night.

We come back with Ezekiel Jackson overpowering Kofi, but Kofi gets his high kick corner charge counter. He dropkicks a charging Miz off the apron and goes for a springboard cross body, but Jackson acts as a brick wall and Kofi crashes. Jackson chokes away on the Raw corner and tags out to Miz, as I prepare the Mute button. Miz chokes away on the ropes and when the ref pulls him away, Sheamus comes over with a cheap shot. Kofi starts fighting back and goes for the tag, but Miz takes Kofi back into the Raw corner. He tags out to Sheamus, who knocks Kofi down with a clothesline. We hit the chinlock, as Cole gives Miz another verbal blowjob. Kofi fights out of the chinlock. Sheamus goes for a clothesline, but Kofi counters with a hangman's neckbreaker. Sheamus tags out to Miz, who cuts off Kofi. He shoves off Miz and makes the hot tag to Big Show. Show knocks Miz down with clotheslines, as Striker drops comic book references just so Cole can make fun of him, I guess. Sheamus gets taken down with a backdrop and Rey comes off the top with a senton. Zeke tries to military press Rey, but gets a boot to the face from Show. Miz tries to launch himself at Show from the top rope, but lands right in a GOOZLE! AAAAAAAHHHTHECHOKESLAM!!! (always wanted to type that) Tag's made to Rey and he'll hit a big splash off of Show's shoulders to finish for SmackDown.

WINNERS: Team SmackDown - A good opener to get the crowd into it.

Later tonight, Champion vs. Champion as Randy Orton faces Kane.

Ad break – Bragging Rights Buried Alive promo.

Later tonight, Edge faces CM Punk one-on-one. We go to your hosts again, Todd Grisham, Matt Striker, and Michael Cole, as we get a video package recap of the Cena/Nexus angle for some reason. Wrong show, guys! And JEEZUM CROW, could they get any MORE melodramatic with the recap?

We go backstage to Josh Matthews with Dolph Ziggler and Vickie Guerrero. We get a recap of Daniel Bryan challenging Dolph to a match. Dolph delivers a solid promo, promising bad things for Daniel Bryan.

Jack Swagger comes to the ring with the Swagger Soaring Eagle in tow. He faces Santino Marella next.

Ad break.

"THE ALL-AMERICAN AMERICAN" JACK SWAGGER (w/THE SWAGGER SOARING EAGLE) v. SANTINO MARELLA
Santino actually gets a big pop. Canadians dig him, as they chant his name.

Santino looks for a wrestling sequence and Swagger wrestles circles around him, and Santino retreats to the outside. Hornswoggle's music hits for some reason and he comes out to fend off the Swagger Soaring Eagle. Santino gets an armdrag and hits the headlock, but Swagger shoves him off and gets a corner avalanche. Swagger picks up Santino and dumps him. Hornswoggle fights off the Eagle again. The Eagle goes for a double clothesline, but misses. Santino hits THE COBRA~! on the Eagle and…wow, hearing the announcers yell "BIRD DOWN!" gets REALLY old after four straight weeks. Santino runs back in and hammers away on Swagger. He ducks a Swagger clothesline and gets an armdrag. Gorilla press gets 2. Santino winds up THE COBRA~! again, but Swagger pulls him down into the anklelock and that'll end Santino's night.

WINNER: Jack Swagger - Decent comedy match, though it can only be so funny when you have announcers hammering home that you're watching a comedy match.

Post-match, Hornswoggle pesters Michael Cole to someone's amusement.

Coming up next, Alberto Del Rio faces John Morrison.

Ad break – Knucklehead promo. You know it's a WWE Films production, because it's full of FART JOKES!

It's time for still more Grooming Tips with "Dashing" Cody Rhodes. "Dry, crater-like, chapped lips are a huge turn-off to the opposite sex. My name is 'Dashing' Cody Rhodes and I'm here to tell you that you too can be dashing! Just dab your finger into the lip balm in a nice, circular motion. Not too much, though. Wouldn't want to be wasteful. Pucker up and apply. A bit of extra advice, when you're at home and you're getting ready for bed…and you're…well, by yourself, sometimes I apply a moisturizing lip gloss. It's rejuvenating and it's NOT just for the ladies. The doorway to your success and your happiness is complete. You'll be thanking me later. I'm 'Dashing' Cody Rhodes bringing you one step closer to dashing!" Close with the goofy smile!

Tony Chimel once again welcomes our good buddy, Ricardo Rodriguez, to introduce Alberto Del Rio. This week, ADR arrives in a really swank-looking black Mercedes.

ALBERTO DEL RIO v. JOHN MORRISON
I am very much looking forward to this match.

We start with the lockup, as ADR backs Morrison into the corner. Del Rio starts by hammering away. He smashes Morrison's head into the turnbuckle. Snapmare and kick to the back follow. Irish whip and Alberto looks for the clothesline, but Morrison ducks under and takes ADR down and goes with some mounted punches. Morrison comes off the ropes and gets a big kick to the chest for 2. Morrison moves in, but ADR pulls his head into the turnbuckle. Backbreaker follows for 2. And we hit the chinlock. Morrison tries to fight out of it, but Del Rio takes control again. He whips Morrison into the corner and then gives him a kick in the back. ADR gets a back suplex for 2. Back to the chinlock. Morrison rises up and rolls up Del Rio for 2. Del Rio tries to catch Morrison unaware in the corner, but jumps into no one in particular. Morrison makes the comeback with clotheslines and a spinning heel kick. Morrison looks for a clothesline, but ADR seamlessly counters with a bridged German suplex for 2. Del Rio looks for the enziguiri in the corner and gets nothing but air. He falls into perfect position for Starship Pain, but ADR manages to get the knees up before the move hits. ADR quickly pounces with the swinging jujigatime and Morrison quickly taps out.

WINNER: Alberto Del Rio - Short and a little disappointing. Having said that, I'd love to see a longer match between these two in the future.

Coming up next, Edge faces CM Punk.

Ad break.

The Star Wars: The Force Unleashed II Rewind – We recap last Monday's battle royale.

"THE RATED R SUPERSTAR" EDGE v. CM PUNK
We start with a wrestling sequence, as Punk takes Edge down, giving the Canadian crowd a chance to back Edge. Edge shifts into a side headlock. Edge gets a shoulderblock for 2 and then gets a headlock takeover. Punk backs Edge into the corner and hits shoulder charges. He knocks Edge down with a big right hand. Punk whips Edge into the corner with mild authority for 2. Time to hit the armbar, which Edge gets out of with a jawbreaker. Edge hammers away in the corner and whips Punk into the corner. Punk tries to stop himself by sliding, but runs into a big boot. Edge tries to keep things going, but Edge gets hung on the ropes. Match really slows down from here, as Punk methodically works over Edge. Edge comes back with a swinging neckbreaker. Punk recovers first, though, and hits Edge with a hanging suplex. That takes us to our next break.

We come back with Punk hitting the leg scissors. Edge tries to break it, but opts for elbowing out instead. Punk goes to work with more kicks and gets a gutbuster for 2. Punk goes for a springboard, but Edge counters with a powerslam. Both men get up at the same time and start hammering away. Edge almost gets control, but Punk gets a spin kick. Another spin kick misses and Edge goes for the Impaler, but Punk goes for the clothesline. That misses and Edge gets a flying forearm. Clothesline follows and a bulldog gets 2. Edge goes for a vertical suplex, but Punk floats over and shoves Edge into the ropes. He picks him up for the GTS, but it's countered with the Edge-O-Matic for 2. Edge rushes in and Punk hits him with a knee to the gut. Edge backs into the corner and Punk hits him with the running knee, but can't finish off the bulldog combo, as Edge reverses into the Impaler for 2. Edge climbs the turnbuckles slowly, which allows Punk to crotch him. Punk looks for the superplex, but Edge shoves him off. Edge makes the Spear face, but Miz and Alex Riley rush into the ring and ambush Edge. That'll do it for this match.

WINNER: Edge by DQ - A boring match that started to pick up near the end. The crappy finish did not endear this one to me.

Post-match, Miz and Riley check on Punk, but Kofi Kingston runs in. He hits Riley with Trouble in Paradise, but Miz wipes him out with the Skull-Crushing Finale. Tyler Reks runs in and lays out Miz with his awesome unnamed finisher. Morrison lays out Reks with a tornado DDT, but Alberto Del Rio jumps Morrison and hits him with the corner enziguiri. Ezekiel Jackson comes in next and he hits ADR with the Book of Ezekiel. Swagger runs in next and clips Jackson and applies the anklelock. That leaves Santino to come in. He winds up for THE COBRA~! but gets Swagger's gutwrench powerbomb for his troubles. Although there IS still one more guy left for Raw and that would be Sheamus, who runs in and hits Swagger with the Brogue Kick. Last guy is Big Show and Jackson and Sheamus try to jump him. Show fights them off and hits the chokeslam on Jackson, but turns around and eats the Brogue Kick from Sheamus. Wait, there's still one more guy. (Ok, how many guys do they have? Seriously?) Rey Mysterio's the last one out, for reals this time. He lowbridges Sheamus and hits the 619. CM Punk, having fully recovered, swoops in and hits Rey with the GTS. Of course, that must mean that Edge is fully recovered also, and he hits Punk with the spear. Edge's music plays to finally end this carwreck of a segment.

Later tonight, Randy Orton and Kane face off in a Champion vs. Champion match.

Ad break – Wrestling's Highest Flyers DVD promo.

We come back with LayCool in the ring, dressed as Natalya with Jim Neidhart's beard and as Bret Hart. And…yeah.

LAYCOOL v. NATALYA & KELLY KELLY
They confirm that Natalya's facing Layla at the PPV. And yeah, I'm kinda not in the mood to recap a match with both Michelle McCool and Kelly Kelly, so we're fast forwarding to the finish. Natalya finishes with the Sharpshooter.

WINNERS: Natalya & Kelly Kelly - Kelly was never in the match, which is probably for the best.

We get the Tale of the Tape for Randy Orton and Kane. That match is later tonight.

Ad break.

Stand Up For WWE and vote for Linda McMahon, I guess.

Kane makes his entrance for the Champion vs. Champion match. That match is next.

Ad break – "Half-man, half-amazing"

KANE (w/PAUL BEARER) v. RANDY ORTON: CHAMPION v. CHAMPION
We've got about ten minutes to go and I get the sense that we're actually getting a match. I really didn't think they'd be dumb enough to just GIVE AWAY a Champion vs. Champion match on free TV with little-to-no hype, but here we are.

Both men with the staredown to start. Kane strikes first with an uppercut and hammers away in the corner. Whip into the corner and corner clothesline hit. Another corner whip and corner clothesline. Sidewalk slam hits. Kane calls for the finish and scoops Orton up for the Tombstone, but Orton counters with his backbreaker. Viper Coil, as they seem to be hitting the FFWD button on this match. Kane ducks out, but Orton chases and shoves Kane into the steel post. Orton keeps up the pressure by the barricade and slams Kane's head against the announce table. He rolls Kane back in and stomps away, as Kane rolls back out. Orton tries to chase, but Kane hits a clothesline. Kane rams Orton's back into the apron and the barricade. Kane rolls back in as we take our last ad break of the night.

We come back with Kane hitting the bear hug. Orton fights out of it, but Kane knocks him down with a clothesline. Kane hammers in the corner and stomps on the prone Orton. He whips Orton into the corner with authority and keeps stomping away. Orton starts fighting back, but Kane wipes him out with a shot to the midsection. Kane drags him out and sends his back into the steel post. Orton gets laid on the apron and Kane works him over. Kane goes back to the bear hug and then hits a backbreaker for 2. Big Red scales the turnbuckles and hits the top rope clothesline for 2. Kane calls for the chokeslam and gets the GOOZLE, but Orton elbows out of it. Comeback is thwarted again, but Kane's corner charge eats boot. Orton tries to knock Kane down, but it's not working. Kane charges, but Orton gets the powerslam. Hanging DDT hits and we get the Viper Coil again. Kane shoves out of the RKO and hits Orton with a big boot. Kane goes for the GOOZLE, but BONG! Lights go out. BONG! Lights come back up and Kane's looking around, but he stopped paying attention to Orton who hits the RKO, which will end this one at about 10 minutes.

WINNER: Randy Orton - I'm shocked that they'd let Kane eat a loss like that with the roll he's been on lately. Overall, I'm just stunned that this match even happened to begin with.

Post-match, Orton celebrates on the ramp, as Kane throws a fit inside the ring. He keeps looking, as he overturns the English announce table and the Bragging Rights trophy table. BONG! Lights dim purple. BONG! Lights come back up and Undertaker pulls a play from the 1996 playbook and comes up through the ring. Cheesy horror music plays, as UT pulls Kane into the ring. We get a Darth Vader-style "Nooooooooooooo!!!" from Kane, as the lights go out for the closing credits.

FINAL THOUGHT

We got a good number of matches tonight and tonight's show was a really good build for the PPV. We got a nice segment at the end, but honestly, they need to dump the cheesy D-movie horror music for these segments, because it's getting harder to take them seriously. They already require enough of a suspension of disbelief to begin with, let's not make this harder than it already is.

One of the better shows of the SyFy era so far. See you next week!

(edited by It's False on 22.10.10 1910)

---

We're flying a giant orange "CONAN" blimp over the baseball playoffs. Finally, subtlety in advertising.
@ConanOBrien

Promote this thread!
redsoxnation
Scrapple



Since: 24.7.02

Since last post: 691 days
Last activity: 691 days

#2 Posted on | Instant Rating: 5.91
Champ vs. Champ with a pin that doesn't involve physical interference without prior build-up? if that had been TNA, we'd crucify them for it, so the same has to hold true here. This is especially so if you plan on having title vs. title be the focal point of Mania. Although non-title, why essentially give away a similar match, especially without build-up?
BigDaddyLoco
Scrapple



Since: 2.1.02

Since last post: 1 day
Last activity: 9 hours

#3 Posted on | Instant Rating: 3.95
We all know there is an 'A Show' and a 'B Show', an 'A Champion' and a 'B Champion' and even though Kane has been on a run he is still Kane. He's just Smackdown's champion to give the Undertaker something to do during the fall/Halloween season.

The WWE hasn't given us any reason to even consider the two equal, so nobody should be shocked when a placeholding career midcarder on a secondary show with a secondary belt loses to one of the current and future stars of the WWE.


Matt Tracker
Scrapple



Since: 8.5.03
From: North Carolina

Since last post: 21 hours
Last activity: 12 hours

#4 Posted on | Instant Rating: 7.01
Instead of A show vs. B show, I see Kane's loss as a sign he'll win on Sunday. Same with the RAW team losing to the SD team on this episode.

Maybe it's the new Syfy HD signal, but Kane looks leaner.


---

"To be the man, you gotta beat demands." -- The Lovely Mrs. Tracker
The Game
Boudin rouge



Since: 5.5.09

Since last post: 592 days
Last activity: 592 days

#5 Posted on | Instant Rating: 1.35
Did anyone else catch the crowd sign that said "I will humble u"? Just a little Iron Sheik reference catches my attention.

Overall, Smackdown had a good show leading into Bragging Rights and even though the ADR v. Morrison match was short, I never get tired of seeing ADR's armbreaker (gets my vote for best finisher of the year).

John Orquiola
Scrapple



Since: 28.2.02
From: Boston

Since last post: 328 days
Last activity: 328 days

#6 Posted on
John Morrison tapped in two seconds to Alberto Del Rio's cross armbreaker. Like I said a while back, they've got real small plans for John Morrison.


---

@BackoftheHead



www.backofthehead.com
Oliver
Scrapple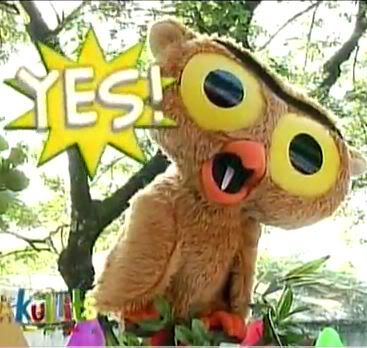 Since: 20.6.02

Since last post: 82 days
Last activity: 76 days

#7 Posted on | Instant Rating: 3.00
Great show live.

After The Bell, the Undertaker and Kane fought around the ring and into the crowd and eventually up the ramp to end the night.

The Undertaker's pop wasn't as big in person as it sounded on TV.

John Morrison got some really huge pops in my section, likewise, a WE WANT BRYAN chant overpowered Vickie and Ziggler's segment.

Del Rio very fun to watch - his theme music is easily one of the best in the WWE. He got a mixed reaction, some cheers, some boos, but regardless, he was very entertaining.


---

2009-2010 WHL Fantasy League Champion!!!
OndaGrande
Boudin rouge



Since: 1.5.03
From: California, Home of THE LAKERS!

Since last post: 131 days
Last activity: 72 days

#8 Posted on | Instant Rating: 0.33

I want to see Dashing Cody Rhodes as best man at the Goldust/Aksana wedding!!! I have been catching bits and pieces of NXT when I can get online and the last couple shows kinda bombed out but I can see places on the regular roster for everyone, just not all of them wrestling.

Natalya is totally kicking ass and hopefully the push continues, although I see Lay-Cool using Vickie chicanery to keep the title(s). On the flipside I could be funny to see Teddy Long let Nattie and K2 get to be Unified Diva's Champions.




---

LEARN IT, KNOW IT, LIVE IT!
The Game
Boudin rouge



Since: 5.5.09

Since last post: 592 days
Last activity: 592 days

#9 Posted on | Instant Rating: 1.35
Originally posted by John Orquiola

---

John Morrison tapped in two seconds to Alberto Del Rio's cross armbreaker. Like I said a while back, they've got real small plans for John Morrison.

---


And to think, when Miz and Morrison split, a lot of people (including myself) thought Morrison be the one recieving the push and the one recieving the big plans from WWE.
It's False
Scrapple



Since: 20.6.02
From: I am the Tag Team Champions!

Since last post: 16 hours
Last activity: 19 min.

#10 Posted on | Instant Rating: 4.82
Originally posted by The Game

---

And to think, when Miz and Morrison split, a lot of people (including myself) thought Morrison be the one recieving the push and the one recieving the big plans from WWE.

---


I still have hope for Morrison. There's a reason that he and Miz are constantly crossing paths and I still think they're going in the Hollywood Blondes direction, with Morrison acting as Miz's arch-nemesis, the same way Pillman did with Austin for a good, long while.

And it's not like Morrison's a headcase or anything. He seems like a good company man and I believe they'll give him another shot soon enough. It just might take a while.


Originally posted by John Orquiola

---

John Morrison tapped in two seconds to Alberto Del Rio's cross armbreaker. Like I said a while back, they've got real small plans for John Morrison.

---

I don't think that's so much an indictment of Morrison, because Rey tapped out pretty quickly to the cross armbreaker, also. I think it's more of a matter of trying to get the move over. I think it's worked and not just because ADR spins around a lot before applying the move (though that doesn't hurt from a visual standpoint). The cross armbreaker's been way overdue for a comeback as a deadly finisher and I'm glad someone's picked up on it.

(edited by It's False on 23.10.10 1619)

---

We're flying a giant orange "CONAN" blimp over the baseball playoffs. Finally, subtlety in advertising.
@ConanOBrien