Matt Tracker
Scrapple




Since: 8.5.03
From: North Carolina

Since last post: 53 days
Last activity: 1 day

#1 Posted on | Instant Rating: 6.71
In a departure, the show starts with a video package narrated by someone other than the commentators. The unified tag champs DX will face number-one contenders Straight Edge Society, and we are two days from the Royal Rumble. But did Triple H's RAW declaration of victory at the Rumble jeopardize DX's chances to retain? Out come the champs to a raucous sea of green glow sticks in Cincinnati. And we are starting with the presumed main event!

Unified tag champs DX vs. Straight Edge Society
Hunter begins to address the crowd but is immediately cut off by Rey Mysterio's music. He steps in the ring to say Shawn has no respect for him. Michaels wants to win the Rumble and challenge champion Undertaker, but Rey asserts he will beat Taker for the title at the PPV. Michaels objects, and Hunter says Rey may be looking for a fight, but Hornswoggle's not there to oblige. Rey claims he can beat Taker, something neither of DX has done at WM. Shawn and Rey threaten each other, but here come the number-one contenders CM Punk and Luke Gallows with Serena, last week's recruit.

Punk says Rey must be high on some illegal substance and declares his society will take the belts tonight. Hunter doesn't get Punk's philosophy and makes Amy Winehouse and Britney Spears jokes. GM Teddy Long arrives to rip up the format sheet and cancel the tag match tonight. Instead, Rey and Shawn will have at each other. Punk will get Hunter. Right now, in fact.

Why is Just For Men hair dye sponsoring a replay of someone losing their hair?

CM Punk w/Gallows and Serena vs. Triple H
Matt Striker says Hunter sent Shawn to the back, confident he could win alone. Punk fights off a headlock to start and eats a clothesline. Hunter goes back to the headlock, and Punk corners him with shoulders and knees. Punk's facial hair is fantastic. I think he and his beard could hold the tag titles. He escapes a Pedigree try, and Hunter glares at Gallows. That lets Punk hotshot him down for the springboard clothesline as we go to ads.

Punk snapmares and punts Hunter to set him up for the figure-four headlock. A pinfall gets two. Punk chops with disdain and drops him with a leg lariat for another two-count. He chucks Hunter to the corner but can't hit a suplex. Hunter reverses, staggers up, and walks right into a beastly head kick. Hunter pops out at two and a half, and Punk goes back to the figure-four headlock. Hunter reaches the ropes to break and catches Punk with a running boot. The spinebuster follows, but he's too weak to take advantage. They get up and trade punches. Punk whips Hunter for the facebuster spot, and Hunter hits it and corners him with fists. Crotch chop and punch get two. The running knee gets two. The Pedigree is turned into a backdrop, and Punk connects with the running knee to the corner.

Hunter blocks the follow-up bulldog with a kneebuster and slaps on a figure-four. He uses the ropes for leverage. Serena distracts the ref so Gallows can deck Hunter. Punk hits a back kick and heaves Hunter up for the the Go To Sleep. Hunter squirms out and goes for the Pedigree again. Serena jumps him to draw the DQ. The Society overpowers him, and Gallows dominates in the corner. Punk takes over with elbows to the head, and Luke grabs the clippers. Shawn finally runs out to even the odds. Gallows is tossed, and Punk hides behind Serena. She stands her ground while Punk rolls out of the ring. Shawn feigns a superkick, and she hightails it.

They didn't do anything unusually risky, and it was an even affair. Punk held his own, and the Society are doing exactly what the Hart Dynasty should have for months now. This hot crowd ain't hurting anything either.

Meanwhile, Chris Jericho is SMIRKING (hi, boss).

Chris Jericho vs. R-Truth
Last week, Intercontinental Champion Drew McIntyre and Jericho faced off against John Morrison and R-Truth when Long again changed the original match. Truth pinned with a corkscrew scissor kick after Morrison popped Jericho in the brains. Oddly enough, Jericho hasn't said anything so far. He corners Truth to start and applies a headlock. He shoulders Truth down but runs into a hiptoss. Truth clotheslines Jericho outside. He slingshots for a crossbody, but Jericho scouts it, steps aside, and helps Truth splat to the floor. How 'bout some ads?

HOLY WHIRLWIND PYRAMID! A Wii fighting game features Mark and Princess from Battle of the Planets! Must I buy a Wii now? Must I?!

Back to the show, and Jericho fells Truth with kicks. He again cups his ear to spur the audience. We get to hear Jericho talk as he berates Truth. Jericho catches him on a backdrop attempt and drapes him gutfirst on the ropes. That gets two. A gutbuster softens him up for an abdominal stretch. Truth tosses him off and comes back with a flying clothesline and tilt-a-whirl head scissors. A leaping kick gets a two-count. Todd Grisham mentions Flair's Rumble victory as inspiration for fellow Charlotte resident Truth as the latter does his flip-split routine to baffle Jericho. He goes for the Walls, and Truth cradles for two. Jericho tries a Codebreaker, but Truth holds the ropes to stay upright. He rolls over Jericho for the three-count. Well, then.

This featured none of Jericho's usual flurry of reversals, and it was flat. Truth has yet to have a great singles match, and again one might assume Jericho was coasting before the Rumble.

Matt and Todd talk up the Rumble card and replay last week's Taker/Rey showdown, punctuated by Batista's ambush on Mysterio. Backstage, a dapper Batista again contends Rey robbed him of a shot at the title. He's winning the Rumble.

John Morrison is GLOWERING.

Hey, we saw the doctor yesterday, and he says we're having a boy. Gird yourself for Dolph Drew Jericho Tracker.

IC champ Drew McIntyre vs. John Morrison - No DQ
This isn't happening at the PPV? Morrison claims Drew dropped his new title to the floor to celebrate with new WWE champ Sheamus. Morrison was offended, and tonight Drew can't cheat to retain the title. I think Drew really did ditch that sleeveless robe, and I approve. So does the Lovely Mrs. Tracker. Morrison corners Drew to start but eats a jawjacker. Drew charges into a corkscrew leg lariat. That gets two. Morrison clotheslines him out. He doesn't see Drew reach under the ring, and John walks into a swinging kendo stick. Back inside, Drew covers for two. He batters Morrison in the corner. Another two-count, and he applies an armbar. Morrison punches free and tries a corner floatover, but Drew kicks him on the way down. That gets two. Morrison drops him with kicks and punches. Morrison wants to amscray with his belt, but Morrison boots him into the railing. Drew misses a belt shot, but a head kick puts the challenger down. He straddles and hammers Morrison before holding aloft the belt. We go to ads.

While we were gone, McIntyre used a reverse suplex to keep Morrison stunned. John's Flying Chuck is blocked, and he tumbles to ringside. Drew throws the ringsteps at him, but Morrison ducks. Drew clotheslines John over the railing but is shoved into another rail in the crowd. They fight back to ringside, and Morrison hits a running hurdling clothesline on the champ. He grabs the kendo stick and pops Drew. The champ, in turn, thumbs the eye to stop the momentum. He grabs the stick and charges, but Morrison hiptosses him onto the now-exposed bottom set of ringsteps. Morrison senses his chance and shoves the champ in the ring for a two-count. He goes up for Starship Pain and crashes on Drew's knees, aggravating the torso injuries. Drew grabs him for what Striker calls "The Future Shock" (the double-arm sit-out DDT) and drops him on facefirst on the belt. That gets three. Does Morrison get as many title shots as Ziggler? Is this the end of the rivalry? Drew's still green, and the match was mostly Morrison taking Rey bumps.

Women's champion Michelle McCool commandeers the ring, and she'll try to fend off the challenge of Mickie James at the PPV. Despite this promo for the Rumble match, McCool claims she's exiled James from SmackDown. She replays the cake attack and Mickie's emotional breakdown last week. McCool offers an open challenge for any gal in the back for tonight. Mickie's music answers, but out hops Layla in a fat suit and pig nose. She channels Piggie James and plucks doughnuts from her halter top. The ref rings the bell, and McCool lures Piggie around the ring with a bear claw. She trips up Piggie for a pinfall, and she's announced as the winner and still champion. Layla can't pick herself up, and the pair finally exit up the ramp.

Layla is a great comic sidekick. I don't find the angle offensive; it relies on the villains baselessly claiming Mickie's fat and Mickie finding herself ultimately outnumbered against them. That sells the PPV match where Mickie, by rights, will clean her clock, and a lot of women who normally wouldn't watch the PPV might just pay to see that.

The WWE wisely rerun the awesome-awesome Royal Rumble by-the-numbers segment cataloging the stats over the years. This will be Kane's 12th consecutive Rumble match.

Backstage, Batista stops Shawn's walk to the stage and warns him that the Taker focus means nothing. Michaels admits he always thought Batista was overrated, and Hunter keeps Dave at bay.

Rey Mysterio vs. Shawn Michaels
Both men want Undertaker, and Shawn needs to win the Rumble to challenge Taker for the title and bragging rights IF Taker can beat Rey Sunday. This is touted as the first time these guys have ever fought on Friday night. We're starting at roughly 9:42 p.m. Collar-and-elbow tie-up starts it, and that's pretty rare for this show. Shawn rolls Rey over with a headlock (the pattern tonight), and Rey loses on the shoulder charge. Shawn chops him down and gives him another in the corner. Rey floats out of the corner, and Shawn chops him down again. Rey whips Shawn to the corner, but charges into the turnbuckles. Shawn chucks him. Rey rolls through to his feet, and Shawn runs for a baseball slide. Rey slips back inside, and Shawn chases and catches him running off the ropes. Rey turns it into a tilt-a-whirl head scissors to put Shawn in the 619 position. He immediately goes outside to regroup.

Back inside, he knees Rey down and kicks him in the head. Another chop in the corner gets Rey's attention, and he reverses position for forearms (and one wise kick to shawn's leg). Shawn reverses for another chop, and Rey bails. Shawn pursues for another chop, and Rey's chest is bright red. Back in, Shawn stomps Rey's head before slinging him to the ropes. Rey holds on to lure Shawn into the 619 position with a drop toehold. Shawn scrambles up to superkick Rey, but he catches Shawn and headscissors him to the floor. Both men are grounded, and we go to ads.

This Monday, guest host William Shatner welcomes fellow Canadian Bret Hart back to RAW.

Back to the match, and Rey kicks Shawn's leg to weaken the planting leg of the superkick. He corners Michaels and stretches out the hamstrings. A leglock gets a one-count before Rey headbutts the hip. Shawn comes back with chops and blocks a backdrop with a neckbreaker. He tries to massage the leg back into health before chopping Rey in the corner. Rey drops Shawn into the second turnbuckle and goes up for a moonsault. Shawn clips the leg while Rey is up top, dropping him into a tree of woe. The right leg is torqued hard before Rey frees himself, and now both men have one bad wheel.

Shawn blocks a dropkick and locks on a modified figure-four. Rey is in agony and grabs the ropes. Striker points out that both men are risking their Rumble success to win this match. Shawn goes for Rey's other leg and eats an enziguri. Both men struggle to get vertical, and Shawn meets Rey with a chop. Rey forearms. Shawn punches. Rey kicks the bad leg. There's the flying forearm from Shawn, and he kips up. That triggers his comeback sequence starting with the atomic drop, but Rey hops up for a hurracanrana. He lures Shawn to the corner and boots him. Rey goes up and cannonballs Shawn for two. They again are slow to get up.

Rey runs for a springboard move and jumps right into the atomic drop. Shawn chops and covers for two. He scoops up Rey for a slam, but Rey reverses into a Slop Drop. Shawn is flattened. Rey goes out to the apron for the springboard splash, but Shawn gets his knees up. Now Shawn goes up for the elbow, and it connects. He staggers to the corner to set up Sweet Chin Music. He stomps the mat and moves in for the kill, but Rey anticipates and jumps at him, popping Shawn with a rolling head kick. Shawn lands on the second rope in prime position for the 619. Rey connects. The crowd goes ape. Rey feels the moment and slowly pulls himself up for the coup de grace off the ropes. He hops up for the springboard and leaps RIGHT INTO THE SUPERKICK. REY. IS. CRUTONS. That head snap looked like death itself.

Both men are out cold. Shawn crawls close to Rey and stands up just in time for Batista to spear him down. There's the DQ bell. Spinebuster for Rey. Batista positions Shawn for the Bomb, but here comes Hunter. They trade punches. Spinebuster for Dave, and Hunter clotheslines him to the floor. Shawn and Rey are crumpled on the mat, and Striker begins closing the show by selling the PPV.

GONG. Lights out. GONG. Lights up. Undertaker stands before both men, kneeling and exhausted and beaten. They both claw their way to standing positions. Goozle for Shawn! Goozle for Rey! DOUBLE CHOKESLAM! This crowd is bonkers! Undertaker surveys the damage as the gong again sounds. The pyro and music crank up as he rolls his eyes, and now we're out, and jeepers am I exhausted.

That -- THAT -- is the hard sell, and a dandy match is besmirched by the DQ ending.

Does this show make you buy the PPV?


---

"To be the man, you gotta beat demands." -- The Lovely Mrs. Tracker
Promote this thread!
John Orquiola
Scrapple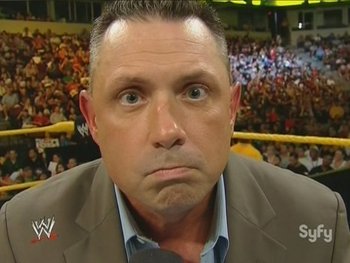 Since: 28.2.02
From: Boston

Since last post: 1575 days
Last activity: 1575 days

#2 Posted on | Instant Rating: 5.21
I'm buying the PPV anyway. It's the Royal Rumble, for heaven's sake. That one match is the closest to a sure thing there is in wrestling.

Imagine how good Rey Mysterio vs. Shawn Michaels would have been in 1997. They both work smarter now and make every move more meaningful, but I couldn't help but wonder what it would have been like if both men met in their high-flying, crazy-bumping, risk-taking youths. I think both Rey and Shawn still have pieces of their original knees left.

Serena grew on me really fast. There's something about her; she's got presence and charisma. I wonder how long she has to stay bald to work this straightedge follower gimmick?

I'll say it: Drew's cover on Morrison was pretty gay. It's the exact same cover that Maryse does. And he took his sweet time getting off Morrison too. (Here's a Twitpic http://twitpic.com/​​10fu5j and similar comments in Twitterspeak.)

Undertaker was looking pretty pasty in there. He was Sheamusing it up. Trying to show the OTHER World Champion how white the Deadman can get.

If Taker vs. Shawn happens, it seemed like the seed was planted for Batista and Triple H at WrestleMania. I do think Shawn winning the Rumble is a little too predictable at this point. Not that it wouldn't be satisfying if done well, but with Elimination Chamber looming, there's leeway to fix things to have a surprise Rumble winner and still set up HBK v. Taker II if WWE really wants to go that way. I guess we'll see on Sunday.

(edited by John Orquiola on 29.1.10 2151)
---

@BackoftheHead
www.backofthehead.com
geemoney
Scrapple



Since: 26.1.03
From: Naples, FL

Since last post: 18 days
Last activity: 2 hours

#3 Posted on | Instant Rating: 7.73
After tonight's performance, I'm convinced the awesome thing to do would be to have Mickie go Ultimate Warrior on McCool's Honky Tonk Man at the PPV: Quick, brutal squash.
It's False
Scrapple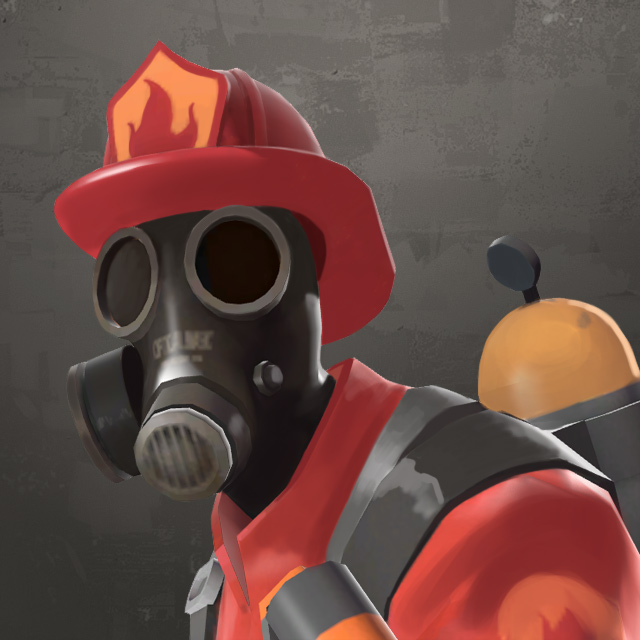 Since: 20.6.02
From: I am the Tag Team Champions!

Since last post: 213 days
Last activity: 8 days

#4 Posted on | Instant Rating: 4.28
If we're getting Shawn/UT at Wrestlemania, can we get Shawn/Rey in February as a warm-up? That was a great match tonight and I wouldn't mind seeing some more.

The bait and switch with the Straight Edge Society and the tag titles was somewhat annoying, but it's nice to see some buildup to the inevitable match happen in the meantime.

So that pretty emphatically ends Morrison's IC title chase. So what do you with Morrison now, considering he's been on a bit of a losing streak lately?


---

MacGruber! Making life-saving inventions out of household materials! MacGruber! Getting in and out of ultra-sticky situations! MacGruber! The guy's a freakin' genius! MACGRUBER!

Good luck getting that theme song out of your head
Kevintripod
Banger



Since: 11.5.03
From: Mount Pleasant, Pa.

Since last post: 12 days
Last activity: 20 hours

#5 Posted on | Instant Rating: 3.73
Originally posted by It's False

---

So that pretty emphatically ends Morrison's IC title chase. So what do you with Morrison now, considering he's been on a bit of a losing streak lately?

---


Looking like Miz was right.


---

The best part of waking up is not Folgers in your cup, but knowing that Chuck Norris didn't kill you in your sleep.
Spiraling_Shape
Bierwurst



Since: 2.1.02
From: PA

Since last post: 17 days
Last activity: 11 hours

#6 Posted on | Instant Rating: 0.92
I think Serena is already my favorite female on SD! Note that Punk didn't hide behind her in a cowardly manner...she was sacrificing herself for her leader! And DX-sans-Hornswoggle for the second time this week? Thank goodness.

Is Batista a.) Restarting the Mean Street Posse? or b.) Bringing back the Kerwin White gimmick for himself?


---

"Unless you did something unspeakable with a cactus, 'Shaqtus' is not a real word." - Santino Marella
RYDER FAKIN
Six Degrees of Me



Since: 21.2.02
From: ORLANDO

Since last post: 22 days
Last activity: 2 days

#7 Posted on | Instant Rating: 9.17
Spiraling_Shape: I think Serena is already my favorite female on SD! Note that Punk didn't hide behind her in a cowardly manner...she was sacrificing herself for her leader! And DX-sans-Hornswoggle for the second time this week? Thank goodness.

This needed a Jim Ross call. Punks AVOIDS getting his ass kicked by whipping his disciple in front of him. And she gets off on it! - AND he's kissing her neck all Manson like, then bails out, leaving the chick alone to take the fall...Fantastic. All that idiot Striker can say is how hot she looks. Moron

Punks rules. Foul chest hair and all. I hope 1) they run with the fact he sprung Y2J and Hurricane (you have two drunk, but relatively normal looking chaps in custody and who shows up with the money? A weird looking, hairy freak - Junkie 101) and 2) Danielson ends up joining the SES. With the beard

Real good show. Rey's as crazy as Cactus with that hanging corner move, using his knee

FLEA

(edited by RYDER FAKIN on 30.1.10 1659)
---

Demonstrations are a drag. Besides, we're much too high

"Learn to love yourself... for it is the greatest love of all" - Jeremy Borash 11:24 AM May 13th,2009
CruelAngel777
Sujuk



Since: 7.4.02

Since last post: 805 days
Last activity: 788 days

#8 Posted on | Instant Rating: 2.38
With Serena being the hottest bald woman I've seen....ever and Mass Effect 2's awesomely sexy skinhead criminal sidekick Jack, I may be developing a bald chick fetish. As well as a woman in a fat suit fetish.

I'm all messed up.

(edited by CruelAngel777 on 30.1.10 1749)
odessasteps
Scrapple



Since: 2.1.02
From: MD, USA

Since last post: 1586 days
Last activity: 1553 days

#9 Posted on | Instant Rating: 6.47
Originally posted by CruelAngel777

---

With Serena being the hottest bald woman I've seen....ever and Mass Effect 2's awesomely sexy skinhead criminal sidekick Jack, I may be developing a bald chick fetish. As well as a woman in a fat suit fetish.

I'm all messed up.

(edited by CruelAngel777 on 30.1.10 1749)

---


time for you to go rent the first Star Trek movie. :>


---

Mark Coale
Odessa Steps Magazine
ISSUE FOUR - OCTOBER 2009
Wpob
Bierwurst



Since: 21.11.02
From: Williston Park, NY

Since last post: 38 days
Last activity: 20 hours

#10 Posted on | Instant Rating: 5.57
Or go get some early Eurythmics CDs. Bald.close shaved Annie Lennox is H.O.T.


---

Life is hilariously cruel.