Matt Tracker
Scrapple



Since: 8.5.03
From: North Carolina

Since last post: 8 days
Last activity: 2 days

#1 Posted on | Instant Rating: 6.70
Let me hit that logo six or seven times.

We start as we did last week and replay the Nov. 27 SmackDown main event wherein world champion Undertaker faced off against unified tag champ Chris Jericho but was clocked by top contender Batista, who chaired him into mush to end the show. Then, last week, Batista ambushed Taker during his entrance to end the show. They face off in a chairs match at TLC this Sunday. But tonight, Batista is challenged by Rey Mysterio in a street fight.

From the Planet Houston, SmackDown hosts Todd Grisham and Matt Striker prepare you for TLC.

Batista goes to the ring to speak his mind. His new shirt design is both retro and clumsy. He didn't ask for the rematch against Ray (Crowd: You suck anyway!). Rey's the one who got "all high and mighty" and doesn't deserve to be in the same ring with him. He noticed the disapproval of many since he pursued the world title, but he doesn't care. He was born to be the world heavyweight champion. He used Evolution to start his title arc. They needed him. Rey needed him. He needed neither, and he doesn't need the audience's favor. He requests a spotlight and points out he deserves to be so illuminated. Everything he does says he deserves the title. Undertaker's no longer a dominant force as evidenced by Batista's ambush. Batista sees fear in those eyes. Taker, like the crowd, is too stubborn and stupid to realize he's already lost. His defeat is a formality. Get used to "world heavyweight champion Batista." Maybe his best monologue to date. It won't start any catchphrases, but it was clear and linear, and it sold the match. Good job.

AVATAR! Early reviews are dewy in the drawers over the effects, but ho-hum for the story and script. I might catch a weekday showing.

Dish Network makes its case, but I just signed up for HD with DirecTV. I've had that service for a few years with no problems, and I'm finally ready to upgrade, two years after Beyonce pleaded for it via backup dancers.

Matt Hardy/R-Truth vs. CM Punk/Luke Gallows
This is Luke's first official match since returning to the WWE. Ah, Punk's giant smile (Striker: "the SmackDown Savior") always lights up the room. We see Gallows and Punk work over Truth from last week. Two weeks ago, they gave the business to Matt. Thus, this tag match. Punk has the mic and Jeff Hardy's DVD set. He's not shocked it's flying off the shelves, but he is shocked that horrible parents are buying it as a Christmas present for their children. Crowd: "BOO!" Punk: "I know. I can't believe it either." You might as well stuff their stockings with hallucinogenic magic mushrooms. Your child will probably think he can do the impossible. In reality, this DVD will make you is a washed up, good for nothing, unemployed junkie. And then they stomp the DVD.

Truth raps his way to the ring and declares they have a bag of magic. Indeed, Hardy has a travel bag. Truth: "What's up?!" Punk: "Straight edge!" Matt opens the bag and hands out copies of the DVD to the audience. Punk is appalled. He orders the crowd to reject the gift. It's poison, he yells. Sell it on eBay! Oh, this is perfect, perfect salesmanship. Punk won't shut up, and Truth pops him with the mic.

Luke and Truth start off, and Truth is put into the wrong corner early. Punk tags in to get payback, but Truth staggers him and clotheslines him outside. Ad break!

Punk is double-teamed as we come back. Matt covers for two after a double spinning elbow-drop. Truth comes back in, and Punk suplexes him onto the top rope. Gallows is in with a gutbuster. Punk comes back in. A snap powerslam gets a two count. FALCON ARROW! That gets two and sets up a sitting abdominal stretch. Gallows is back in with a bearhug. Truth work out ot if but runs into a boot. Punk tags in as his team keeps Truth in their corner. A backdrop suplex allows Punk to work the crowd as he goes up top. Striker mentions Gallows's hope that others will follow Punk and refers to the Gospel of Luke. That is a brilliant idea for that angle. Punk wants the springboard clothesline, but Truth dropkicks him on the way in.

Matt tags in with a sleeper neckbreaker. That gets two. Floppy forearms corner Punk, and a yanking sitout powerbomb gets two. Up he goes for the yodeling legdrop. Gallows stops the pin. Truth runs in with the lariat corkscrew. Punk shoves Truth out. Matt turns him for a Twist of Fate, but Punk reverses to the G2S. Matt slides back and shoves Punk to the ropes. He touches Gallows, and the ref signifies a tag. Hardy hits the Twist, but here's Gallows with a boot. Gallows Pole gets three. The bad guys are all smiles on the ramp.

Backstage, Eric Escobar and GM consultant Vickie Guerrero are jawing away. How are they in the same room with each other? GM Teddy Long asks for a translation, and Eric says people thought she was his mom. But his mom is not as big as Texas. Vickie suggests that Eric get in the ring against Chris Jericho right now. Eric responds in his native tongue (Jabroni) and translates for Teddy. Her breath is muy stinky, and he will take on anybody. Vickie blows her top. They have reduced her to a straight-man for Eric, and it's weakened her villainy. She's just a harpy now.

Kane strolls backstage and locks eyes with Mike Knox, his opponent from last week. Knox realized they are the same: both monsters no one understands. He enjoyed the fight, and he wants it again. Kane denies the similarity, but he agrees the fight was enjoyable. He's up for a rematch. Knox promises to break him but will ride in the ambulance with him. Kane goozles him. Knox notes that asphyxiation can cause extreme euphoria. Kane is disgusted and takes his leave. Knox is trying to give us kooky solemnity, but it reads as stiff. At least he's not working a forced maniacal laugh.

Eric Escobar vs. unified tag champion Chris Jericho
A replay of last week shows the third breakup, the handicap match against the Hart Dynasty, and her slap. Again, why is he so jovial toward her?

Avatar is PG-13, and it gives the old Marine goosebumps.

Jericho makes his entrance. He and partner Big Show face DX in a match this Sunday. They clobbered DX last Monday as a replay shows. Jericho slaps Eric, and he responds with WEAK punches. Leg lariat and clothesline follow. He corners Jericho but runs into a boot. Jericho charges right into a Sky High. It only gets two. Jericho is sent outside. Vickie walks to the stage with a mic to announce that this will also be a handicap match, and here comes Big Show. "Bueno suerte, Eric. Good luck."

Eric quickly rolls up Jericho while Show walks to the ring. He can't get the pin. He works over Jericho but eats a boot. Tag is made, and here comes Show. Shoulderblock lewads to the Hog Leg. Show steps on Eric on the way to tag out. The Walls of Jericho quickly get the tap out. Vickie is pleased. Jericho says he and Show guarantee the end of DX. That's more important than the title. Again, Jericho says he has tables, ladders, chairs, and the ultimate weapon: Show. Big Show wants DX to remember their faces as he says they are the end of DX. Nice sales pitch.

Drew McIntyre is headed to the ring. The Lovely Mrs. Tracker is headed to delirium.

This Monday, RAW brings you three hours of Slammy Awards, hosted by Dennis Miller. Will get annotations on Miller's jokes from the WWE website?

McIntyre walks to the ring. He faces IC champ John Morrison for the belt this Sunday. On the mic, Drew notes Vince McMahon personally signed him and designated him a future world champ. And yet, he's not on the cover of the current WWE Magazine. He shows the victory over Morrison from last week. His finisher still doesn't have an official name. Drew is surprised the crowd likes Morrison. Is it because he's American? Does a fancy flip or two? Has the IC belt? A USA chant begins. The notion of Morrison retaining is a much a myth as the Loch Ness Monster or the depiction of William Wallace in Braveheart.

Morrison enters to the sound of bagpipes. He's dressed as Wallace, complete with sword and face paint. Drew is seething. You know, that face paint and hair make John a spooky dead ringer for Gibson. He defends the movie with a Scottish accent. Drew says he looks ridiculous. John says the people don't like him because the accent is too thick. It's this kind of joking that will lose the belt, Drew warns. Morrison continues the shtick and brandishes the sword and calls him "lady." Drew: That's "LADDIE." Morrison loses steam by working the crowd and notes that Drew has hobnobbed with the old guard of wrestling. He tweaks the Braveheart catchphrase, and Drew demands respect for him and his culture. He says Morrison is hiding behind his sword. He wants a fight. Morrison complies and wonders why he thinks he's a big shot after a "crazy, senile, old man" endorsed him. Morrison says he only needs the audience's endorsement, and he'll whip Drew on their behalf. Morrison pops him, and Drew rolls outside to fume. Morrison poses as his theme blares.

A montage recaps Batista's beatdown of Mysterio.

A third Avatar ad also doesn't mention the romance subplot. Surprise, kids!

Kane vs. Mike Knox
I wonder if this is sets up a brief tag team challenge for the JeriShow belts. Also, while I'm fanficcing, I'd sell Knox as wrestling's Kimbo Slice: a charismatic brute who's still learning the ropes. Knox, showing his smarts, avoids the seated dropkick that started last week's match. He hotshots Kane from the outside but goes back in and gets goozled. He fights off the chokeslam and bicycle kicks Kane down. Knox clobbers Kane on the mat and corners him. An avalanche and clothesline ground Kane. Kane blocks a running splash and returns fire with the seated dropkick. It gets two. Kane uses the corner clothesline/sideslam combo for two. He goes up. Knox avoids the flying clothesline and connects with the KNOX BLOCK for two. Kane reverses the Knox Out with a chokeslam. There's a three count. He expresses grudging respect.

DX and Hornswoggle sell the merchandise. This ran on RAW I think.

Maria/Mickie James vs. women's champ Michelle McCool/Lydia
Replay from last week shows Maria's return after James won the number-one contender match. The heels continue to sport "Piggie James" shirts. James and McCool meet at TLC. Maria armdrags the champ around before trying some light kicks. Michelle catches her off the ropes for an airplane spin backbreaker. It gets one. Knees to the back get two. McCool pops James to set up a doubleteam. She tries another sideslam, and Maria reverses to a headscissors. James tags in. McCool tags out, and Lydia comes in to take the punishment. Lydia recovers from forearms to slam James's head to the mat but turns her back and eats a Thesz Press. She sends Lydia crashing into McCool and rolls up Lydia for the pin. Maria's electric '80s outfit was hideous.

Avatar is blue aliens on flying tigers versus Marines in robot suits. And I'm positive that's all it is, so stop asking.

The RAW rebound features Kofi and Mark Cuban's revenge on Orton. In the ring, Striker and Grisham sell the PPV.

Rey Mysterio vs. Batista - Street Fight
Striker reminds us that Batista has a signed waiver that removes him from responsibility for what he does to Rey. When last they met at Survivor Series, Batista left gave Rey a big ole whuppin'. Rey starts with a flurry but runs into a beefy clothesline. Batista shoves him in the turnbuckles. He drags Rey by the head to the center of the ring. Rey runs into an elbow, and it gets two. Batista presses a knee into Rey's head and then boots him in the back. A body slam keeps the pace slow. Rey escapes a second slam and uses his feet to set up the 619. Batista avoids it, and they do a Looney Tunes back-and-forth in and out of the ring until Rey baseball slides into him. Batista bounces off the railing, and Rey poses. We take a break.

Batista is stretching Rey against the corner post as we return. He whips him with a camera cable before slamming his head into the announce table. He military presses Rey and drops him on the table. Back inside, he slaps on a camel clutch and drops his weight on Rey's back. Rey tries to come back but again runs into a clothesline. Batista gets a chair and drops it to the mat. He wants a Batista Bomb on it. Rey fights out and toe-drops Batista onto it. A springboard senton allows him to set up the 619. It hits! Rey slingshots in with a splash! Two count only! Rey grabs the chair. To the gut! To the back! Rey wants another, but Batista spears him down! A spinebuster gets Batista ready to use the bomb. He grabs the chair instead, pops Rey, and pins easily.

Batista chases the ref away and puts Rey's head in the chair. He goes up to the second rope. GONG! Out go the lights. when they come up, Rey is gone, and Taker is standing in the ring. Batista leaps into a punch, and Taker unleashes on him. He wants the chair, but Batista runs off. They lock eyes. Taker cuts the throat and his entrance music and pyro don't bode well for the number one contender.


---

"To be the man, you gotta beat demands." -- The Lovely Mrs. Tracker
Promote this thread!
It's False
Scrapple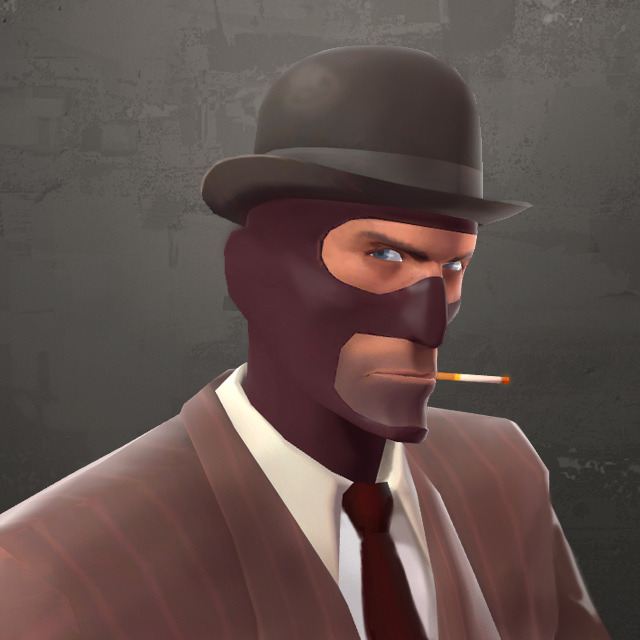 Since: 20.6.02
From: I am the Tag Team Champions!

Since last post: 270 days
Last activity: 64 days

#2 Posted on | Instant Rating: 4.32
It's almost a shame that they've essentially blown off the Batista/Rey feud, because I don't think there's been any better way to build Batista as a ruthless badass. That was a fun little squash to end the night.


---

All hail the Hypno-Toad
emma
Cherries > Peaches



Since: 1.8.02
From: Phoenix-ish

Since last post: 44 days
Last activity: 2 hours

#3 Posted on | Instant Rating: 8.43
The Lovely Mrs Tracker has her some fine taste in "developmental talent"! (As does the Charming Miss Emma. Ahem. :-) ) I knew McIntyre was good & definitely "prime time" when I first saw him in several dark matches (The W) in California. I'm loving him with Morrison! And as fabulous a job as John did on his side of the promo, Drew did extremely well on his side. (It's tough to not look like a doof while you're standing there while the other guy goes on.)

I did check if Morrison was wearing either a McIntyre or Morrison tartan. Nope.I was also thinking the way John was brandishing the sword, it must be a theatrical one, but that it looked really convincing. Including the moment when he nicked himself with it. I'm pretty sure it was all they could do to keep it together til they got backstage.

I was already pretty much in for the PPV, based on Shelton/Christian wanting to steal the show. Now I'm definitely in for Morrison/McIntyre as well!!
John Orquiola
Scrapple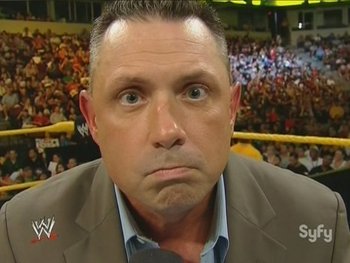 Since: 28.2.02
From: Boston

Since last post: 1631 days
Last activity: 1631 days

#4 Posted on | Instant Rating: 5.24
[quote Matt Tracker
From the Planet Houston,
---


I think I enjoyed this Superman II reference more than I enjoyed Smackdown this week.
Oliver
Scrapple



Since: 20.6.02

Since last post: 1385 days
Last activity: 1379 days

#5 Posted on | Instant Rating: 3.38
I loved the John Morrison/Drew McIntyre bit - absolutely brilliant, easily the highlight of the episode.


---






SAMURAI SENTAI SHINKENGER!
2P4E
Boerewors




Since: 4.1.05
From: SE12, London, UK.

Since last post: 1091 days
Last activity: 5 days

#6 Posted on | Instant Rating: 5.12
The highlight for me was Striker commenting that Michael Hutchence and David Carradine could attest to Knox's claim that a lack of oxygen leads to euphoria.