Matt Tracker
Scrapple



Since: 8.5.03
From: North Carolina

Since last post: 38 min.
Last activity: 20 min.

#1 Posted on | Instant Rating: 6.67
It's too early for the WWE to add a mention on the show for Umaga, but he left SmackDown and the WWE after elevating Jeff Hardy and CM Punk as credible opponents for true heavyweights. Punk got him with the G2S cleanly more than once, and Hardy earned another highlight moment by diving on him from atop the cage.

Last week, world champion Undertaker faced off against unified tag champ Chris Jericho but was clocked by top contender Batista, who chaired him into mush to end the show. They will meet at the TLC PPV in a chair match. Tonight, Taker is gonna call him out.

From Hampton, VA, Matt Striker and Todd Grisham are your hosts for SmackDown!

CM Punk w/ Luke Gallows vs. R-Truth
Luke used to be Festus, if you recall. Two weeks ago, R-Truth intervened in Punk's intervention for the WWE Universe and laid him out with a trashcan of cigarettes, whiskey, and pills. Punk allegedly cleaned Festus/Gallows of prescription painkillers, and the two gave Matt Hardy what-for last week. The implication then is that Festus is no longer a simpleton brute with the Pavlovian reflex. He does, however, looks like Brother Ray Dudley going to a biker bar. Truth works the crowd before the match with his catchphrase, and Striker berates his "licentious behavior, nout to the discotheque and listening to the hip and the hop music."

Truth punches to begin but dances his way into a gut kick from Punk. Punk corners him until the ref pulls him off. Truth literally flips, flops, and flies before connecting with a sweeping jump kick for two. He applies an armlock to keep Punk down. Punk pops up with a soccer kick to the back and a successful headbutt (!) to the forehead. Well, we've come a long way. He softens Truth up for a suplex. Truth reverses slowly and runs into an elbow, and he looks like he got his bell rung. Punk runs him into the ringpost outside, and we go to ads.

This week's first Avatar ad focuses on the military-versus-alien beast angle.

A Droid ad follows, and The Lovely Mrs. Tracker blinks a few times and asks, "who's Doctor Oid." This might be a long nine months.

We're back with Truth escaping an armbar chinlock before Punk snaps off a brilliant armlock suplex. He's doing new moves every week, is Punk. It gets two. Punk stretches the arm in the ropes before going to shortarm shoulder shocks. Truth throws rights, but Punk lowers him with an sitout arm wringer (imagine a Stunner applied to the shoulder). "The SmackDown surgeon general," as Striker calls him, only pins for two. A keylock keeps Truth down for a time, but Punk uses a shortarm clothesline to set up a what looks like a Sharpshooter on the arm. I'm sure these moves have proper names, but they're beyond me. I'm delighted to see Punk's submission clinic each week. Truth tries to fight out, and Punk gives him the windmill Monogolian chop for two. Can't be an intentional nod for Umaga, but the timing is noteworthy. Another two count. Truth escapes a suplex with clotheslines, but his arm's too hurt to maintain momentum. He hiptosses Punk and runs to the ropes where Gallows trips him up for the DQ. Gallows drags him out and works him over before feeding him to Punk back inside. Punk tells him to put Truth into the ringpost to allow Punk to hit the running knee. That in turn sets up the Gallows Pole (reverse full nelson tree slam). Punk kisses Gallows's bald head in pride before posing to the booing masses.

A graphic says Taker is gonna call out Batista tonight.

The ad for the PPV is almost chipper as it shows folks crashing through props and each other.

Kane vs. Mike Knox
Kane seems to get a mixed reaction from the fans. They haven't yet had that full-face moment to realize he's no longer bullying people. Knox does not get an inset soliloquy on medical injuries. We're told is Kane is still angry at missing a chance to challenge for Taker's belt. He grounds Knox with a headlock and the seated dropkick for two. Knox corners him with rights. Kane tries an avalanche clothesline. Knox blocks and then KNOX BLOCKS. Golly! It gets only one, and Knox commences to whoopin' on Kane. He boots the ribs and charges Kane in the corner. A beefy leaping splash gets only one. Knox bearhugs Kane on the mat. Kane gets up and boots Knox down. "And now the hills have eyes as Jacob Goodnight seems to take control." There's the avalanche clothesline. And another. And he sideslams the big man. He goes up and connects with the flying clothesline. He wants the chokeslam. Knox fights out, seeks the bicycle kick, and is blocked by Kane, who uppercuts him. Chokeslam! It's over. A dandy match by the big guys. Kane ignites the turnbuckles.

Backstage, Josh Matthews reminds Jericho that he has to face DX in a handicap match on RAW Monday. Jericho isn't sweating it because he and partner Show get DX in a TLC match at the PPV. He details the potential punishment the props provide while insulting the fans who want to see it. Show says nothing. He doesn't need to; Jericho can do this all day long. DX will be dead, he promises. He dismisses the tables, ladders, and chairs in favor of Show, the ultimate weapon. Show regards his giant fist and feigns punching the camera to take us to commercial.

Layla and womens' champ Michelle McCool sport "Piggie James" shirts to watch a triple threat match.

Mickie James vs. Beth Phoenix vs. Natalya - Triple Threat/Number One Contender's Match
This is the first competitive match Beth has had on the show since being traded. A tentative stalemate falls apart when Beth clocks Natalya. She goes after Mickie and misses a corner charge. Mickie uses the corner head scissors on Natalya before Beth chucks her out. Beth and Natalya shove each other, and Natalya grabs a headlock. Beth shoves her to the ropes, and they collide in the center of the ring. Neither budge. Beth runs off the ropes, and they collide again. Natalya won't go down. Mickie slides in, but the blondes dump her to continue their beef. A double running clotheslines drop them both, and we go to ads.

When we come back, Natalya is surfboarding Mickie. A replay shows James getting a top-rope Thesz Press to sideline Beth. She switches to a headlock, and Beth clobbers her to break the hold. Mickie runs off the ropes with a neckbreaker on Natalya for two. Beth stops the pinfall to set up a slingshot suplex. Mickie catches herself off the ropes, but Natalya rolls her up. Beth stops the pin again. She scoops Mickie up for an Oklahoma Slam, but Natalya dropkicks Mickie's back, and she lands on Beth for two. Mickie dropkicks Natalya's knee but runs into the discus clothesline. She looks for the Sharpshooter, but Beth grabs her for the Glam Slam. Mickie dropkicks the pinning Beth outside and covers Natalya for the pin. She will officially challenge for McCool's belt. Nice women's match. Much better than the usual divas work.

In the ring, Josh asks for comments. Mickie wants the belt, sure, but she wants Michelle more. She walks over to the champ and promises to shut her up permanently if she can dislodge Layla from Michelle's butt. She shoves Michelle back into her chair and wales on Layla. Michelle jumps her from behind, and the two shove Mickie in the ring. They work her over until a returning Maria makes the save. She slaps Michelle in the mush to set up Mickie's bionic thigh Thesz Press. The champ and her crony regroup up the ramp. Maria has curled her hair and altered her make-up and is firmly in the yowza category.

Backstage, GM Teddy Long tells Batista that Rey Mysterio wants and will get a street fight next week. Batista wants the waiver to remain in place and challenges Teddy to keep Taker at bay. Long says Batista made his own bed and now has to spinebust it. Or something.

IC champ John Morrison and Matt Hardy bond over the latest WWE videogame (the PPV sponsor) wherein John has created a Drew McIntyre to beat up. But tonight, he's gonna do it for real. That's next.

Avatar makes its second appearance of the night. It's "the ultimate live action, 3D adventure."

Taker's gonna call out Batista, looks like.

IC champ John Morrison vs. Drew McIntyre
Well, well, look who just grabbed herself some couch. Drew is undefeated in singles matches, I think. Striker reminds us that Vince personally signed him and expects him to become a world champ. Drew has the mic and says the belt has gone to Morrison's head. Morrison decks him to shut him up. Morrison keeps him down with legsweeps to set up the standing shooting star for one. Drew boots the champ down and floors him with an uppercut. He corners the champ but can't hit the backdrop. Morrison kips down to avoid the running boot, kips back up, and connects with a Pele kick. Wow. That gets two. Drew knees him on the apron and then runs him to the adjacent ringpost and into the railing. Morrison is shoved back inside for a two count. He's cornered again. A running elbow puts him down and into a seated abdominal stretch variant. Do these guys pick new moves out of a hat before the show? He stomps Morrison down for a seated chancery. Morrison punches out. He goes to the corner for a floatover, but Drew sidesteps and boots the gut midway. Nice. That gets two. He clubs away with forearms to the injured torso, and we go to the ads.

we're back, and Drew leans into a stiff clothesline and pins for two. He kicks him some more. Now the champ is pissed, and they trade punches. Drew slaps on an underhook nelson. Seriously, are they competing for most armlock variants each week? I'm not complaining; I'm bedazzled. Morrison kicks out of it, and Drew mule kicks him down. Morrison kicks back to get his footing, decks him, and hits a running shoulder and the leg lariat. He's slow to pin and only gets two. The champ is sore from this match and the previous weeks'. Shining wizard gets two. He bounds for the Flying Chuck, but Drew kicks the legs out, and Morrison crashes. He kicks out at two. A shortarm clothesline puts him back down. Drew picks him up, and Morrison charges.

Drew grabs him for a sideslam, but Morrison goes for the twisting head scissors, and Drew counters to a tilt-a-whirl backbreaker. Two count only! Drew can go. He looks for the St. Andrew's, but Morrison evades and drops McIntyre with a running dropkick. He wants Starship Pain, but Drew rolls out. He hotshots Morrison from the outside, and Morrison responds with a springboard kick. The champ follows him outside. Morrison tries to pull him up, but Drew grabs the ring undercarriage and yanks Morrison's shoulder and head into it. He drags Morrison inside. ST. ANDREW'S CROSS! Three count! And ... this is non-title? Huh. Drew's longest singles match is a showcase, and suddenly he does look like a contender.

Avatar again. Also another ad for the UFC videogame. I'm tempted by it. Is it any good?

Official GM consultant Vickie Guerrero walks to the ring as we see last week's mutual breakup with Eric Escobar. She says she was humiliated by her ex-boyfriend. He dared to yell and question her personal hygiene. The audience heat is molten. She promises punishment. She pauses to milk the crowd and damn near cracks a smile before unleashing another "excuse me." She is a showman all the way. She demands Eric come to the ring and beg forgiveness if he wants to keep his job. In the ring, Escobar says he's sorry ... that they ever met. He continues and works the crowd. She responds by going full banshee and makes a handicap match against the Hart Dynasty right now.

Tyson Kidd/David Hart Smith vs. Eric Escobar
Escobar sends Kidd reeling and connects with an awkward dropkick. Kidd rolls out of a backdrop. Smith distracts Escobar, and Kidd dropkicks the knee. Smith tags in with a big boot. He stomps the gut and tags out. Smith kicks his gut some more before running into a seated spinebuster, called a modified Sky High by Striker, for two. Smith tags in and runs into a Puerto Rican Necktie (an STO into a Downward Spiral) for one. Smith runs him into the corner and flattens him with the teardrop suplex. Kidd tags in for the springboard Hart attack and the three count. Kidd helps Vickie back into the ring. Smith holds Escobar so Vickie can scream at him and slap him silly. Smith boots the ribs again to leave him lying.

Backstage, Josh asks Luke Gallows to explain himself. Gallows blames his friends and family for his addiction and the comatose state it created. Yep, Festus was a drug fugue. Punk hails him as a success story, and Luke "prays" that everyone else can see Punk as a "savior" too. That beard does make him look messianic.

The hosts catch us up on the matches made so far for the TLC PPV.

Unified tag champs Chris Jericho/Big Show vs. Cryme Tyme
This is your main event, looks like. Striker and Grisham toss around the JeriShow moniker casually. Shad Gaspar has dumped his cornrows in favor of a close cut. JTG starts off against Jericho, and Jericho works him over in the corner. JTG slides to deliver an uppercut reminiscent of Goldust. A roll up gets two. A running blockbuster also gets two. Jericho goes outside and eats a baseball slide by JTG. Back in, he connects with a second-rope reverse Fameasser for another two count. Show spooks JTG, and Jericho clips him. He gives JTG the boot a few times and uses a backdrop suplex to set up a rope choke. A boot to the ribs precedes a chinlock. JTG hulks up and runs for Jericho to hit a floatover Eye of the Hurricane. Hot tag to both corners, and Shad runs into Show's right cross, and he is out cold. An easy three count follows. Eep. The champs exchange a happy handshake. Lesson learned: Don't cut your 'rows, Samson.

That Film again.

The show-opening video shows Batista waylaying the world champ with a chair.

GONG. Through dry ice and brimstone, it's YOUR world champion. He's back in the leather druid robe this week. He ambles down the ramp, and Batista attacks from behind with a chair. Into the steps goes the champ. More chair shots. Back to the steps again. Batista chokes him with the chair and throws Taker inside the ring. CRACK. Batista picks up the belt and drops it, goes back to the chair, and sets it flat on the mat before spinebusting Taker onto it. Batista holds the belt and boots the champ. Taker rises to a knee and eats a belt shot. The number-one contender poses on the corner with the chair as we fade to -- wait, nope, we see a video promoting the Mysterio/Batista street fight next week.

Such a fun episode. Everyone was in the zone to put on a show. The formulas for matches may not have changed, but the transitions of momentum and the specific moves have. I had a great time watching this. Even Escobar looked decent.

EDIT: I forgot the f'ing logo.

(edited by Matt Tracker on 4.12.09 2004)

---

"To be the man, you gotta beat demands." -- The Lovely Mrs. Tracker
Promote this thread!
CruelAngel777
Sujuk



Since: 7.4.02

Since last post: 5 days
Last activity: 6 hours

#2 Posted on | Instant Rating: 2.37
To answer your question about the UFC videogame it's really well done, but I felt building your character was kinda boring and repetitive. My opinion from the game comes from playing it offline however, you maybe able to strengthen your created character in online matches like the latest Smackdown vs. Raw game.


How long has Morrison been working the injured rib angle? I know every burgeoning face has to have a injured body part to gain sympathy in matches, but the midsection may not be the best one. With it being so toned all the time you can obviously tell he keeps a steady core excercise regimen. If his mid section was injured for too long his ab definition would show lost tone, which it is not. They should of went with knee injury since he wears long pants and likes to do all those kicks.


Matt Tracker
Scrapple



Since: 8.5.03
From: North Carolina

Since last post: 38 min.
Last activity: 20 min.

#3 Posted on | Instant Rating: 6.67
The midsection is also the usual target on Rey Mysterio, despite the majority of his offense relying on his knees and quads. Maybe he doesn't want to someone to accidentally hurt him by working his legs.

Even Batista has switched from his briefly seen anklelock to a body-scissor chinlock when he's wearing someone down.

And, again, the variety of holds we're seeing each week is astounding.


---

"To be the man, you gotta beat demands." -- The Lovely Mrs. Tracker
John Orquiola
Scrapple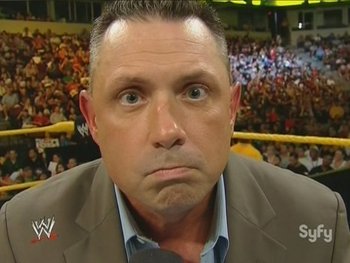 Since: 28.2.02
From: Boston

Since last post: 759 days
Last activity: 759 days

#4 Posted on | Instant Rating: 5.24
I was pretty impressed that Natalya went 50/50 with Beth Phoenix in their face off. Mickie showed some fire in her promo as well. And Maria is back, which makes me happy. The Smackdown Divas division seems very focused, and four of the six Divas on the brand can really work, which may be some kind of record for Smackdown.

Luke Bellows' post finisher missionary mounting of his fallen opponents is the inverse of Maryse's sexy covers of her opponents (like how she mounted Melina on RAW - golly.)

I enjoyed Grisham calling Striker on his relentless praise of Morrison's chiseled good looks. ("My sister's a fan...") McIntyre hadn't really impressed me but his flinging Morrison into the ring post while simultaneously vaulting over the top rope onto the floor was something I've never seen before. McIntyre would benefit from a manager. Like Katie Lea Burchill. McIntyre and the Burchills together would be a pretty good package.

It never ceases to amuse me how 99% percent of wrestlers are shirtless every show, but Batista takes off his wifebeater mid-beatdown of Undertaker and still gets "AAAHHHH!" from the women in the crowd.

(edited by John Orquiola on 6.12.09 1221)
KJames199
Scrapple
Moderator



Since: 10.12.01
From: #yqr

Since last post: 7 days
Last activity: 3 hours

#5 Posted on | Instant Rating: 7.06
Originally posted by Matt Tracker

---

Luke used to be Festus, if you recall. (...) Punk allegedly cleaned Festus/Gallows of prescription painkillers, and the two gave Matt Hardy what-for last week. The implication then is that Festus is no longer a simpleton brute with the Pavlovian reflex.

---
Since the WWE has established that:

1)- drugs turn you into a retard, and

2)- CM Punk can save you from life as a drug-addicted retard,

I think Punk should form a stable where he reforms all of the famous retards in wrestling history. Eugene, of course, and Dave Sullivan, Norman The Lunatic, George "The Animal" Steele... maybe they can bring in Rick Steiner to thank Punk for saving him back in 1991 or thereabouts.


---

JK: LJ, FB, T