Matt Tracker
Scrapple



Since: 8.5.03
From: North Carolina

Since last post: 6 days
Last activity: 11 hours

#1 Posted on | Instant Rating: 6.67
It's two days til Survivor Series and four days since a rollicking RAW. Can SmackDown keep the momentum going?

From Philadelphia, Kane/Undertaker unite to face the unified champs, JeriShow, and the IC title is on the line in a 2/3 Falls Match.

Batista vs. Matt Hardy
Batista fumes as he walks to the ring, and he's announced as a former world heavyweight champion. Odd. This is a return match from two weeks ago when Batista got himself DQ'd by bashing Hardy at ringside. Last time, Batista was in a much happier mood. Can Hardy survive a match against Surly Dave? Also, Matt ... look, we here at Stately Tracker Manor root for you, but you gotta pick it up a bit. May we recommend going back to your former weight, dropping some mass and regaining our zip? You've been big since you returned to the WWE to pay back Edge for taking Lita. Now you're sluggish. And those key pants aren't doing you any favors.

Matt starts off with fists that aren't as floppy as normal. I think he's trying to punch with the back of his fist. Batista drags Matt out, but Matt gets the upper hand and shoves him back in. More floppy punches until Batista shoves him headfirst into the second turnbuckle. He follows with an Oklahoma Slam for two. He hits Matt with squats to the back and slaps on a prone Steiner recliner. He switches to a headlock. Matt frees himself with a jawjacker. More floppy punches. Second rope elbow sets up the Twist, but it's blocked. Batista tries a Bomb, but Matt reverses to a DDT. That gets two.

He can't hit the Side Effect, and Batista chops the knee from behind. Matt sends him headfirst into the same second turnbuckle. He climbs up to punch, and that's turned into a Snake Eyes. Batista isn't wrestling a power match. This is a fairly standard moveset, and I wonder if he's still injured. Has he heaved anyone around since his return? Standing spinebuster qualifies as heaving, I guess. A second splats Hardy. A third. The crowd cheers for the big moves. Now the Bomb connects, and never mind what I said about heaves. He gets the pin. Matt needs a reboot. We love ya, Matt. Turn that corner.

Striker and Grisham remind us Batista wanted Rey Mysterio to sign a legal document freeing him from accountability if he goes gorilla on Rey at the PPV. Rey signed it last week before table-facing Batista. Josh pulls Batista aside backstage. He's not happy with Rey. Rey made "three major mistakes:" 1) he cost him the title in the PPV fourway; 2) he signed the hold-harmless agreement; and 3) he embarrassed him as never before. At the PPV, Rey will be punished with no mercy, regrets, or remorse.

An Avatar commercial. It looks like an epic movie for eight-year-old boys (monsters versus walking tanks, dragons vs. helicopters, alien worlds, tomboy girl aliens, a guy in a wheelchair becomes an alien Tarzan), and I wonder if a kid that young can watch a film that long.

A video recap of the Kane/Taker history is WEAK. It only stretches back about a year, except for one short clip of Kane in a mask as they chokeslam the Dudleyz. No Paul Bearer, no urn, no caskets, no red bodysuit. These guys have been in the company forever, and that's all they can gobble together? Wow.

GM Teddy Long is greeted backstage by Vickie and Escobar. Vickie says the Kane/Taker reunion is something she never would have tried as GM. She wants Teddy to cancel the match to show up Vince and to safeguard the PPV main event. Also, why is he disregarding Escobar? Teddy bristles and tells them to scoot. "TEDDYLONG, TEDDYLONG, TEDDYLONG." Here's Vince. He tells Escobar he "has great promise" before telling Teddy that teaming up the brothers is stupid and it could ruin the PPV main event. Teddy says it was Vince's idea, and Vince interrupts to remind him he's still on probation. He makes Vickie a consultant to Teddy, and Vickie screams and screams and screams in joy. Striker says it plain: "She's back."

Drew McIntyre vs. Finlay
Here's Vince's other promising newcomer. We recap his feud with Finlay, laying the Irishman out twice. He mocks Finlay on the mic, calling him a little old lady scared of Drew. He wants a fight. As befits a man who has been ambushed and clobbered with his own stick, Finlay smiles and waves his way to the ring. Striker claims he has "internal bruising," but he seems awfully chipper about facing Drew again. He tackles and pummels Drew, and McIntyre runs. Finlay sends him back in and continues to smother him. The ref can't keep them apart. Drew gouges his eye to stop the abuse and snaps the St. Andrew's Cross for a quick pin. Drew sells it like he escaped a car wreck. Another short bout for him too. These guys tussle in a tag match at the PPV Sunday.

CM Punk sashays to the ring. He appears to be limping. He has a table set up in the ring with three X-labeled paint cans and a trashcan. It's an intervention. I prefer Punk when he's talking about other wrestlers and not the fans. He wants the fans to confess to their addictions, and this gets old pretty quick. The first can is moved to reveal cigarettes, and he reads the Surgeon General's warning. They go in the trash. The second can has a pill bottle. He reads that warning too. In the trash go the pills. Can number three reveals a whiskey bottle. That gets big cheers. Speaking of interventions, we need a run-in, like, two cans ago. Punk's a great talker, but he needs a feud. Give him credit: He gets Vickie heat for pouring out alcohol in the trashcan. R-Truth heads to the ring, and he has the opposite problem. He has an angle-sparking position but lacks the verbal skills to sell it. Truth tries to rattle him by saying Punk thinks he's better than everyone else. OF COURSE HE DOES. He's been saying it FOR MONTHS. Truth takes the implied stance that freedom of choice carries with it the risk of making bad decisions, and he DDTs Punk. "Truth is: I don't like you." He pours the can onto a horrified Punk, and Good Lord is the crowd rabid for it. Can't argue with success, I suppose. Striker defends Punk from Truth's assault, and Grisham turns this into an anti-drug message.

Intercontinential champion John Morrison vs. Dolph Ziggler - 2/3 Falls Match
If Dolph loses here, a gimmick shift has to follow. They're facing each other Sunday in a tag match. The match last week went to a double countout, as we see in a recap. Grisham notes that their injuries would only be exacerbated by the long flight from Europe. Nice point. During the tour, Morrison sold the ribs injured a few weeks back. Will that come into play tonight? Ziggler starts aggressive for a quick one-count. Morrison dropkicks him before a leg lariat gets two. He yanks Ziggler to the mat face-first to set up Starship Pain. Ziggler rolls out. Morrison hits a springboard 360 splash to the standing Ziggler, and that hurt them both. He shoves Dolph in, and Starship Pain glances off Dolph's knees. Both men are in trouble early. Dolph staggers over, and Morrison rolls him for three. There's the first pin. Ziggler is aghast. The ref keeps them separated for the mandatory pinfall recess. To the ads we go.

Dolph is in control when we come back. He gets two off a snapmare. A body-scissors chinlock keeps Morrison down. he elbows out and gets two off a roll up. Dolph ducks the Shining Wizard and hits the Zig Zag. That gets three. We're tied after about four minutes. Again, the ref keeps Dolph back. Can Morrison compete? The ref checks on him as he slowly gets his footing. Dolph dropkicks him down for two. Here are the elbows. A two count again. Back to the body-scissors chinlock. Dolph is not playing this like a cool heel; he really wants to win. Morrison escapes, but Ziggler drops him in a beautiful military press gutbuster to both knees. He still can't get the pin. Dolph stretches him on the ringpost before dropkicking him into it. They trade two-counts. Leaping facebuster by Dolph for two again. Ziggler won't stop. Morrison slips through a sideslam and hits a swinging DDT. Ziggler sells it beautifully. Starship Pain hits! Three-count! Morrison retains, and Dolph is dead.

Mickie James vs. Layla
Last week, we saw women's champ Michelle McCool and Layla cut up Mickie's clothing at ringside. Mickie and Layla also face each other in a tag match Sunday. James ain't having Layla's attitude. She walks into a kick to the knee and drops like deadweight. A running dropkick gets two. James uses a bridging rollup for a quick pin. Layla introduces a video of Michelle McCool singing "Old MacDonald" with James's face 'Shopped onto a pig. James is crying in the ring and up the ramp. McCool's pledge to make her life a living hell seems to be working.

Rey Mysterio vs. Tyson Kidd w/Natalya
This could be good. Batista sits next to Striker and Grisham for the match, but he's silent. The former blood brothers lock eyes before the bell. Rey goes up quickly, and Kidd trips him and hangs him in the corner. Rey is shoved hard into the opposite corner. Kidd kicks the back for two. A modified surfboard keeps Rey down. He kicks out but takes a running dropkick to the head for two. Kidd misses a springboard elbow drop. Rey charges him in the corner for a hurracanrana and rolls through to kick Tyson in the head. That gets two. Rey springs off the ropes for a spinning hurracanrana to set up the 619. Tyson rolls out to safety. Rey goes up for a dive, but Batista shoves Kidd away to challenge Rey. That gives Kidd a DQ win. Dave turns around, and Rey hops down, runs over the announce table, and Broncobusts Batista back into his chair. Batista flails before giving chase. Rey dodges in and out of the ring before popping him with a slingshot dropkick and skedaddling up the ramp. Batista is livid.

Backstage, Jericho tries to reconnect with Show. They need to stay on the same page for their match tonight, but Show can't help thinking about the triple-threat at the PPV. Jericho calls him selfish. Show says he's scared. Jericho laughs it off. Show mentions his past title reigns with both opponents, but Jericho is getting almost shrill with anxiety. Show says he'll KO Jericho at the PPV if he has to, and Jericho says he's neither intimidated by the big mitts or scared of Taker. The lights go out, and Jericho panics. We see Show at the light switch, proving his point.

Striker and Grisham talk up RAW from Madison Square Garden.

Unified tag champs Chris Jericho/Big Show vs. world heavyweight champ Undertaker/Kane
The Brothers of Destruction use a tandem entrance featuring the Taker crucifixes set aflame by Kane's stage pyro. Whoa. Jericho starts against Kane, and let's see if he looks as strong as he did last week against Taker. He runs into a punch and is cornered by boots. Corner clothesline follows for two. Taker tags in, and he decks Jericho in the corners. Jericho desperately tags Show to get out, and Show stares down Taker in the ring. They trade punches, and Show wins that. Taker grounds him with the leaping lariat, and the Brothers clothesline him out. Ad break, I tells ya!

Jericho corners Taker as we return, but he runs into a clothesline. Taker sets up Old School, and it hits, unlike last week. It gets two. Kane tags in, and they boot Jericho down. Show tags in and spears Kane to save Jericho from a chokeslam. He keeps Kane in the Jerishow corner to allow Jericho to work him over while the ref is distracted. Show knees Kane down and tags in Jericho, who boots him and applies a headlock. He bulldogs Kane but Lionsaults into Kane's knees. Show tags in to keep Kane inside. He puts Kane up top for a superplex. Kane blocks and hits the flying clothesline. Kane hurt himself on the landing, and Taker tags in.

Jericho tags in. Taker goes ape on him but only gets two. A punch for Show. A goozle for Jericho who repeats last week and Victory Rolls him up for the Walls. Taker evades and applies the Hell's Gate. Show runs in to legdrop that to a halt. Kane runs in to take Show outside. Taker gets to his feet, and Jericho clotheslines him out. That only makes Taker mad. He drags Jericho out by the feet and shoves him into the railing. Show now goes over the rail. They take apart the announce table cover and drag Show over to it. Double chokeslam coming, but Jericho interrupts. He gets clocked and rolled back inside. The Brothers surround him. Kane hits a chokeslam before Show drags him out. Taker makes the throat gesture and sets up a Tombstone. Jericho escapes, and Show distracts Taker. Jericho charges and eats a Taker boot. Show hops in to chokeslam Taker down. Show stands over both men (to preview the PPV) before picking Jericho up. CODEBREAKER! Did Jericho know who he was hitting? He runs out to grab the world belt, and he runs up the ramp holding the belt aloft. He mocks the audience with it as Taker looks on groggily from the ring.

So, a countout then?



---

"To be the man, you gotta beat demands." -- The Lovely Mrs. Tracker
Promote this thread!
Big Bad
Scrapple



Since: 4.1.02
From: Dorchester, Ontario

Since last post: 216 days
Last activity: 113 days

#2 Posted on | Instant Rating: 5.63
I didn't see the show tonight but....seriously, Mickie James ran away from the ring crying when the heels played a mean video about her weight? Seriously?


---

Kirk, crackers are a family food. Happy families. Maybe single people eat crackers, we don't know. Frankly, we don't want to know. It's a market we can do without.
John Orquiola
Scrapple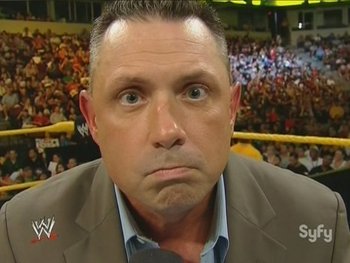 Since: 28.2.02
From: Boston

Since last post: 1850 days
Last activity: 1850 days

#3 Posted on | Instant Rating: 5.16
Originally posted by Big Bad

---

I didn't see the show tonight but....seriously, Mickie James ran away from the ring crying when the heels played a mean video about her weight? Seriously?

---


She didn't run. She walked out of the ring with tears in her eyes but mentally vowing revenge.

It seems to me there's no more avid TNA watcher in the Smackdown locker room than Michelle McCool. First she appropriated the Styles Clash into her "patented" Faithbreaker, and now she's borrowing concepts in Mean Girls-style humiliation from The Beautiful People. Picking on Mickie James, no less, probably the most popular and respected Diva in the whole company (by fans, not by management.) All in the hopes of someday being able to come to the ring and not be met with dead silence from the crowd.

Vickie Guerrero and Teddy Long are like the Bush/Clintons of Smackdown. When will we be free of them completely and have someone completely new running this show?

I LOL'd at the shot of the angry old man in the front row during CM Punk's intervention. I'm not an expert lip reader but it looked to me he was calling Punk a three letter word that starts with F. (And I don't think he meant Punk is one of those annoying guys who drives a Harley.) It's still real to him, dammit!!

I thought the two out of three falls match was kind of weak and disappointing. When the first two falls happened within five minutes, I feared this match was a primer for what Shapiro accurately complained about in the Survivor Series prediction thread: That people in the Survivor elimination matches are probably going to be eliminated like lightning, going down to practically the first move they get hit with.

Batista is the best and funniest Wile E. Coyote since Wile E. Coyote.

(edited by John Orquiola on 21.11.09 0711)
kentish
Andouille



Since: 19.8.05
From: My Old Kentucky Home

Since last post: 1704 days
Last activity: 957 days

#4 Posted on | Instant Rating: 4.50
Originally posted by Big Bad

---

I didn't see the show tonight but....seriously, Mickie James ran away from the ring crying when the heels played a mean video about her weight? Seriously?

---

Trish did pretty much the same thing to Molly Holly a few years ago, and HHH made plenty of fat jokes about Vickie last year. It sucks, but it's not that unuasual for them to do it.


---


"I like your Christ, I do not like your Christians. Your Christians are so unlike your Christ."

-- Mahatma Gandhi

lotjx
Scrapple



Since: 5.9.08

Since last post: 1 day
Last activity: 1 day

#5 Posted on | Instant Rating: 2.13
McCool has been coming out to zero heat for years now, but fucking Taker will keep you in the company with some nice pushes. How would Vince now about TNA since its not on their radar? Beautiful People do this stuff so much better and are better workers, well Velet who is also amazingly hot. Smackdown continues to be the better show and I am very interested to see how Survivor Series goes. I am curious to see if Vince/Taker goes anywhere when it now seems Cena/Taker is a lock for Mania as long as neither is injured.
CruelAngel777
Sujuk



Since: 7.4.02

Since last post: 1080 days
Last activity: 1063 days

#6 Posted on | Instant Rating: 2.36
Too bad the WwE aims for a younger market now. This angle of McCool embarrassing James would work sooo much better if a certain pictoral set James did years ago were to pop up, instead of teasing a Mickie about her weight. I know it's pointless to think about...I need to go download something now.


I hate babyface "Smiling dancing black guy" gimmicks so much! R-Truth is a talented guy, he does all those spins with just throwing a flying forearm. I love his in ring ability, but what is with Vince and the dancing-smiling babyface blackguy gimmick he breaks out every few years? KoKo B Ware. Flash Funk. R-Truth twice now. Now that I think about I think I just hate all wrestlers who come out dancing. Who dances their way to a fight?


Well besides Brian Kendrick. Goddammit I miss that guy.

(edited by CruelAngel777 on 22.11.09 1357)