Matt Tracker
Scrapple



Since: 8.5.03
From: North Carolina

Since last post: 12 days
Last activity: 3 hours

#1 Posted on | Instant Rating: 6.67
From the United Kingdom and a week before Survivor Series, Matt Striker and Todd Grisham bring you SmackDown!

Tonight: Jericho/Undertaker! Ziggler/Morrison! Mysterio and Batista sign their contract.

CM Punk vs. R-Truth
They're on opposing teams at the PPV. Punk lost last week, in part because of a fast count by ref Scott Armstrong, his one-time co-conspirator against Taker. Punk demeans the audience and the fall of the British empire and its subjects "as sad and pathetic as the Americans." They loiter in pubs and smoke like Dickensian chimneys. "Do I think I'm better than you? Absolutely. My mind is clear. I'm perfect in every way." He doesn't need a crooked ref like Scott, and he's filed a complaint with the board of directors. We have a different ref tonight. "I'll tell you 'what's up': straight-edge." Truth's rap entrance seems to go over well with the crowd. Truth wants to file a complaint against Punk for "impersonating a man." He's here to shut up Punk, and he defends the fans for easy cheers. "Tonight the truth is gonna hurt." He needs to go back to that catchphrase.

And finally they wrestle. Truth controls with corner attacks. Punk counters to set up the G2S. Truth slides out and pops him with a corkscrew leg lariat for one. He chucks Punk outside, and you know what that means.

when we come back, Truth controls with a standing armbar. Punk steers him to the corner for shoulder thrusts. He runs into an elbow and boots Truth from the top turnbuckle. Striker compares Punk to Johnny Cash as "Friday night's rockin' rebel." Punk targets the knee with a kneeling figure-four. Truth can't stand on the leg, and Punk keeps at it. A jawjacker gives Truth a breather, but Punk comes back with a standing toelock before turning it into an Indian deathlock. Truth punches free. Punk tries a springboard clothesline and hops right into a dropkick. Truth fends off Punk. A backdrop suplex gets two. Truth misses a scissors kick, and Punk kicks the planting leg. He says it's over. Truth slides out of a G2S and wants a sunset flip. Punk sits on him, sees the ref is counting a pinfall, and grabs the rope for leverage. That gets three.

Matt and Josh push Rey's new book and the contract signing.

Mickie James ain't having none of Layla's threats, but they do distract enough to let women's champ Michelle McCool to sneak into Mickie's locker room. I thought the divas all shared a locker room.

There's Big Ben at nighttime.

Mickie James vs. Natalya.
Natalya gets no entrance. She trips her up and slaps her head. James cartwheels and kicks out of a wristlock. A sitting dropkick sends Natalya outside. Mickie misses a baseball slide and is sent into the steps. Natalya rolls her back inside for two. A hair slam sets up a Mexican surfboard. The ref correctly counts Natalya's shoulders down, and the hold is broken. James is worked over in the corner and escapes the ankle slam off the ropes. They trade elbows, and Jackie is back in the corner. She head-scissors out and comes back with clotheslines and forearms. Striker says her love of horse-riding helps build up her leg muscles for those attacks. Natalya shoves her outside, but James comes back in with an awkward Thesz press from the top. Michelle and Layla walk the ramp with James's clothes. James is distracted as Michelle cuts up the clothes on the ramp, and Natalya nails her with an elbow from behind. She locks in a Sharpshooter for the win.

Lots of people in Phoenix wait in line to buy Wrestlemania tickets in a video segment. There's an ad for the new Hogan DVD. He's also still in the pre-show WWE montage. Rowdy Roddy Piper will host RAW from MSG Monday. Taker/Cena vs. DX vs JeriShow. Wow.

Josh Matthews is backstage with IC champ John Morrison. The title's on the line, and he feels the pressure, sure Ziggler is a big challenge, but Ziggler can't handle the pressure. He's the nervous one, and he'll make a mistake. Morrison thrives on the pressure. He makes some British references before proclaiming his inevitable victory.

Drew McIntyre vs. Finlay
The Lovely Mrs. Tracker just happens to walk into the room just as Drew hits the screen. We see clips of Drew flattening Finlay from two weeks ago. These men are also on opposing teams at Survivor Series. Drew says Finlay isn't worthy of being in the ring with him, but he intends to make a statement against him tonight. Drew works the smirk, and there's Armstrong as their ref. Finlay starts aggressively and goes after the head with elbows and clotheslines. Drew hits a low running boot to send Finlay outside. A shortarm clothesline keeps Finlay down. Back in, Drew boots him and puts on a wristlock. A Finlay flurry sends Drew outside. Finlay is all over him before rolling him back in. Drew responds with a flurry of his own. They stand up and throw swooping fists at each other, and Armstrong suddenly DQs them.

Finlay won't quit. He gets the Shillelagh and strolls right into a big boot. Drew picks up the stick and clubs Finlay before leaving. Drew continues to work short matches or short fights in lieu of matches. He goes back in the ring and picks up the Shillelagh again. There's another shot for Finlay. And he poses and leaves again. Now he seethes on the ramp. That looked like he tried a do-over, and they kept both exits in the show. Finlay is attended to by refs. "Normally we cut to commercial here," Striker says. Finlay slowly gets to his feet, and Striker suggests it's a collarbone injury. He walks back assisted by the refs. Replays suggest only that the first Shillelagh shot might have tagged him right between the neck and trapezius.

WWE claims they got more page views that Major League Baseball in October "despite the playoffs and World Series." Baseball doesn't have divas. I mean, they don't have the nekkid womens.

Matt Striker is in the ring to moderate the contract signing. He says the Rey/Batista match is "beyond personal." Rey walks out first. I hadn't noticed the black taxi and mailpost on the stage before. Todd reminds us that Rey promised to display a side we've never seen before. Here comes Dave. Rey's in black shirt, mask, and jacket. Dave's wearing a white shirt. Subtle. Big boos for Batista. They sit a the table. Dave is sarcastically casual, and Rey is tense. He wants to get it over with. They sign the papers. Dave sits back and picks up the mic. He asks Rey to sign something else: a waiver of responsibility. No one can sue Dave for what he does to Rey at the PPV. Rey looks it over but won't sign. That makes Dave mad. He calls Rey a coward and says he cost him the title. He threatens Rey unless he signs it. Rey hesitates. He'll sign, he says, but he calls out the intimidation tactics. He says Dave's the one who will be embarrassed at the PPV and shoves the table over onto him. while Dave struggles to get out from under it, Rey steps on it to exit the ring. He walks -- walks -- up the ramp while Dave fumes in the ring and destroys the chairs. I like Rey's cool here.

We see a replay of Ziggler getting a countout win over Morrison a few weeks ago. Last week, Morrison sold the injured ribs. will he do that tonight?

IC champ John Morrison vs. Dolph Ziggler
We need to see something new between these guys. A title change wouldn't be bad. I don't want to see Ziggler falter again. A ringside sign proclaims Morrison "the Chuck Norris of Nookie." A long entrance helps sell the expectation of a good match. Ziggler pops Morrison and runs outside. The ref keeps Morrison at bay, and Ziggler boots the champ down. He gives him some lip, and Morrison rolls him over. Ziggler escapes the pinfall. Morrison comes back with big punches and a flapjack. Breakdancing legdrop gets two. He hops up top, and Ziggler chops the leg out. He gets two. A hairpull gutbuster gets two. We go to ads.

When we come back, Ziggler is using a bearhug version of Cattle Mutilation. Ouch. Morrison elbows out from a sitting position. They trade punches. Morrison whips him into the ropes and tries a running dropkick. Ziggler moves, and Morrison stretches that bad leg on the turnbuckle and lands on his head. Ziggler gets two. A running snapmare gets two. Ziggler goes after the torso injured a few weeks back, ignoring the head and leg injuries. Disdainful elbow gets two. A body scissors doesn't last long. A simple body slam gets two. He taunts Morrison, and they trade punches.

Morison rolls out of a backdrop sulpex and comes back with forearms and a leg lariat. That gets two. The Moonlight drive is countered to a facebuster for two. Ziggler clubs the neck. Morrison hits the breakdancing enziguri. He misses Starship Pain but not the Flying Chuck. That gets two. Ziggler rolls out and goes up. Morrison follows. They fight for control before falling to ringside. Morrison lands headfirst on the railing. They are both out cold, and we have a double countout. BOO. The Lovely Mrs. Tracker: "This means the ref now holds the title!" I understand building them as equal, canceling each other's offense with clever defense. But the trigger has to be pulled on Dolph eventually.

Beth Phoenix vs. Lisa Taylor
Unlike the previous jobbers Beth destroyed, Taylor is, at least up front, built like the typical WWE diva. Will that help her outlast the other two? Striker says she's a Commonwealth Champion. Ah. Taylor tries a rollup, and Beth walks out of it and pummels her. Nasty shoulderbreaker precedes a reverse Tower of London. Glam Slam ends it. The hairflip before the pinfall is always amusing.

Backstage, Jericho shrugs off the Deadman gimmick to Todd. People have waited ten years for this match. He'll beat Taker tonight because he, unlike Taker, is not just a man. He's the best in the world at what he does. At the PPV, neither a dead man nor a giant will keep him away from the belt.

Next week, Morrison/Ziggler in a Two out of Three Falls match for the belt. What condition will they be in after this week?

World champ Undertaker vs. unified tag champ Chris Jericho
Jericho's backstage interview replaces his usual in-ring promo, and we go from his entrance straight to Taker's. Jericho glares at him during his big stage show. They lock stares as Taker disrobes to reveal the belt. Jericho and ref step back into the ring to start the match. Jericho corners him, and Taker reverses. He spooks the ref backward and pulls Jericho up. Jericho kicks away a backdrop attempt, and Taker glares at him. Jericho is clotheslined outside, and Taker follows. He shoves Chris back in for the apron legdrop. An armwringer and legdrop on the arm get only one. Taker holds the arm for Old School, but Jericho pops up for a top-rope hiptoss. To the ads!

We're back, and Jericho is hammering Taker on the mat. Boots in the corner now. Taker whips him into another corner and runs into a boot. A turnbuckle dropkick gets two for Chris. A Cobra Clutch variant keeps Taker down momentarily. He boots Taker outside, and the Deadman is breathing heavy on the railing. Jericho comes off the apron with a running elbow before shoving him into the railing. Back in, he chokes Taker on the ropes. They trade shots, and Jericho puts him down again.

More rope choking. Taker goozles him. Jericho punches out. They trade fists again. Taker hits the avalanche clothesline. He uses Snake Eyes to set up the running boot, but Jericho dropkicks him. That gets two. Chris punches him again. Another goozle. Jericho fights out again but runs into the boot. Taker misses a running boot in the corner. Jericho mounts for punches, and that can only lead to a Last Ride attempt. It does, and Jericho evades. CODEBREAKER! A slow pin only gets two. Jericho calls for Taker to get up and grabs him for a Tombstone(?). Taker reverses for his own. Jericho squirms up and out and chops the knee. Lionsault! Taker sits up. Another goozle. He picks Jericho up for a chokeslam, but Jericho rolls him to slap on the Walls. Taker reaches to put on the Hell's Gate, but Jericho turns him over for the submission move. ANOTHER goozle. Hell's Gate! Jericho can't reach the ropes and taps. Taker is announced as the winner, but here comes Jericho's partner, Big Show, dressed for action. They doubleteam Taker. Big Show chokeslams him flat. Legdrop follows. Jericho puts on the Walls while Show applies a choke. FROM FIRE AND BRIMSTONE COMES KANE! JeriShow let him get to the ring. Kane comes over the ropes, and Show meekly escapes. Jericho doesn't realize it until he turns, and Kane boots him. He rolls out, and Kane checks on Taker.

Backstage, Vince calls Teddy Long. He's giddy over Taker and Kane reunited, and he sets up a tag match between the four for next week. Teddy approves. Apparently he's sick at home, but he's still on probation. Kane lights the turnbuckles, and we're out.

Jericho looked good in there, Real good.


---

"To be the man, you gotta beat demands." -- The Lovely Mrs. Tracker
Promote this thread!
John Orquiola
Scrapple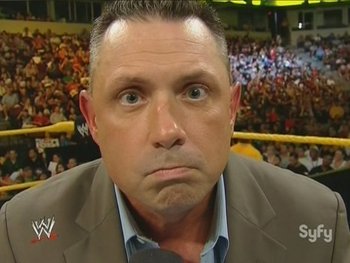 Since: 28.2.02
From: Boston

Since last post: 1731 days
Last activity: 1731 days

#2 Posted on | Instant Rating: 4.77
I enjoyed Matt Striker talking about Mickie James' "strong inner thighs" and adductor muscles. I'd like to hear much, much more about this. Maybe a PowerPoint presentation next week.

I also liked Beth calling the spot and telling Lisa to jump so she could lift her for the Glam Slam.

Batista was great. "Hey Rey. How's it going? How've you been?" I loved Batista flailing his legs when the table landed on top of him. This seems like it's going exactly where we all think it's going in the prediction thread: Rey will eke out a win, Batista will murderize him afterwards. I wonder if they'll take a different tack come Survivor Series?

I'll bet it made Undertaker's dark heart glad when Kane came out to save him. Brothers of Destruction in the house! Ah, brotherly love.
Peter The Hegemon
Lap cheong



Since: 11.2.03
From: Hackettstown, NJ

Since last post: 9 days
Last activity: 4 hours

#3 Posted on | Instant Rating: 7.03
Originally posted by Matt Tracker

---


Backstage, Vince calls Teddy Long. He's giddy over Taker and Kane reunited, and he sets up a tag match between the four for next week. Teddy approves. Apparently he's sick at home, but he's still on probation.

---


Asking a black man on national television whether his illness is rabies or distemper is certainly not something I would do if my wife were running for political office. Or otherwise, for that matter.
Matt Tracker
Scrapple



Since: 8.5.03
From: North Carolina

Since last post: 12 days
Last activity: 3 hours

#4 Posted on | Instant Rating: 6.67
Originally posted by Peter The Hegemon

---

Asking a black man on national television whether his illness is rabies or distemper is certainly not something I would do if my wife were running for political office. Or otherwise, for that matter.

---


I didn't consider that implication. But the onscreen Vince is ever a socially brutish rich snob. His buffoonery is a trademark of the character, and Vince has proven that he'll shirk any expectation of nicety.




---

"To be the man, you gotta beat demands." -- The Lovely Mrs. Tracker
Dexley's Midnight Jogger
Pepperoni
Moderator



Since: 10.10.02
From: New Hampshire

Since last post: 1877 days
Last activity: 1791 days

#5 Posted on | Instant Rating: 7.47
When was C.M. Punk allowed to grow chest hair? It looks so weird to see that on a wrestler.
Matt Tracker
Scrapple



Since: 8.5.03
From: North Carolina

Since last post: 12 days
Last activity: 3 hours

#6 Posted on | Instant Rating: 6.67
Originally posted by Dexley's Midnight Jogger

---

When was C.M. Punk allowed to grow chest hair? It looks so weird to see that on a wrestler.

---


He started a few weeks back. Edge did the same shortly before he was injured.


---

"To be the man, you gotta beat demands." -- The Lovely Mrs. Tracker
2P4E
Boerewors




Since: 4.1.05
From: SE12, London, UK.

Since last post: 1191 days
Last activity: 80 days

#7 Posted on | Instant Rating: 5.13
HBK's always been fuzzy. It's not that weird. What is weird is someone brought a Jedward sign to Smackdown.
HMD
Andouille



Since: 8.6.02
From: Canada

Since last post: 711 days
Last activity: 711 days

#8 Posted on | Instant Rating: 3.42
Good show.

Punk's opening promo was magnificent, I think. The old drugs and alcohol spiel is getting a little old, but the nationalistic twist he placed on it was nice, and the chest hair makes him look like a bit more of a bad-ass, somehow.

Why does Layla smile at the end of every segment she's in? Even if she has just been angered or frightened, she smiles to close out the vignette. It's so weird.

Natalya was good in there too. Odd she'd use her Uncle's finisher instead of her dad's, but I guess doing coke, getting fired, and throwing a television monitor is not the best way to close out a match.

Morrison continues to be a God-awful promo. There is just something missing there. He just looks like he woke up the Intercontinental Champion but doesn't have much feeling about it one way or another.

Finley's character is so poorly defined it's nearly impossible to garner sympathy for him. Drew's accent makes him hard to take seriously. I expect him to go diving in gold coins, not beat someone's ass.

Loved the Rey/Bats seg. Nice to see Rey standing up for himself. And as mentioned, the kicking of legs under the table was hilarious.

Dolph's getting the "can't win the big one" stench on him. He looked all kinds of retarded arguing with the ref while Morrison springboards off the ropes practically right the hell in front of him. Decent match but nowhere near the calibre of the matches Dolph was having with Rey before the Wellness suspension.

Still can't believe they gave Jericho/Taker away on free TV. They had a great little match. I've always believed you can tell someone's political standing in the company based on how much offense Taker lets him have. Jericho got more than Punk, but less than, say, Triple H would have gotten. And I honestly thought Jericho was going over clean after the codebreaker. That being said, sort of lame finish to a match that never should have been on TV; on paper I consider this bout Wrestlemania quality.

Dare I say it, but I'm quite looking forward to Survivor Series, moreso than any event since probably Summerslam.



(edited by Hogan's My Dad on 14.11.09 1851)
---

Quiet, Or Papa Spank!
Big Bad
Scrapple



Since: 4.1.02
From: Dorchester, Ontario

Since last post: 97 days
Last activity: 97 days

#9 Posted on | Instant Rating: 5.61
---

Natalya was good in there too. Odd she'd use her Uncle's finisher instead of her dad's, but I guess doing coke, getting fired, and throwing a television monitor is not the best way to close out a match.

---


The Anvil actually used a crappy powerslam to beat Jay Lethal this week on Impact. Big week for the Neidhart family!


---

Kirk, crackers are a family food. Happy families. Maybe single people eat crackers, we don't know. Frankly, we don't want to know. It's a market we can do without.
kentish
Andouille



Since: 19.8.05
From: My Old Kentucky Home

Since last post: 1585 days
Last activity: 838 days

#10 Posted on | Instant Rating: 4.51
Even though it was a good match, I can't believe I actually thought Jericho had a chance in the main event. Did he have to tap so quickly? Somehow I don't think jobbing here means he wins the belt at the PPV either. I know, I should just be glad i got to see a good TV match.


---


"I like your Christ, I do not like your Christians. Your Christians are so unlike your Christ."

-- Mahatma Gandhi

Captaincuba
Italian



Since: 25.10.05

Since last post: 1847 days
Last activity: 1722 days

#11 Posted on | Instant Rating: 3.88
I guess the booking revolves around Edge's rehab no?

Jericho is Edge's natural comeback enemy, so does Vince think that a returning Edge warrants a title bout at WM?

If yes, Jericho beats Show for Taker's belt.

Fantasy booking aside, the show was solid. Poor Punk just keeps spiraling away from the main event, and Morrison cant seem to get over the mic believability.

I miss the Hart Dynasty.

CC