Matt Tracker
Scrapple



Since: 8.5.03
From: North Carolina

Since last post: 27 days
Last activity: 4 hours

#1 Posted on | Instant Rating: 6.50
From the University of South Carolina, Michael Cole and Jerry Lawler are replacing the "under the weather" JR and the absent Todd Grisham. Get well, Jimbo.

SmackDown 7 co-captain and unified tag champ Chris Jericho swaggers to the ring. We see a repeat of RAW as the two Bragging Rights teams clash. Jericho foresees his team crushing Team RAW and shutting up DX. He wants affirmation that his team is up to sharing the ring with him. JTG interrupts to tell him Shad Gaspar is flu-ridden, not that Jericho was thrilled to be on the same team with them. He waxes his own car until "EXCUSE ME" rings out as Vickie announces Eric Escobar to the ring. King and Cole note the crowd chants "who are you," and Eric promises to make his name at the PPV. Dolph Ziggler says instead he will make the biggest impression Sunday, but JTG reminds him he couldn't win the IC belt in four tries (and dumped Maria). Drew McIntyre reminds them all he has Vince McMahon's seal of approval, and he should have been captain. That brings out co-captain Kane, who says they're all worthless to stand alongside him. Jericho adds "or me!" They set up a challenge match: these four versus 5 others in a tag match. The winning team will join the co-captains, and it starts right now (after commercial).

McIntyre/JTG/Escobar/Ziggler vs. Matt Hardy/Finlay/The Hart Dynasty/R-Truth
McIntyre wonderfully suffers through Truth's entrance rap. Matt can't quite time the hand gestures with Truth's call-and-response. JTG uses a sweet floatover rocker dropper, and he continues to make me want to see him as a singles performer. Finlay tags in but moves to the other corner, and Ziggler takes over. Finlay fights back and sends Ziggler into the ringpost, and since he went outside, that means we go to commercial.

Escobar is in control as we return, and he seems to screw up an armdrag and may have hurt Finlay by sandbagging. Drew tags in as Lawler derides the team as a "who's who of who cares." Kane and Jericho watch backstage. Ziggler tags in for his leaping elbow, and the RAW announcers bury the SmackDown 7. Drew and Ziggler trade tags to work over Finlay before he hot tags Hardy. The yodeling elbow gets two. Side Effect gets two. Escobar runs in to stop the pin, and he stumbles on that. Then he can't roll out when Finlay clothesline him in the ropes. Not winning me over, eric. Everyone's outside, leaving JTG and Matt. Finlay uses the Shillelagh from behind, and Matt hits the Twist of Fate. Three count! Kane and Jericho have a whole new team! Even the announcers are shocked; Team RAW has real competition now, and that match just got ten times better. King and Cole agree with me.

Backstage, Scott Armstrong can't go along with CM Punk's plan to repeat the Montreal Conspiracy tonight. He worries about his family's name. Punk dismisses that. "How selfish you are. This isn't about you, OK? It's about me." Teddy also has concerns. Armstrong is willing to lose his job and walks out ... right into Vince, who says simply "we need to talk."

IC champ John Morrison vs. Mike Knox
Knox gets another inset monologue, this time concerning blunt abdominal trauma and liver failure. KNOX BLOCK for two already! A gutbuster sets up a stretch, and these guys just ain't clicking. The timing is off throughout. Morrison chop blocks Knox and throw the legs and knees at him. Knox bicycle kicks him down, but a second BLOCK try stuns him enough for Morrison to try a Starship Pain (which he misses) for a pin. Morrison sells his PPV match with The Miz after.

The co-captains address their new troops, and the team agrees they are all on the same page to prove SmackDown's superiority. They don't like Jericho, but they respect him. Jericho wants them to watch him and Kane beat Batista and Mysterio tonight.

Mickie James and women's champ Michelle McCool trade braggadocio over Mae Young. When Mickie leaves, Beth Phoenix walks up to compliment Mae and again threatens to take Michelle's belt. She's not at all heelish on this roster. Mae calls McCool on Beth's confidence and slaps Michelle when the champ gets her dander up.

A replay of last week's main event shows Batista's shoulder was up at the three count. Backstage, he and Mysterio are confident going into the PPV, and they sell Batista's new DVD set. All is good in their familia for now.

Rey Mysterio/Batista vs. Kane/Jericho
Batista tosses Jericho around to start and then throws Rey into him in the corner. Rey goes for the 619, but Kane drags him outside and into a commercial break. Included there is a another ad for the new WWE video game, which I bought this week. Not only does it still have Kennedy, but Tazz is calling SmackDown too. When we return, Kane works over Rey before tagging in Jericho. Rey uses a wheelbarrow bulldog for a reprieve. Kane prevents the tag and pops out a nice dropkick to the seated Rey.

Jericho comes in for a delayed suplex punctuated by a muscle pose. Rey flips Jericho outside and hot tags Batista. Kane is in too, and he eats the house-afire offense. Batista sets up for the Bomb, but Jericho enziguris him down (after some adjustment by both men). Batista blocks a Codebreaker but not a Kane boot. Kane wants a chokeslam. Rey blocks and takes it instead, giving Batista time to gather himself for a rather dainty spear and the pin. Batista acknowledges Rey's sacrifice in between his victorious arm raises.

Backstage, Vince is giving Armstrong the hard sell and implies he'll nominate Scott's dad for the Hall of Fame if he goes along with the scheme. The referee is awash in inner turmoil, but Vince is confident.

Mickie James vs. Layla
Mickie chucks her hat to Lawler who nonetheless behaves himself during the women's match. Mickie cartwheels over Layla before whiffing on a wide-legged dropkick for two. Layla gingerly chucks her outside and yanks Mickie off the top. McCool watches backstage as the women trade rollups. They muck up a forearm spot to set up a Layla sideslam, and even the pin looks awkward. Does everybody have the flu tonight? James goes to the consecutive clotheslines before hitting a deep neckbreaker for two. Layla throws a knee, and they reset clumsily for a Lou Thesz press. James uses a swinging back kick to end it.

Cole introduces the video tribute to Captain Lou Albano, which gets a nice ovation from the audience as we go to more ads. He really managed 15 teams to titles? Golly.

A long recap of the Orton/Cena feud brings us back, and I honestly can't say who will win this thing. It feels like DiBiase will turn on Orton to give Cena a win, but they could move Cena to SmackDown next week to start a slow boil to a Taker match at WrestleMania. We're entering that time in fall when things get interesting before the big show.
King and Cole sell the PPV before Punk leads Teddy and Scott to the ring. He brags about being able to take apart anyone in the arena or watching at home, and he's sure he can make Taker tap out again tonight and become again YOUR straight-edge world heavyweight champion. His compadres do not share his mirth.

World champ Undertaker vs. CM Punk - Submission Match
Punk is almost gleeful, thinking he can get a quick decision at any second. Taker is sporting a dyed goatee that makes him look like Gene Simmons. Not his best look. He hands the belt to Armstrong and holds it to lock eyes. Scott withers a bit. Taker also gives Teddy a healthy stare before the bell rings.

He goes at Punk hard as King reminds us this can only be decided by submission. Taker misses an elbow, and Punk tries to slap on the Anaconda Vice, but Taker squirms away to take us to commercial.

Taker throw Punk outside and follows. Punk goes over the rail and onto the announce table. Teddy keeps his distance. I think King just called Punk's move an "Anaconda device." Probably just a slip. Back inside, Taker goes for a running boot. Punk dodges, and Taker bounces off the ropes. That looked painful. Punk takes over at ringside and uses the steps to work over Taker. Punk is grinning like a loon until he leaps into a throat grab. He avoids the chokeslam but not a right fist. They trade headbutts and strikes. Taker uses the Snake Eyes/boot/legdrop combo that is always awesome. Punk escapes Hell's Gate but blocks Old School. Teddy may have distracted Taker there.

Punk grins his way through the running knee/bulldog combo and asks Teddy for his chair. Teddy is hesitant and instead give it to Armstrong. Punk yanks it from him and prepares to deck Taker. Instead Taker boots it into Punk's face before chokeslamming Armstrong. Teddy shuffles up the ramp as Taker glares, and that lets Punk grab the chair again and pummel him. He yells for Teddy to get a new ref while he applies the Vice. Taker is motionless. A new ref runs in, and Taker snaps up and slaps on the Gate. Punk frantically taps out. Taker poses with his belt as Punk crawls up the ramp in dismay.

Now, Taker has to know Vince is in cahoots here. He has to be a target no matter what happens at Bragging Rights.


---

"To be the man, you gotta beat demands." -- The Lovely Mrs. Tracker
Promote this thread!
AlbySure
Boerewors



Since: 10.12.01
From: LA

Since last post: 495 days
Last activity: 44 days

#2 Posted on | Instant Rating: 6.98
I'd watch a show of nothing but adorable Batista/Rey backstage segments. Who else?
John Orquiola
Scrapple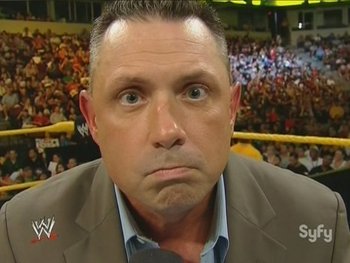 Since: 28.2.02
From: Boston

Since last post: 1548 days
Last activity: 1548 days

#3 Posted on | Instant Rating: 4.75
The Undertaker must have borrowed Hollywood Hogan's shoe polish for his goatee.

If Punk got paid per happy smile and happy laugh during his matches, he'd be the richest guy on the roster.

I've completely lost track of what and how Teddy Long feels about everything on his show. Is he more afraid of the Undertaker than he is of Mr. McMahon? Is he ever getting off probation? I doubt Teddy even knows anymore.

Jericho and Kane got the team of midcarders they should have had all along. The new Smackdown Seven has increased my interest in Bragging Rights by 7%. (Still not watching the PPV.)


Matt Tracker
Scrapple



Since: 8.5.03
From: North Carolina

Since last post: 27 days
Last activity: 4 hours

#4 Posted on | Instant Rating: 6.49
Originally posted by John Orquiola

---

I've completely lost track of what and how Teddy Long feels about everything on his show. Is he more afraid of the Undertaker than he is of Mr. McMahon? Is he ever getting off probation? I doubt Teddy even knows anymore.

---


Vince gave Teddy a verbal gold star in their pre-match huddle, so he may have been slightly empowered to act against Taker. But his proximity to Taker (a spooky event horizon) slowed his actions enough to suggest he's more scared of him than Vince. Taker can still act against Teddy for providing the chair, but his scary zombie powers have to suss out Vince's participation. He has to realize Teddy's the smaller fish.

I'd like to see a reason for Vince's actions, and I think they're drawing this out until they can think of a good rationale. I'll give them one for free: Vince is going Joe McCarthy on the main-even faces. He thinks he made it possible for Punk to banish Jeff Hardy. Since Punk's title win attracted Taker, Vince thinks he can continue the momentum and vanquish Taker, the most powerful face currently in the WWE. Of course he could just get the GM to fire Taker again, but that's not good enough for Vince.

The inclusion of the Montreal Conspiracy allows them to again mention Bret Hart and Vince's rise to prominence as Mister McMahon after. I hear rumblings from the grapevines that Bret might be interested in an on-air role with the WWE again, so maybe -- MAYBE -- all this will come together as another Vince power trip that dies a painful Wrestlemania death.

And, again, if it leads to Cena/Taker belt vs. streak at WM, I'd buy the PPV right now.


---

"To be the man, you gotta beat demands." -- The Lovely Mrs. Tracker
BigDaddyLoco
Scrapple



Since: 2.1.02

Since last post: 36 days
Last activity: 23 days

#5 Posted on | Instant Rating: 3.74
I still like the fact that the Undertaker is out there trying, but old man bumps kind of crack me up. The spot where he missed punk and bounced off the ropes didn't look like that great of a spot for a wrestler, but looked like a painful spot for a big old guy.

Okay, I just looked at his Wiki page which claims he is only 44! . That seems insane to me, the guy doesn't look a day under 50.

This is the first time I've caught Smackdown in some time, and it is still a more enjoyable show that Raw. I guess the Raw Main Eventers have become that unbearable to me.

(edited by BigDaddyLoco on 24.10.09 1328)
JustinShapiro
Scrapple
Moderator




Since: 12.12.01
From: Pittsburgh, PA

Since last post: 149 days
Last activity: 1 day

#6 Posted on | Instant Rating: 8.51
Originally posted by John Orquiola

---

Jericho and Kane got the team of midcarders they should have had all along.

---


It's a great and hilarious turn of events but I do feel bad for Mr. Ziggles' guilt by association.
Big Bad
Scrapple



Since: 4.1.02
From: Dorchester, Ontario

Since last post: 78 days
Last activity: 13 days

#7 Posted on | Instant Rating: 5.63
I loved that Bullet Bob Armstrong got a shout-out on WWE TV. That was a nice little twist in the storyline and also maybe a subtle dig at the fact that the HOF inductees are all just at Vince's whims anyway.


---

Kirk, crackers are a family food. Happy families. Maybe single people eat crackers, we don't know. Frankly, we don't want to know. It's a market we can do without.
SchippeWreck
Banger



Since: 26.3.03
From: Glendale, CA

Since last post: 94 days
Last activity: 94 days

#8 Posted on | Instant Rating: 8.73
Lawler calling the ten-man tag match "a who's who of who cares" made me laugh out loud.


---

"It's magic! We don't need to explain it!"
dMp
Knackwurst



Since: 4.1.02
From: The Hague, Netherlands (Europe)

Since last post: 21 days
Last activity: 1 day

#9 Posted on | Instant Rating: 6.35
I wonder what caused them to change the team.
If it was planned all along, it came across as silly.

If it was because of people raising their eyebrows..well..doh.
It reminded me of Piper getting his team to fight the NWO and replacing them with the Horsemen the week after.

It was an okay show.
Still think the Raw team is more interesting.
THe only 'story' on Smackdown side is Jericho's actions and how he and Show interact.
I do believe Big Show will screw over team Raw (mostly DX) so the DX-Jerishow feud can continue.



---